Best defensive infielders in '20? Check here
6 takeaways from the new Statcast infield rankings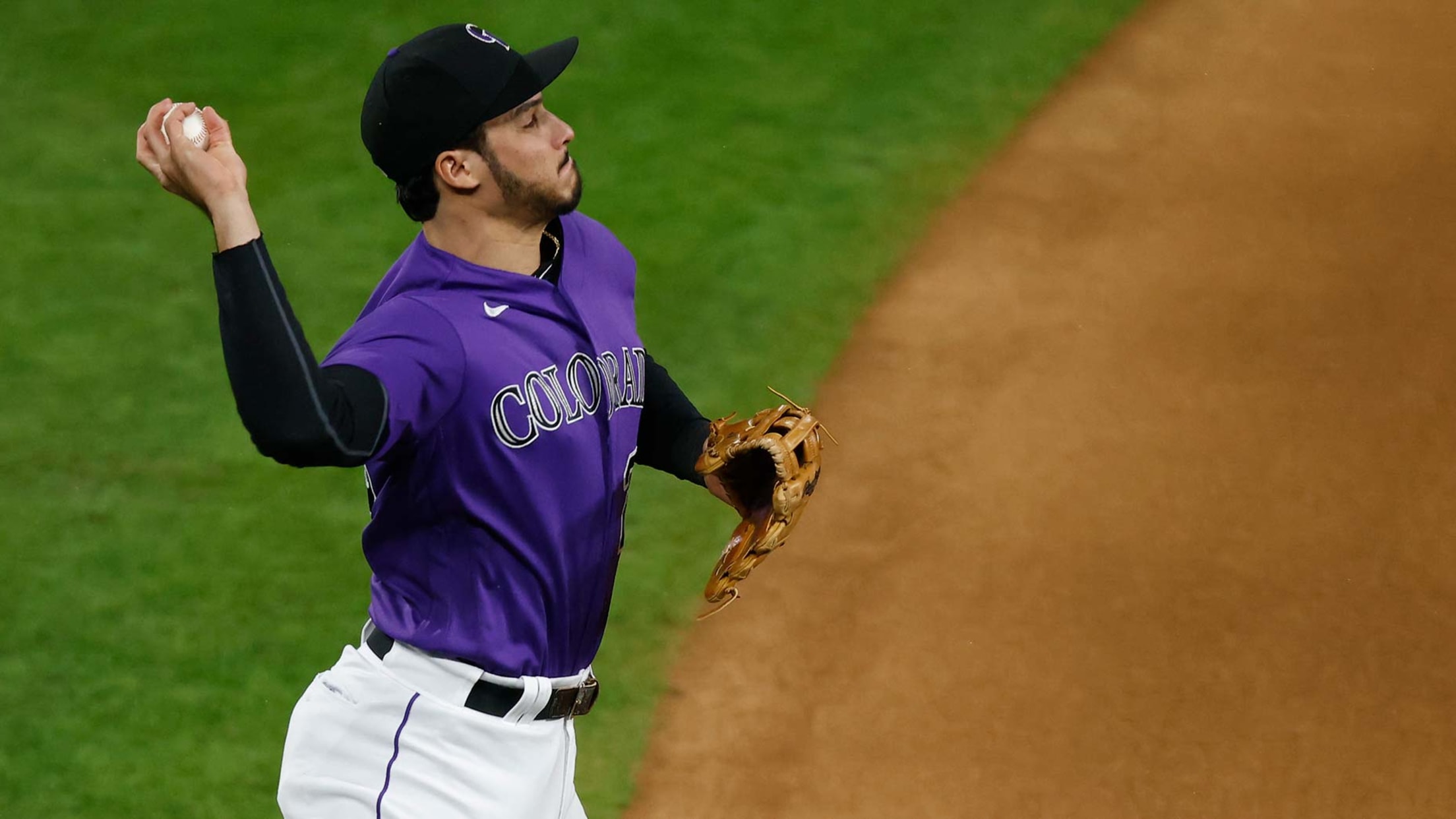 Would you like to know who Statcast thinks are the best infield defenders in baseball this year? Of course. The Outs Above Average leaderboard is now live at Baseball Savant, and the name at the top will not surprise you in any way.
Would you like to know who Statcast thinks are the best infield defenders in baseball this year? Of course. The Outs Above Average leaderboard is now live at Baseball Savant, and the name at the top will not surprise you in any way.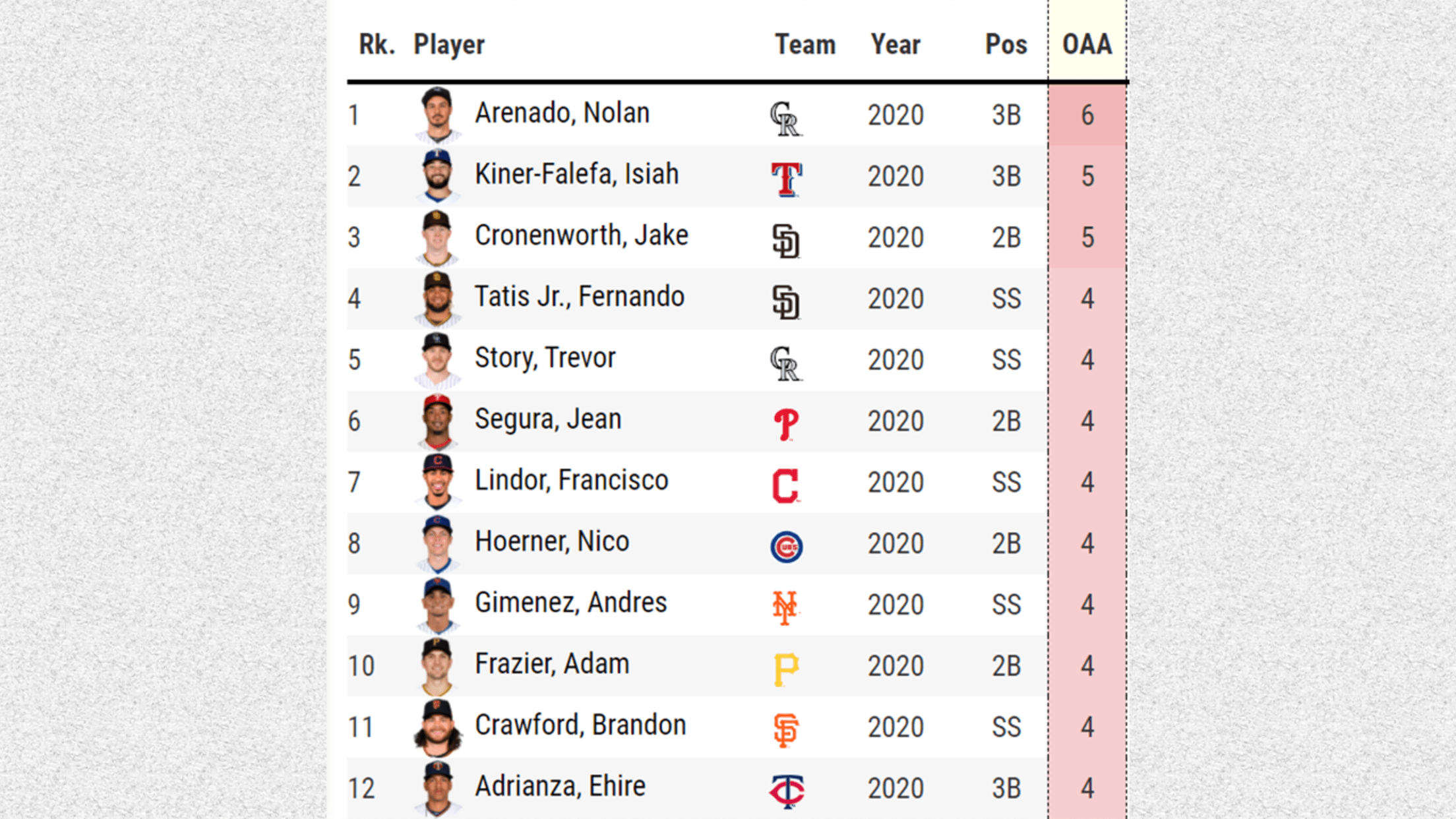 For those new to this, Outs Above Average is the Statcast seasonal defensive metric, which is created based on each play being given a difficulty rating based on various factors, including distance, time, direction and runner's speed (only on weakly hit balls or grounders). Based on the difficulty of each play, a fielder is given credit -- or demerit -- for making the play or not. Knowing how likely the play was to be made is an important factor, obviously; it's a disaster if a fielder fails to convert an out on a play that's made 95% of the time, but it's not so bad if he can't get to a ball that's converted just 5% of the time. Whether it's scored an error or not is not really relevant. It's about plays made or not made.
Last year, the top infielder was Javier Báez (+18 OAA), and the top outfielder was Victor Robles (+23). This year, it's Nolan Arenado (+6) in the infield, and, as has been available for a few weeks, White Sox rookie sensation Luis Robert (+7) in the outfield.
Here are 6 takeaways from the new infield rankings that interested us ...
1) The left side of the Rockies' infield is still fantastic.
That's Arenado atop that list, first among any infielder. There's Story just below, tied for fourth best. They're the best defensive left-side combo in baseball, and they can hit a little, too.
You didn't necessarily need us, or fancy analytics, to tell you that Arenado (+6 OAA) is excellent. He has, after all, won seven consecutive Gold Gloves. He's probably going to win an eighth. It will be well-deserved.
Arenado leads the third basemen so far this year, and the underrated Story (+4) is tied atop the shortstop list, so, almost by definition, the Rockies have the best left-side infield defense in baseball, just ahead of the Padres and Indians.
This is, of course, not news. Story's first full season alongside Arenado came in 2017, and if we look at the best team left-side defense (note that we're literally talking about players standing on the left side, not specifically shortstops + third basemen, though obviously there's massive overlap) since then, Colorado has a major edge:
Best left-side infield defense, 2017-20
+58 OAA, Rockies
+48 OAA, Cubs
+37 OAA, D-backs
+34 OAA, Indians
+32 OAA, Nationals
Just as a reminder that not every great infield play requires a dive -- most don't -- let's highlight what Story did on this high bouncer from Ketel Marte. Based on the time, distance, and positioning of this play, as well as Marte's speed, similar chances are turned into outs just 20% of the time.
2) It's time to call Isiah Kiner-Falefa (+5) an elite defensive infielder.
Easily the most unexpected name on our Top 10, the third-year Ranger took an unusual path to his current spot, but he's got a fan in his manager.
"I look at him as an elite defender, especially at third base," Rangers manager Chris Woodward said in March. "He can go up the middle. He can play shortstop at a really high level."
We agree. But we have to tell you how he got there.
Kiner-Falefa was drafted as a middle infielder back in 2013, then attempted to convert to catcher in Double-A in 2016. That got him to the Majors in 2018, and that year he got into 35 games behind the dish, and 59 more starts at second, short and third. The catching metrics were poor (minus-5 framing runs), but as an infielder, he compiled a very strong +7 OAA in a third of a season -- and since 6 of those came as a third baseman, it made him the third-best third basemen behind the two obvious legends (Arenado and Matt Chapman) that year.
In 2019, it was a similar situation. He started out as a catcher, putting up more below-average framing numbers, up until he hit the injured list with a finger problem on June 7. When he came back to the Majors two months later, it was almost exclusively as a third baseman. Again, in a small sample (only 25 games at third), the metrics loved him. He posted a surprisingly strong +4 OAA there -- good for Top 10 in 2019.
That all ended the catching experiment, and it was enough to make us wonder whether it was a small-sample fluke or a sign of things to come.
("Finally at the end of the season," Woodward recently told MLB.com's T.R. Sullivan about 2019, "I got to see a glimpse of, 'OK, I see what people are talking about.'")
This year, Kiner-Falefa, concentrating exclusively on infield, has played 33 games at third, 13 more at shortstop, zero at catcher, and once again the Statcast metrics view him as elite at third base -- despite the fact he's still played only 104 career games at third. We can stop talking about catching now, right?
Take a look for yourself, anyway. Remember this great play on Sept. 1 to take a hit away from George Springer? Based again on the time, distance and positioning of this play, as well as Springer's speed, similar chances are turned into outs just 20% of the time.
Or this one, in August, rushing in on Tony Wolters' bunt attempt? That's an out only 40% of the time.
"The arm strength is about average," Woodward said, "[but] everything else is off the chart."
It sure is. Even better, after struggling to hit as a catcher (72 OPS+ across 2018-19), he's posted an above-average .321/.366/.407 (112 OPS+) this year. He's still only 25 years old. It seems like he's found a home.
3) Fernando Tatis Jr. (+4) now has the numbers to back up his reputation.
We went into this in great detail last week, but the short version was this: For all of the highlight plays, Tatis rated very poorly in 2019 (-13 OAA, third-weakest among shortstops, despite playing just half a season) due to a serious issue with throwing away the relatively simple chances. Tatis made 14 throwing errors, the most in baseball, in just 84 games. ("Put another way," we wrote, "he was better when the chance was hard than he was when it was easy.")
You now see him in the top five of all infielders. Just what he needed: Another way to say how great he is.
Tatis still makes the highlight plays, of course. But he's yet to make a throwing miscue this year, and that's why, instead of showing you a collection of his unbelievable spectacular plays, here's a simple one of mundane 6-3 plays. Just making these successfully matters more than getting on nightly highlight shows. He's doing that now, much better than he did last season.
4) Jake Cronenworth (+5) is valuable for more than just his bat.
Tatis isn't the only Padres infielder impressing with his glove, and we're not talking about the two corner infielders with six Gold Gloves between them. (Metrics have never liked Eric Hosmer as much as his reputation suggests, while Manny Machado has become more good than great as he's aged.)
Instead, we're talking about Cronenworth, potentially the NL Rookie of the Year, who is hitting .323/.385/.549 (154 OPS+) after being acquired from the Rays as part of last winter's Tommy Pham trade. While he's primarily been San Diego's second baseman, he's also made starts at first and short, and ... well, being a top-five infielder sure is going to help that Rookie of the Year case, isn't it?
This one to get Matt Beaty looked nice for the glove flip, but more importantly, it was a 50/50 play:
The Padres, for what it's worth, had the weakest infield defense in baseball last season (-26 OAA). This year, San Diego's infield is third best, +7. That's not the only reason the Padres are steaming toward the playoffs, but it's indicative of how many different things this team has improved in.
5) Rafael Devers (-1) might be better than he seems.
Devers has the most errors in baseball, 10. You'd think that's bad, and it mostly is bad, but he comes in rated a mere minus-1 OAA, or ever-so-slightly below average. You're surprised. So are we, to be honest. What's up here?
Part of it, we think, is that as the Red Sox season has collapsed into disaster, and as Devers himself was hitting all of .248/.296/.459 at the end of August, it was easy to just write the entire thing off. Of course the Sox are disappointing, it's easy to think, and Devers' play is a big part of that, as few people focus on an out-of-contention club.
Perhaps. But that overlooks that there has been some good there, too. Devers posted three hits on Sunday, continuing what's been a red-hot few weeks for him; dating back to Aug. 28, he's been one of the five best hitters in baseball. (It's a sample of 16 games, yes. He's still on a top 10 with Mike Trout and Ronald Acuña Jr.) Despite all the negativity, his 127 OPS+ isn't that far off his 133 OPS+ from last year, when he was roundly considered one of baseball's best young stars.
We bring up the offense because it might be the same on defense. While it seems it's been nothing but problems, that obscures the nice plays. Here, for example, is a tweet of ours from Aug. 2, expressing praise for Devers' defense. That was in regards to this play, robbing Aaron Judge. The talent, clearly, is still there.
There's this one, too, a 40% chance of an out:
The bad plays have been bad, obviously. There's been good ones, too. It's also worth noting the difficulty of the plays he's faced; only two qualified players have had harder opportunities coming their way than he's had.
Either way, it was only a year ago that Devers was one of baseball's better fielding third basemen. Maybe he can still be that again.
6) Chris Bassitt is being helped by his defense more than any other pitcher.
Bassitt, who's been maybe Oakland's most reliable starter, has a solid 2.92 ERA. That's very good. It's also not backed up by really any advanced metric. Statcast's Expected ERA (or xERA), which turns quality of contact & amount of contact into an ERA estimator, says he's pitching at a 4.49 level. FIP, the classic Fielding Independent Pitching, says 4.06. Find any one you like, and they'll all say mostly the same thing -- Bassitt, who has a below-average strikeout rate, has been pitching like an average pitcher with an above-average ERA.
How? Defense. There's a pitching leaderboard for this, too, to see who has benefited from defense behind them, and the A's have given Bassitt an additional +6 OAA while he's on the mound. While we're including the outfield in this as well, it's primarily been in the infield.
You can see an example of that here, where Tony Kemp turns a 10% opportunity into an out.
That's a credit to the A's defense, though of course they'll be limited going forward by the news that Chapman is likely out for the rest of the season due to hip surgery.
You can find more about 2020 Outs Above Average at Baseball Savant.