These 5 players have opened eyes in May
Montas, Gallegos, Jackson, Reynolds, Pence all making impacts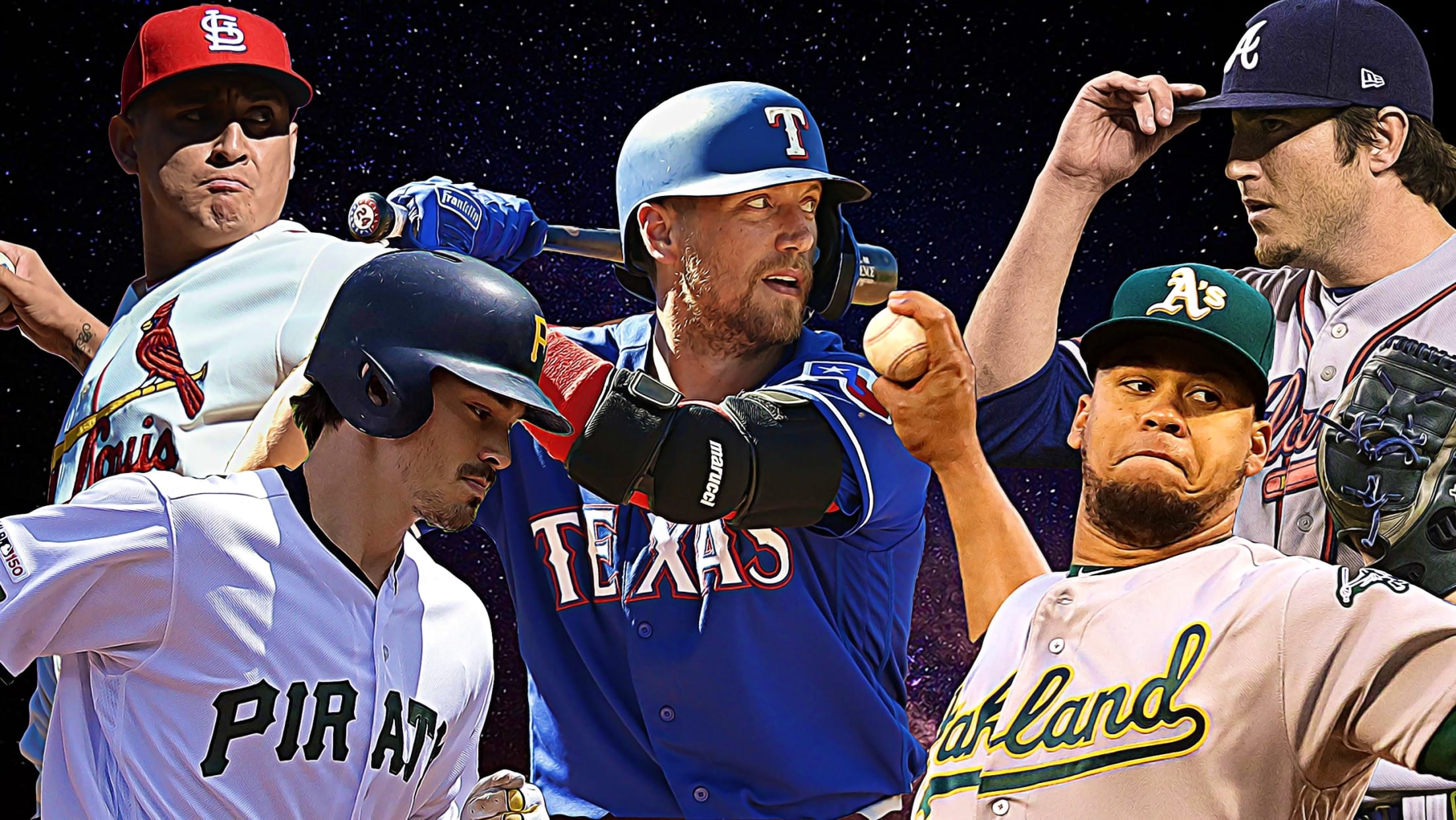 Last month, we took a look at five April performances from surprising sources that demanded our attention. They haven't all kept that up -- Max Fried and Jorge Polanco still look great, while Niko Goodrum hasn't -- but they were worth spotlighting. Now that we're nearing the end of May,
Last month, we took a look at five April performances from surprising sources that demanded our attention. They haven't all kept that up -- Max Fried and Jorge Polanco still look great, while Niko Goodrum hasn't -- but they were worth spotlighting. Now that we're nearing the end of May, let's take a look at five more interesting names having big impacts on their clubs.
This isn't about the highly regarded prospect who has arrived and immediately lived up to that pedigree, like Atlanta's Austin Riley or Boston's Michael Chavis, and monster breakouts you already know about like the Pirates' Josh Bell or the Angels' Tommy La Stella feel a little too large for this list. It might have been about the out-of-nowhere turn of Gio Urshela of the Yankees, but we already gave his breakout a full profile this month.
Frankie Montas, RHP, A's
A brief recap of Montas' long and winding road: Signed as a free agent by the Red Sox a decade ago in 2009, he was traded to the White Sox in the 2013 Jake Peavy/Avisail Garcia/Jose Iglesias three-way deal, then to the Dodgers in 2015's Todd Frazier/Jose Peraza three-team deal, then again to the A's in 2016's Rich Hill/Josh Reddick deal. Along the way, Montas had knee surgery in 2014, missed most of 2016 with a rib injury, and entered 2019 with a 4.90 ERA in 43 career games, mostly in relief.
That's quite the ride. Now, realize what it's led to: In 2019, Montas has a 2.40 ERA in 10 starts. He hasn't allowed more than three earned runs in any start. In May, he's collected 31 strikeouts against just three walks. For the season, using an advanced Statcast metric that accounts for quality of contact as well as amount of contact, he's been one of the 25 best starters in baseball.
So where is this coming from? Health is a good start, obviously, because it allows Montas to show off his 96.7 mph average four-seam velocity. But as we identified in April when we looked at 2019's best new pitches, it's also about his new split-finger fastball.
"When hitters have to worry about three pitches, not just two, it makes it worse for them and better for me," he told The Associated Press in March.
He's exactly right. The new splitter comes out 17 percent of the time, and it's been responsible for 20 strikeouts and only two extra-base hits. Overall, he's increased his strikeout rate from 15.2 percent to 24.7 percent, the third-largest jump in baseball.
Luke Jackson, RHP, Braves
When we released new Statcast pitch movement leaderboards recently, we noted an unexpected name on the slider page. Jackson's slider drops an average of 41.3 inches, which is 9.6 inches more drop than other sliders at his velocity and release -- the largest added drop over average of any slider in the game.
That's maybe because of the way Jackson throws it -- he grips it like a slider and throws it like a fastball, he told The Athletic's Eno Sarris -- but it's not hard to see how that movement is helping the right-hander. His slider gets grounders 67 percent of the time it's connected with, and that's the third-best number in baseball. Unsurprisingly, the pitch is good enough that Jackson has made it his primary offering, inching it up each year from 2016's 18 percent to this year's 52.6 percent, one of the dozen-highest slider rates.
ATL's Luke Jackson's slider drops +9.6 more inches than other SL around his 88 MPH velo (and release point), which is the most of any slider: https://t.co/GdmIiify7y

On a completely unrelated note, look at what pitches Jackson is using: pic.twitter.com/frt5rtq9yl

— Mike Petriello (@mike_petriello) May 24, 2019
It's helped fuel an incredible turnaround for Jackson, a former Texas farmhand who was acquired in an under-the-radar deal in December 2016. He struggled to consistently succeed in his first two years in Atlanta -- a 4.53 ERA in 91 1/3 innings around being DFA'd several times, including as recently as last June -- and now, improbably, he's found himself as Atlanta's closer, though he had a few tough outings this week.
Jackson might not stick in the ninth inning, but it might not matter, either. His 31.5 percent strikeout rate as is good or better than that of Ryan Pressly or Seth Lugo.
Bryan Reynolds, OF, Pirates
When the Pirates traded longtime superstar Andrew McCutchen to San Francisco before the 2018 season, it wasn't a popular move in Pittsburgh. It came just days after they traded Gerrit Cole to Houston, and it seemingly represented the end of an era, as even GM Neal Huntington said, "It would have been a challenge for us to sit here and say we're going to be better than we were the last two years."
It also felt underwhelming because the return of "a failed starter who probably would be a reliever and a promising but faraway A-ball outfielder" wasn't exactly exciting. But right-hander Kyle Crick, using his deadly slider, has a 2.38 ERA in 81 games as a Pirate, and Reynolds, a 2016 second-round pick out of Vanderbilt, has been fantastic in his first taste of the Majors, hitting .318/.376/.553 in 93 plate appearances.
We won't guarantee that he'll keep that up, and his path to playing time may be uncertain as Corey Dickerson works his way back to health. But Reynolds has, so far, pulled off an interesting combination. He's striking out less than the Major League average (he's at 21 percent, the MLB average is 23 percent), and he's doing it while hitting the ball really, really hard. There are 305 hitters with 50 batted balls, and Reynolds' hard-hit rate is... tied for fourth.
60.7% -- Joey Gallo, TEX
60.0% -- Josh Bell, PIT
56.1% -- Anthony Rendon, WSN
54.8% -- Christian Yelich, MIL / Reynolds, PIT
Reynolds hasn't played as much as those stars, and he might not as much going forward. But he also slugged .735 -- in only 57 plate appearances -- in Triple-A this year. It seems like there's something here, and if there is, he and Crick can make that McCutchen deal look a lot better.
Giovanny Gallegos, RHP, Cardinals
Speaking of trades that could use some retroactive narrative polishing: Everyone knows by now that the Yankees extracting Luke Voit from the St. Louis farm system is one of the larger heists in recent years. (Voit is outhitting both last year's Cardinals first baseman, Matt Carpenter, and this year's, Paul Goldschmidt.)
In return, the Cardinals received two relievers. The more established one, Chasen Shreve, currently has a 4.79 ERA for Triple-A Memphis. The second, Gallegos, got into only two late-season games for the Cardinals last year, and he has already been optioned back to Triple-A once this year. But Gallegos has found his way into 17 games now, and he's done something he showed plenty of ability to do in the Minors: Miss bats.
So far, Gallegos has 33 strikeouts in 20 1/3 innings. He's struck out nearly 43 percent of the batters he's seen, and that's fifth-best of the 266 pitchers with 20 innings.
54.4% -- Josh Hader, MIL
47.4% -- Matt Barnes, BOS
46.8% -- Kirby Yates, SD
43.7% -- Nick Anderson, MIA
42.3% -- Gallegos, STL
This isn't exactly new. In 2016, Gallegos led the entire Minors in strikeout rate, among those who threw 40 innings. In 2017, he was seventh, and you could make him first if you made the minimum qualification 100 innings. Don't worry so much about the 3.54 ERA; focus on the fact that Gallegos has an elite skill, and it's one that is highly desirable in baseball.
How, though? Gallegos doesn't have elite velocity, 93.8 mph, and he only really throws two pitches: a four-seamer and a slider. He gets solid rise on the four-seamer -- two inches more than average at his velocity and release -- and the slider is one of the game's better swing-and-miss pitches, since the 62.1% of the time hitters miss when they offer at it is third-best. He allows his share of hard contact, which may limit his results, but there's few pitchers who miss bats like this.
Hunter Pence, OF, Rangers
Who says a surprising name has to be a new one?
If you thought Pence's career was over at the end of 2018, you certainly had more than enough evidence to make the case. After hitting only .260/.315/.385 in 2017, Pence hit just .226/.258/.332 (63 OPS+) across 248 plate appearances in his injury-plagued 2018 season at 35 years old. In a sport increasingly turning to youth, it wasn't exactly the kind of platform year you'd have expected would land him another chance.
Pence ended up signing a Minor League deal with Texas, spent the winter rebuilding his swing, and ended up making the Rangers' Opening Day roster. He's spent most of his time at designated hitter, and it's been only 121 plate appearances, but he's been unambiguously great, hitting .312/.364/.651.
This isn't just good luck, either. It might be the opposite, because he's hitting .312, and his expected batting average, based on his exit velocity and launch angle, is .332. He's 30th on the hard-hit list, just ahead of names like Bryce Harper and Freddie Freeman, and he's whiffing at a lower rate than he has since 2013.
It's nothing short of a stunning turnaround from a player who appeared to be all but finished. If he keeps it up, and the Rangers can't stay in the race, it's not at all difficult to envision him taking high-leverage plate appearances for a playoff contender with a desperate need for a OF/DH bat, like Cleveland. While most other aging veterans on an apparent decline have vanished, Pence has thrived. It's one of 2019's most interesting stories.
Mike Petriello is an analyst for MLB.com and the host of the Statcast podcast.