The best new pitches of 2019
If there's a pitching version of "arriving to Spring Training in the best shape of my life," it has to be "I'm working on a new pitch." Every year, dozens of pitchers say they're adding something new to their arsenals. It's become such an annual occurrence that FanGraphs now regularly
If there's a pitching version of "arriving to Spring Training in the best shape of my life," it has to be "I'm working on a new pitch." Every year, dozens of pitchers say they're adding something new to their arsenals. It's become such an annual occurrence that FanGraphs now regularly devotes effort to tracking all of those preseason comments, even if many of those new pitches never actually find their way into games.
But when they do, and they work, they can be a game-changer. Remember, for example, the impact that Wade Miley's new cutter had in turning around his career -- he only started throwing it in 2017, and now he uses it 50 percent of the time. Remember how important Jameson Taillon's new slider became. Think about Marco Gonzales' cutter, or Adam Ottavino's cutter, or how Kirby Yates went from a waiver-wire claim to a San Diego relief star thanks to his new split-finger fastball.
Even though we're only a few weeks into the 2019 season, we can already see which new pitches are being used, and which ones are being used successfully. Today, we'll take a look at the season's most interesting new offerings.
We're not interested in a pitch that's only appeared once or twice, of course, or a new one that hasn't actually been any good. (Sorry, Joey Lucchesi, your new fastball and the 1.000 slugging percentage allowed on it doesn't count.) In order to qualify, a pitcher must have:
• Thrown at least 100 total pitches in 2019
• Thrown their new pitch less than one percent of the time in 2018
• Thrown that new pitch at least five percent of the time in 2019
• Have an Expected wOBA of .300 or below on the pitch so far
These pitches qualify, listed in descending order of 2019 usage. You won't be surprised to know that nearly all of these are breaking pitches. Fastballs are dying. Who adds a four-seamer these days? No one, that's who.
29 percent -- Martin Perez, cutter
Perez put up a 6.22 ERA for Texas last year, finding himself spending time in the bullpen for the first time since his 2012 rookie season. This winter, he arrived in Minnesota with promises of new mechanics and increased velocity. For the most part, that's held up; his primary sinking fastball has jumped from 92.5 mph to 94.5 mph.
But he also came with a new cutter, too, one that he was so confident about that at the end of Spring Training he called it "the pitch ... that's going to make a big difference."
Martín Pérez is feeling good about his new cutter and is encouraged by the whiffs and strikeouts.

"I think it's going to be the pitch for me this year that's going to make a big difference. You guys can see the signs. I throw middle, middle-in, and they can't hit the ball hard."

— Do-Hyoung Park (@dohyoungpark) March 31, 2019
This wasn't the first time he'd tried this, of course. Perez has been attempting to add a cutter since at least 2014, though 2019 is the first year we've seen him successfully implement it, making it a co-primary pitch along with his sinker.
Though his overall numbers don't look great -- it's hard to look past a 5.31 ERA -- the cutter has actually been spectacular, as he's thrown it 110 times and allowed just one single on it. So far, 57 pitchers have thrown at least 50 cutters, and Perez's new one has been the 10th-best. Just look at what he did to Baltimore's Rio Ruiz earlier this month.
More cutters mean less of everything else. Perez has dropped his sinker from 51 percent to 29 percent, and his slider has basically disappeared entirely. That might be fine.
19 percent -- Ivan Nova, cutter
Speaking of cutters that have become weapons, if we go back to that same list of 57 pitchers who have thrown 50 cutters, we'll find Nova at the very top. That's because he's thrown it 71 times and allowed just four singles, while collecting nine strikeouts. It's been a valuable new pitch.
Well, "new" pitch, anyway. As he admitted in 2016, he stopped trying to throw one in 2012 due to concerns about how it would impact the health of his arm. So far in 2019, he's had batters miss on 40.4 percent of the swings they've taken against his cutter, one of the 12 best marks in baseball.
Iván Nova feels ready. He's throwing his cutter again. Said it's a pitch he threw before he underwent Tommy John a few years ago. Asked if it was Don Cooper's idea, Nova said it was his own, but I doubt Cooper objected pic.twitter.com/xpxGDfsc2G

— James Fegan (@JRFegan) March 16, 2019
Now, like Perez, it's hard to look past the inflated ERA, which is 8.12 in Nova's case. Of course, it's been a very odd start to the season. Nova has had two very good starts (allowing one run over seven innings in Cleveland and one run over six innings to the Yankees) and three terrible starts, allowing seven, six and nine runs, respectively. Using an ERA estimator like Fielding Independent Pitching gives you a more reasonable 4.56 number.
That's still not good enough, obviously. But the new cutter has been pretty fantastic. It's a glimmer of hope in an otherwise rough Chicago introduction.
17 percent -- Frankie Montas, splitter
"Hitters had to worry about my fastball and slider," Montas said on March 31. "Now they have to worry about my split-finger [fastball], too."
No kidding. It's been a decade since Montas signed with the Red Sox as an amateur free agent, and since then he's been traded to the White Sox (2013's Jake Peavy deal), Dodgers (2015's complicated three-way Todd Frazier deal), and A's (2016's Rich Hill/Josh Reddick deal). It's been a long path.
Montas has always had velocity, routinely touching triple-digits in the Minors, but as MLB Pipeline noted back in 2016, "he lacks consistency with a third pitch."
That's exactly what Montas was trying to fix this year, as he told The Associated Press in March.
"I really tried to focus on it in Spring Training," Montas said. "I feel like I'm able to throw it whatever the count. Honestly, when I started throwing it, it was to get people off my fastball. When hitters have to worry about three pitches, not just two, it makes it worse for them and better for me. Now it's three pitches. It makes it tougher."
That's exactly right. Just look at what it did to Robinson Chirinos:
Montas has dropped his ERA from 3.88 to 3.10, and increased his strikeout rate from 15 percent to 22 percent. The splitter is a big part of why.
17 percent -- Kelvin Herrera, cutter
Way back in 2010, FanGraphs wrote that "Don Cooper is one of the game's best pitching coaches in part because of how quickly he can teach and encourage pitchers to use the cutter," and that may still be the case, because Nova is in his first year on the South Side, and so is Herrera, and the pitch helped Jace Fry have a strong 2018, and so on.
Herrera had fooled with the cutter off and on for a few years, but he's never thrown it anywhere near as regularly as he has so far in 2019. It's not hard to see why he's doing it, either; once one of the elite flamethrowers in the game, back when he was routinely at 98-99 mph with his fastball, Herrera has experienced velocity loss for a few years now, and he's currently operating at an average of 94.7 mph.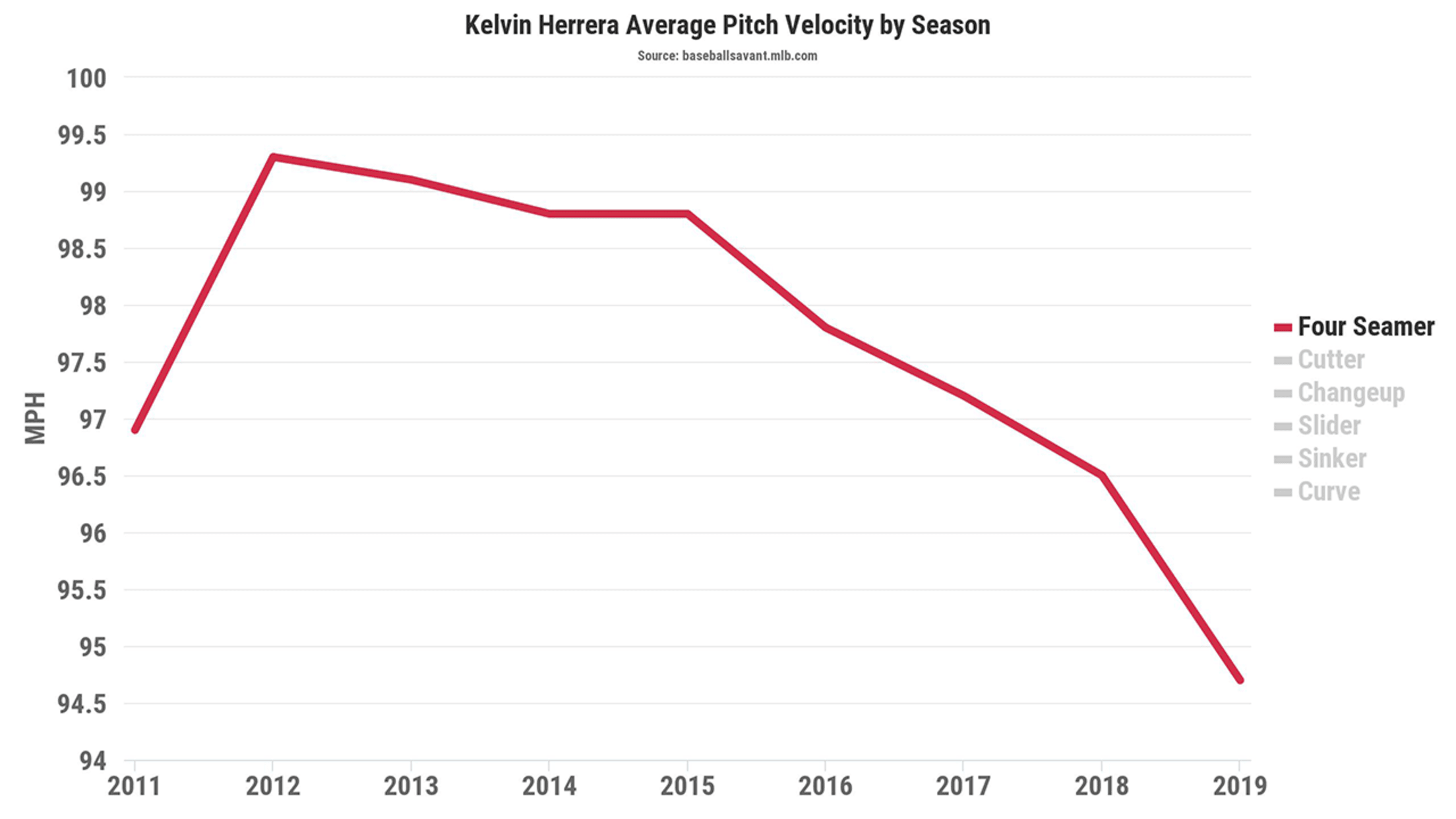 Even in today's velocity-friendly game, that's not slow, exactly, but it does open the door for a pitch to give a hitter a slightly different look. Enter the cutter, which comes in at 92.5 mph and offers five inches more drop and nine inches different movement than his main four-seamer. So far, Herrera has yet to allow a hit off of it, and he's off to a good start overall with a 1.48 ERA.
11 percent -- Blake Parker, cutter
"Parker adding cutter in latest adjustment," was the headline on a March 9 MLB.com article about Parker's "constant evolution." That should tell you a little about how much Parker has changed since his 2012 debut, and the cutter is merely the latest step, giving him something at 87.6 mph that slots in nicely between his 91.8-mph four-seamer and his 81-mph split-finger. (He also throws a 76.6-mph curve.)
It's been a perfectly effective pitch so far, and Parker has an outstanding 1.23 ERA. The problem is that his strikeout rate is at a three-year low, and his walk rate is higher than it's been since 2012. He's only thrown 7 1/3 innings so far.
10 percent -- Reyes Moronta, changeup
Moronta threw all of two changeups in 2018, and he barely needed them, since his rookie season had already been a smashing success, putting him at the forefront of one of baseball's most interesting bullpens.
This is how good Moronta's 2018 was:
We definitely did not talk enough about how strong a 2018 season Reyes Moronta had. pic.twitter.com/FDIYq2x8BZ

— Mike Petriello (@mike_petriello) February 26, 2019
Moronta managed to do all that with essentially a 50/50 fastball/slider split, which is impressive. But why stop there?
"I worked on it a lot over the offseason," Moronta said to MLB.com's Maria Guardado in March. "I think it's a pitch that's going to help me a lot. Getting outs in the big leagues is a little harder once hitters start to become more familiar with you. They know that you have two pitches, so when you add a new pitch, it helps a lot."
It has, indeed, "helped a lot." Moronta's strikeout rate has jumped from 30 percent to 41 percent. He's cut his walk rate nearly in half. That's not entirely due to the changeup, but he's been confident in it enough that he threw four of them in a row to a good hitter in Charlie Blackmon on April 13, and look how that ended for Blackmon.
We're getting below 10 percent here, so: lightning round!
9 percent -- John Gant, cutter
Gant is off to a fantastic start for the Cardinals -- a 1.06 ERA in 17 innings -- and while that may not entirely be backed up by the underlying metrics, which aren't terribly different from the 2018 that gave him a 3.47 ERA, the cutter is giving him a new weapon. It's a change of pace that fits in at 88.9 mph between his 95.1-mph fastball and his 82.3-mph changeup.
"I felt good with my cutter today," Gant said on May 6. "It's kind of a work in progress for me and it's starting to feel more and more comfortable with each outing. [Last year], I was going out every fifth day trying to get outs, not trying to work on things. Now is the perfect time to get that going."
So far, he's thrown 21 of them, allowing no hits, collecting two strikeouts.
9 percent -- Neil Ramirez, curveball
Ramirez is on his sixth team in sixth seasons, and his search for consistency and a stable home brought him to Cleveland teammate Trevor Bauer, famous both for his excellent curveball and his analytical approach to pitching.
As The Athletic detailed earlier this month, Ramirez spent time with Bauer last winter trying to improve a little-used curveball that he didn't use at all in 2018 for the best possible reason: "He has a really good curveball, so who better to try to help me out on the team than him?"
7 percent -- Jordan Hicks, changeup
You know, certainly, that Hicks is baseball's preeminent fireballer, having thrown baseball's 19 fastest pitches this season. Despite that, his 2018 strikeout numbers were actually below average, since his 20.7-percent strikeout rate fell below the 22.3-percent Major League average. That's partially because his fastball is a sinker, which gets grounders rather than missing bats, and partially because he was a two-pitch pitcher last year.
"I think it's going to be a really good pitch, so I'm just excited to use it," Hicks said on March 30.
It's still a work in progress, and he allowed Travis Shaw to take a changeup out of the park on Tuesday. It is, however, a changeup that is thrown at 89.8 mph, or faster than fastballs by a handful of pitchers. When it works, it can make hitters look foolish. Just ask Mike Moustakas:
7 percent -- David Hess, sinker
Hess said he was working on a two-seamer (or sinker) this winter, and he has, though only about seven percent of the time. It's been reasonably effective in the few times we've seen it, and it looks better by comparison given that each of his other primary pitches have allowed multiple home runs.
6 percent -- Max Fried, slider
Fried showed up on our list of "5 players who have opened eyes in April" last week, largely because of his potentially elite curveball. That's always going to be his big-ticket pitch, but don't forget about his new slider, too.
Max Fried, Slider/Curveball Shapes (overlay). pic.twitter.com/Haghehsvex

— Rob Friedman (@PitchingNinja) March 26, 2019
When they work in tandem, they can be a deadly pair. Fried has a 1.48 ERA over his first four starts of the season.
Mike Petriello is an analyst for MLB.com and the host of the Statcast podcast.