Hicks unveils new changeup in '19 debut
Cards to sport powder blue uniforms on road this season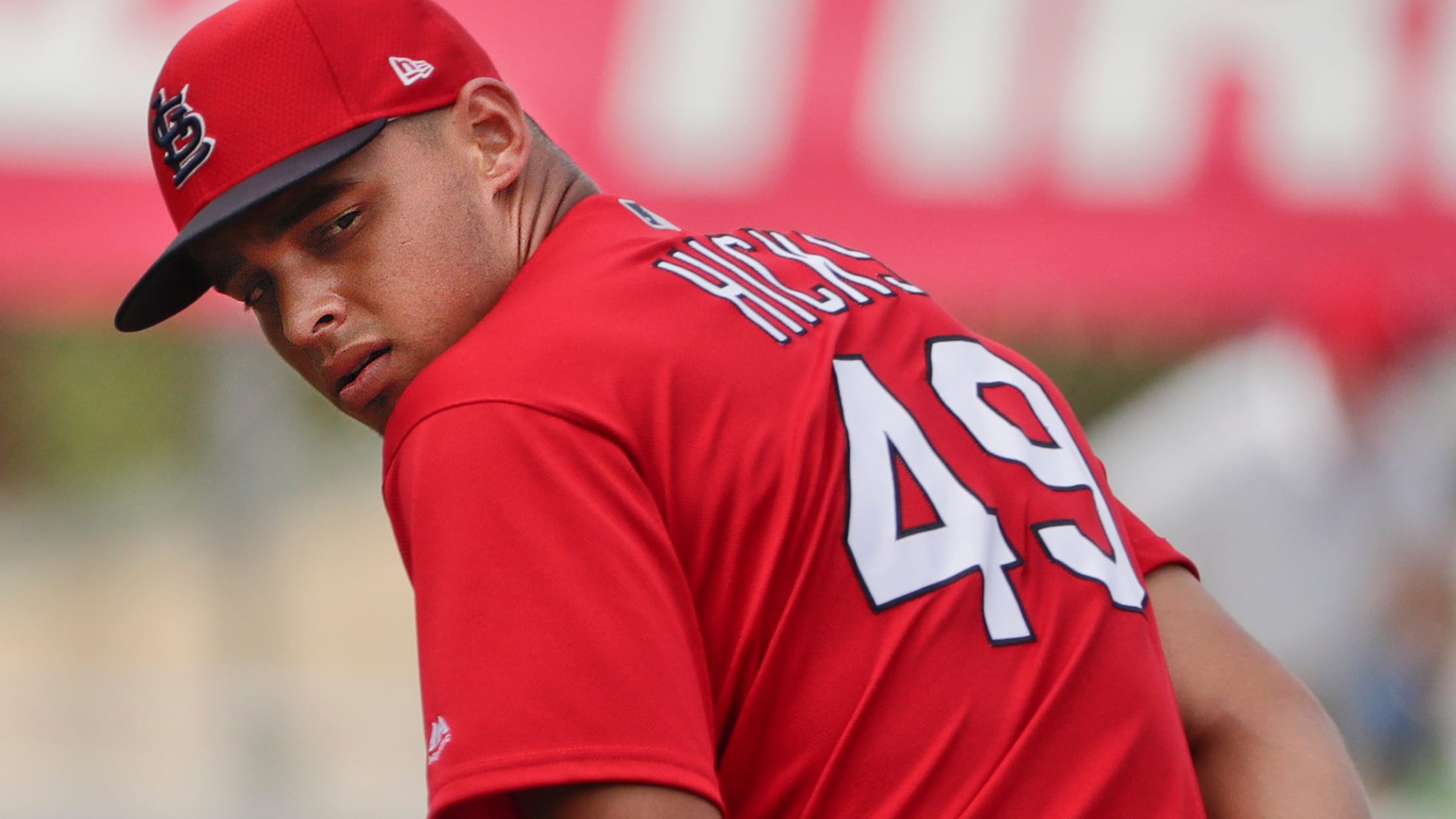 MILWAUKEE -- A year after bursting onto the scene with the Majors' hardest fastball, Jordan Hicks debuted the newest pitch in his growing repertoire in his first appearance of his sophomore season. Hicks dropped a pair of changeups into his nine-pitch outing on Friday during St. Louis' 9-5 win over
MILWAUKEE -- A year after bursting onto the scene with the Majors' hardest fastball, Jordan Hicks debuted the newest pitch in his growing repertoire in his first appearance of his sophomore season.
Hicks dropped a pair of changeups into his nine-pitch outing on Friday during St. Louis' 9-5 win over the Brewers, and both generated a third-strike swing-and-miss. With a radar reading of 89 mph, the changeup represented a midpoint between the velocity of Hicks' slider and his sinker, the latter of which topped out at 100.7 mph on Friday.
"I think it's going to be a really good pitch, so I'm just excited to use it," Hicks said. "I don't think it was really doing what I wanted it to do yesterday, but it worked out."
Hicks prioritized the pitch throughout Spring Training, believing that adding a third pitch to his mix would increase the degree of difficulty against him. While opponents barreled only three balls against Hicks in 77 2/3 innings last year, his average of 8.1 strikeouts per nine inning seemed, on the surface, to be low for a pitcher who threw 51.7 percent of the Majors' 100-plus mph pitches in 2018.
But hitters who sat on Hicks' two-seam fastball won't have the luxury to do so if he commits to increased use of his slider and continued commitment to his changeup.
"You're talking about a guy who has a plus-plus fastball, which in and of itself is a challenge to hit," manager Mike Shildt said. "Then you throw in a slider that he has shown and demonstrated throwing consistently for quality strikes, then you put a changeup in the middle of that. Independently, they are pretty nice weapons to have. Collectively, they're lethal.
Seeing blue
On Saturday, the Cardinals debuted their new throwback powder blue uniforms, which the club will wear for Saturday road games all season.
The uniforms, which were first unveiled during a November press conference, are reminiscent of the ones the Cardinals donned from 1976-86. The design takes elements from the club's current off-white alternatives by featuring the "St. Louis" script on the front and red piping around the buttons and sleeves.
No one fit into the powder blues better than coach Willie McGee, who wore the color during his early years as a players.
"I kind of thought about putting Willie in [the lineup] today," Shildt joked. "It seemed appropriate. It's a good look, and we're excited about embracing our past."
Quality of contact
Even when the hits weren't falling with much frequency for Dexter Fowler this spring, the Cardinals pointed to Fowler's tracked exit velocity as proof that the quality of contact was far improved from the year before. Friday night offered further evidence.
While Paul Goldschmidt put five balls in play with an exit velocity of 104.9 mph or higher during a three-homer night, he didn't finish with the Cardinals' hardest-hit ball. Fowler did. His eighth-inning single registered at 111.1 mph, making it the hardest ball Fowler has put in play since April 15, 2017.
"It doesn't surprise me at all," Shildt said. "We were able to validate what we speak about."
Last season, Fowler's exit velocity topped out at 107.5 mph, and he did not put a ball in play with an exit velocity higher than 104 mph after April.
Jenifer Langosch is a senior content manager at MLB.com. She previously covered the Pirates (2007-11) and Cardinals (2012-19). Follow her on Twitter.