World Series starts TONIGHT on FOX: FAQ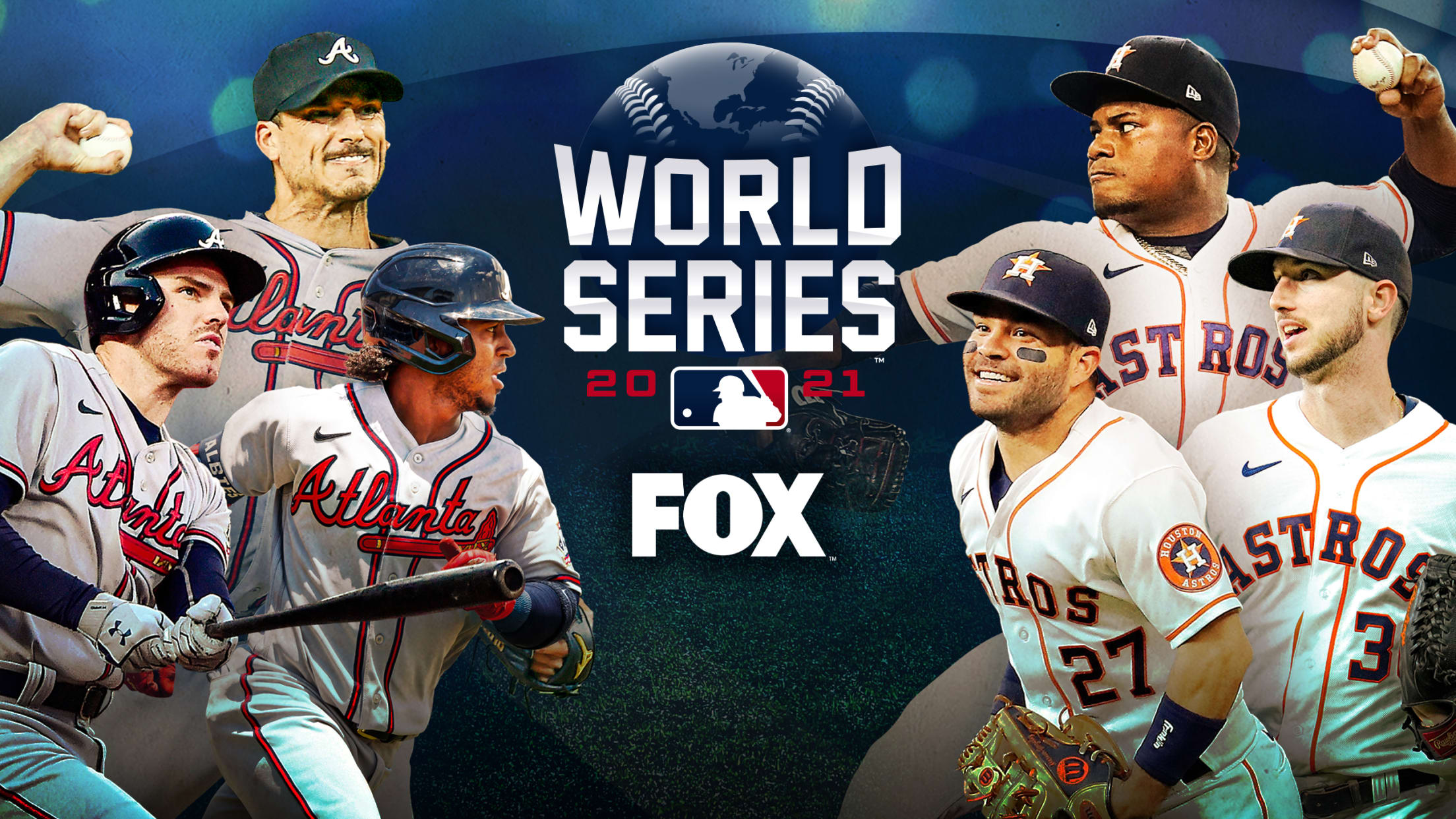 HOUSTON -- It took both great talent and resilience for the Braves and Astros to reach the 2021 World Series, which begins on Tuesday night with Game 1 at Minute Maid Park.
Experts pick World Series winner, MVP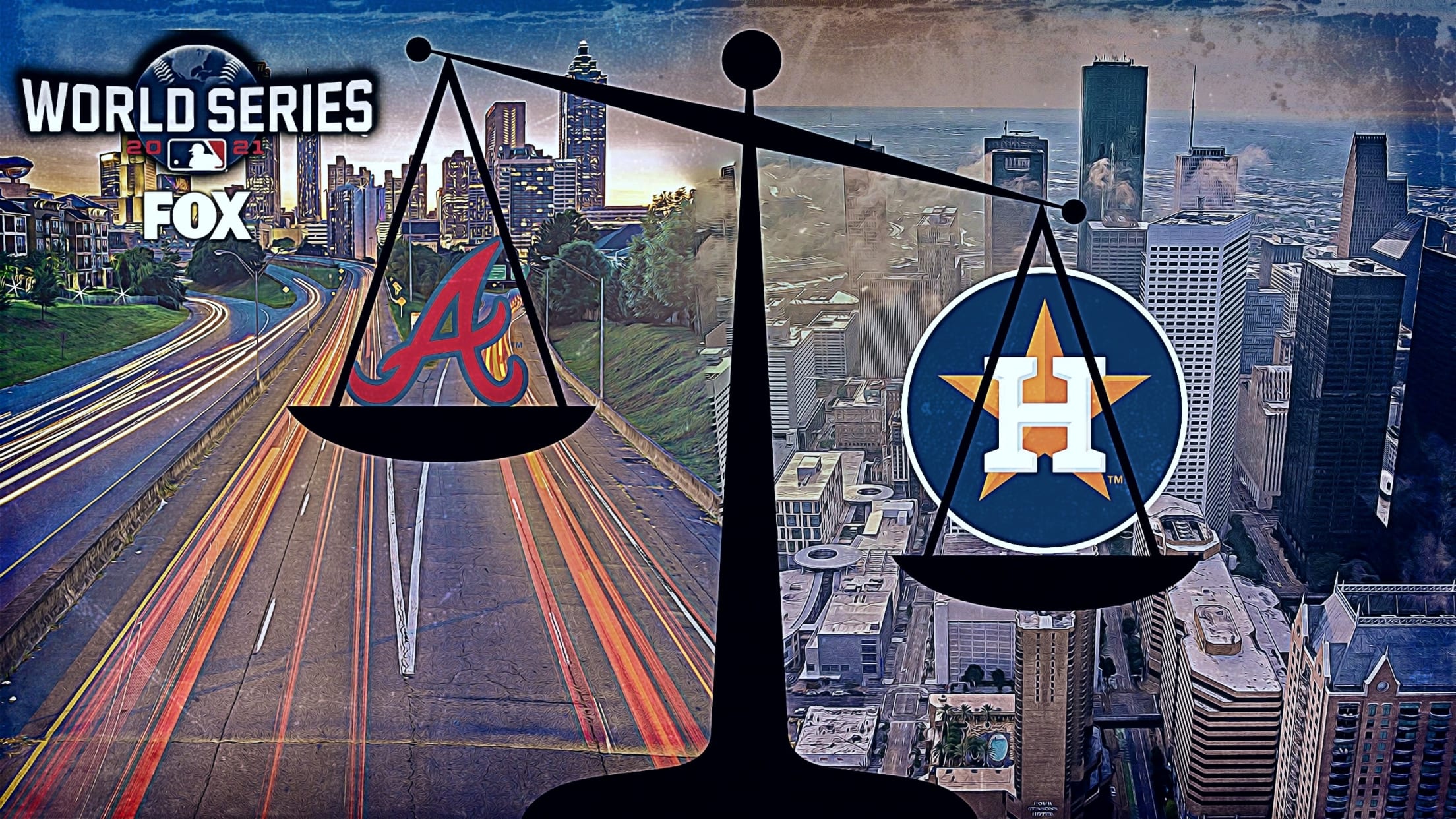 The Astros and Braves are about to face off in the World Series. Here's what the experts have to say. The 2021 Fall Classic starts Tuesday at Minute Maid Park in Houston, with Game 1 set to begin at 8:09 p.m. ET (watch on FOX). To reach the World Series,
Who has edge? ATL-HOU position by position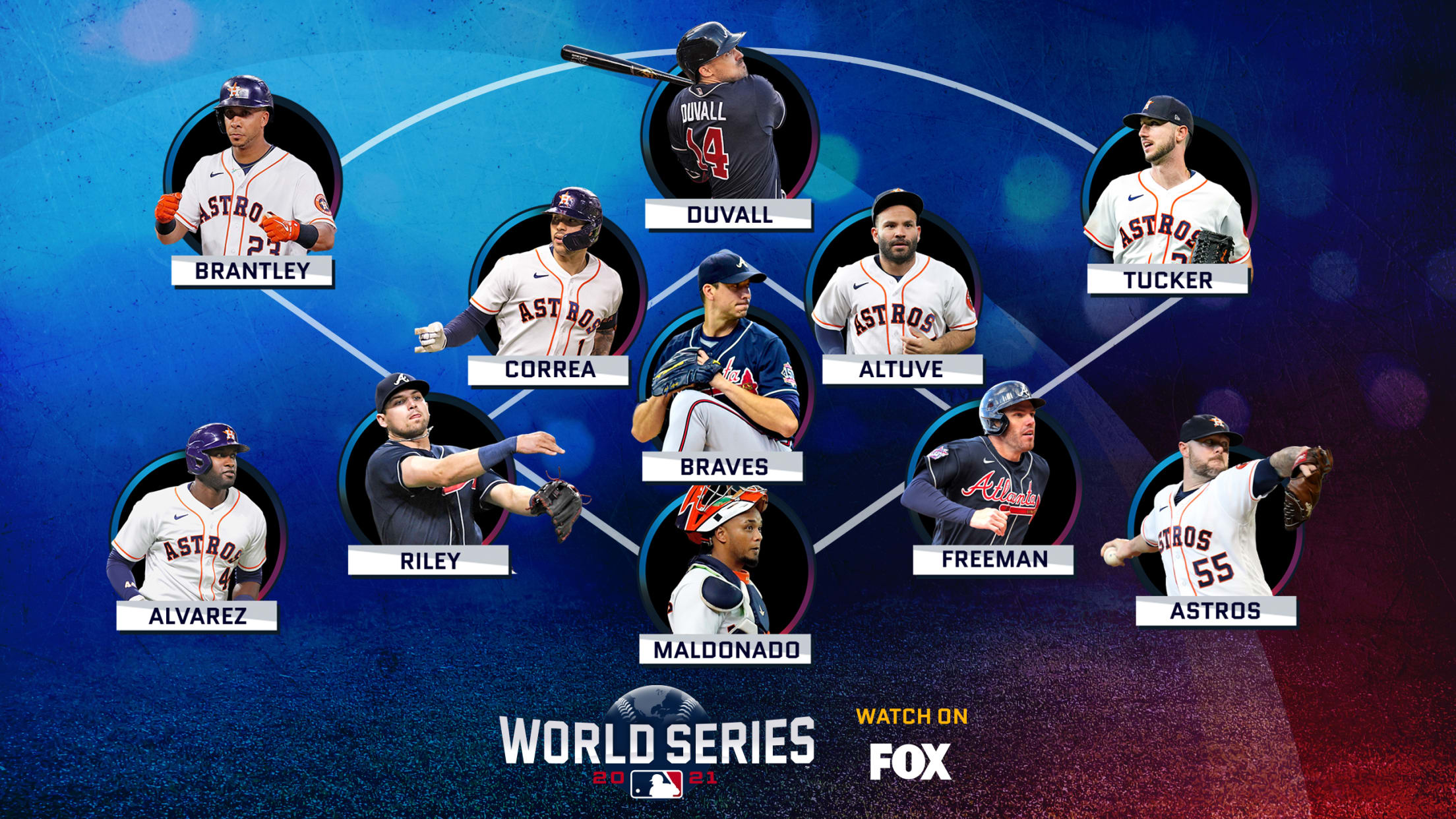 Believe it or not, the 2021 World Series will not be the first time the Astros and Braves have met in October. It's easy to forget now, but Houston spent the first 51 years of its baseball existence in the National League, playing the Braves in the regular season multiple
Bregman, Swanson forever linked by Draft
Top two picks from 2015 face off in World Series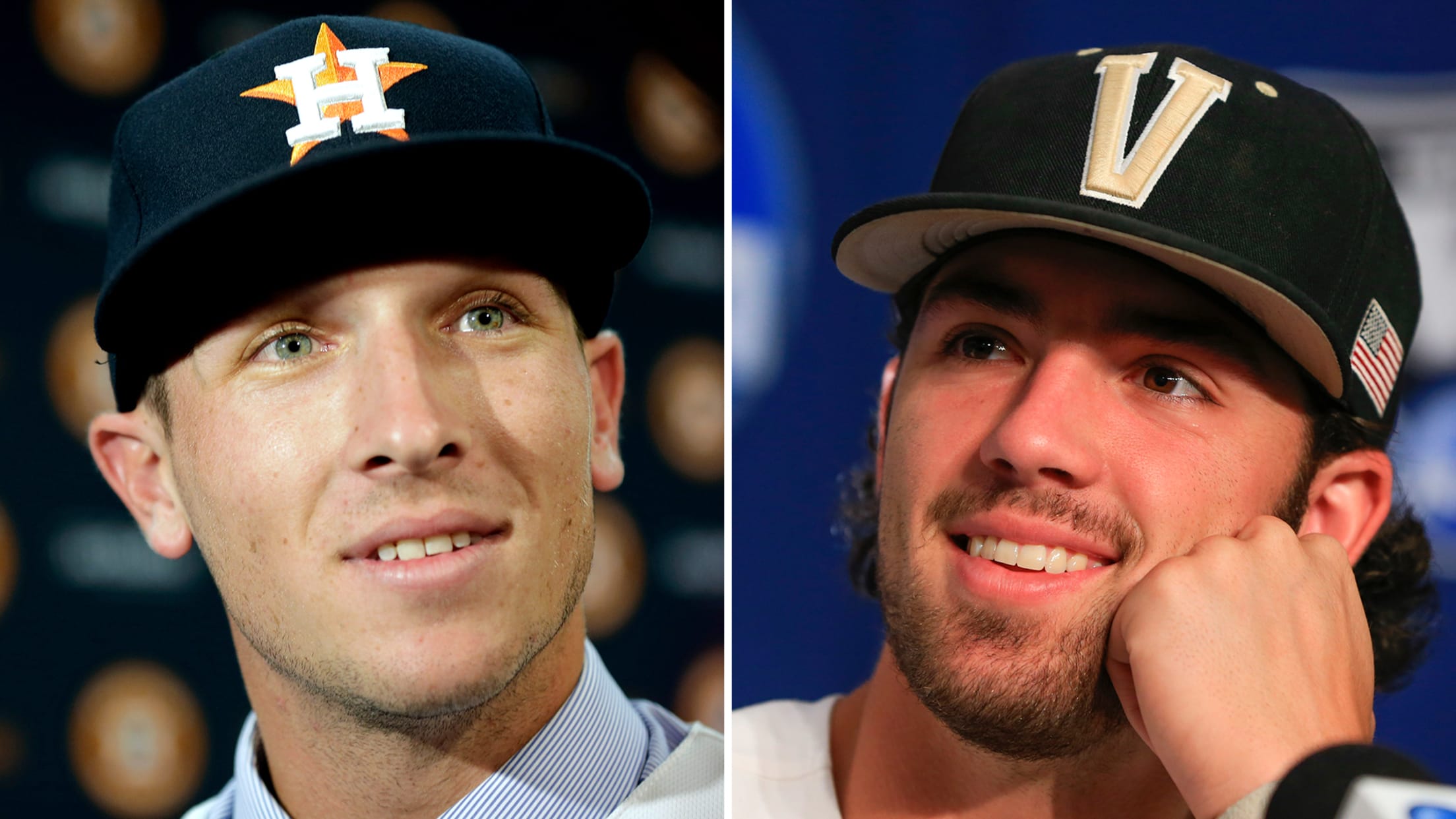 HOUSTON -- One of the reasons Astros third baseman Alex Bregman wears jersey No. 2 stems from where he was taken in the 2015 MLB Draft. Bregman, as you may have guessed, was selected second overall by the Astros, one spot behind Dansby Swanson, who was taken first overall by
Joc could be 9th to accomplish rare WS feat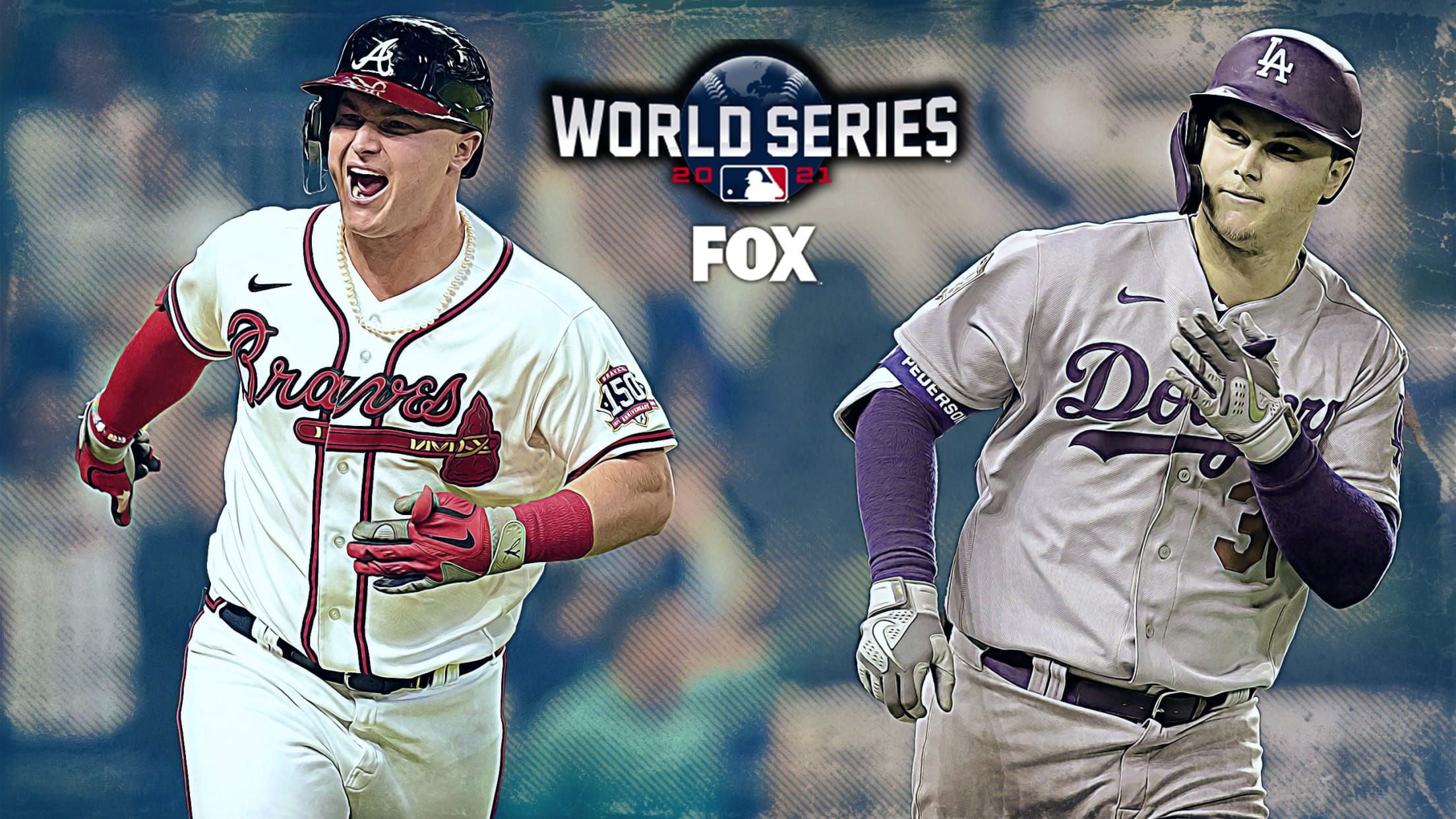 The term "Joctober" has been thrown around a lot this month, and with good reason. The Braves' Joc Pederson is slugging .586 this postseason and making his mark in more ways than one. First, there were the pinch-hit homers in Games 1 and 3 of the National League Division Series
Roundtable: Who's World Series favorite?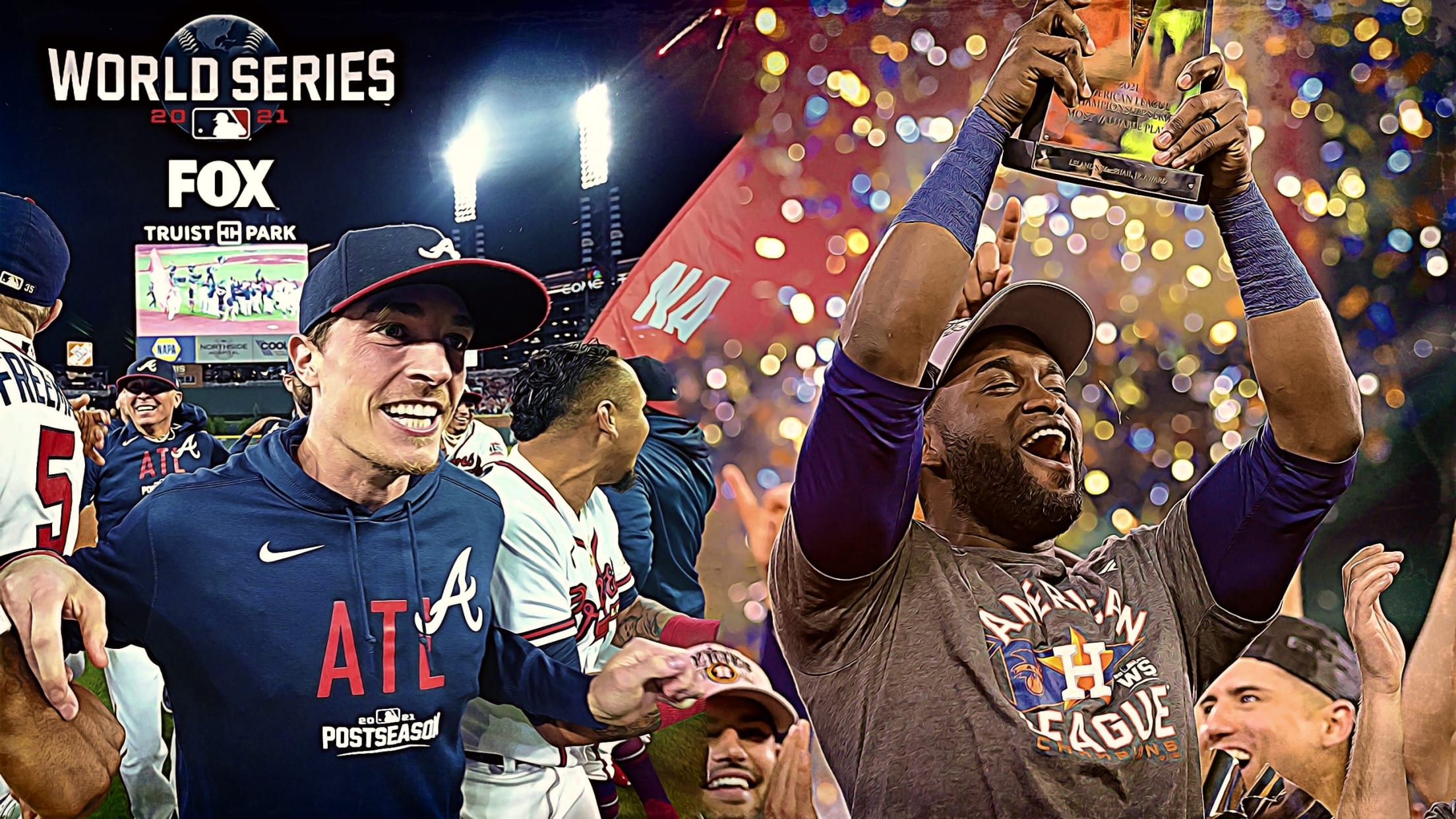 Alyson Footer, editor/moderator: Looking at Mike Petriello's position-by-position breakdown, he gives the advantage to the Astros at seven positions (relief pitching, DH, LF, RF, SS, 2B, C), while the Braves have a leg up at four: 1B, 3B, CF, starting pitching. Should that give the advantage to the Astros in
How the World Series teams were built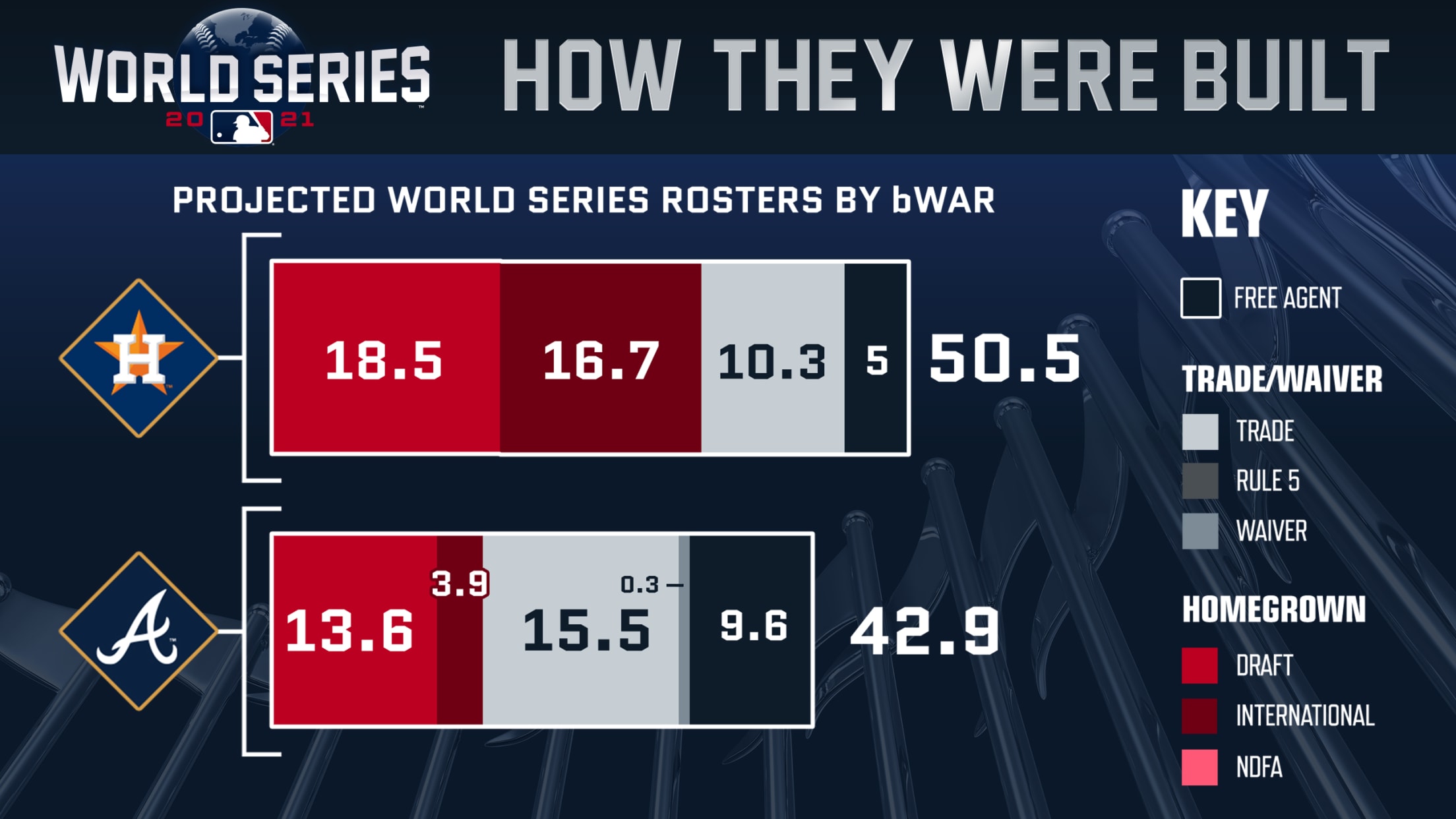 One team is back in the World Series after a one-year absence, carried there largely by a productive core of homegrown players, with a surprising postseason star coming via a trade few paid attention to at the time. The other team is back in the World Series for the first
Dusty's vow to Hank fulfilled -- with a twist
Baker will have to beat legendary friend and mentor's former club to earn first ring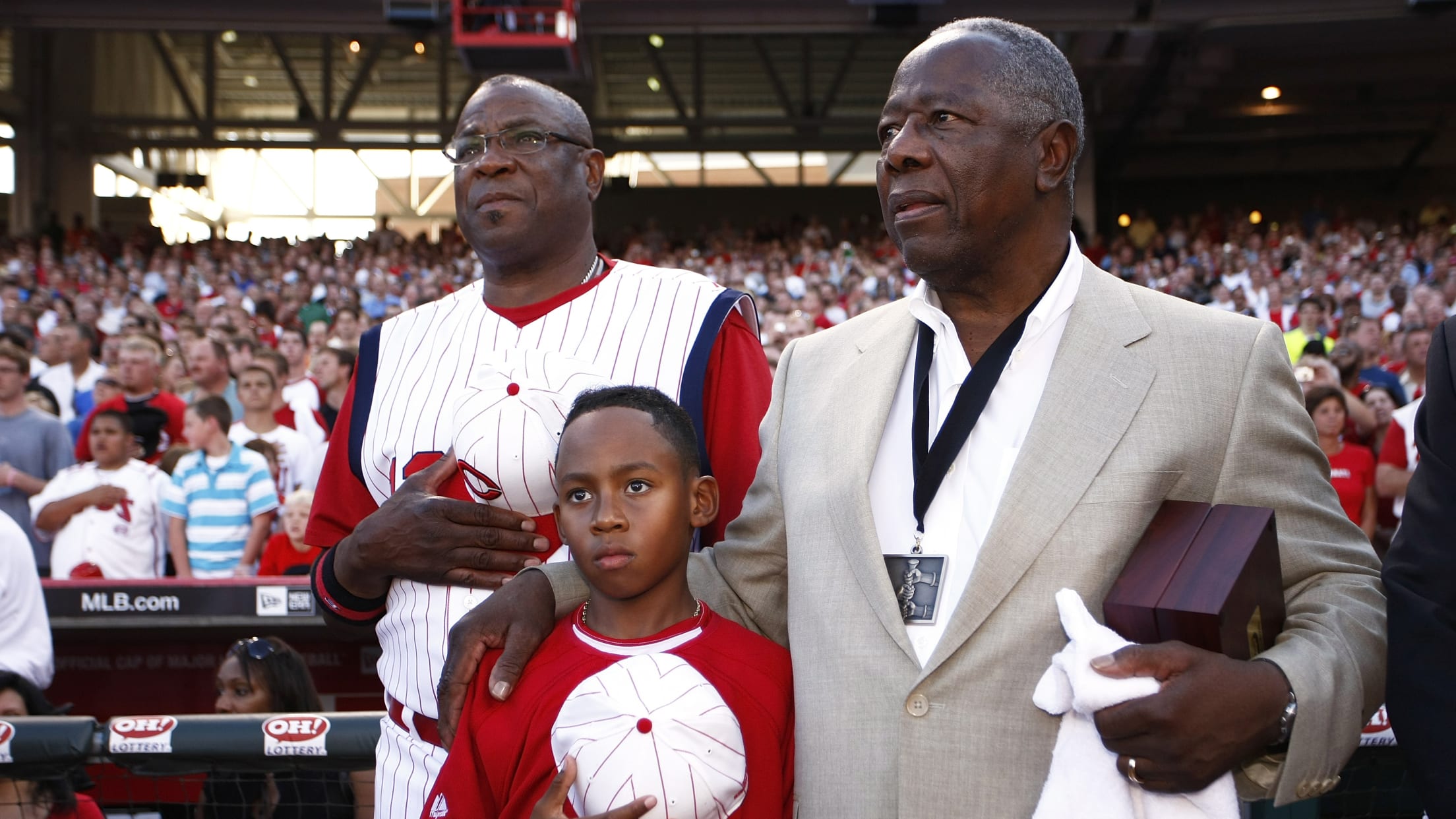 Dusty Baker resolved to reach this World Series. Not just for himself. Not just for the Houston Astros. But for Henry Aaron. Aaron was Baker's friend, his mentor, his baseball father figure. When the pain of Aaron's passing on Jan. 22 was still raw, a reporter from Sactown Magazine asked
6 important facts to know for World Series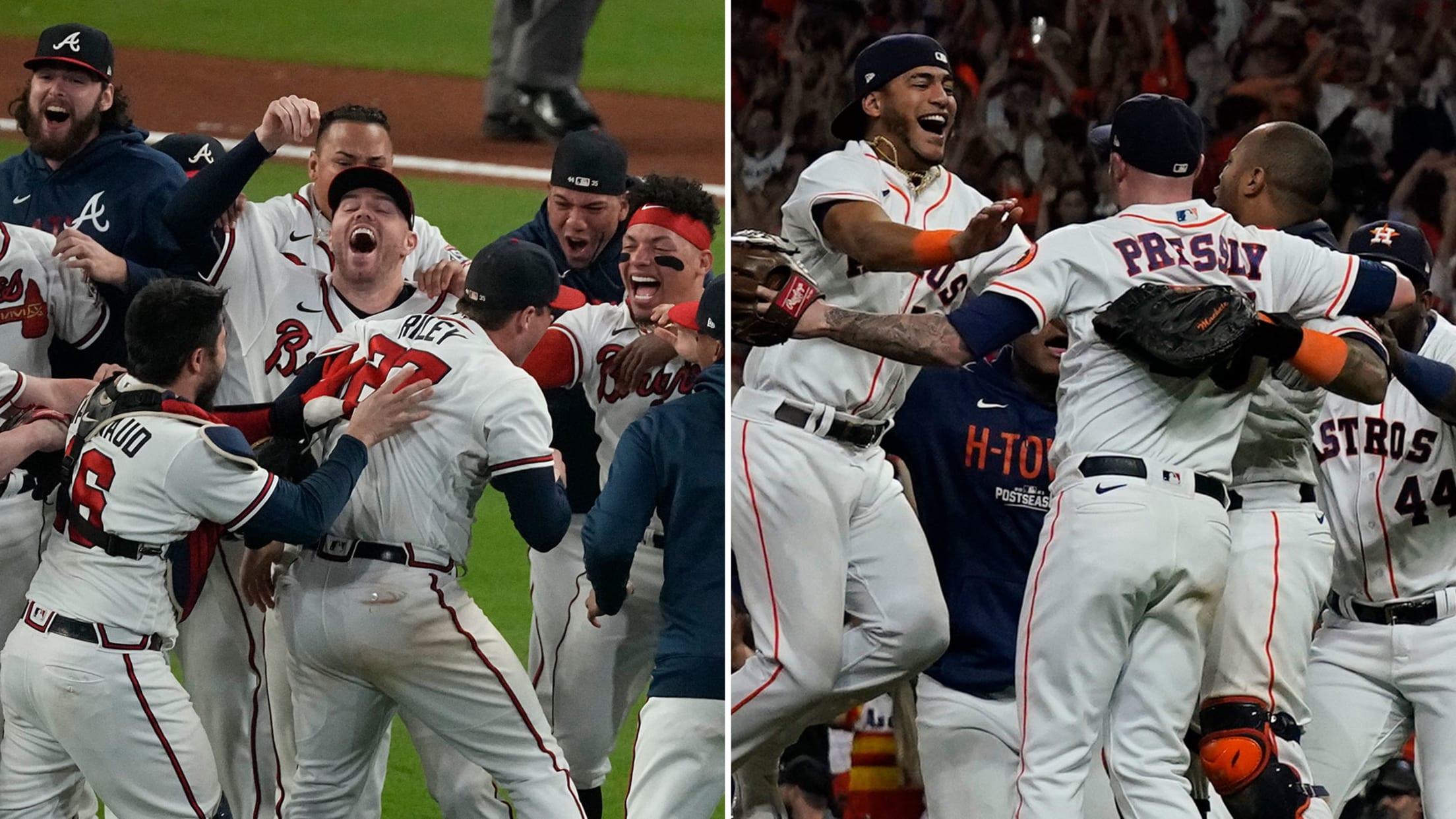 Think you know everything there is to know about the Astros and Braves as they get ready to start the World Series on Tuesday night? Not quite. Here are six important facts to keep an eye on as the two teams take the field.
How we'd draft Braves-Astros into WS teams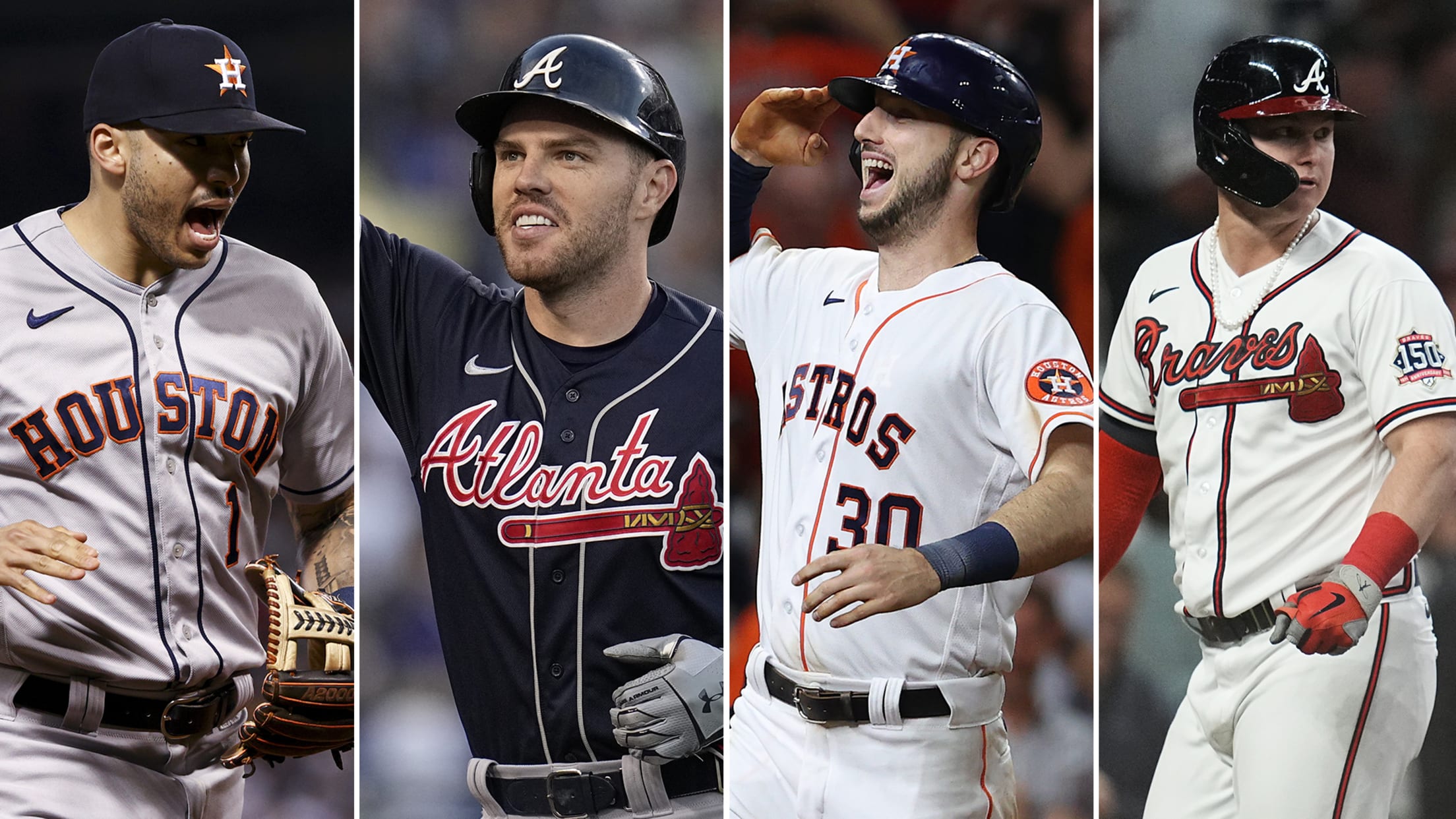 In the upcoming World Series, you'll see approximately 50 players, evenly split between the navy-and-red of the Braves and the orange-and-navy of the Astros. Let's throw those rosters into a blender. MLB.com's Will Leitch and Mike Petriello drafted their own 15-man rosters from the two clubs, following these parameters: •
'Born to hit': Rosario finally getting his due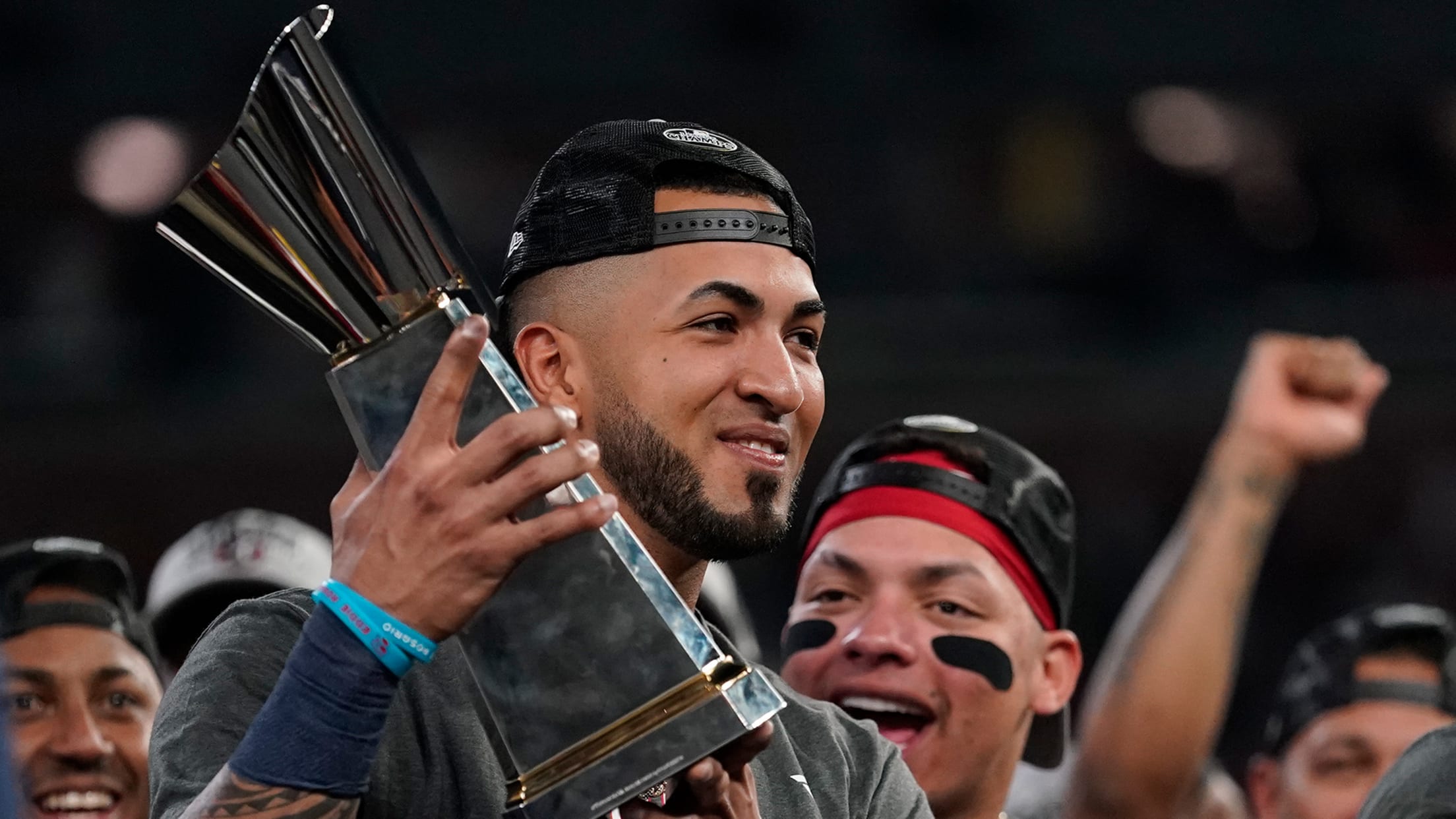 HOUSTON -- Eddie Rosario was 15 years old when the Tornado found him and changed everything. He was just a shy kid from small-town Guayama, Puerto Rico, at the time. His parents Eddie Sr. and Maria, along with his grandmother Maria Angelina Vazquez, were busy laying the foundation for his
These players have won free tacos for fans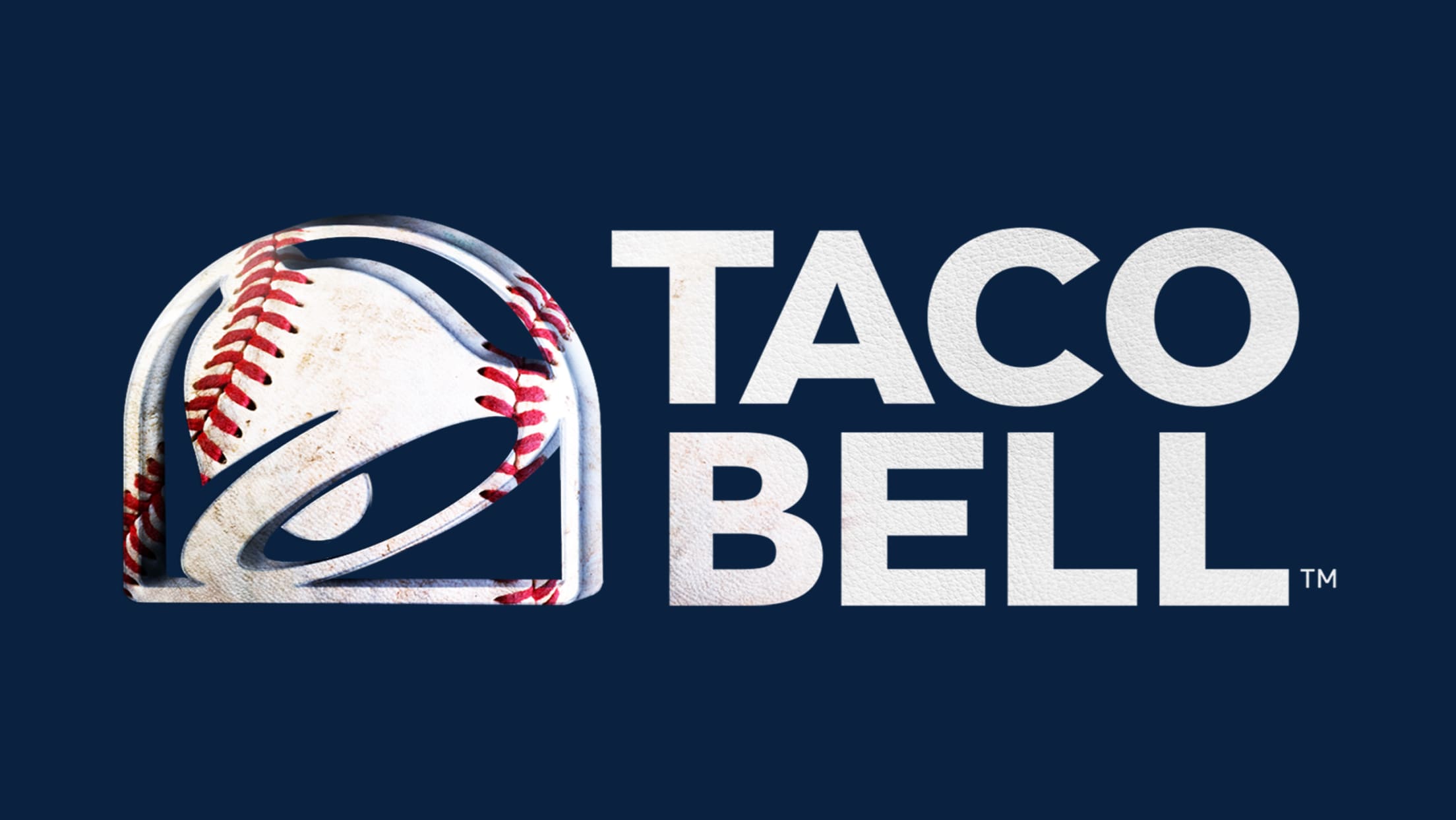 Taco Bell's "Steal a Base, Steal a Taco" promotion is back for the 2021 World Series, which means America's next Taco Hero is soon to be crowned. When the first steal of this year's World Series between the Astros and Braves happens, America will be able to get free Doritos®
Complete 2021 MLB postseason schedule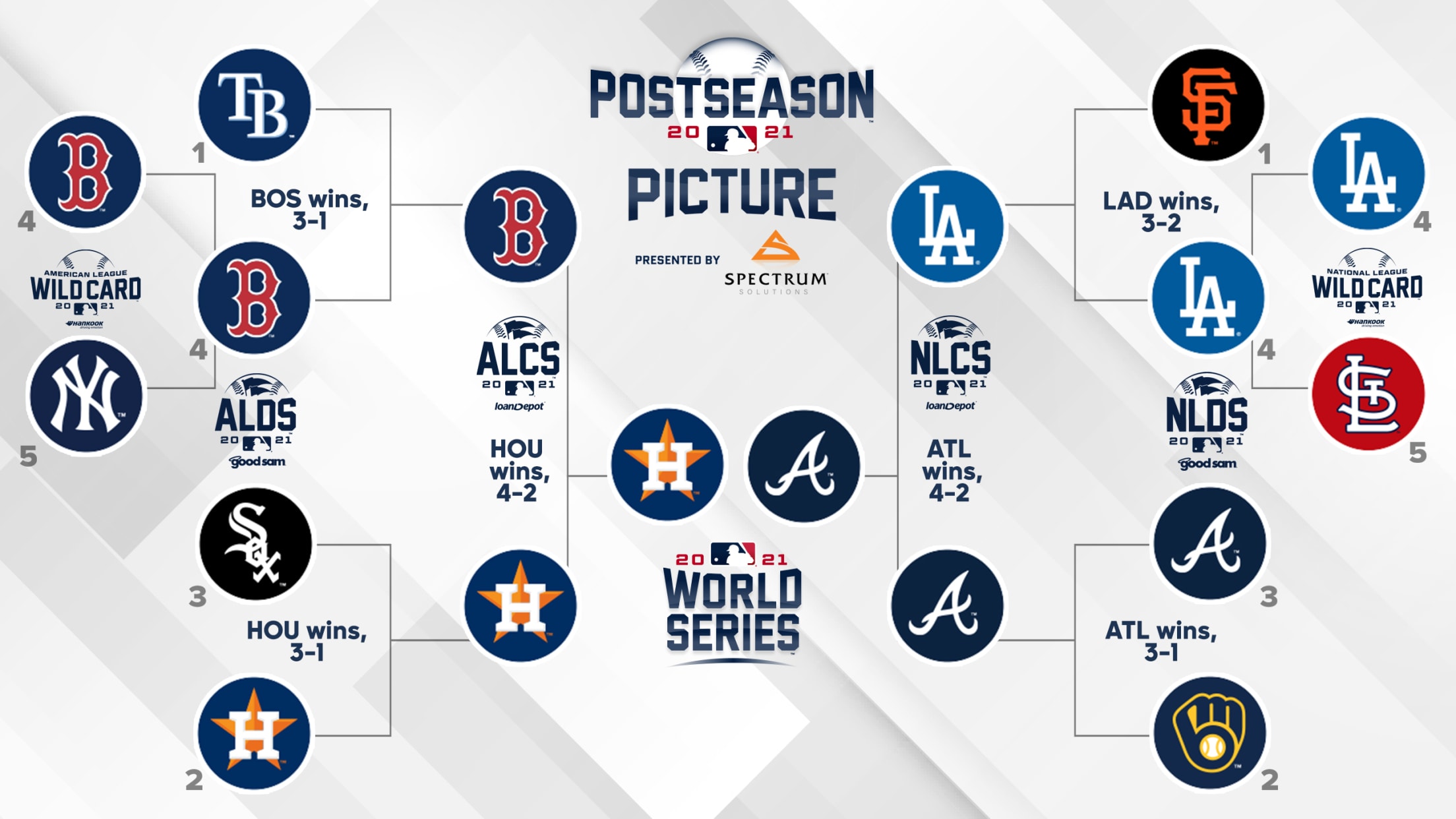 The 2021 MLB postseason began with the Red Sox and Dodgers winning the AL and NL Wild Card Games, respectively. In the League Championship Series, the Astros defeated the Red Sox in six games for the AL pennant and the Braves vanquished the Dodgers in six games in the NL.
Fall Classic 'special' family affair for Snitkers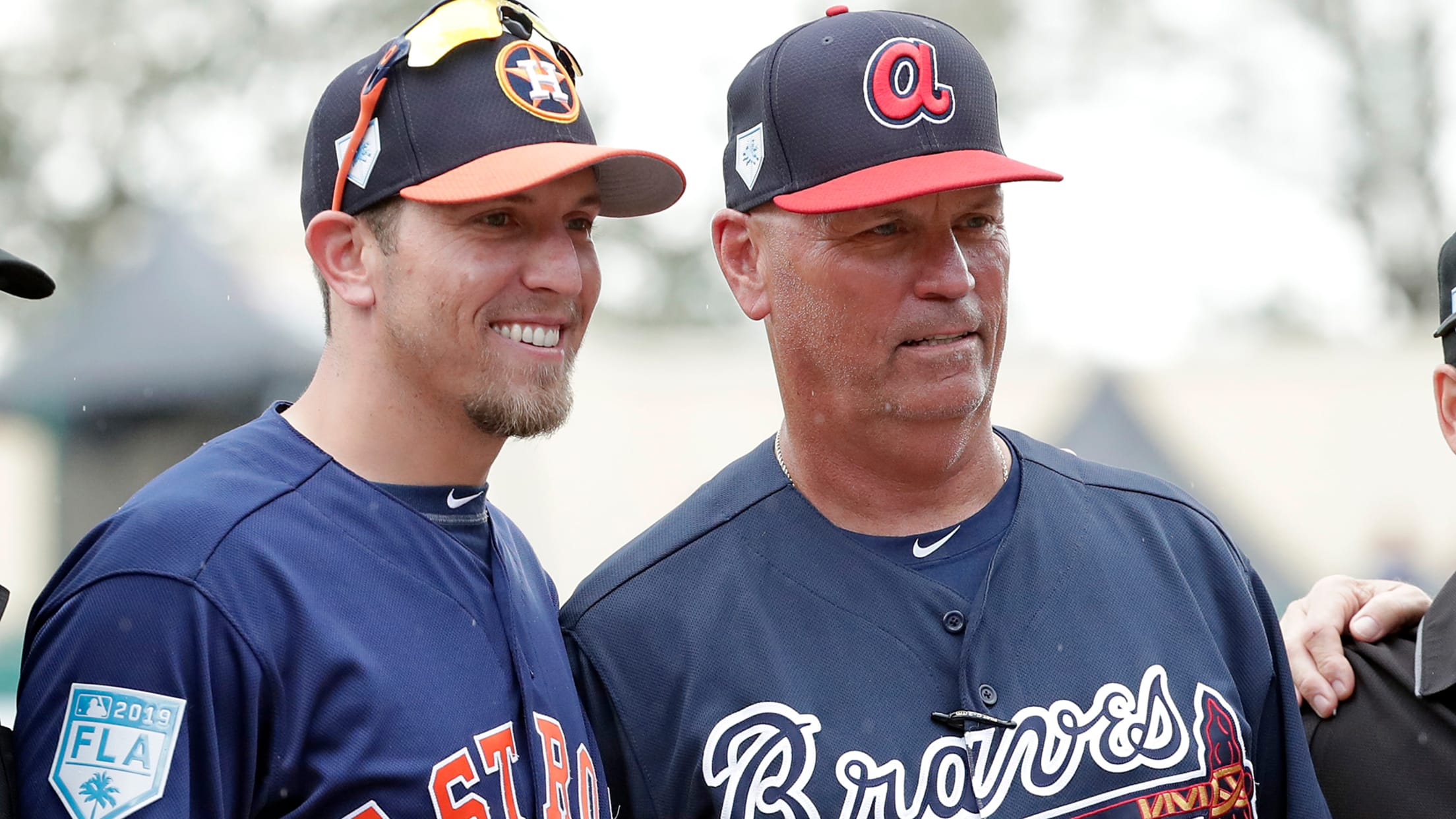 HOUSTON -- As he prepares for games, Astros hitting coach Troy Snitker routinely checks in with his twin nephews, Luke and Jude Goodman, via FaceTime. These 6-year-old boys from suburban Atlanta love their Uncle Troy and he would do anything for them. Well, almost anything. He certainly won't attempt to
Game 1 nod a 'privilege' Valdez has earned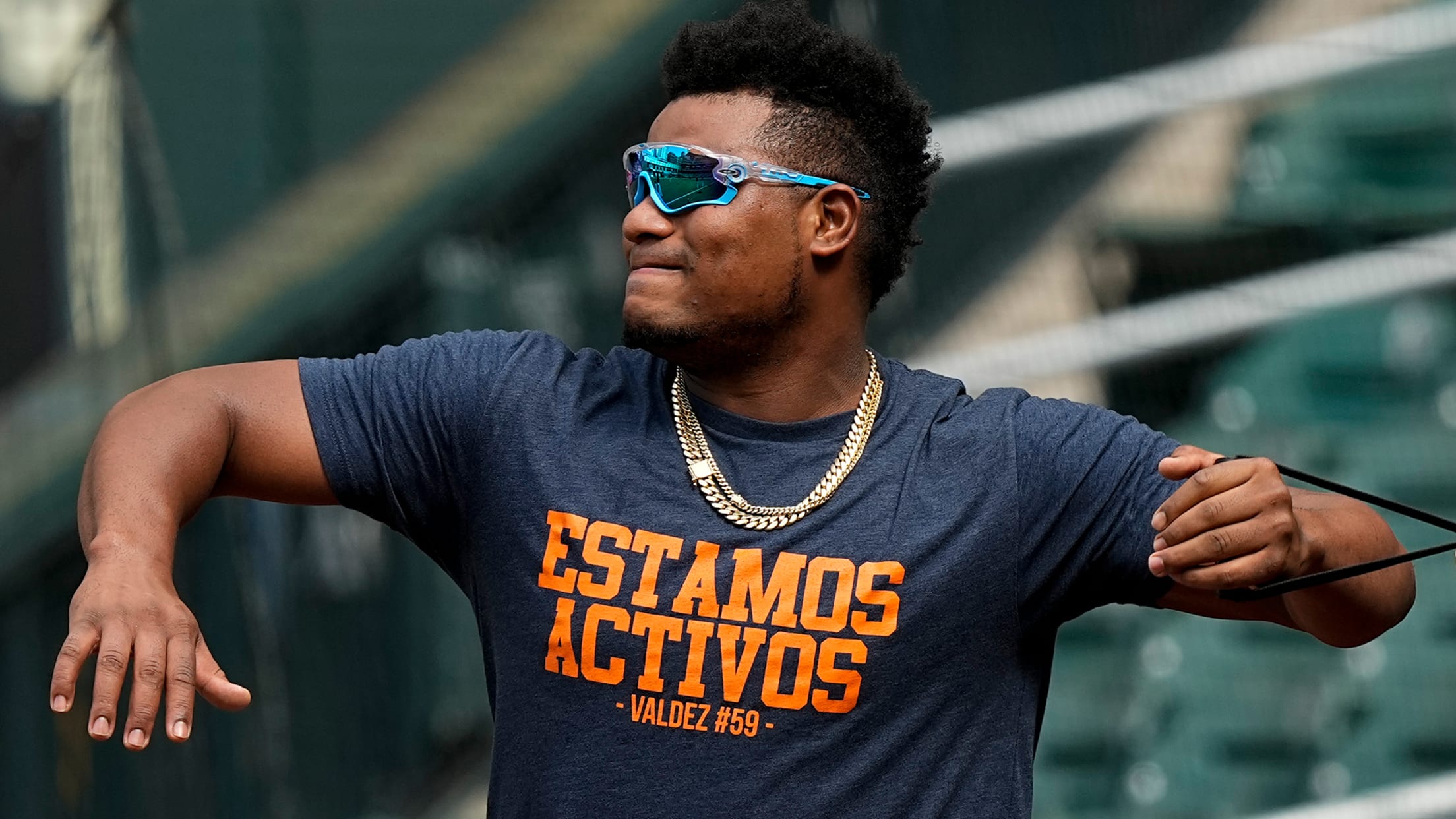 HOUSTON -- All Framber Valdez has to do is close his eyes, and he can visualize himself back in 2015, when he signed a Minor League contract with the Astros. Shortly after signing, he was assigned to the Dominican Summer League to begin his rise in the Houston system. Back
Freddie aims to 'bring a championship home'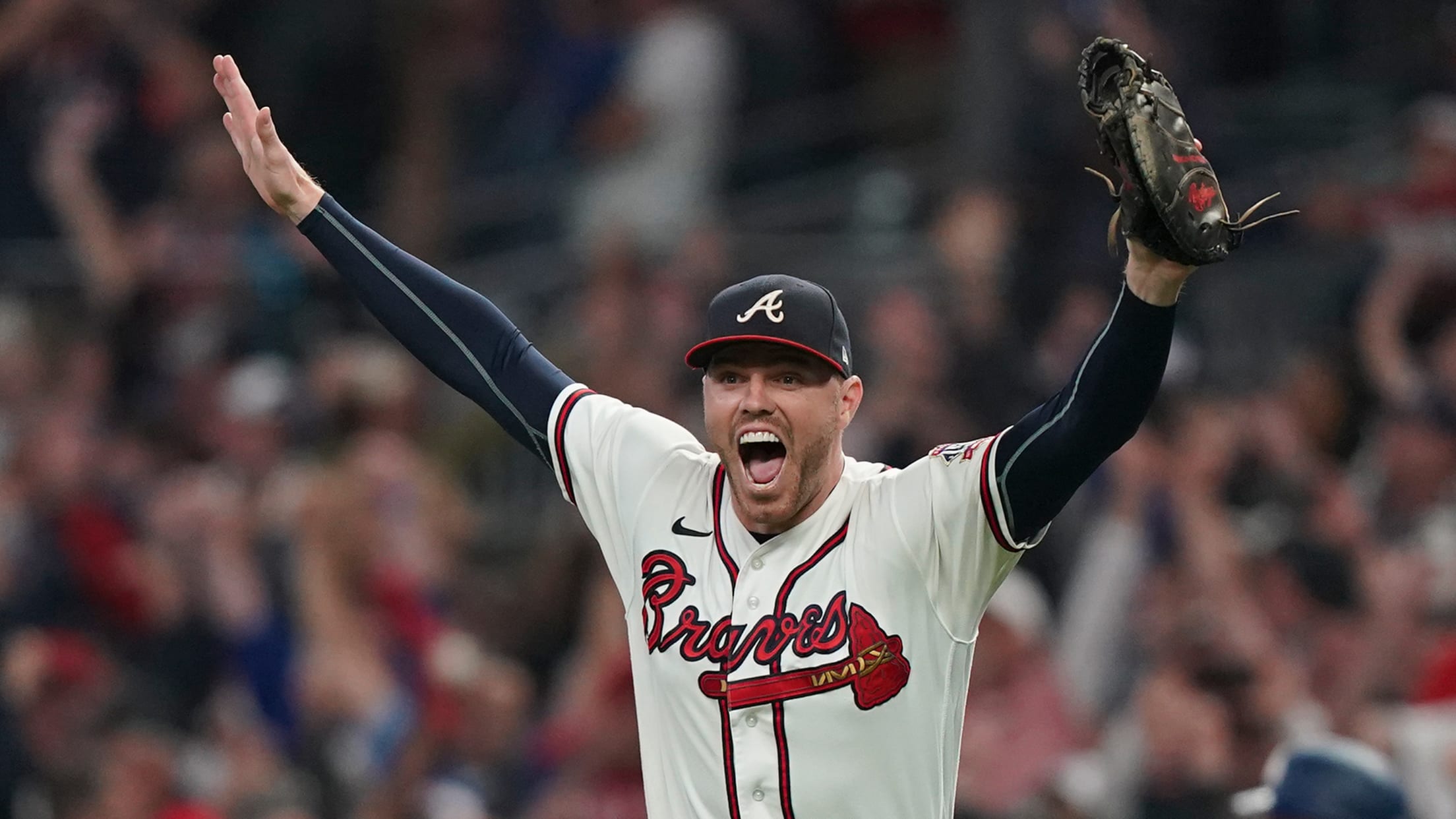 HOUSTON -- With the Braves on the doorstep of the World Series, former general manager Frank Wren found himself thinking back to the spring of 2014, and a decision that drew criticism from some corners of the baseball world but now ranks high among the reasons Atlanta is playing for
McCullers (forearm strain) out for WS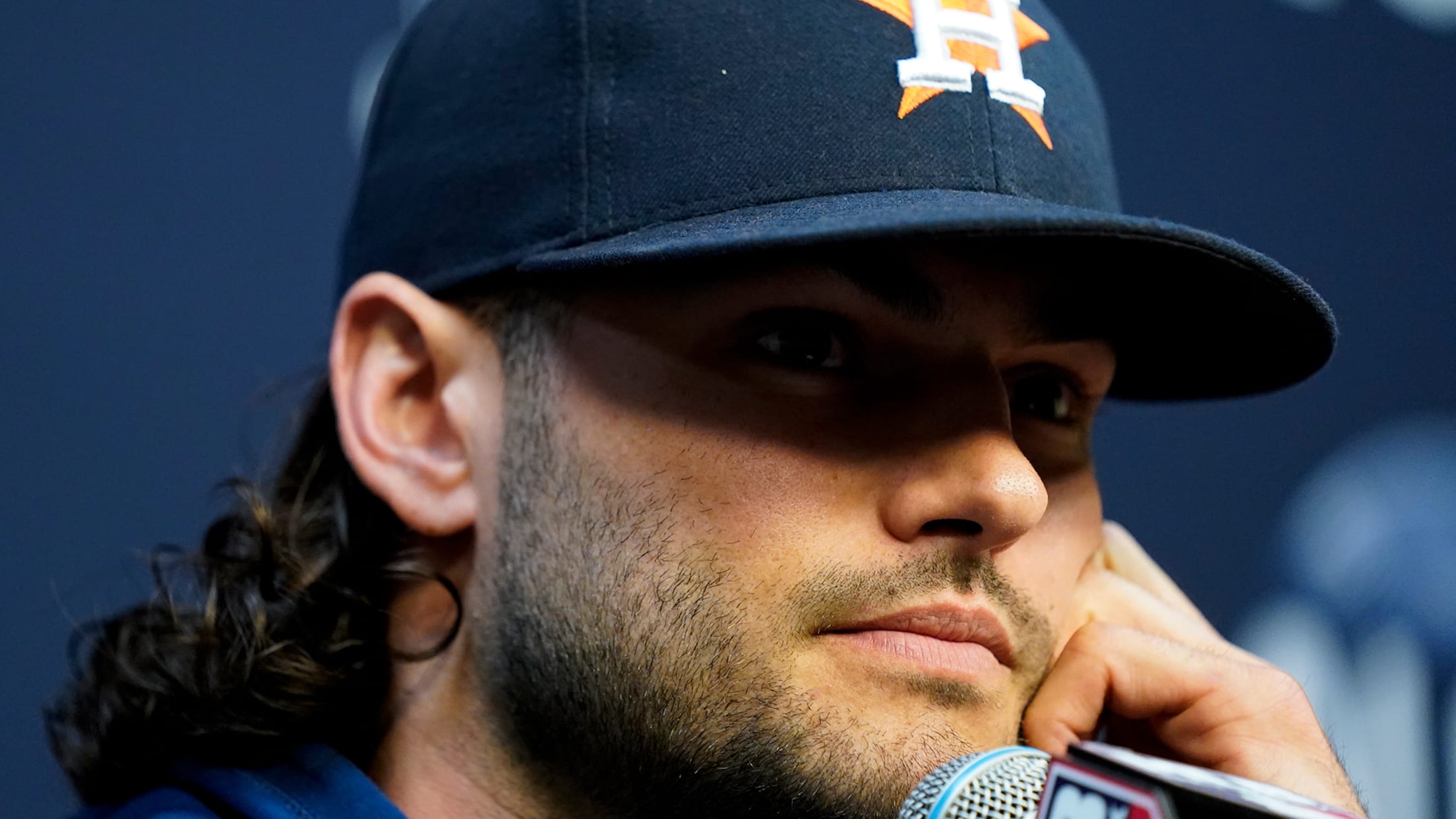 HOUSTON -- Lance McCullers Jr. made official what he and the Astros had feared since he sustained a forearm strain on Oct. 12 and only became increasingly evident over the past several days: Houston's ace won't pitch in the World Series, which begins Tuesday night at Minute Maid Park.
In '04, Astros arrived with NLDS win vs. ATL
2021 World Series foes have long history as postseason opponents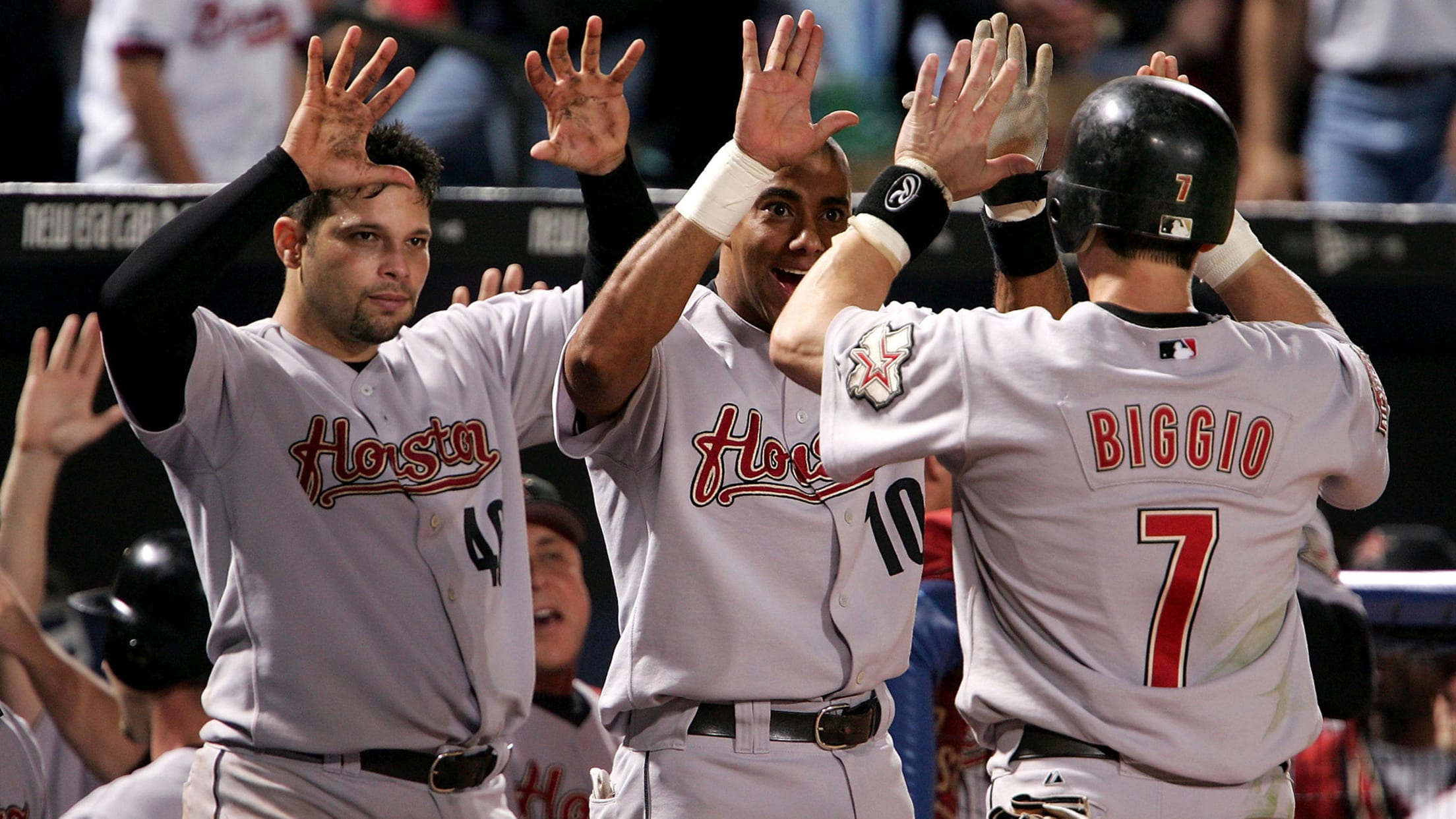 HOUSTON -- A generation ago, the Astros' postseasons were remembered for three things: they were short, they were unsuccessful and they always -- well, almost always -- played against the Braves. This year, Houston will have to take down Atlanta to win the World Series. But when the Astros were
Buck-Smoltz tandem set for 6th World Series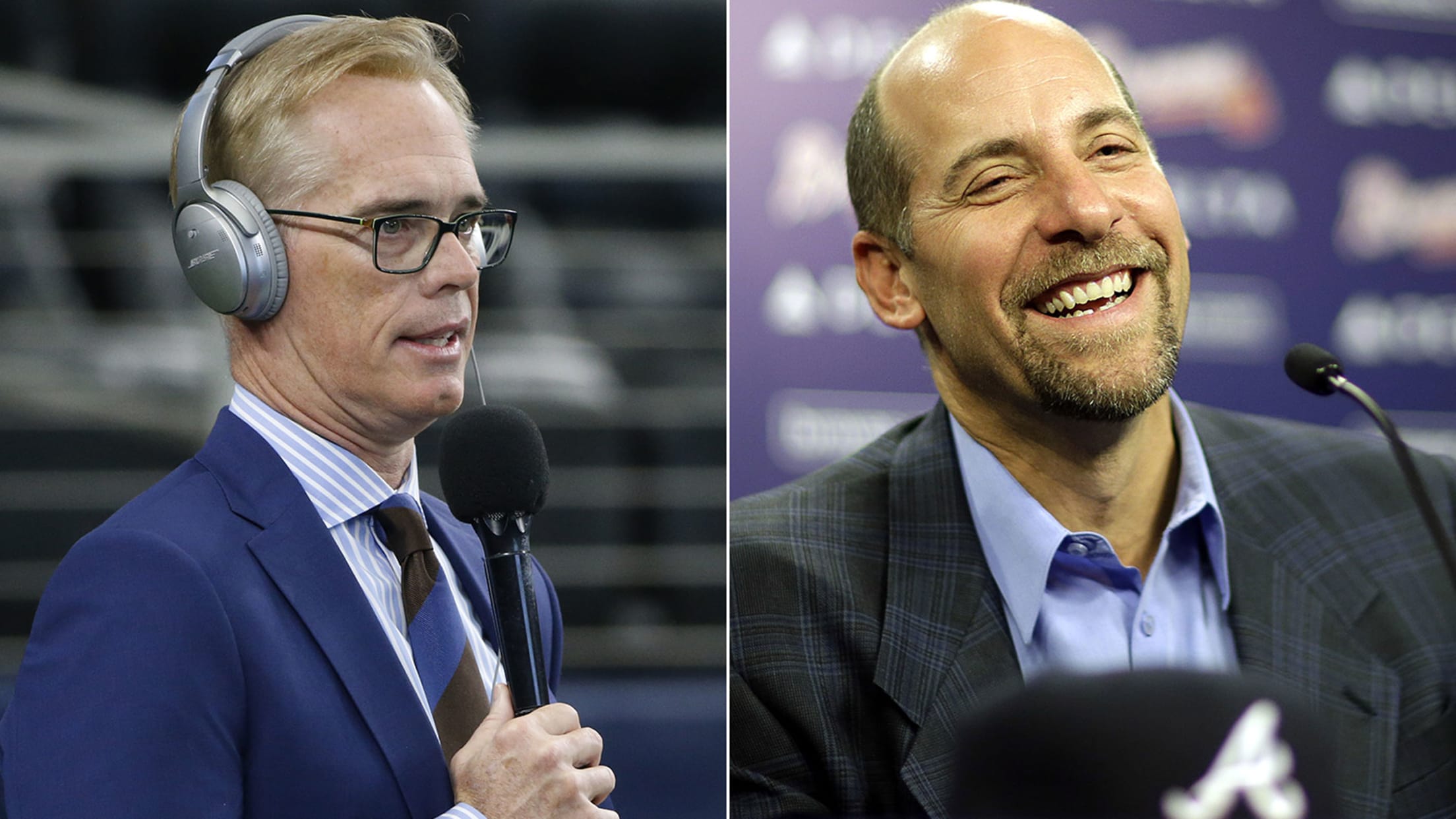 They came from different professional experiences -- one excelling on the pitcher's mound, the other in the broadcast booth. Yet when Joe Buck and John Smoltz were paired to call games for FOX Sports, they clicked instantly. "Somebody asked me in Smoltz's first year, 'How long do you think it
Brett Phillips playing MLB WS correspondent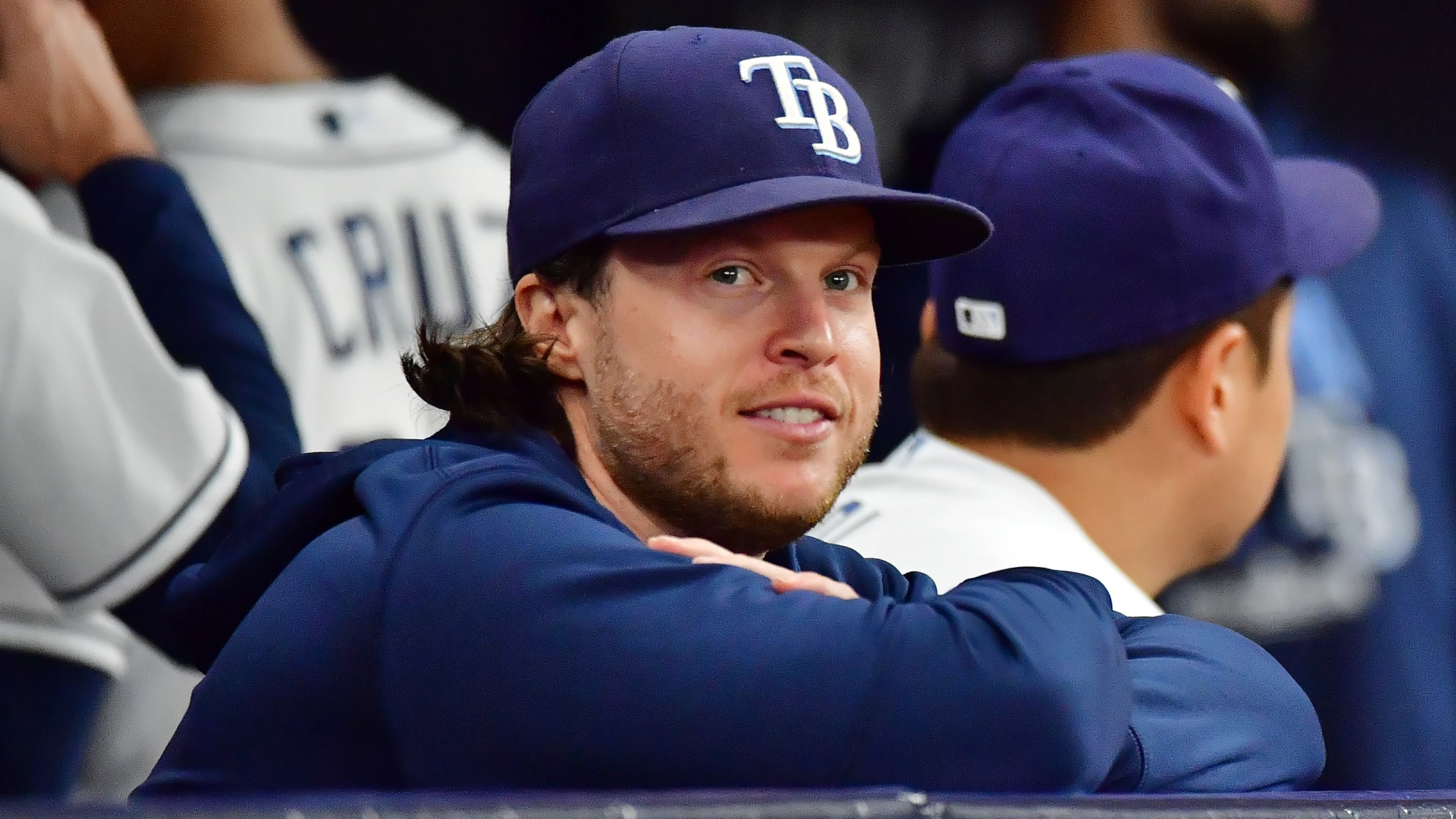 Rays outfielder Brett Phillips has earned himself quite a few monikers during his baseball career. Postseason hero.
Silver Slugger Award finalists announced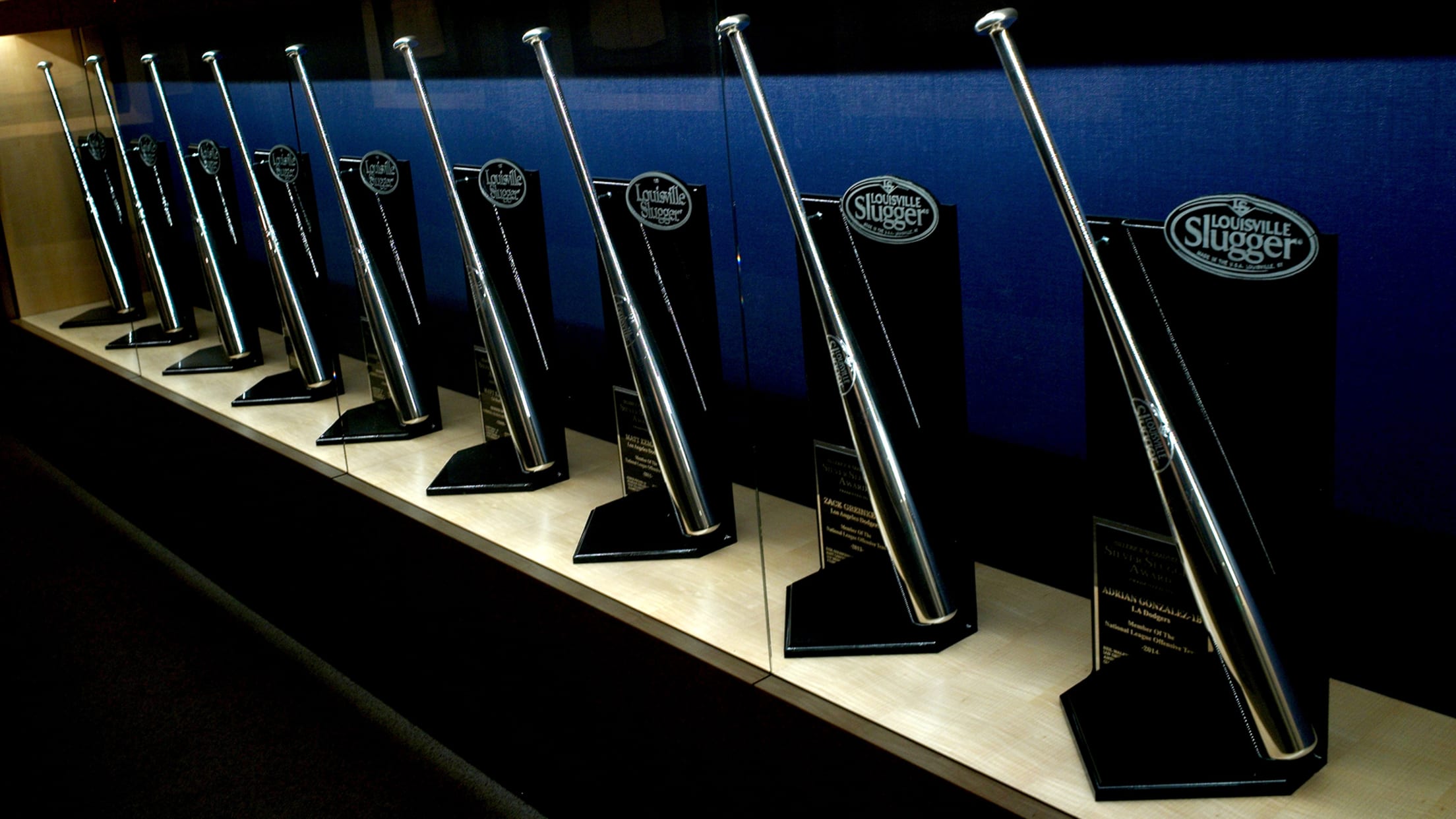 The best hitters in baseball were recognized on Monday when the finalists for the Silver Slugger Award were announced by Louisville Slugger. The award recognizes the best offensive performers at each position in each league. The best designated hitter is included in the American League, while the best offensive pitcher
Cards make Marmol MLB's youngest skipper
35-year-old familiar with St. Louis' winning ways looks to bring a 'seamless transition'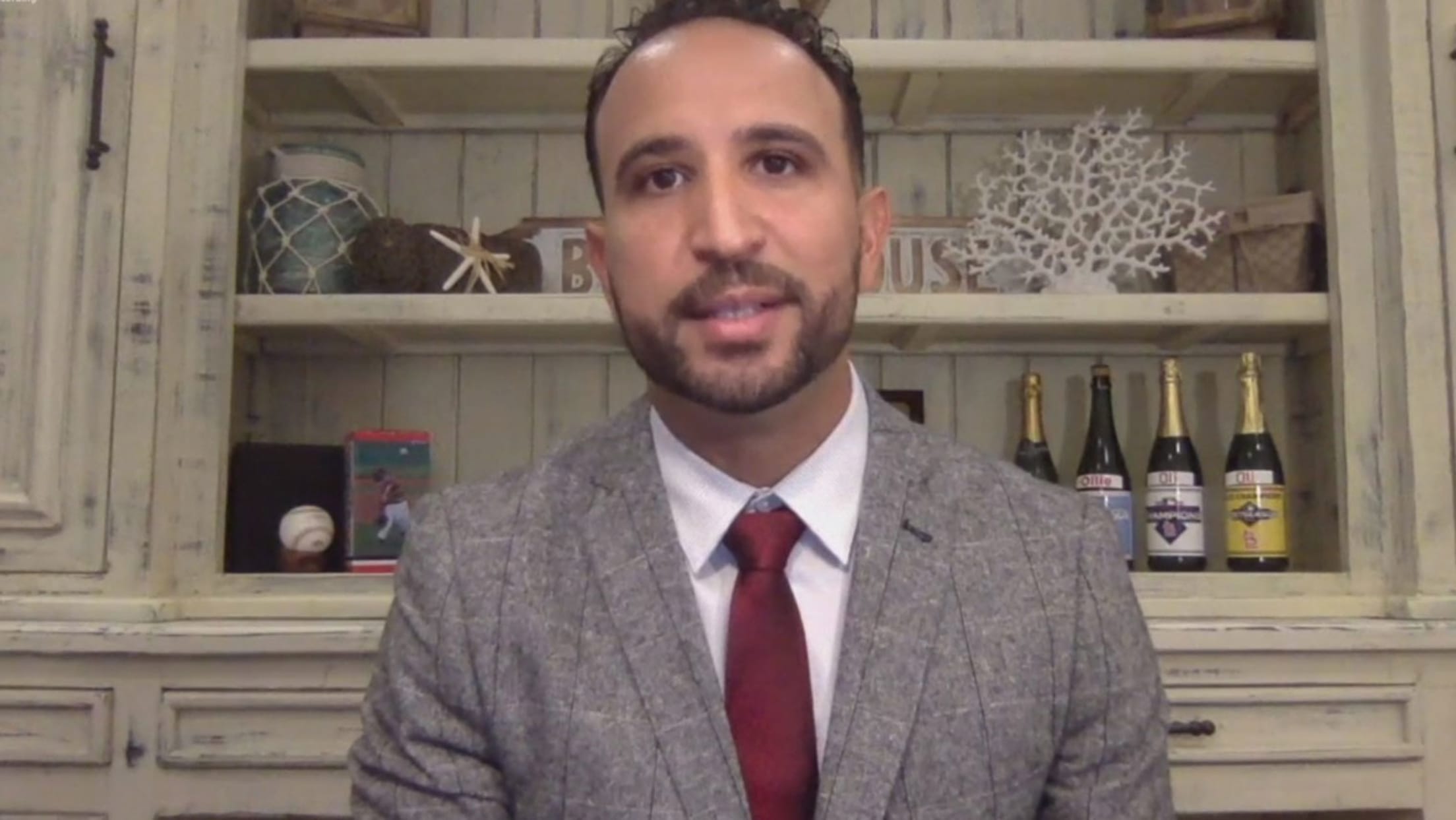 Three consecutive years "hitting a buck-ninety" in the Minors told Oliver Marmol that playing might not be his long-term future. Listening to the baseball and leadership wisdom of Tony La Russa in Spring Trainings past showed him that coaching might be an avenue to advance in baseball. An opening at
Is Rizzo seeking return to Yanks?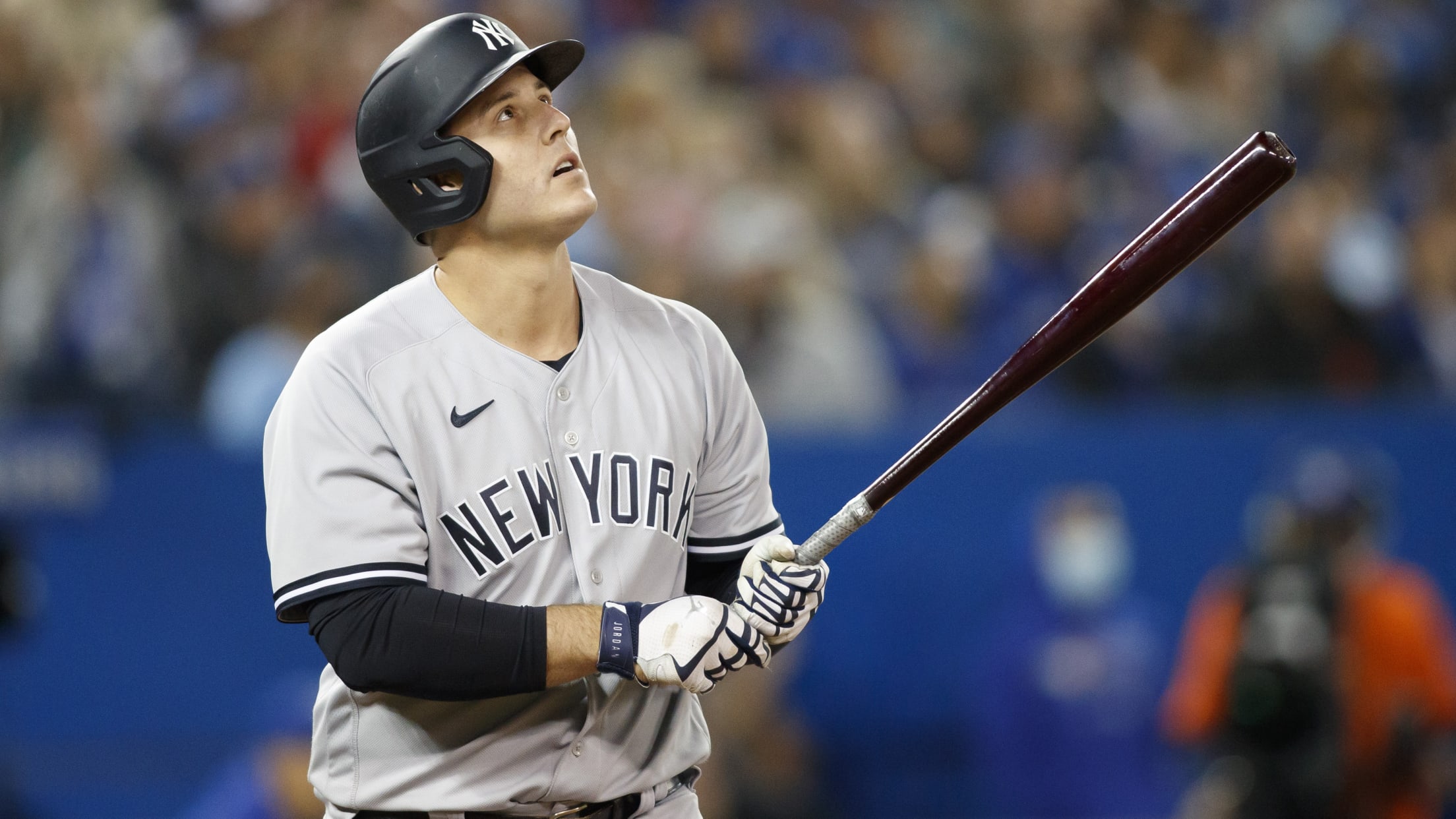 MLB.com is keeping track of all the latest Yankees-related free agent and trade rumors right here.
Griffey Jr. joins Mariners ownership group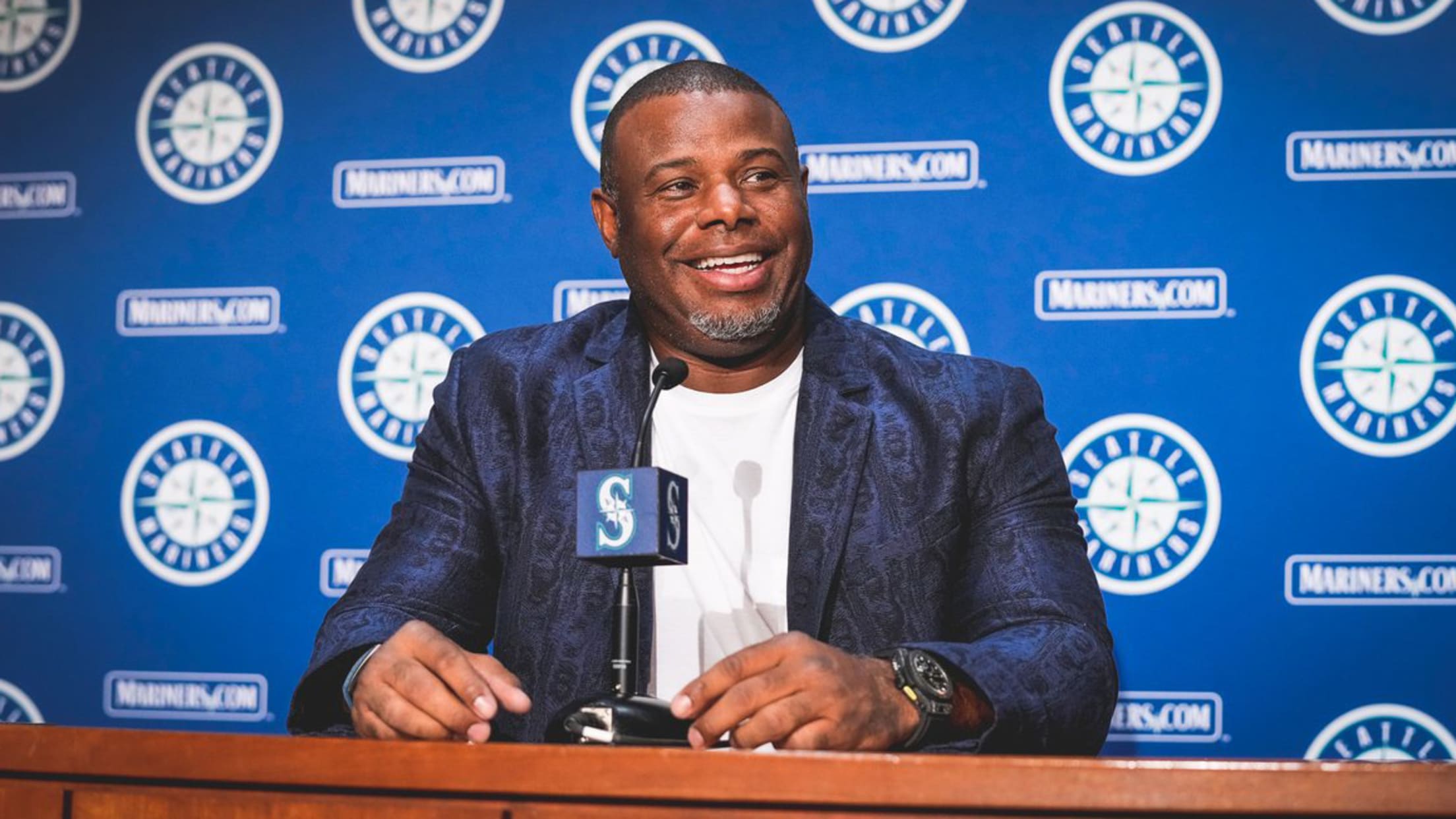 SEATTLE -- Ken Griffey Jr.'s imprint on the Mariners' franchise has extended well beyond his time as one of his generation's greatest players. He'll now have the chance to make as big an impact as ever after the team announced Monday that the Hall of Famer has joined its partnership
Fantasy picks, predictions, odds for Oct. 26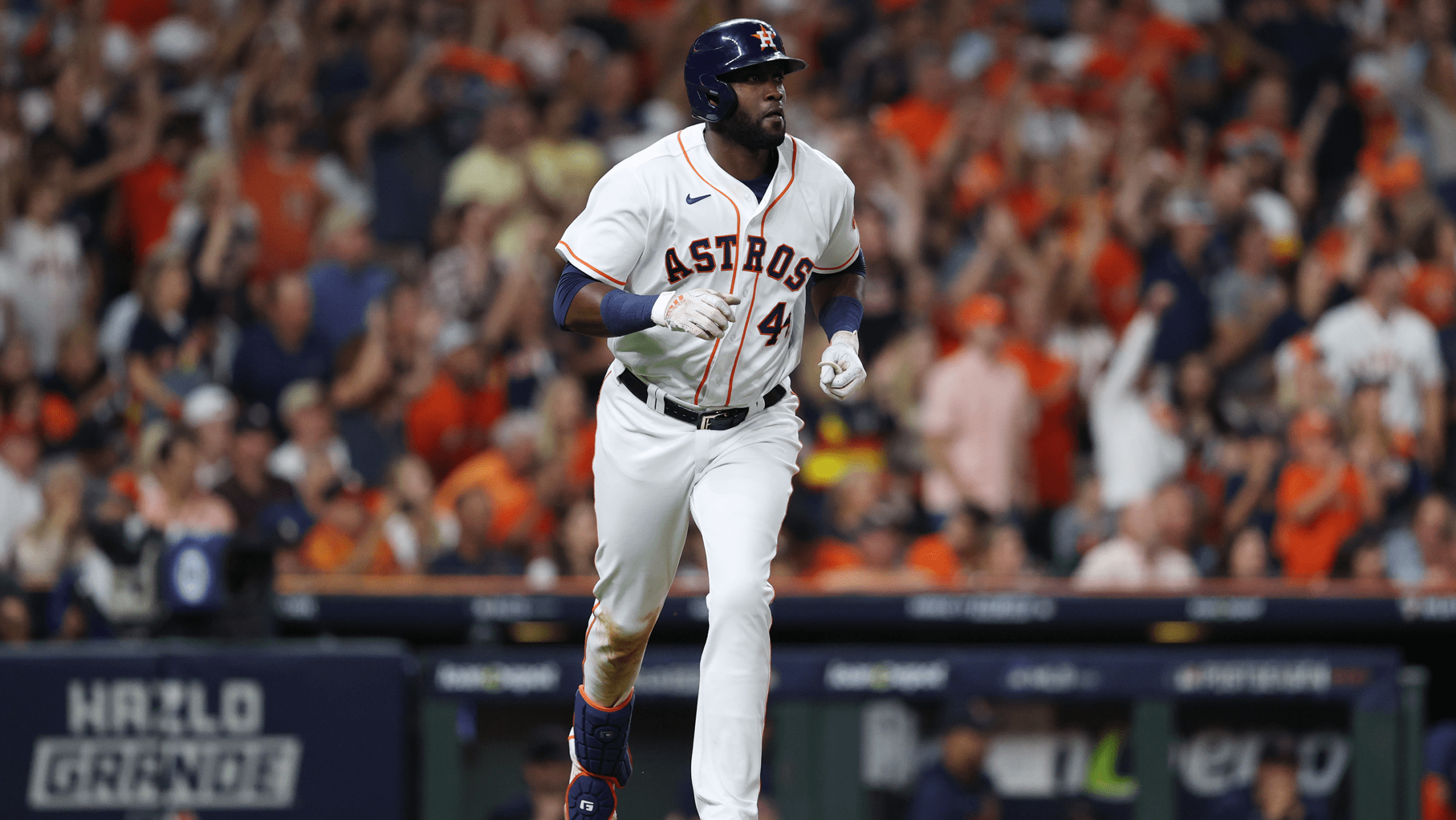 The World Series is finally upon us. Just as everyone predicted, the Ronald Acuña Jr.-less Braves will visit Houston for Game 1. Here's how to approach the World Series opener via DraftKings Sportsbook. If you want to sweat out these picks with me, follow me on Twitter: @Nick_Friar.