5 hitters who have reversed slow starts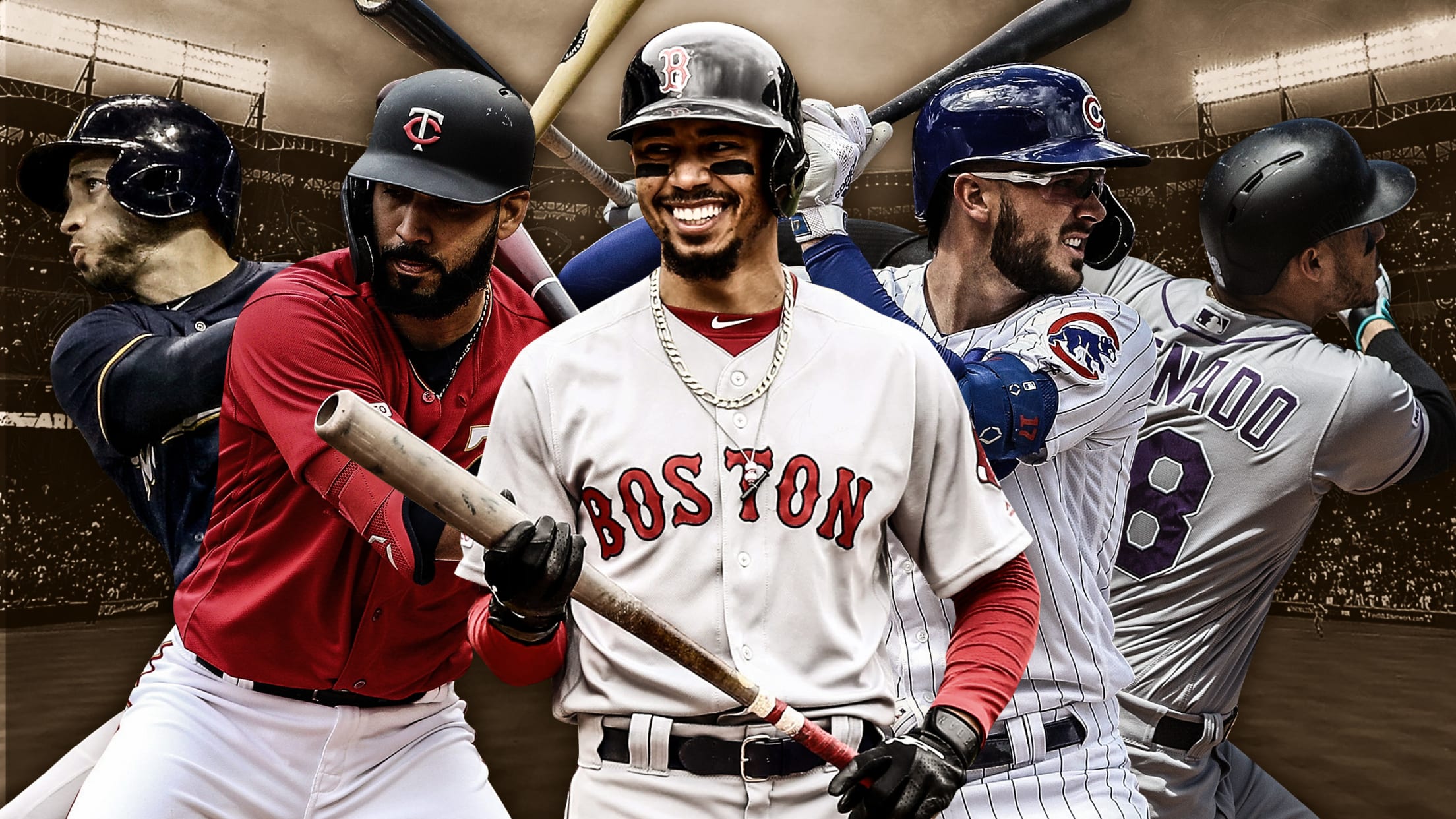 When a player begins a season on a hot streak, it's obvious. When that streak comes later, perhaps on the heels of a season-opening slump, it can get a bit lost. First impressions are hard to shake. That's the situation facing these five prominent hitters. Each started slowly, falling below
Crew prospect Hiura crushes 1st Miller Park HR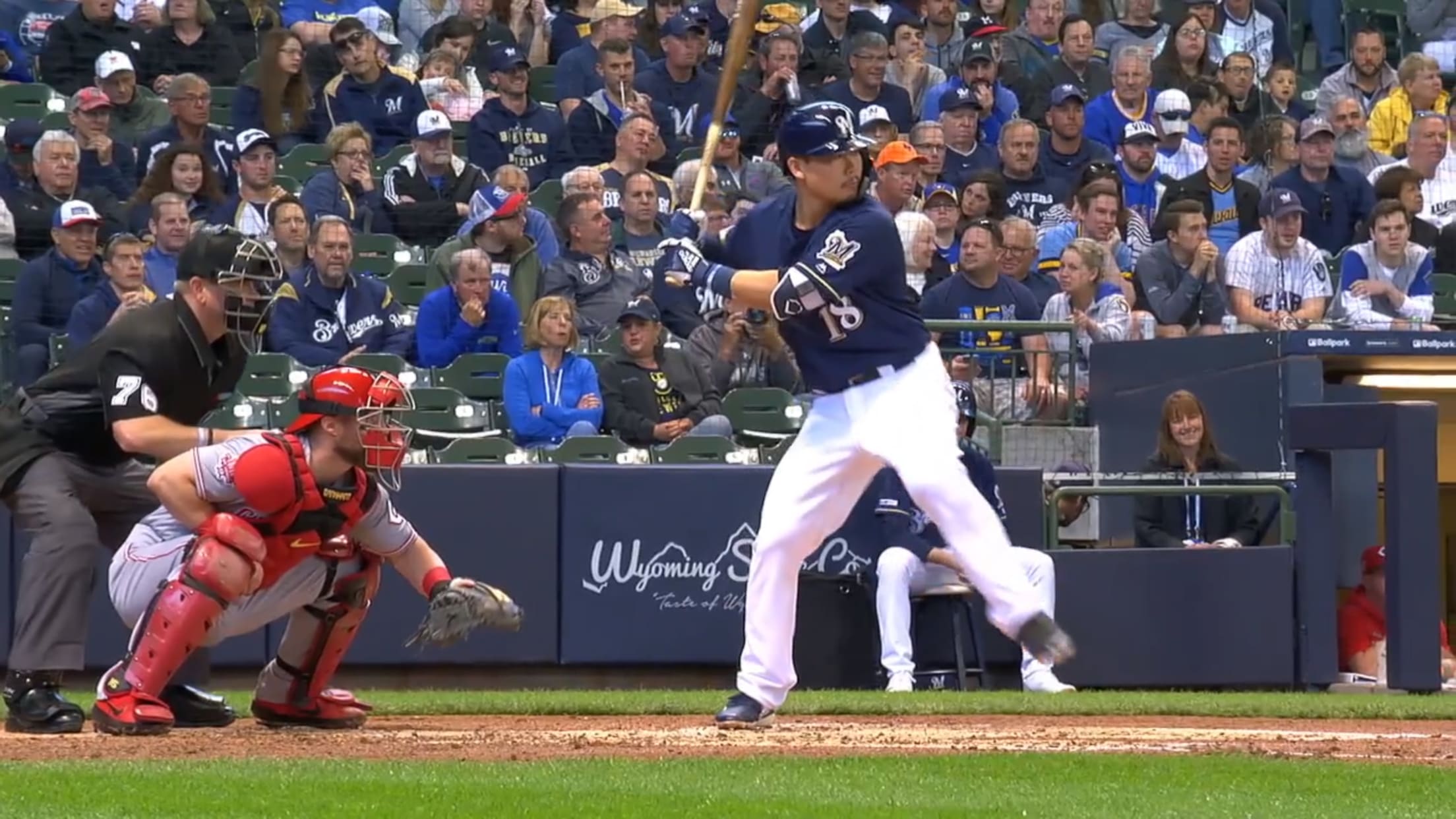 MILWAUKEE -- You can cross another item off top Brewers prospect Keston Hiura's to-do list: His first home run at Miller Park. The 22-year-old took Reds right-hander Luis Castillo deep leading off the second inning of Wednesday's series finale at Miller Park, an answer to Cincinnati's five-run outburst against usually
O's get Broxton for int'l bonus slot money
Baltimore claims righty Shepard off waivers; Cobb moved to 60-day IL; Ramirez DFA'd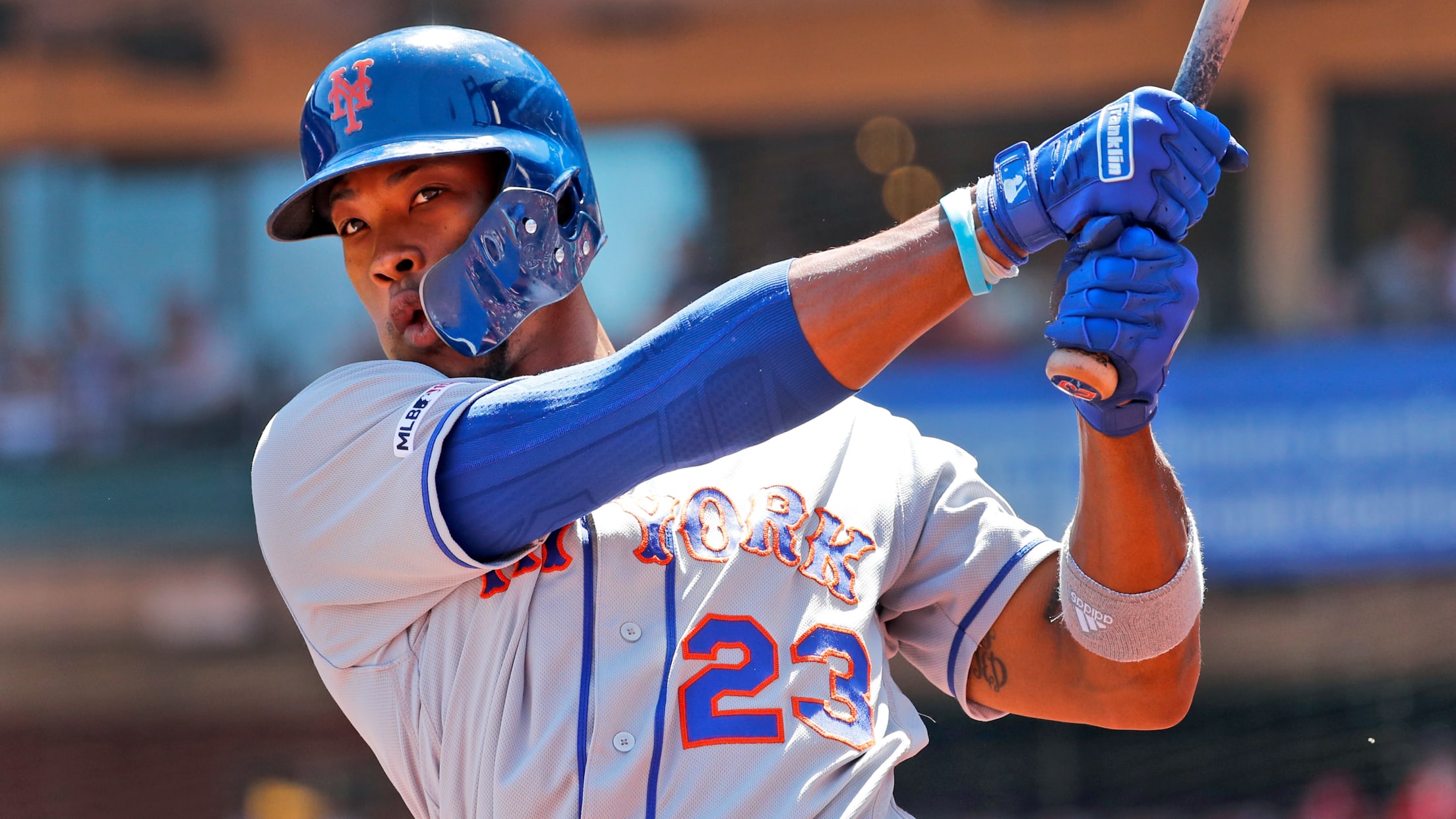 BALTIMORE -- After playing for a month without a true center fielder in the fold, the Orioles plugged that hole in their roster Wednesday by acquiring Keon Broxton from the Mets. Baltimore sent international bonus slot money to New York in exchange for Broxton, who was designated for assignment last
Ramos relives harrowing kidnapping experience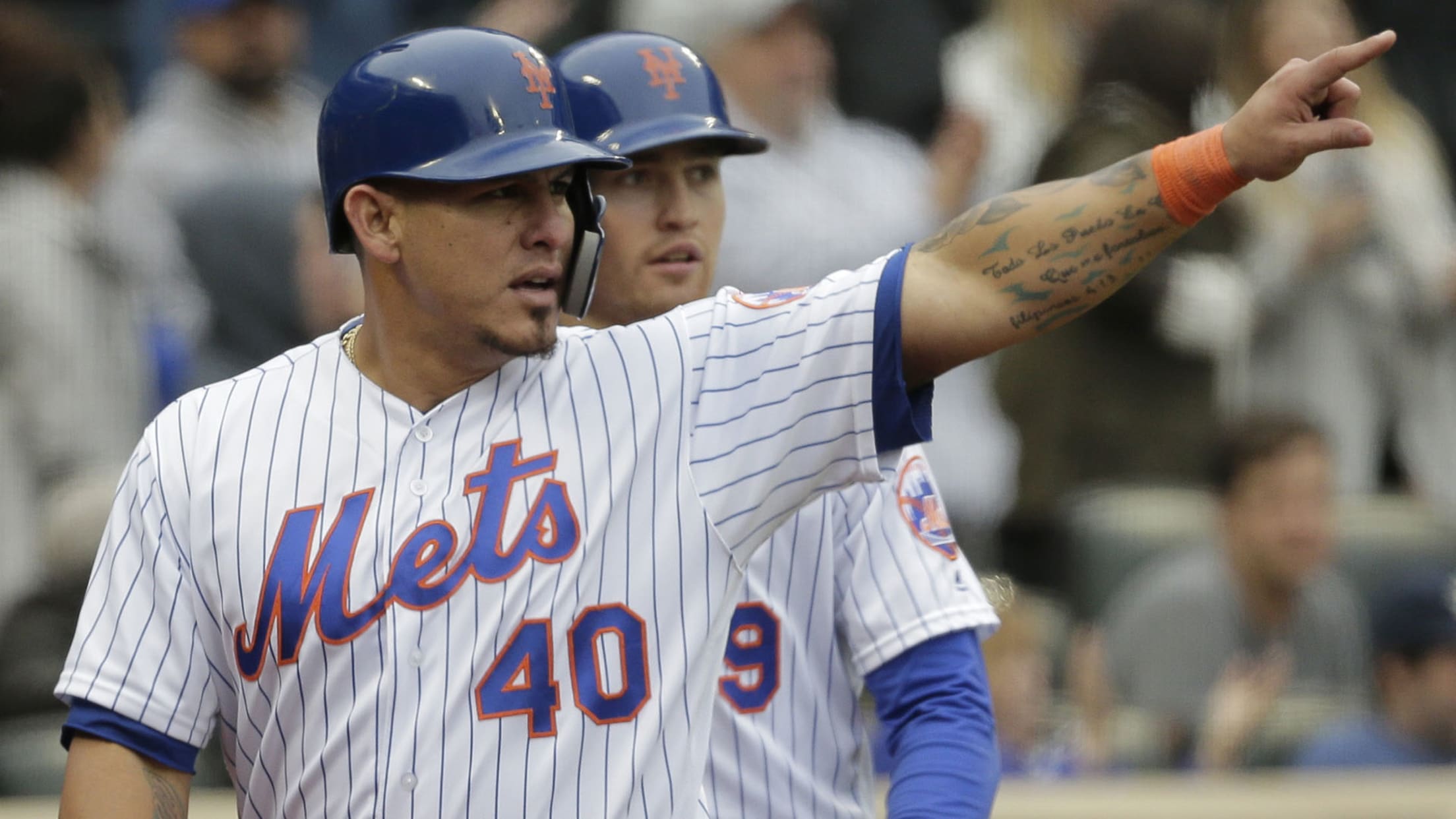 NEW YORK -- Some years, it's with champagne, straight out of the bottle. Other years call for cocktails. One way or another, Mets catcher Wilson Ramos makes it a point to celebrate every 11th of November "like a birthday." That was the day, in 2011, when Venezuelan police commandos freed
2 firsts today: Cole vs. Phils, Cole vs. Cole
Hamels faces Phils for first time, opposing Irvin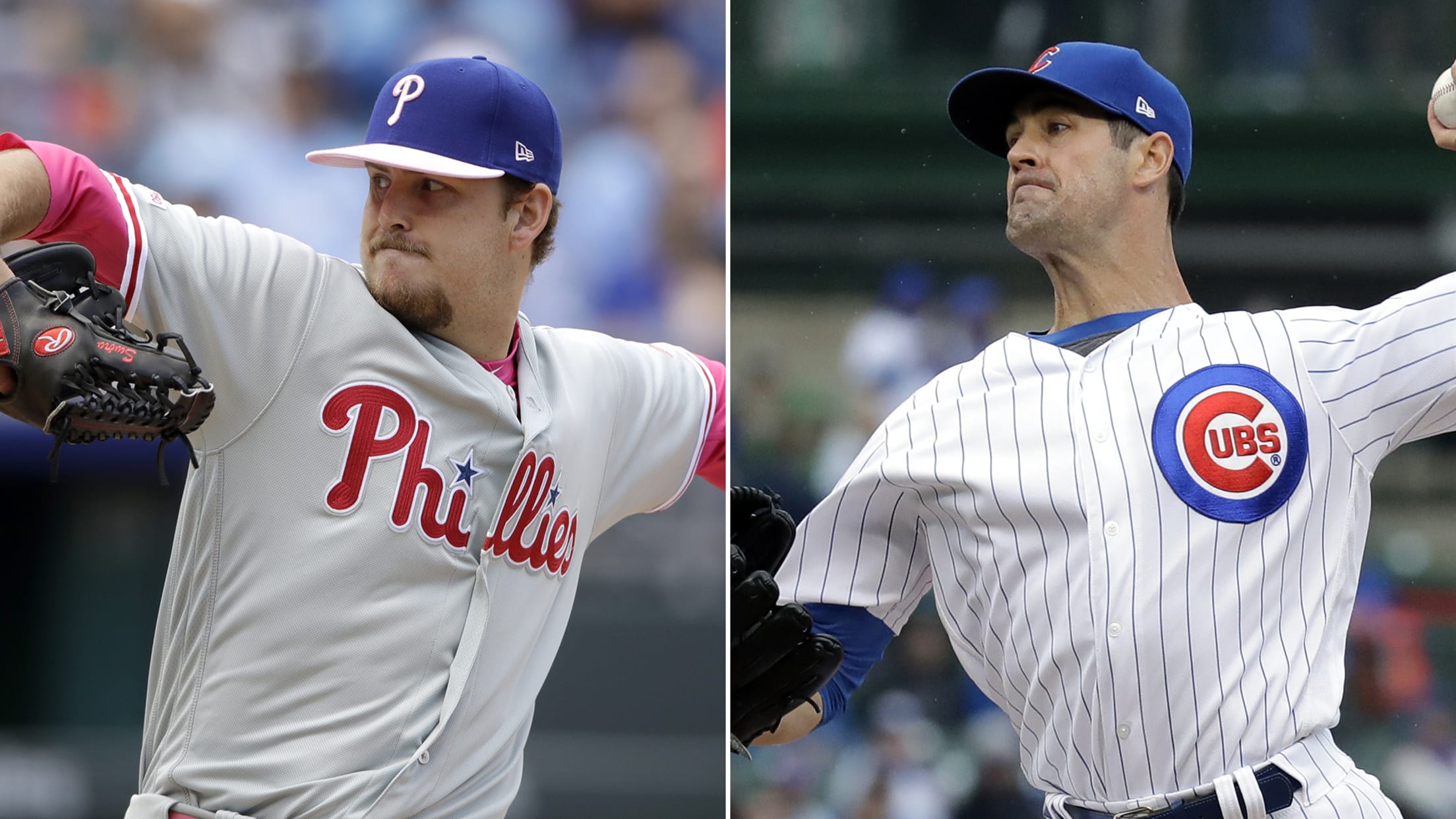 CHICAGO -- Much like Phillies right-hander Jake Arrieta in Monday's matchup at Wrigley Field, Cubs lefty Cole Hamels will face off against his former team for the first time in his career at 8:05 p.m. ET on Wednesday night. The game can be seen live on MLB.TV. The southpaw was
10 early candidates for Comeback POY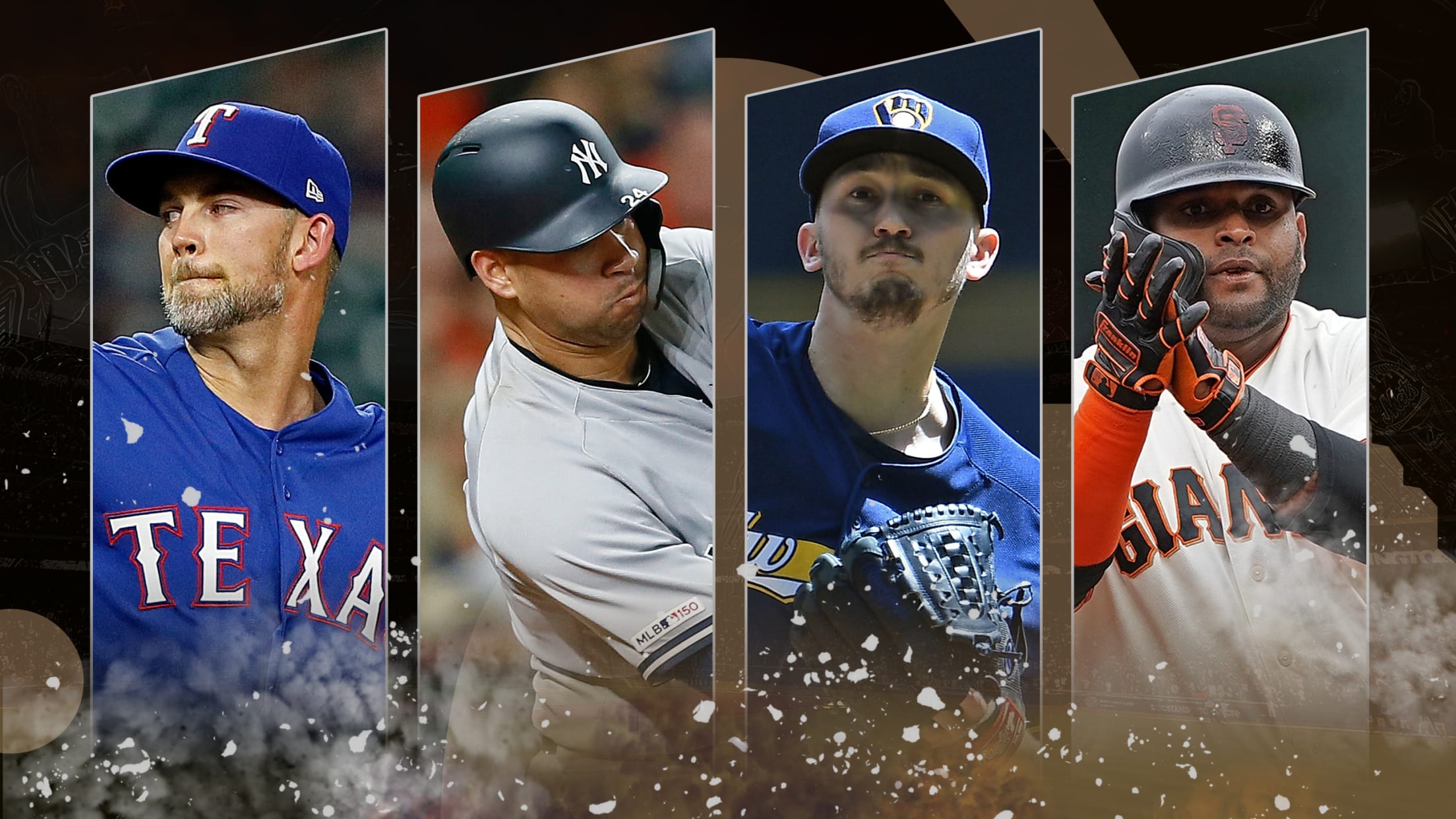 It can feel like a bit of a dubious achievement to win a Comeback Player of the Year Award. After all, to come back from some setback, you have to have fallen back in the first place. Mike Trout isn't winning any Comeback of the Year Awards because he's the
CarGo designated for assignment by Indians
Haase recalled from Triple-A Columbus as Perez recovers from concussion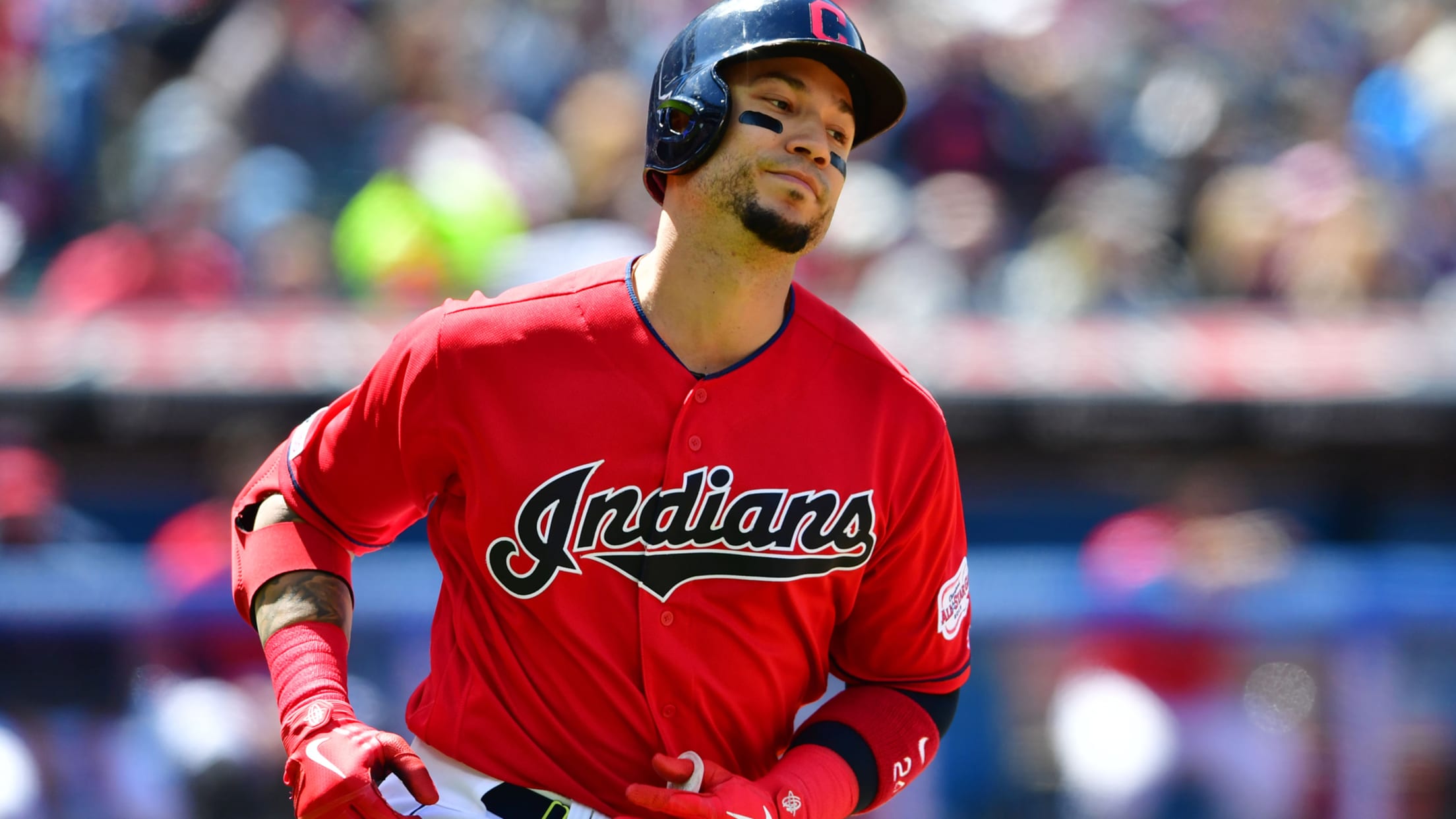 CLEVELAND -- From encouraging news about the condition of catcher Roberto Perez to a difficult conversation with outfielder Carlos Gonzalez, Indians manager Terry Francona had a rollercoaster of a morning prior to Wednesday's contest against Oakland. After getting pulled from Tuesday's game with a mild concussion, Perez came in to
Witt Jr. expected to join father as 1st-rounder
Shortstop is MLB's No. 2 Draft prospect; Witt Sr. went 3rd overall '85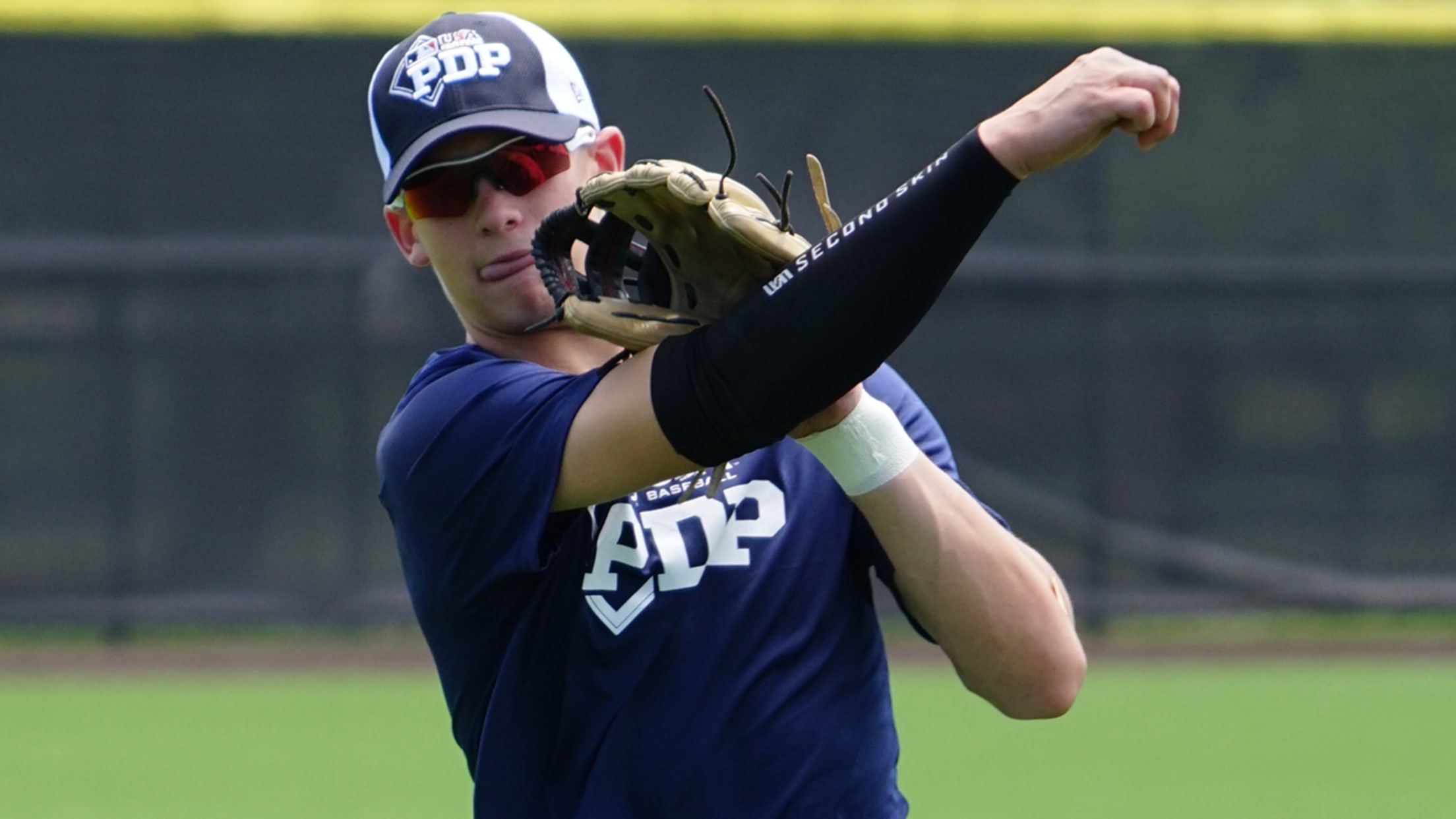 Bobby Witt Jr. is following in his father's footsteps. The 18-year-old out of Colleyville (Texas) Heritage High School is all but a lock to join his father, former MLB pitcher Bobby Witt, as a first-round Draft pick on June 3.
Khris Davis out again; IL trip up in the air
Team to make decision on outfielder, pending MRI results, by Friday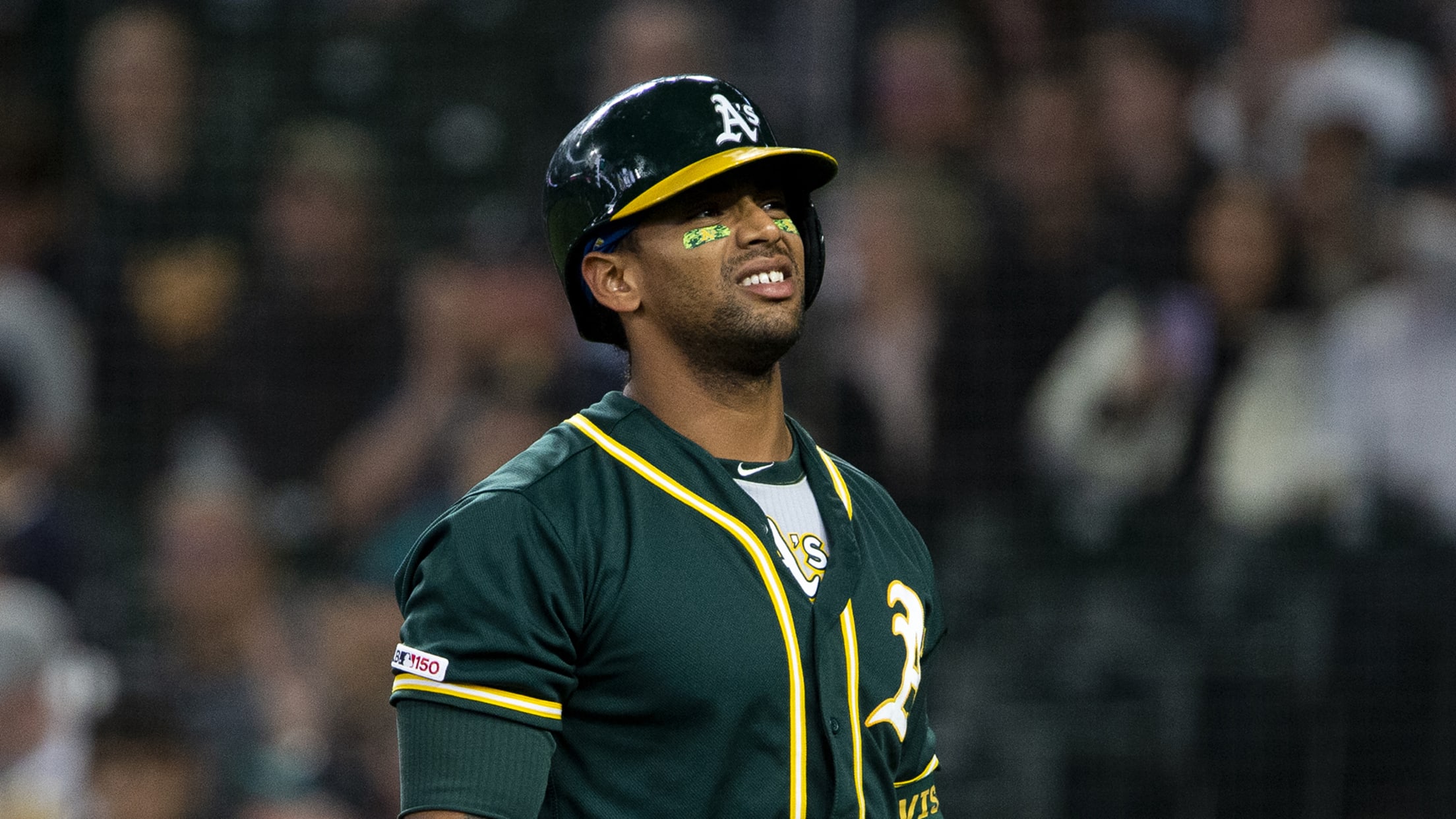 CLEVELAND -- The A's aren't ready to put Khris Davis on the injured list just yet. Davis was out of the lineup for Wednesday's series finale against the Indians after departing Tuesday's 5-3 win in the third inning with lingering effects from the left hip contusion he suffered on May
Calhoun's torrid start slowed by trip to IL
OF diagnosed with strained left quad; DeShields recalled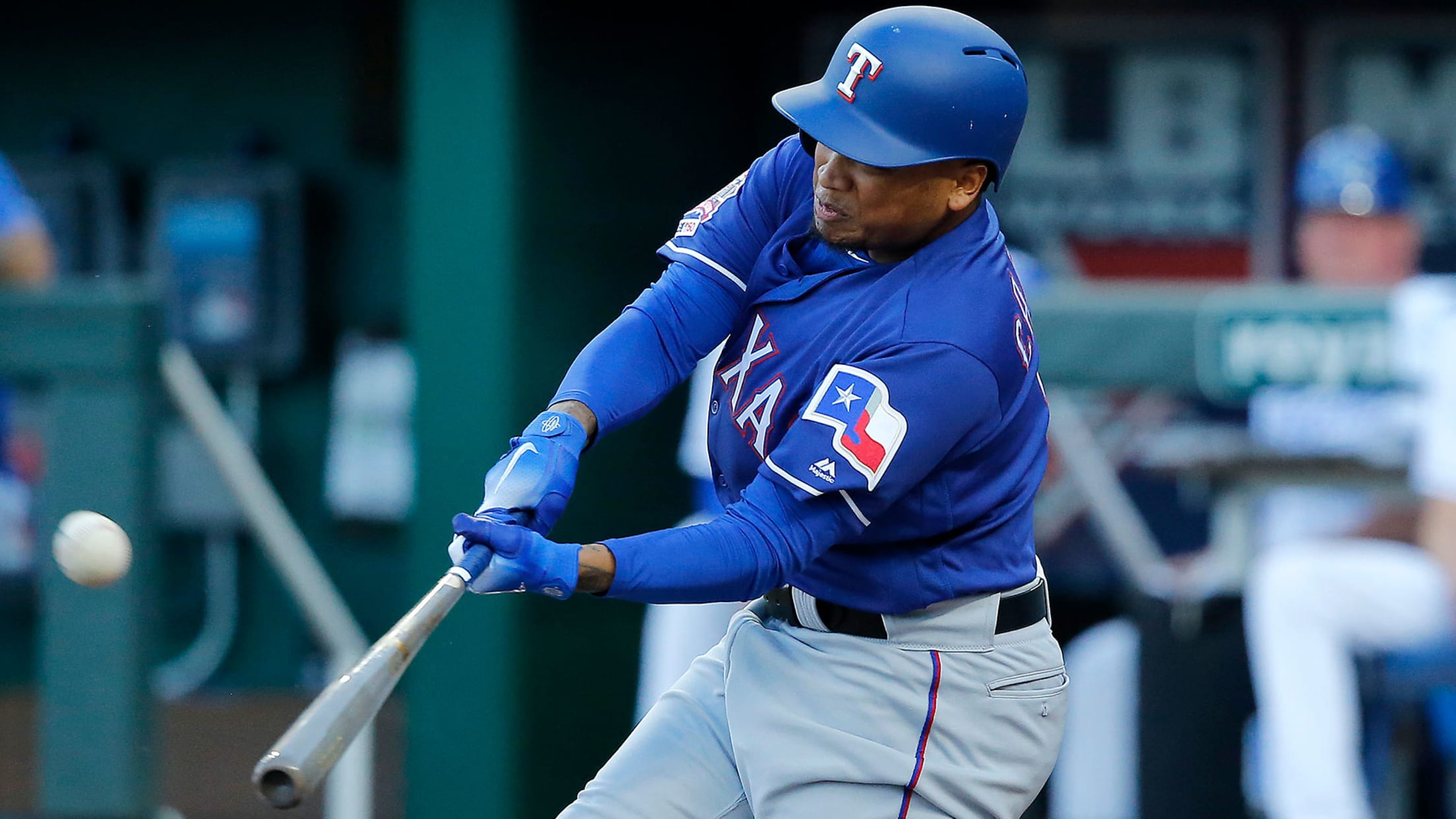 ARLINGTON -- Rangers outfielder Willie Calhoun was placed on the 10-day injured list Wednesday with a strained left quad muscle. The Rangers have called up outfielder Delino DeShields from Triple-A Nashville to replace him on the active roster. Calhoun injured his leg trying to beat out a ground ball in
Fun At Bat youth program launches in Mexico
MLB, USA Baseball partner to supply 1.3 million students with equipment for PE classes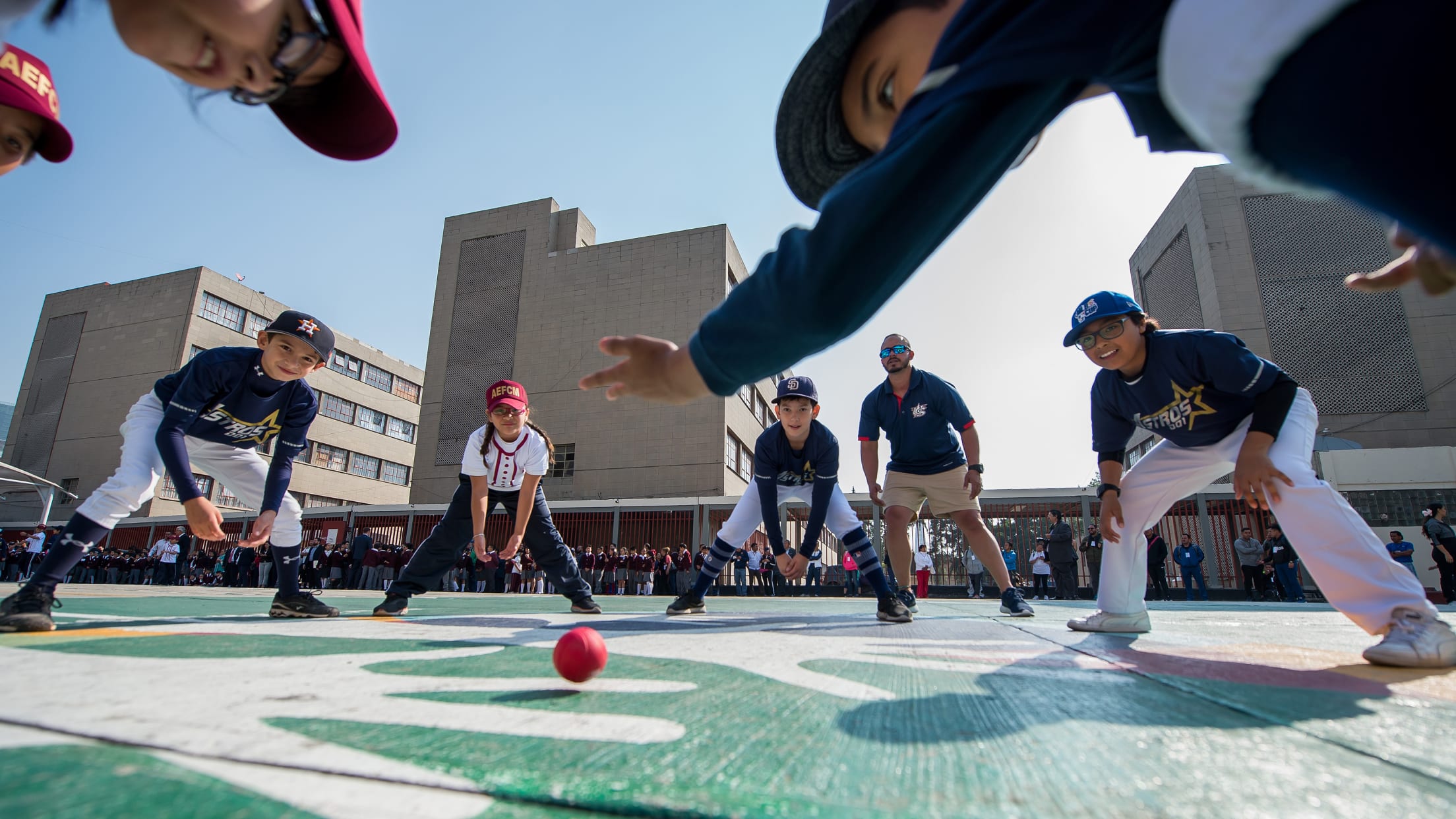 The new president of Mexico has made one thing very clear in his first six months in office: He wants to see more baseball played south of the U.S. border. On Wednesday, Major League Baseball and USA Baseball announced plans to assist with that effort. On a sunny morning in
Yelich improving despite second straight scratch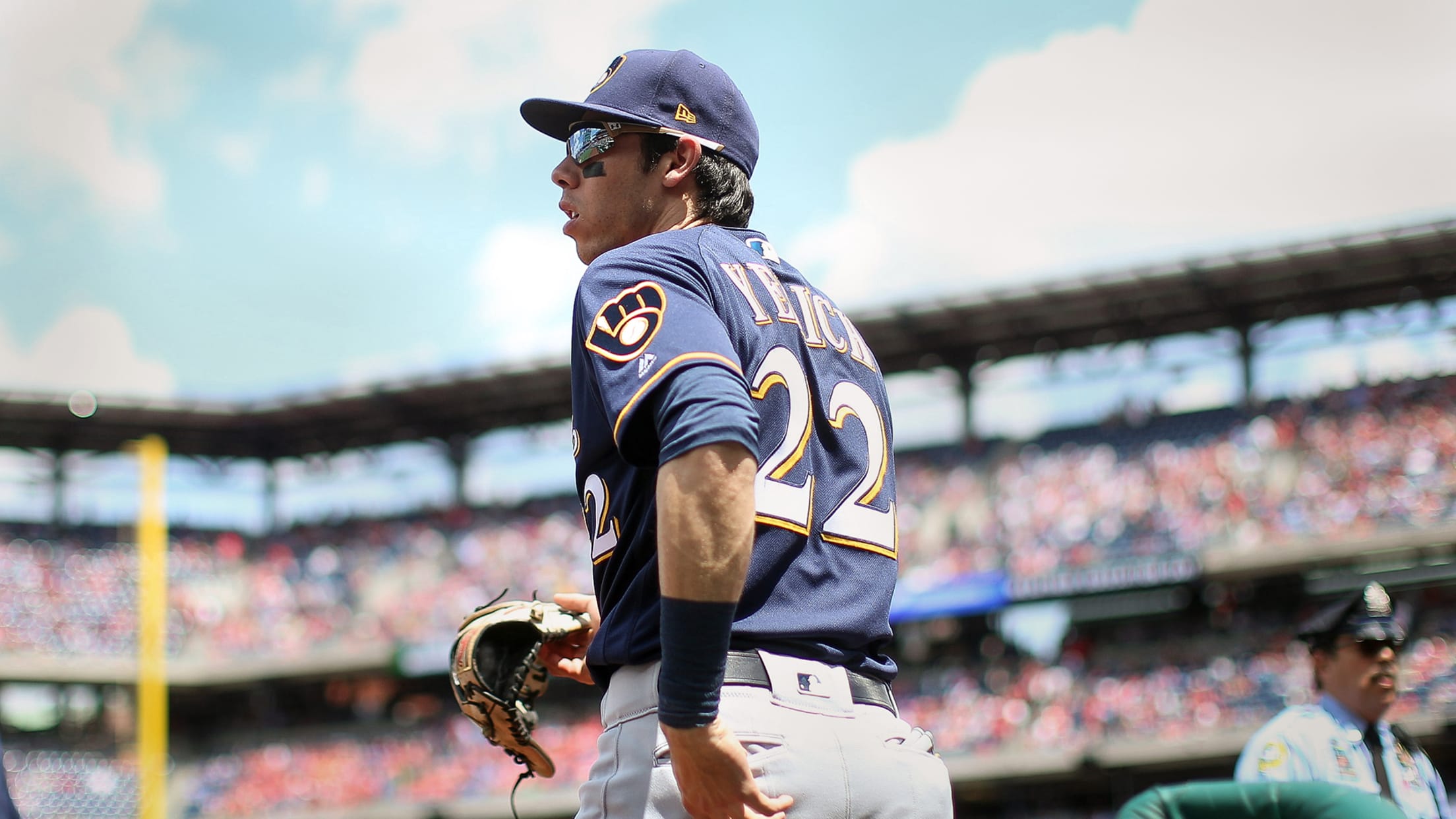 MILWAUKEE -- Christian Yelich cited improvement before missing a second straight game Wednesday because of back spasms, and a hope that he will be back in action Friday when the Brewers open a weekend series against the Phillies at Miller Park. Yelich wasn't sure what caused his flare-up Tuesday afternoon
Seager set to make 2019 debut Saturday 
Mariners welcome back third baseman, sidelined since March 8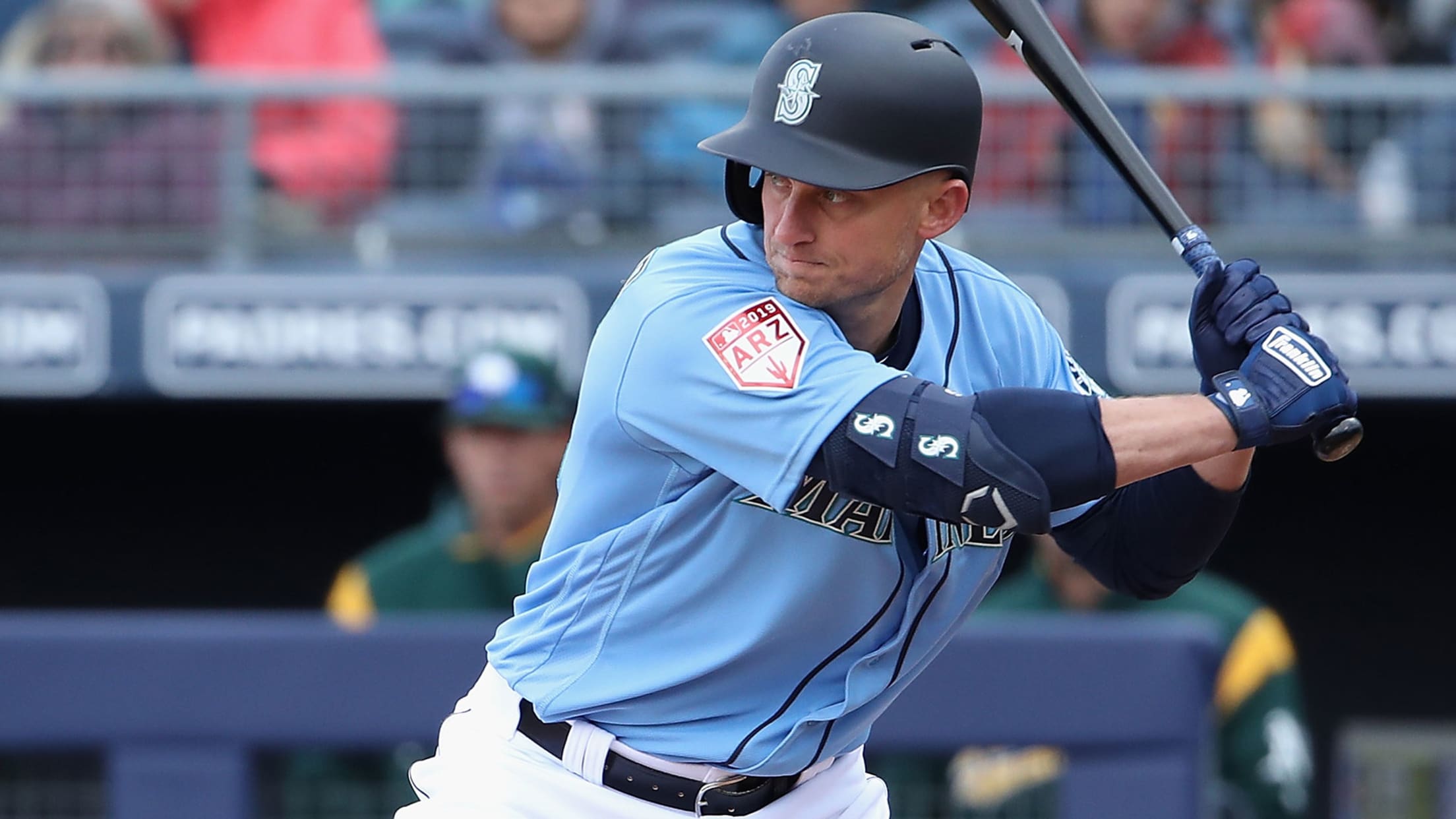 ARLINGTON -- A Mariners roster that has undergone considerable turnover in the past week will see more change this weekend as third baseman Kyle Seager is ready to come off the 60-day injured list Saturday in Oakland. Seager has been sidelined since surgery to repair a tendon he tore in
Injury updates: Stanton, Judge, Yelich, K. Davis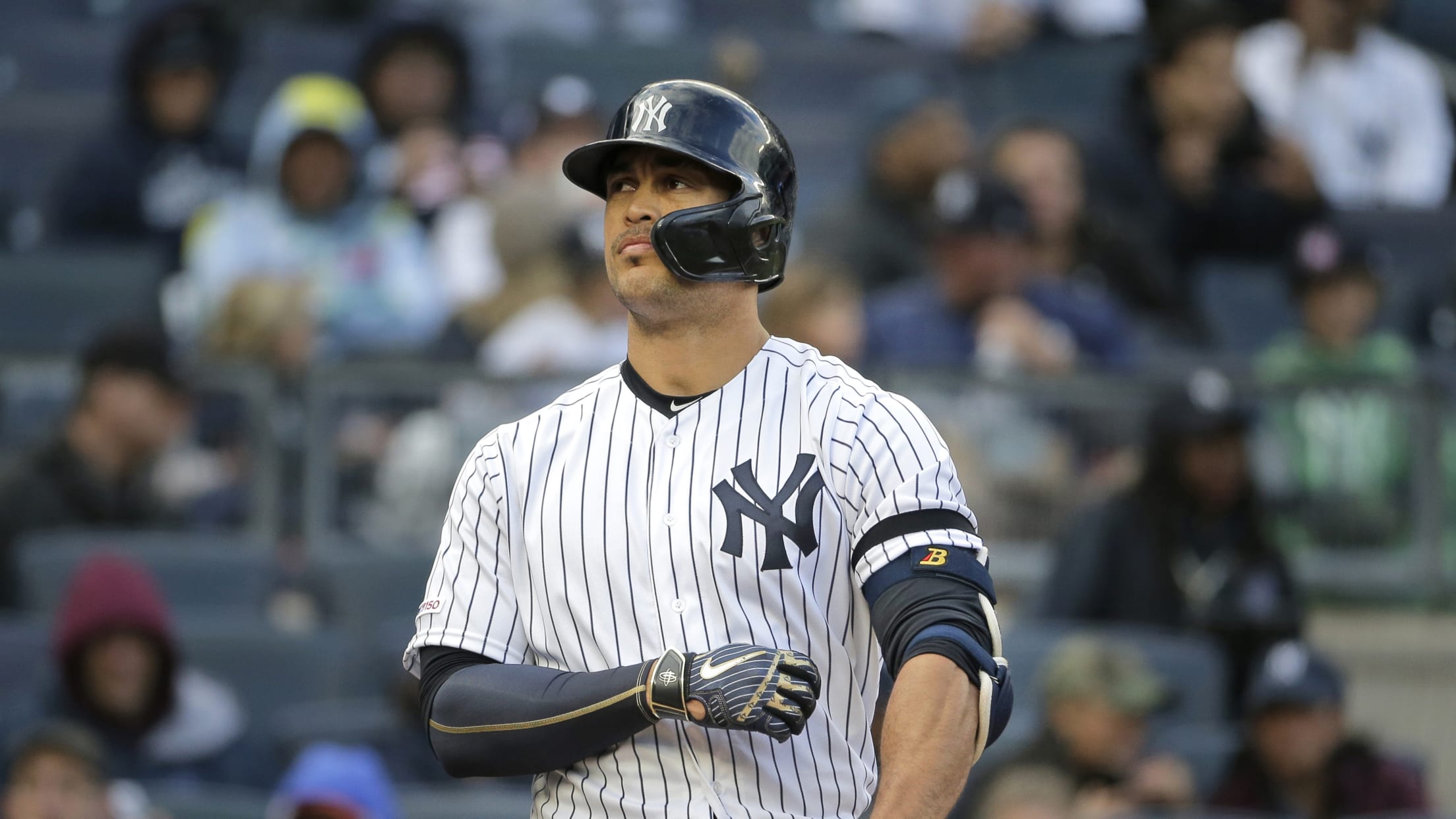 Giancarlo Stanton, Aaron Judge, Masahiro Tanaka, Didi Gregorius, James Paxton, Dellin Betances and Troy Tulowitzki, Yankees Stanton was scratched from what would have been his second Minor League rehabilitation game with Class A Advanced Tampa on Tuesday due to tightness in his left knee. Stanton went 1-for-3 with a home
Frazier fires back: Eaton knows the 'history'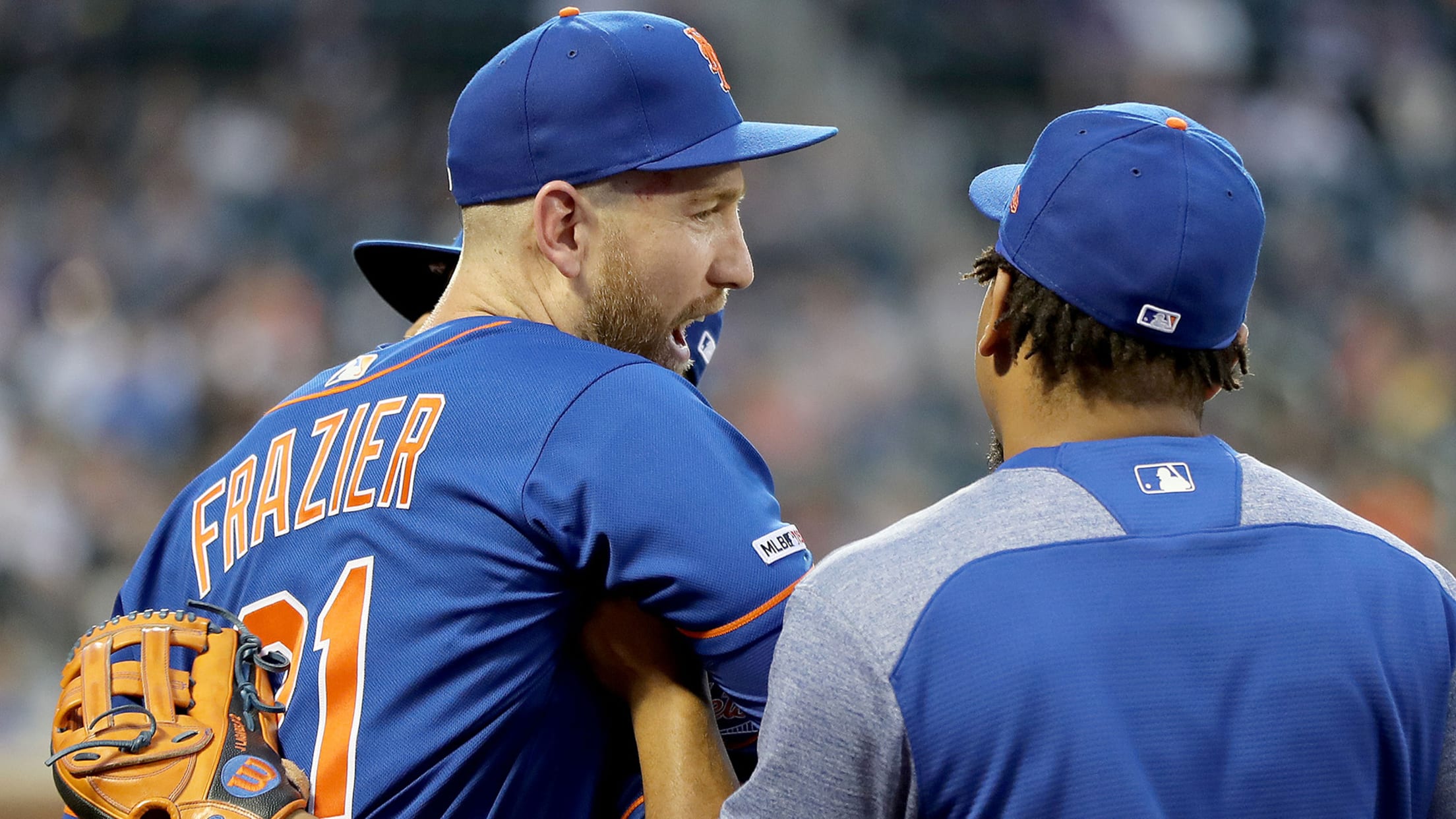 NEW YORK -- A day after offering tight-lipped silence in response to his tiff with Nationals outfielder Adam Eaton, the Mets' Todd Frazier fired back, alluding to an incident between the two while they were White Sox teammates in 2016. Frazier offered no details about the incident, chalking Eaton's behavior
Last time Kershaw lost? It's been a while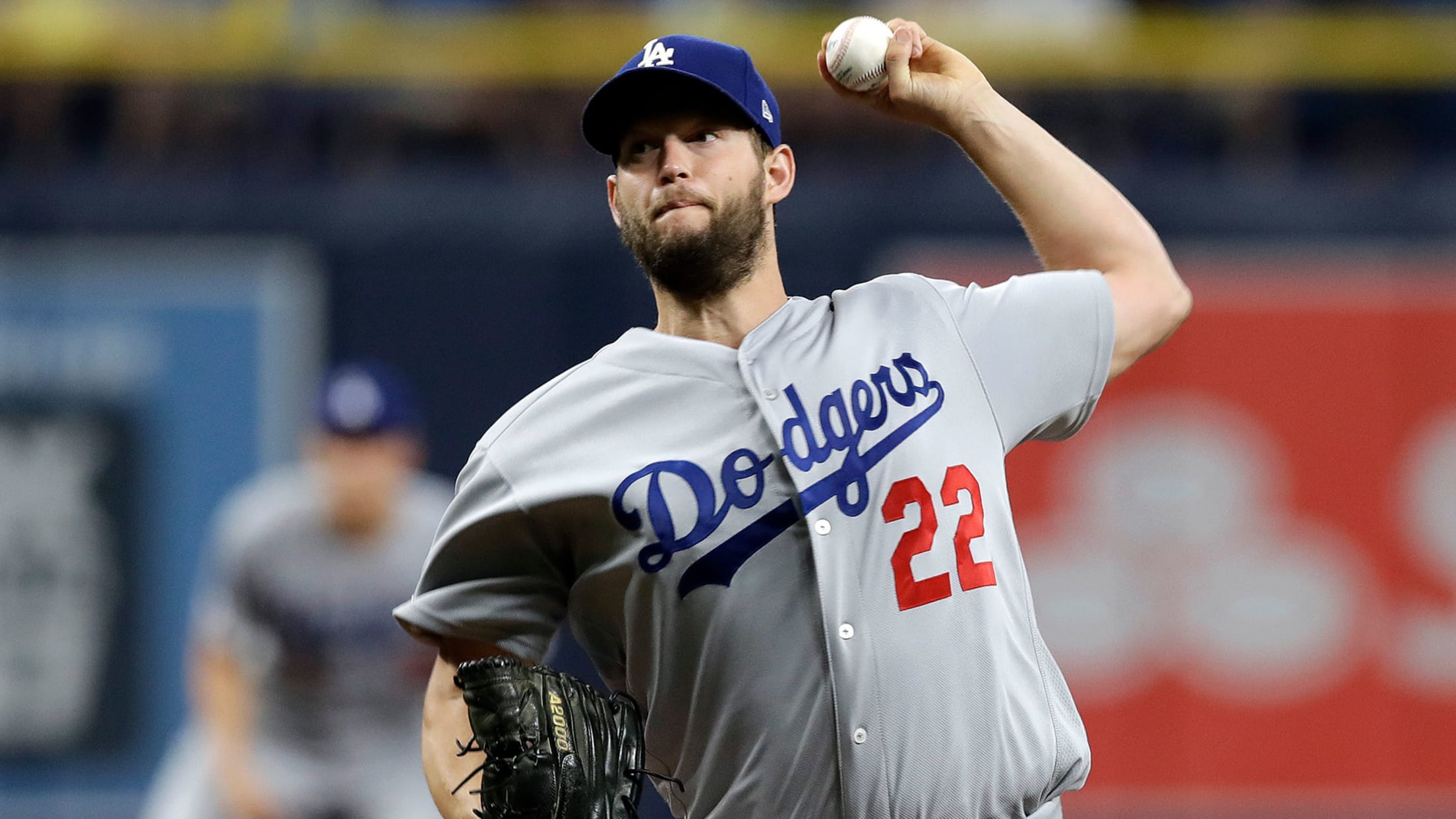 ST. PETERSBURG -- Sometime shortly after his second strikeout of the game, Clayton Kershaw was faced with a decision. He was either going to be in for a rough ride Tuesday night, or the Rays were. The decision was an easy one for the Dodgers' ace, who went on to
How'd Pete's record HR stay fair? He spoke to it
Alonso sets Mets rookie mark for most homers before All-Star break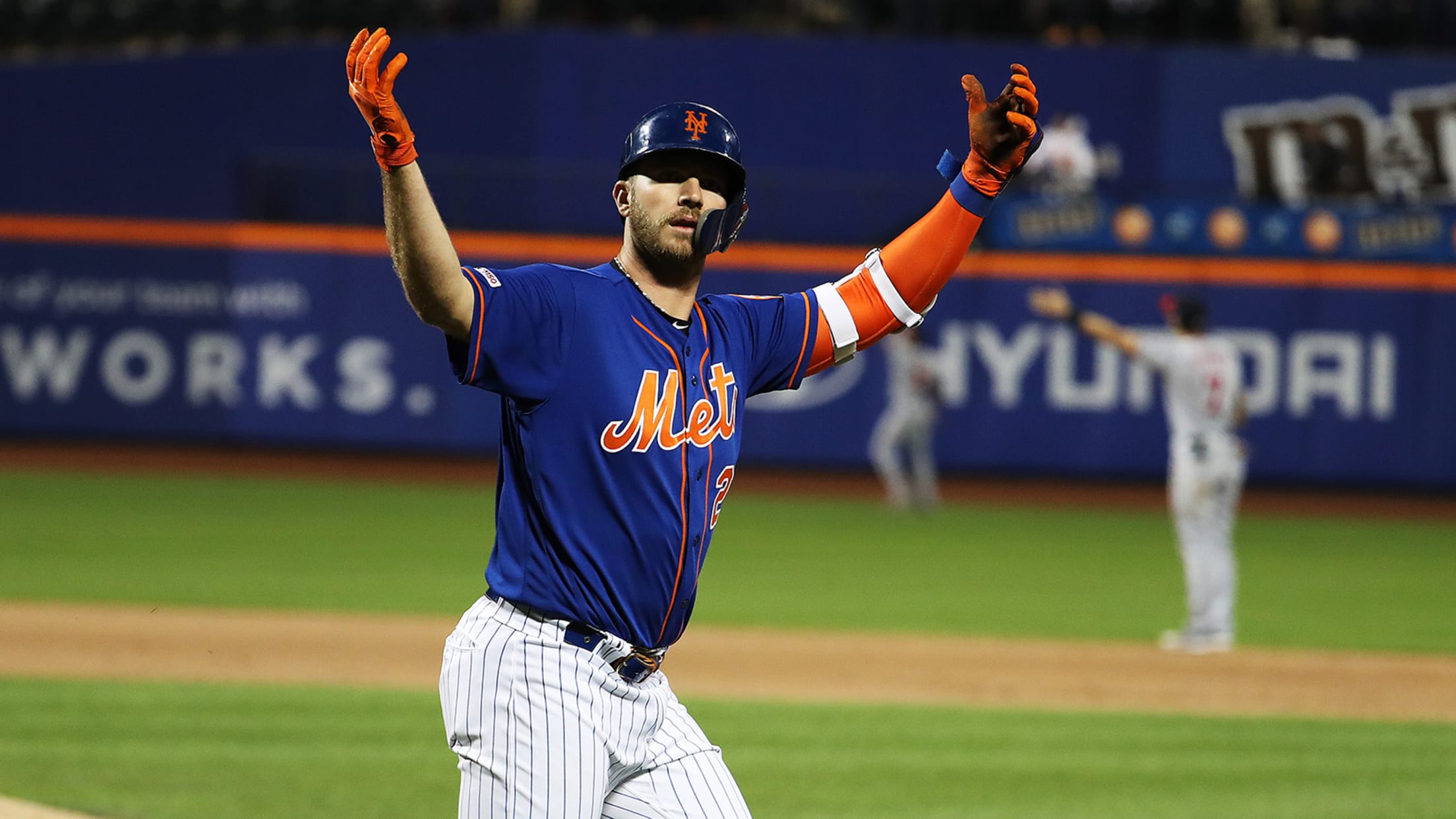 NEW YORK -- As the ball traveled in an arc over the left-field foul pole, Pete Alonso hopped down the first-base line, body turned toward left, watching its flight. Afterward, Alonso would say that he knew for sure the ball was staying fair. That did not stop Alonso, in the
Hobbled Baez delivers with walk-off pinch-hit
Hours after undergoing MRI, shortstop knocks game-winning single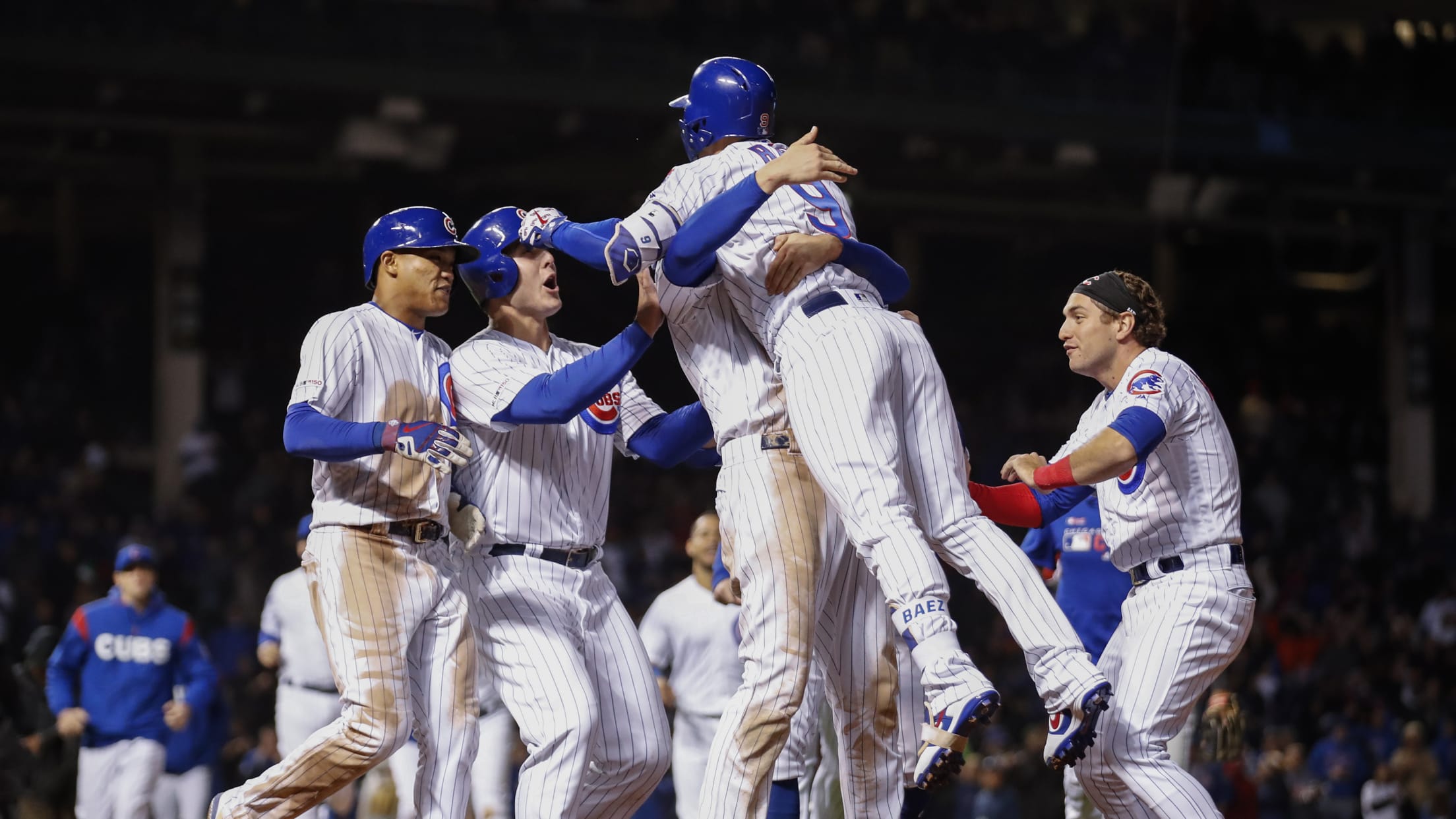 CHICAGO -- Long before he inserted Javier Báez into a pinch-hitting spot in the ninth inning against the Phillies on Tuesday night, Cubs manager Joe Maddon wasn't even certain his star shortstop was available. Earlier in the day, Baez had undergone an MRI on his bruised right ankle, which kept
Greinke becomes 37th pitcher to reach 2,500 K's
After milestone, homer saddles D-backs ace with first loss since Opening Day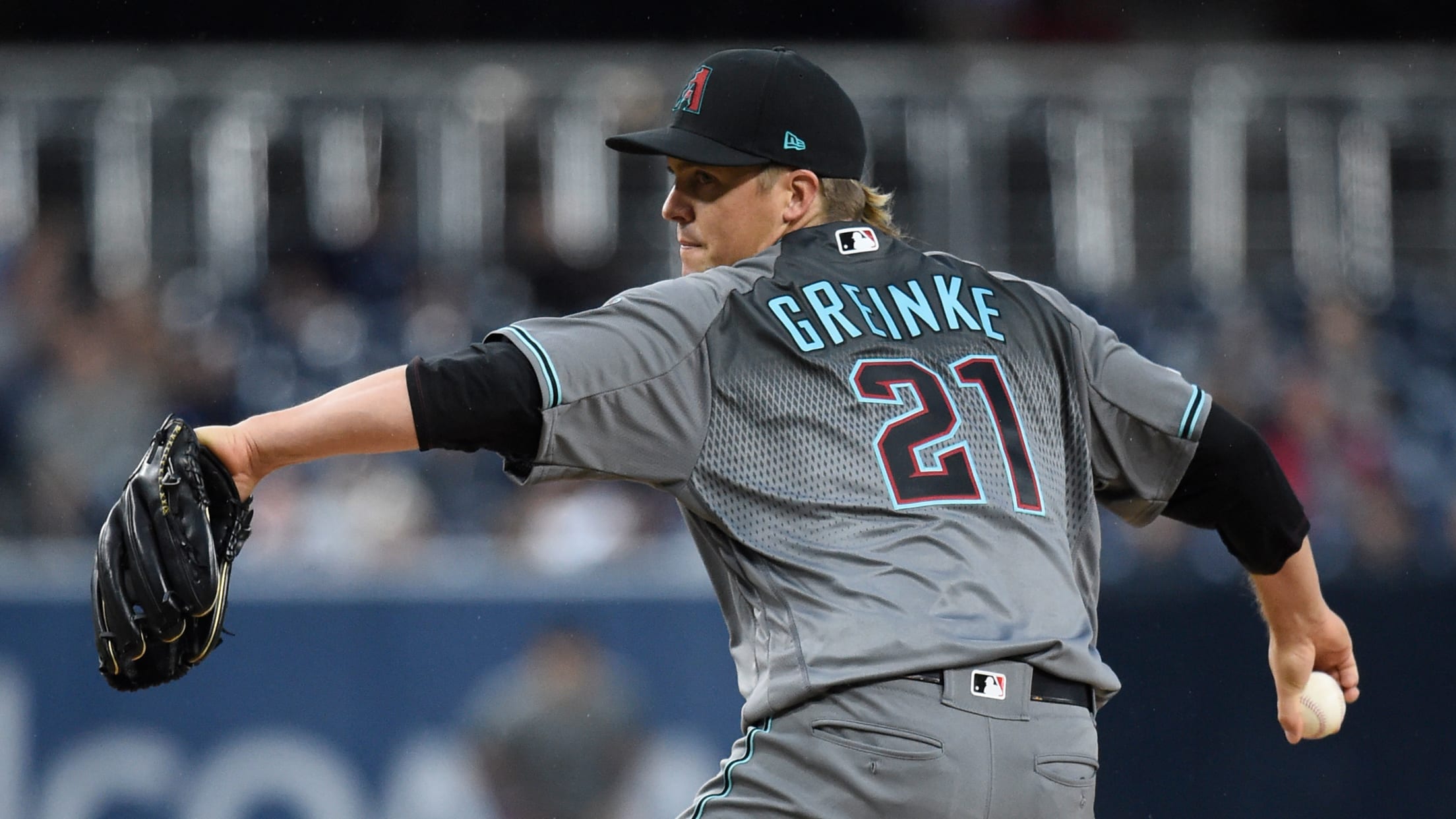 SAN DIEGO -- Zack Greinke reached a big career milestone on Tuesday night at Petco Park, but he also saw a personal streak end in untimely fashion. The D-backs' right-hander recorded his 2,500th career strikeout when he fanned Franmil Reyes in the fourth. Two innings later, Greinke's streak of 178
Verlander (12 K's) masterful, flirts with 3rd no-no
Astros right-hander goes 8 strong, only allows home run in 7th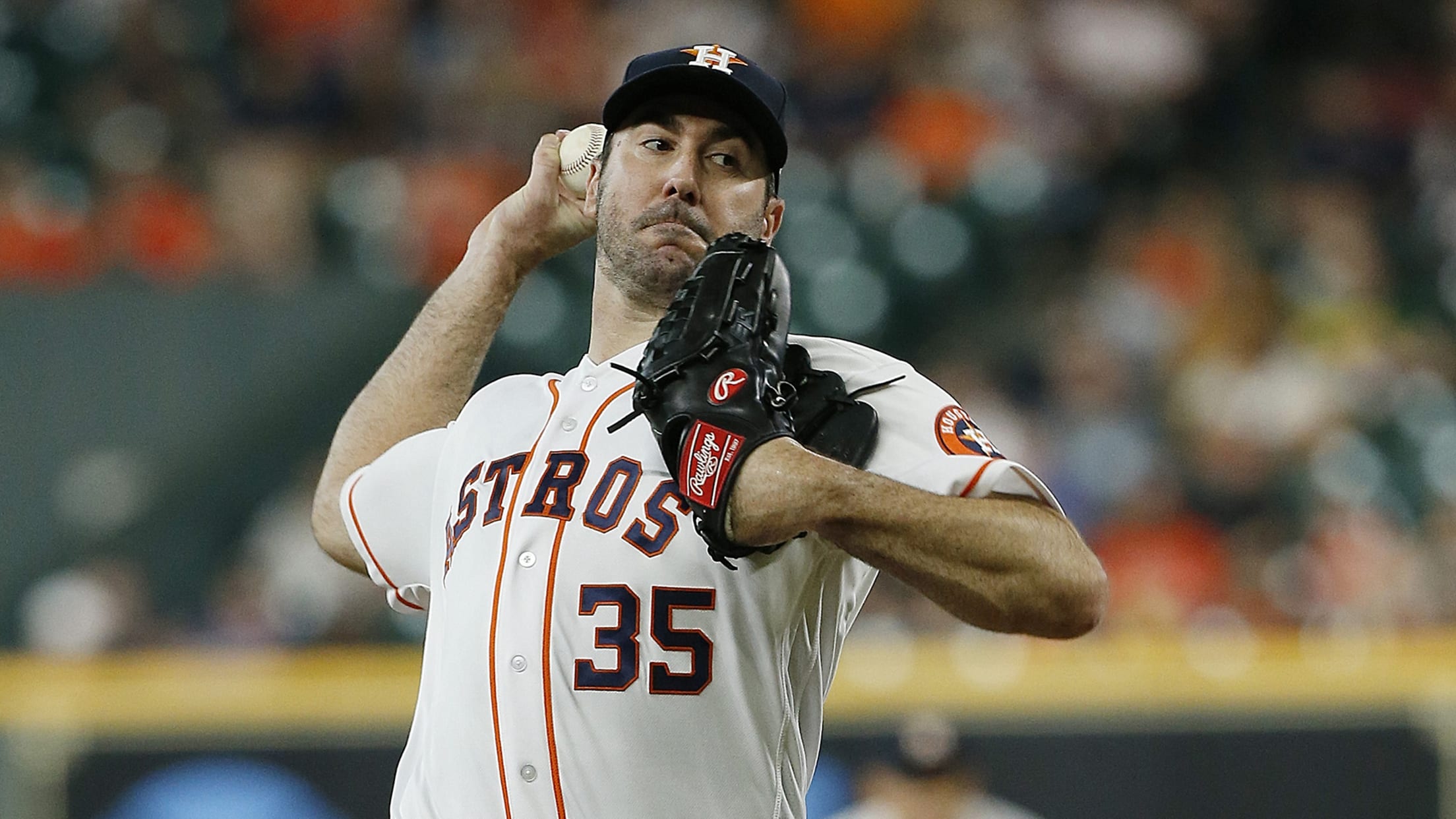 HOUSTON -- Sometimes, this is what you get with a Justin Verlander start. You get a flirtation with magic. You get dominance. You get something you might just remember. This is why it's an event every time he steps on a Major League mound. This is also why Cooperstown beckons.
Frazier fuels Yanks' 10th straight W at Camden
Sanchez hits 14th HR; German fastest Yankee to 9 wins since 1958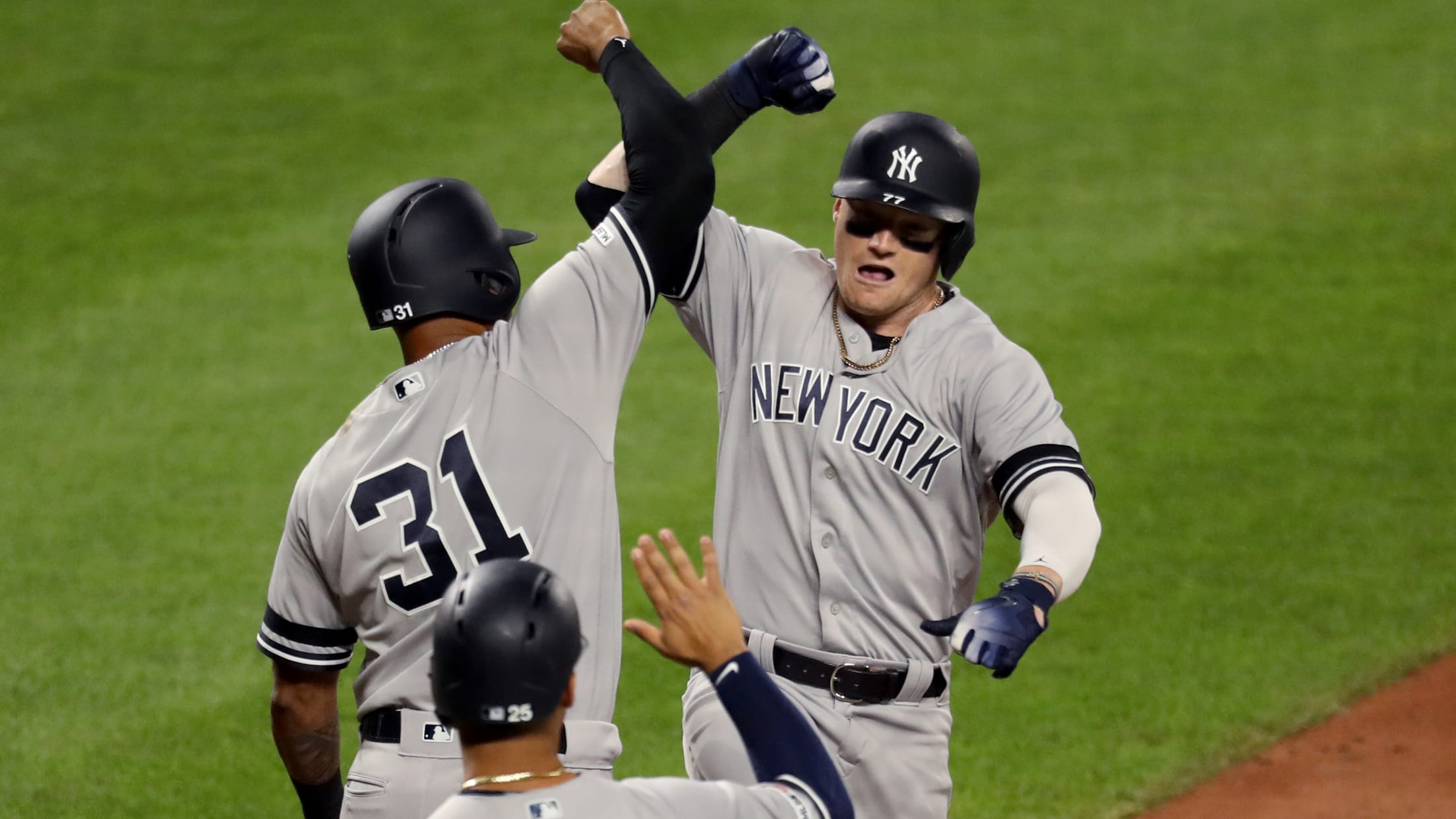 BALTIMORE -- Clint Frazier's first at-bat on Tuesday produced a barreled line drive that landed in the glove of left fielder Dwight Smith Jr., and as he returned to the third-base dugout, the Yankees outfielder permitted himself a chuckle. If his luck didn't improve soon, he promised hitting coach Marcus
Stanton skips rehab game with knee tightness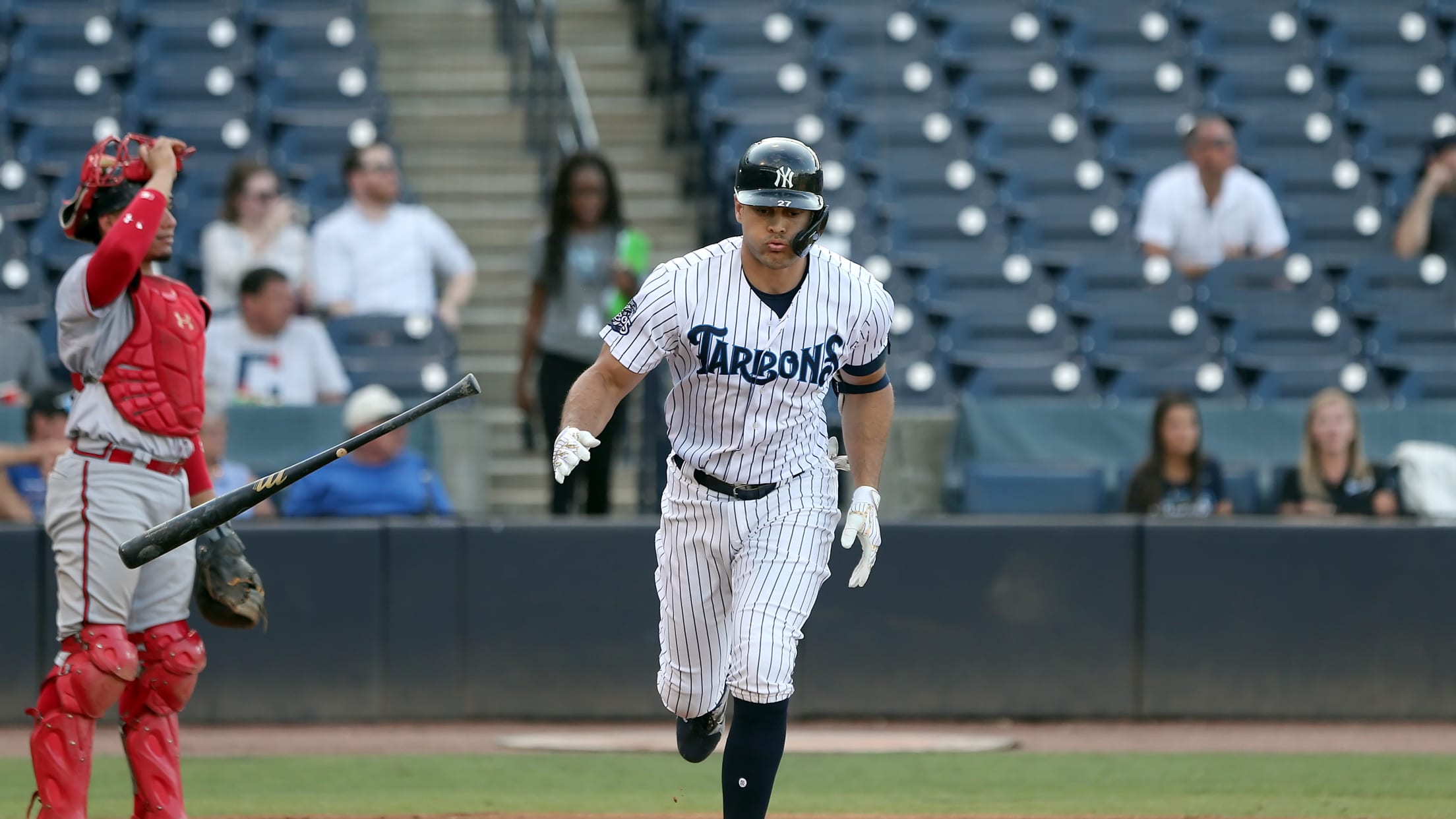 BALTIMORE -- Giancarlo Stanton was scratched from what would have been his second Minor League rehabilitation game with Class A Advanced Tampa on Tuesday due to tightness in his left knee. Stanton went 1-for-3 with a home run on Monday in his first contest with the Tarpons. Speaking after the
Rosario's running walk-off a sprint for the ages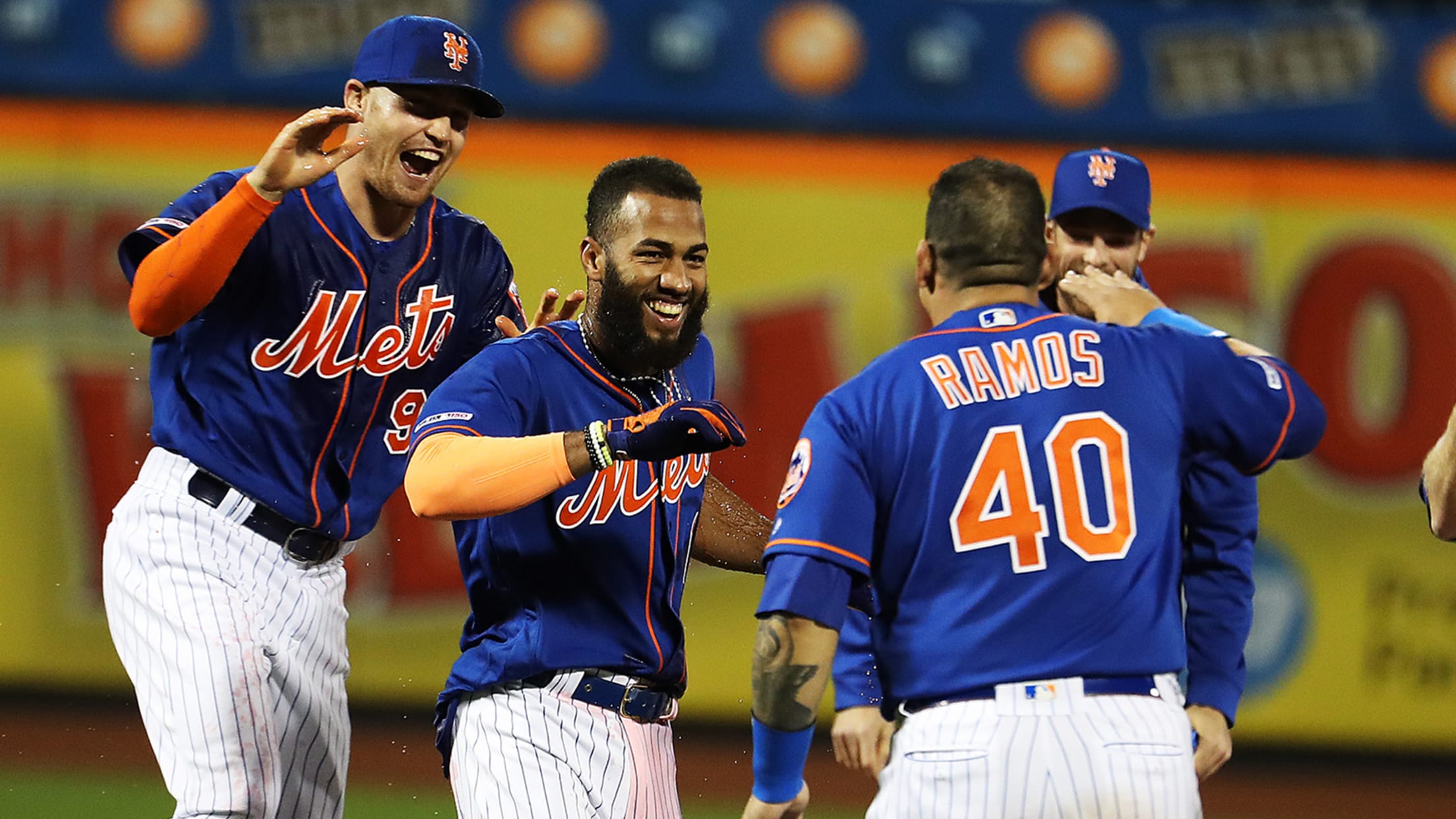 NEW YORK -- Amed Rosario swung down on the ball, beating it into the ground as the stopwatch clicked on. The Mets' fastest player chucked his bat, dropped his head and sprinted. At shortstop, Trea Turner edged forward, thought better of that plan and took a healthy step back, fielding