Would Triple Crown = MVP for Vlad Jr.?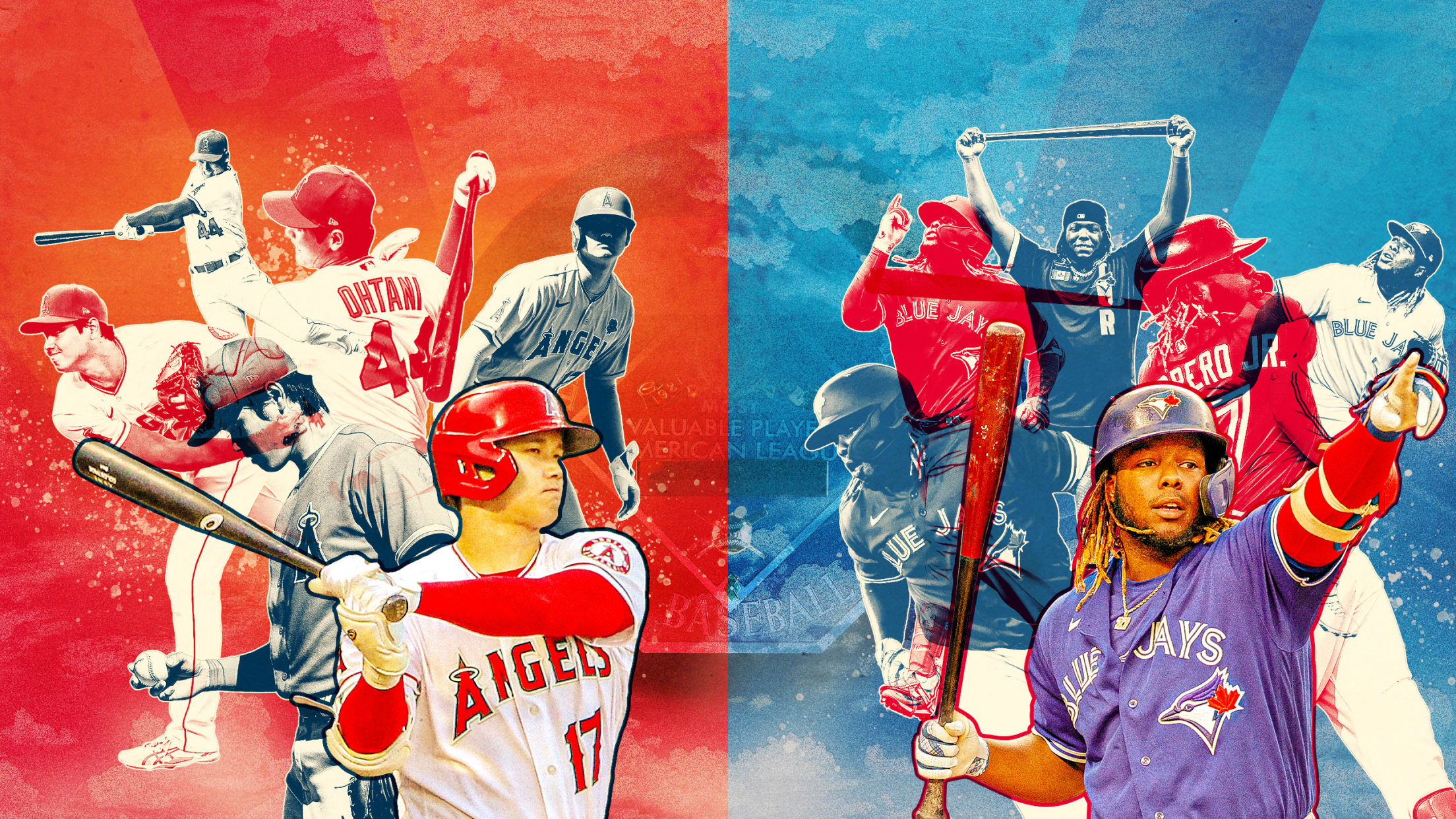 The American League MVP Award race is unlike any we've seen before: One candidate may win the Triple Crown and still come in second place; the other is doing something so unprecedented that it seems ludicrous to think anyone can unseat him as the favorite. A group of MLB.com experts
Gausman the unlikely hero in 11-inning epic
Solano revives Giants in 9th in first game off injured list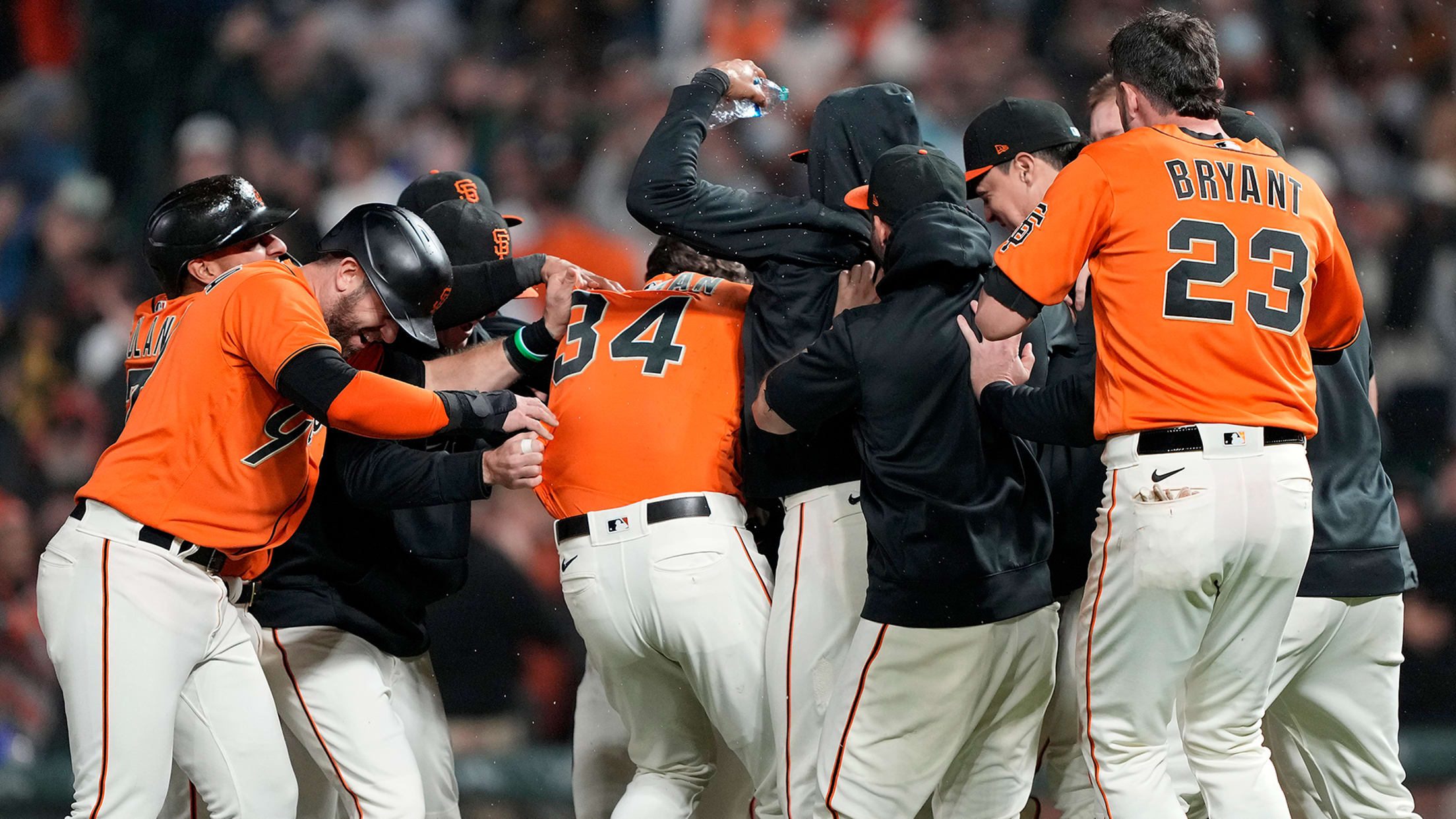 SAN FRANCISCO -- It was September baseball at its finest on Friday night at Oracle Park. Donovan Solano crushed a game-tying home run with two outs in the ninth inning, and right-hander Kevin Gausman delivered a walk-off sacrifice fly to lift the Giants to a stunning 6-5 win over the
Crew stuns Cubs, cuts magic number to 2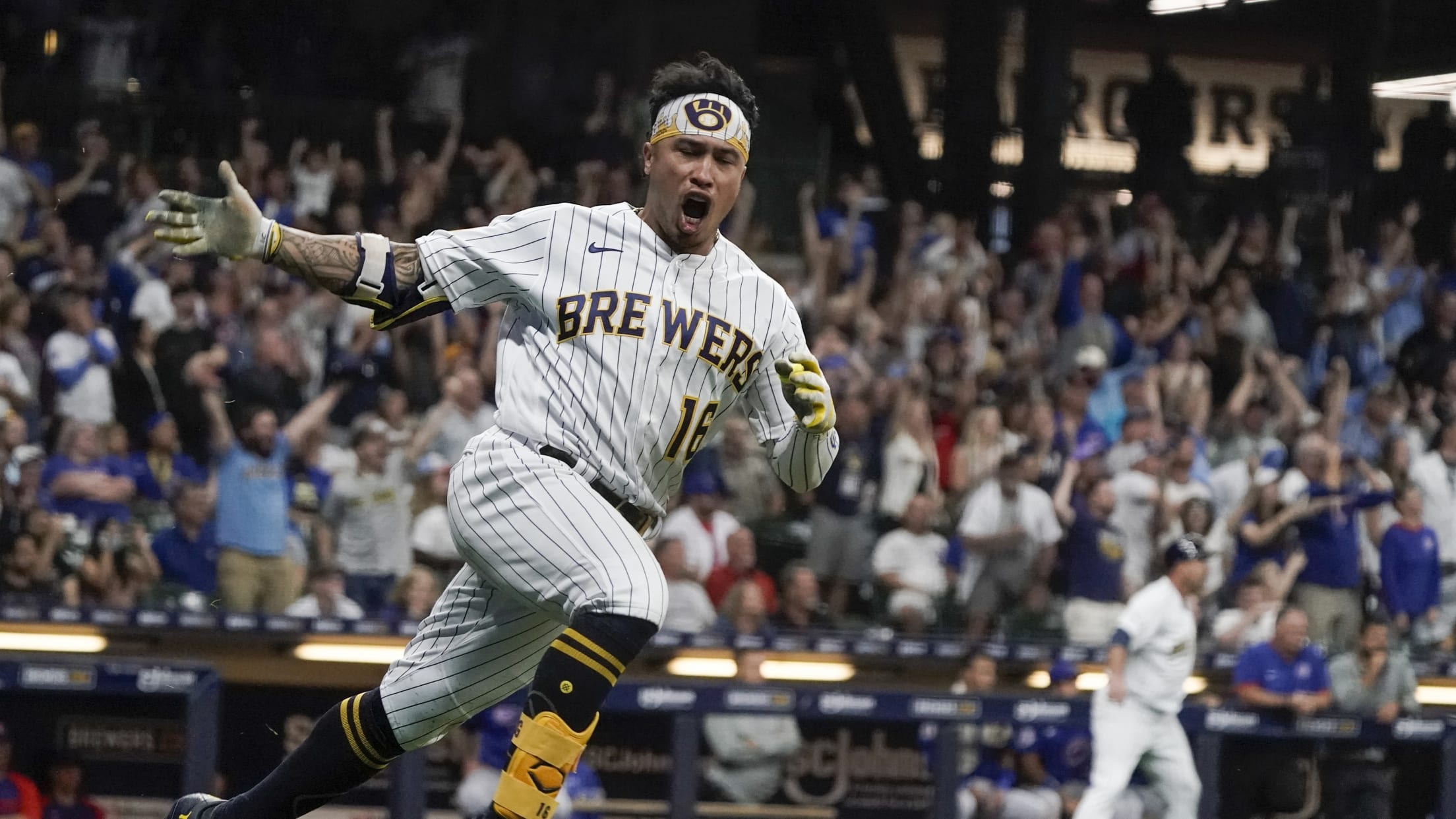 MILWAUKEE -- A bloop, a base hit, and the Brewers' postseason ticket can be punched any day now. Lorenzo Cain dunked a tying single into shallow right field with two outs in the eighth inning on Friday before Kolten Wong delivered a go-ahead, two-run single on the way to a
SF fan wearing his own 'C' catches Belt's HR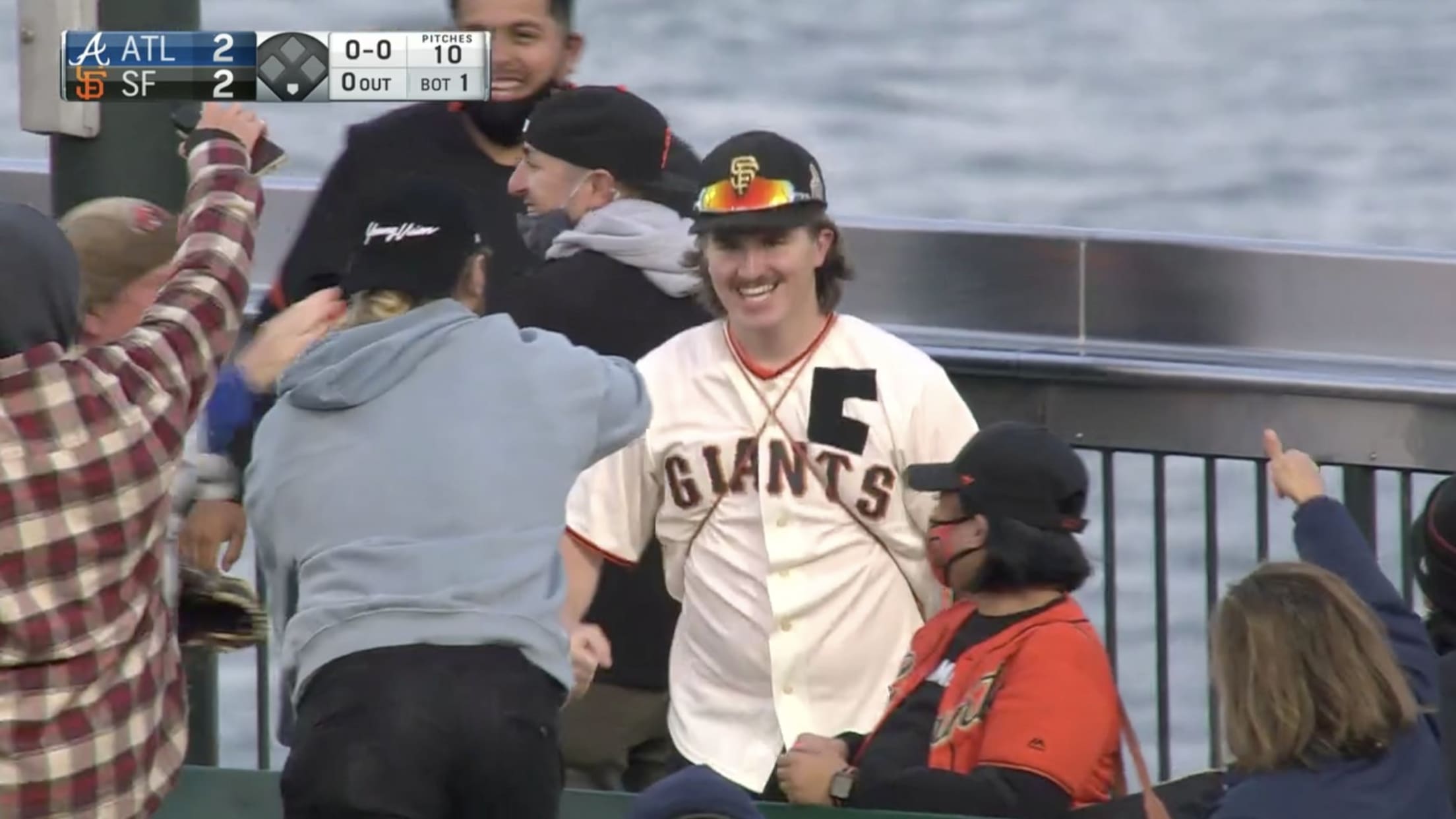 A week ago, Brandon Belt took it upon himself to become the unofficial "captain" of the Giants when he sensed a leadership void despite the club owning the best record in baseball. So teammate Evan Longoria took the initiative to form a "C" on Belt's jersey using electrical tape. Crude,
Postseason watch: Rollercoaster races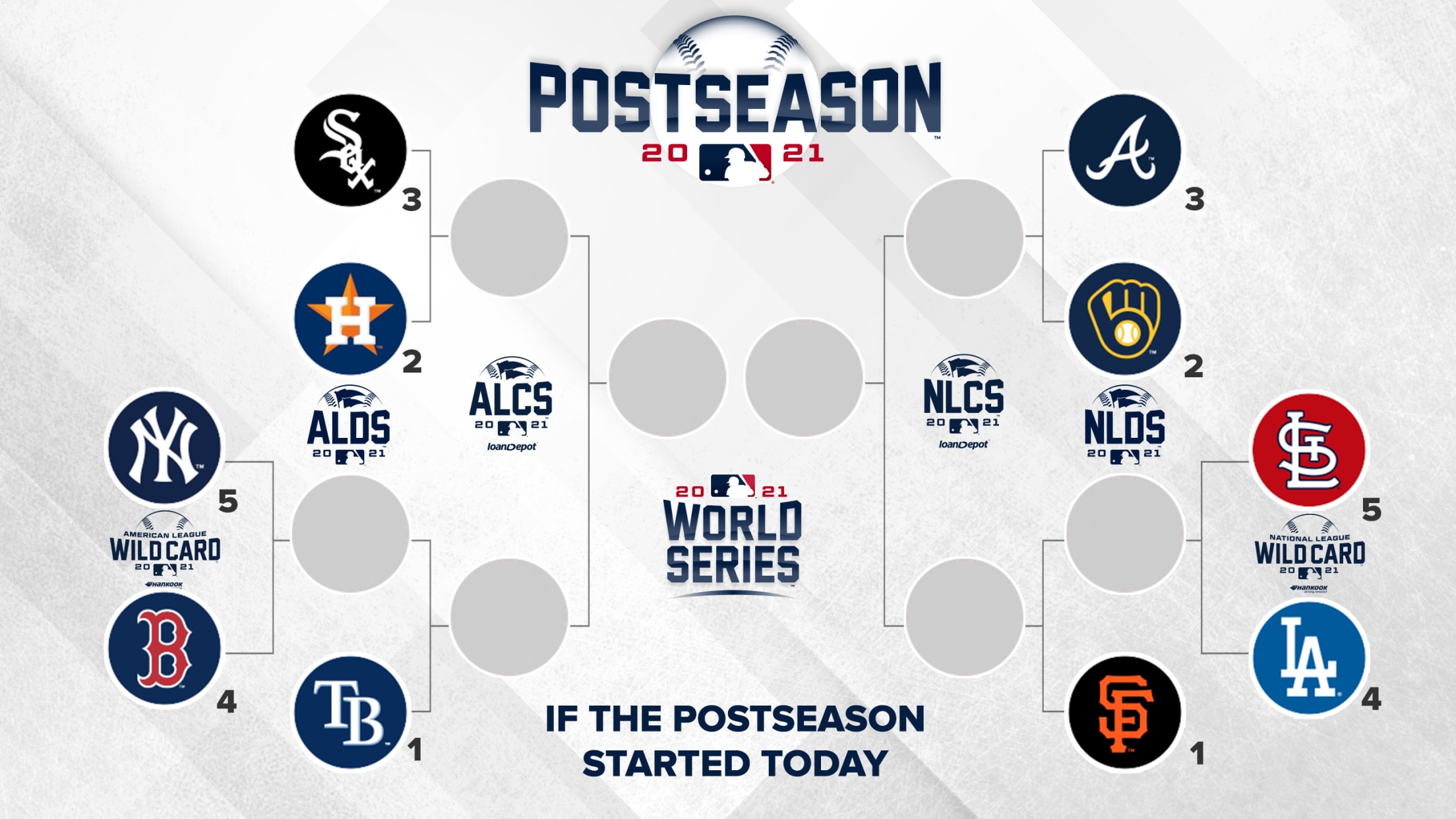 Postseason races in the National League took a rollercoaster ride Friday night, with one swing of the bat with two outs in the ninth inning in San Francisco impacting two playoff chases simultaneously. Donovan Solano launched a game-tying homer with the Giants down to their final strike against the Braves,
Yanks regain WC spot behind stingy Kluber
Gallo (2), Judge, Stanton, Gardner go yard in series-opening rout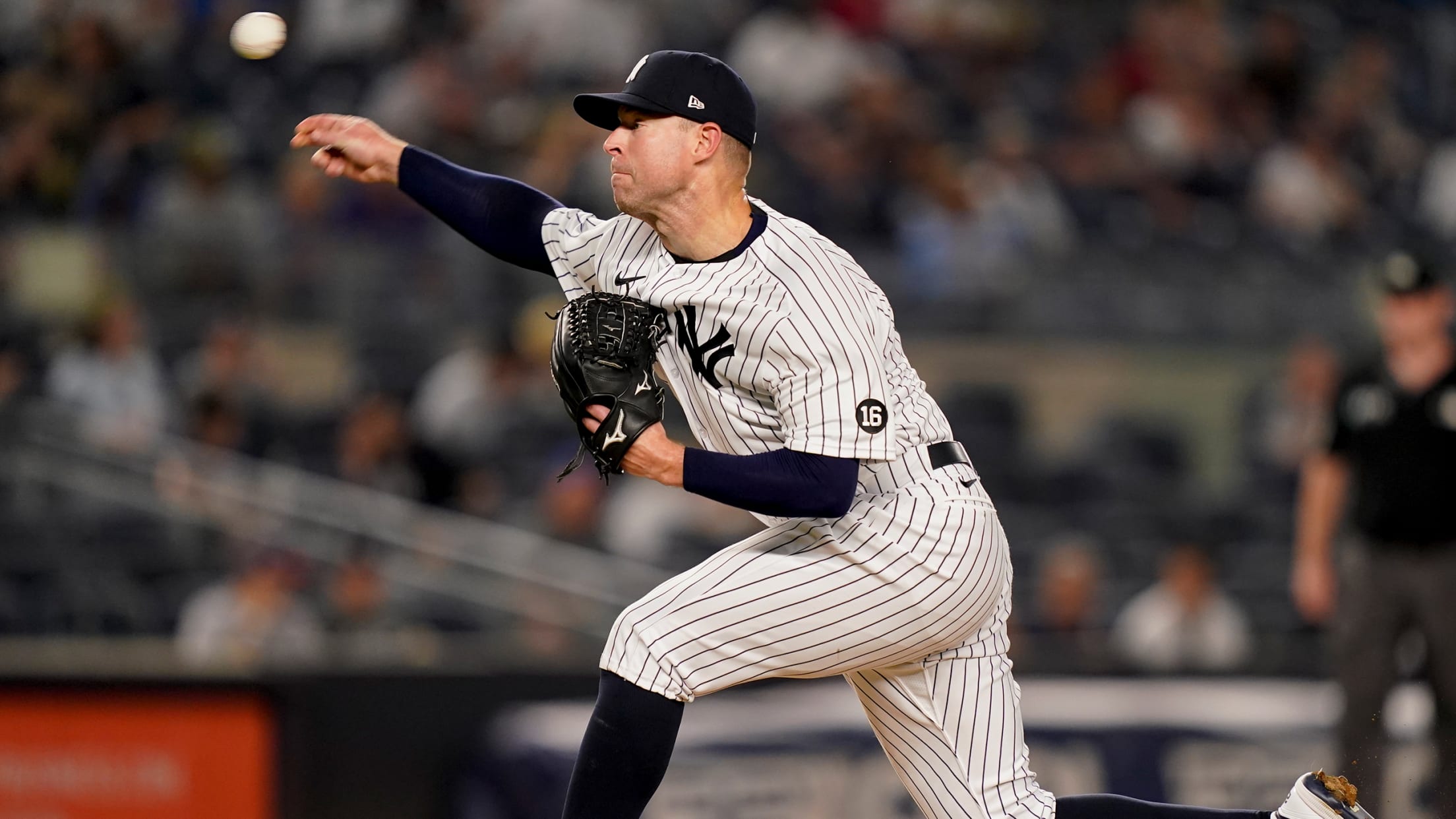 NEW YORK -- Corey Kluber could not permit himself a stroll down memory lane. The two American League Cy Young Awards, the four postseasons and a World Series appearance -- those would have to remain in the past. To indulge in such a moment at this crucial stage of the
Vladdy smashes 46th HR, retakes MLB lead
Montoyo on young slugger: 'He keeps surprising me every day'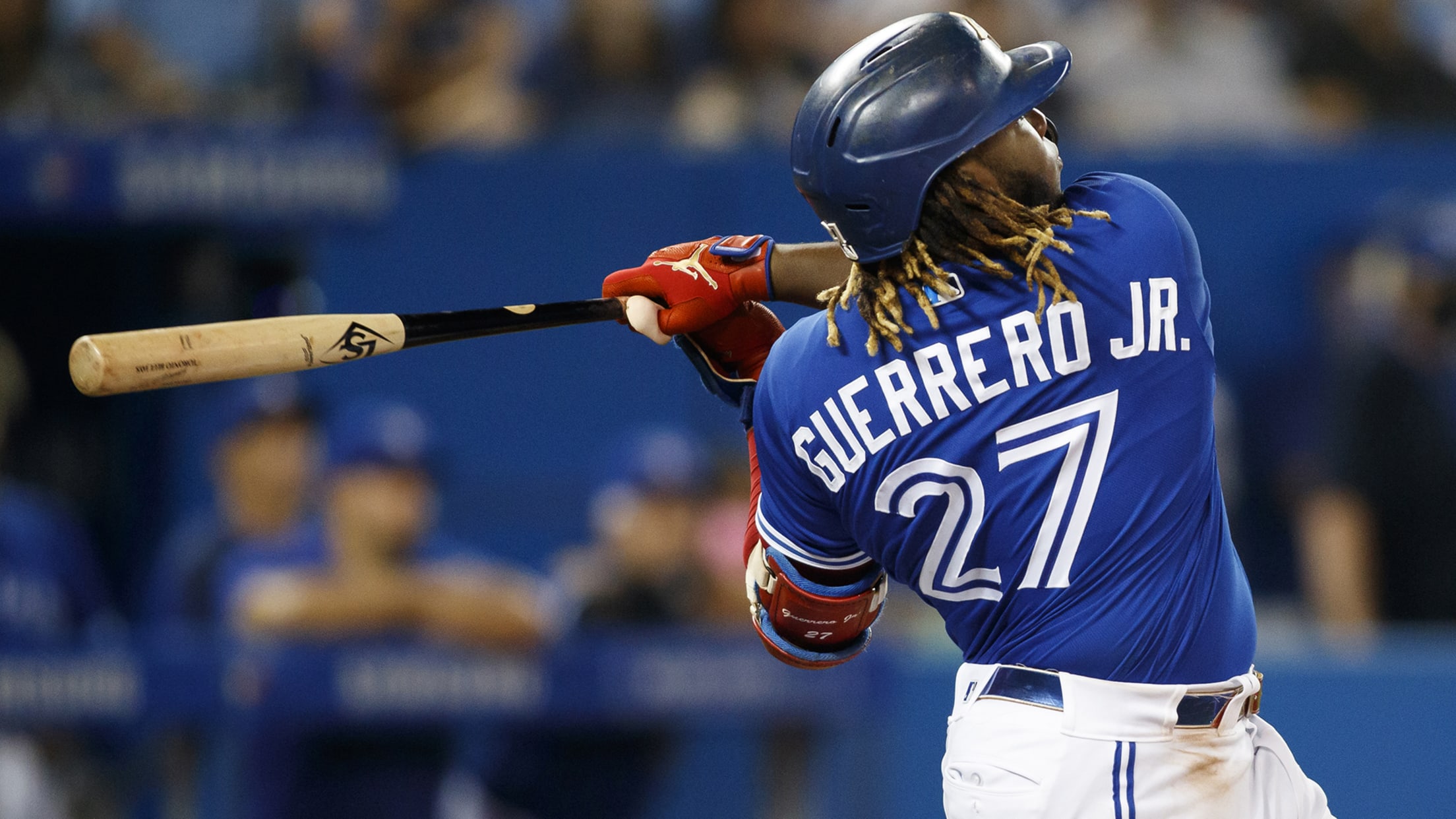 TORONTO -- Vladimir Guerrero Jr.'s hunt for 50 homers continues, and the Blue Jays' superstar reclaimed the MLB home run lead on Friday night by launching No. 46. This one looked like so many of the others, a no-doubt shot hit hard enough to blow through the wall in left
Try not to smile at young fan's kind gesture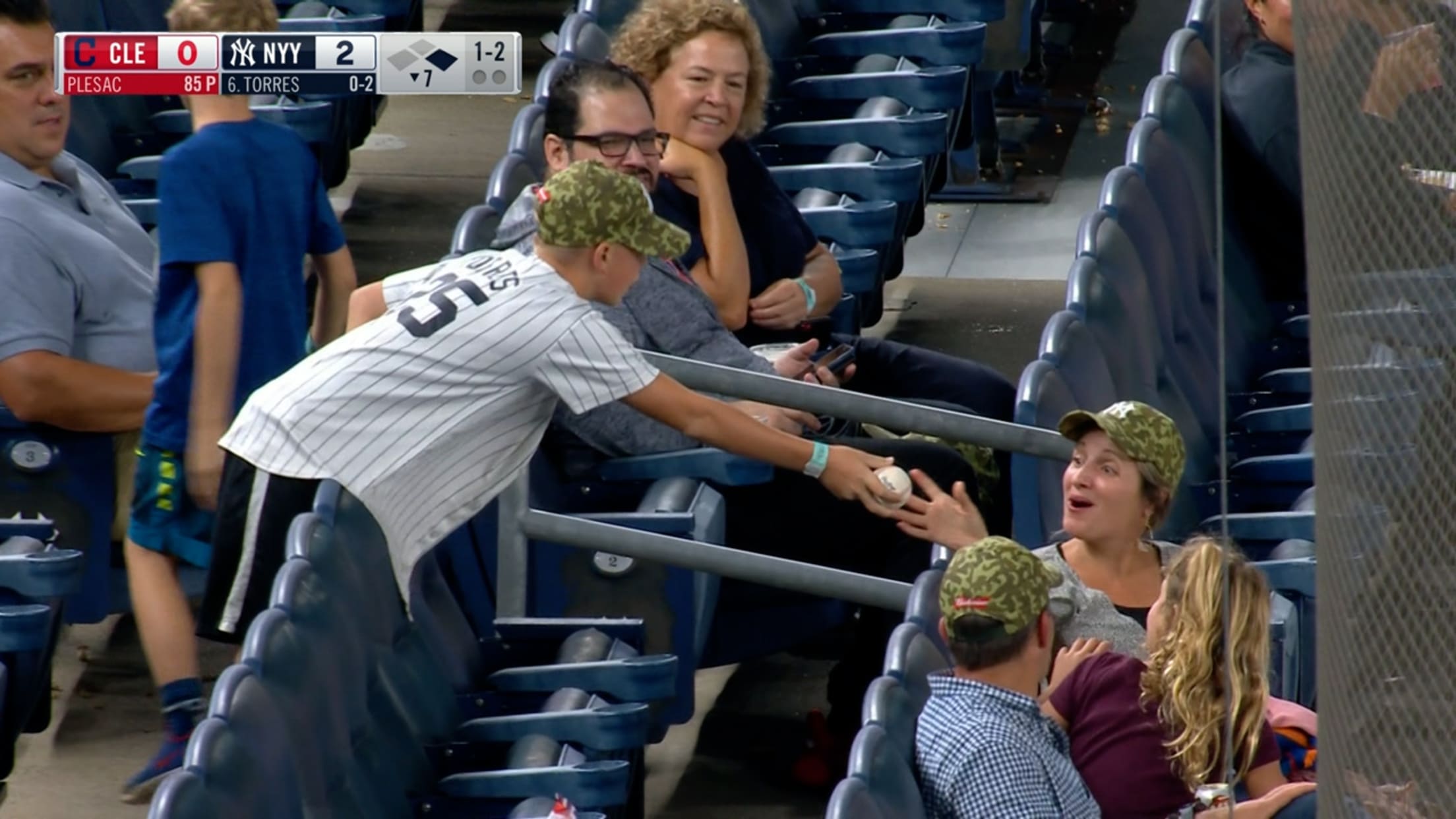 Getting a foul ball at a Major League game is one of the most exciting experiences a young baseball fan can have. We've all seen the great reactions of kids who end up getting that coveted baseball that has been hit or tossed into the stands. On Friday night at
Carlson's 2 HRs help Cards widen WC lead
Rookie caps big night with a slam to open series between playoff contenders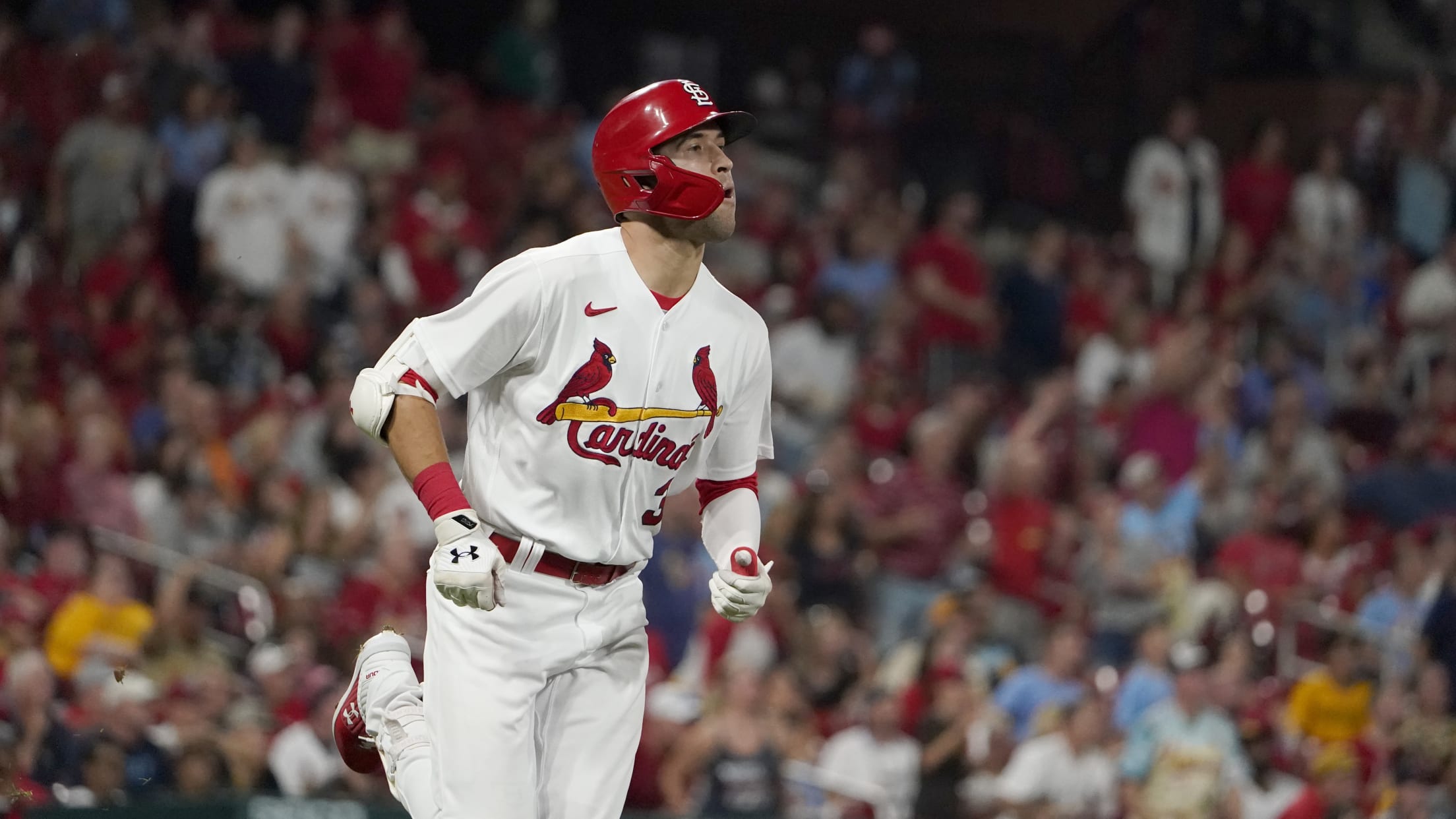 ST. LOUIS – Dylan Carlson's demeanor has earned him praise from teammates. His play has earned him constant playing time in various batting order positions, in each outfield position and in crucial roles -- at just 22 years of age. But escaping Carlson this season has been a marquee moment.
Here are the '21 playoff tiebreaker scenarios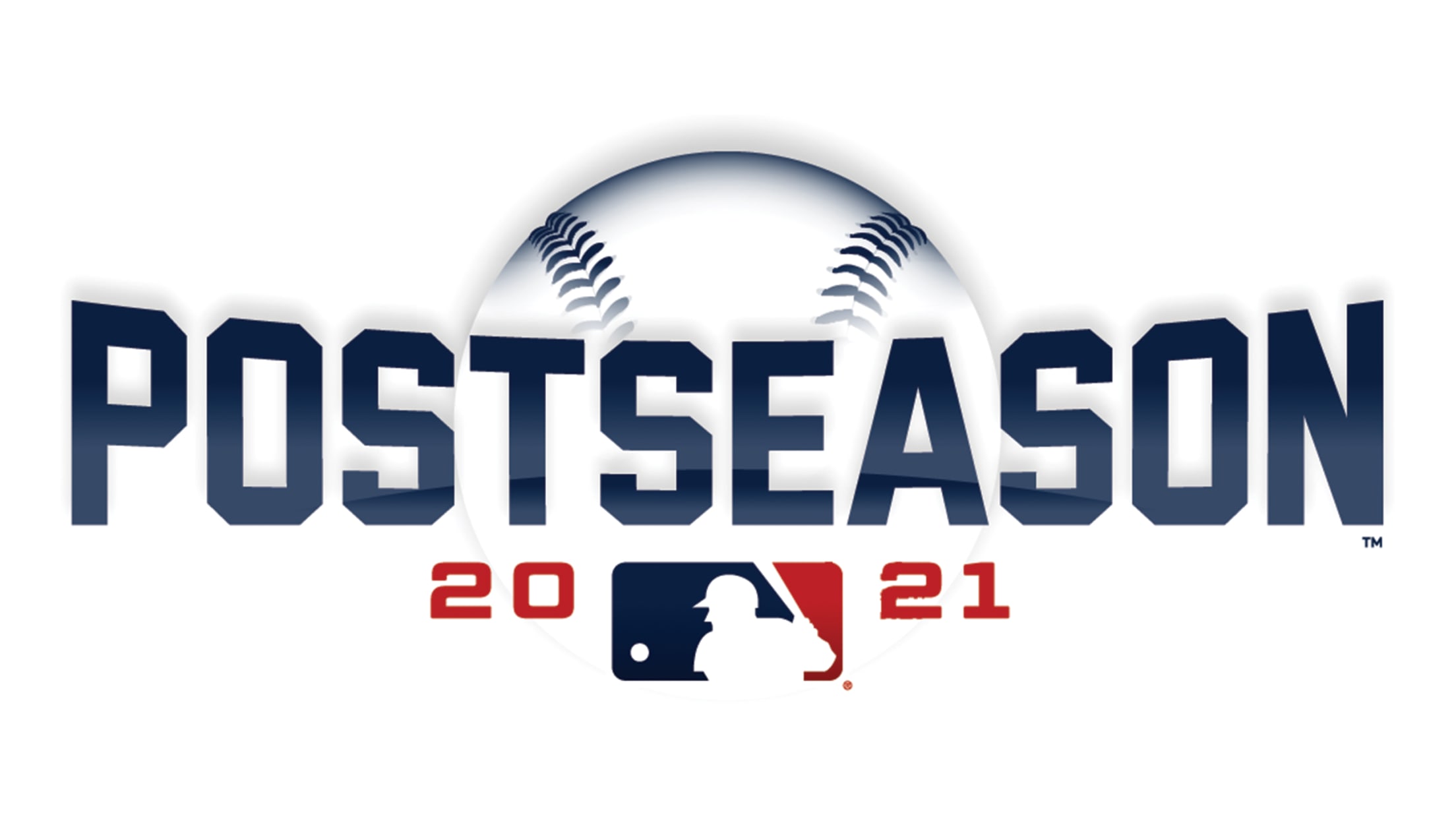 Just as extra innings are sometimes required to resolve games, extra games are sometimes required to resolve regular-season races. It hasn't happened often, even in the dual-Wild Card era in which more teams are in the late-season mathematical mix. Since Major League Baseball went to the dual-Wild Card format in
Adams -- in relief -- sets season HBP mark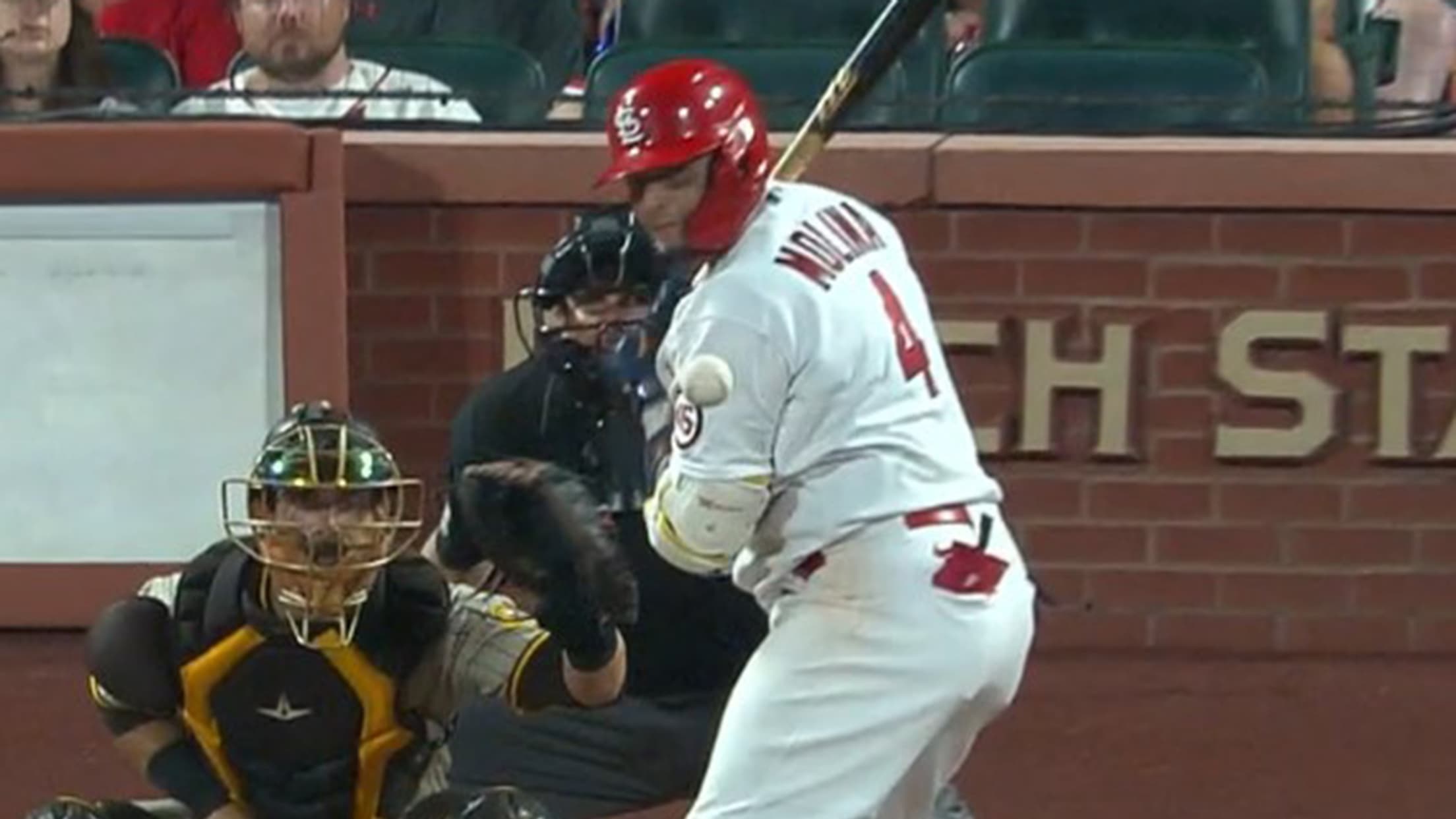 So here's a question: How many batters could a relief pitcher who's thrown 49 2/3 innings this season possibly hit? If your answer before reading this article was any number fewer than 24, you'd be wrong. Yes, you read that correctly: 24. Padres right-hander Austin Adams set a new MLB
Fly high: Phillips' walk-off HR caps wild rally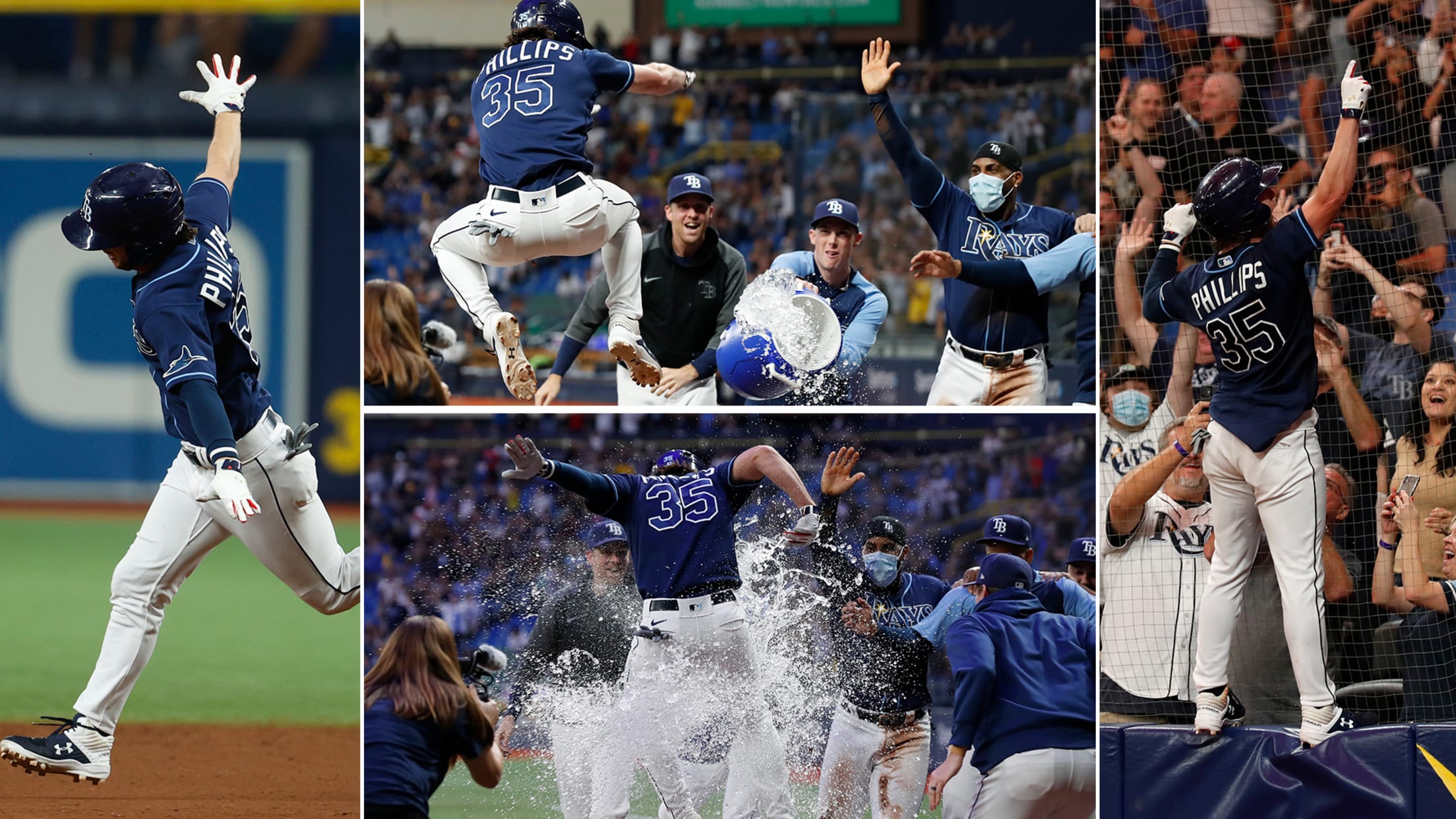 ST. PETERSBURG -- As soon as the ball came off Brett Phillips' bat, the celebration was underway. The energetic outfielder took a few steps out of the batter's box, passed his bat from his left hand to his right and chucked it seemingly half as high and far as his
Complete 2021 MLB postseason schedule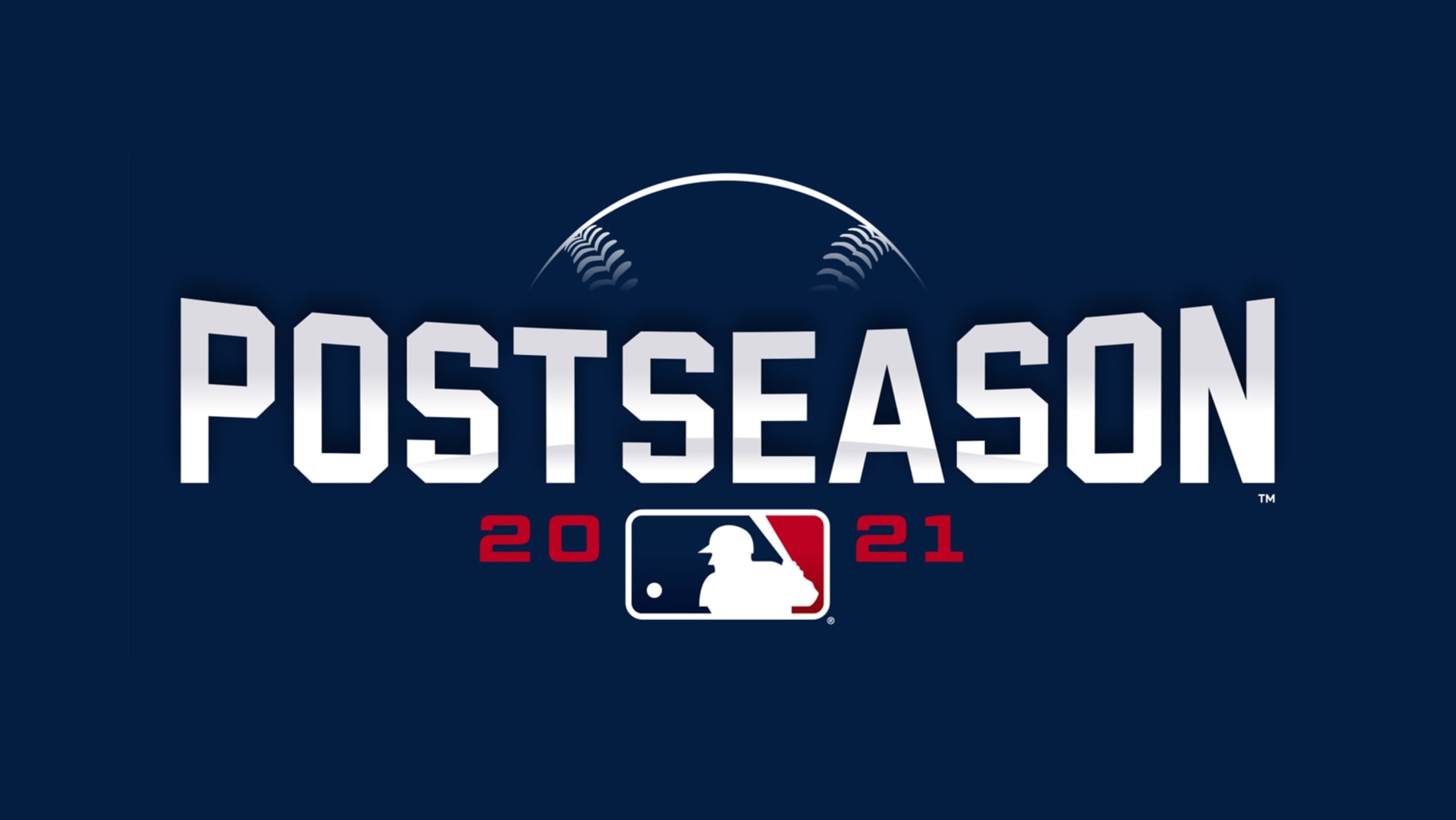 Major League Baseball today announced the schedule for the 2021 Postseason, which is set to open with the American League Wild Card Game presented by Hankook on ESPN on Tuesday, Oct. 5, followed by the National League Wild Card Game presented by Hankook on TBS on Wednesday, Oct. 6. Game
La Russa on easy W: 'A pleasure to watch'
Romy, back in box, helps Sox trim magic number to 5 to clinch AL Central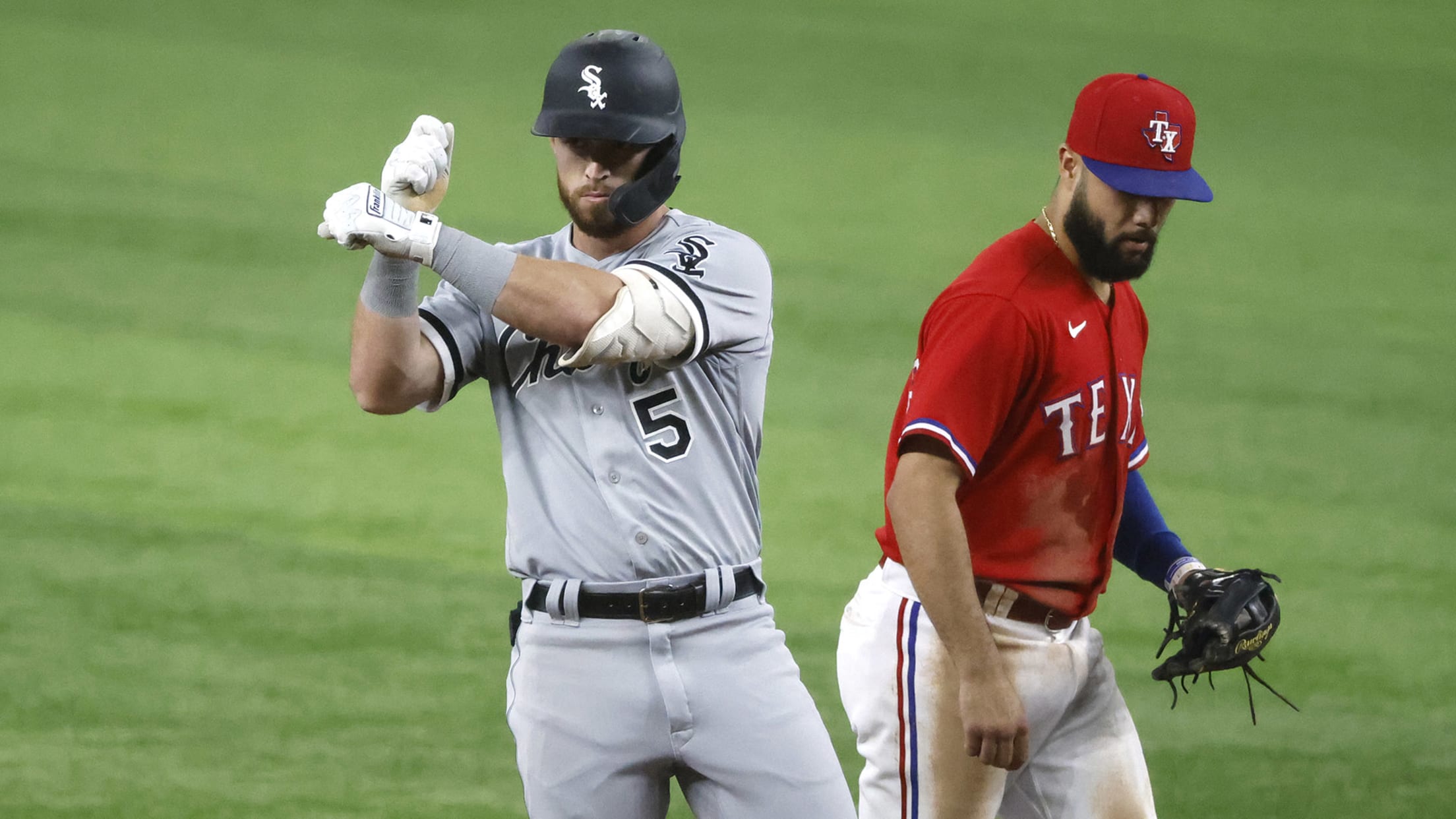 ARLINGTON -- The last image of Romy Gonzalez prior to an 8-0 White Sox victory over the Rangers Friday night at Globe Life Field was the rookie infielder/outfielder being called upon to record the final ninth-inning out as a pitcher in Thursday's loss to the Angels. Gonzalez struck out Max
VOTE: Roberto Clemente Award nominees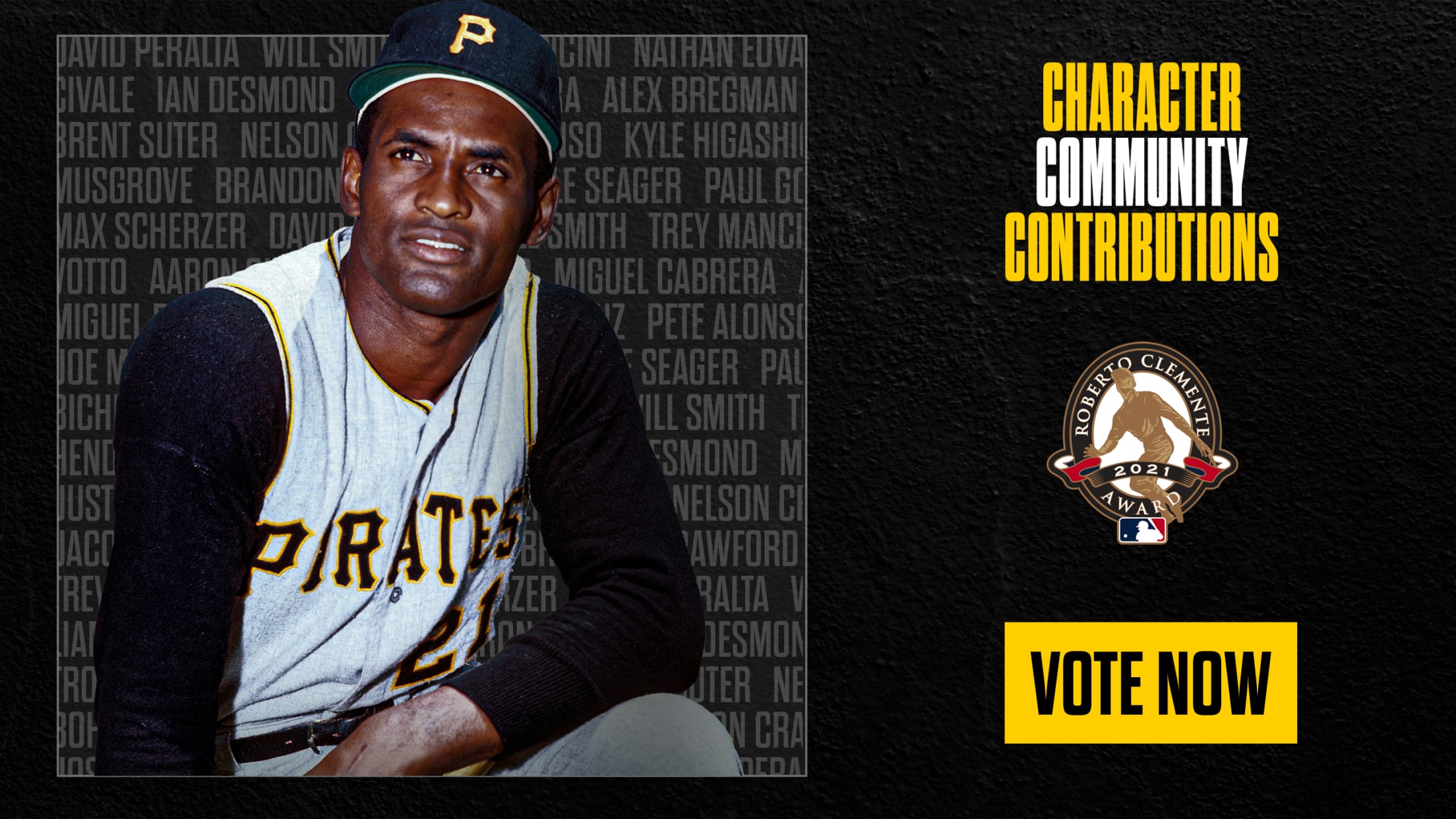 All 30 nominees for the 2021 Roberto Clemente Award -- one per club, including 18 first-timers -- were announced by Major League Baseball on Tuesday. Considered baseball's most prestigious individual honor for Major Leaguers, the Clemente Award annually recognizes the MLB player who best represents the game through extraordinary character,
Sale displays his improv talents
After figuring out how to stay ready during COVID absence, ace uses finesse to subdue O's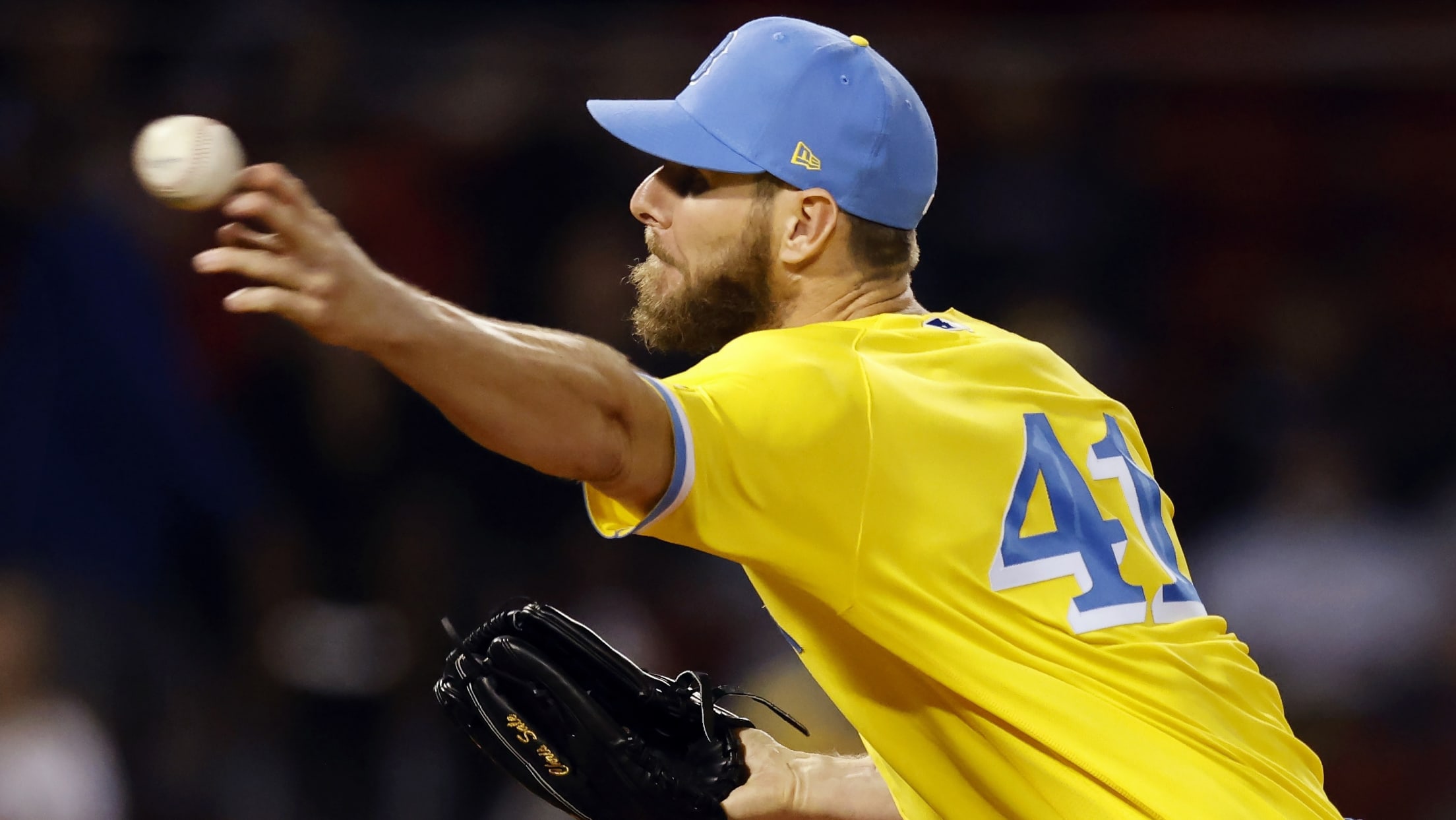 BOSTON -- This was a Chris Sale that hasn't been seen very often. One of the elite power pitchers of the last decade, Sale became more of a craftsman on Friday night at Fenway Park. But you couldn't argue with the bottom-line results in the ace lefty's return after missing
Here's 1 way Robert is already making history
White Sox star is on pace for biggest whiff rate drop on record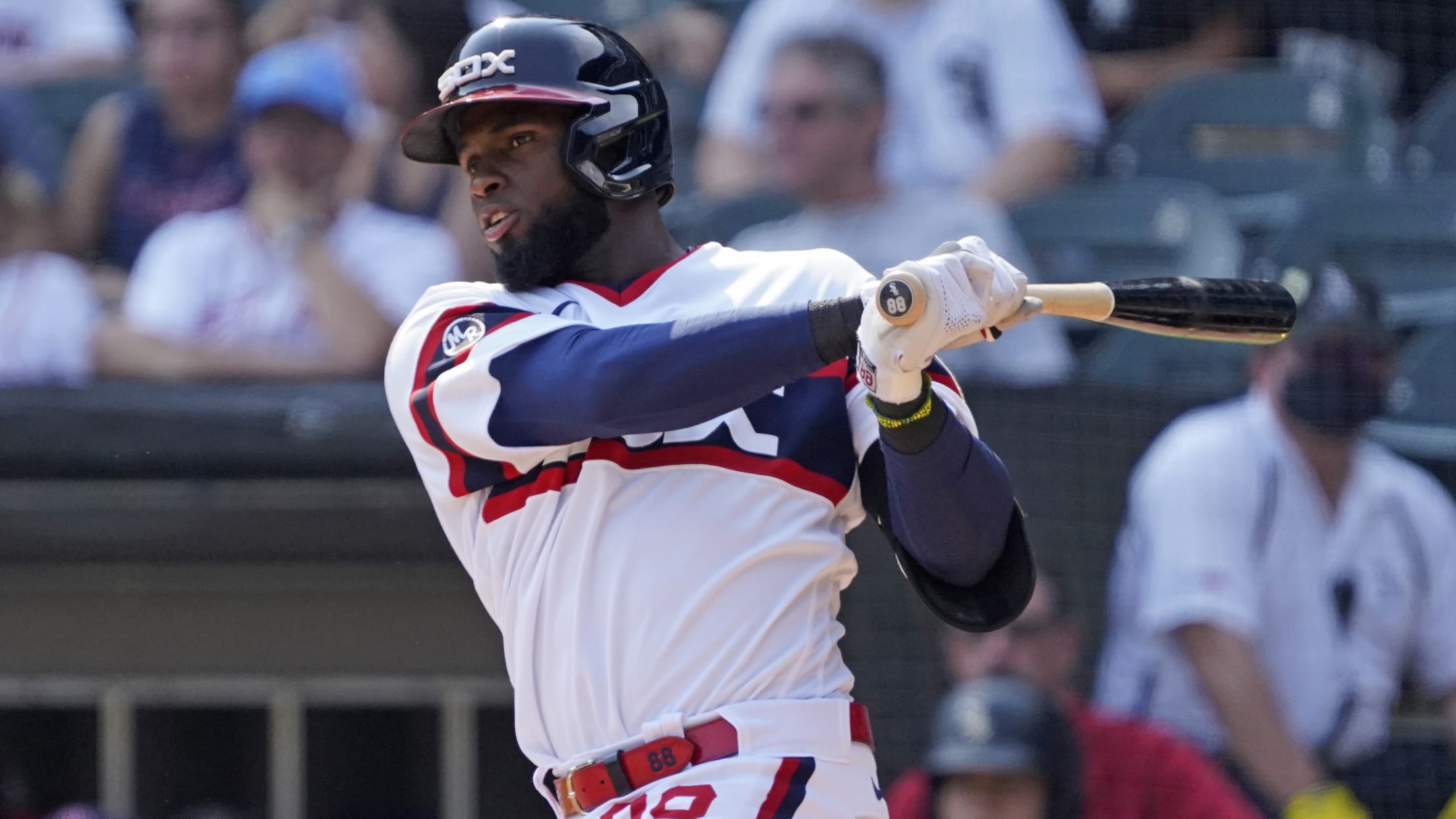 The White Sox have dominated the American League Central, allowing them to rest stars Tim Anderson, Lucas Giolito and Lance Lynn. But that's not the biggest late-summer development on Chicago's South Side. Luis Robert has been scalding hot, entering Friday with a .372/.404/.612 line and 178 wRC+ (eighth among qualified
Is the Triple Crown in reach for Vlad Jr.?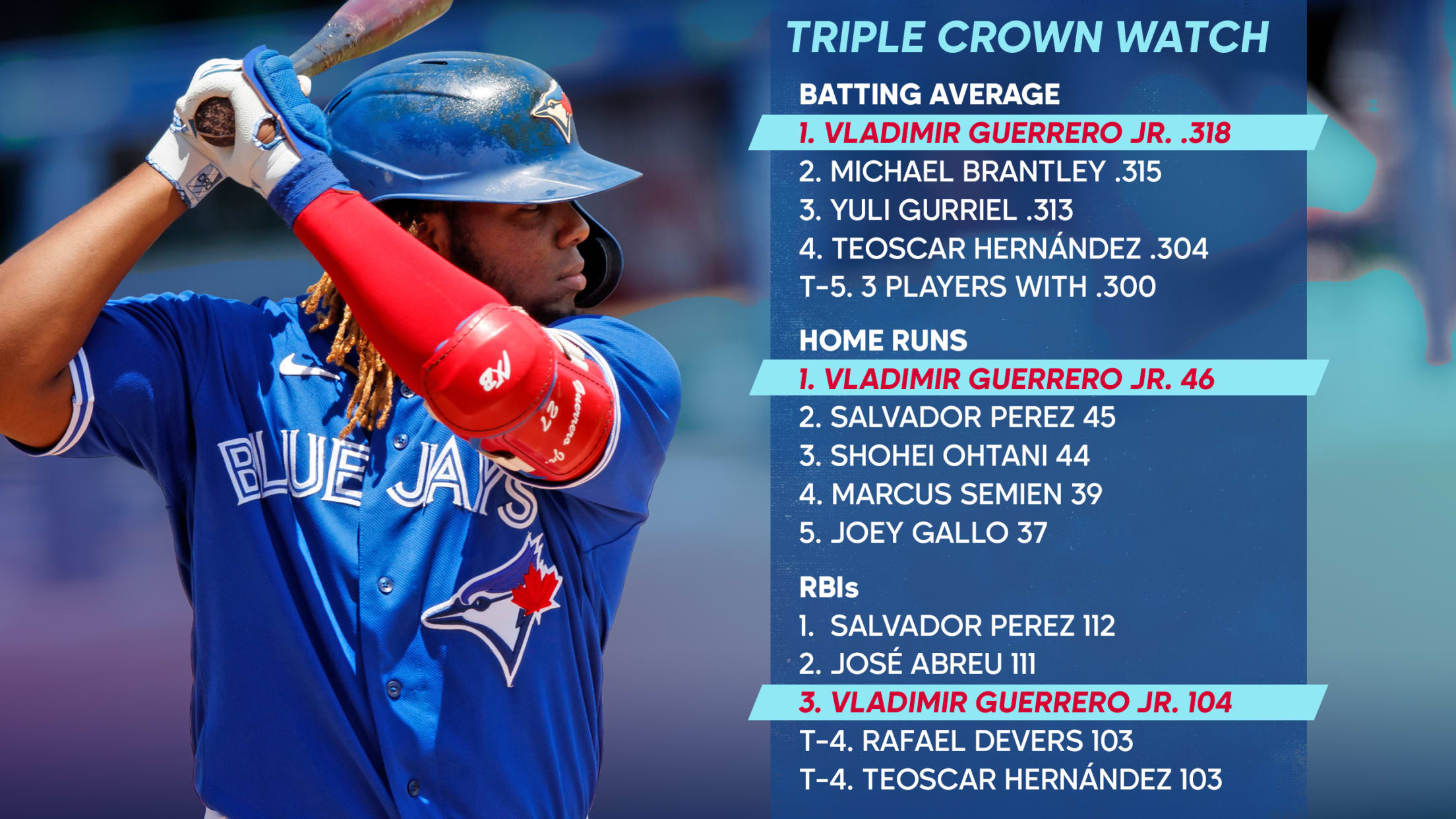 Vladimir Guerrero Jr. came to the Major Leagues as an ultra-hyped prospect with a Hall of Fame name. In 2021, he's making a name for himself. Guerrero's huge season has the Blue Jays in the American League Wild Card hunt and Guerrero in the AL MVP race against Shohei Ohtani.
LAD-CIN, Sept. 18: Odds, Preview, Predictions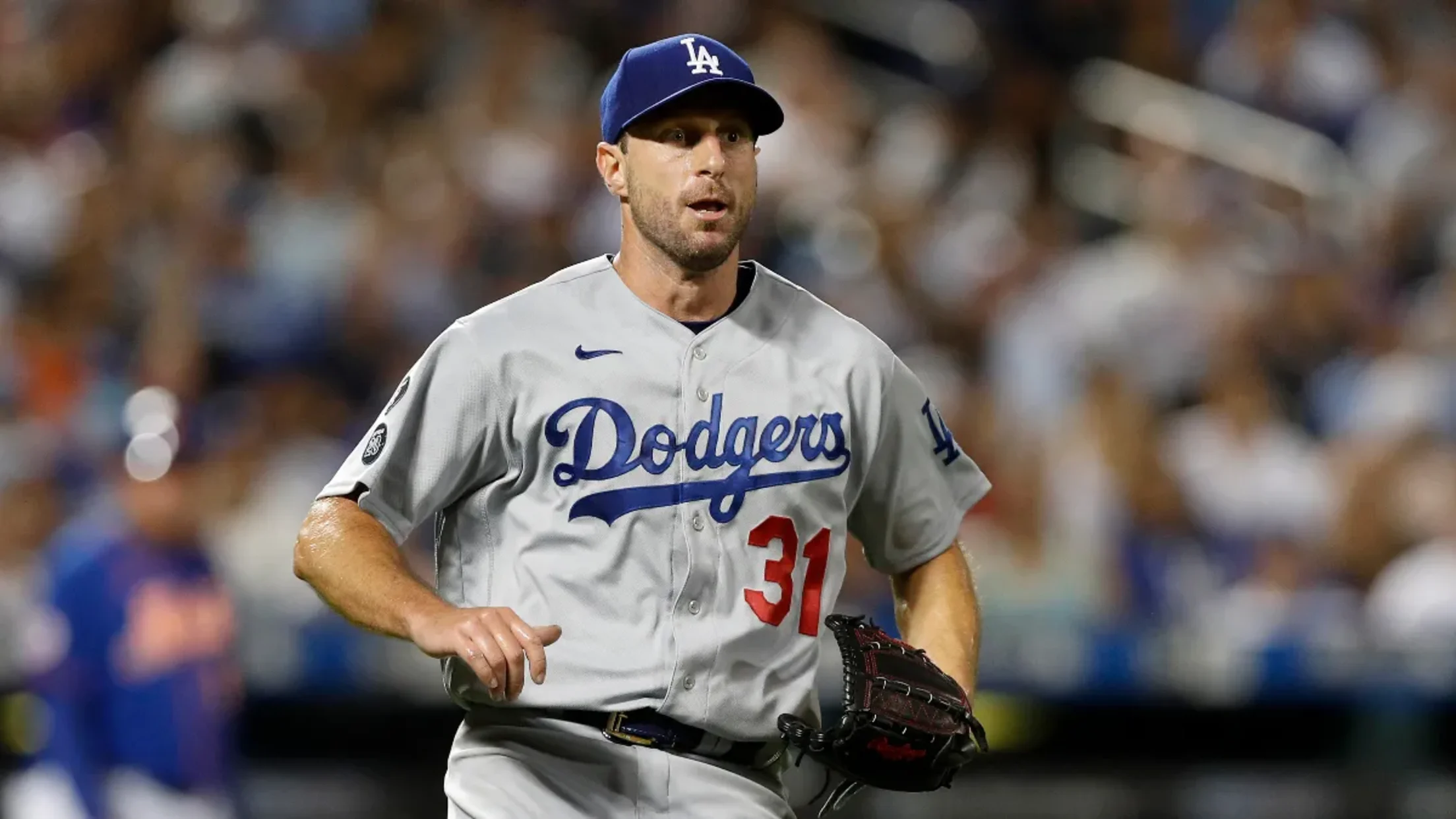 A version of this article originally appeared on the Action Network. For more betting insights, check out ActionNetwork.com.
Playoff preview? Castillo (10 K's) aces test
Farmer on Reds right-hander: 'His stuff was electric'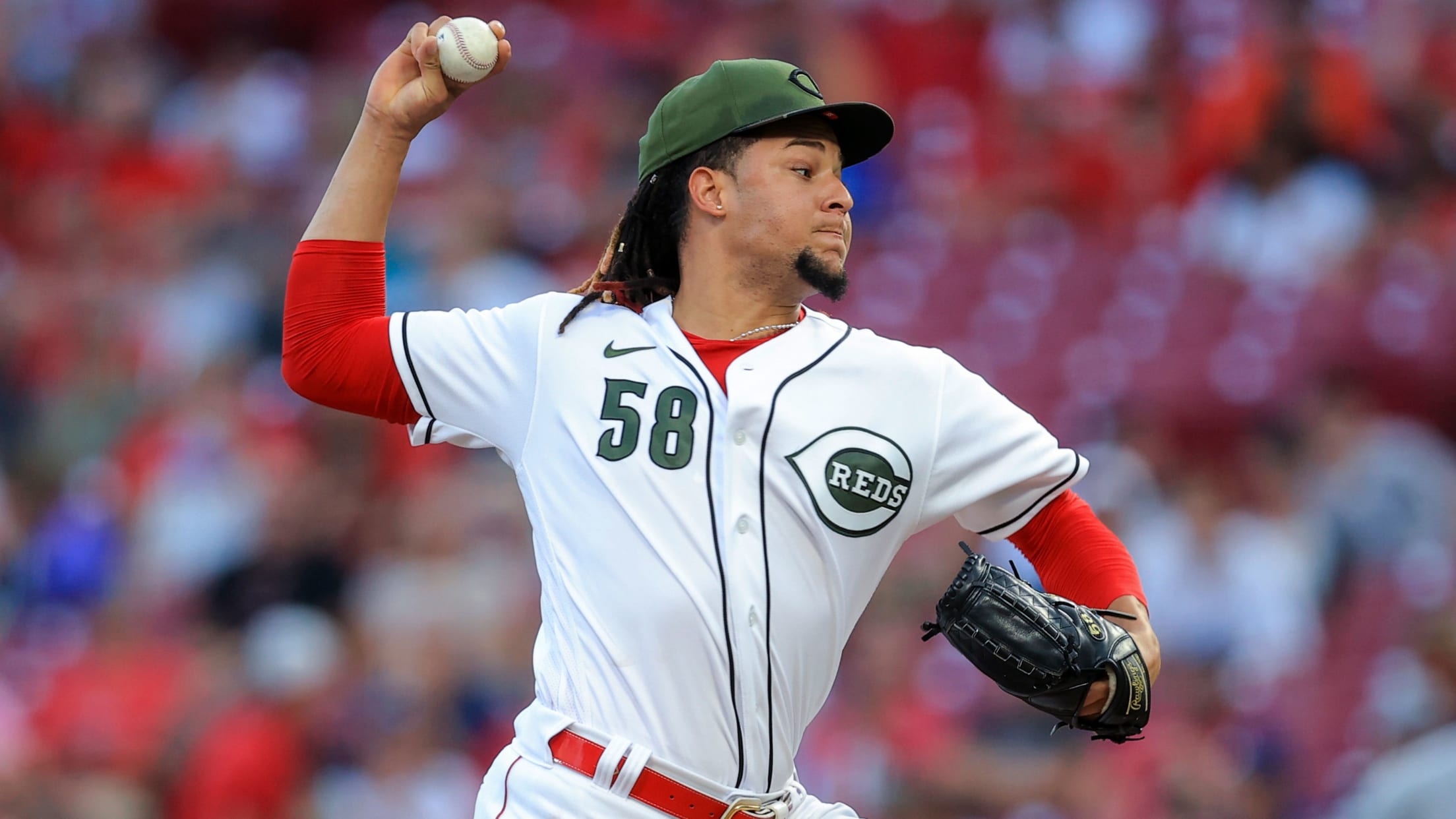 CINCINNATI -- Before the Reds opened their crucial series vs. the Dodgers on Friday, it was pointed out to manager David Bell that the Luis Castillo-Walker Buehler matchup could very well be a preview of the National League Wild Card Game. "Wow, that is getting ahead a little bit, but
Astros avoid no-no, walk off on ... HBP?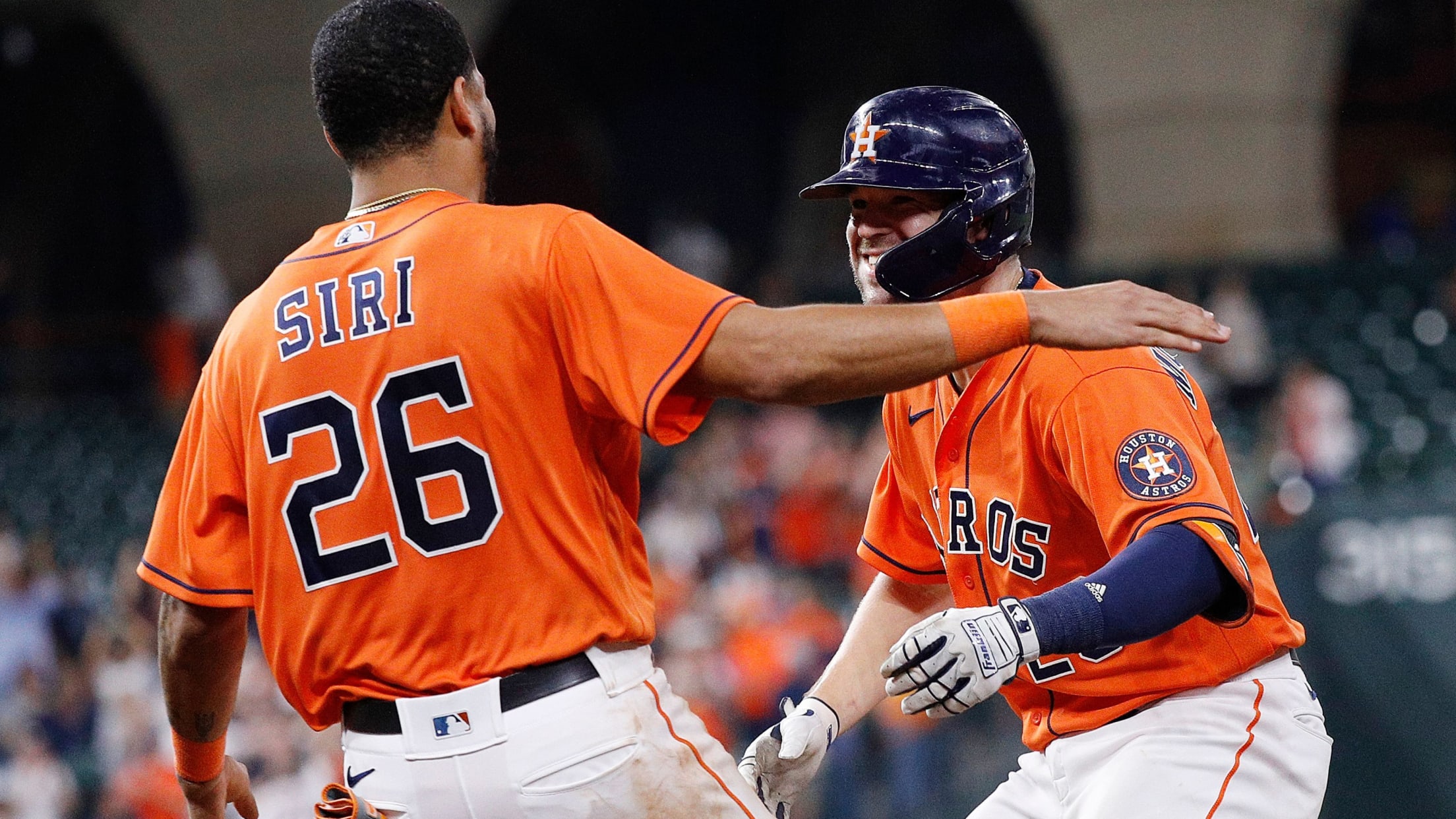 HOUSTON -- The Astros won Friday's game in dramatic fashion, with Chas McCormick taking a bases-loaded hit-by-pitch with one out in the 10th inning off Arizona reliever Tyler Clippard to send Houston to a 4-3 win. The walk-off HBP was only the third in franchise history for the Astros, and
'Uncharacteristic' win keeps A's afloat in WC
Irvin, 'pen, late defense nail down third straight win, keep pace with Yankees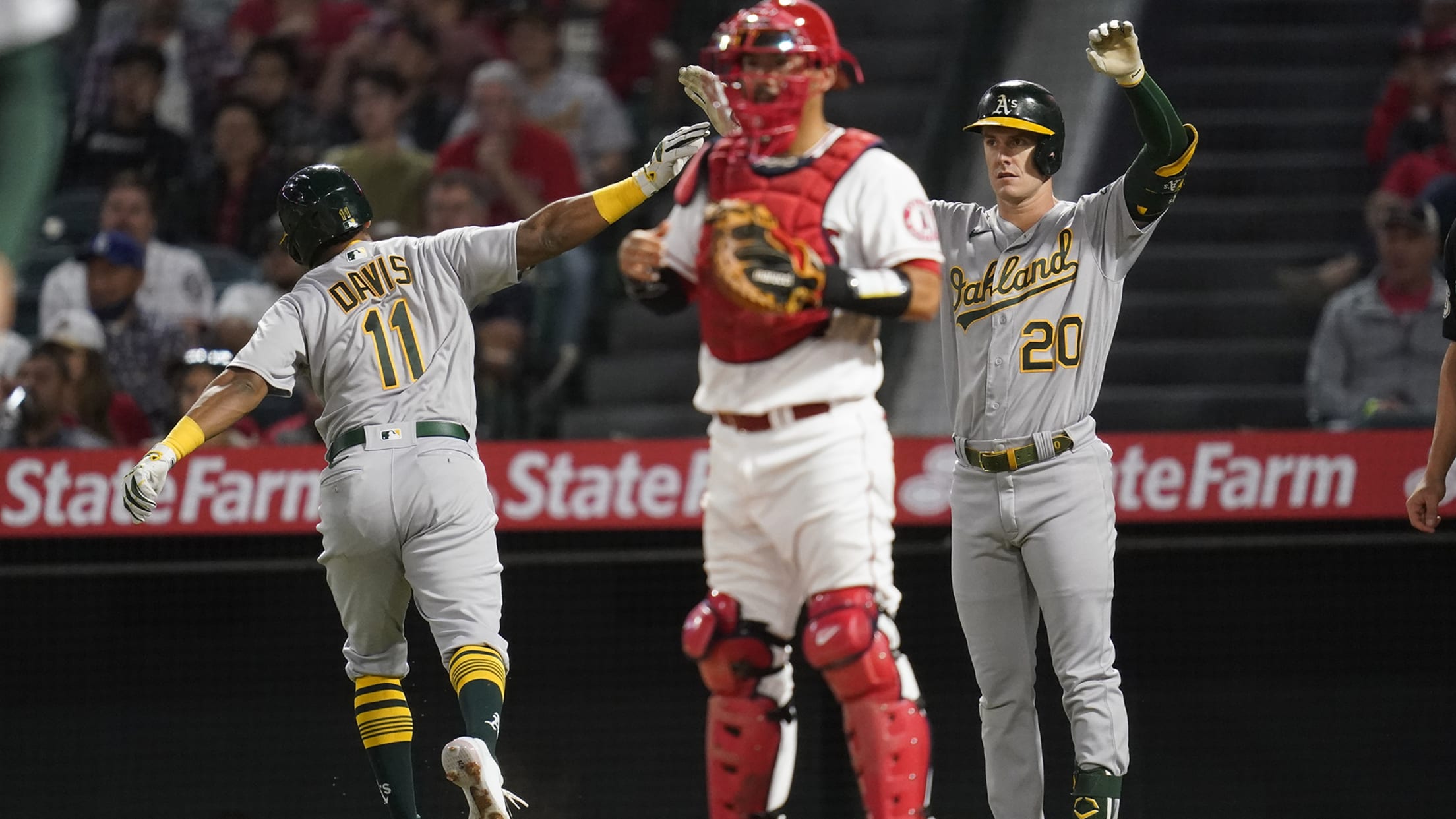 ANAHEIM -- With 15 games left in the regular season, there's not really enough time left to look back on each individual outcome. Or, that's at least how the A's are looking at it after their 5-4 win over the Angels on Friday night. Oakland overcame a handful of struggles,
A 1-handed bat catch off the netting -- really!
Nats' Escobar makes impressive snag on flying lumber while in dugout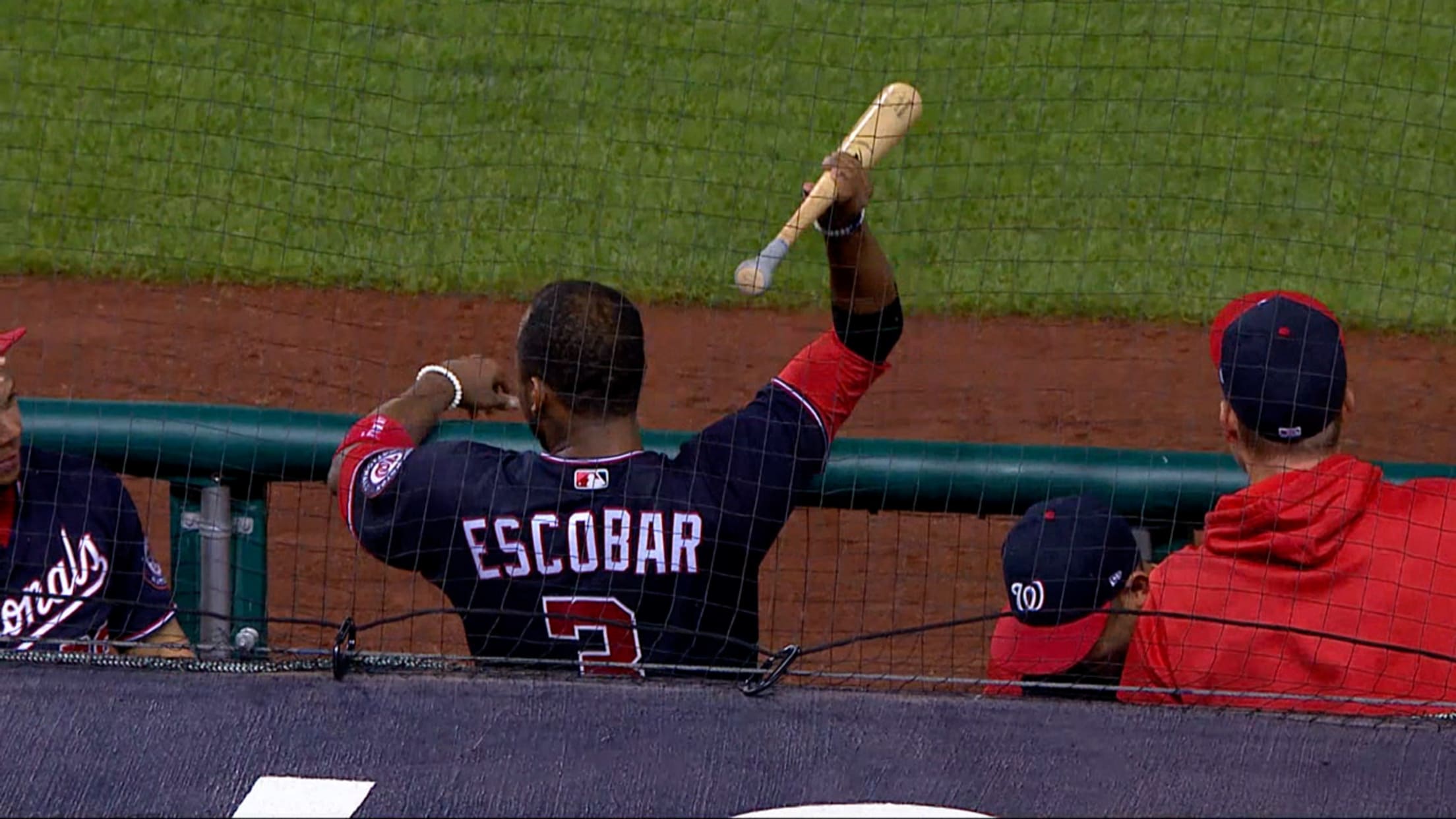 In Alcides Escobar's eight years with the Royals, he became known for his defense. He has an American League Gold Glove Award to show for it. Now with the Nationals, Escobar's skills seem to translate beyond the shortstop position, however, if his work in Friday night's 9-8 loss to the
Supporting cast nudges Phils closer to first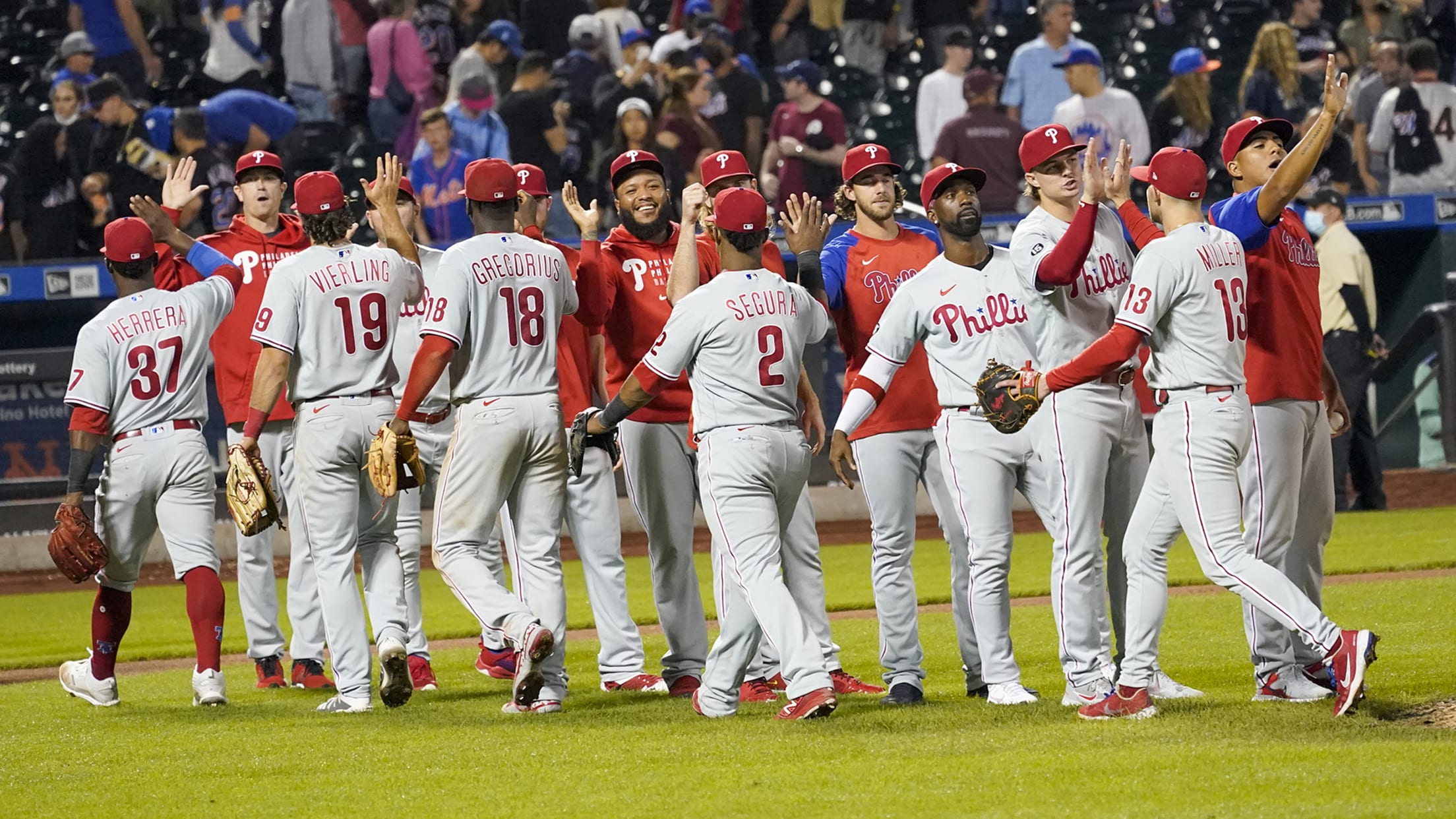 There has been so much talk lately about Bryce Harper's other-worldly production since the All-Star break, and how he not only thrust himself into contention for the National League Most Valuable Player Award, but how he almost single-handedly has kept the Phillies in postseason contention. But Harper got help in
Ryu's 'frustrating' day slips Toronto out of WC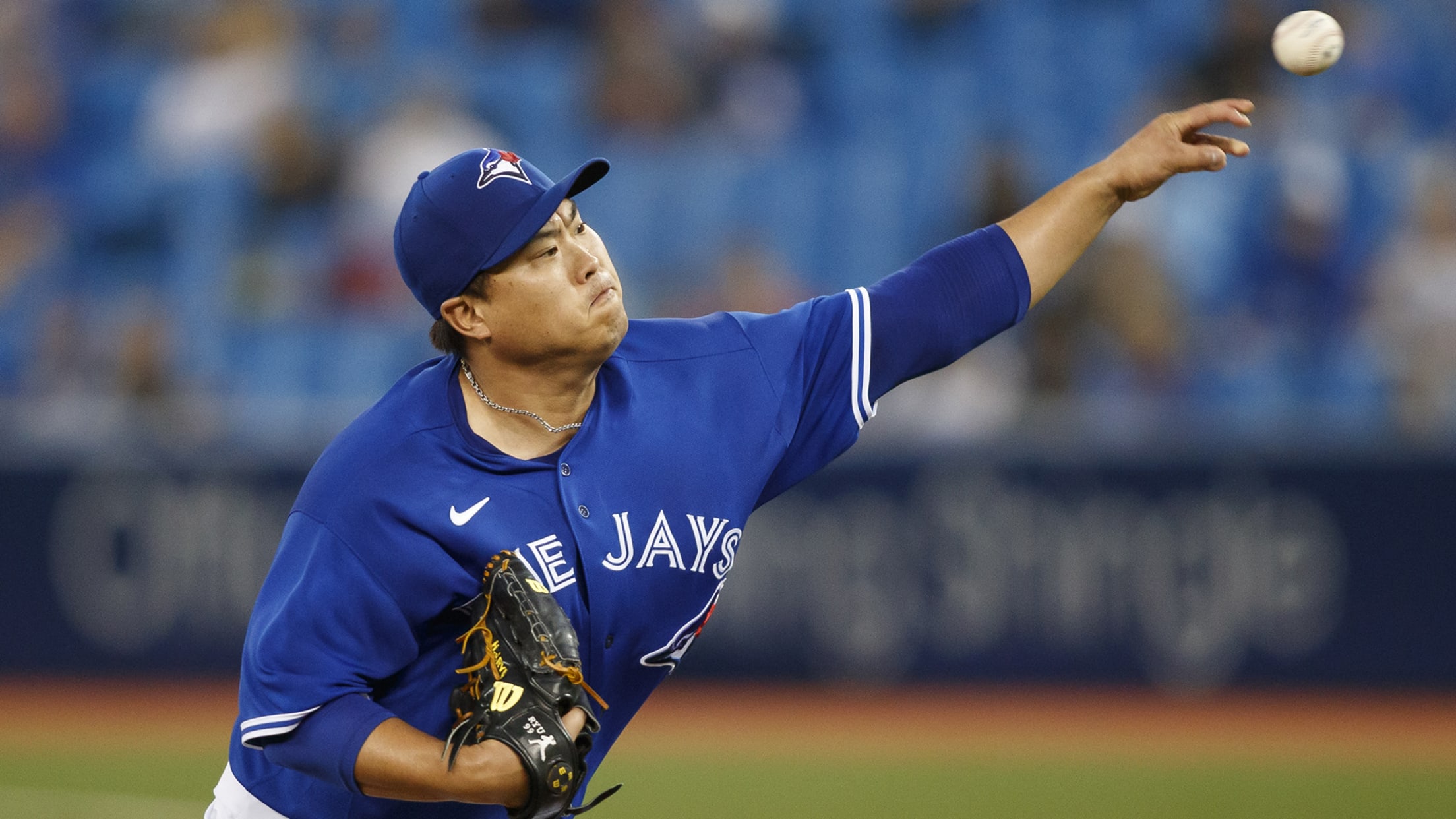 TORONTO -- The Blue Jays have the last problem they expected to have in 2021: an unreliable Hyun Jin Ryu. The veteran left-hander lasted just two innings in Friday's 7-3 loss to the Twins, allowing five runs including a pair of homers. Make it three clunkers in the last five