Brantley follows epic grab with DP to end 7th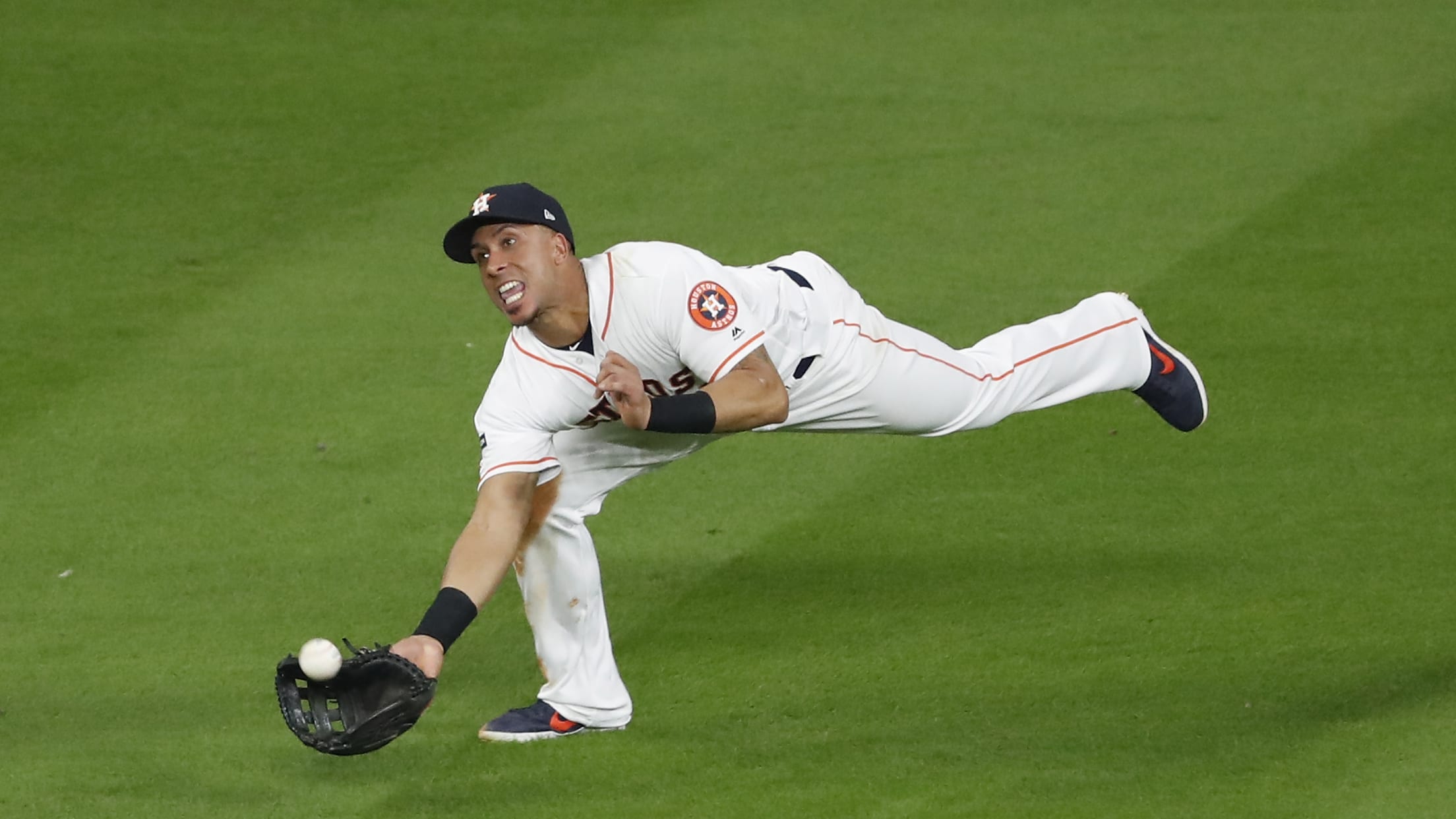 HOUSTON -- Michael Brantley spent much of the 2019 season quietly putting together one of the best years of his career, doing so while flying under the radar, as is typical of the low-key veteran outfielder.
Yuli's 1st-inning HR sends Houston into frenzy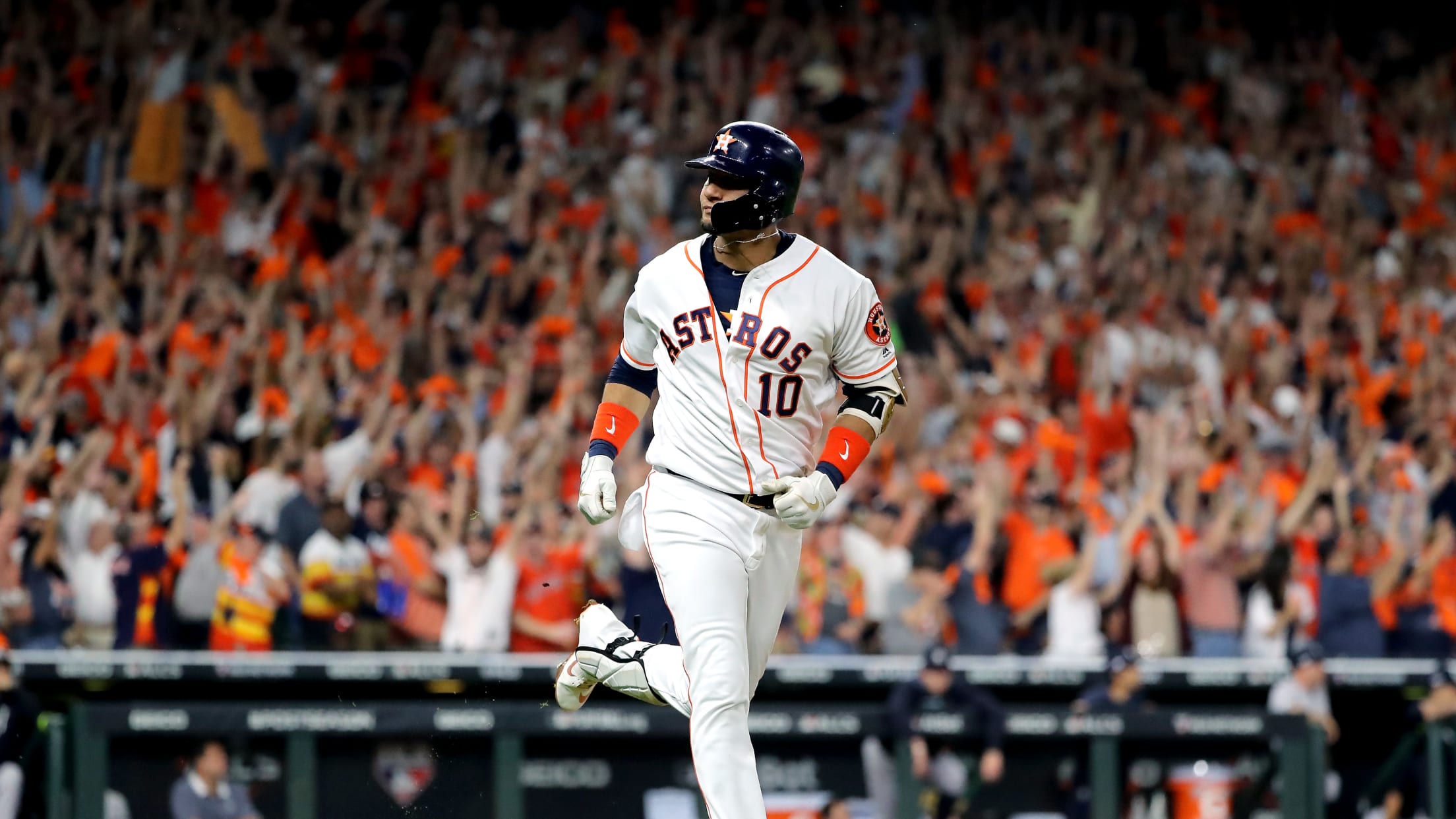 HOUSTON -- The Astros, hoping to wrap up the American League pennant without playing a Game 7, made a good case for ending things Saturday night when they burst through with a three-run first inning off Yankees opener Chad Green.
Pressly exits hurt after 1 pitch (but 1 huge out)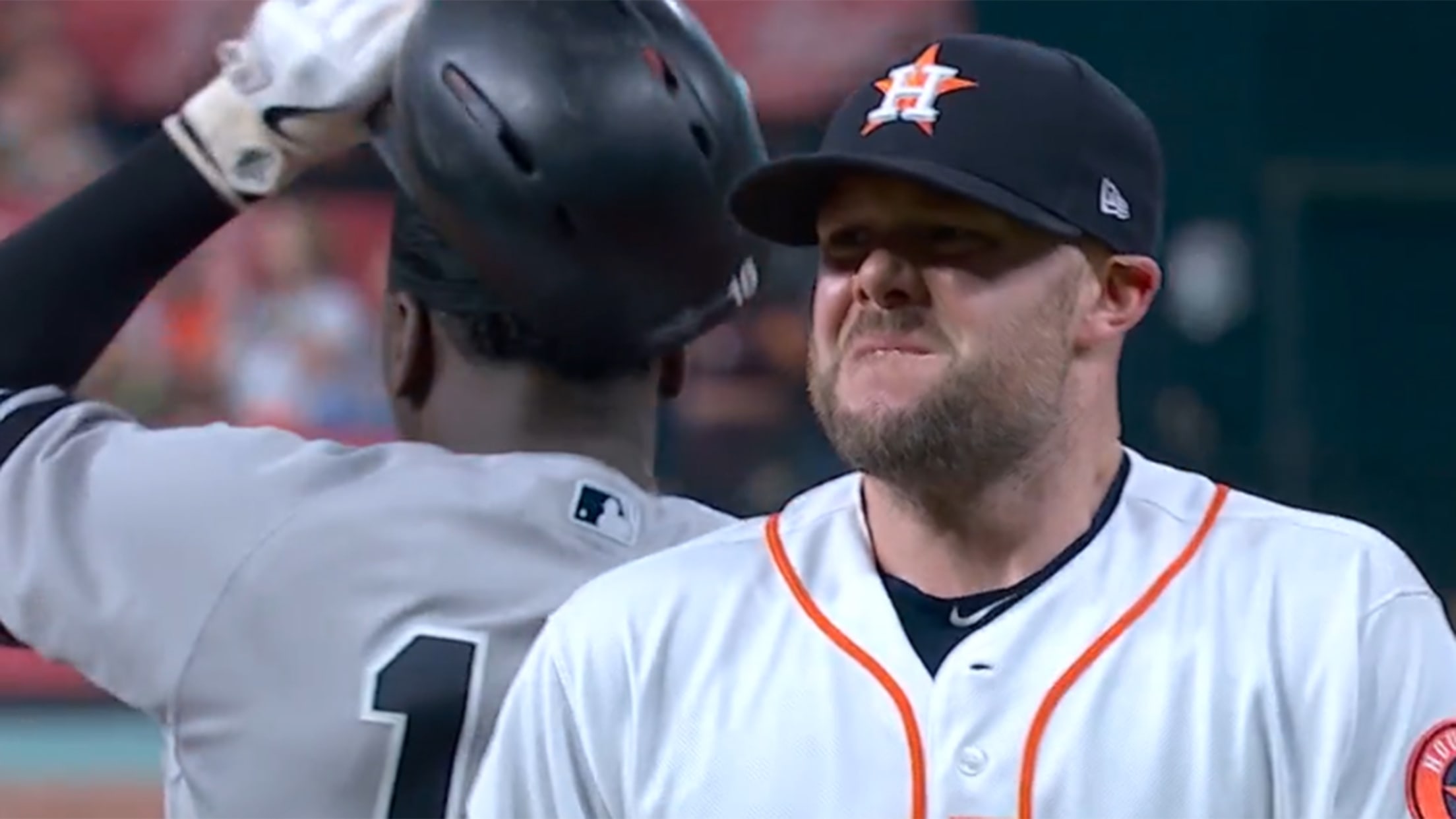 HOUSTON -- All-Star reliever Ryan Pressly recorded a huge out to strand the bases loaded in the third inning of Game 6 of the American League Championship Series on Saturday night at Minute Maid Park, but it appears to have come at a cost.
Short starts in Game 6 a playoff first since 1999
Yanks' Green, Astros' Peacock both last fewer than two innings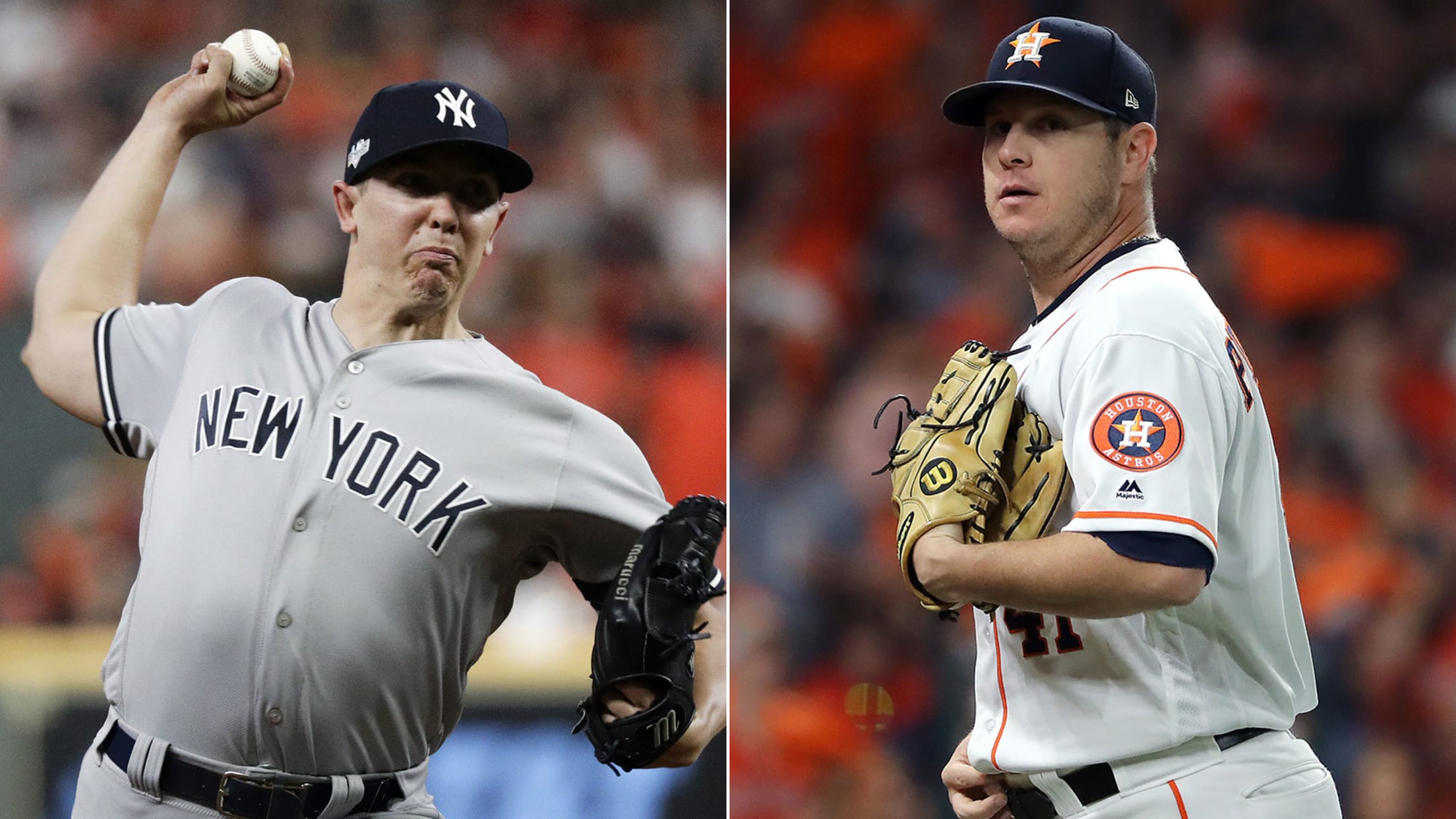 HOUSTON -- As Yankees manager Aaron Boone fielded questions from the media prior to Game 6 of the American League Championship Series on Saturday, a big grin emerged on his face when he was asked to imagine two teams deciding to do a bullpen game with so much at stake
Peacock's playoff feat not done in 95 years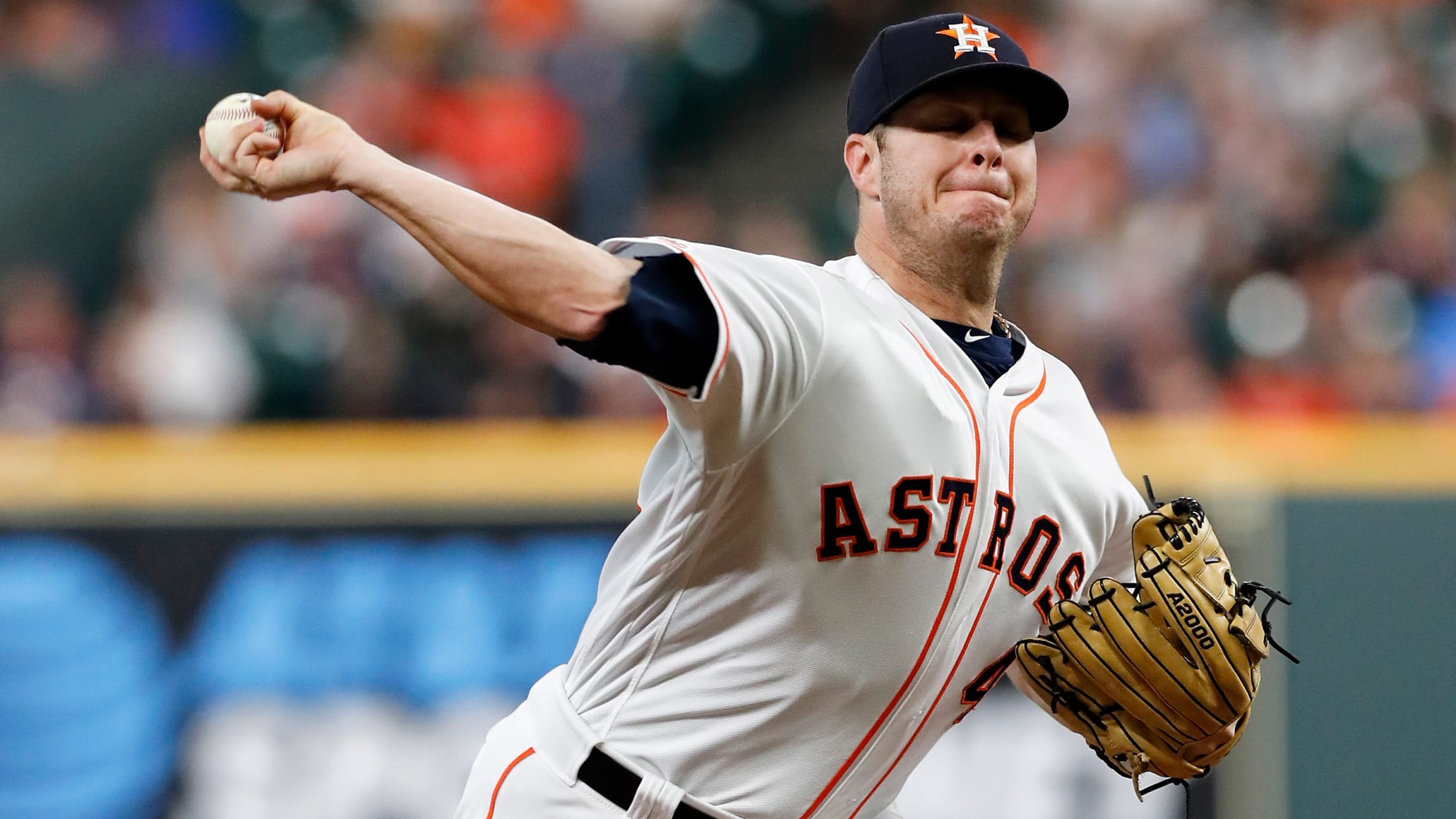 HOUSTON -- Astros right-hander Brad Peacock started Saturday's Game 6 of the American League Championship Series against the Yankees, allowing one run on two hits in 1 2/3 innings while striking out two. His line wasn't remarkable, but the veteran's outing was historic: Peacock made his first postseason appearance on
How will teams value MadBum in free agency?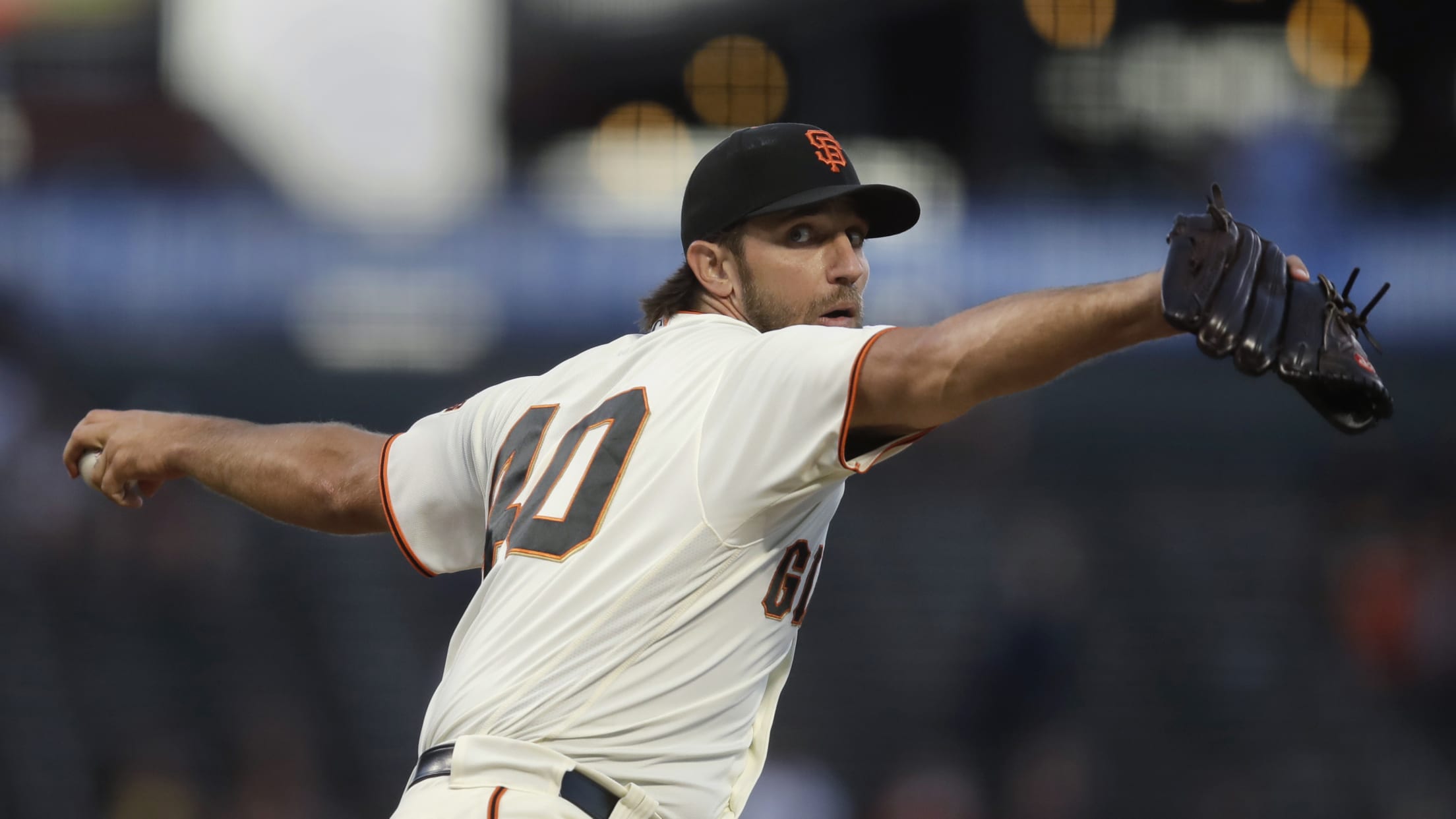 No matter what happens this offseason, Madison Bumgarner will be connected to the Giants forever. It couldn't be any other way, not after the first-round pick from the 2007 Draft spent 11 seasons in San Francisco, made four All-Star teams, played an outsized role in three championship runs, and created
'You can call us old. That's fine. We don't care'
National League champions feature Majors' oldest roster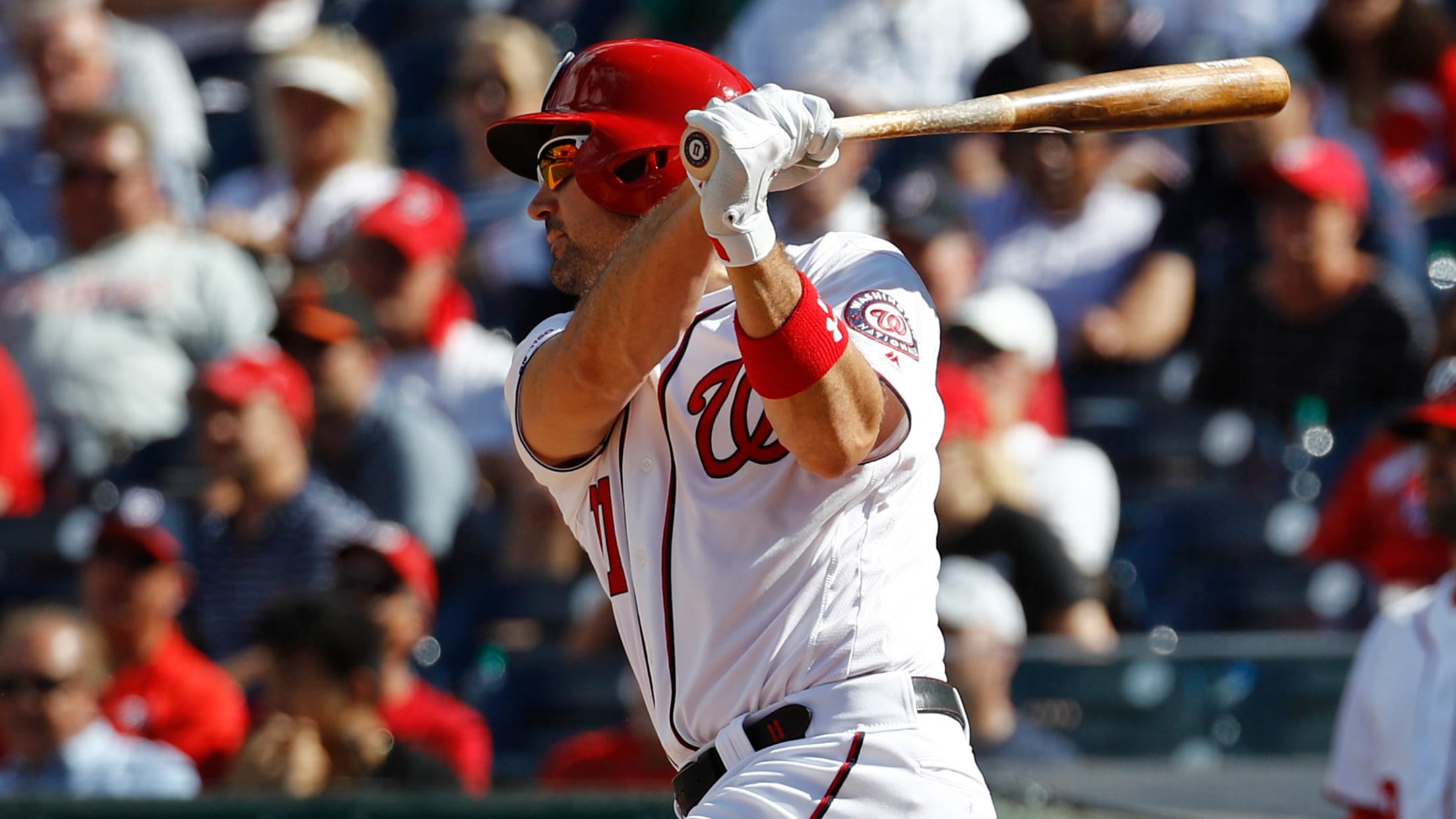 WASHINGTON -- It was the 14th anniversary of Ryan Zimmerman's Major League debut, and it was time to dance in the dugout.
Who might bid on intriguing Castellanos?
Castellanos' one-sided skill set makes for complex case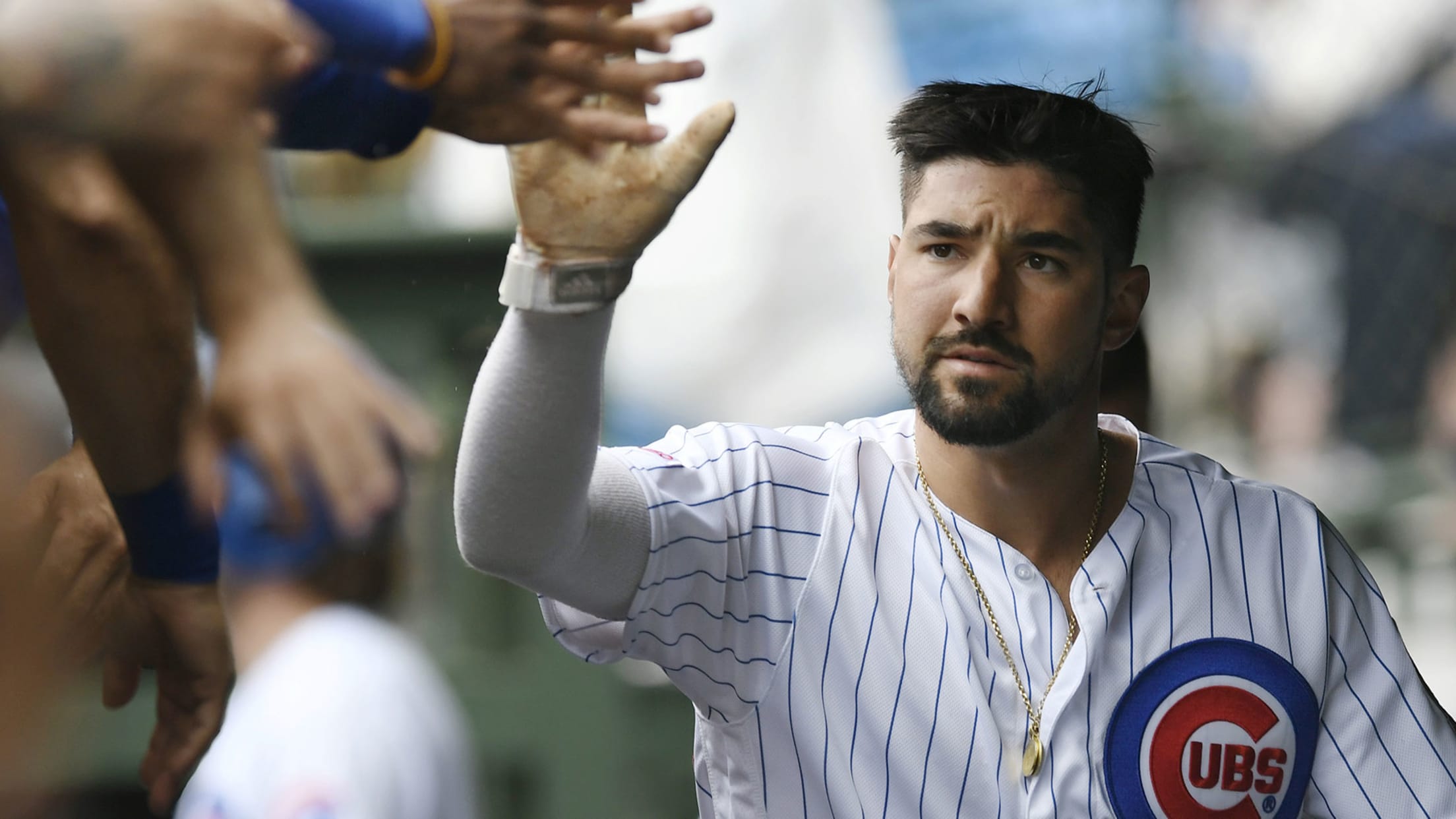 Nicholas Castellanos might have changed his financial future more than anyone not named Gerrit Cole after the All-Star break. Now it's up to front offices to decide: Who is the real Castellanos? Is it the outfielder who lit the world on fire for two months with the Cubs, or the
Pros, cons for all 7 managerial openings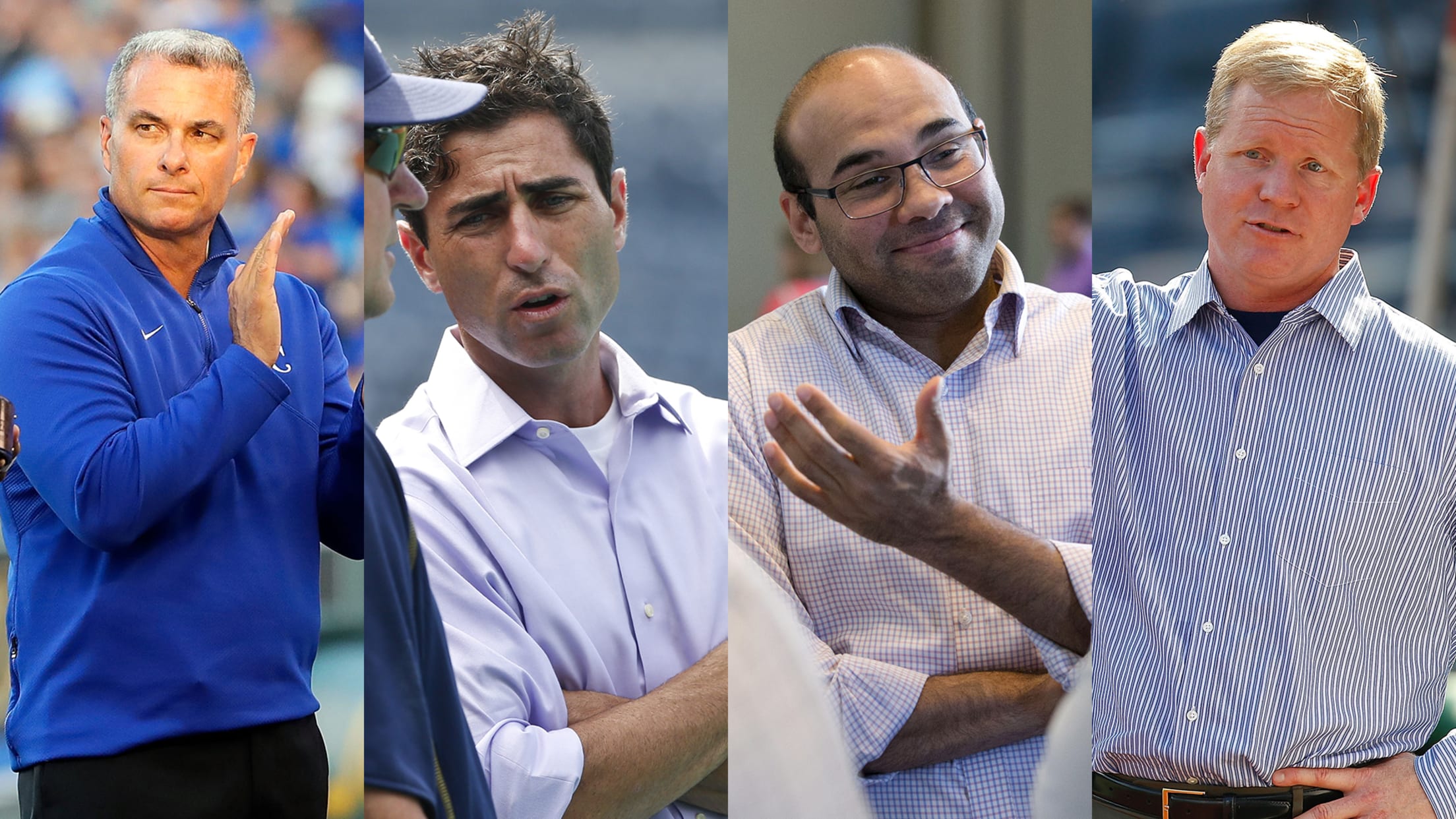 Like bananas, flowers and carrots, managerial openings come in bunches in MLB these days. There were six of them after the 2017 season, another six after the 2018 season and eight of them after the just-completed 2019 season. One of the eight skipper spots has been filled by Joe Maddon's
Rumors: Rosario, Castellanos, Andrus, Rendon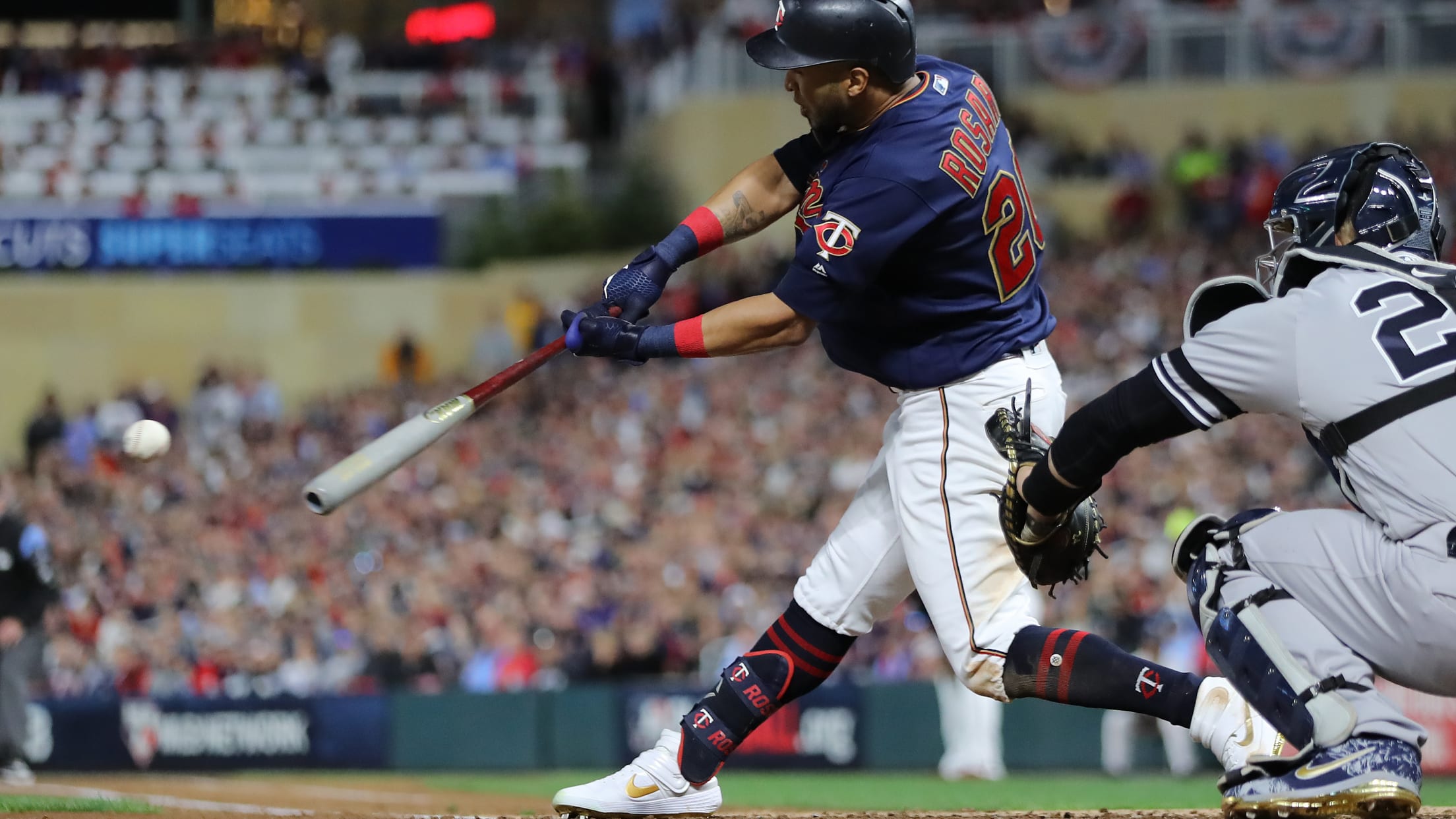 MLB.com is keeping track of all the latest free agent and trade rumors right here.
World Series game times announced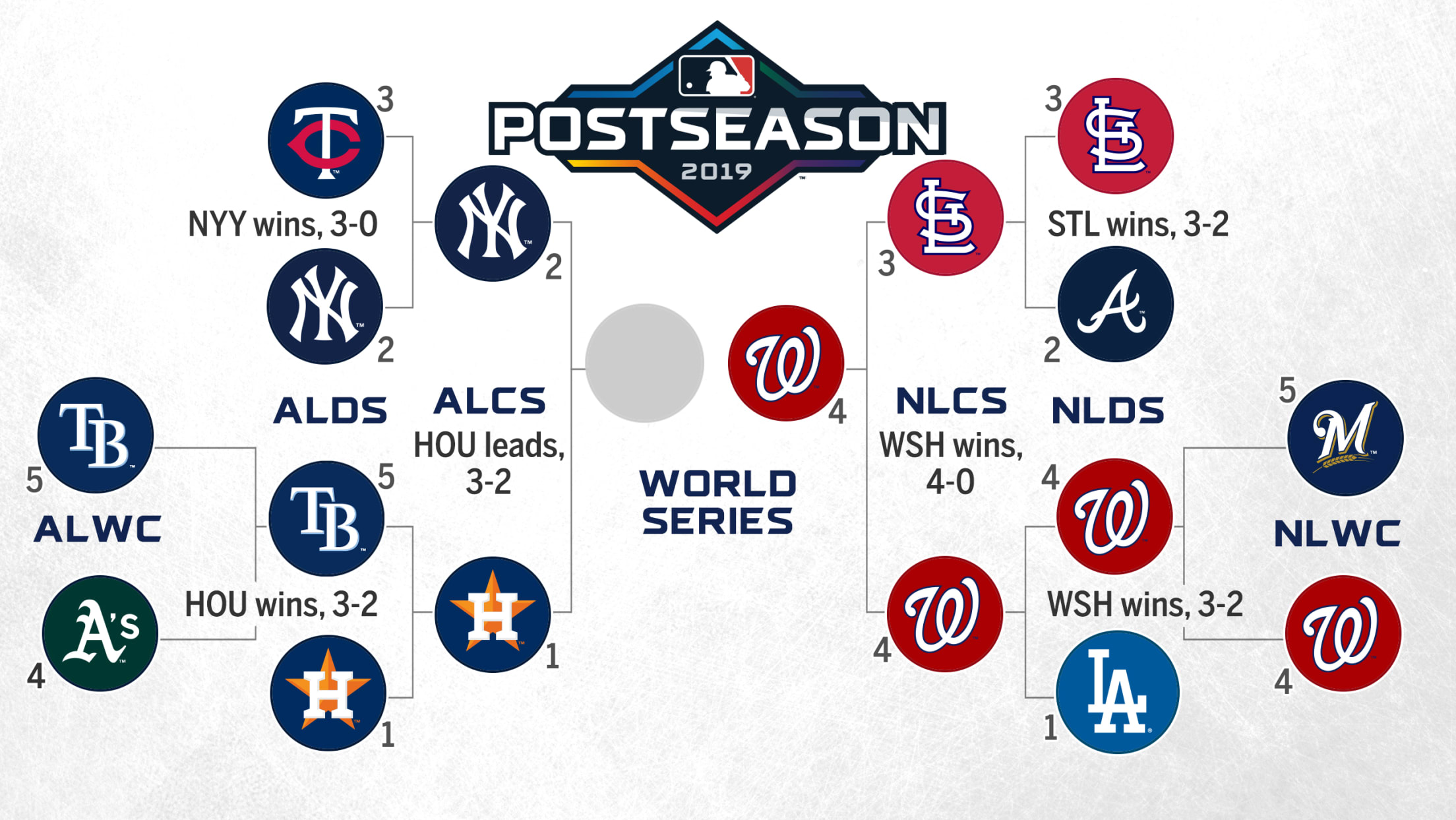 The Nationals punched their ticket to the World Series, and now they wait for their American League opponent. After sweeping the Cardinals in the NL Championship Series, the Nats will play the winner of the Yankees-Astros AL Championship Series. Game 1 of the 2019 World Series presented by YouTube TV
Manager Buzz: Phils, Mets, SD, Cubs, SF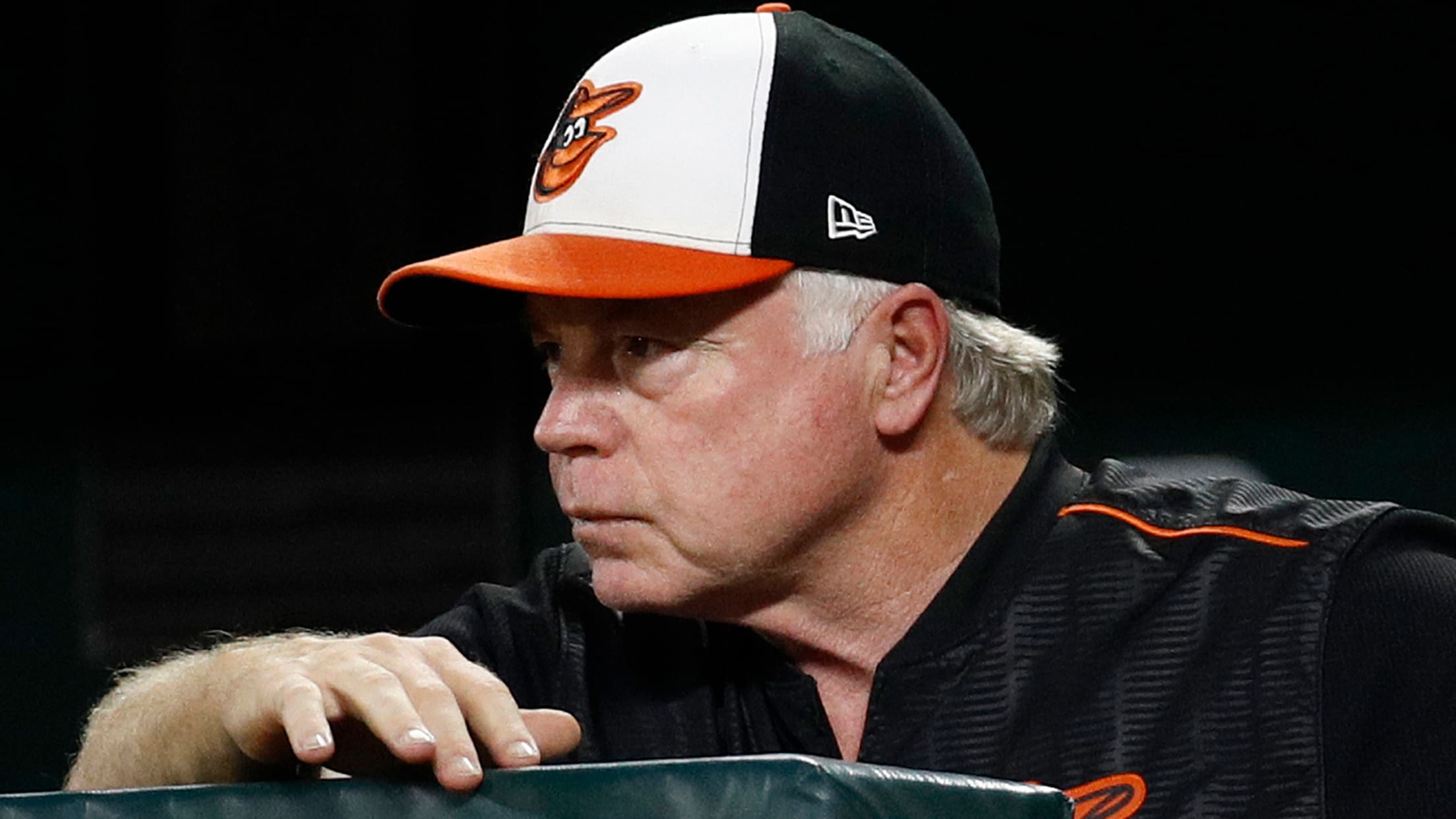 MLB.com is keeping track of all the latest news and rumors surrounding potential manager changes around the Majors.
Remember the Baha Men? The 2000 Mets do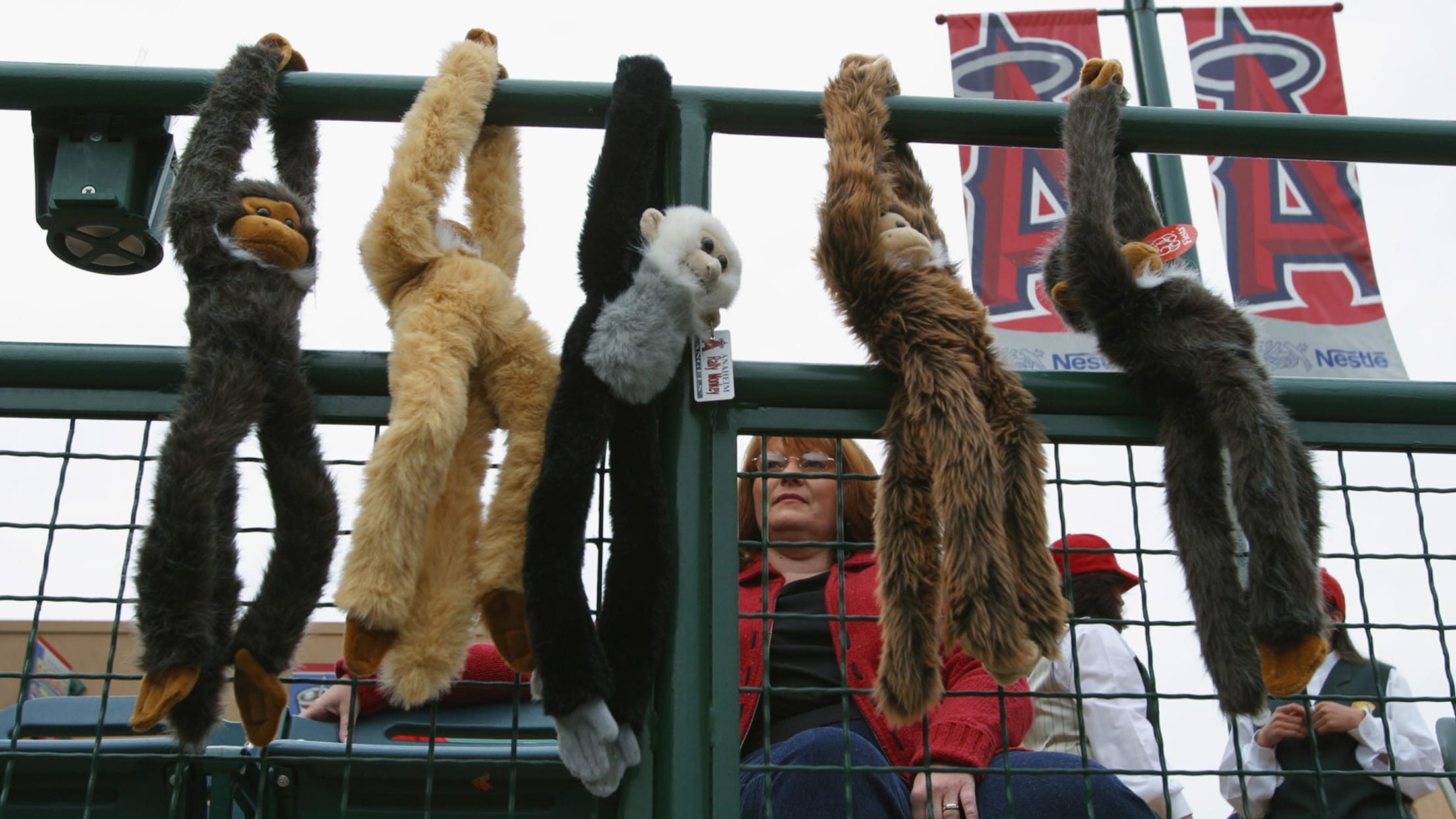 Something happens to people at Nationals Park when Gerardo Parra steps to the plate. They stand at attention, they extend their arms, they clap rhythmically, mindlessly, incessantly. They do it as if hypnotized by this lovable journeyman utility guy with the .234 average and .684 OPS. It is the "Baby
Nats on long rest: We 'really needed a break'
Veteran club using time off before World Series to let bodies recover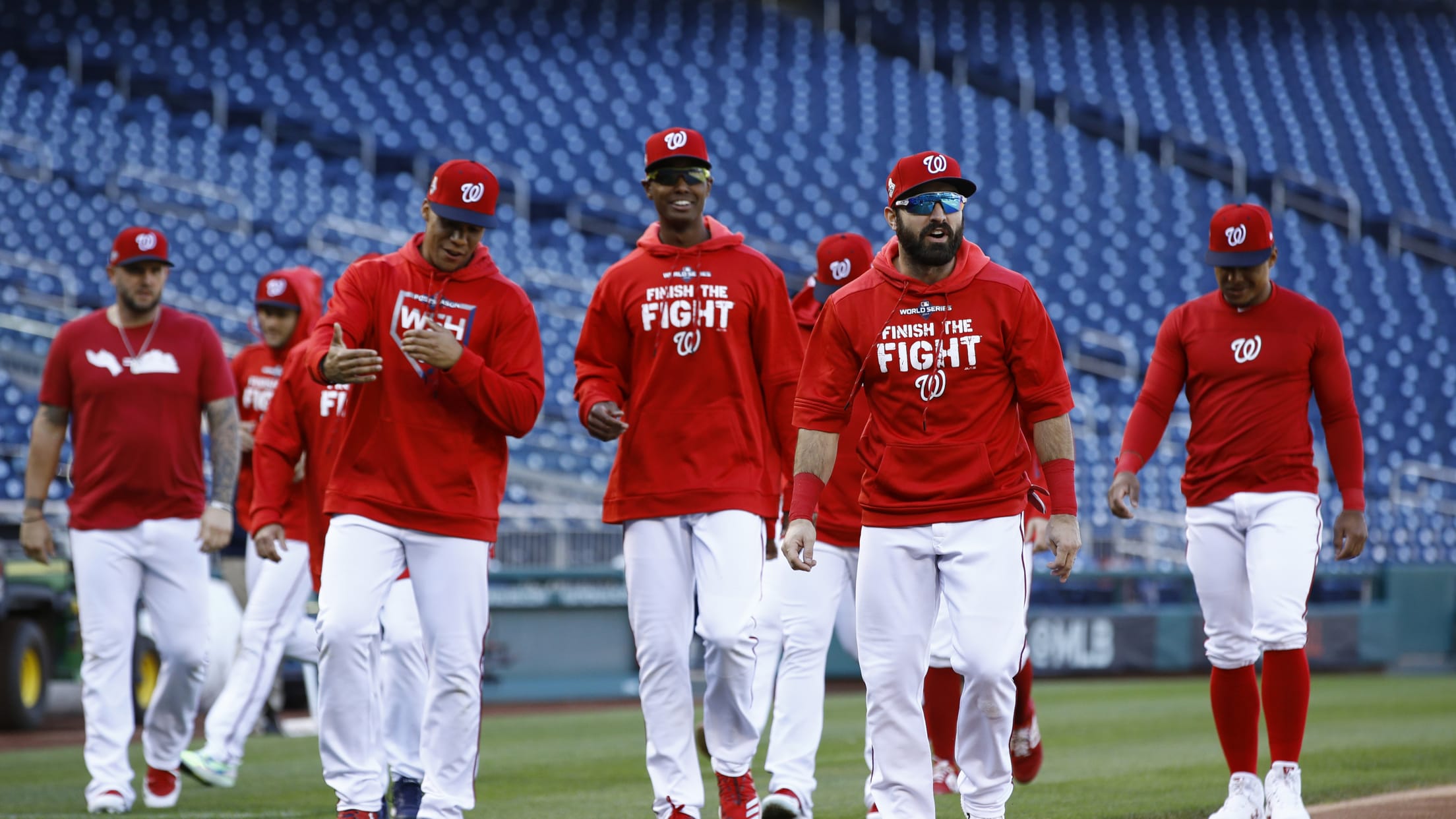 WASHINGTON -- It was a rare day with nothing to do Wednesday, so after Sean Doolittle woke up, he took the dogs for a walk, grabbed a Bethesda Bagel and went back to sleep. His manager, Dave Martinez, had a similar day; he slept until about 3 in the afternoon,
Boone opts to sit Stanton for Game 6 in Houston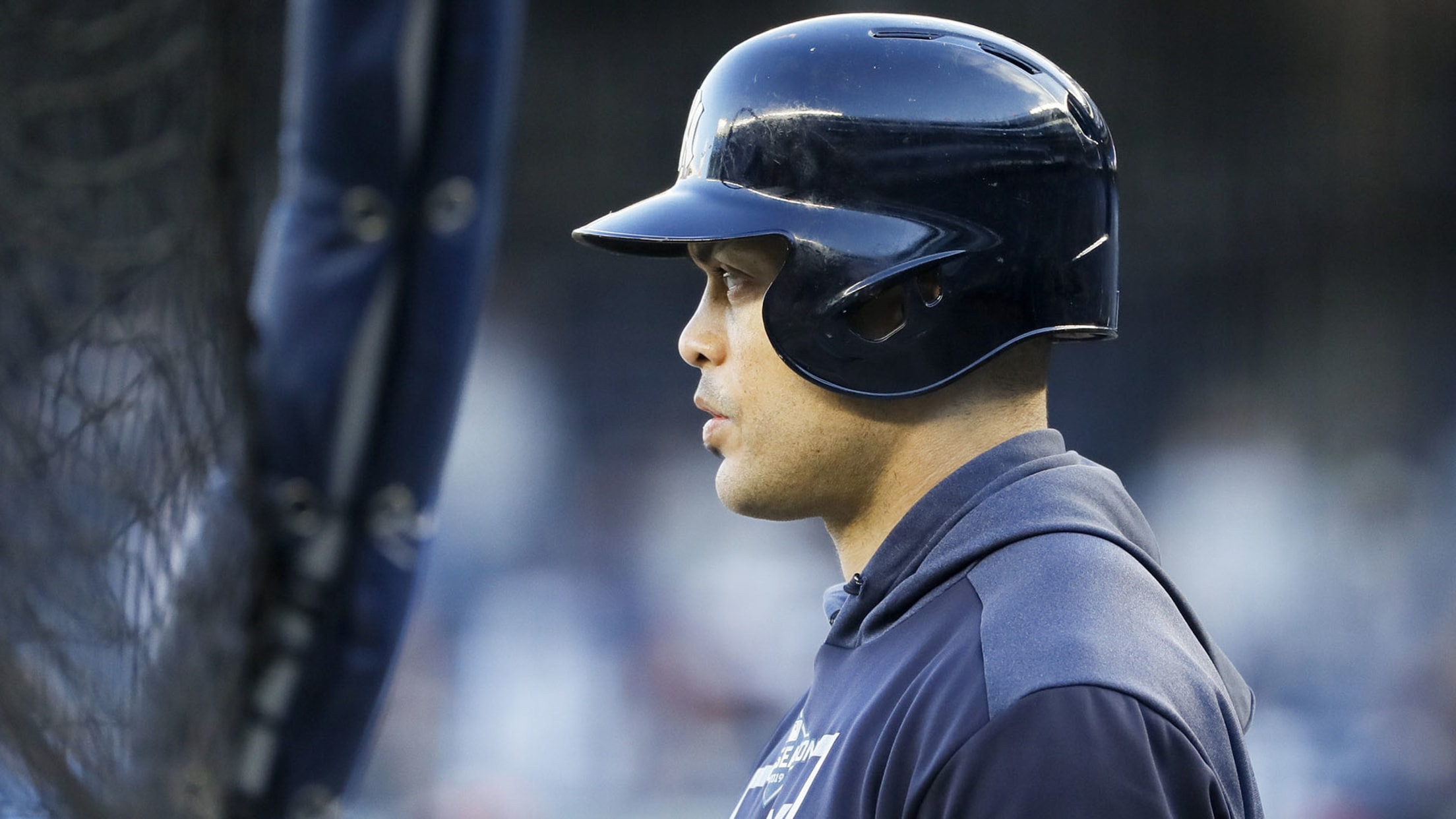 HOUSTON -- The Yankees benched Giancarlo Stanton for Saturday night's Game 6 of the American League Championship Series, and manager Aaron Boone said that it was his decision to have Edwin Encarnacion return to the lineup as the designated hitter against the Astros. Stanton went 0-for-3 with two strikeouts in
Source: Two front-runners for Padres manager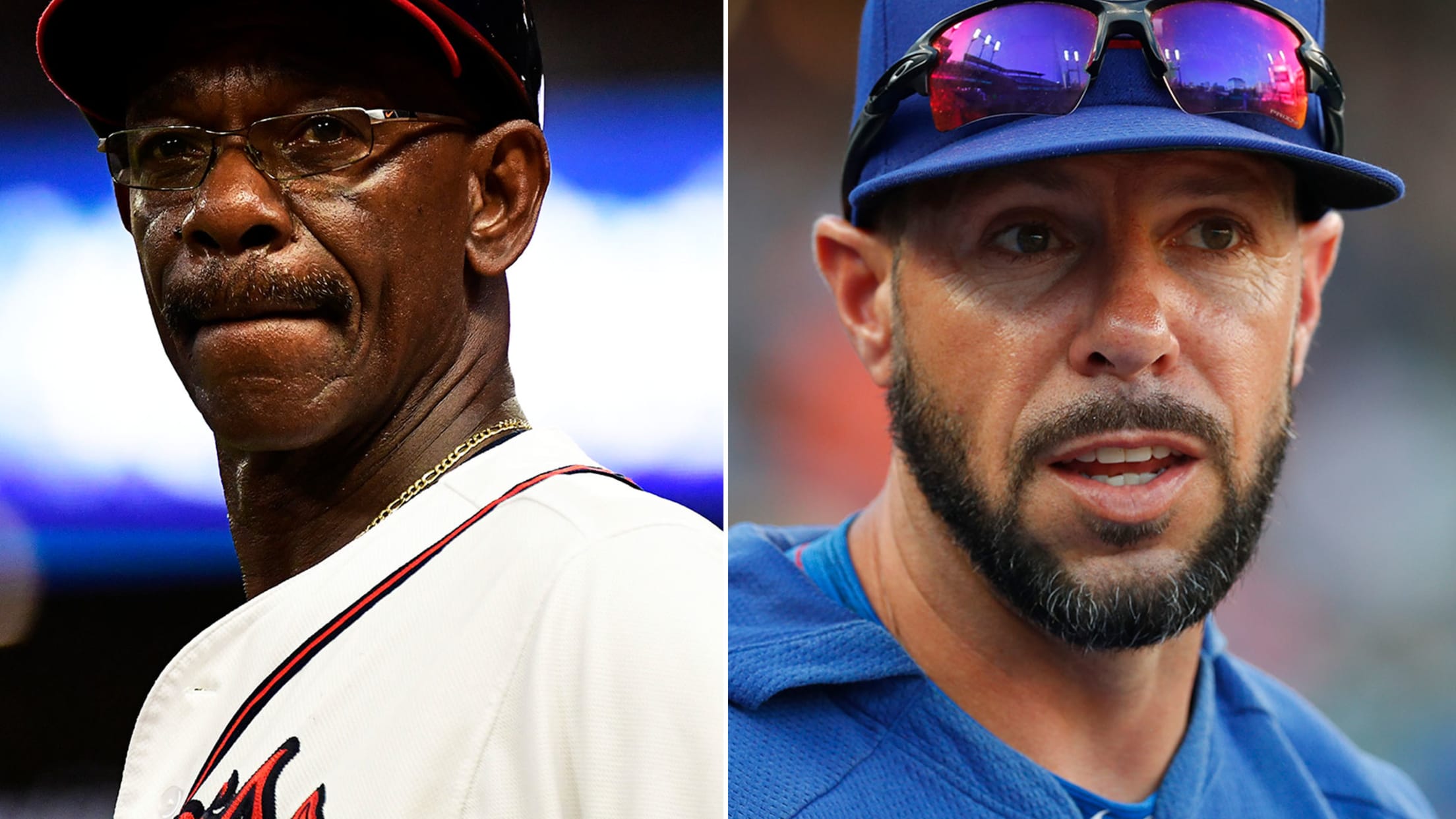 And then there were two. The Padres' managerial search has narrowed to two front-runners, according to people with knowledge of the team's thinking, and a decision looms in the near future. Jayce Tingler and Ron Washington -- whose careers and baseball backgrounds vary wildly -- are the two finalists for
Bryce on Nats' run: 'You know, jealousy isn't good'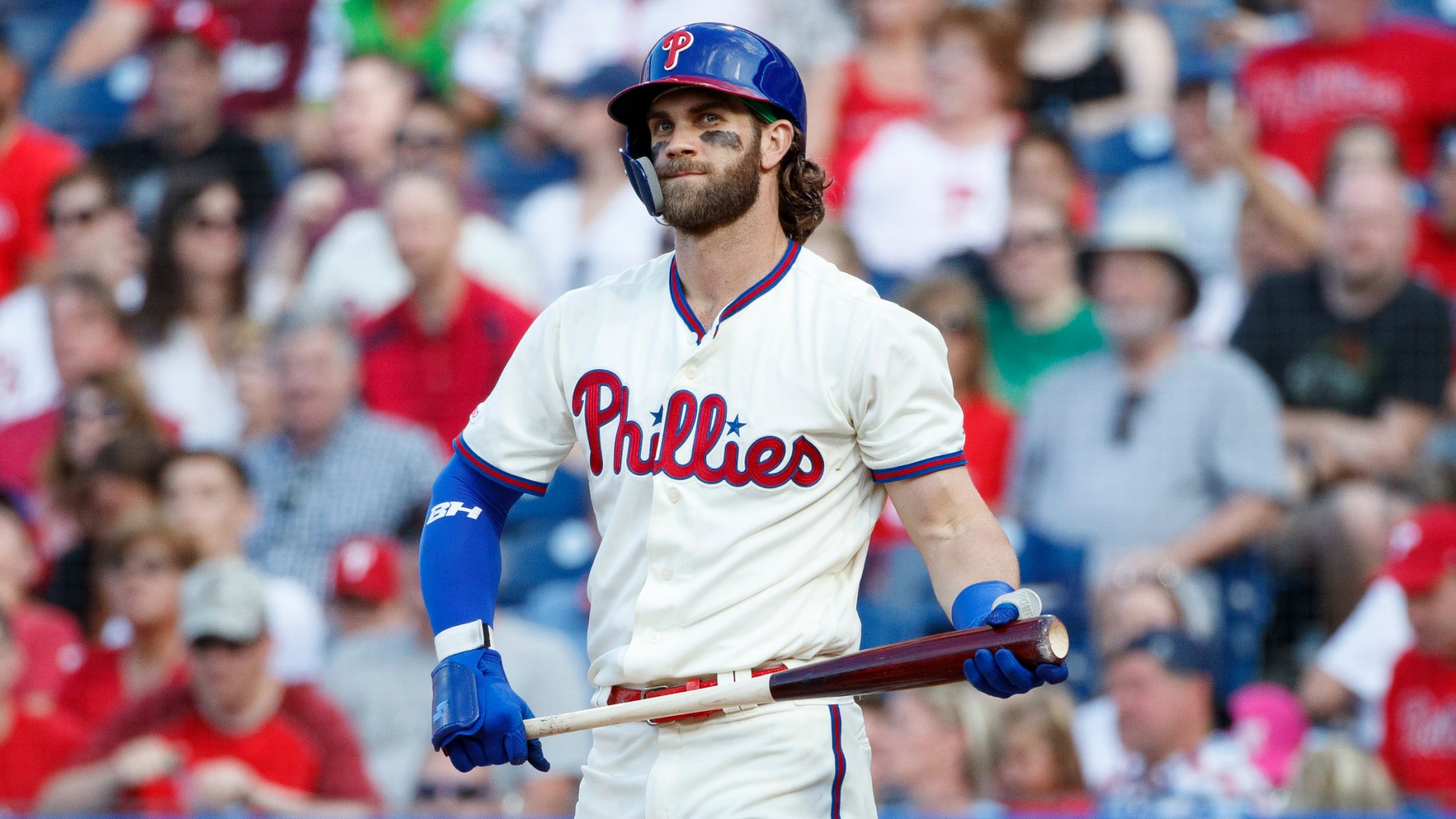 The Nationals are headed to the World Series, and they are doing it in their first season without former franchise superstar Bryce Harper. Harper, who signed a 13-year, $330 million deal with the Phillies this past offseason, spoke for the first time about his former team being on the precipice
The best World Series of the decade was ...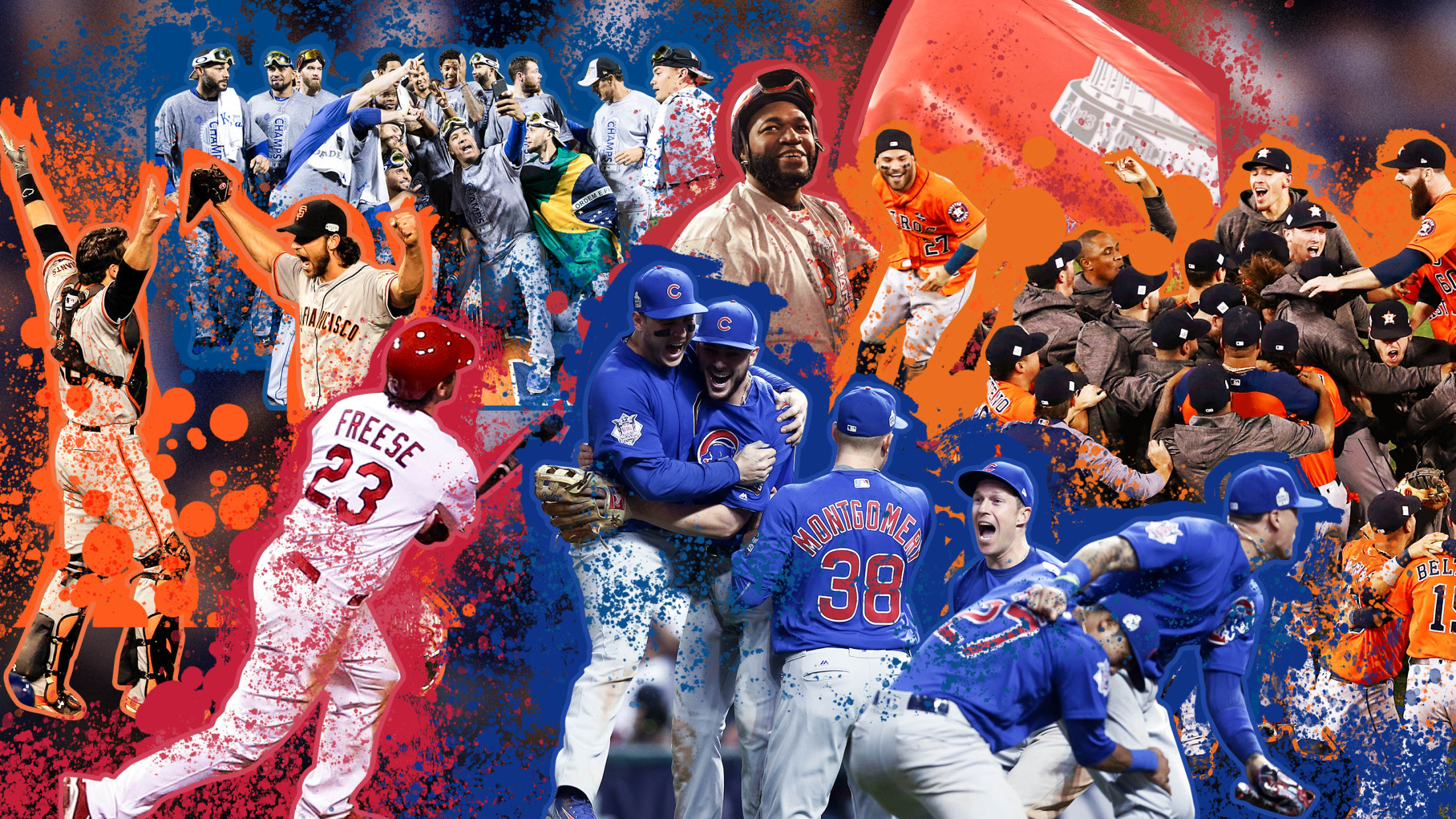 Will Leitch's series on the Data Decade, closing out this remarkable decade in the year of baseball, runs every other week. Today we look at the best World Series of the decade. Every World Series is amazing. Seriously. Even the blowouts, even the sweeps, even though ones from the past
Mariners shut down No. 2 prospect Rodriguez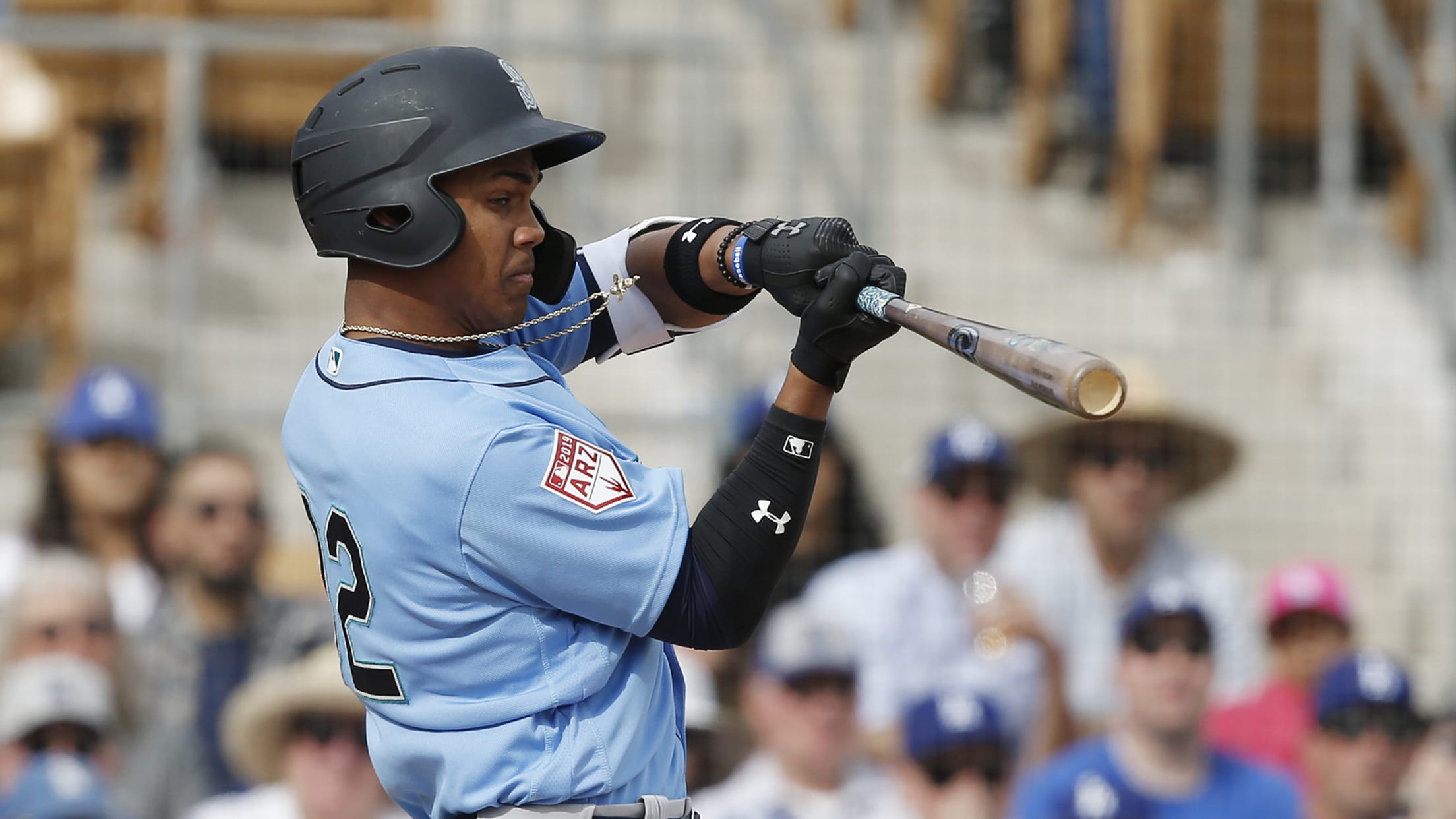 SEATTLE -- Mariners outfield prospect Julio Rodriguez, who capped an outstanding first full year in pro ball with a strong showing in 15 Arizona Fall League games, has been shut down for the final week of the season due to a minor strain in his lower back. Seattle player personnel
For Yanks, if you can't beat 'em ... sign 'em?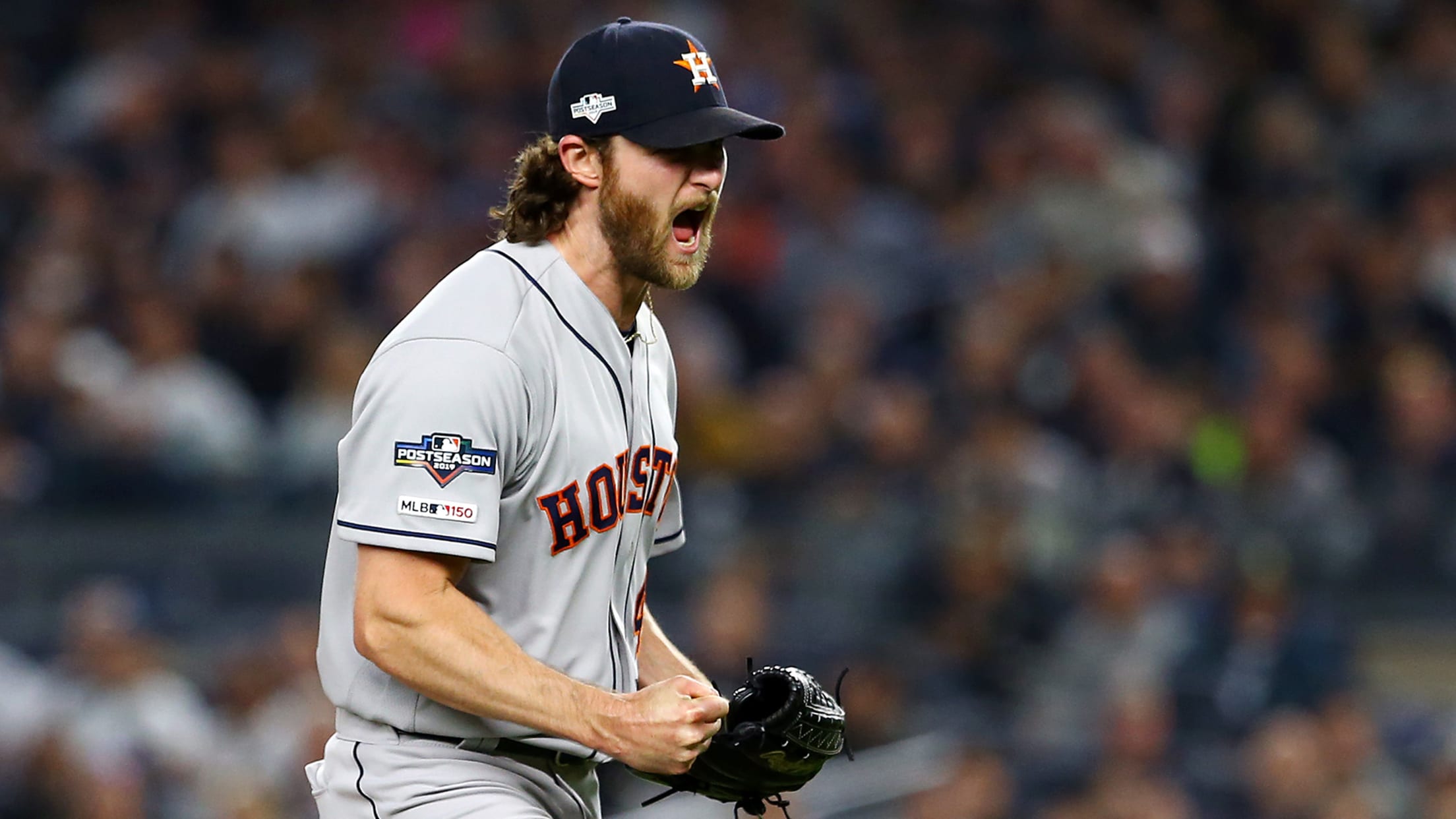 Following five solid seasons with the Pirates in which he was an All-Star and finished fourth in NL Cy Young Award voting in 2015, Gerrit Cole reached an elite level over two seasons with the Astros. Below is a list of the latest news and rumors surrounding the 29-year-old right-hander,
Farewell, CC: Southpaw's career comes to close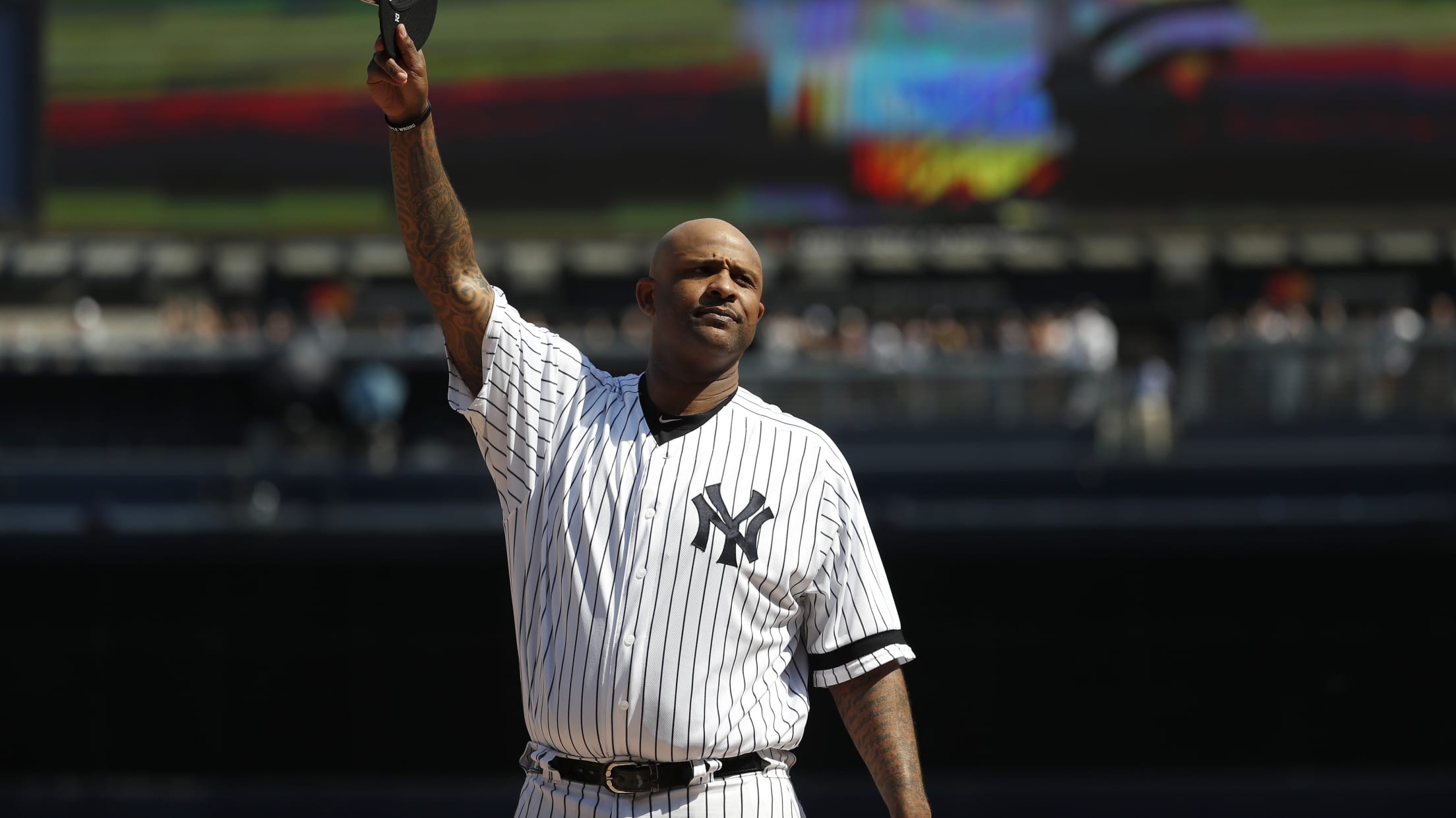 NEW YORK -- As CC Sabathia accepts the reality that he has thrown the final pitch of a 19-year career in the Major Leagues, the left-hander is proud of the legacies that he has cemented, universally regarded as a terrific teammate and as a workhorse who never shied away from
Dodgers could make a run at Rendon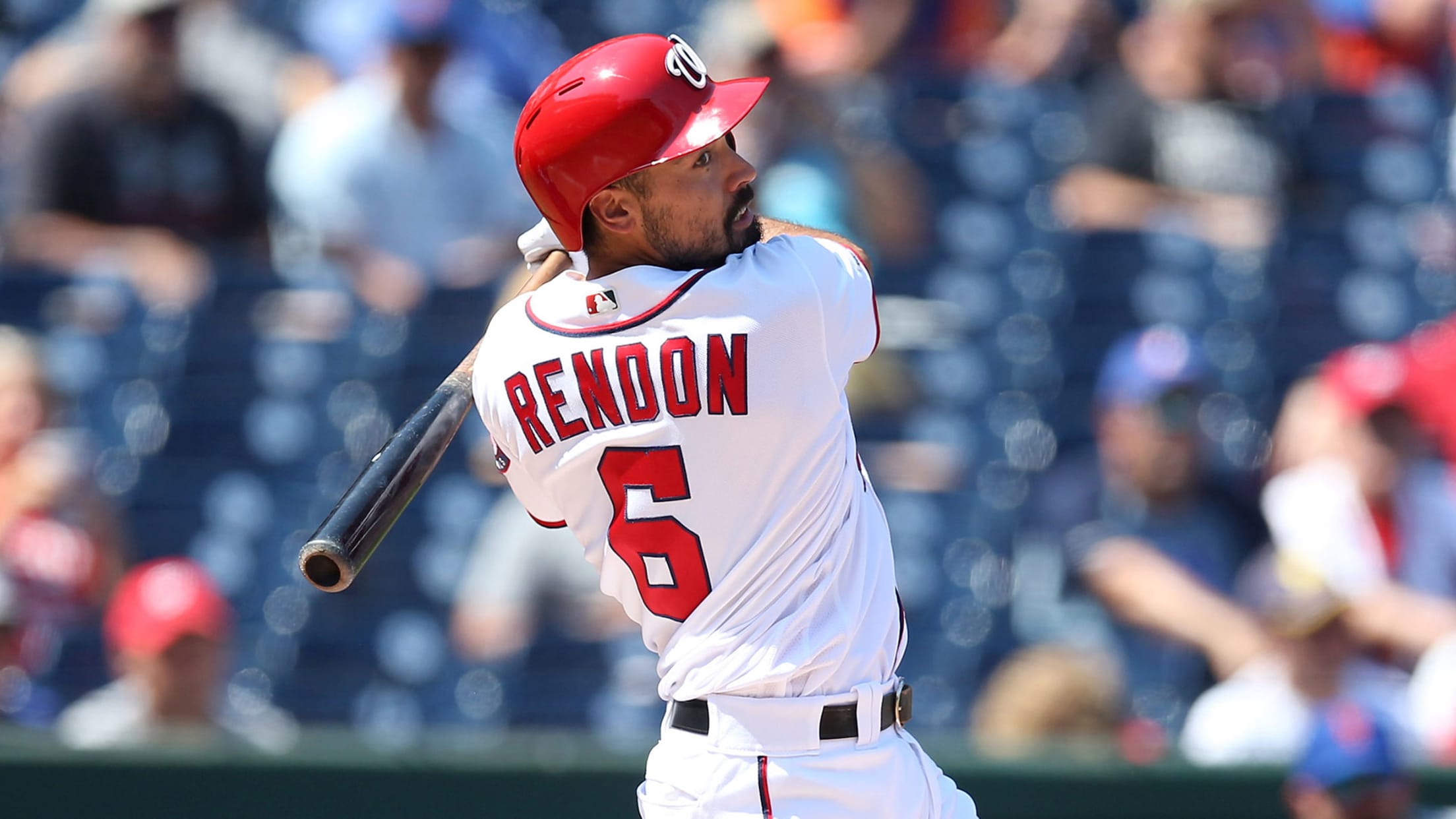 After a seven-season tenure with the Nationals that included a 2014 Silver Slugger Award, a 2019 All-Star nod and two top-10 National League MVP finishes (2014 and '17), Anthony Rendon is due to hit the open market for the first time in his career. Below is a list of the
AL, NL Reliever of the Year finalists revealed
Chapman, Hendriks, Osuna, Hader, Yates, Smith make the cut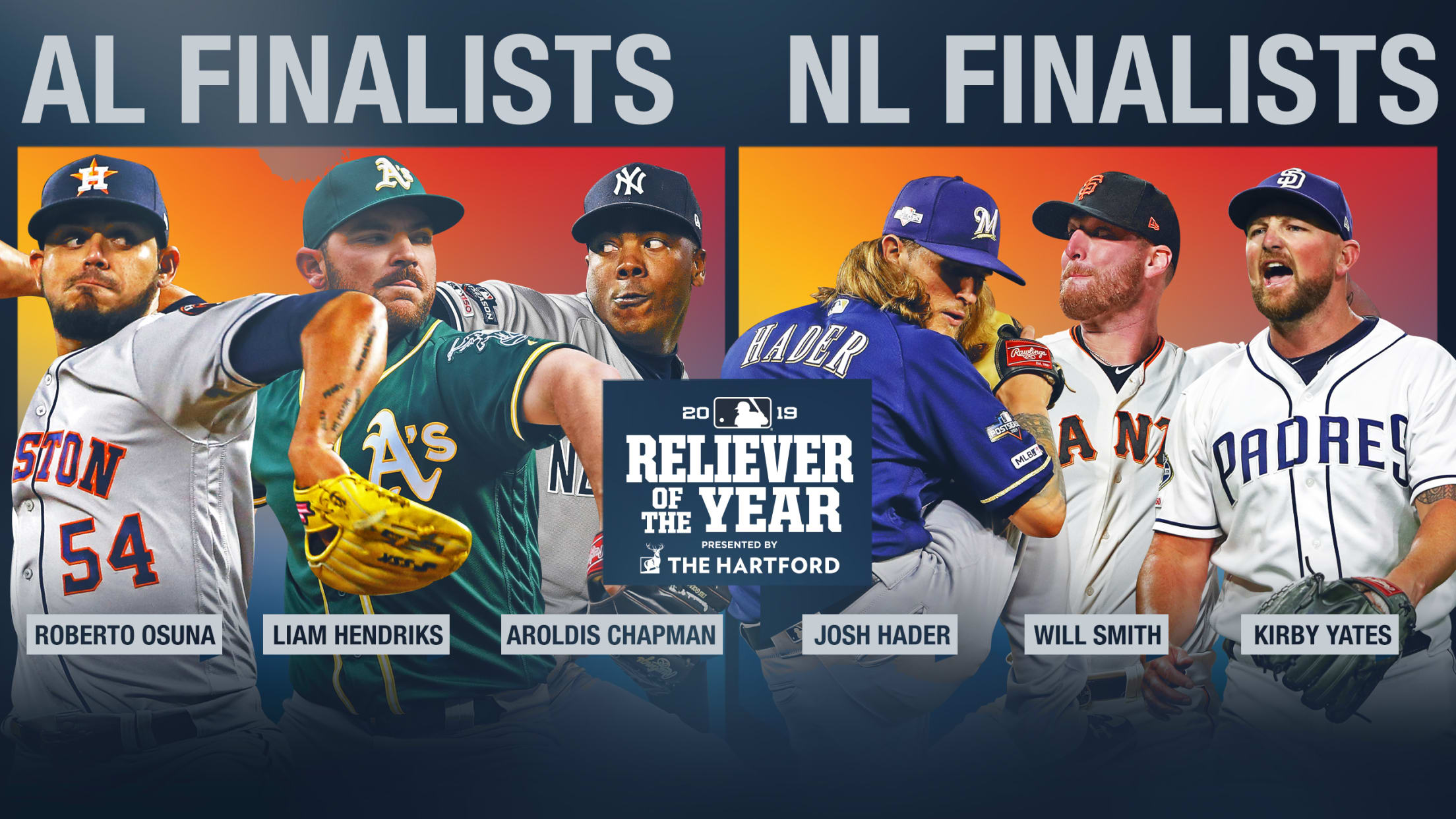 The finalists for this year's Mariano Rivera American League Reliever of the Year Award and Trevor Hoffman National League Reliever of the Year Award, both presented by The Hartford, have been unveiled. The Yankees' Aroldis Chapman, the Athletics' Liam Hendriks and the Astros' Roberto Osuna are vying for AL honors,
6 of 80 took qualifying offers. How'd it work out?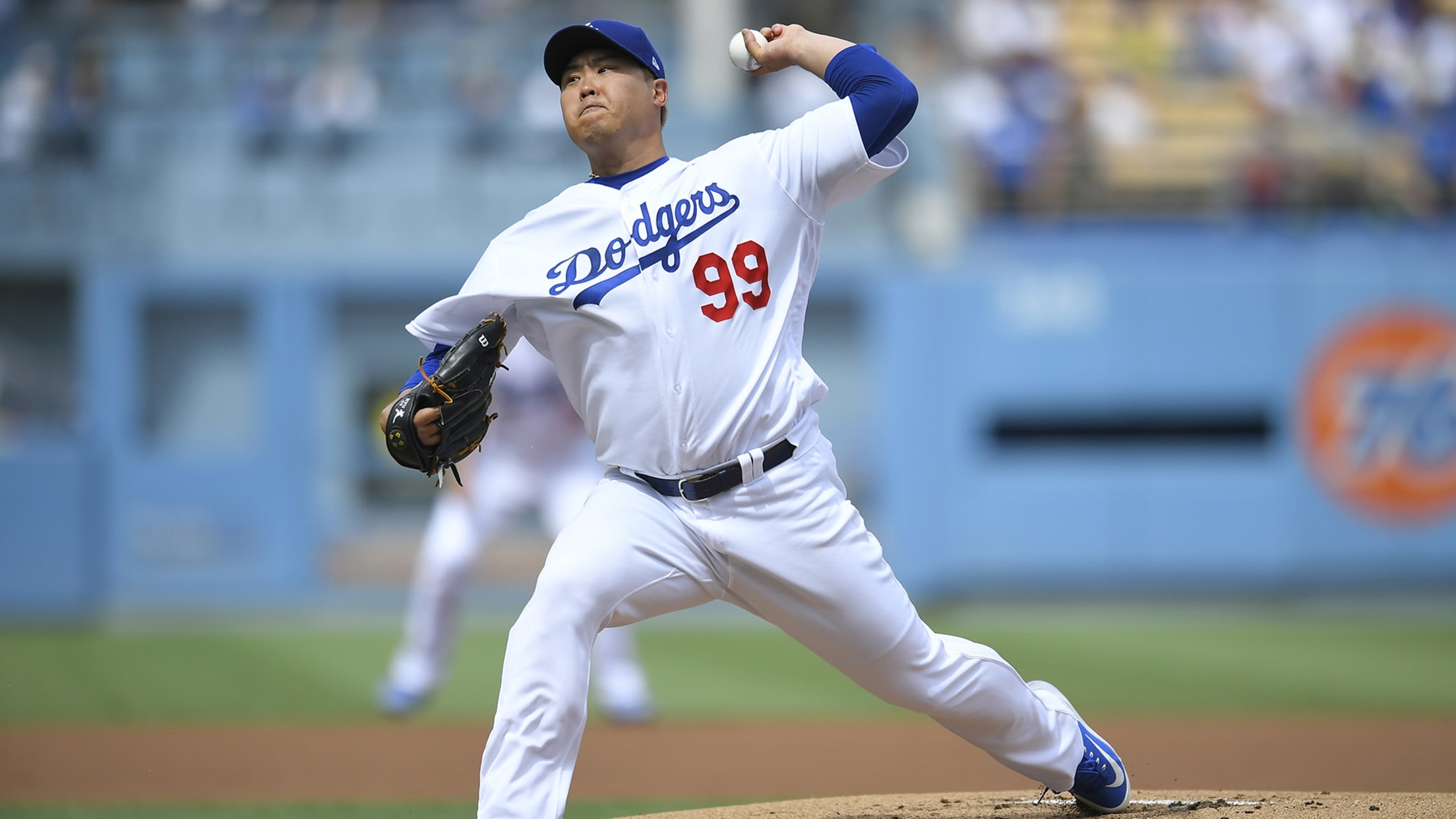 After the World Series ends, teams have five days to extend qualifying offers to their eligible free agents. Players who receive those offers then have 10 days to decide whether to accept and return to their clubs on a one-year contract, or decline and enter the open market. The value
Players choose Player of Year finalists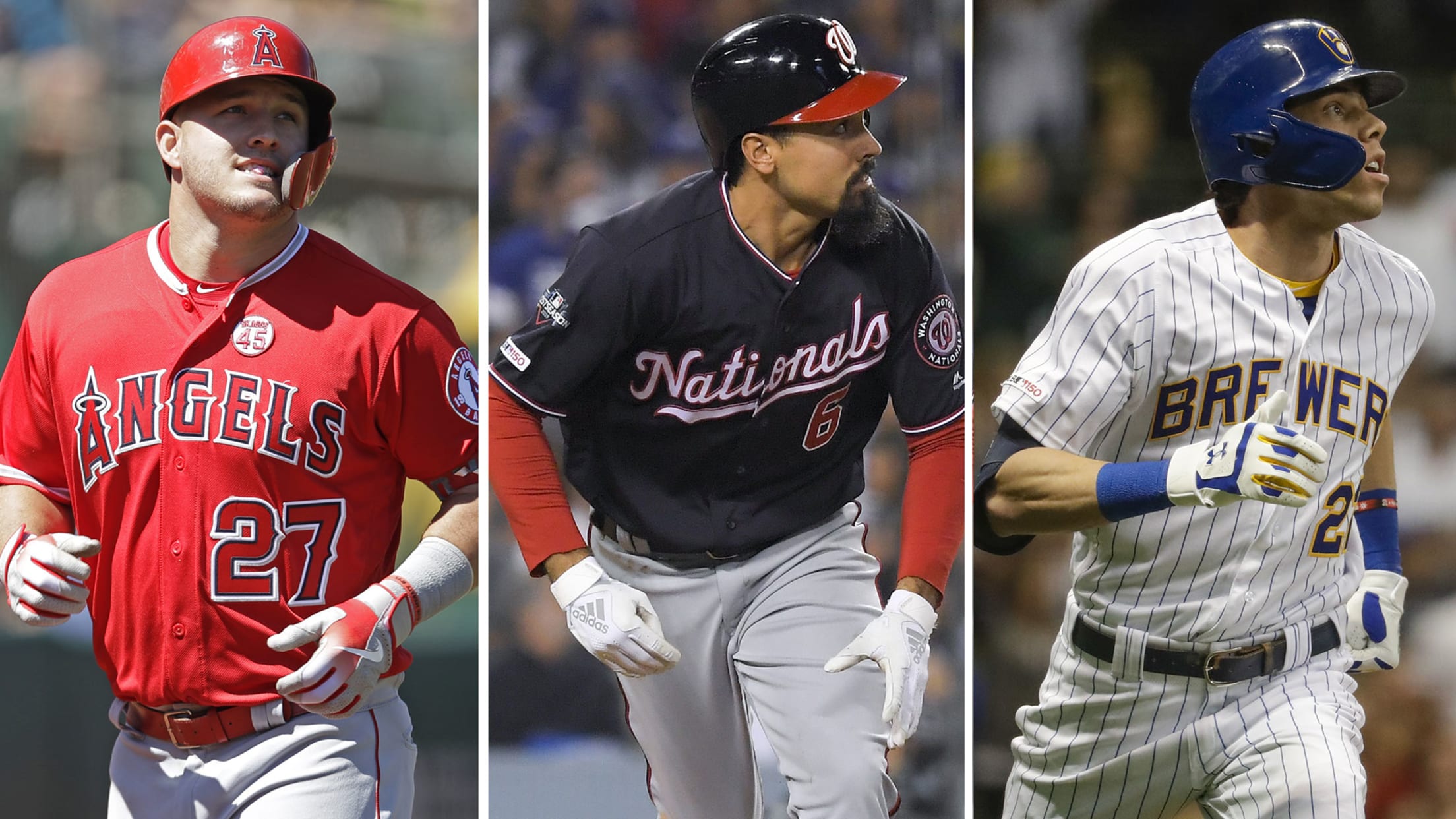 MLB players, through the MLB Players Association, named finalists for the 2019 Players Choice Awards on Friday afternoon, including naming Angels center fielder Mike Trout, Nationals third baseman Anthony Rendon and Brewers right fielder Christian Yelich as finalists for the Player of the Year Award. None of the three finalists