Watch El Mago's latest trick for avoiding a tag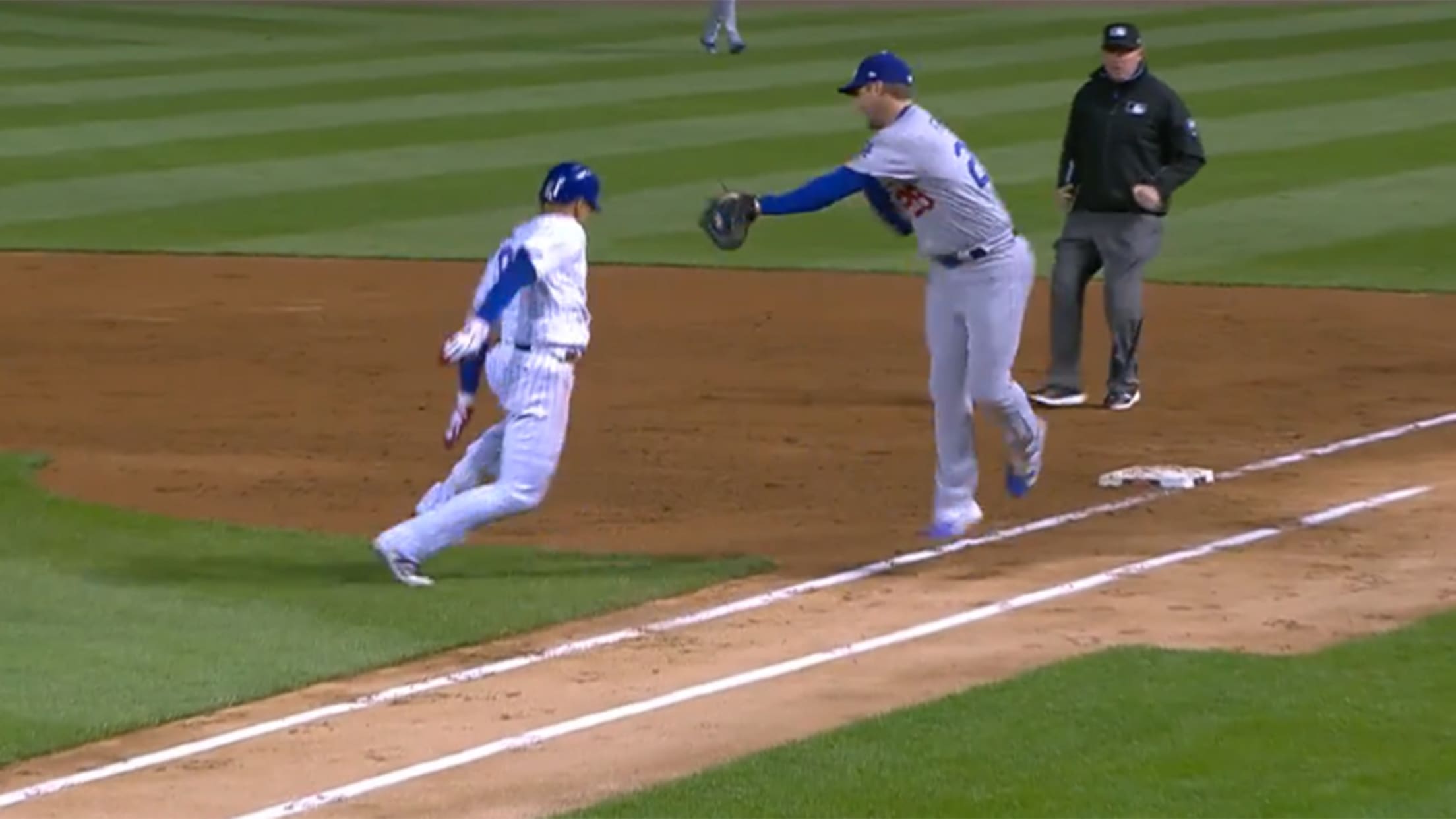 Javier Báez gave us another example of why many consider him the most entertaining player in the game. Right after Anthony Rizzo homered to give the Cubs a 6-0 lead Tuesday night against the Dodgers at Wrigley, Baez tapped a soft ground ball to first baseman David Freese. It looked
Wheeler the first 100/100 pitcher in 2019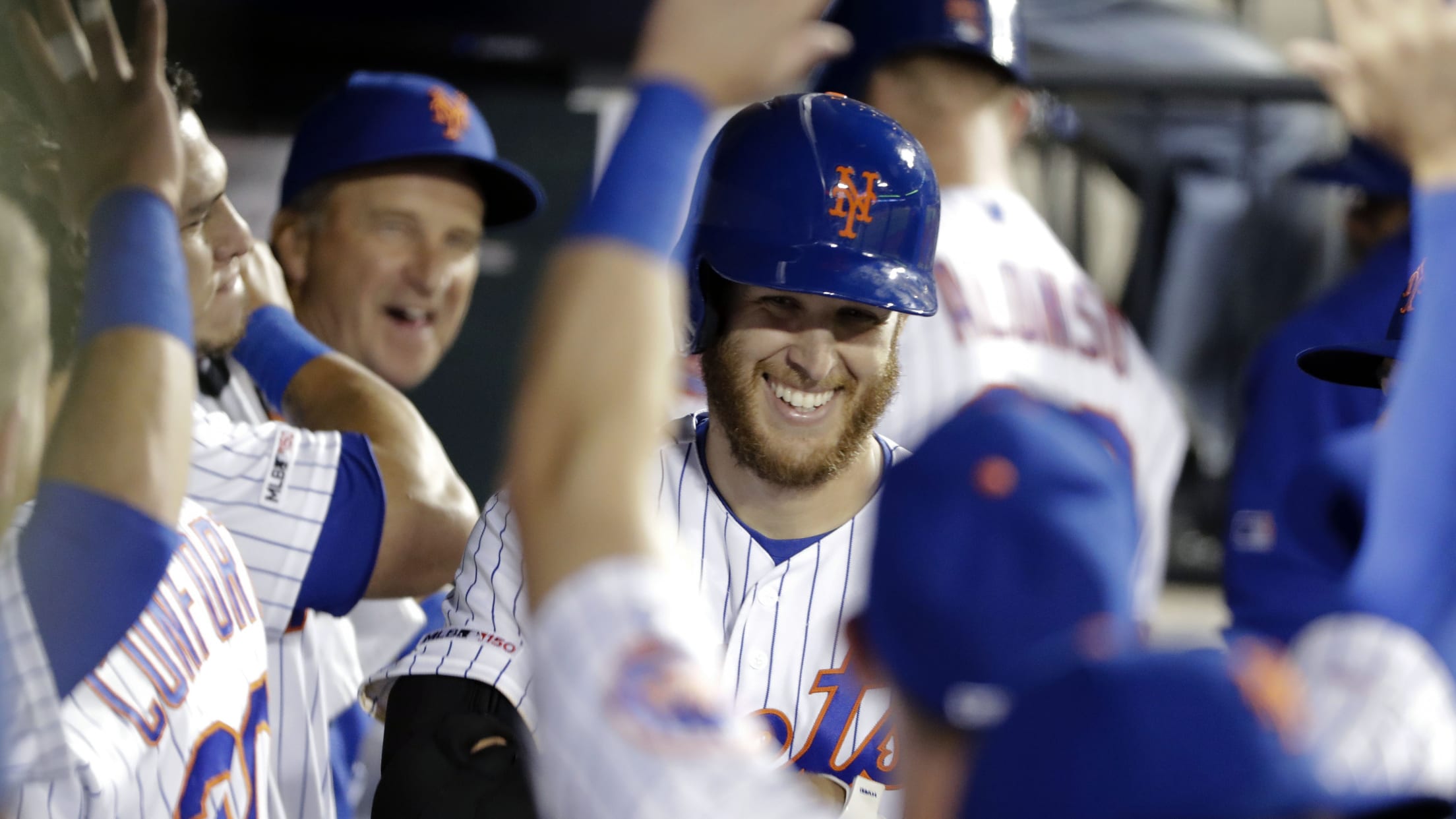 NEW YORK -- When Zack Wheeler managed to put it all together -- to really, truly put it all together -- down the stretch last season, the result was the type of dominance long expected from the former first-round pick. At his best, Wheeler can throw five electric pitches, from
A HR robber gets taste of his own medicine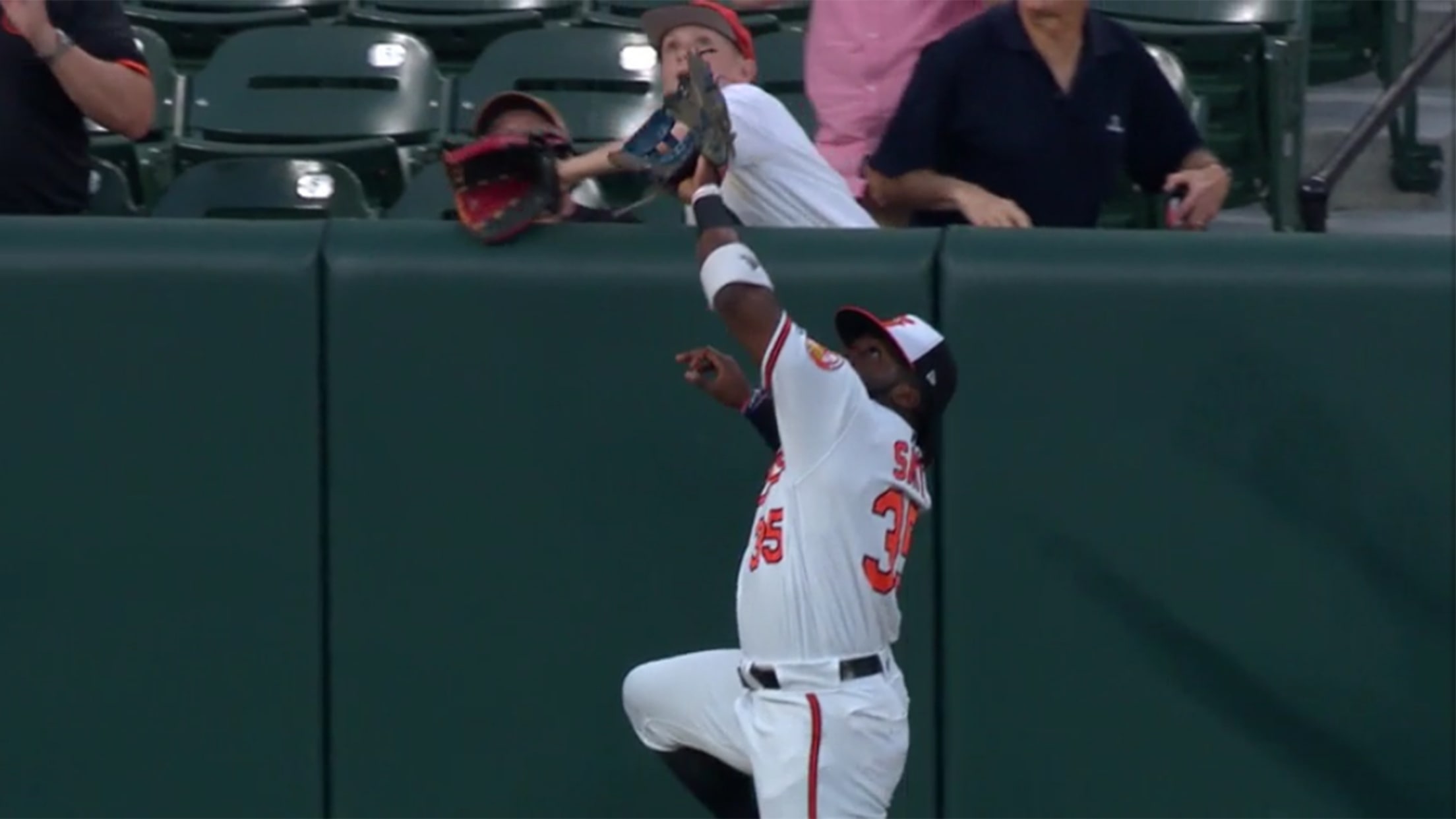 BALTIMORE -- Apparently Dwight Smith Jr.'s quad is just fine. The Orioles' left fielder gave White Sox outfielder and noted home run thief Adam Engel a taste of his own medicine with a homer-robbing catch of his own on Tuesday at Camden Yards.
Tapia dives into stands to catch foul ball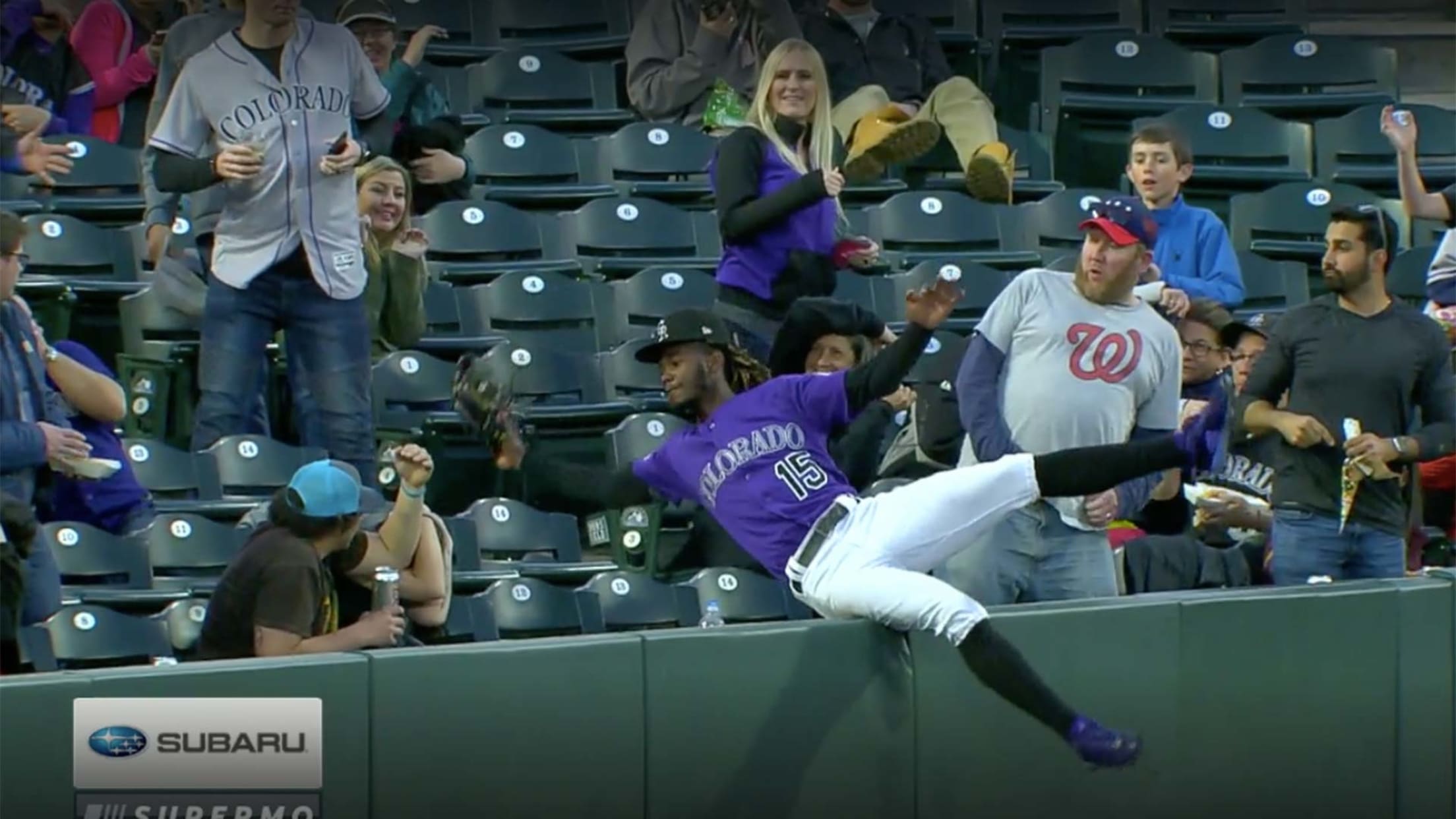 DENVER -- Rockies left fielder Raimel Tapia went over the wall, two different ways, Tuesday night. In the second inning, Tapia homered into the bullpen in right-center for two runs off Nationals starting pitcher Patrick Corbin. It was his third straight game with a homer, although the first of those
Rays' early surge fuels series win over Royals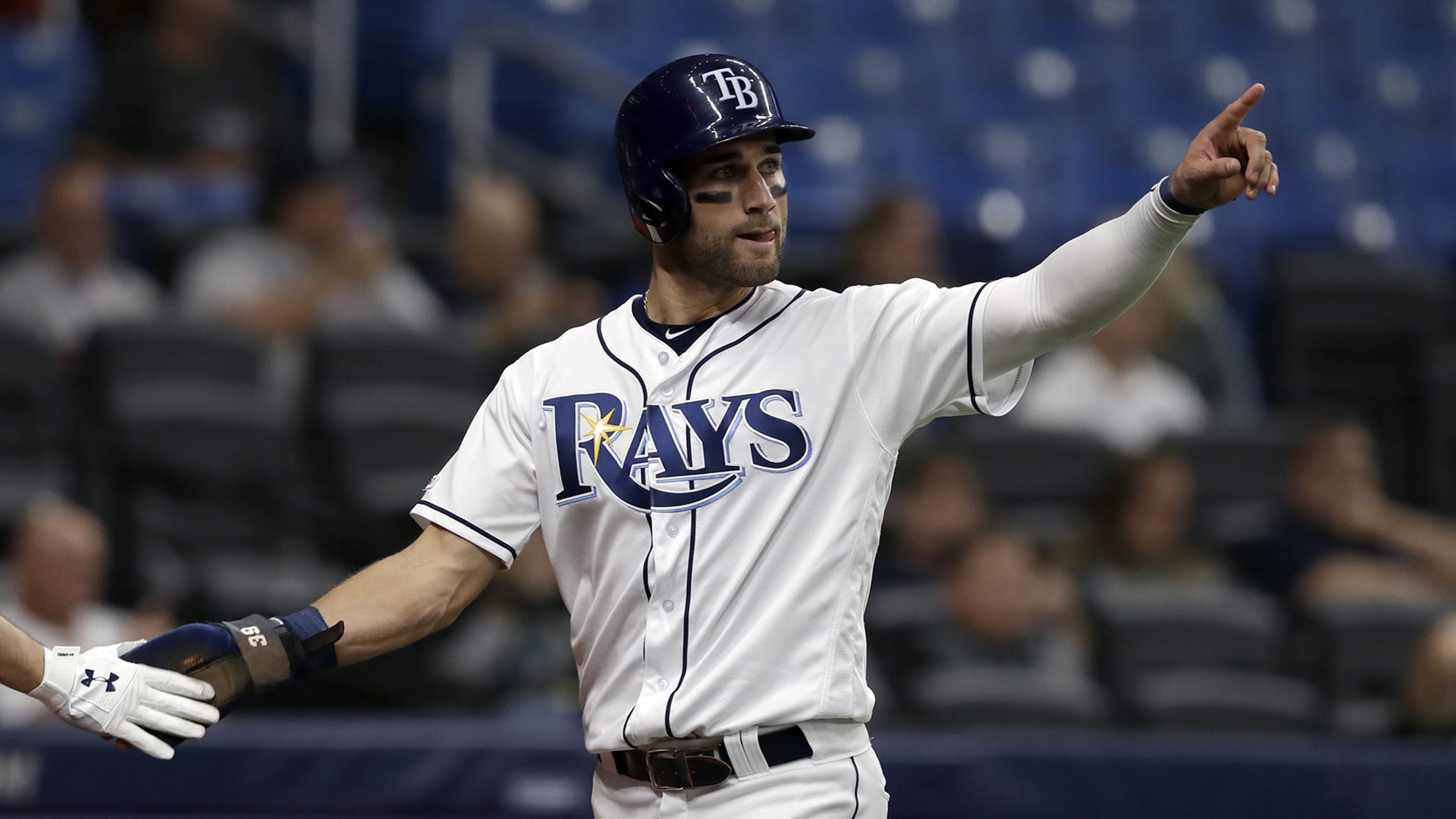 ST. PETERSBURG -- The Rays needed to come from behind in each of their previous five games, but no comeback was necessary on Tuesday, as Tampa Bay jumped out to an early lead en route to a 5-2 series-clinching win over the Royals at Tropicana Field. Joey Wendle got the
Rosario is fastest to 10 HRs in Twins history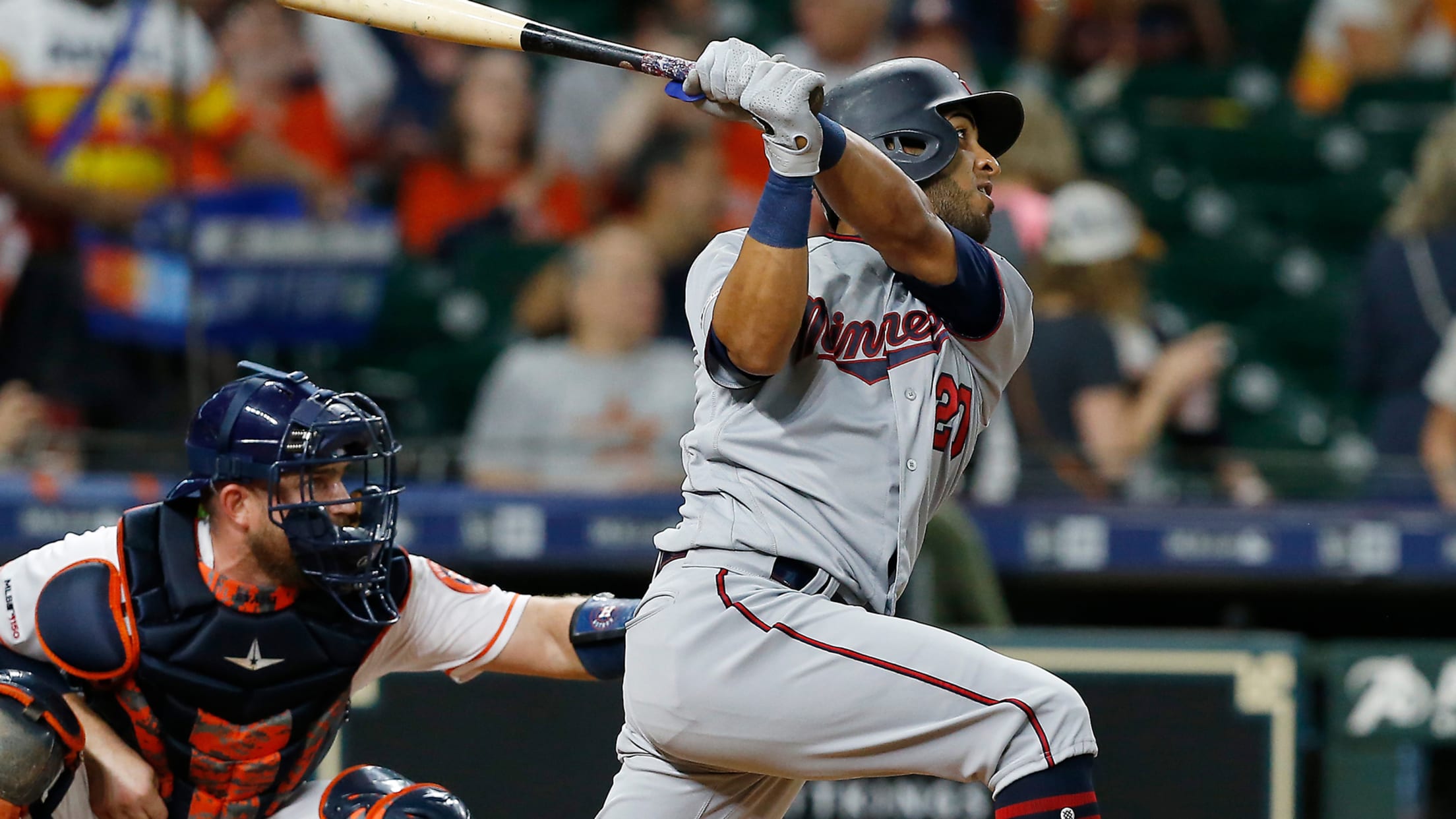 HOUSTON -- With his first-inning three-run home run on Tuesday, Eddie Rosario became the first Twins player to hit 10 homers before May 1. Rosario's homer off Astros left-hander Wade Miley reached the Crawford Boxes at Minute Maid Park and gave Minnesota a 3-0 lead. Torii Hunter held the previous
Carrasco leaves loss with left knee discomfort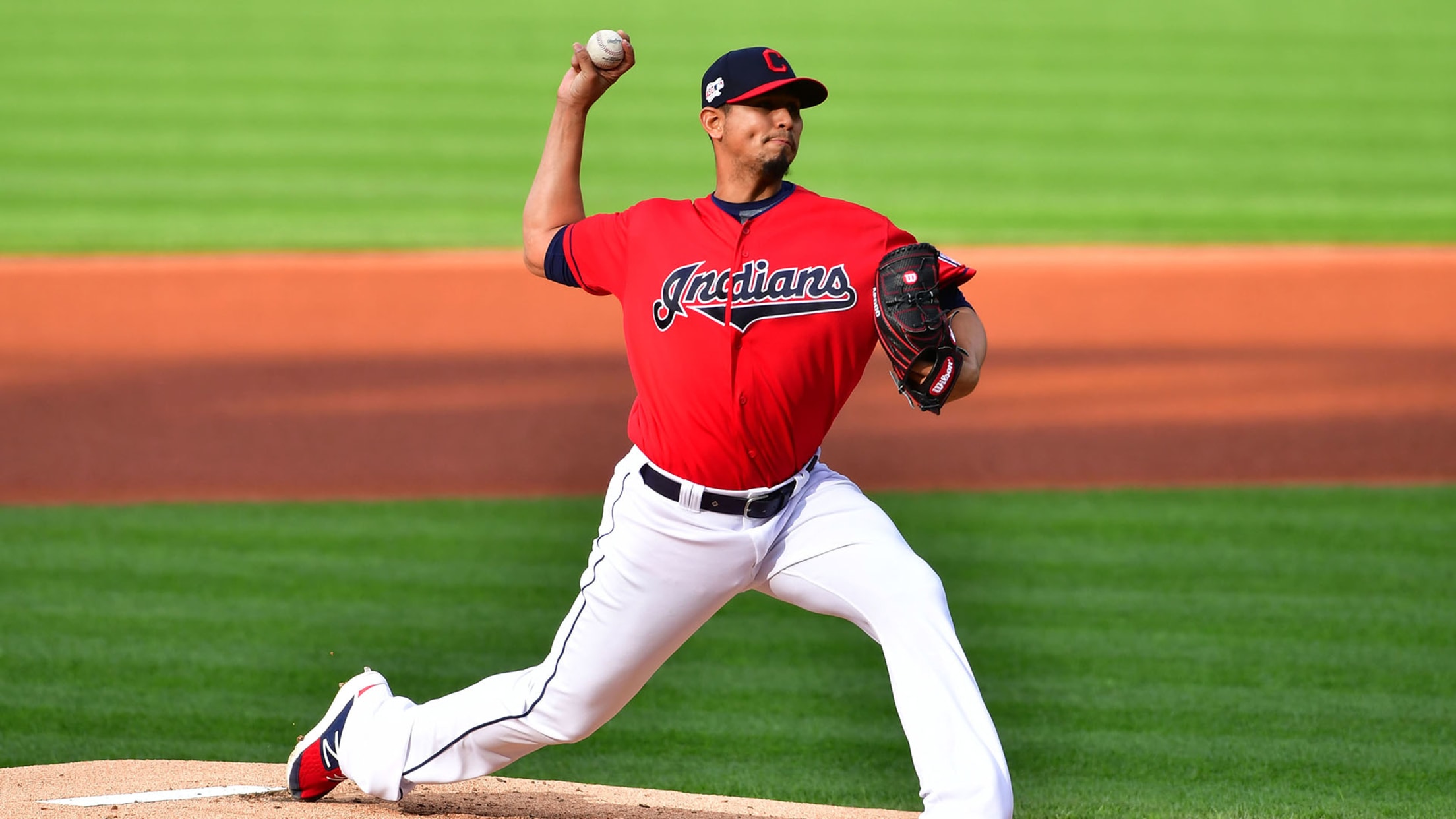 CLEVELAND -- The Indians have dealt with their share of injuries this year. With Mike Clevinger already on the 60-day injured list with an upper back strain, the last thing the Tribe needs is to lose another key piece of its starting rotation. After Carlos Carrasco cruised through three perfect
Scherzer feels 'lucky' after dugout scare
Rendon out for third straight game; Noll recalled for third-base depth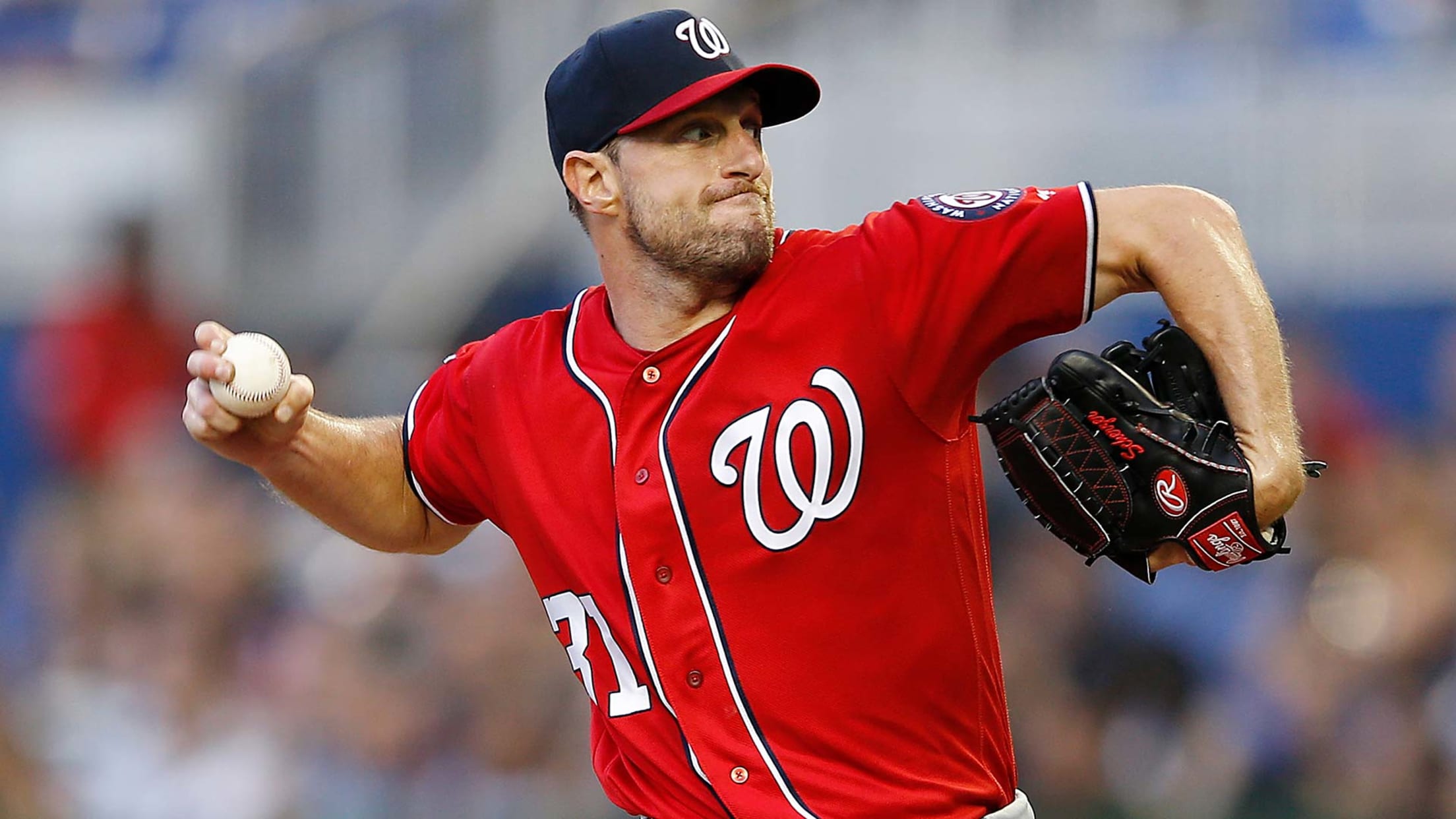 DENVER -- "I'm lucky I still have just the one blue eye." What began as a humorous exchange between Max Scherzer and reporters about his close call with a foul ball that lined into the Nationals' dugout on Sunday, soon turned sobering. "The fact that [an intercostal injury] is what
Weaver's strong start helps D-backs win squeaker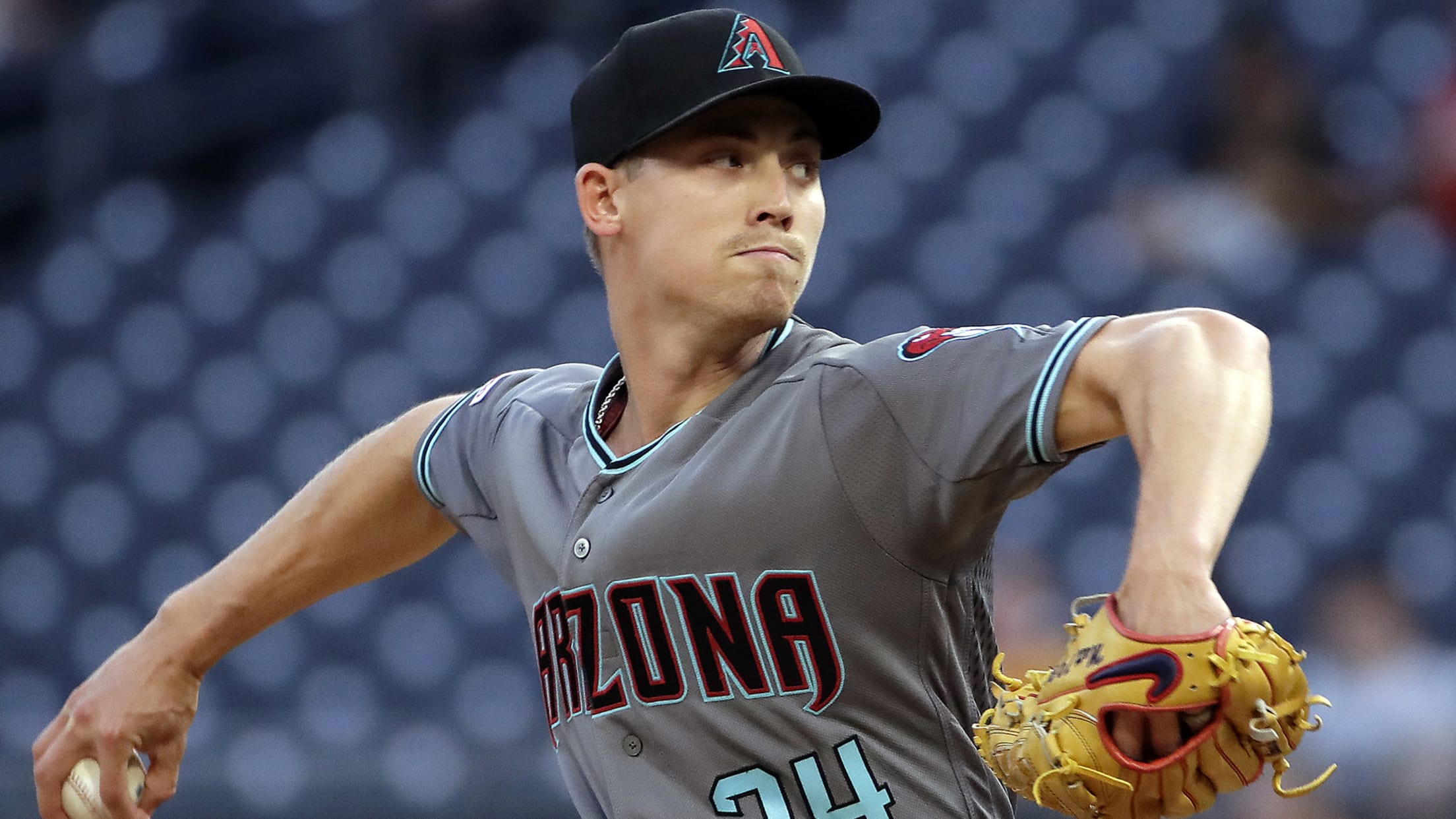 PITTSBURGH -- Luke Weaver is simply getting better as time marches on this season. He took another step forward with 6 1/3 innings of one-run ball against the Pirates, and David Peralta's RBI fielder's choice was enough cushion to help the D-backs win, 2-1.
A's receive good news on new ballpark front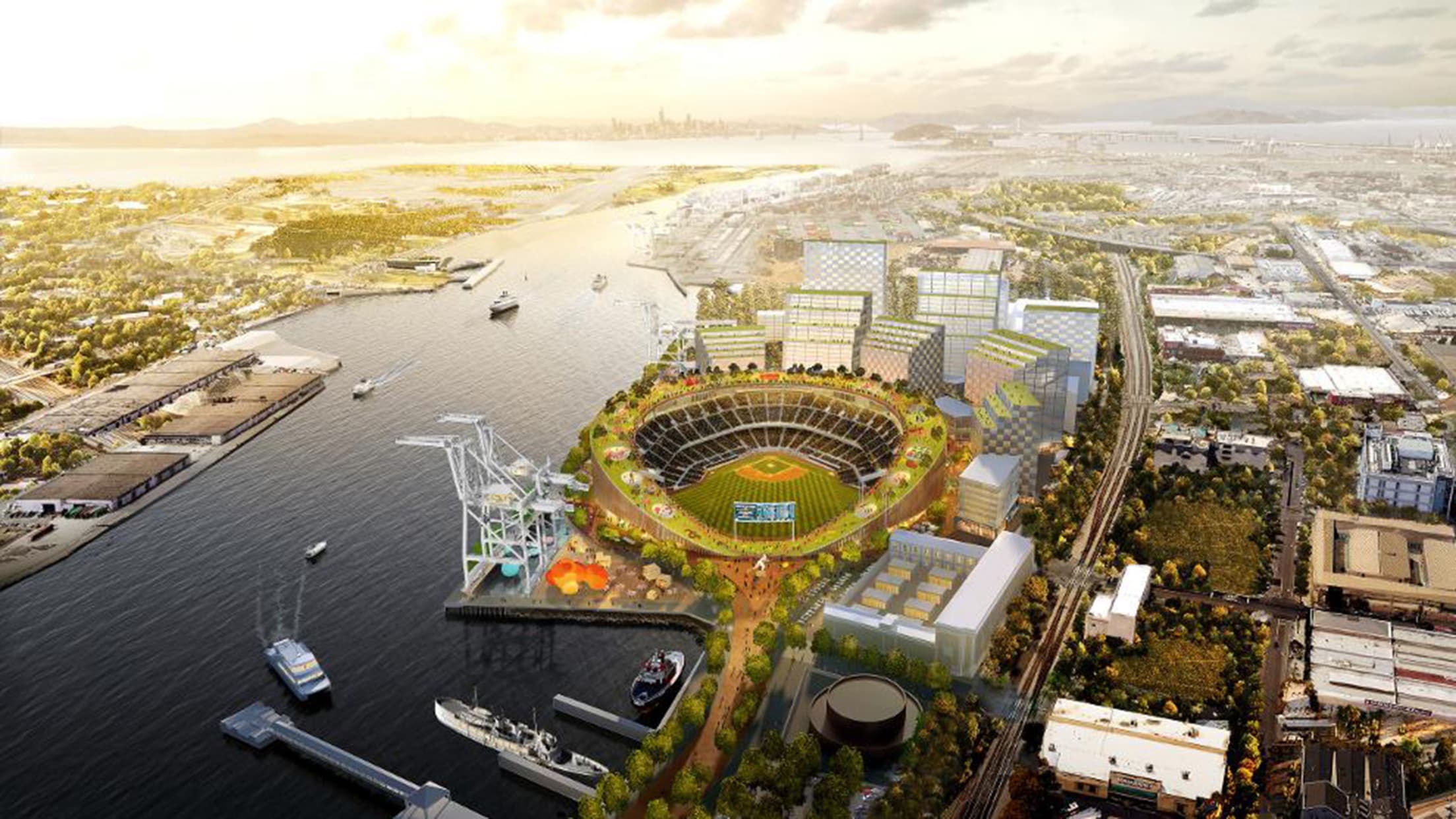 OAKLAND -- The A's reached another milestone in their progress toward a new ballpark on Tuesday. The Alameda County Board of Supervisors unanimously voted to approve the term sheet between the county and the A's, providing the possible purchase by the A's of the county's 50-percent interest in the Oakland
Davis goes deep as O's hammer four homers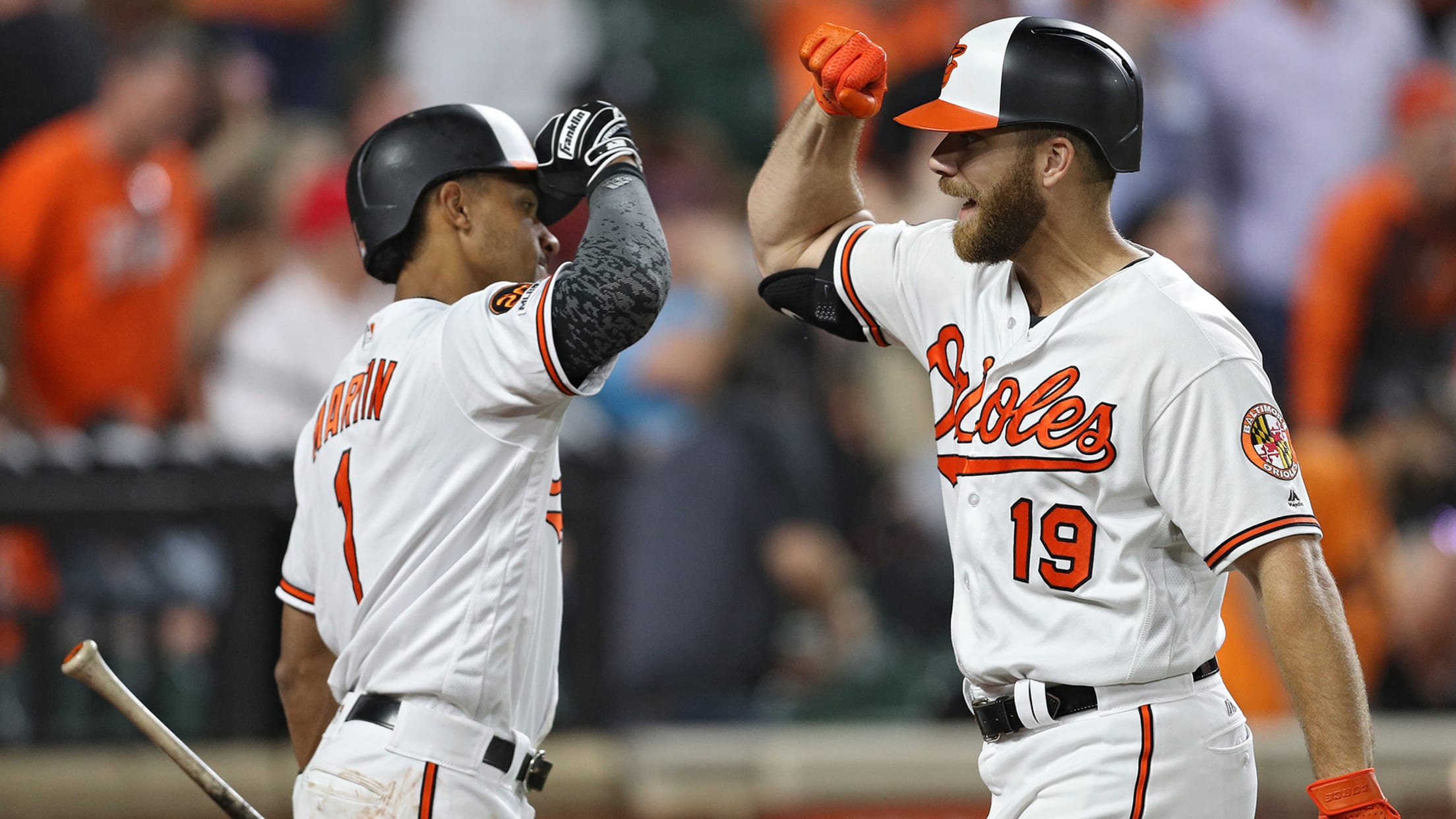 BALTIMORE -- Chris Davis recognized the pitch up and sprung, hands shooting upward from their load point right around his letters. The fastball buzzed in at 92 mph, sent from Ivan Nova with intention of beating Davis in the place his uppercut swing, for years now, has routinely been slow
CC, 6 K's shy of 3,000, looks back at No. 1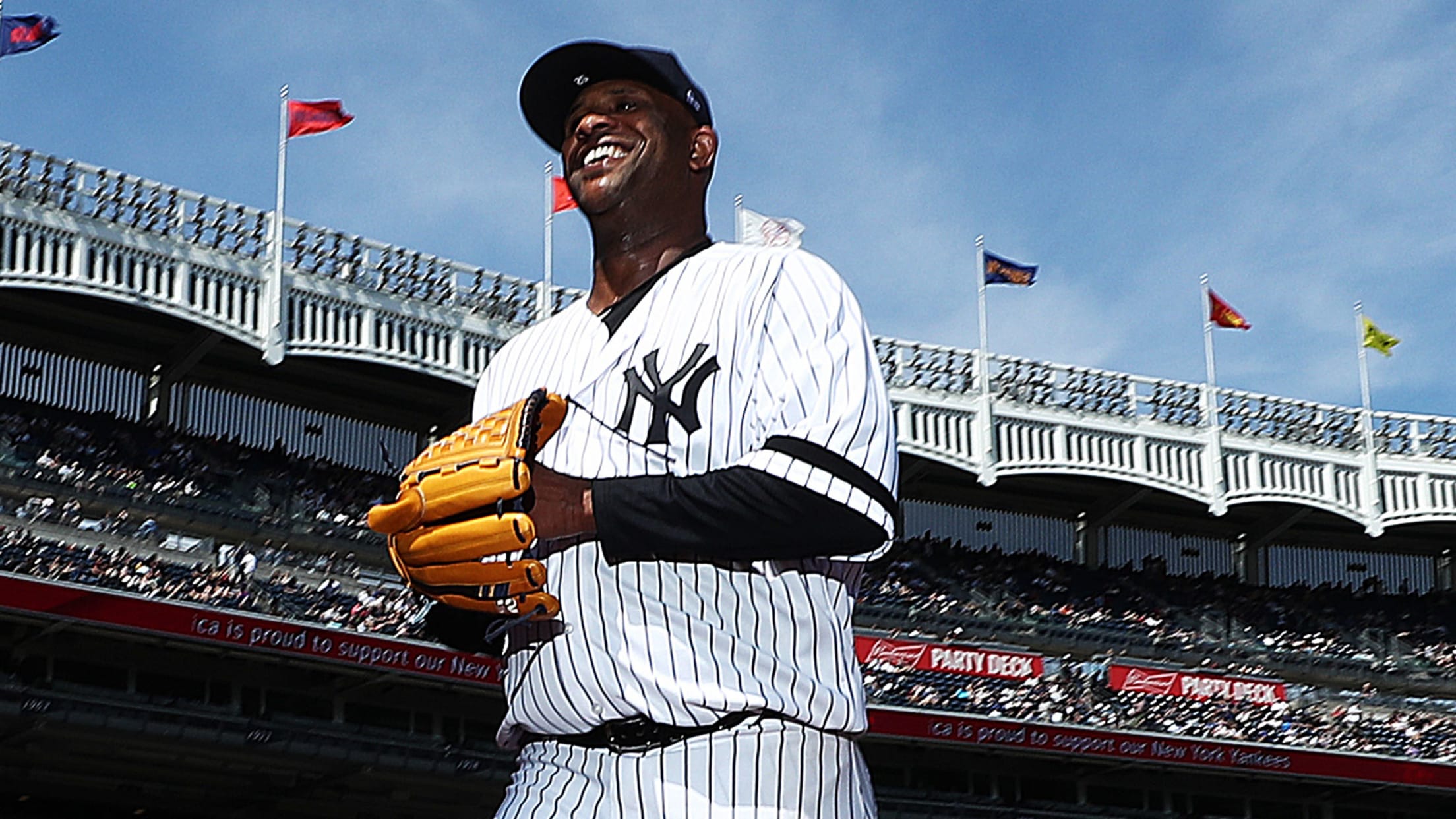 ANAHEIM – As CC Sabathia sits upon the precipice of becoming the 17th man to join the 3,000 strikeouts club, the veteran Yankees hurler was asked to reflect upon the first whiff that he recorded in a Major League uniform. That transpired in Sabathia's big league debut on April 8,
Toronto salutes Pillar on 'emotional' return
Outfielder spent nine years in Blue Jays' organization before April 2 trade to Giants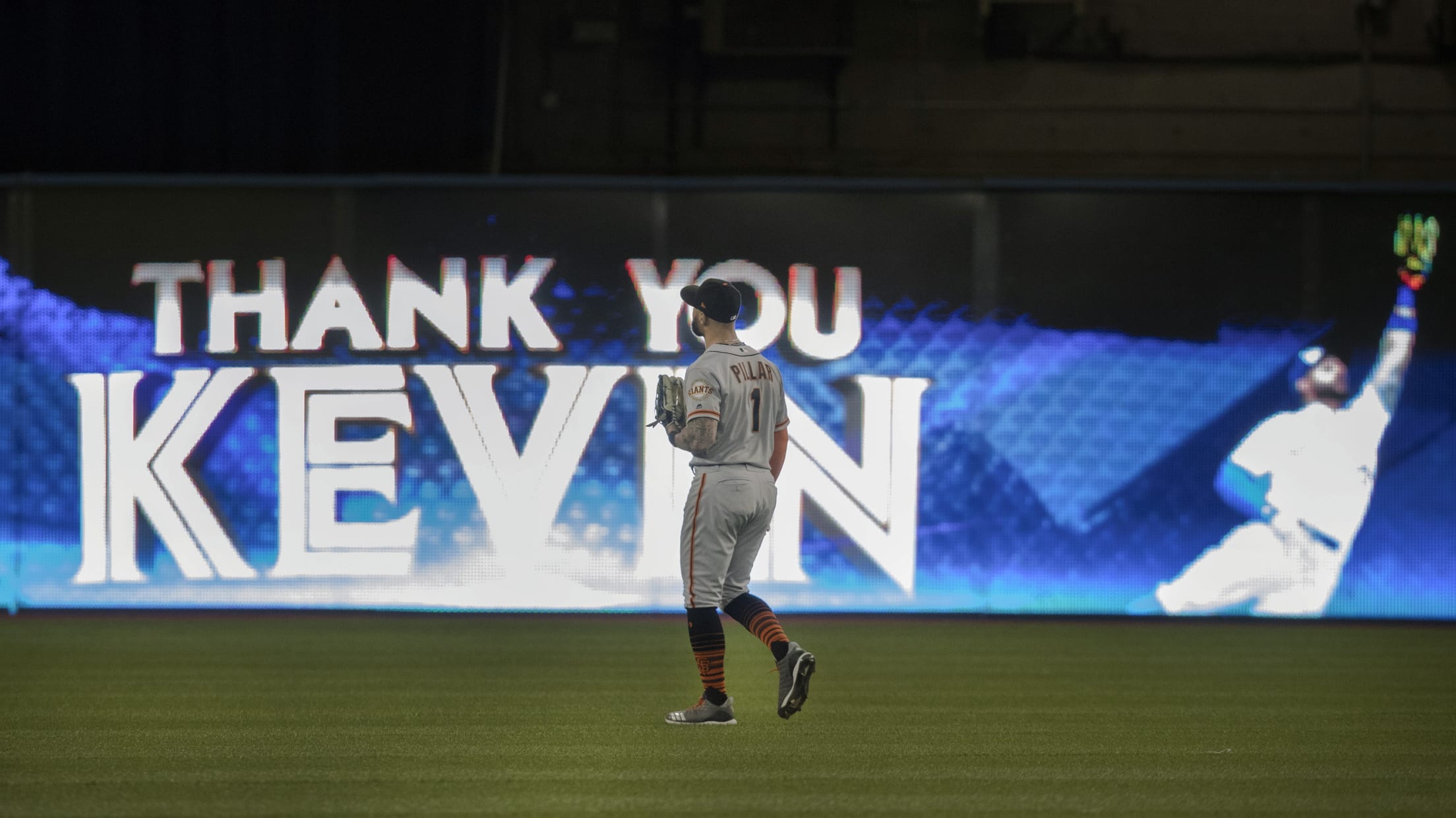 TORONTO -- It's only been a few weeks since Kevin Pillar left Toronto, but his homecoming was highly anticipated by fans, friends and former teammates. Originally selected by the Blue Jays in 2011 as a 32nd-round Draft pick from Division II Cal State University, Dominguez Hills, Toronto was the first
Nimmo exits early with oblique discomfort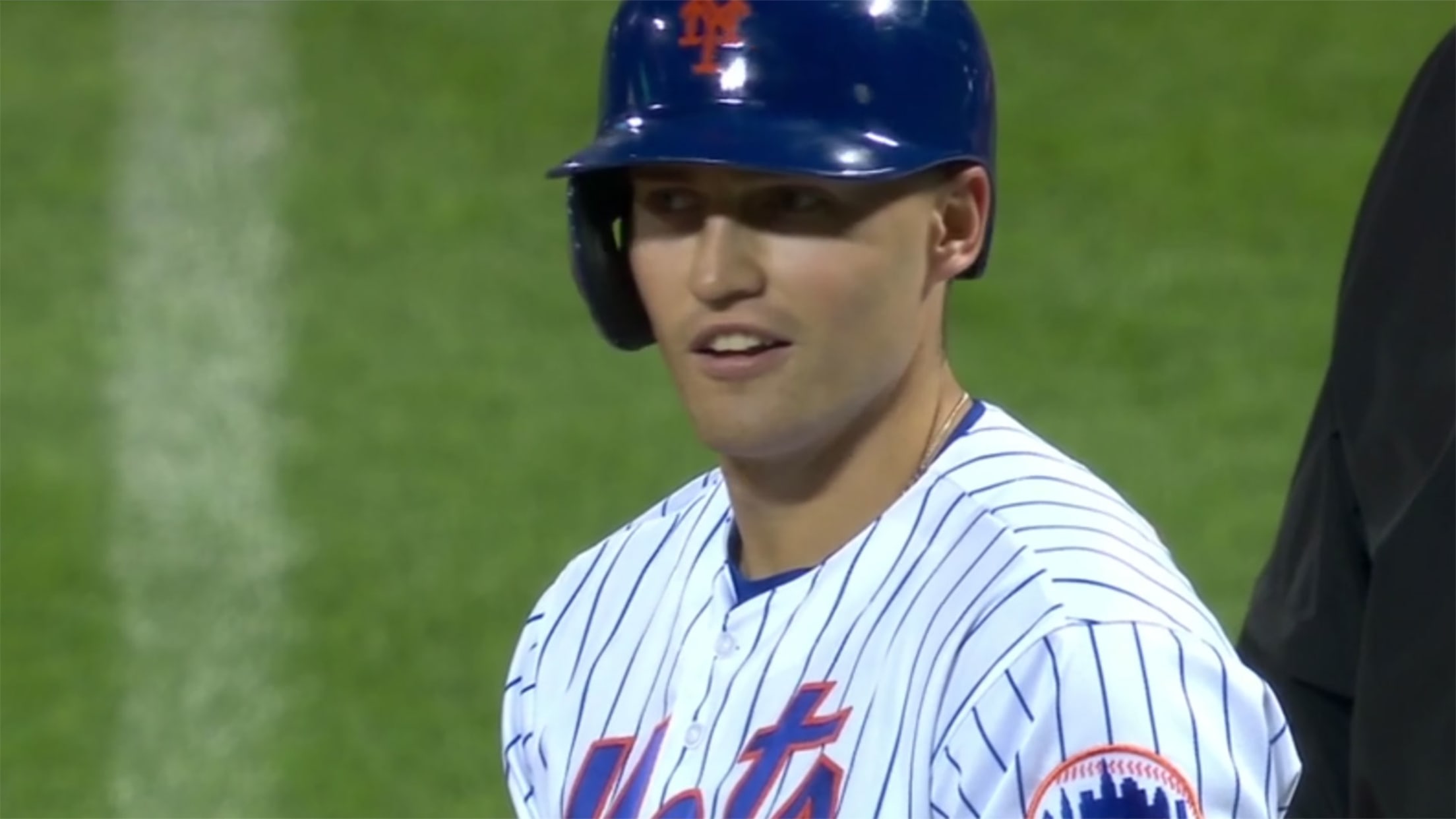 NEW YORK -- Brandon Nimmo's disjointed season continued Tuesday, when he left the Mets' game against the Phillies at Citi Field due to left oblique discomfort. There was no immediate word as to the severity of the injury. Nimmo, who missed time last year due to neck stiffness, was batting
C. Martinez to return as reliever, not starter
Bader likely to be activated Wednesday; Robinson optioned, Ponce de Leon called up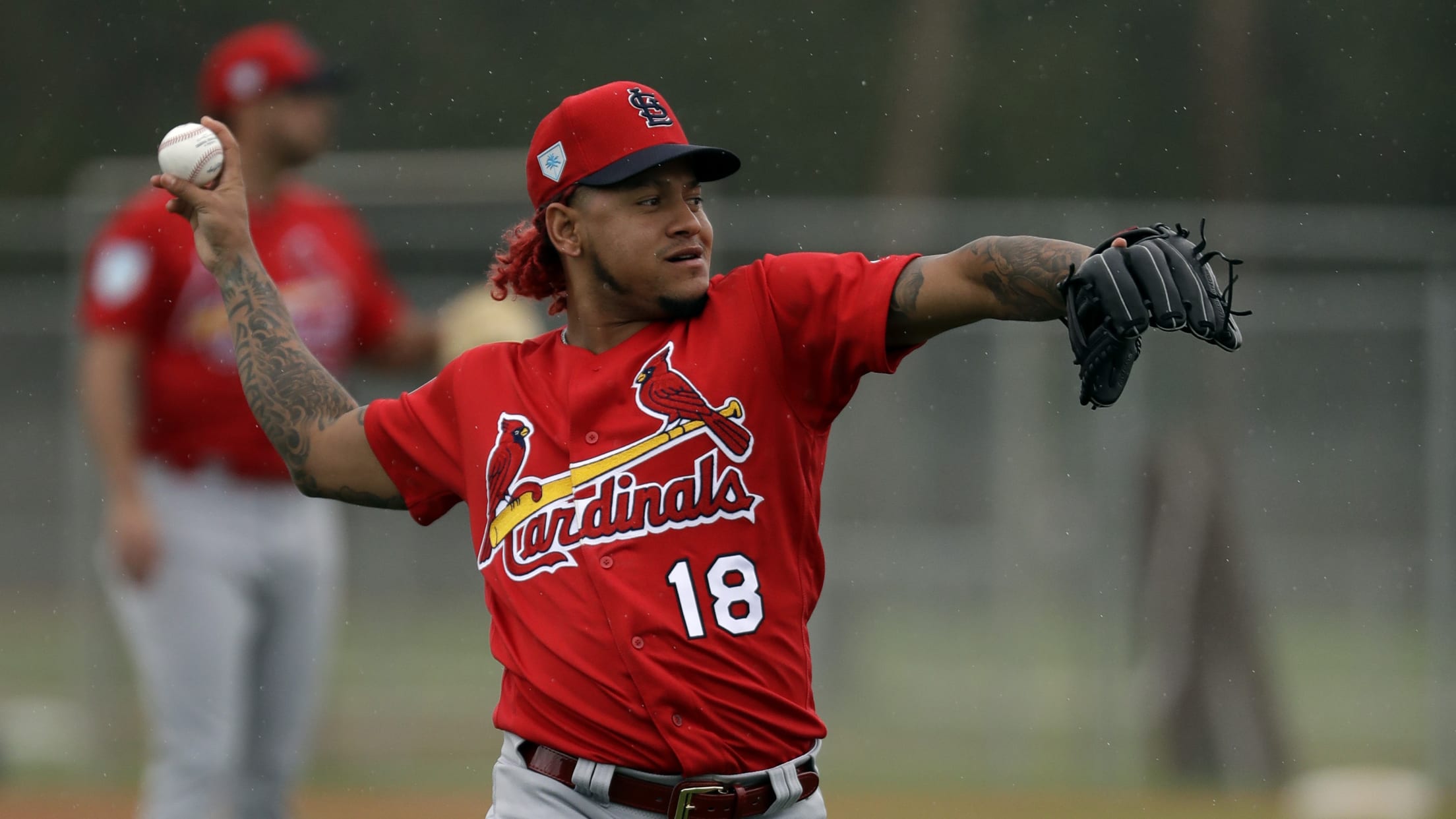 ST. LOUIS -- Uncertainty about how Carlos Martínez's body would respond to and recover from a starter's workload has prompted the Cardinals to put the right-hander on a rehab path that will return him to St. Louis ready to pitch in relief. The organization came to that decision on Tuesday
Grandal, first baseman? It's happening
Catcher subs for struggling Aguilar; Saladino recalled, Houser optioned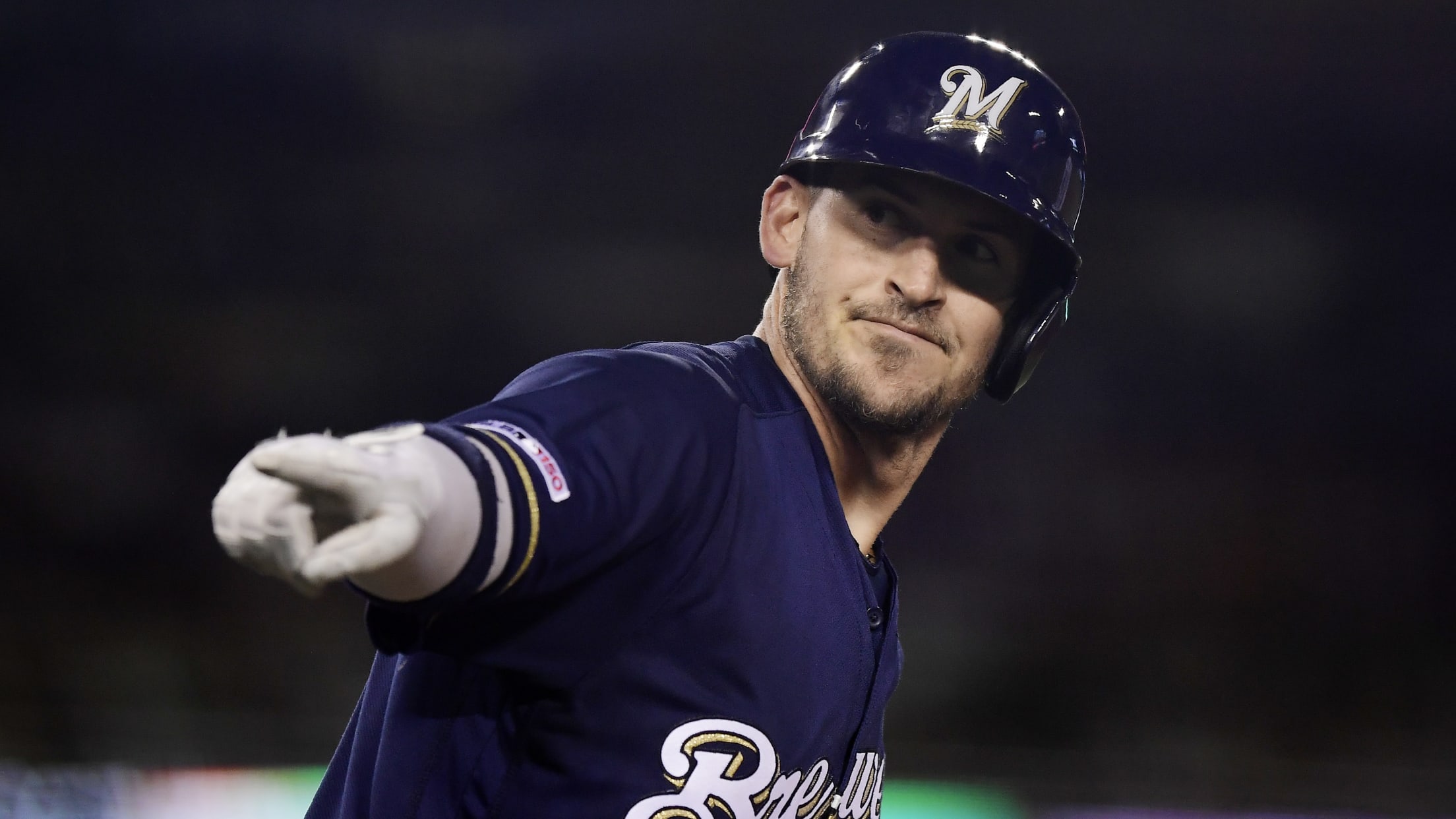 ST. LOUIS -- With 2018 All-Star Jesús Aguilar stuck in a slump, the Brewers tried someone new at first base on Tuesday: Yasmani Grandal. Grandal, Milwaukee's regular catcher, didn't take a single rep at first base in Spring Training, and had to scramble to find a mitt. But he has
Dodgers plan to have Hill start Sunday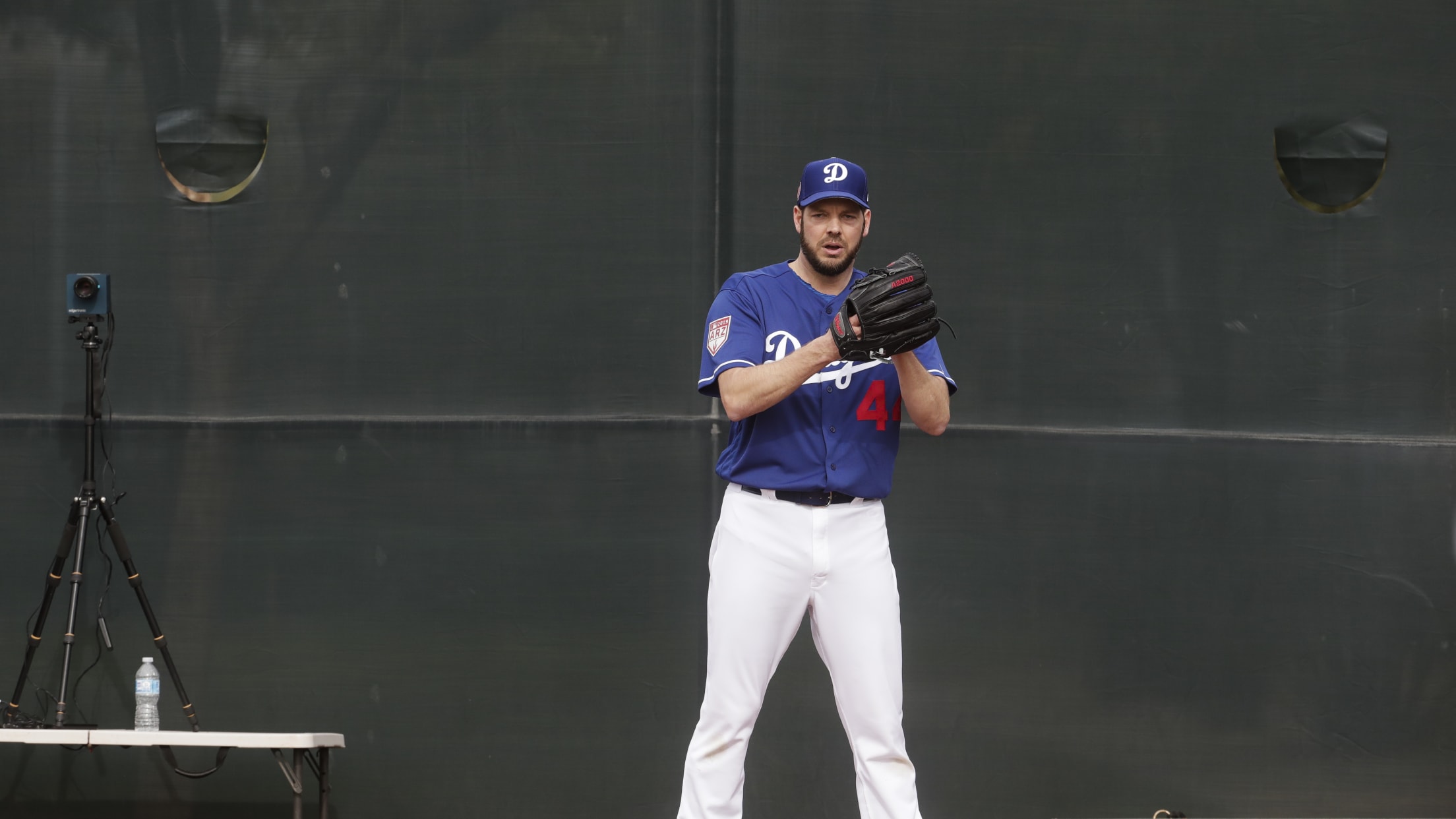 CHICAGO -- Rich Hill will be activated to start for the Dodgers on Sunday against the Pirates, manager Dave Roberts said Tuesday. Hill, out since straining his left knee in a March 17 Spring Training start, made an extended spring/rehab/simulated start at the club's Camelback Ranch in Glendale facility and
These 5 players have opened eyes in April
Walker, Stephenson, Fried, Polanco, Goodrum having hot starts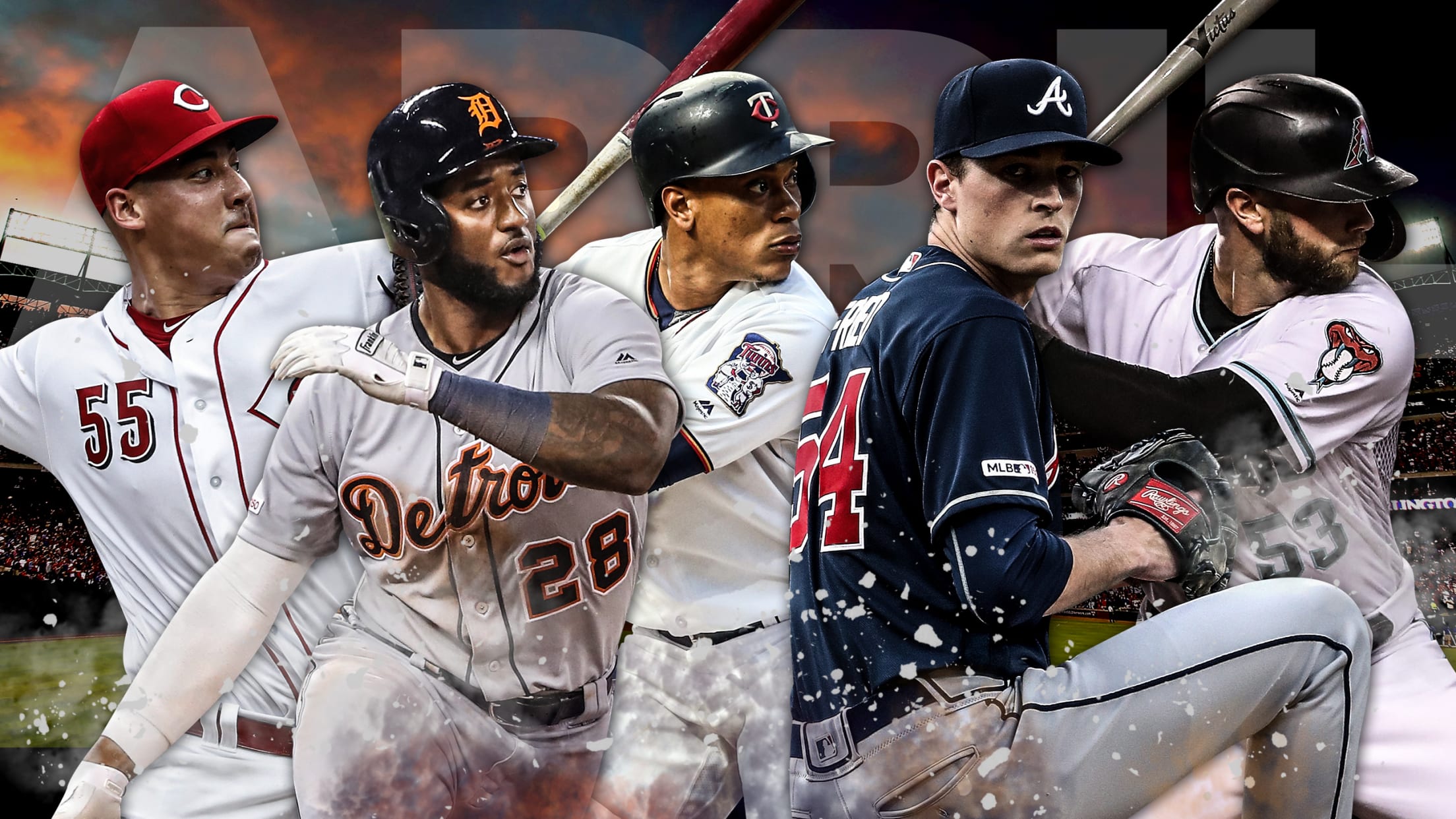 It's early enough in the season that some numbers can still feel very odd, like Mookie Betts hitting .244 and Aaron Nola posting a 6.84 ERA. Then again, the three best players in baseball so far have been Cody Bellinger, Christian Yelich, and Mike Trout. Aaron Judge has the best
Ronny's Monster game backs Boyd at Fenway
Rodriguez goes 3-for-4 with homer; lefty tosses quality start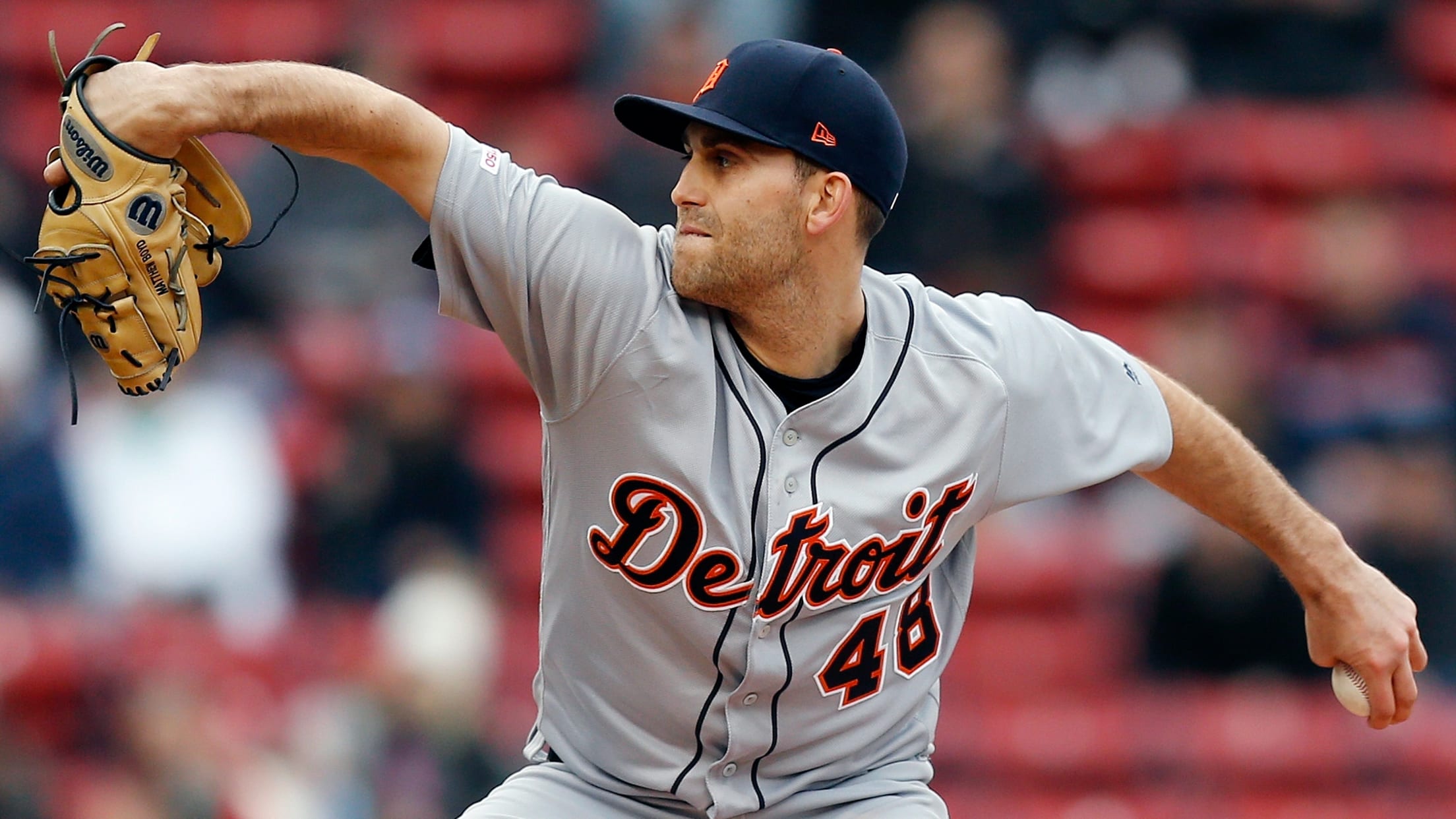 BOSTON -- Matthew Boyd gave the Tigers another seven-inning outing for his second straight start on Tuesday afternoon in Game 1 of a doubleheader at Fenway Park. The lefty fanned three, held the the Red Sox to just three hits (a season-low for Boyd) and allowed three runs, including a
Lopez takes no-no into 6th inning in win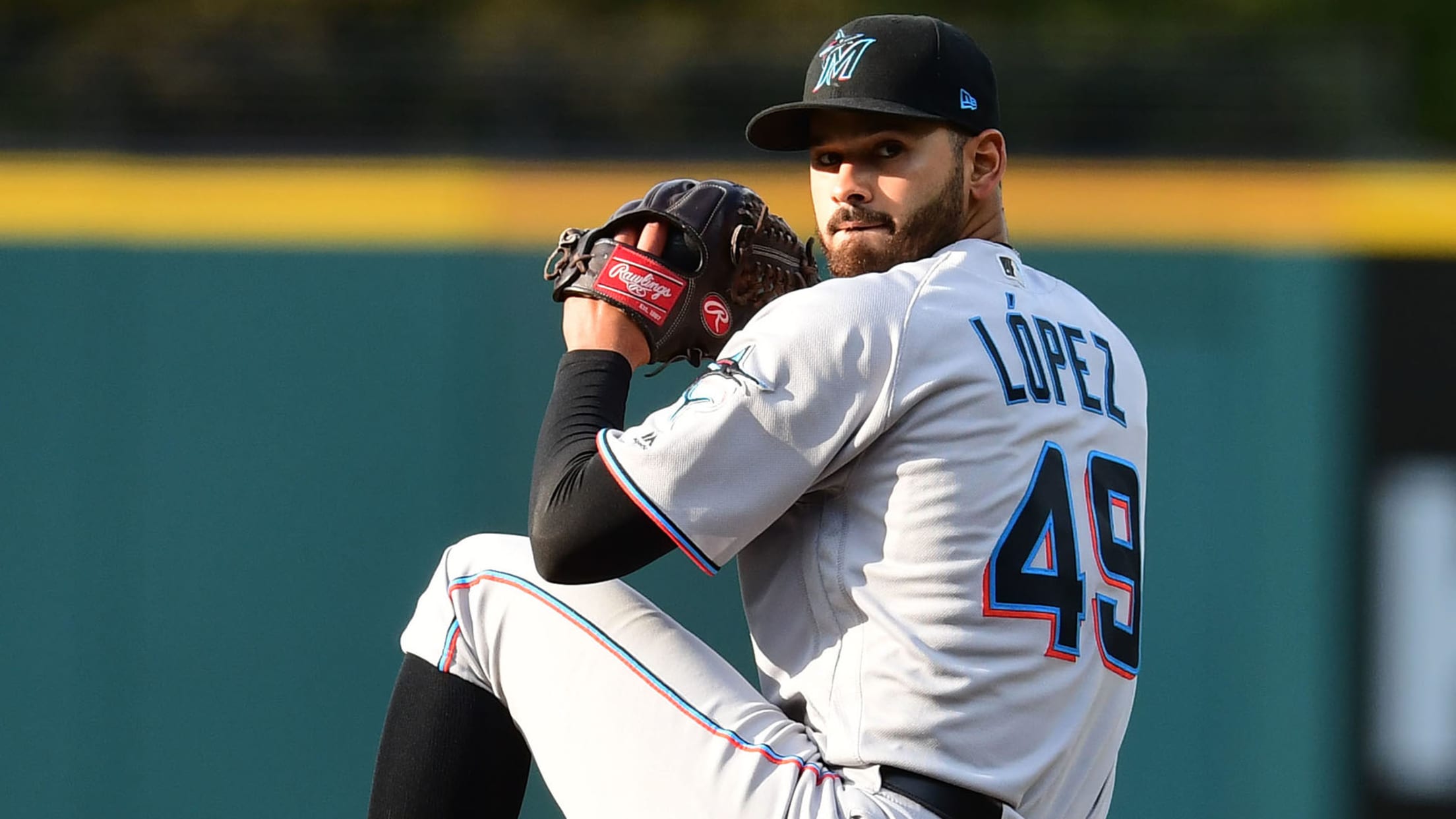 CLEVELAND -- Pablo Lopez carried a no-hitter into the sixth inning Tuesday, earning a win in his first start since March 30, as the Miami Marlins beat the Indians, 3-1, in an Interleague game. The right-hander held Cleveland without a hit for 5 1/3 innings before Jose Ramirez singled sharply
Bucs 'hoping for the best' on Burdi's 2nd opinion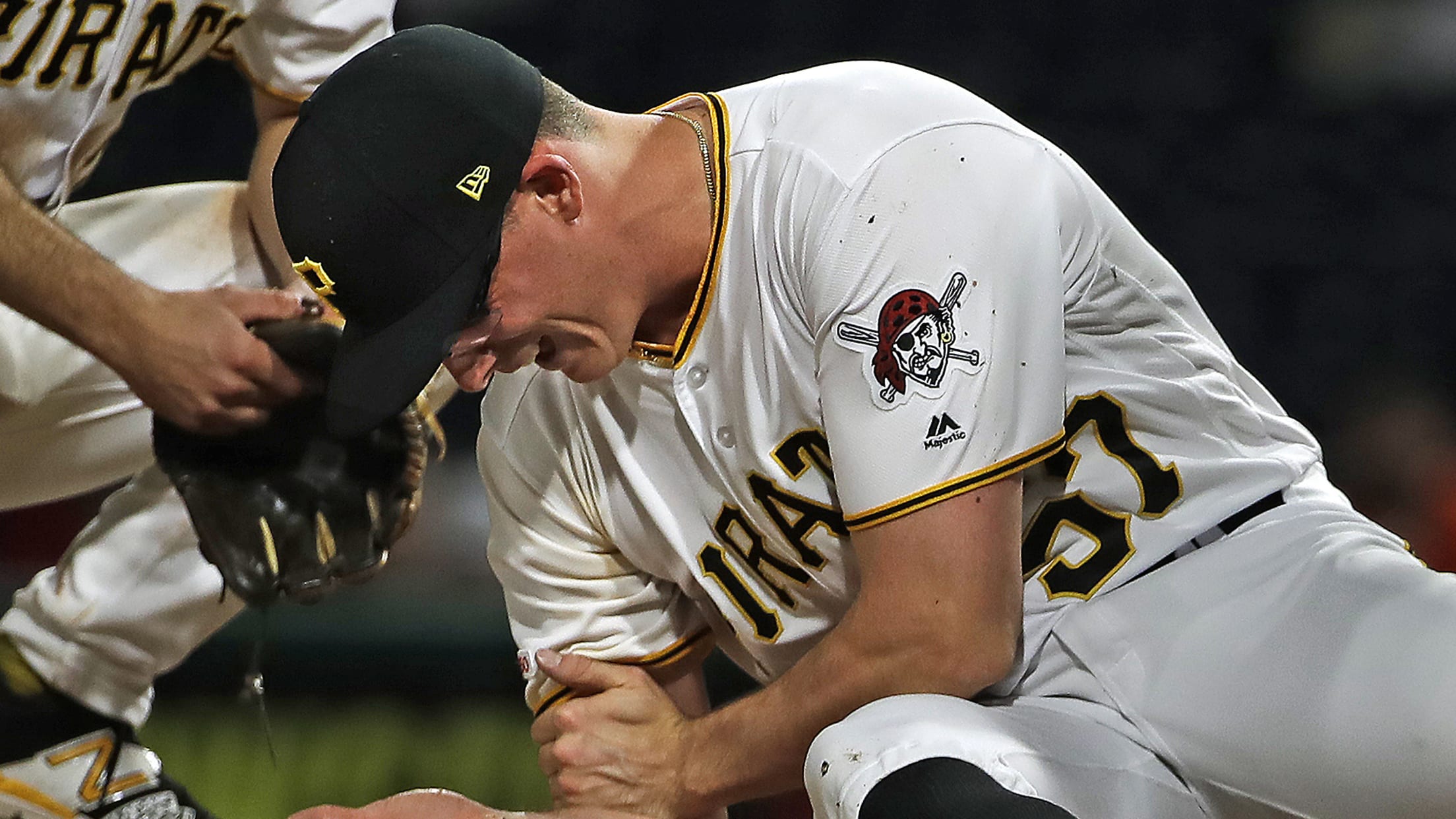 PITTSBURGH -- The way Nick Burdi crumpled on the mound in tears on Monday night, it probably wasn't fair to expect truly good news on Tuesday. But the Pirates are hoping their rookie reliever will avoid the worst-case scenario as they send him for a second opinion. The Pirates placed
Cozart 'a little stiff' but avoids IL after collision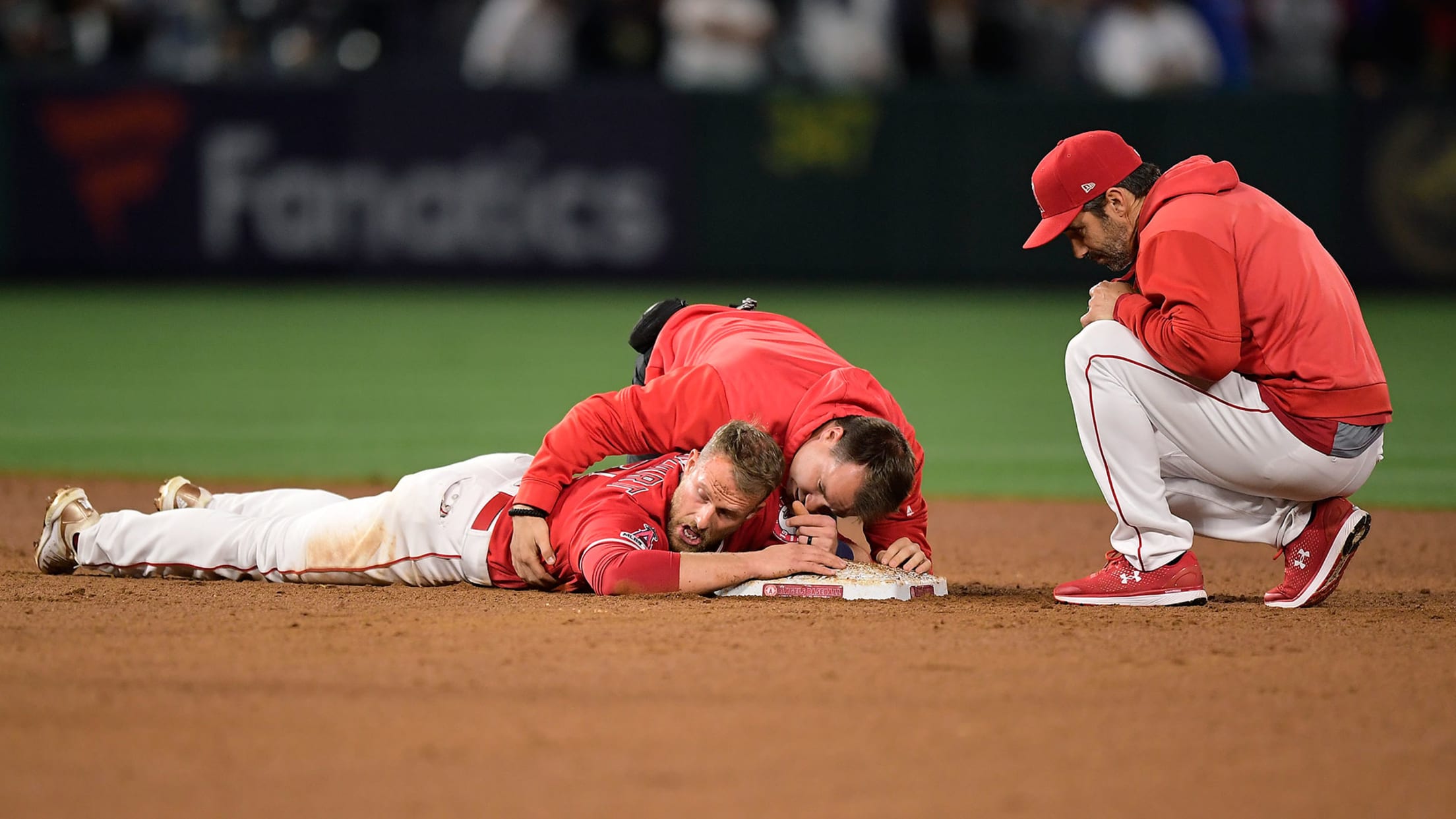 ANAHEIM -- Third baseman Zack Cozart avoided being placed on injured list on Tuesday after sustaining injuries to his head and neck when he collided with Yankees second baseman DJ LeMahieu while diving back into second base in the 12th inning of Monday's 3-2 loss in 14 innings. Cozart was
Top prospect Bichette fractures left hand
Toronto's No. 2 prospect out indefinitely; team to go with 4-man rotation until May 4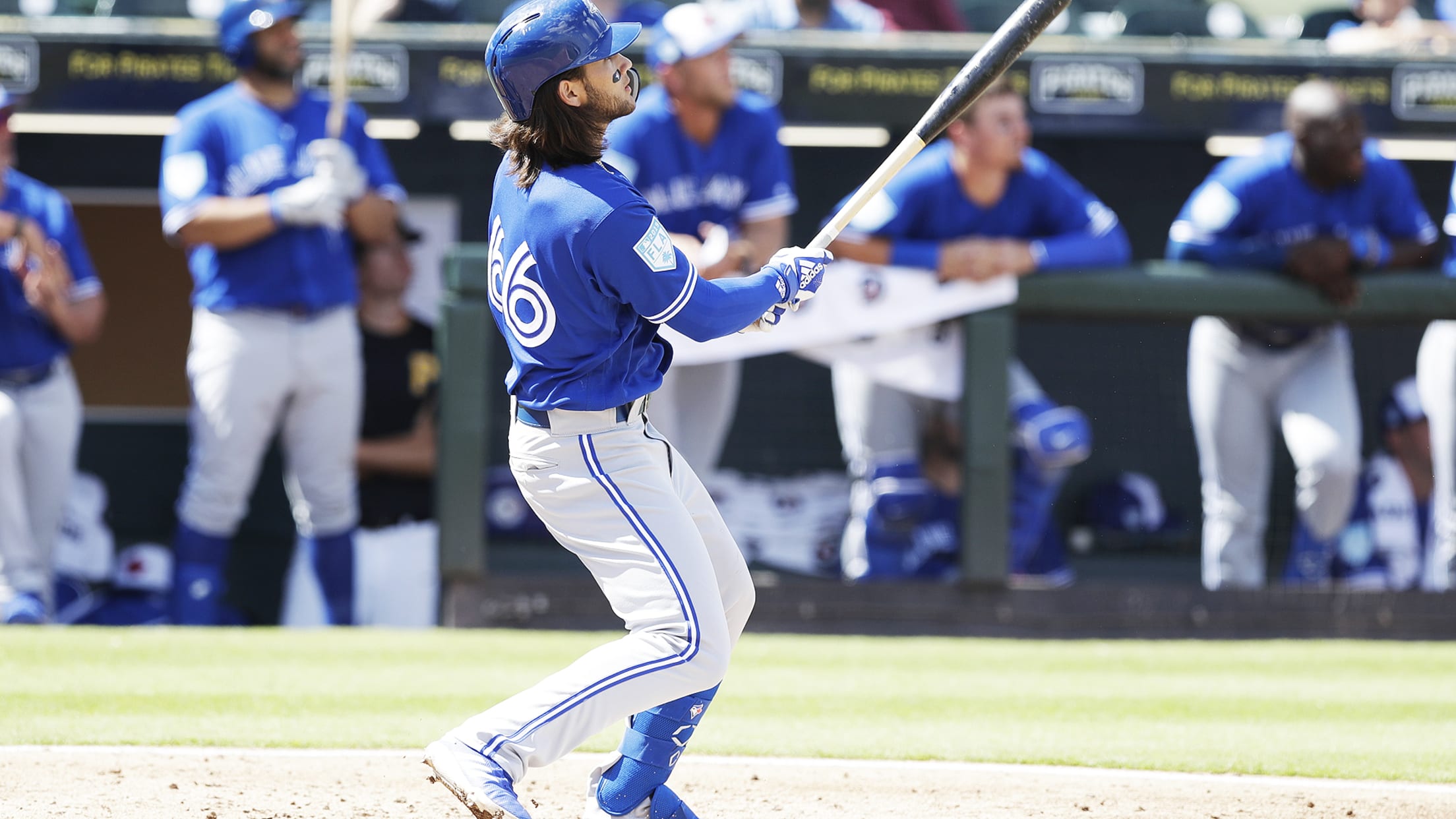 TORONTO -- Blue Jays prospect Bo Bichette is out for an indefinite period of time after he was diagnosed with a broken left hand. Toronto announced on Tuesday afternoon that Bichette has a fractured second metacarpal in his left hand. The Blue Jays have yet to establish a firm timeline
Sale reaches 10-K mark for first time in '19
Lefty ace tosses just five frames, but sees improvement with slider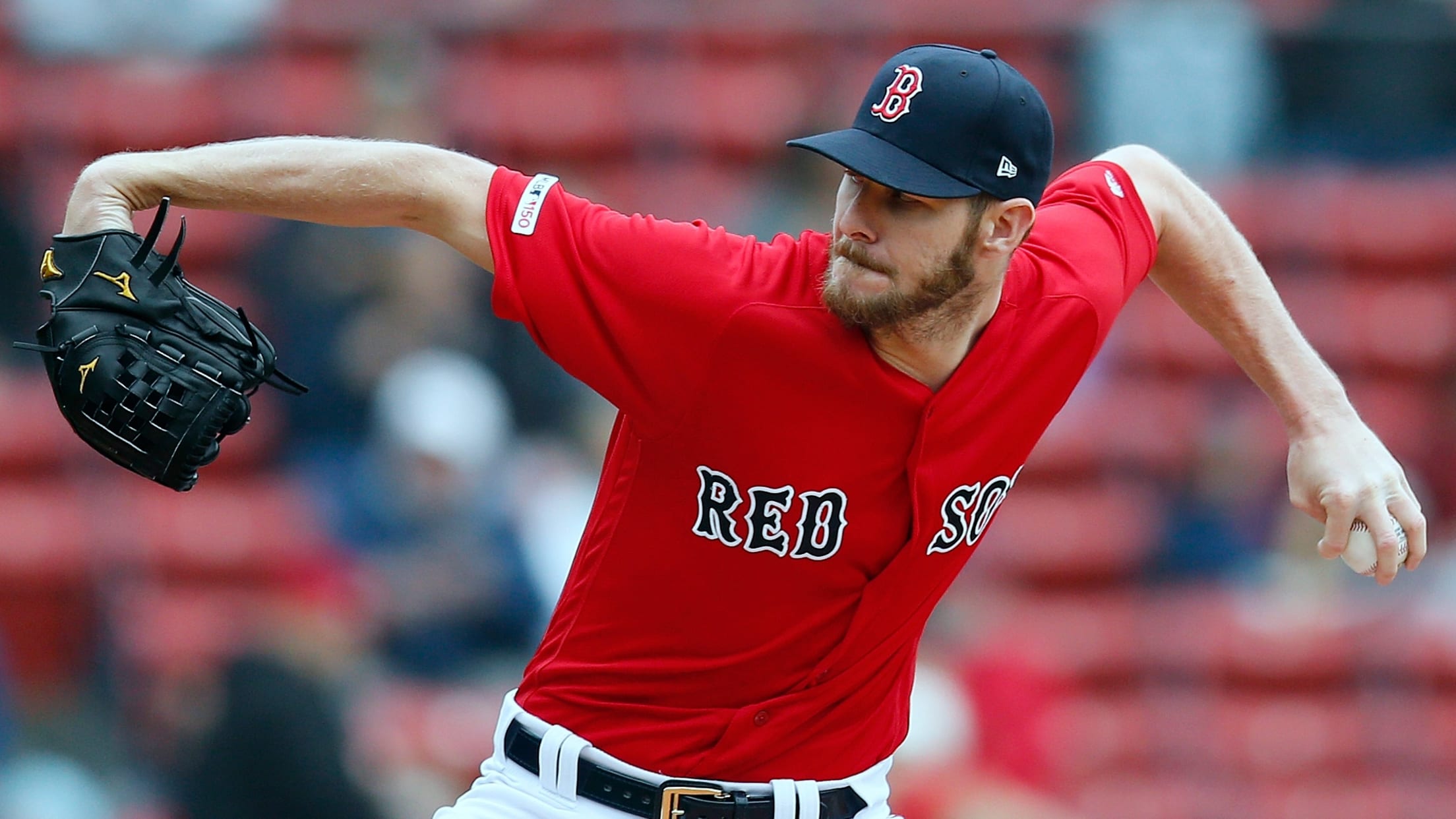 BOSTON -- This time, Red Sox ace Chris Sale didn't say that he was embarrassed for his family, his team and the city of Boston. Though Tuesday's performance against the Tigers hardly represented Sale's end goal, he at last felt some progress amid the most disappointing start to a season
Injury updates: Eovaldi, deGrom, Bichette, Folty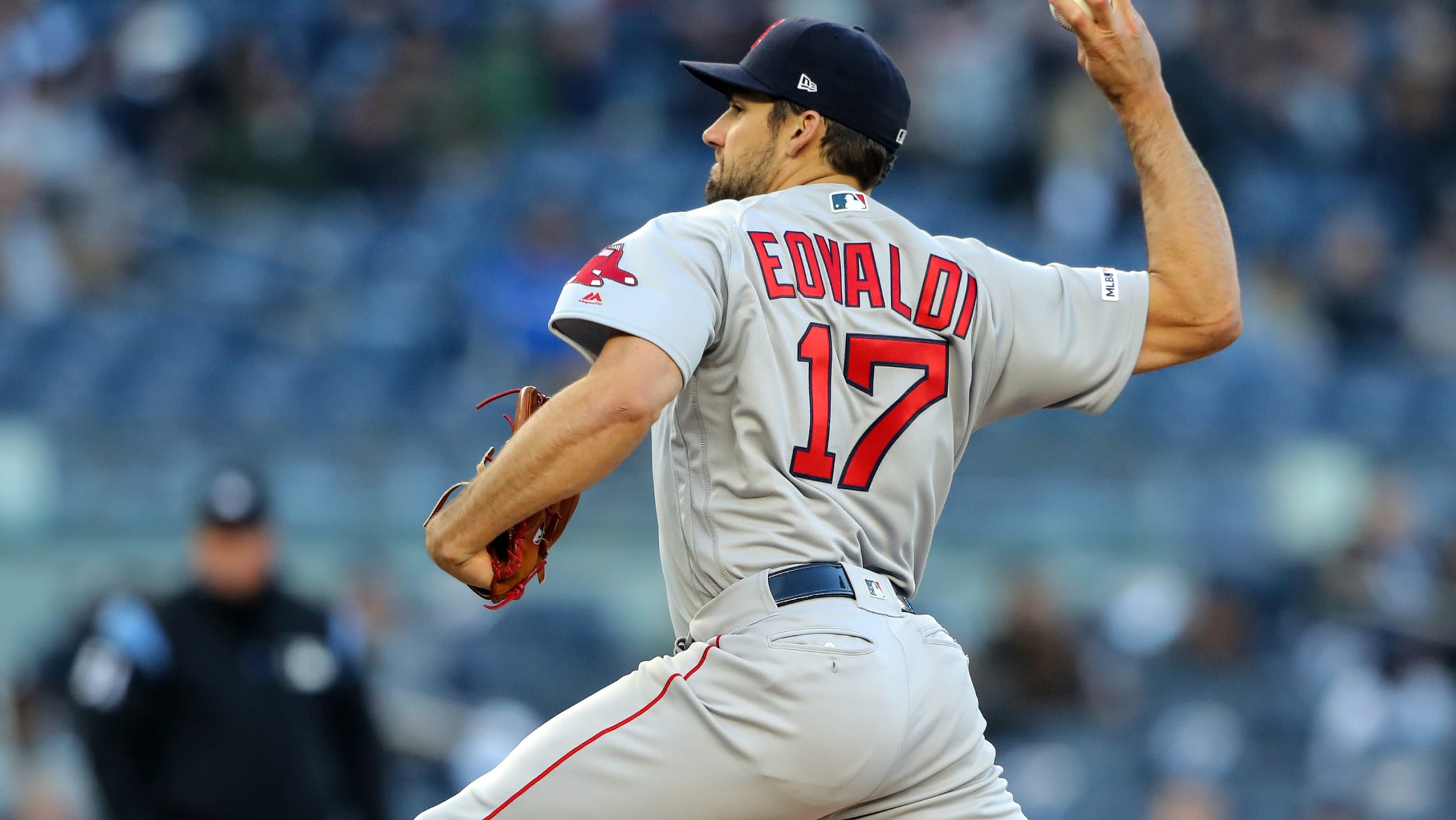 Here's a look at the latest injury news around the Majors.