Is that ... Jacob deGrom throwing a baseball?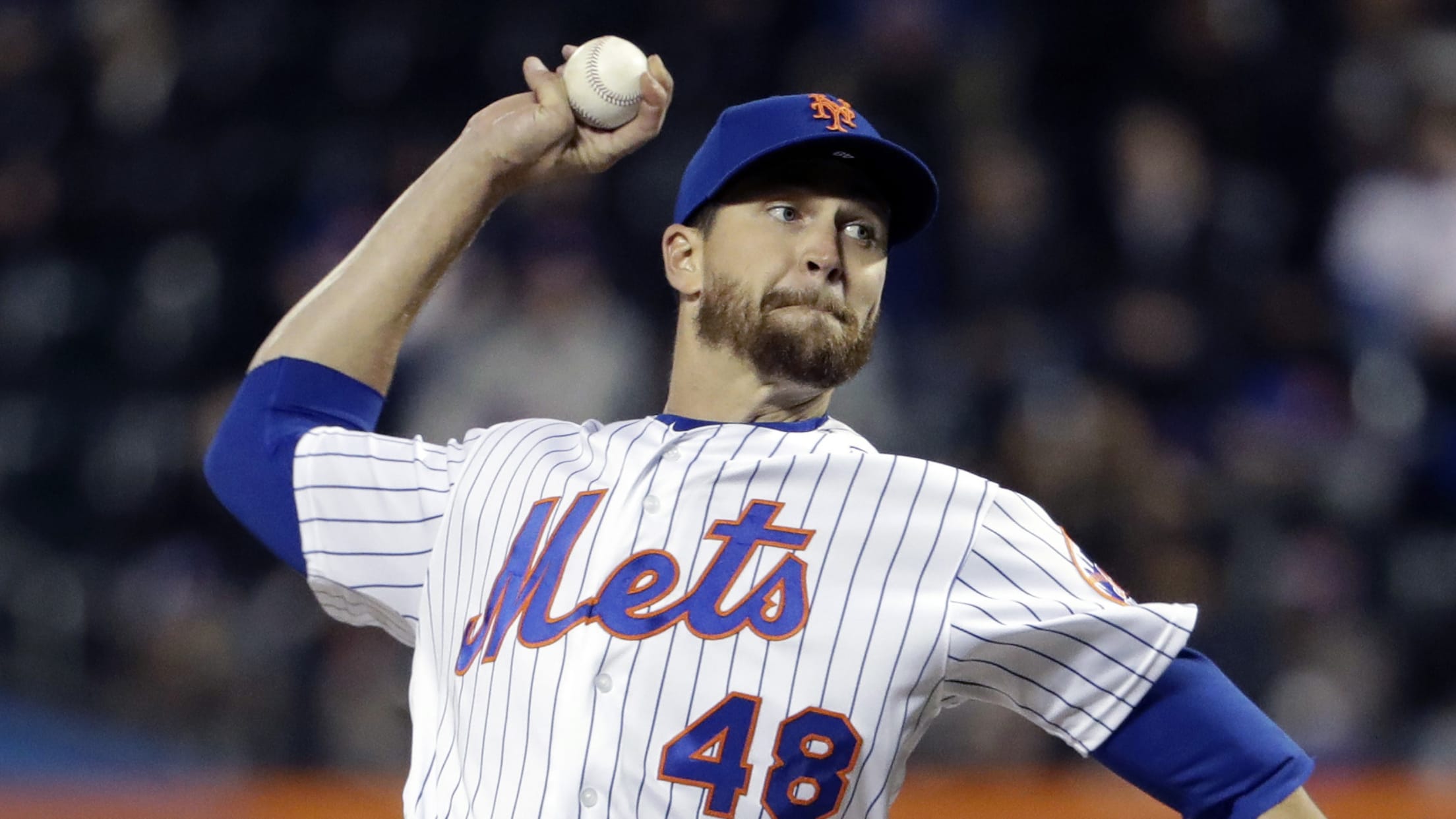 Mets ace Jacob deGrom was spotted playing catch in the outfield at Busch Stadium on Saturday morning, just two days before he's scheduled to undergo an MRI exam on his right elbow in New York. Manager Mickey Callaway then said an MRI may actually not be needed, and that it
Eovaldi to injured list with right elbow issue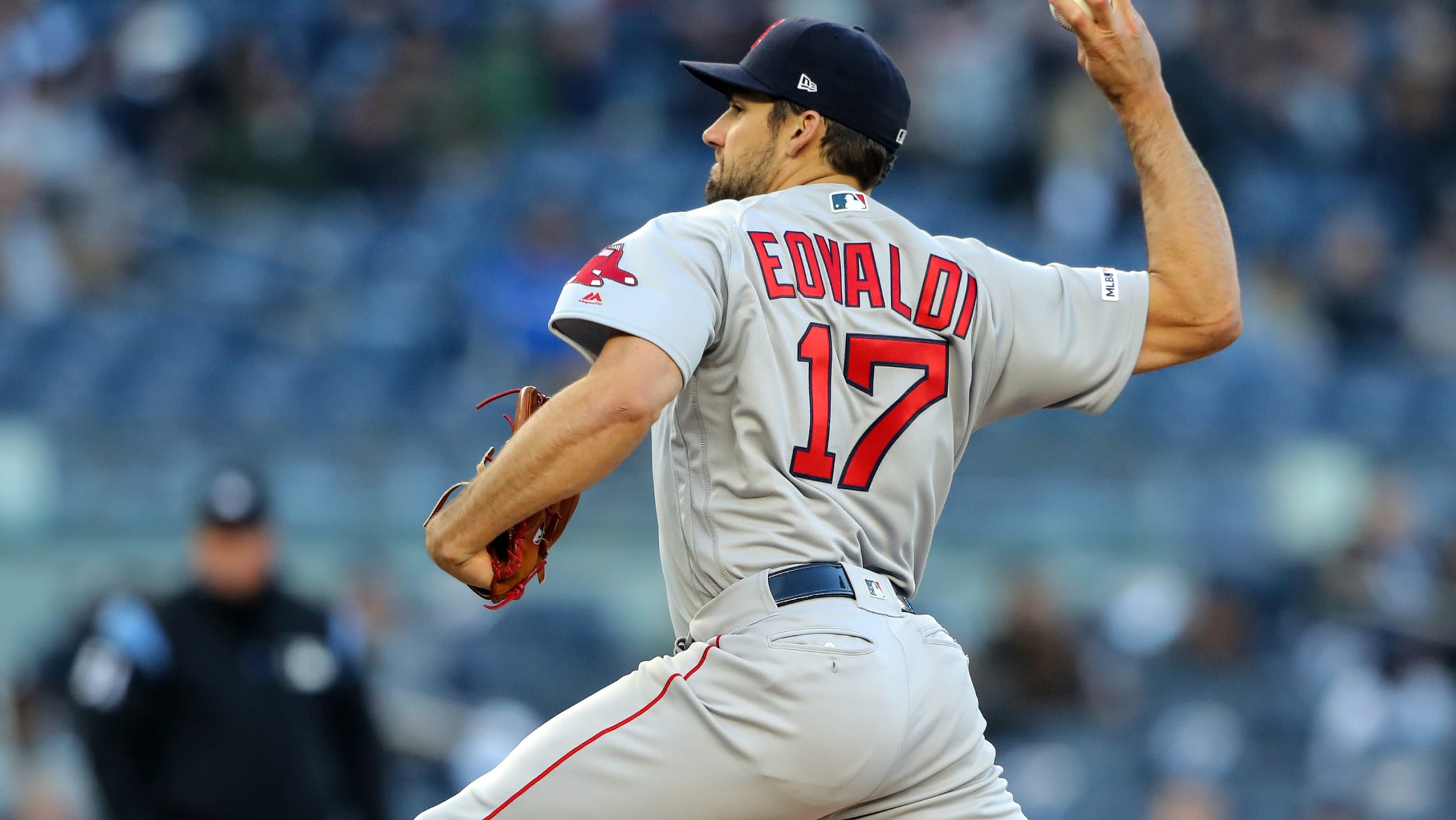 The Red Sox placed Nathan Eovaldi on the 10-day injured list with what they termed a loose body in his right elbow. Boston summoned left-hander Bobby Poyner from Triple-A Pawtucket to fill his roster spot. Eovaldi, who was instrumental in the Red Sox's march to the World Series championship last
Francisco Lindor back, Hanley designated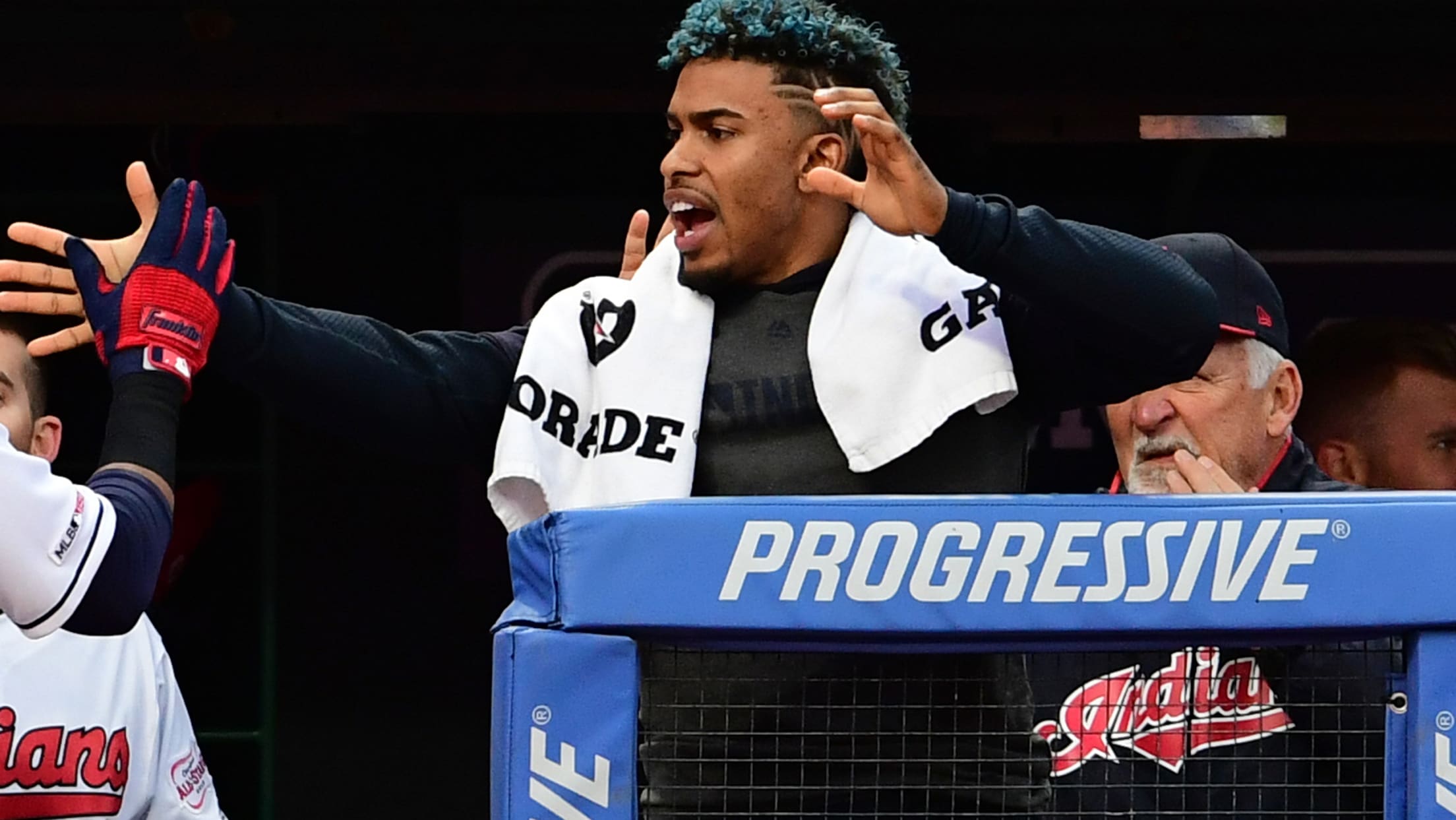 CLEVELAND -- After 74 days of battling through injuries, Francisco Lindor is back. The Indians announced Saturday afternoon that the All-Star shortstop has been activated off the 10-day injured list prior to the team's doubleheader against the Braves. In a corresponding move, the Tribe designated designated hitter Hanley Ramirez for
Here are next offseason's top 15 free agents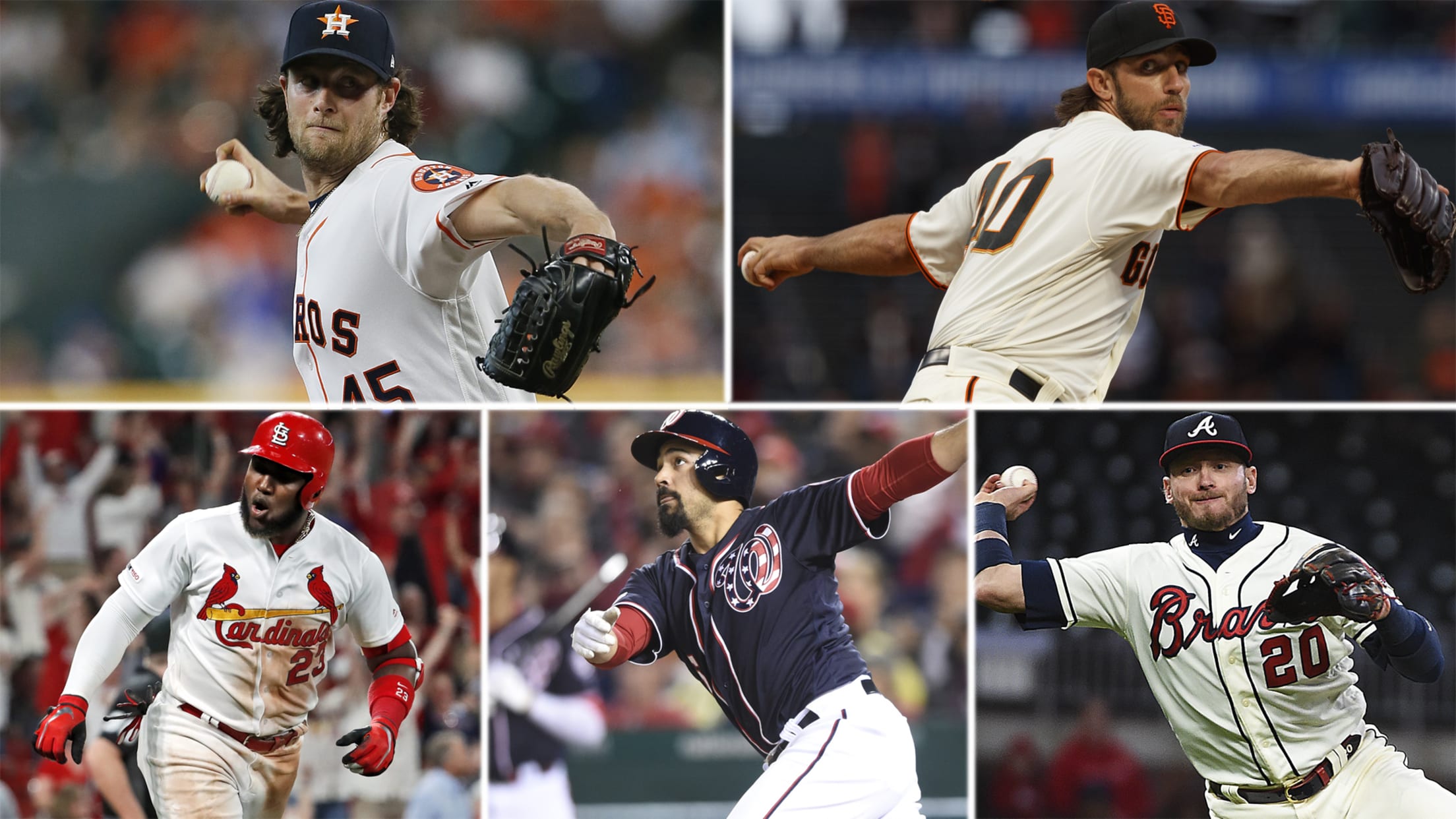 If your plans for next winter revolved around obsessively refreshing your social media feeds for free-agency updates on Nolan Arenado, Justin Verlander, Chris Sale, Xander Bogaerts, Khris Davis, Paul Goldschmidt, Aaron Hicks, Miles Mikolas or Sonny Gray, we have some terrible, terrible news for you. However, if MLB's Extension Extravaganza
Let the kids rake: Youngsters hit monster HRs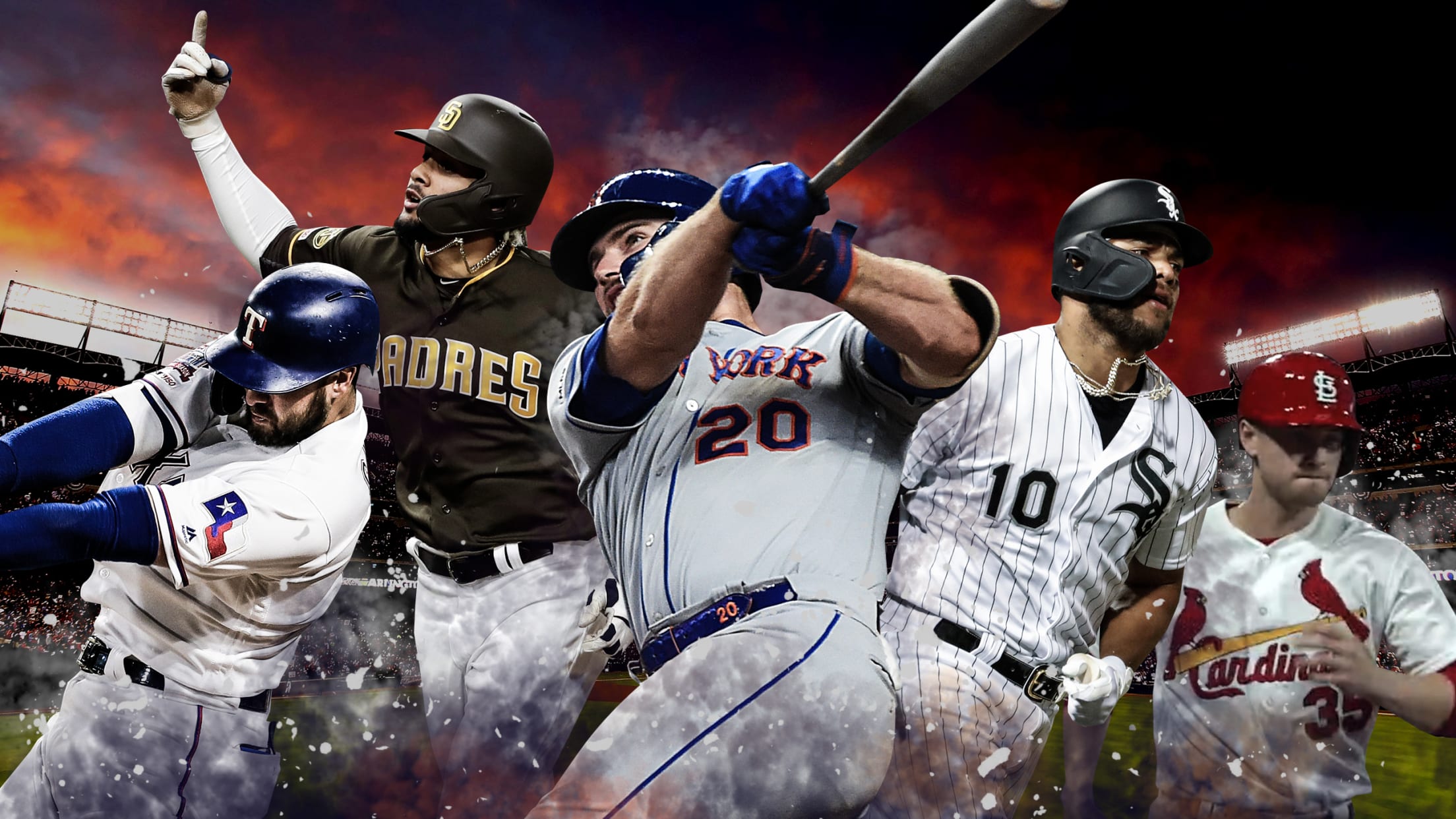 The kids aren't just playing -- they're crushing. It's not the first time, and it won't be the last, but Friday featured some huge homers from MLB's young sluggers. You won't want to miss them. Here are the big five big flies, all from players 25 or younger. **Yoan Moncada,
This HR makes zero sense, wins game for LA
Enrique Hernandez homers off Josh Hader's 0-2 pitch, a first for both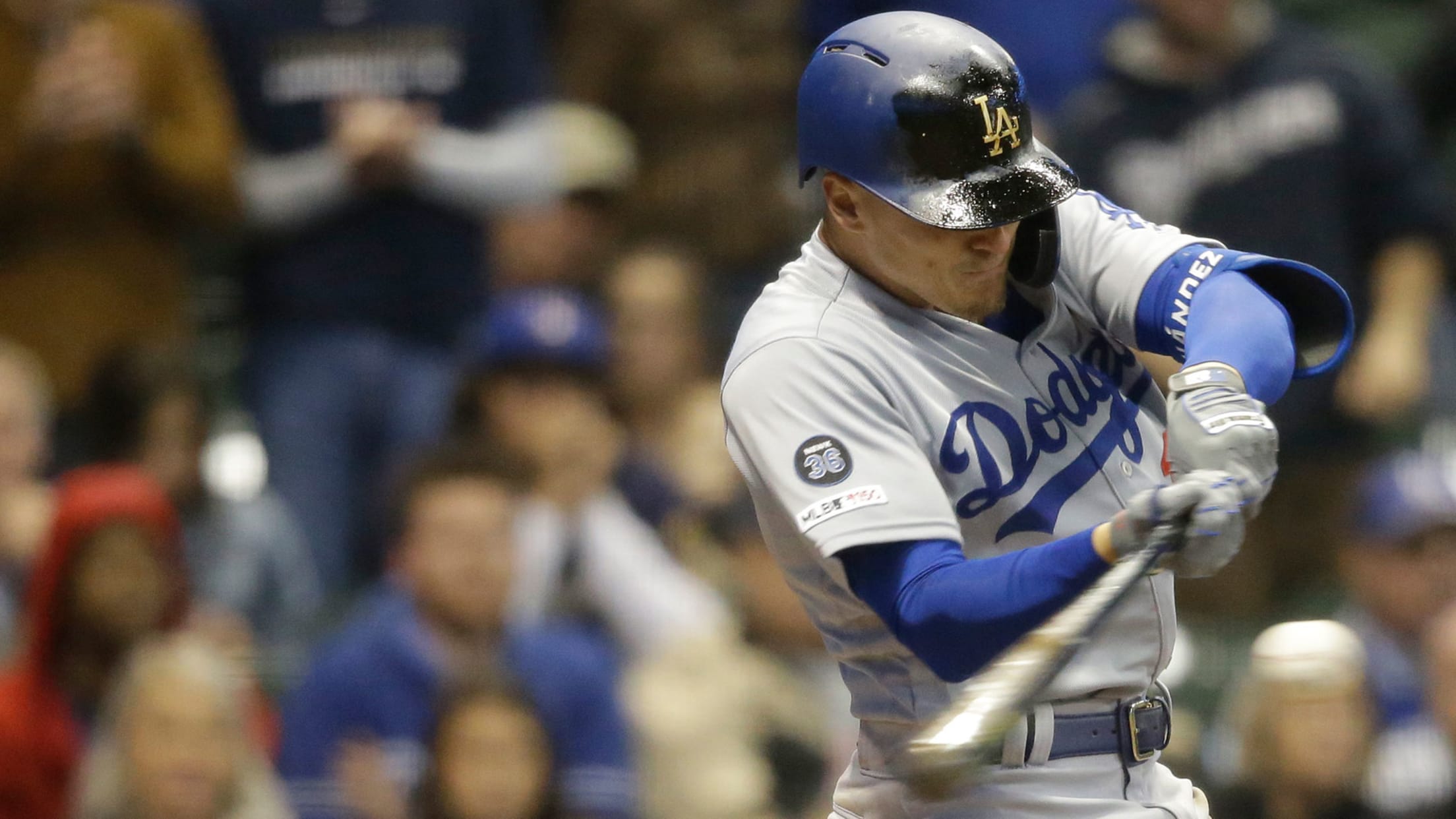 MILWAUKEE -- Enrique Hernández owns Madison Bumgarner. He homered three times in a pennant-clincher. He homered twice on Opening Day. He's no fluke. But it was still something of a shock on Friday night when he lined an 0-2 fastball from the intimidating Josh Hader for a three-run homer to
This ace looks unhittable once again
Armed with one of MLB's filthiest pitches, Castillo is back to '17 form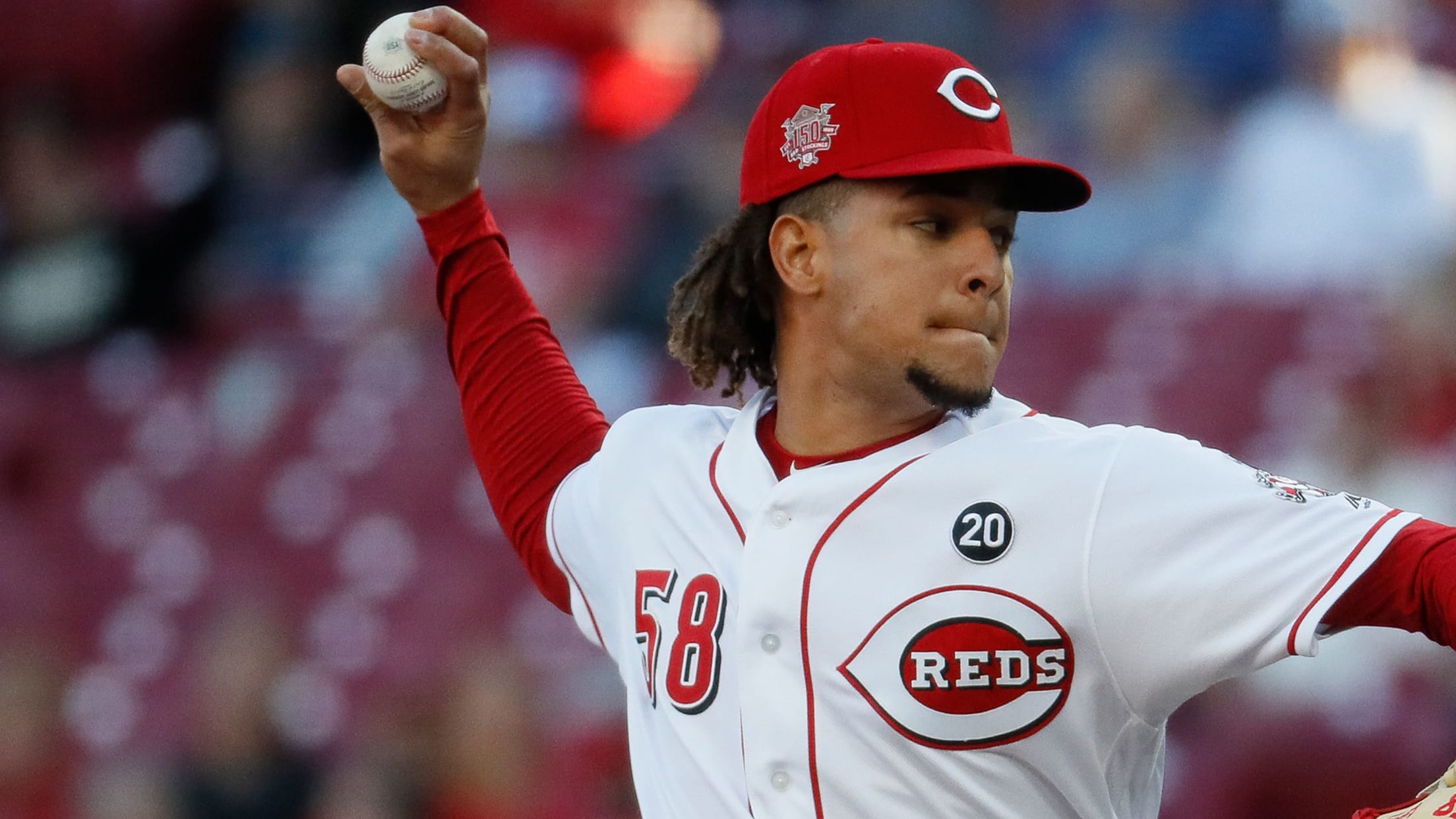 One of the big questions in Cincinnati (and in fantasy circles, too) last April was, "What happened to Luis Castillo?" After an electric rookie start in summer 2017, the righty was carrying a 7.85 ERA and a garish 1.9 HR/9 rate through the season's first month. But a year later,
Blackmon's 1st blast in '19 a walk-off shot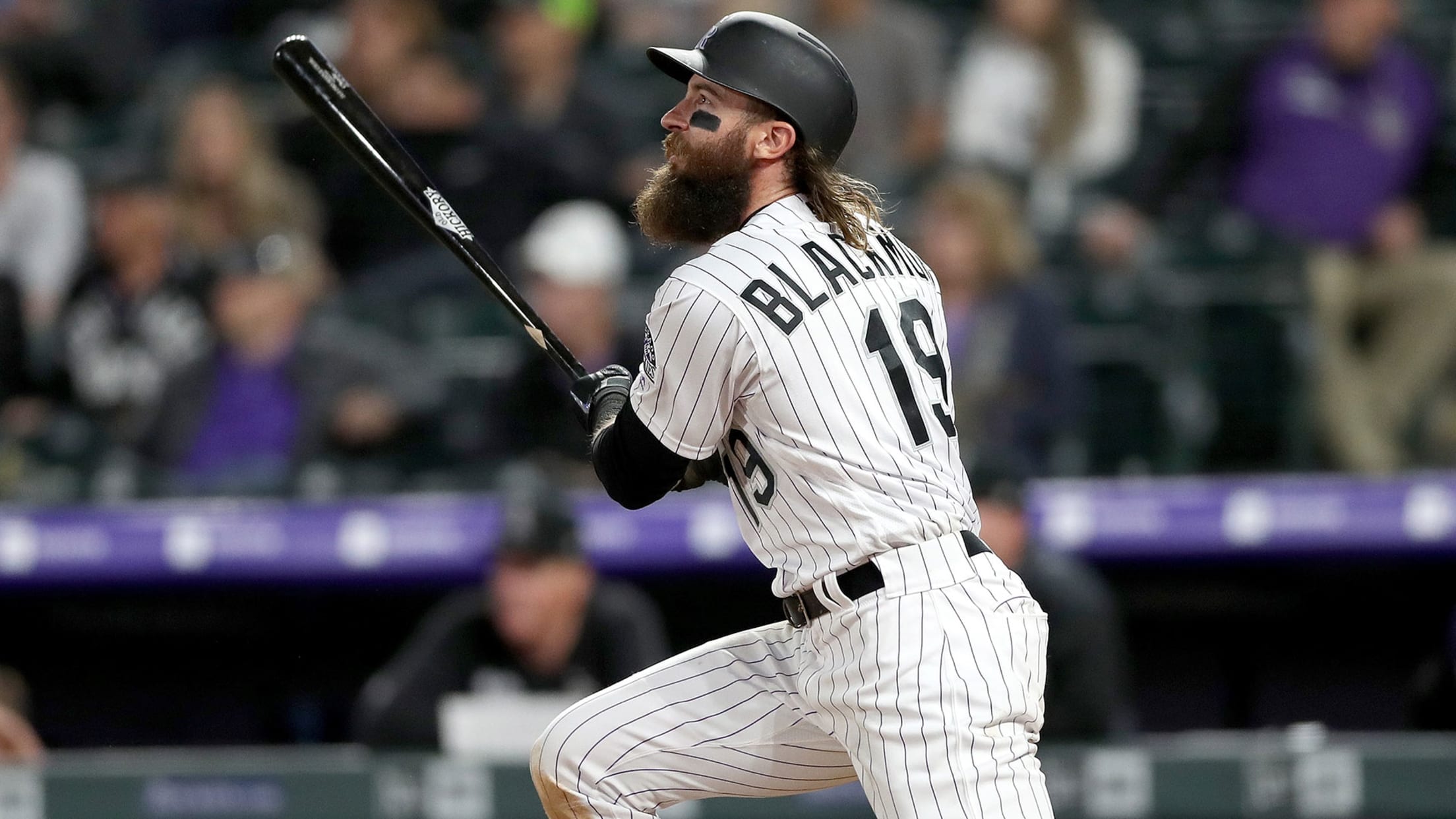 DENVER -- Charlie Blackmon allowed a faint smile as his first 2019 homer -- 82 at-bats in waiting -- sailed toward the back of the visiting bullpen in right-center field. Halfway down the third-base line, he chucked away his helmet and arrived at the plate with such force that teammates
CC nears 3,000-K mark in 247th victory
Starter strikes out five over five innings of one-run ball; Gardner, Tauchman homer to lead offense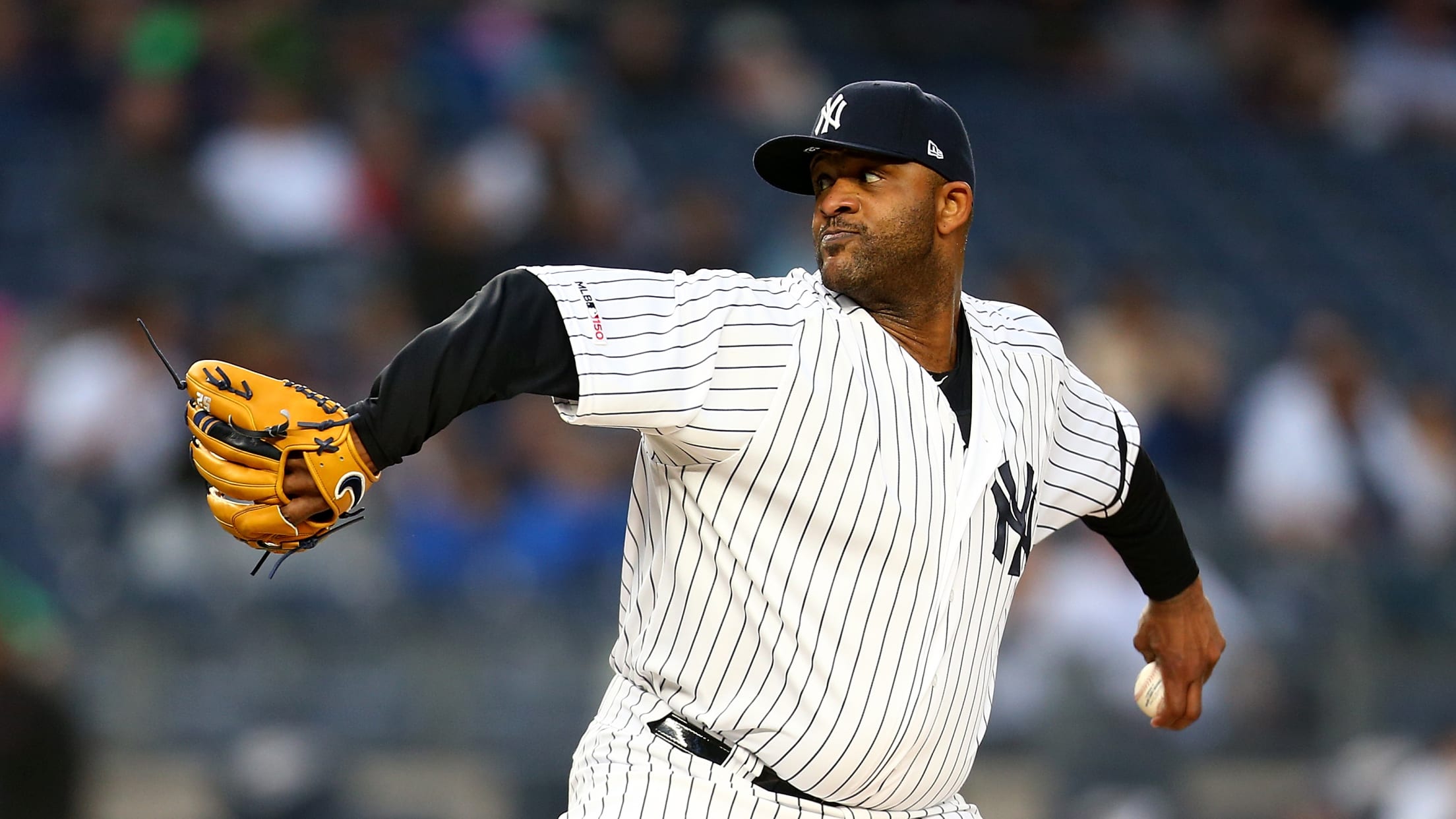 NEW YORK -- CC Sabathia says that he returned for one final big league season so he could appear in another World Series, not to chase round numbers. Yet as the veteran left-hander draws nearer to the 3,000-strikeout mark, the historic milestone has been occupying his thoughts with growing intensity.
White Sox-Tigers postponed; makeup on Aug. 6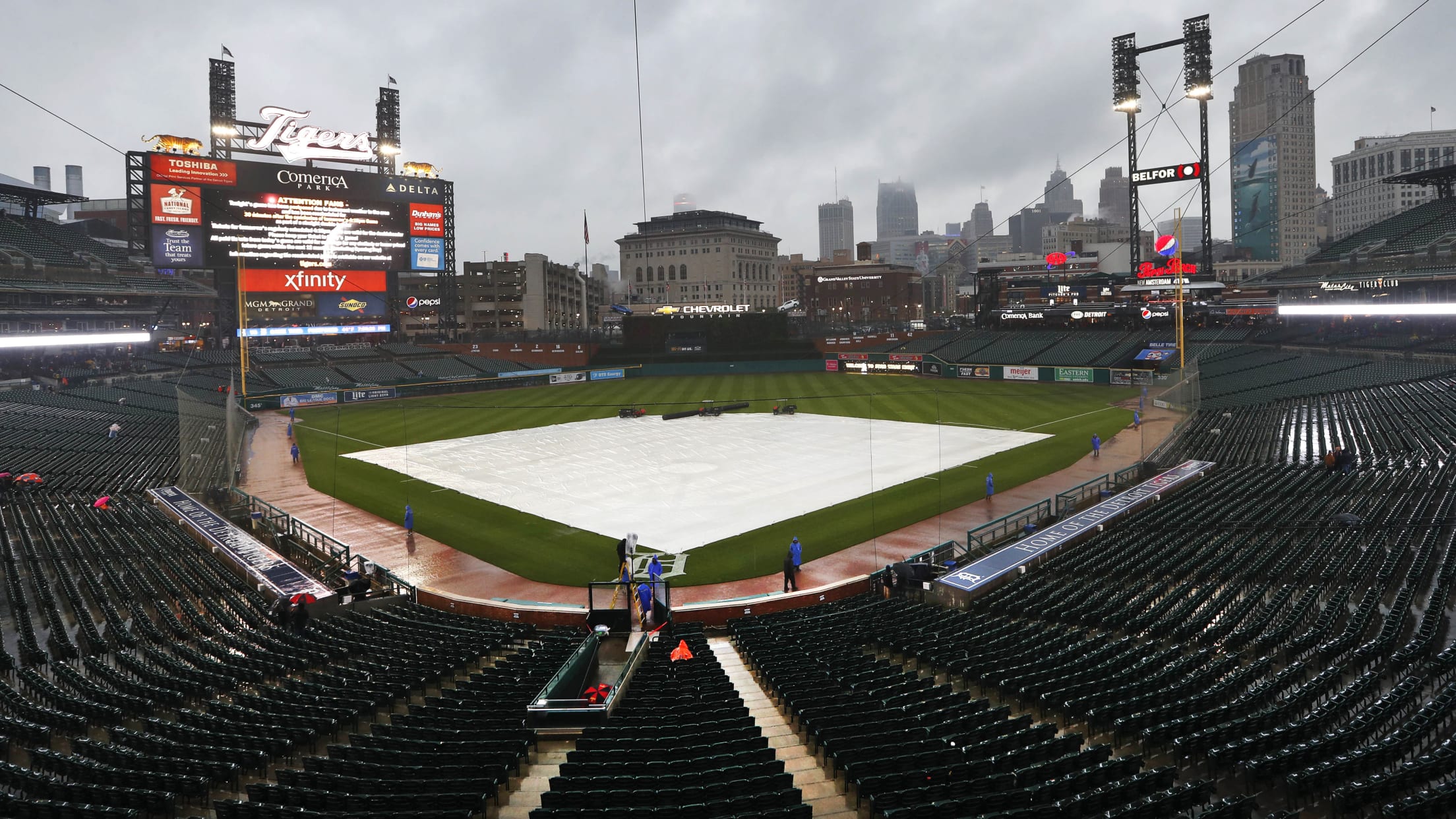 Saturday's scheduled game against the Chicago White Sox at Comerica Park has been postponed due to inclement weather conditions. The game has been rescheduled as part of a split doubleheader on Tuesday, August 6, with the April 20 makeup beginning at 1:10 p.m. and the originally scheduled game starting at
Red Sox make statement with 3 HRs vs. Rays
Vazquez goes deep, then Betts and Moreland go back-to-back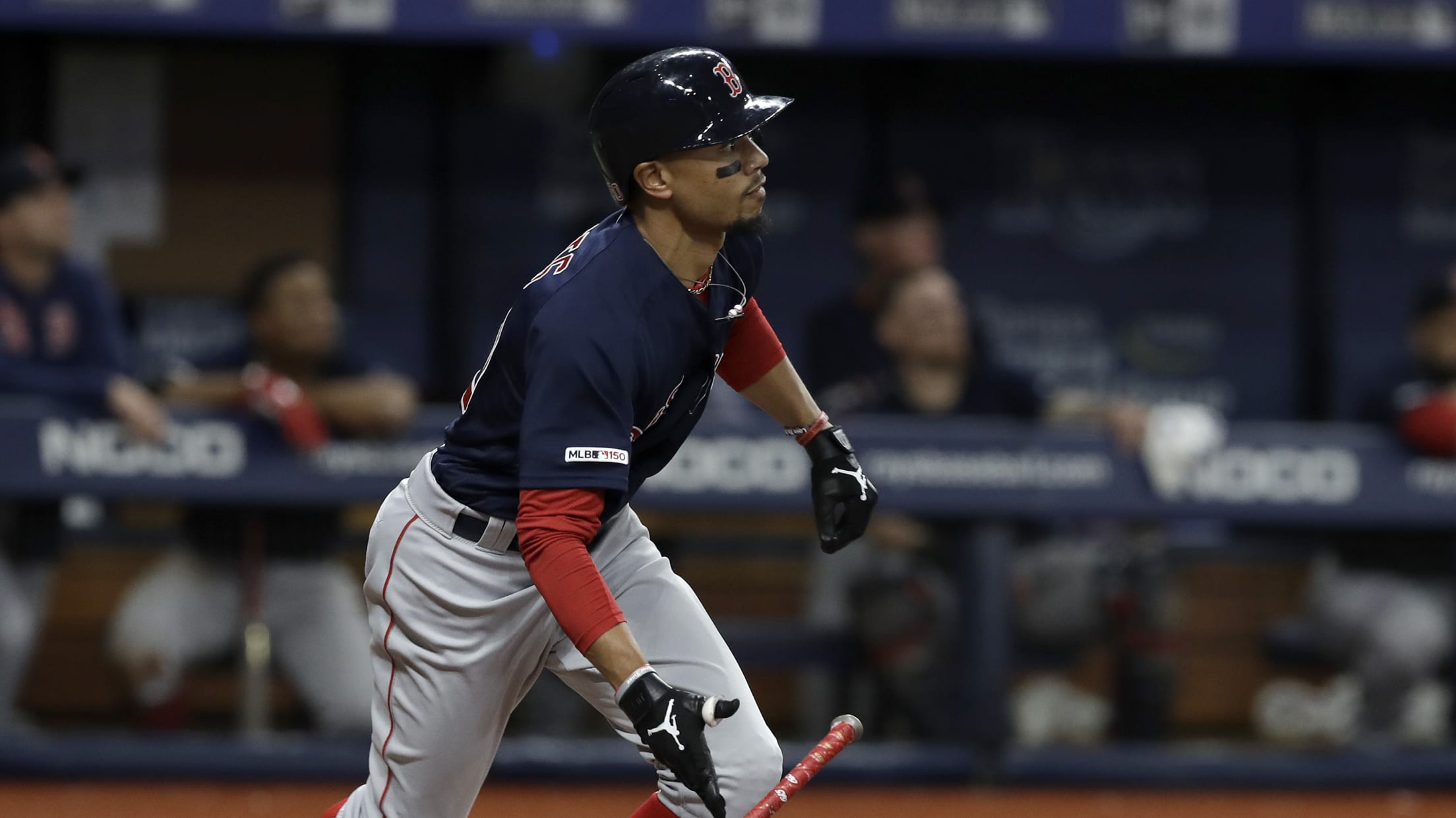 ST. PETERSBURG -- On Friday night, the Red Sox decided they'd had enough. Enough of the questions, the second-guessing and, most of all, the losses. And so, in the eighth inning, they made a statement. Will it be enough to send the team back on the same kind of winning
For first time ever, No. 0 faces No. 0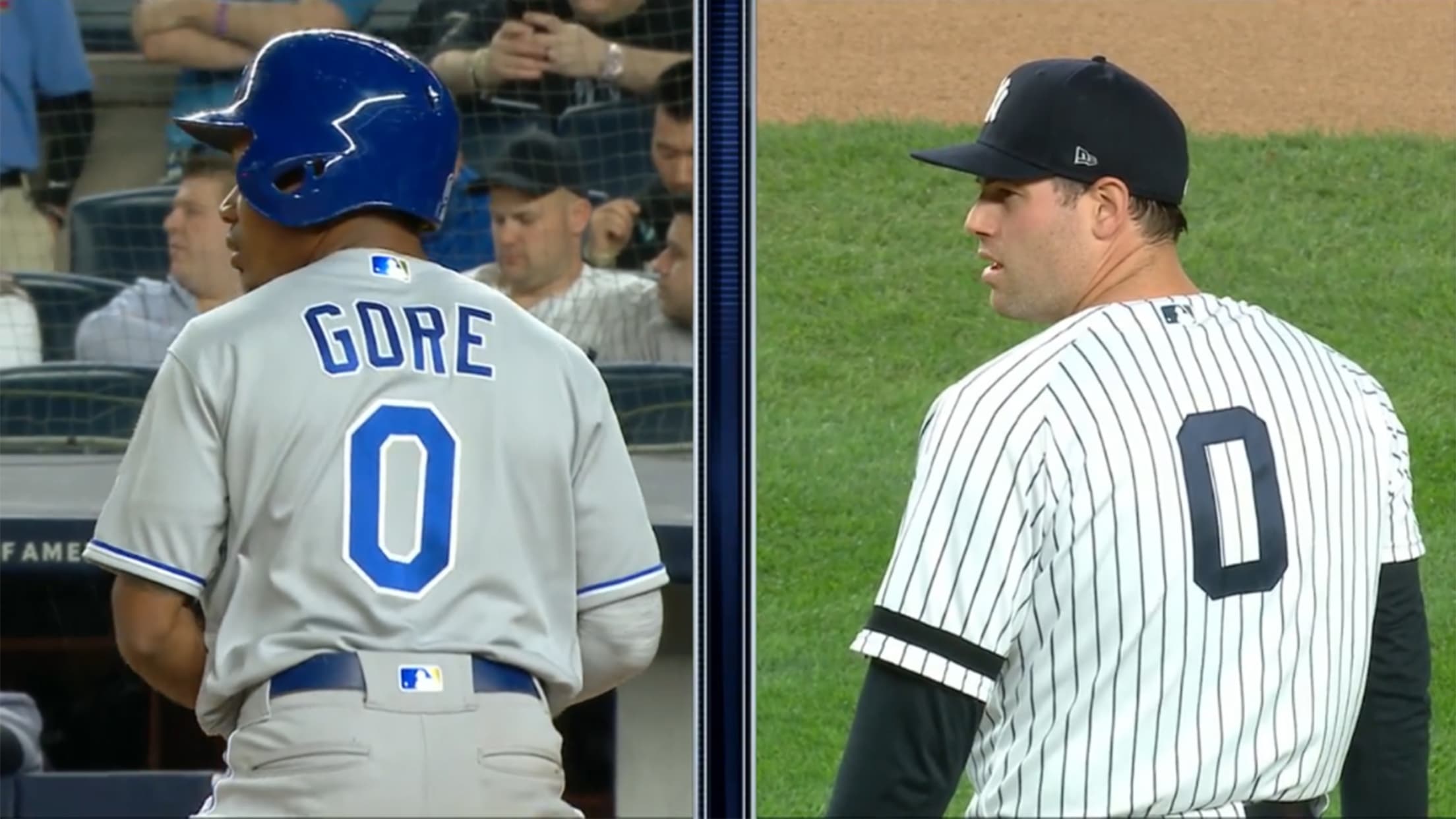 NEW YORK -- Nothing from nothing leaves nothing, as the musician Billy Preston sang in 1974. But when the Yankees' Adam Ottavino faced the Royals' Terrance Gore in the seventh inning of New York's 6-2 win on Friday at Yankee Stadium, we had something -- baseball history. Both players wear
Yelich homers again, more history for the MVP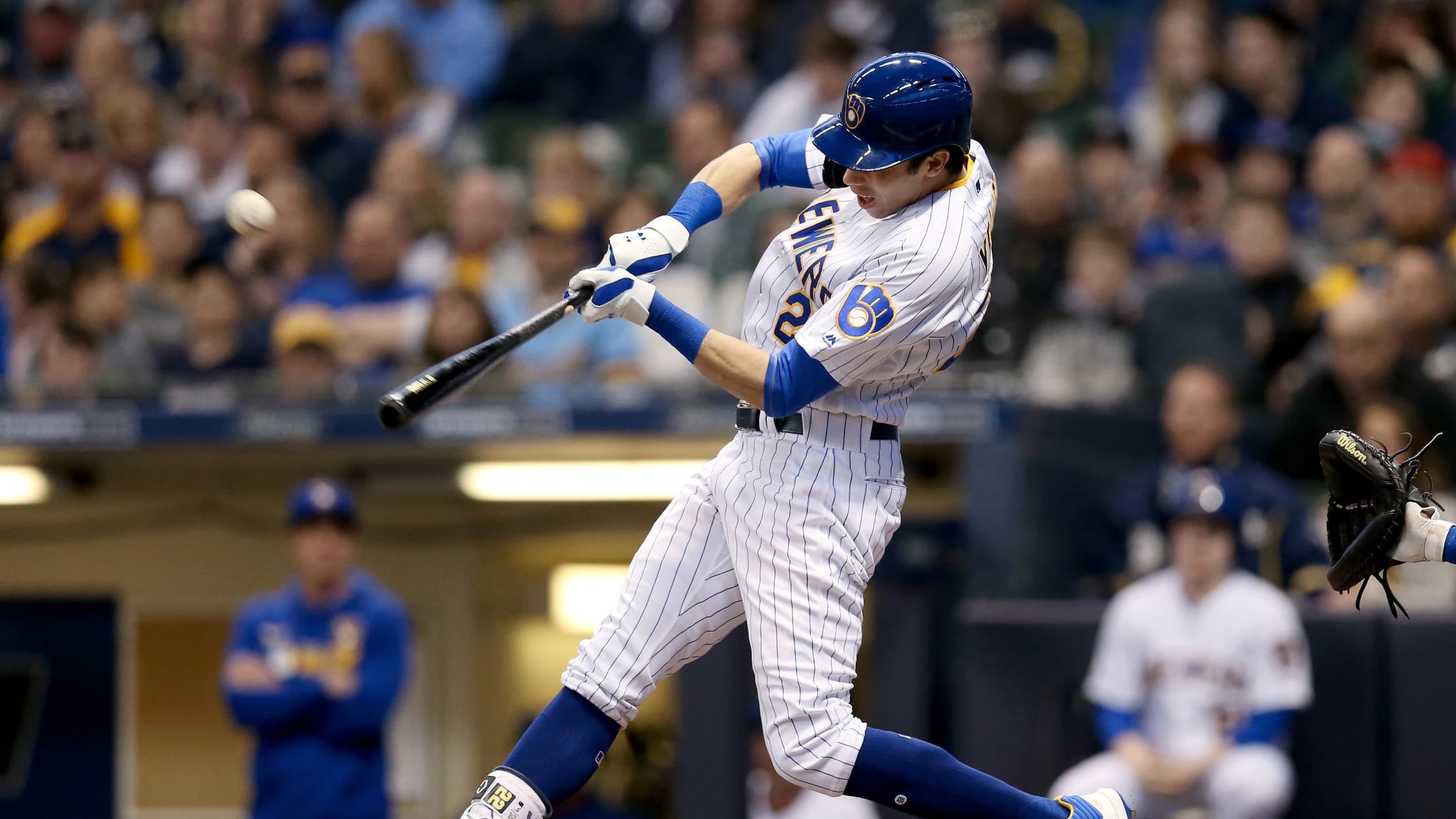 MILWAUKEE -- Christian Yelich tied the Brewers' record for home runs in an opening month when he belted No. 11 in the first inning of Friday's 5-3 loss to the Dodgers, and he has plenty of time to set a new mark. The Brewers have 10 more games on the
Is this the most unlikely BOMB of 2019?
Alonso's massive homer lifts Mets to win over Cards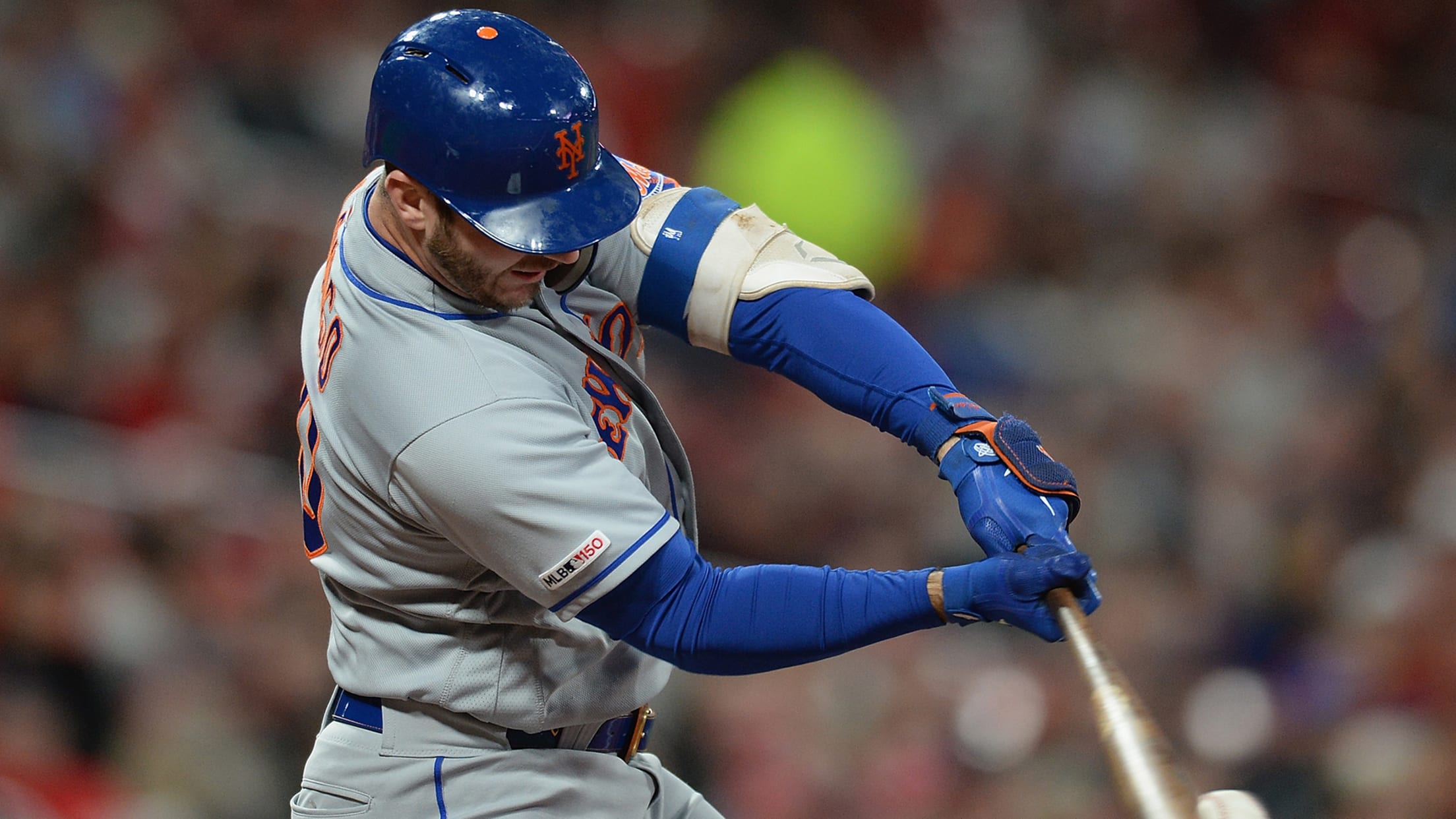 ST. LOUIS -- After struggling in their last two games coming up with big hits, the Mets hoped to get a jolt from their offense as they opened a three-game series against the Cardinals on Friday night. Pete Alonso delivered. Alonso homered, collected two hits and scored twice in the
D-backs add Swihart in trade with Red Sox
Versatile switch-hitter likely to play corner-outfield, corner-infield spots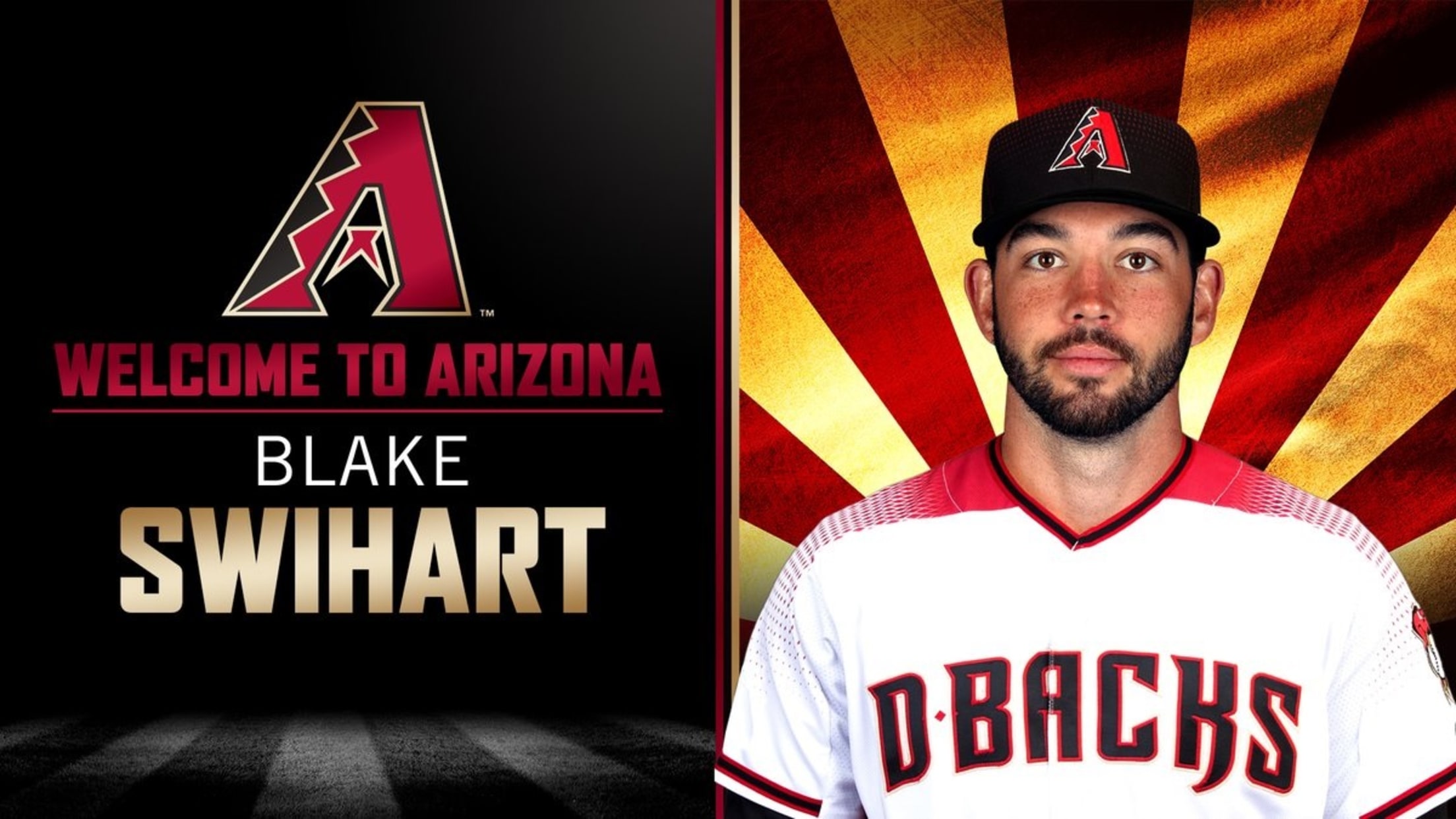 CHICAGO -- Blake Swihart may not be an ideal fit on the D-backs' roster given the way it's currently constructed, but when given the opportunity to acquire him, the team felt it couldn't pass it up. Swihart, who was designated for assignment by the Red Sox on Tuesday, was acquired
9 players off to hot starts we didn't see coming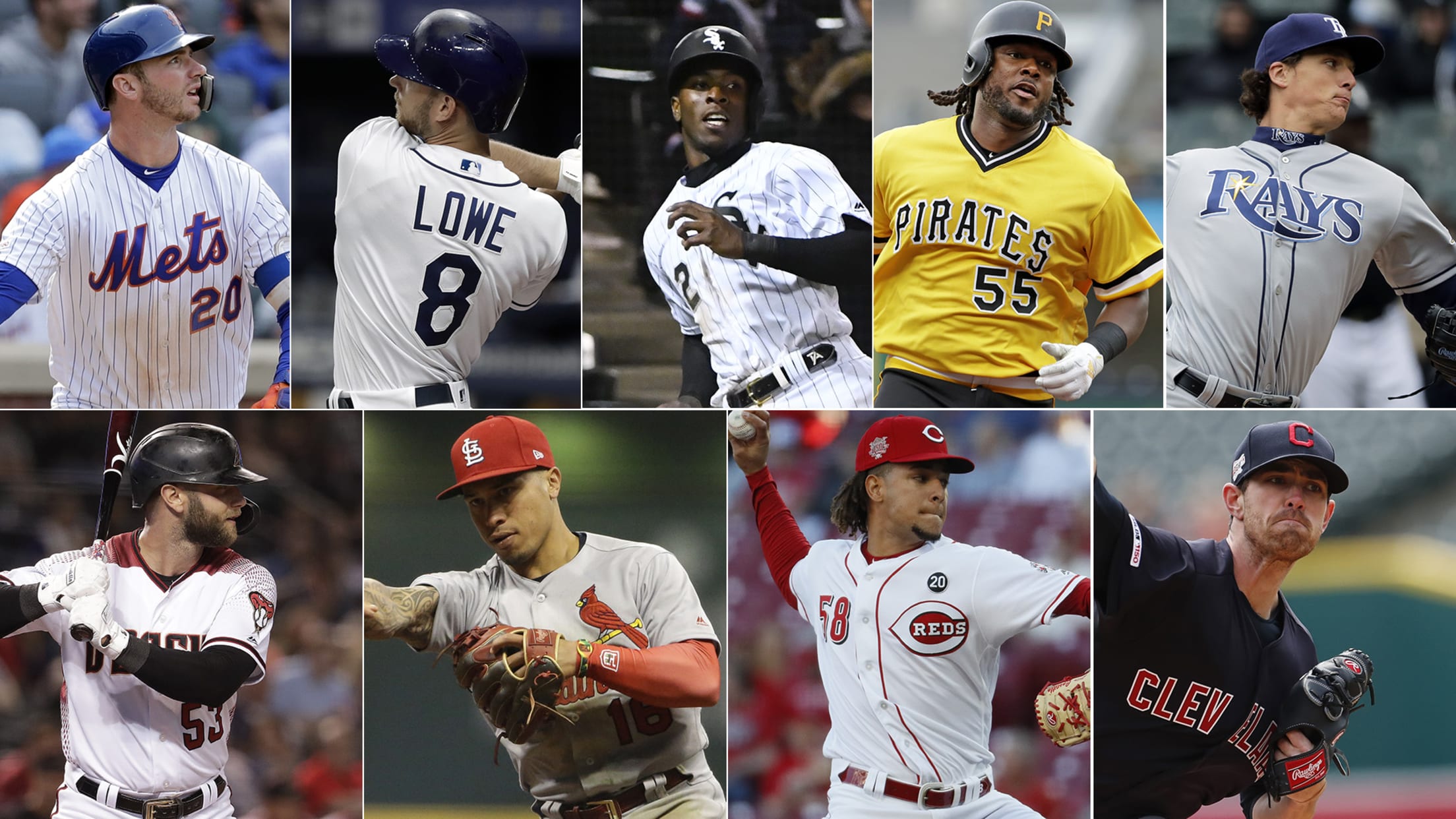 We should have predicted this kind of season coming from Rays second baseman Brandon Lowe. When the Rays believe in a player enough to guarantee him $24 million despite his having played just 43 Major League games, it's a pretty good indication he's special. The Rays don't miss on these
deGrom to go on IL, get MRI on 'barking' elbow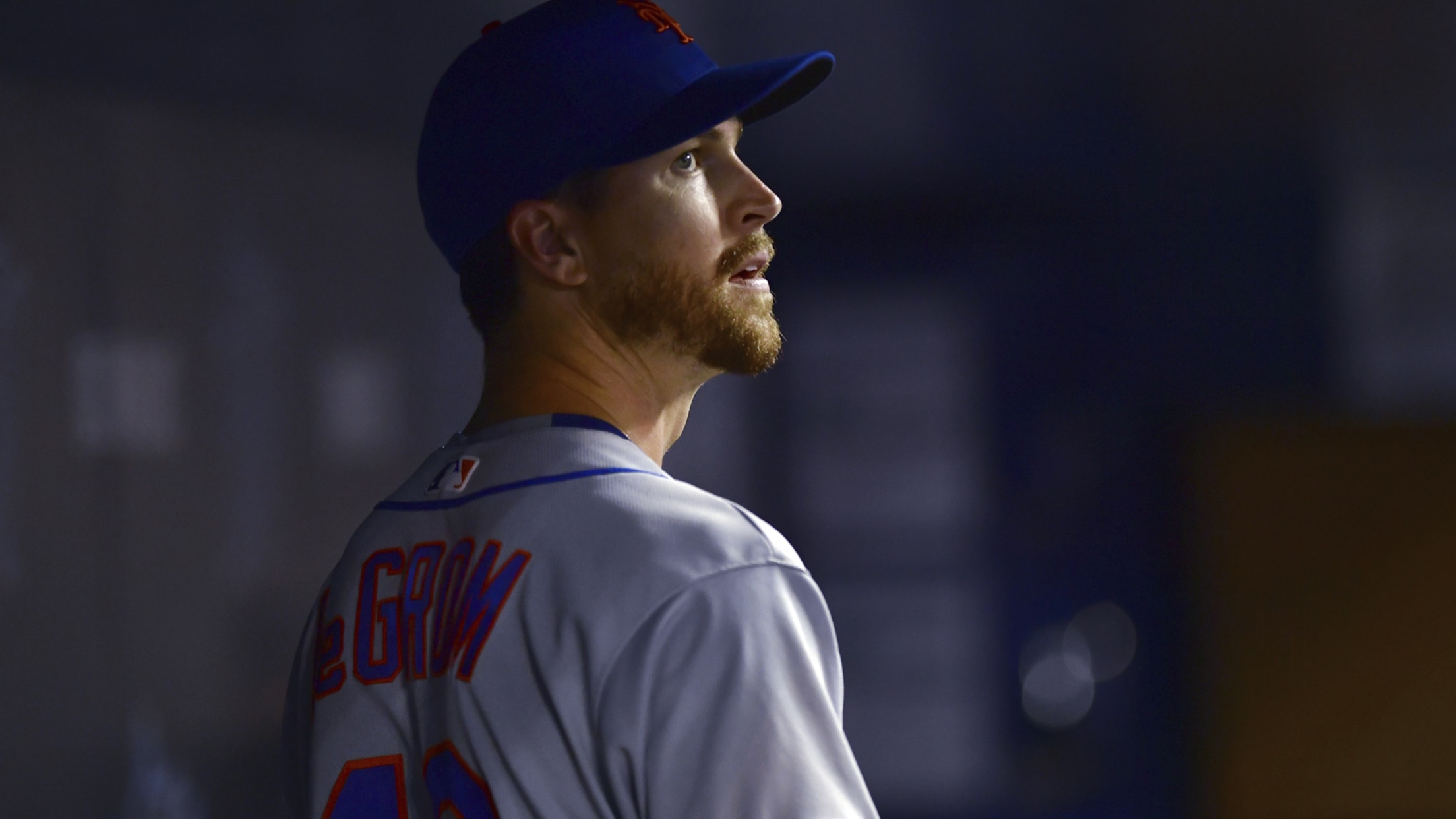 ST. LOUIS – Mets ace and reigning National League Cy Young Award winner Jacob deGrom will return to New York with the team on Sunday night, and then undergo an MRI exam on his elbow on Monday. General manager Brodie Van Wagenen said the club will place the right-hander on
Cards prospect hits HR in eventful 1st career AB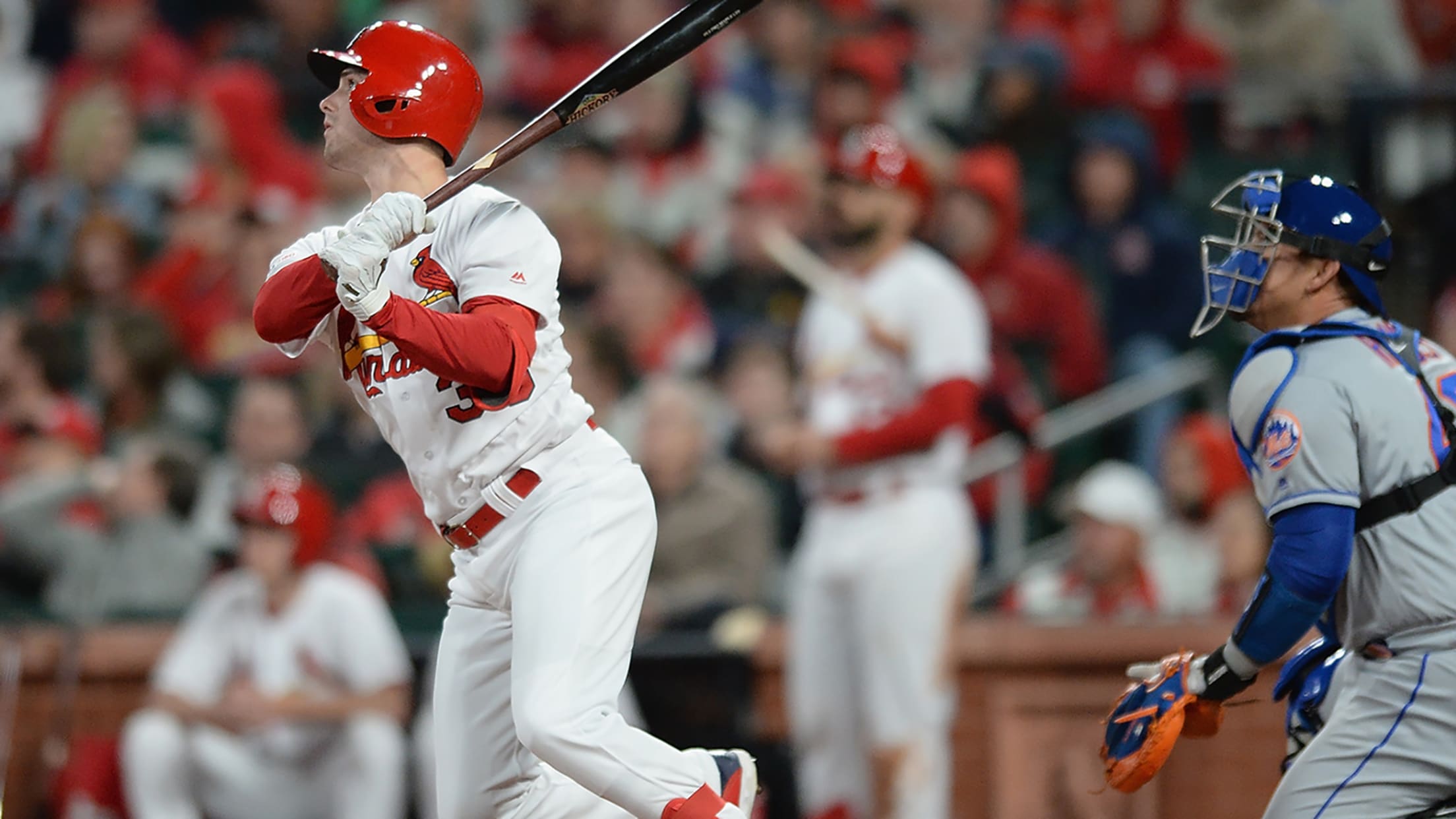 ST. LOUIS -- Lane Thomas had finished his circle around the bases and passed through the mass of giddy teammates who were ready for his return to the dugout when he was reminded that there was one more thing left to do. The crowd, he was told, was waiting for
BP session has Ohtani eager to rejoin Angels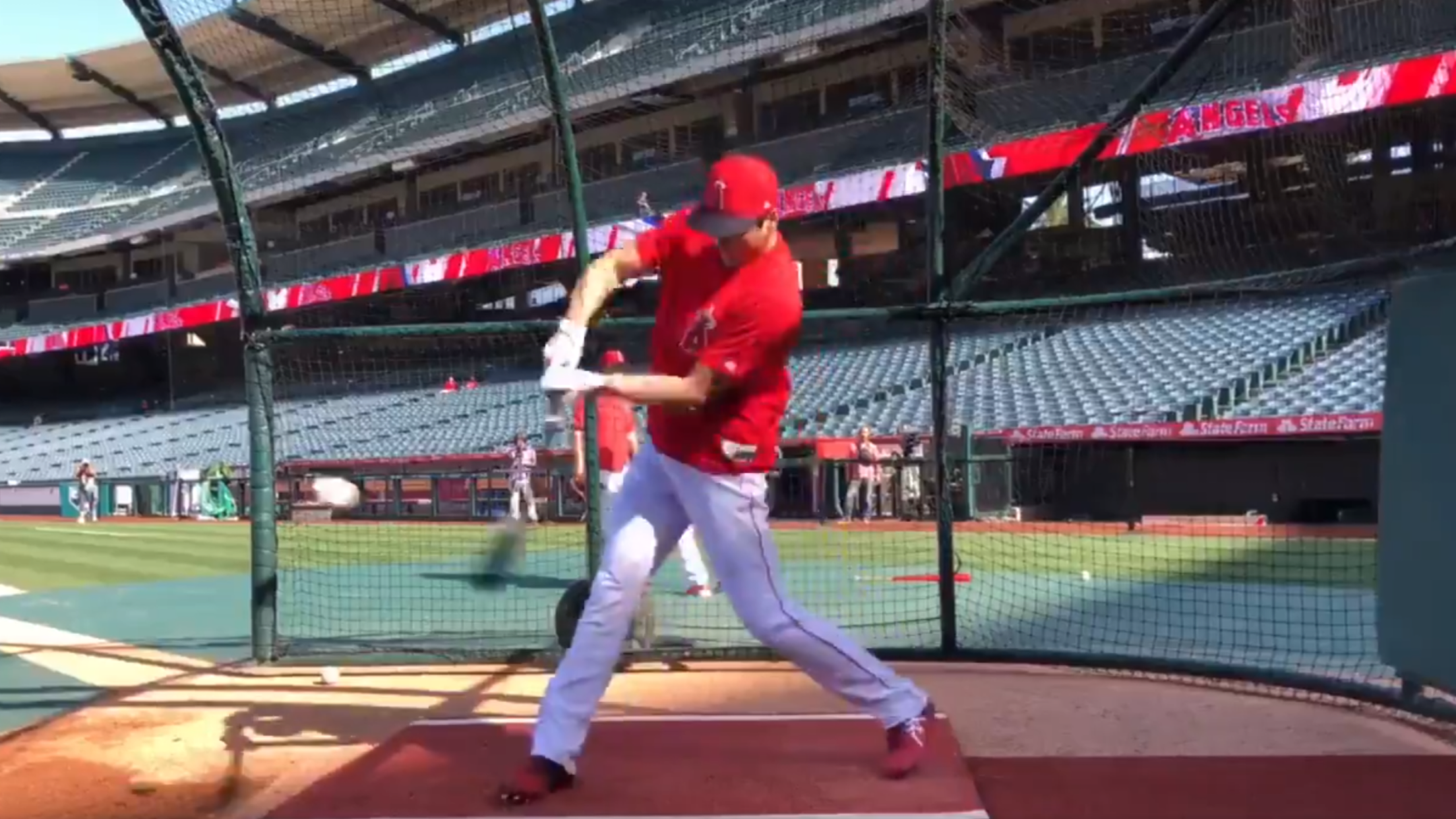 ANAHEIM -- Shohei Ohtani took another step in his recovery from Tommy John surgery on Friday before the Angels' matchup with the Mariners, as he hit on the field with his teammates for the first time since undergoing the operation on Oct. 1. Ohtani, in a group with Kevan Smith
Morrison heads to Yankees on Minors deal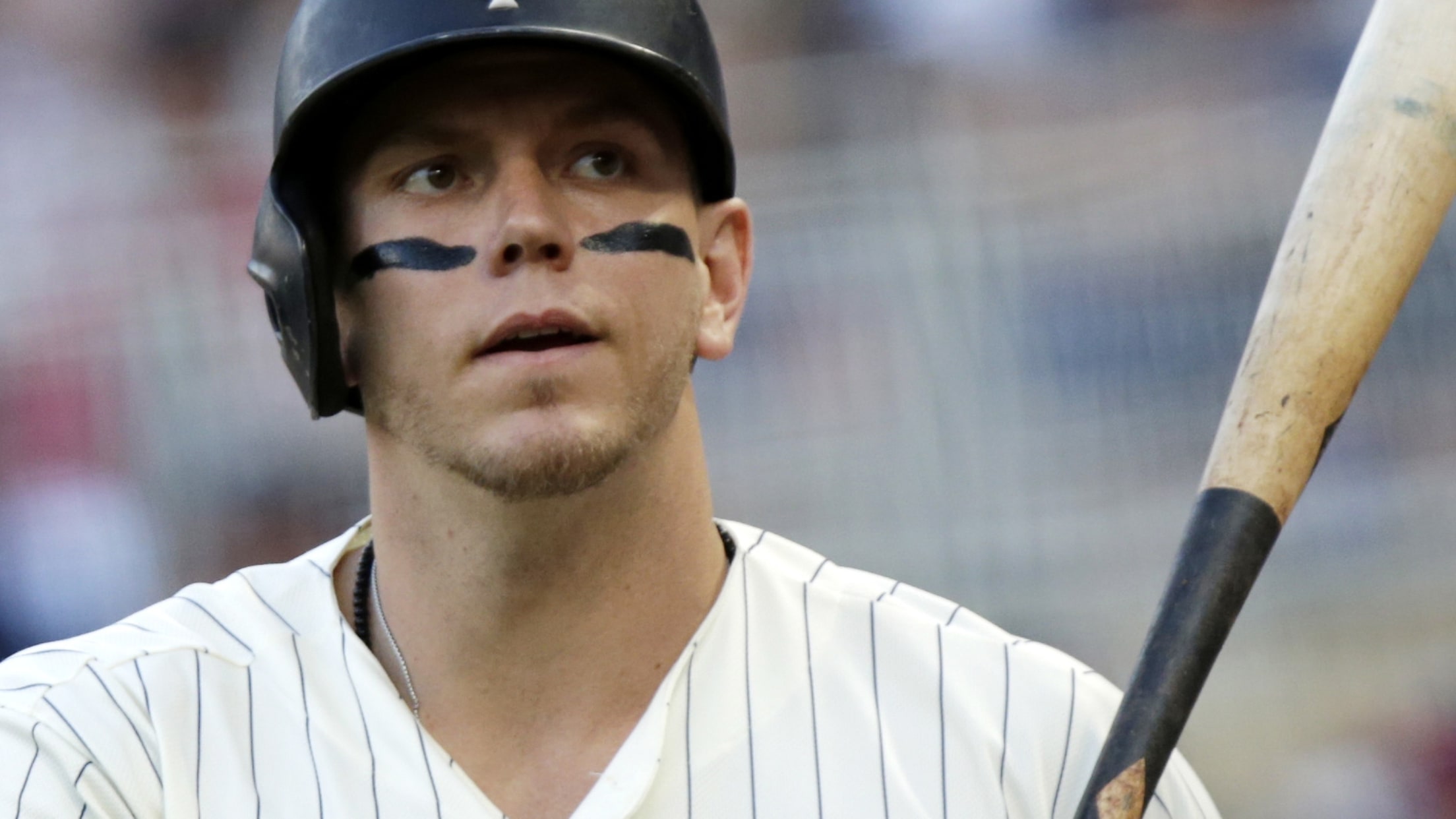 NEW YORK -- Logan Morrison once bristled that he -- and not the Yankees' Gary Sánchez -- should have been invited to participate in the Home Run Derby. Two years later, the Yankees may ask the veteran first baseman to take a few swings for them. The club announced on
Astros threaten club exit velocity record in rout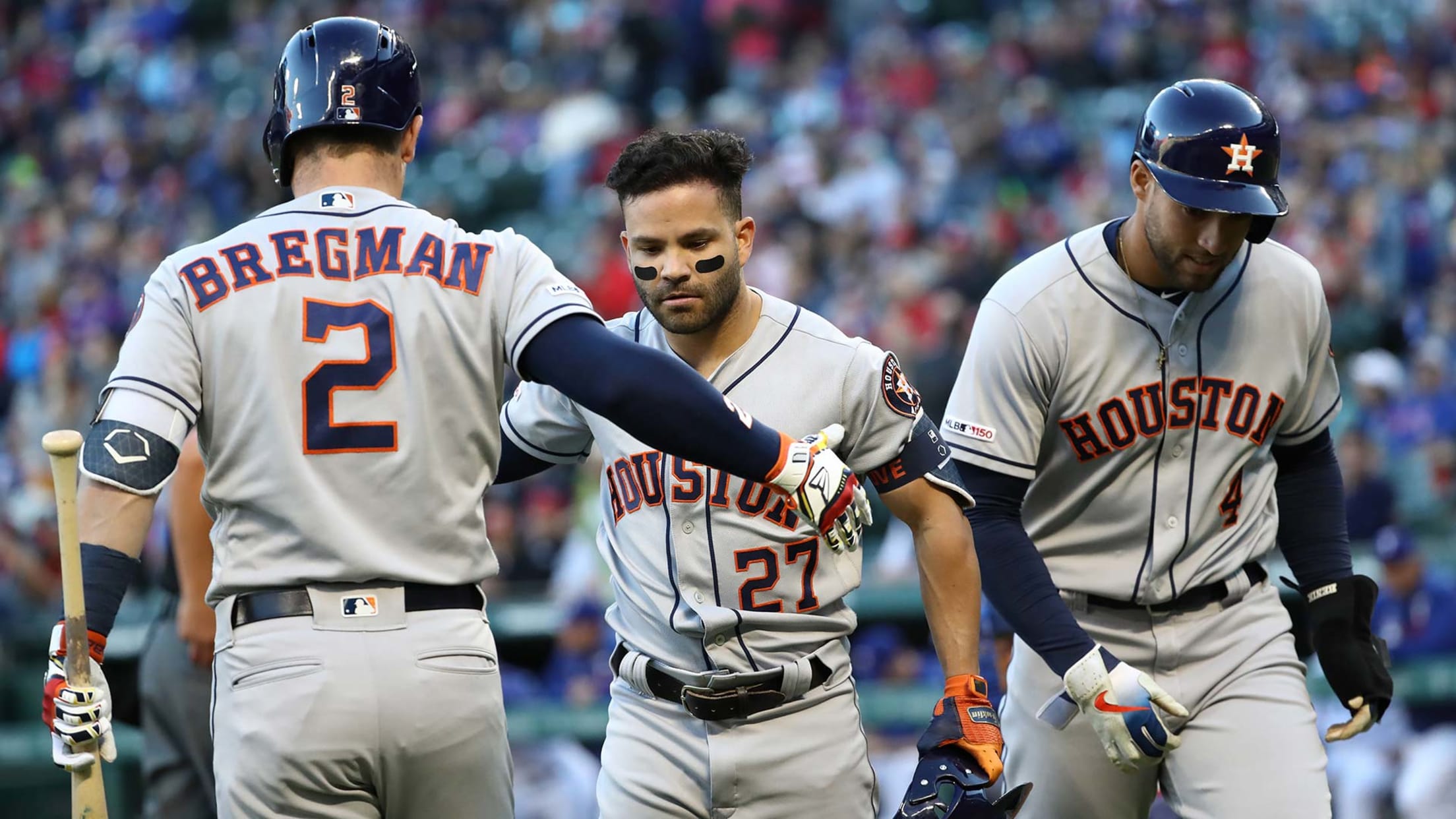 ARLINGTON -- The leadoff double rocketed to left field by George Springer, which registered an exit velocity of 114.2 mph, to start Friday night's game against the Rangers was the hardest hit ball of the night for the Astros. It was a sign of things to come. The Astros bashed
Watch the Wrigley wind give Kris Bryant 2 RBIs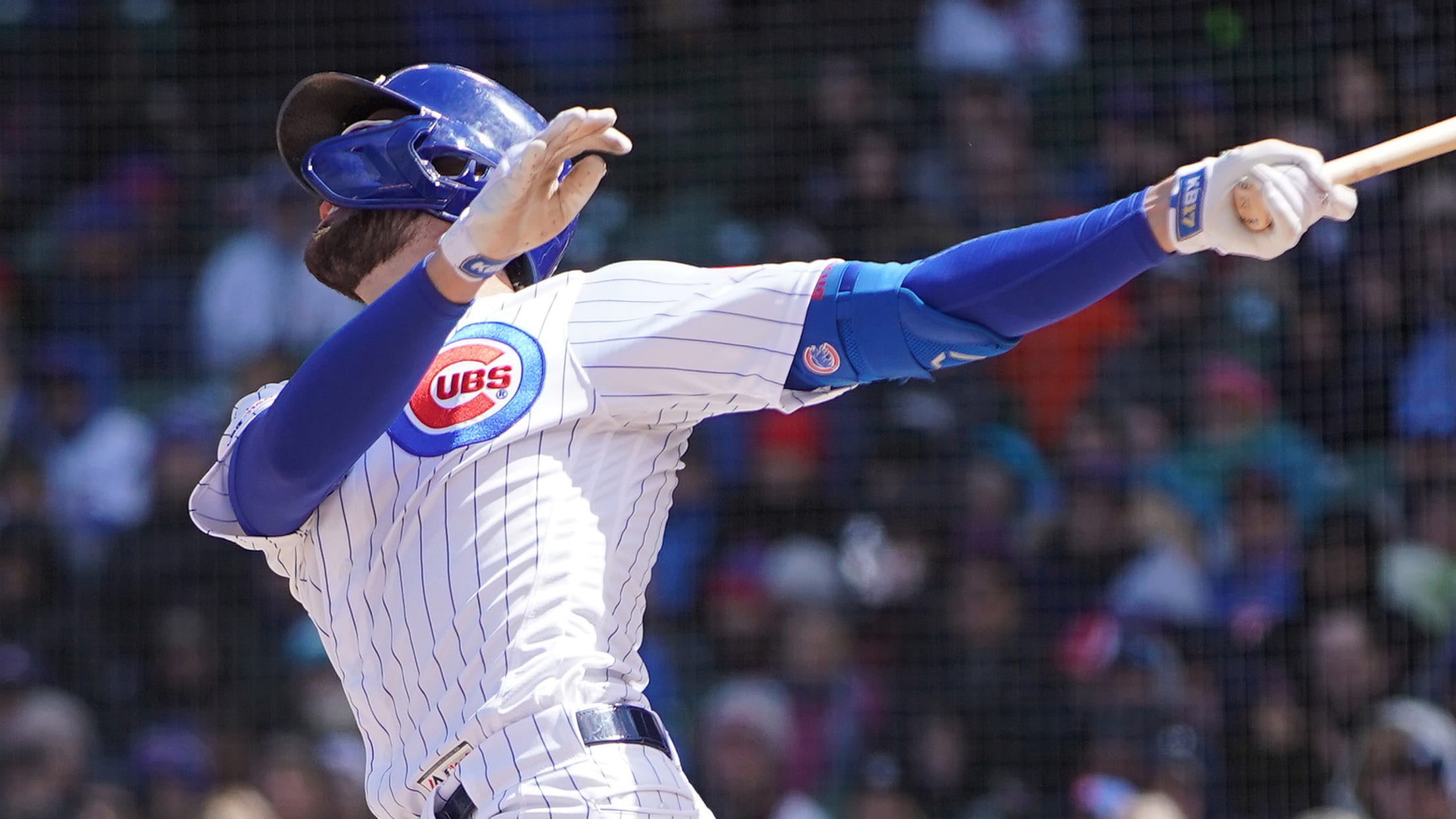 CHICAGO -- The elements played havoc with D-backs defenders in a 5-1 win for the Cubs on Friday at Wrigley Field. With the wind blowing in at 25 mph from center -- and gusting around 40 mph -- any fly ball was going to be an adventure. And with the
For Yanks, it's decision time on Gio Gonzalez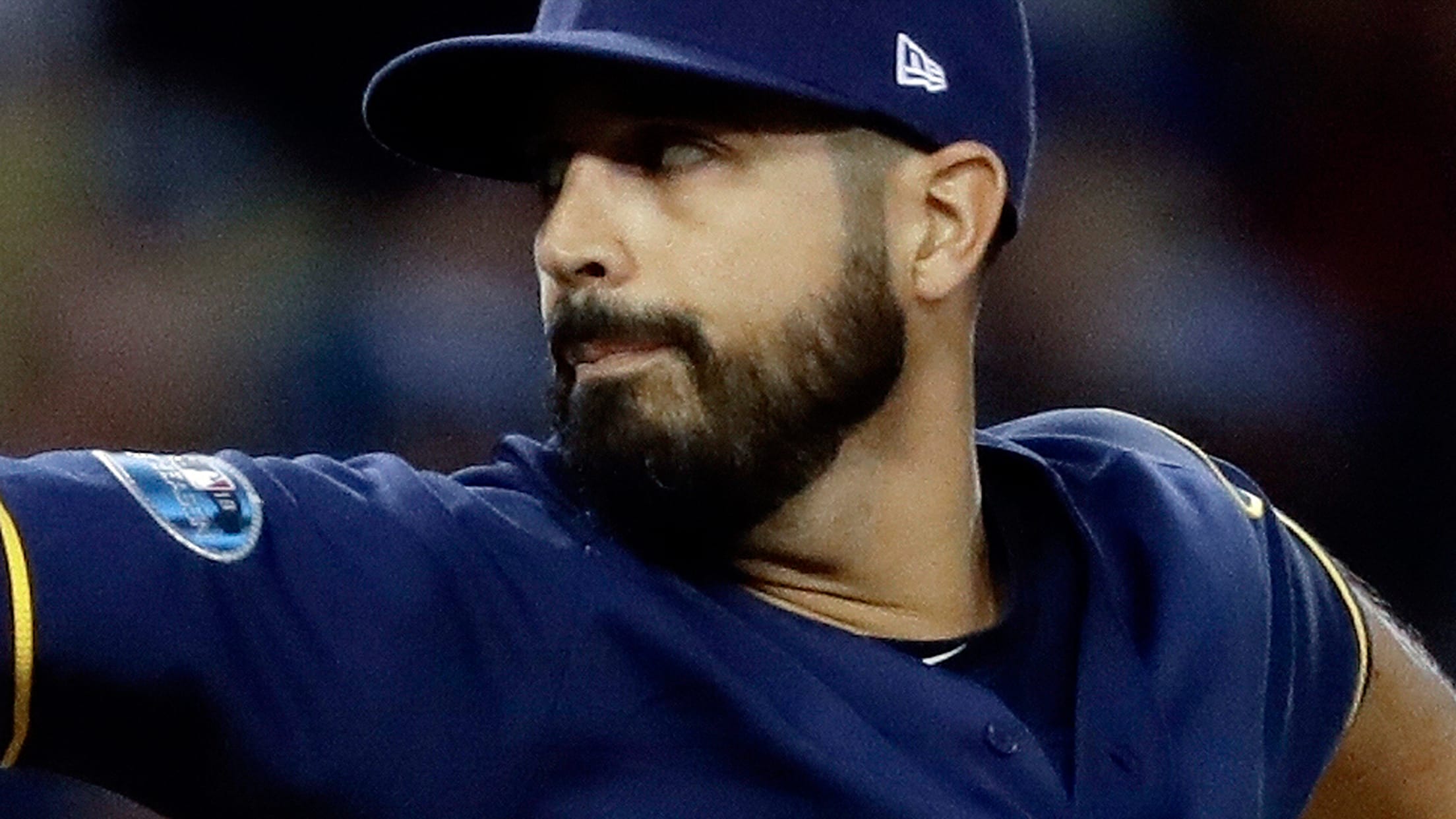 The Yankees have a decision to make by Saturday regarding Gio Gonzalez's future, but the pitcher made a big decision of his own as he awaits word on whether he'll join New York's roster. "We'll see. That's something that the front office is talking through," Yankees manager Aaron Boone said
Injury updates: deGrom, Eovaldi, Ohtani, Andujar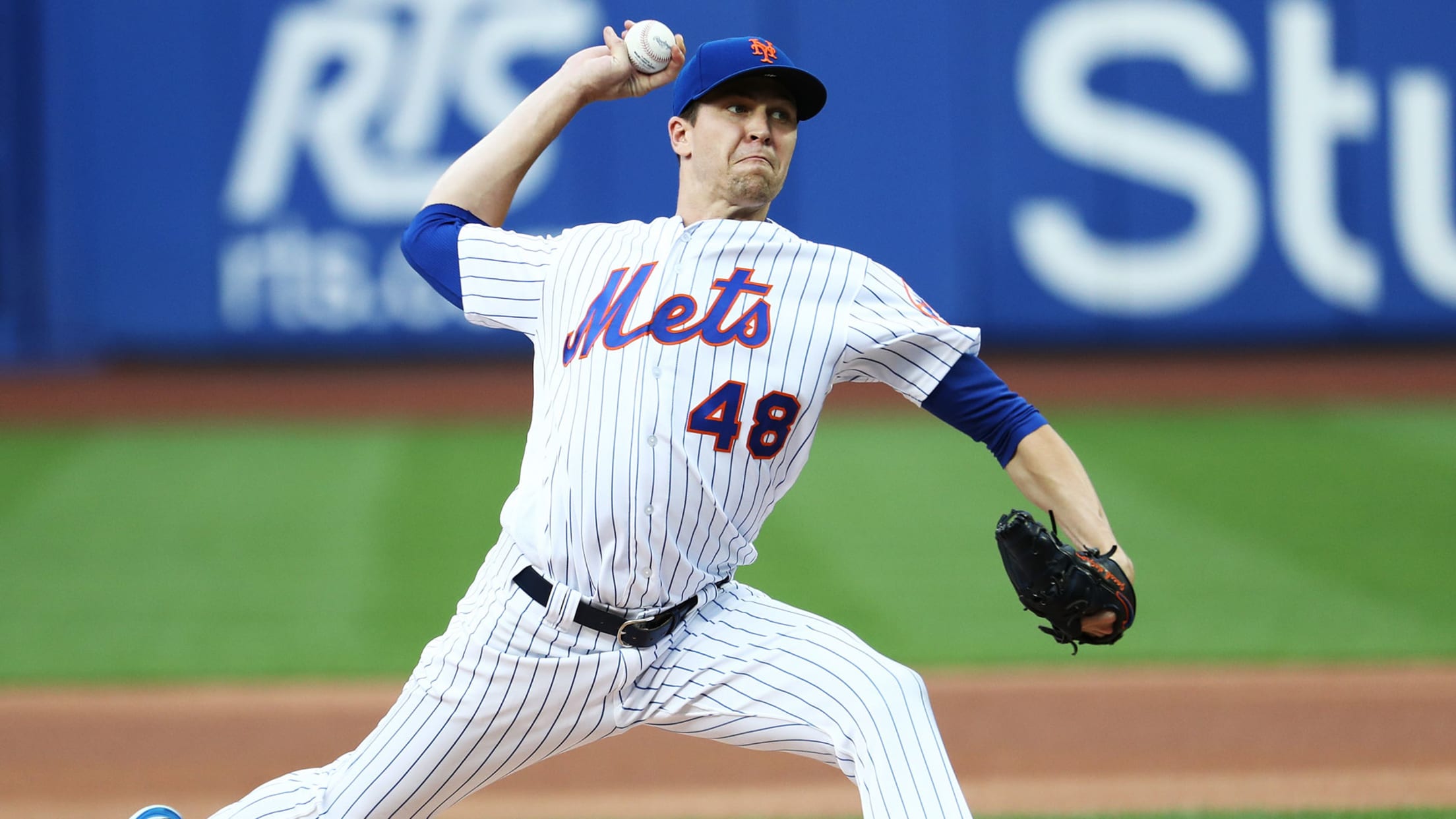 Here's a look at the latest injury news around the Majors.