Mookie's miraculous catch ends nail-biter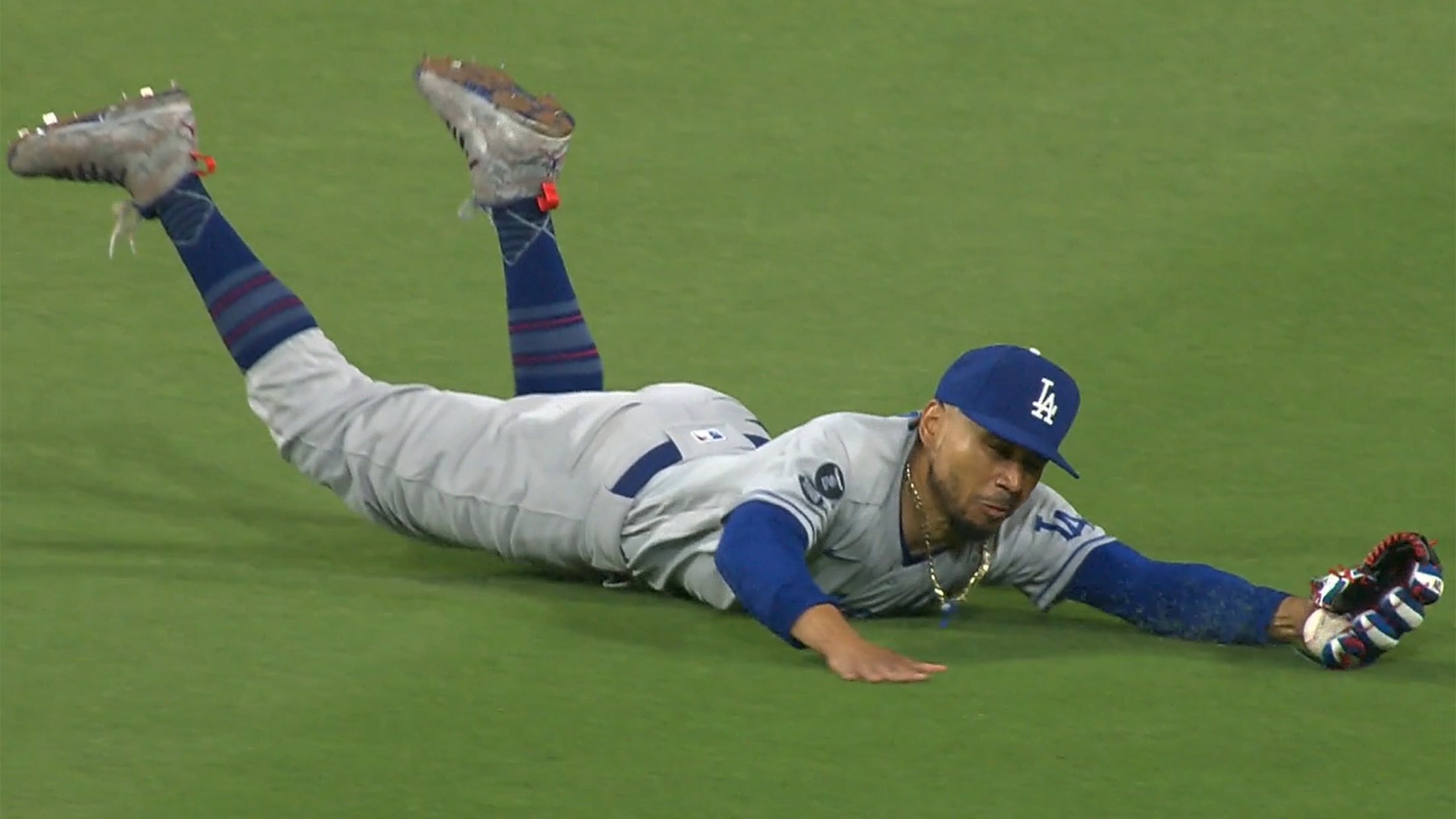 SAN DIEGO -- Big-time players make big-time plays in big-time games. Mookie Betts is certainly a big-time player, and his game-sealing catch to rob Tommy Pham in the Dodgers' 2-0 win over the Padres on Saturday at Petco Park definitely classifies as a big-time play. • Box score With the
Things get chippy between LA, SD ... again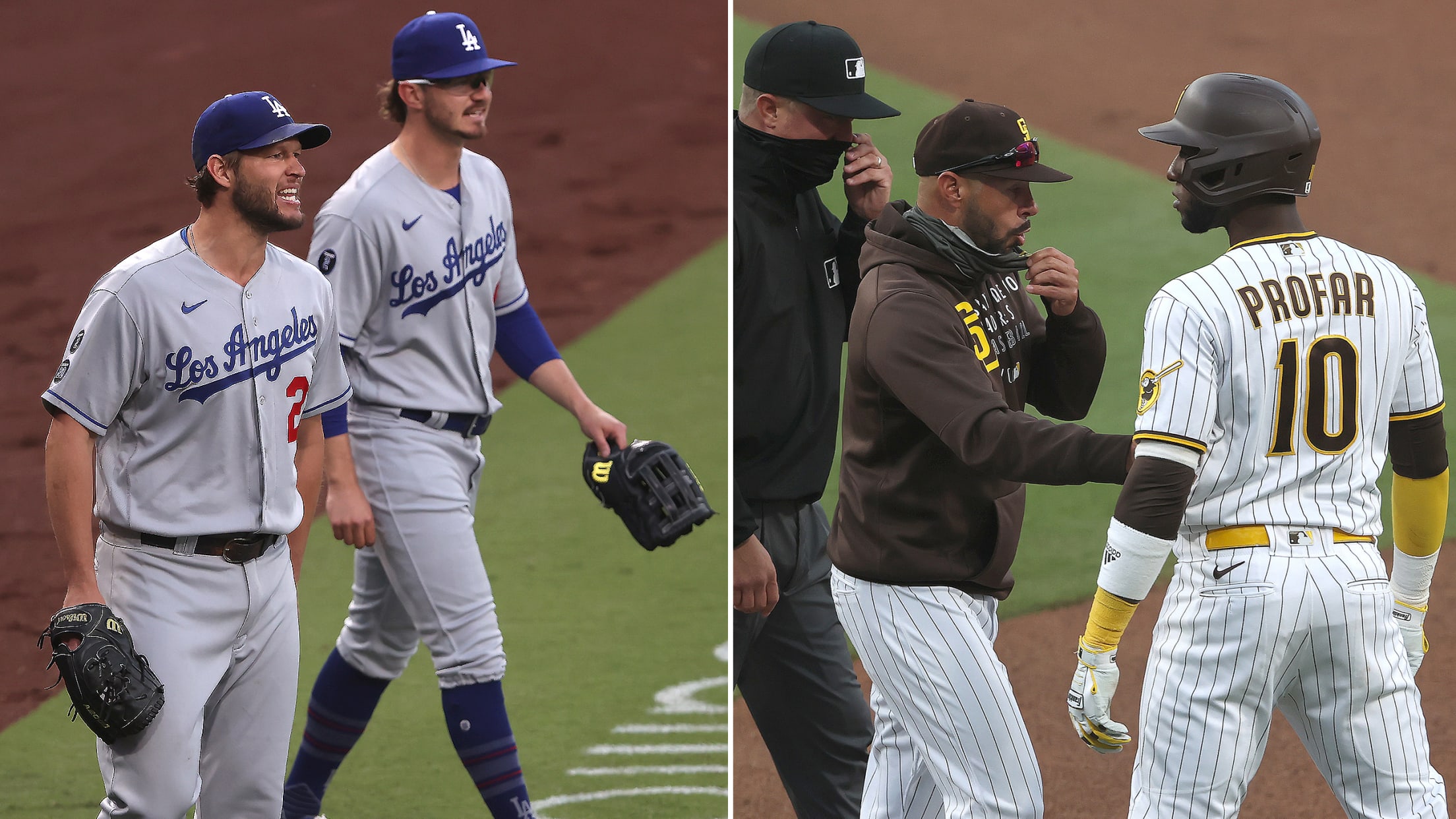 SAN DIEGO -- Dodgers pitcher David Price, who was part of the Red Sox-Yankees rivalry, said a rivalry doesn't truly begin until you have your first benches-clearing situation. Well, the Dodgers and Padres are batting 1.000 in that department this season. After a benches-clearing situation in the 10th inning on
A W for deGrom, who nearly makes K history
Mets ace strikes out 9 in a row, K's 14 for 2nd straight game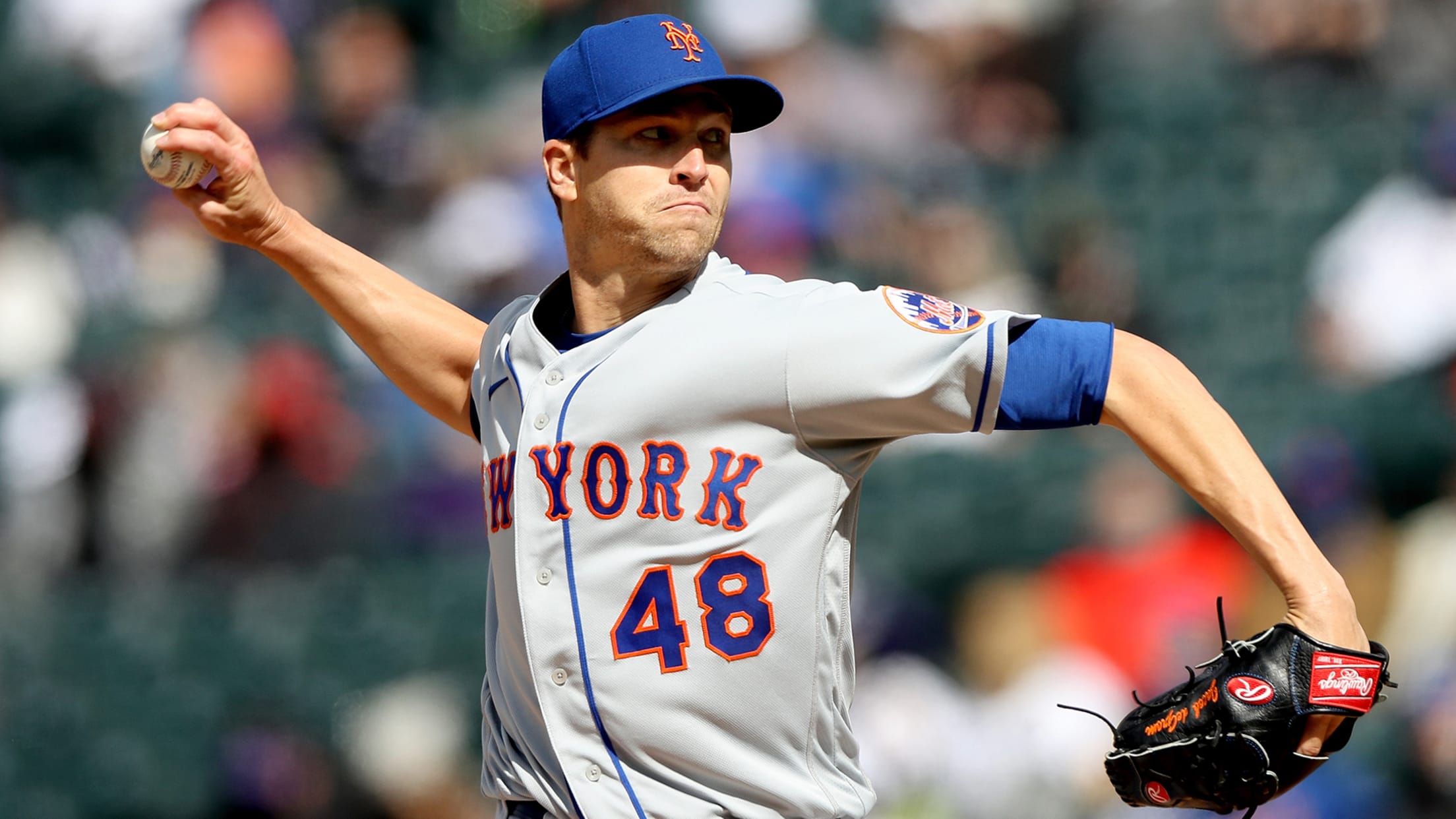 This time, the Mets were not about to let Jacob deGrom down following a flirtation with history. Shortly after deGrom came within one of Tom Seaver's 51-year-old record for consecutive strikeouts, the Mets rallied late to give their ace his first win of the season in a 4-3 victory over
Return worth the wait for Braves' 36-year-old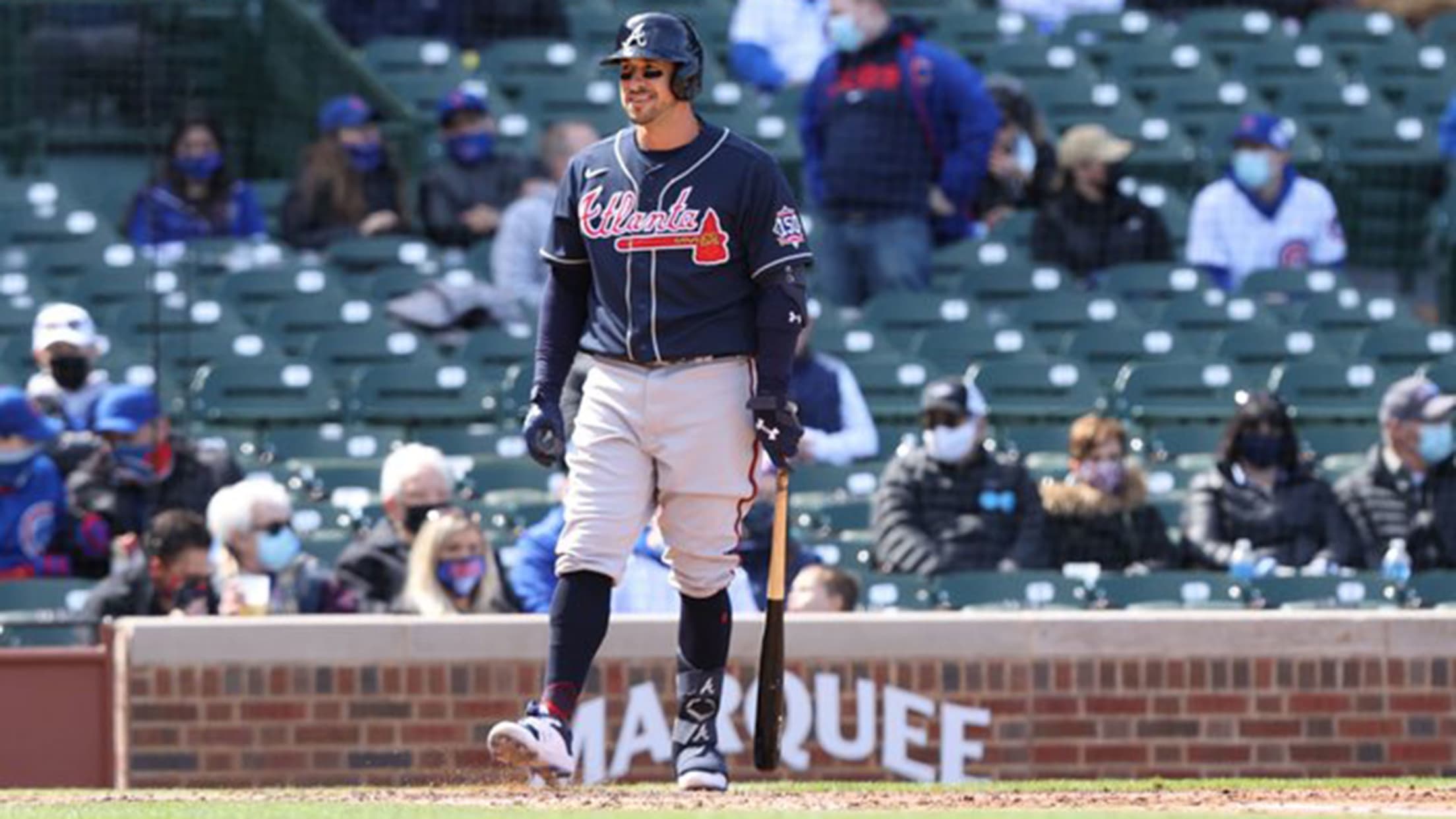 Sean Kazmar Jr.'s baseball career has been a display of tremendous persistence, and now the 36-year-old infielder has made some history. Kazmar was called up to the Majors by the Braves ahead of their game against the Cubs on Saturday afternoon at Wrigley Field. The club also recalled right-hander Bryse
Not one, not two ... Votto turns TRIPLE play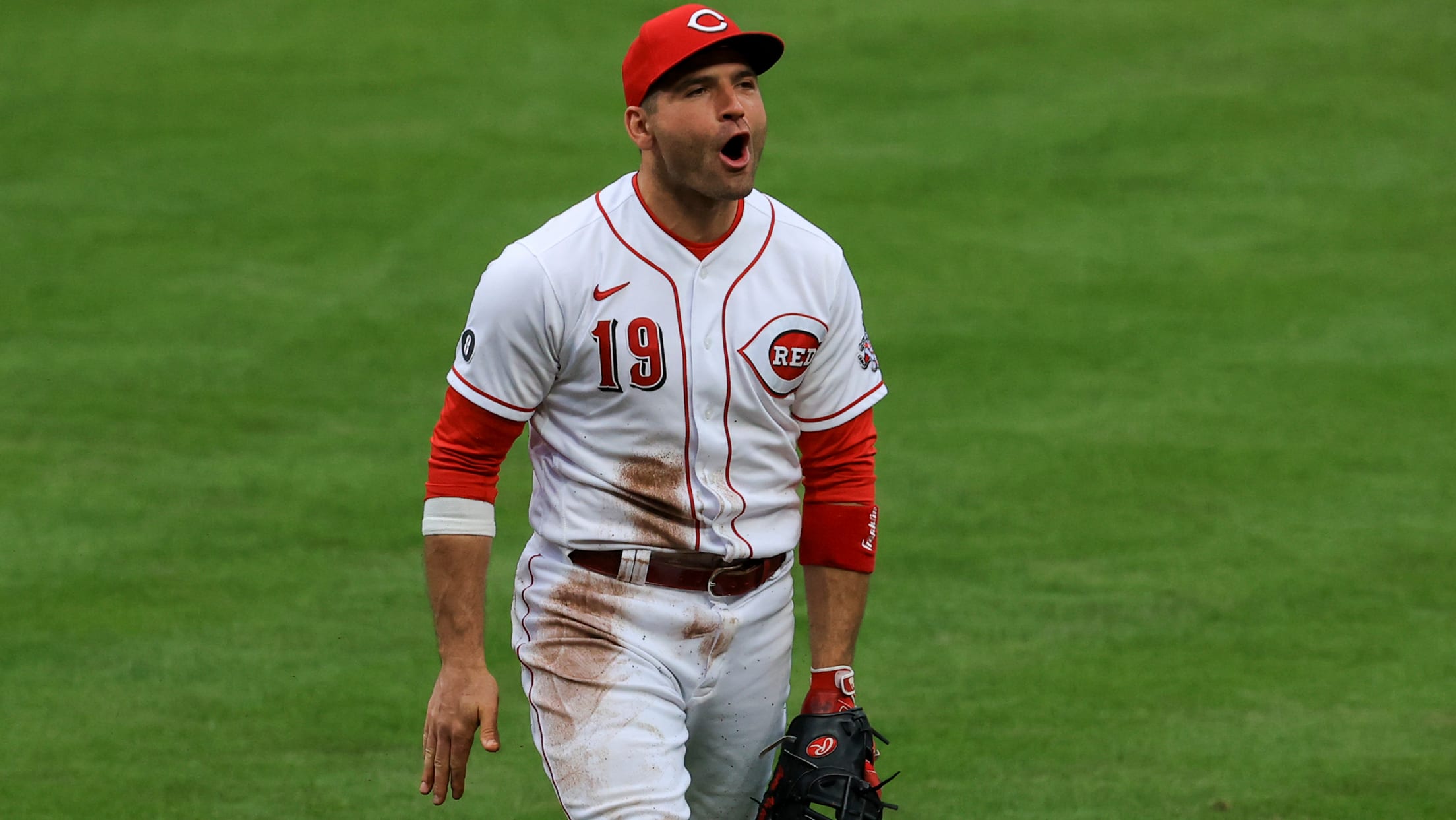 CINCINNATI -- You don't see that every day. In the eighth inning of Saturday's 3-2 Reds win against Cleveland, first baseman Joey Votto saved his team by turning the 31st triple play in team history. "That's the first time I've seen that. That was pretty cool," said rookie catcher Tyler
Twins-Halos PPD Sat., Sun. for testing, tracing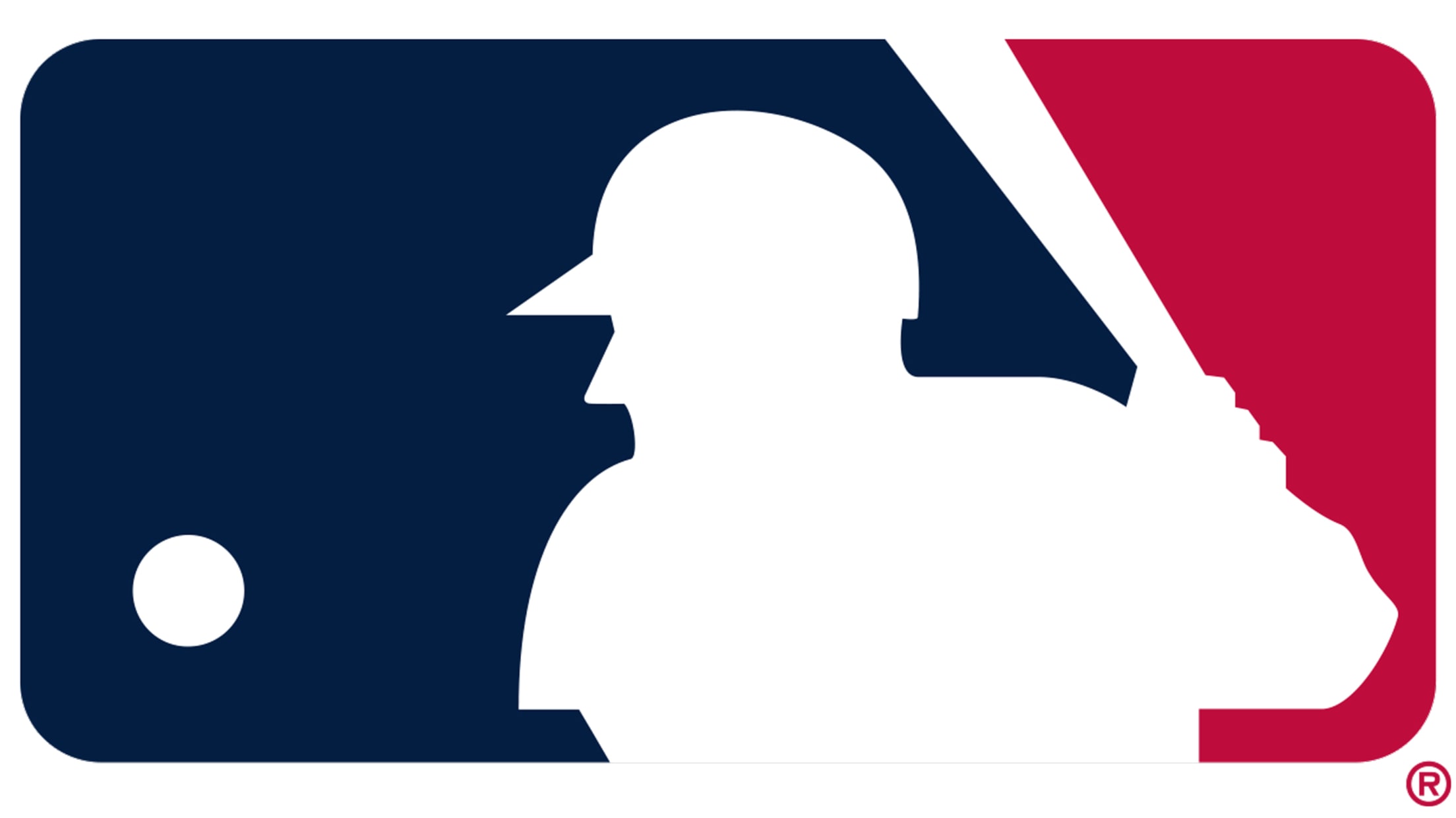 Both the Saturday and Sunday games between the Twins and the Angels were postponed to allow for further testing and contact tracing for COVID-19 issues within the Twins' organization. A day after a member of the Twins' traveling party tested positive for COVID-19, the ballclub experienced more setbacks that were
Glasnow, Rays overpower Yankees again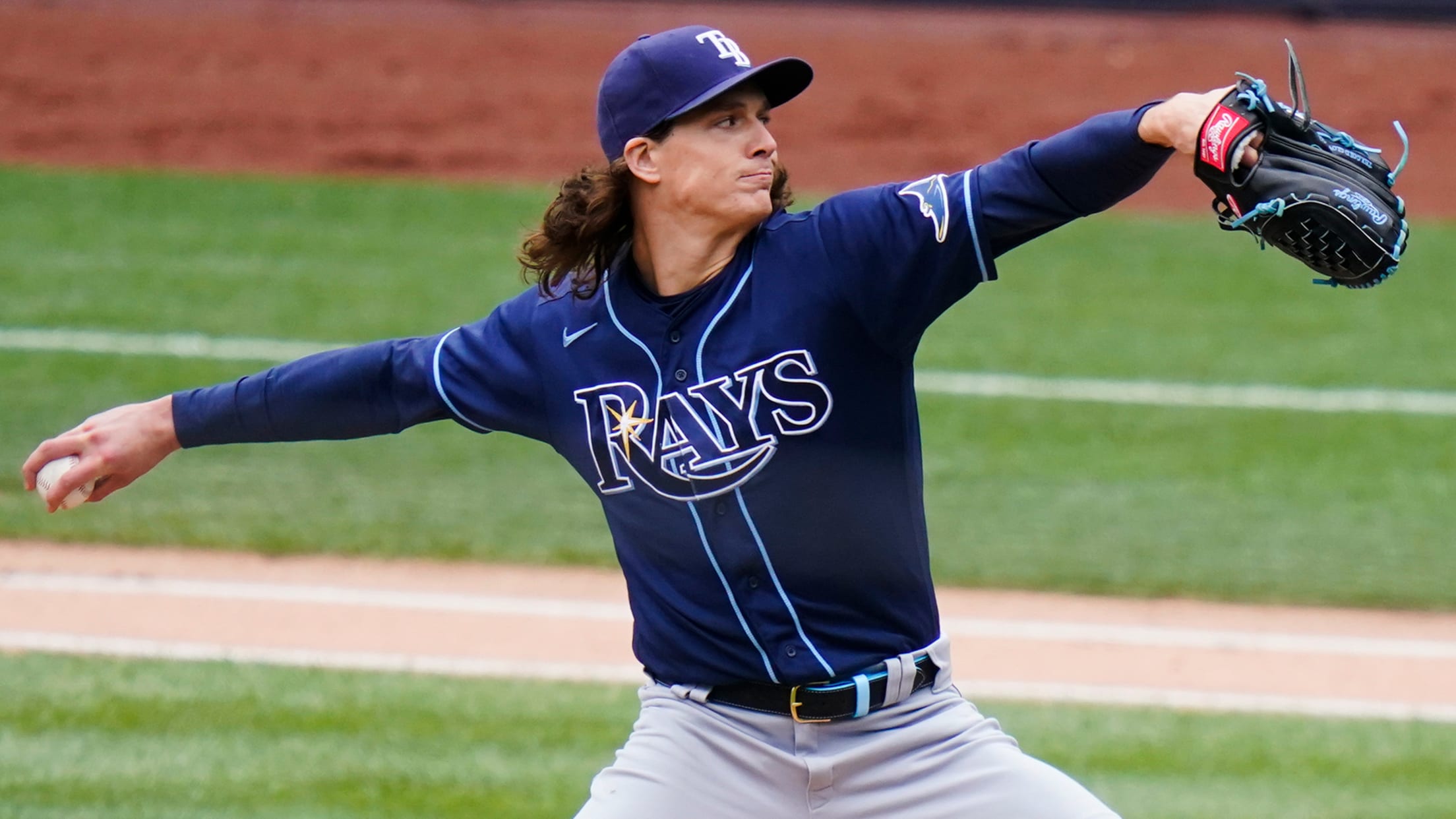 Tyler Glasnow's first three starts this season were downright poetic. The 6-foot-8 right-hander was playing loose and relaxed, striking out everyone in sight and seeing positive results follow promptly. Saturday's box score suggested more of the same, but Glasnow took a much bumpier road to achieve a similarly excellent result.
'Ciento!' Tatis opens up on health, more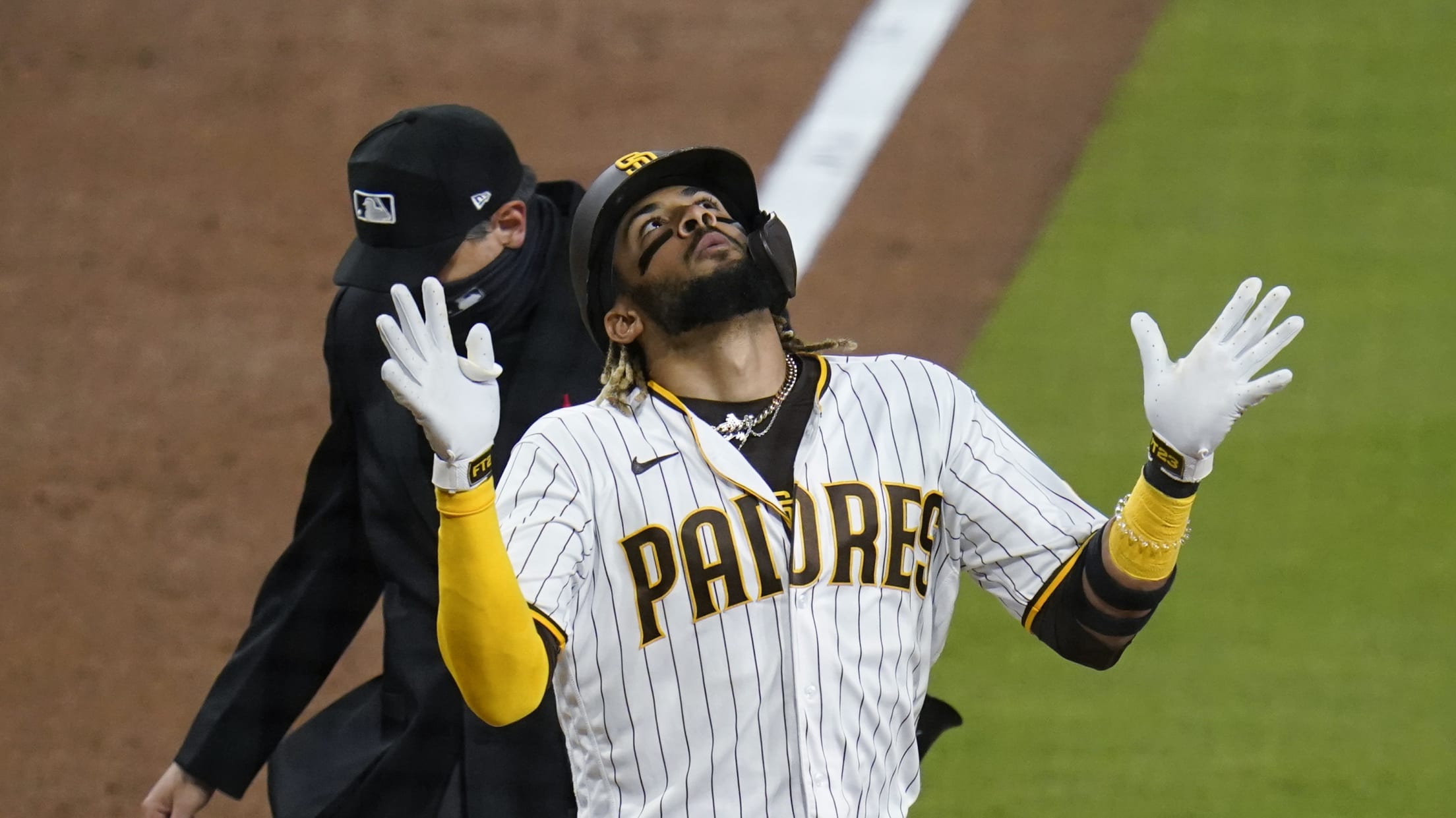 SAN DIEGO -- On Saturday afternoon, the Padres made Fernando Tatis Jr. available to speak with reporters for the first time since his season began -- and it's been an eventful season, to say the least. The star shortstop addressed a number of important questions surrounding his first few weeks
A play you won't be able to stop watching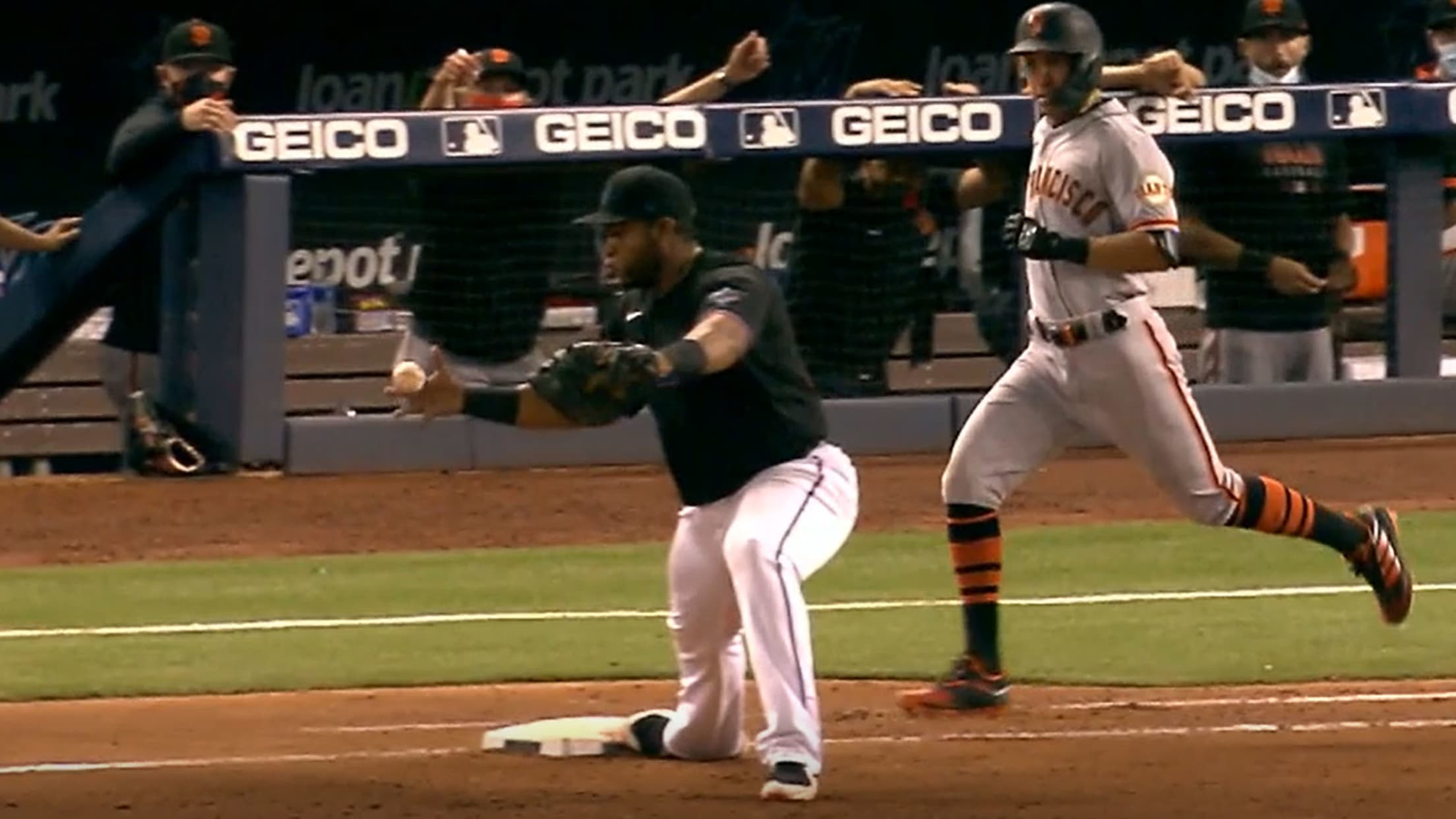 MIAMI -- The saying typically goes, "See the ball, hit the ball." In the case of Marlins first baseman Jesús Aguilar, why not catch it? Aguilar displayed impressive hand-eye coordination during a pivotal play to end the top of the 10th in the Marlins' 7-6 extra-inning win over the Giants
Salvy splash! Royals walk off in nightcap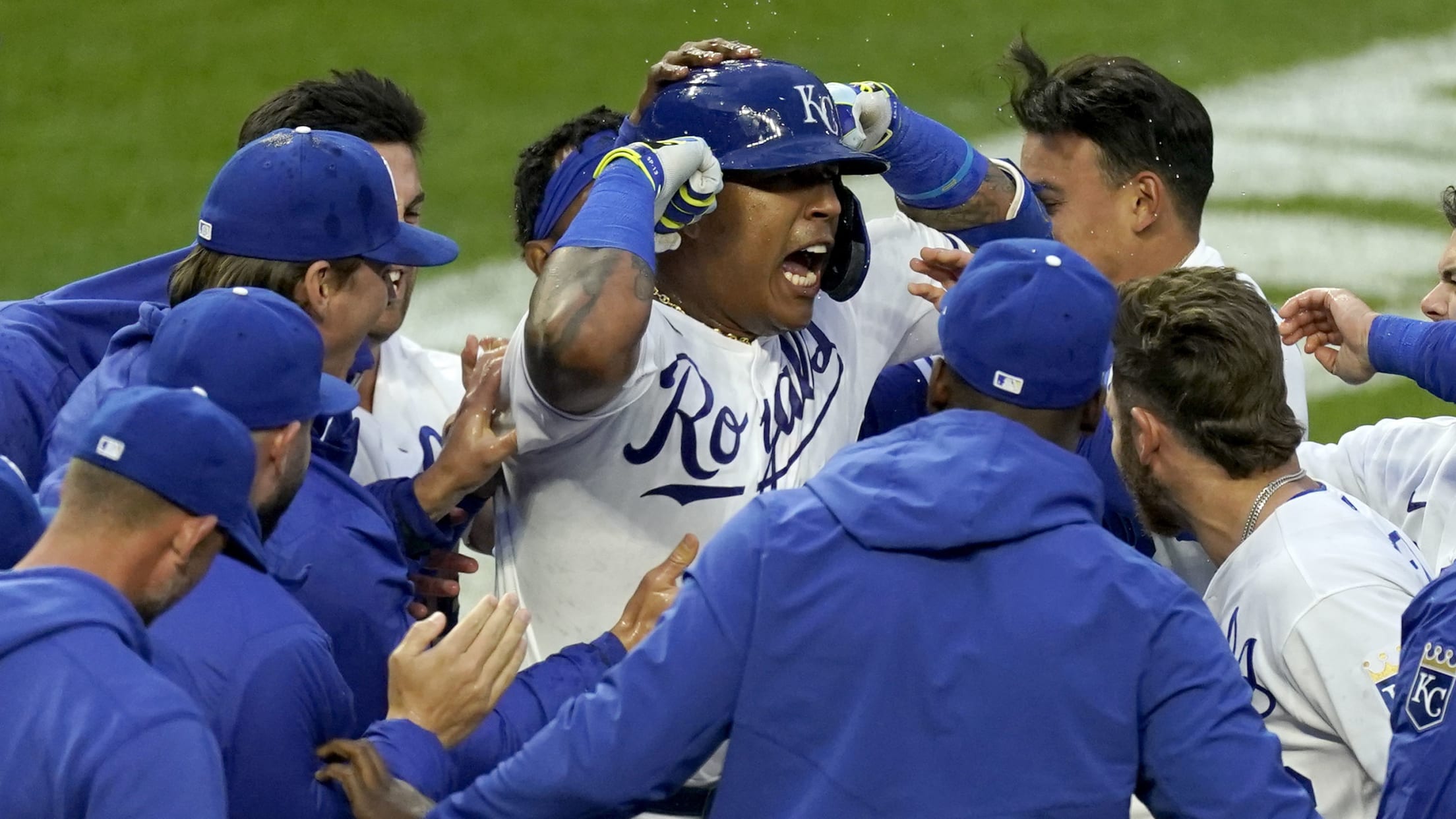 KANSAS CITY -- The signature Salvy Splash has returned with a force. This time, though, it was in the fountains. Salvador Perez crushed a no-doubt homer over the left-center-field wall in the bottom of the seventh inning Saturday night in the Royals' 3-2 walk-off victory over the Blue Jays for
Injuries: Yelich, Harper, Sánchez, Ohtani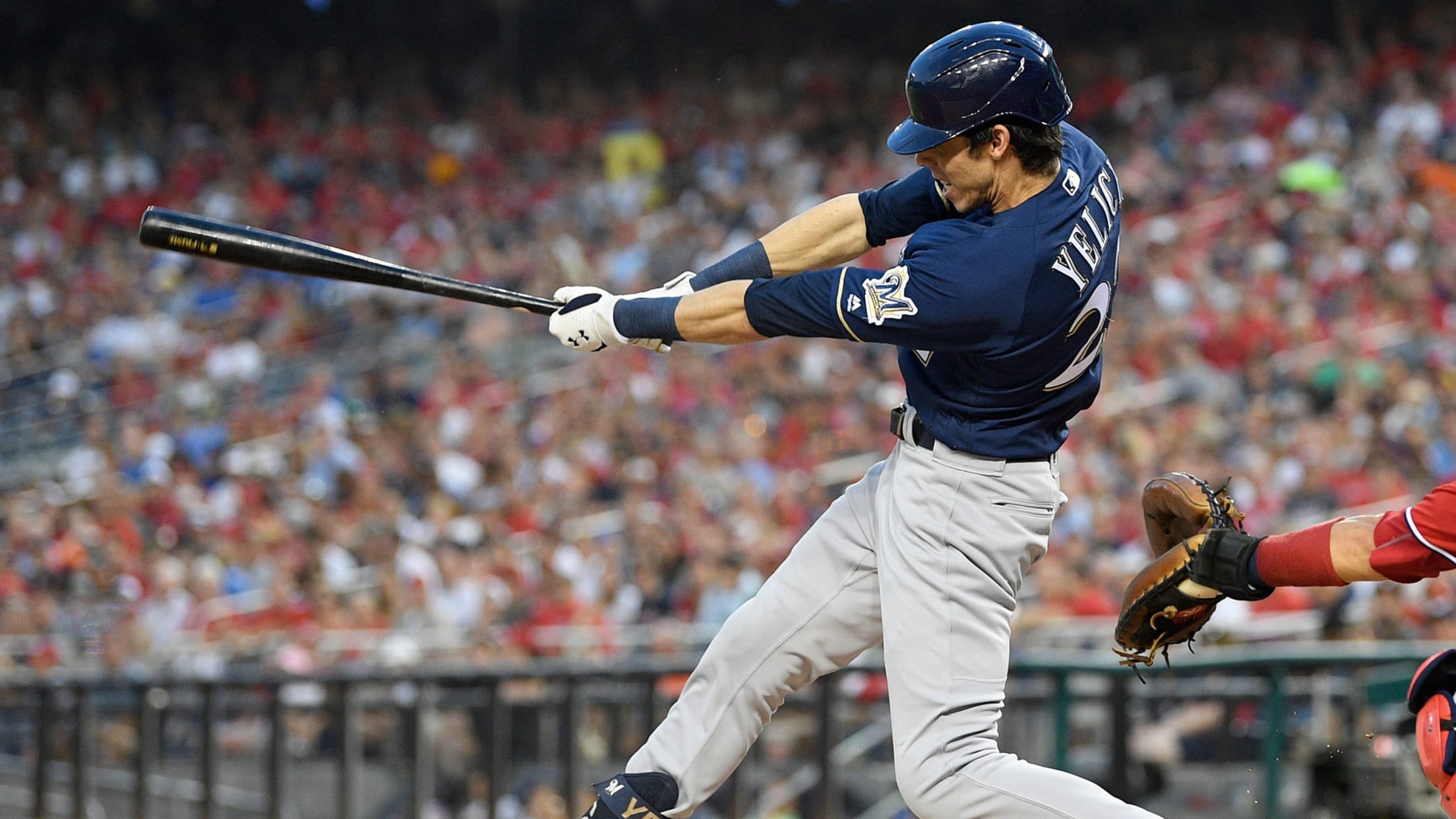 Stay up-to-date with all the latest news on injured and recovering players from across Major League Baseball.
'Total team effort' highlighted by Marwin's HR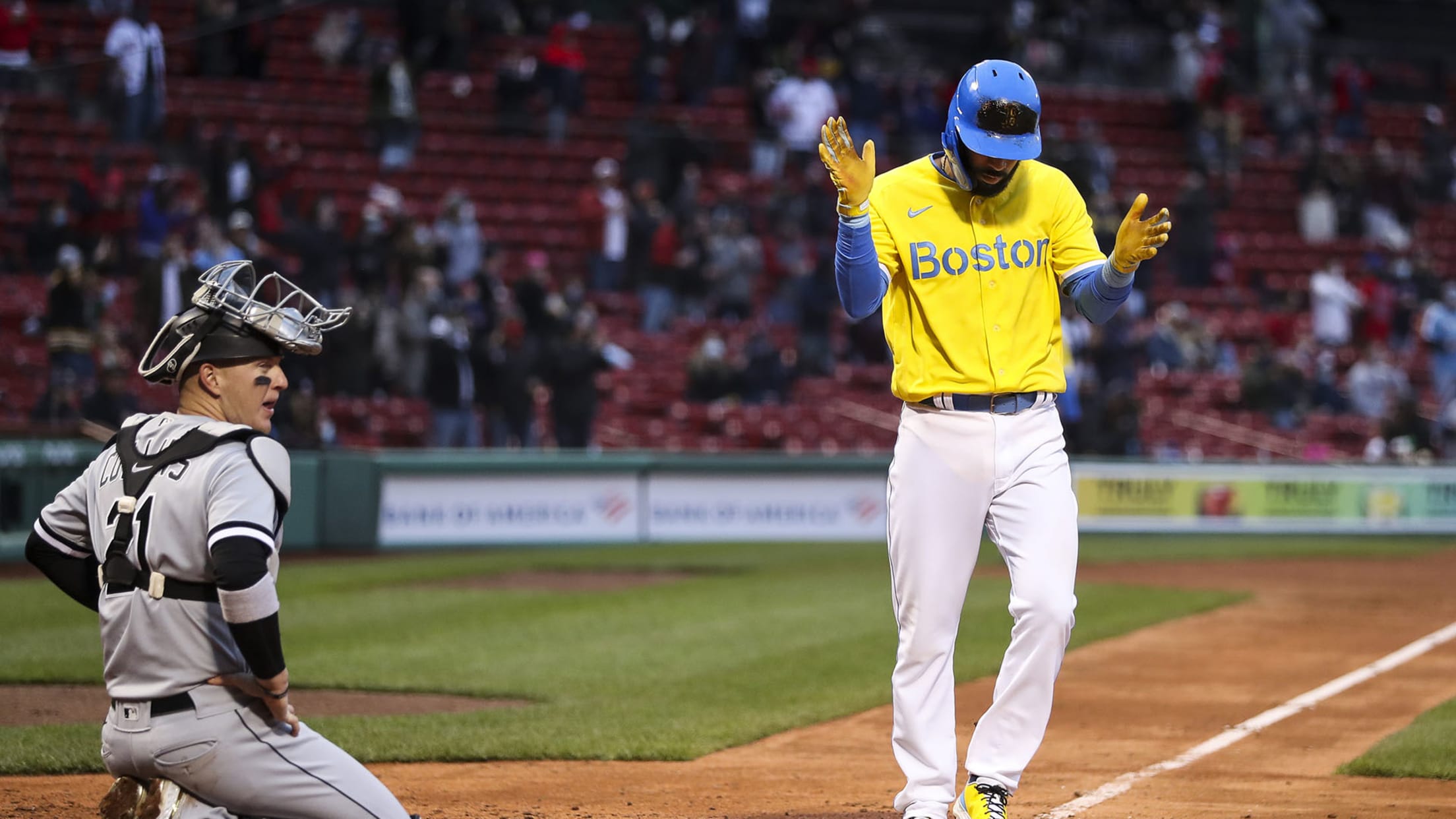 New opponent, new uniforms, new hero. Marwin Gonzalez had his biggest swing since joining the Red Sox, belting a go-ahead home run against Codi Heuer in the eighth inning to lift Boston to a 7-4 win over the White Sox in the first of four games at Fenway Park. Three
Since he's been gone: 12 wild Kazmar facts
A lot has happened since Braves INF last was in MLB in 2008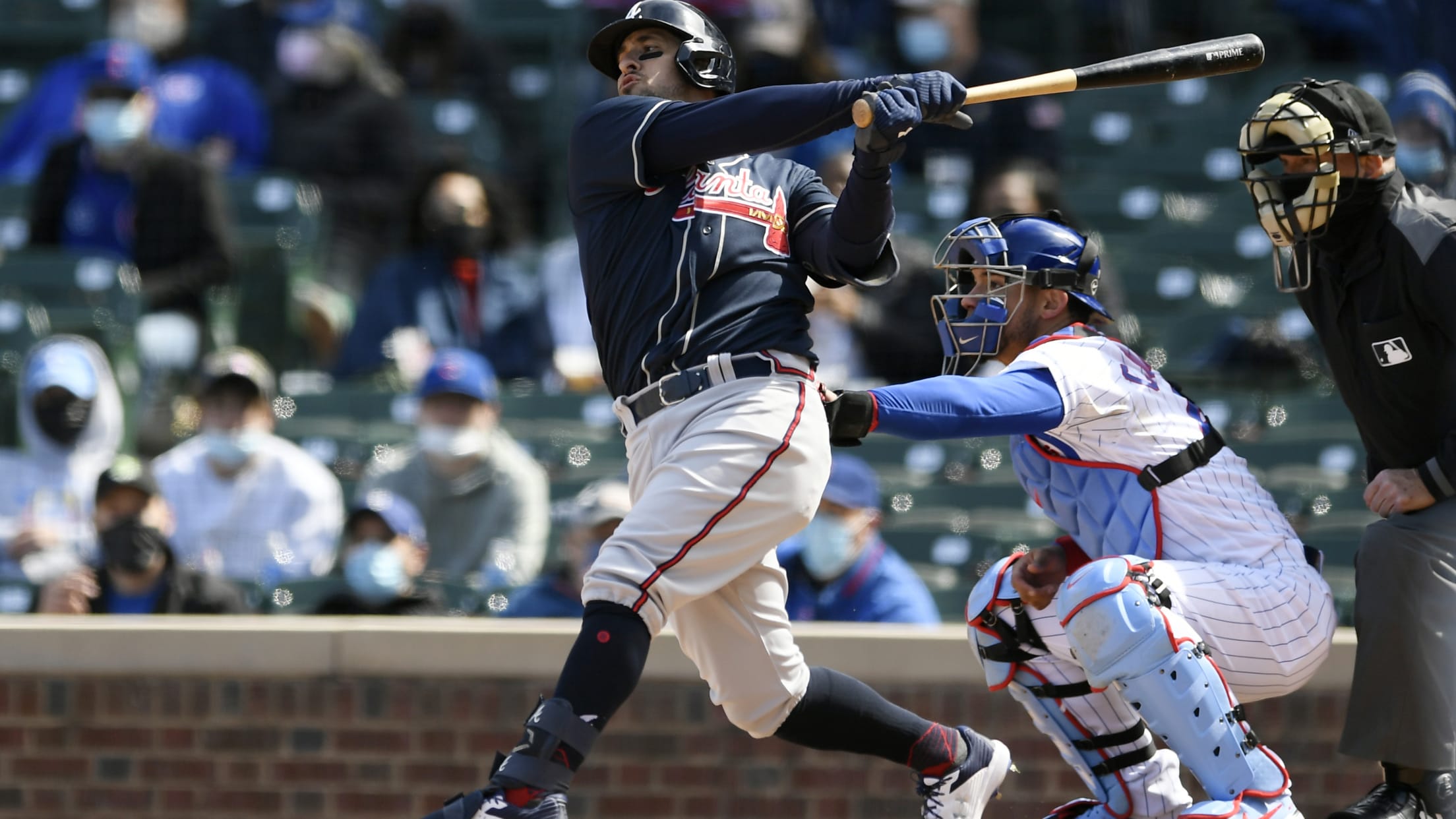 In baseball, 12 years is an eternity. Things happen quickly in this sport. Players come and go. Teams rise and fall. Trends roar to life and fizzle out. A dozen seasons is more than enough for a player to start and then end a career worthy of a place on
LeMahieu moving to 1st? For now, at least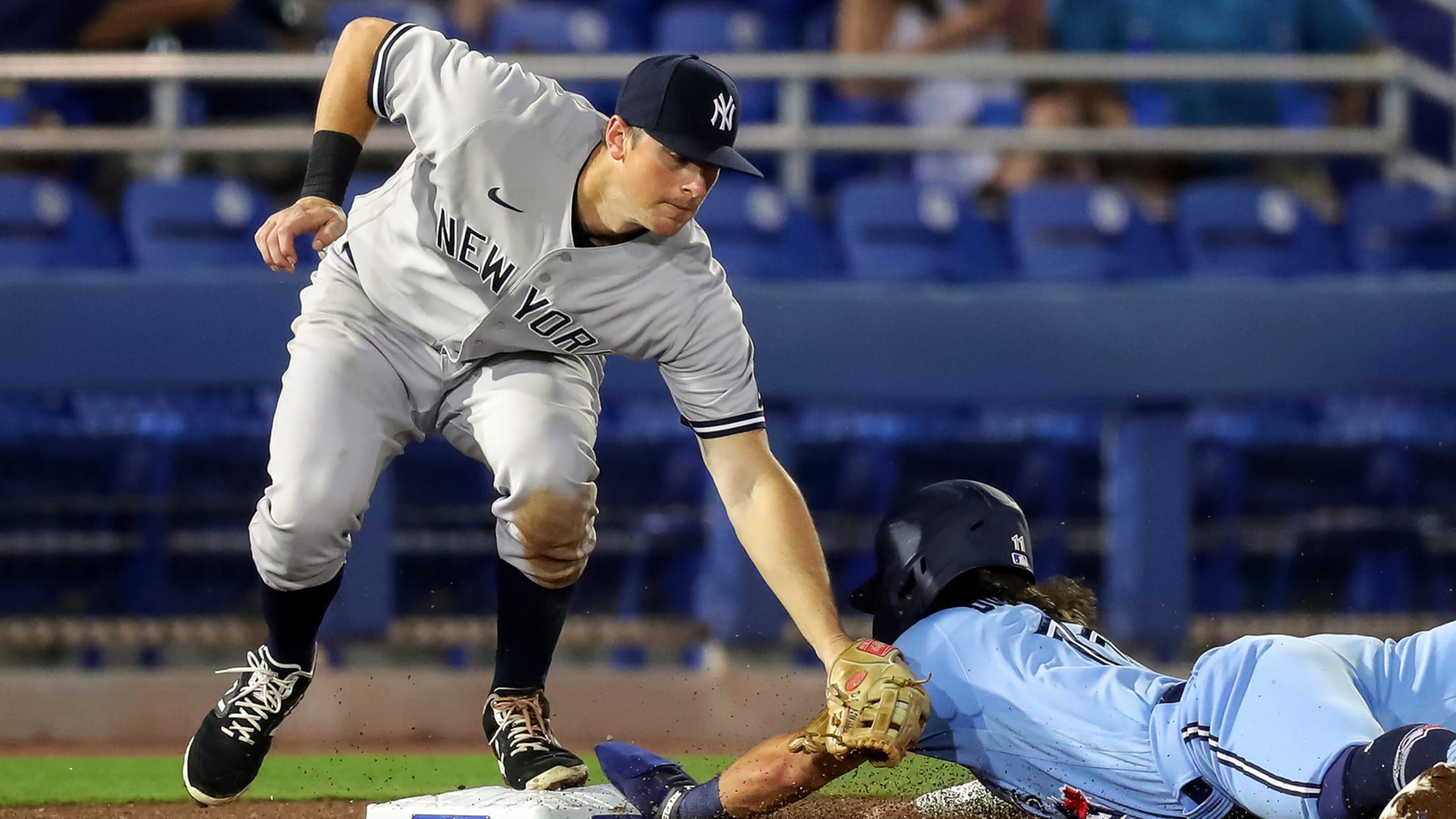 NEW YORK -- DJ LeMahieu spent most of his spring preparing to serve as the Yankees' second baseman, but 13 games into the schedule, manager Aaron Boone has shredded that blueprint. Boone said on Saturday that he anticipates having LeMahieu play regularly at first base, with Rougned Odor taking over
Yadi's 2 homers push Cards past Phils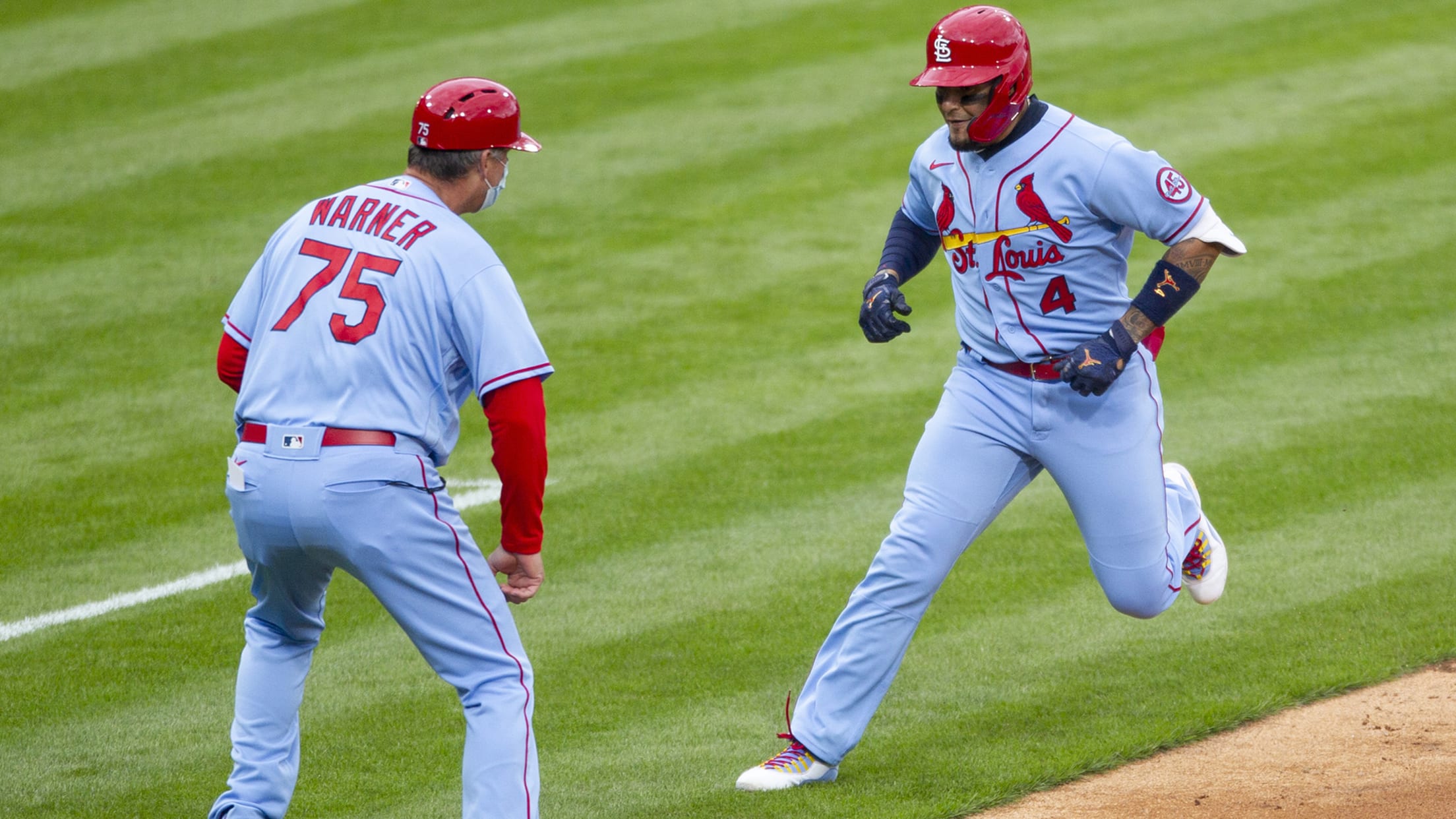 In the lead-up to Saturday's tilt against the Phillies, Cardinals manager Mike Shildt put some frustrations out into the ether. Responding to no question in particular, he listed several reasons as to why he felt St. Louis' offense was in a good place despite a lack of success. They weren't
These teams' best player (so far) is ... who?
Sometimes the star isn't the most obvious guy. Here are eight surprising ones early in '21.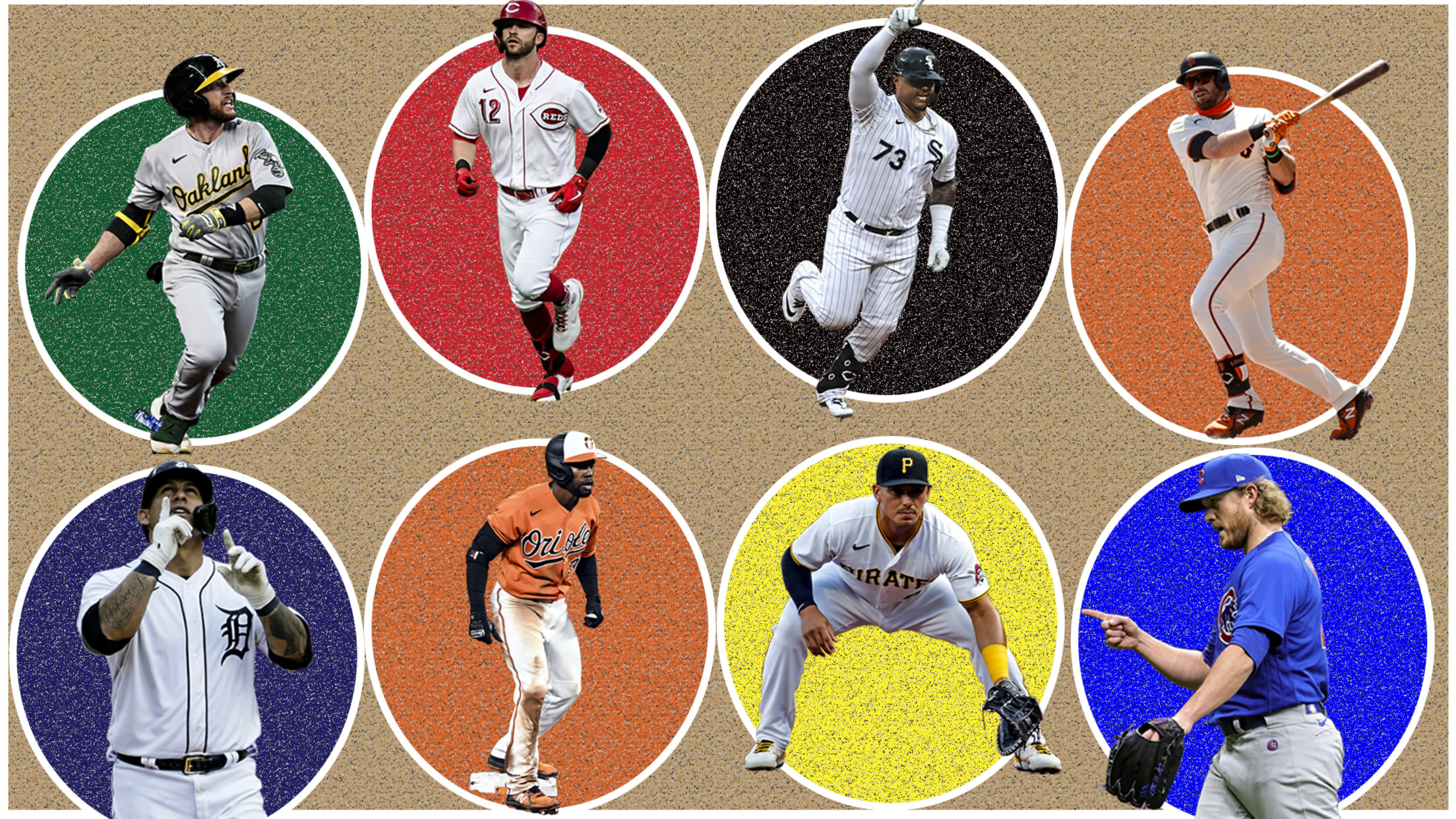 Every team's got a star. If you see ESPN or MLB Network advertising an upcoming game and the Angels are playing, you're going to see Mike Trout, just like you'll see Aaron Judge for the Yankees, Juan Soto for the Nationals or Francisco Lindor for the Mets. Baseball is a
A's go from 0-6 start to over .500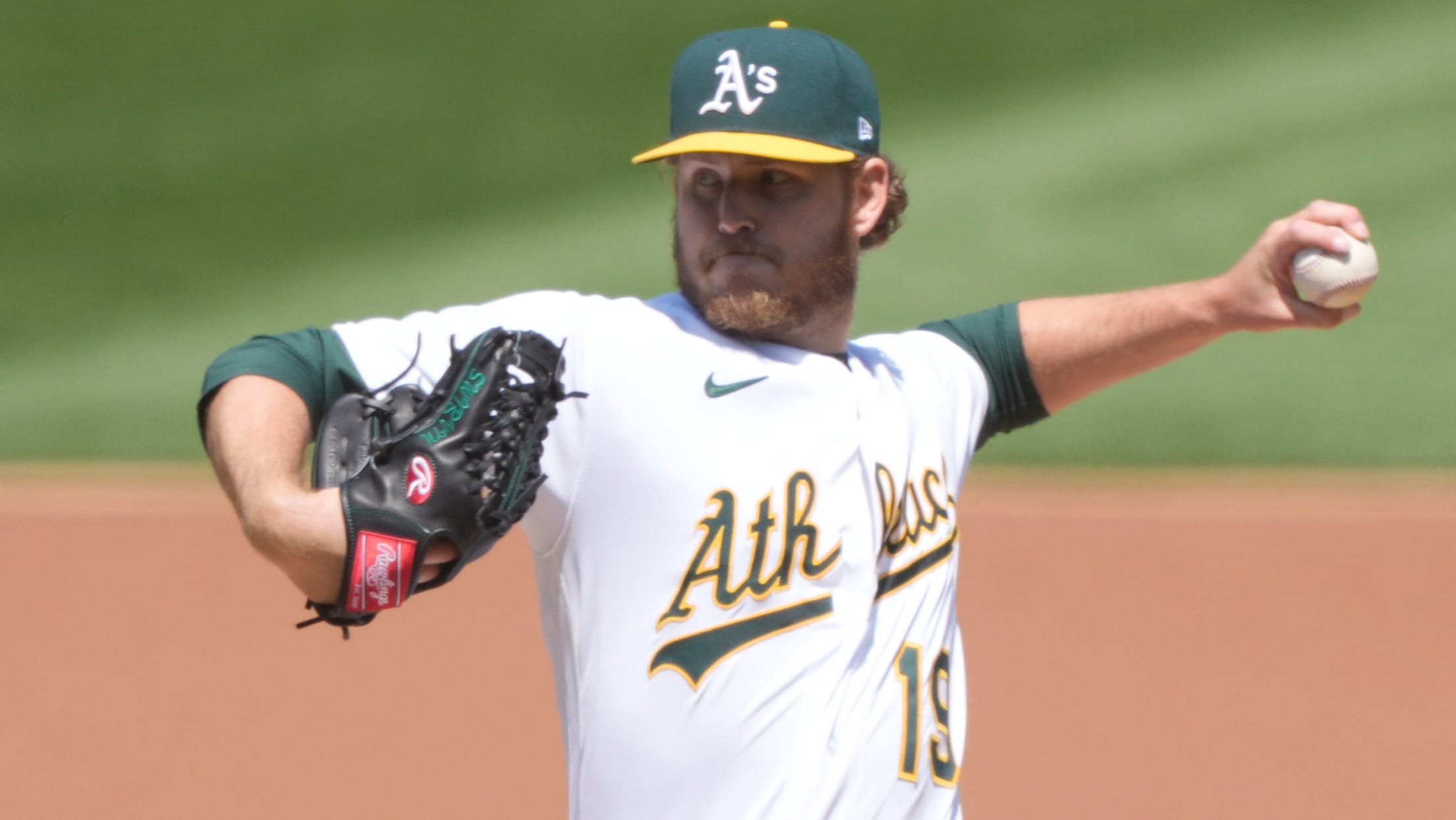 OAKLAND -- Cole Irvin remained realistic about his inclusion in the A's Opening Day rotation when discussing it with reporters earlier this month, referring to his spot as a "temporary" fix until veteran workhorse Mike Fiers made his way back from injury. While Fiers is inching closer to his return,
Greinke's glove, arm help 'Stros end skid
Dusty Baker: "That's what aces do"
HOUSTON -- Closer Ryan Pressly called him an artist. Infielder Taylor Jones compared him to a mechanic. Astros manager Dusty Baker is just glad he's on his team. With the Astros mired in a six-game losing streak and four of their starting position players quarantining back in Houston, veteran right-hander
2-for-1, twice! Contreras, Bryant blast off
Cubs' bats wake up in big-time rout of Braves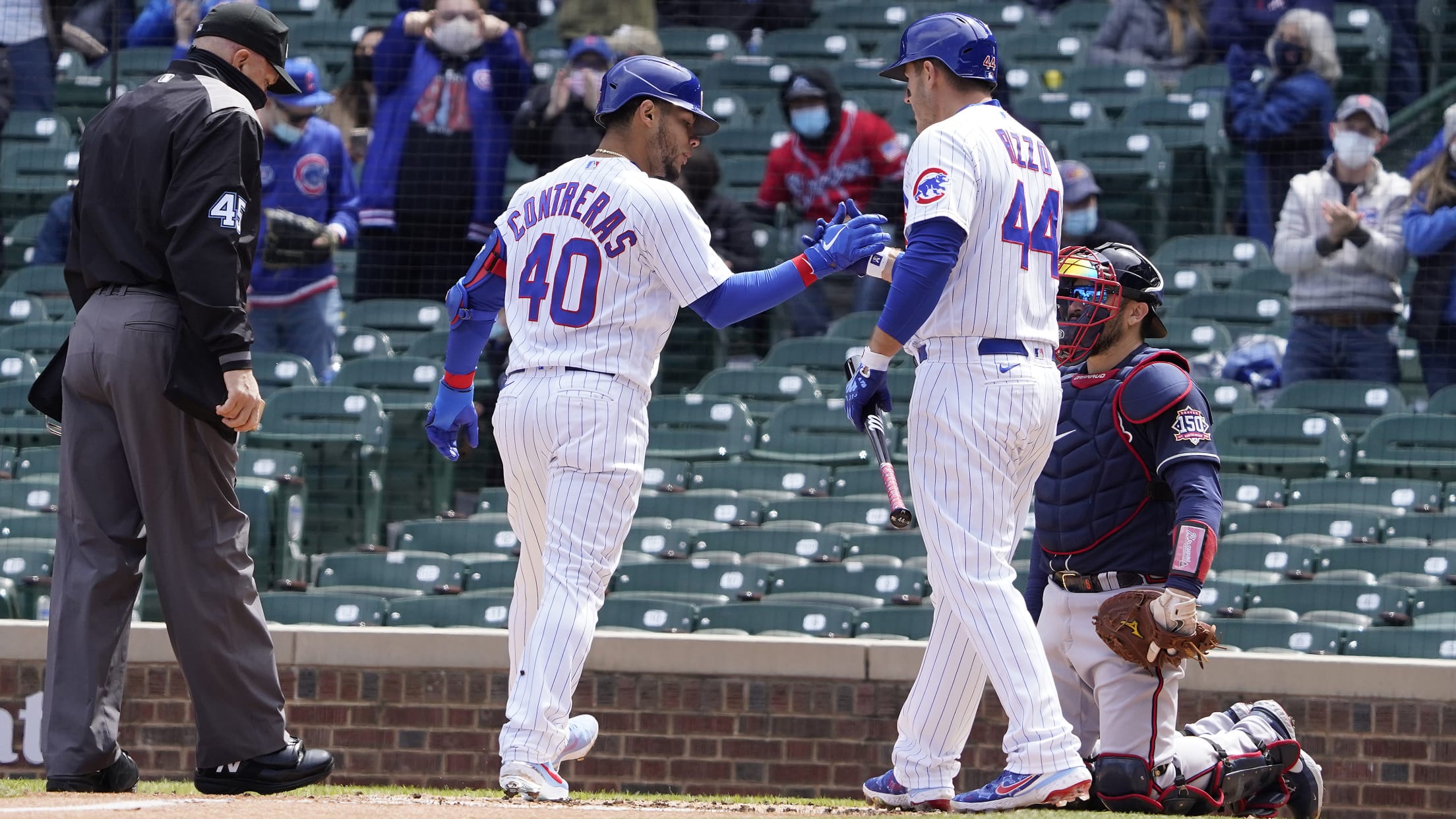 CHICAGO -- Willson Contreras was not putting a finger to his lips and shushing anyone on Saturday. No, the Cubs catcher was welcoming the noise at Wrigley Field that his bat was creating. And the Cubs finally made a lot of noise. Contreras launched a home run in each of
Ohtani's return to mound appears imminent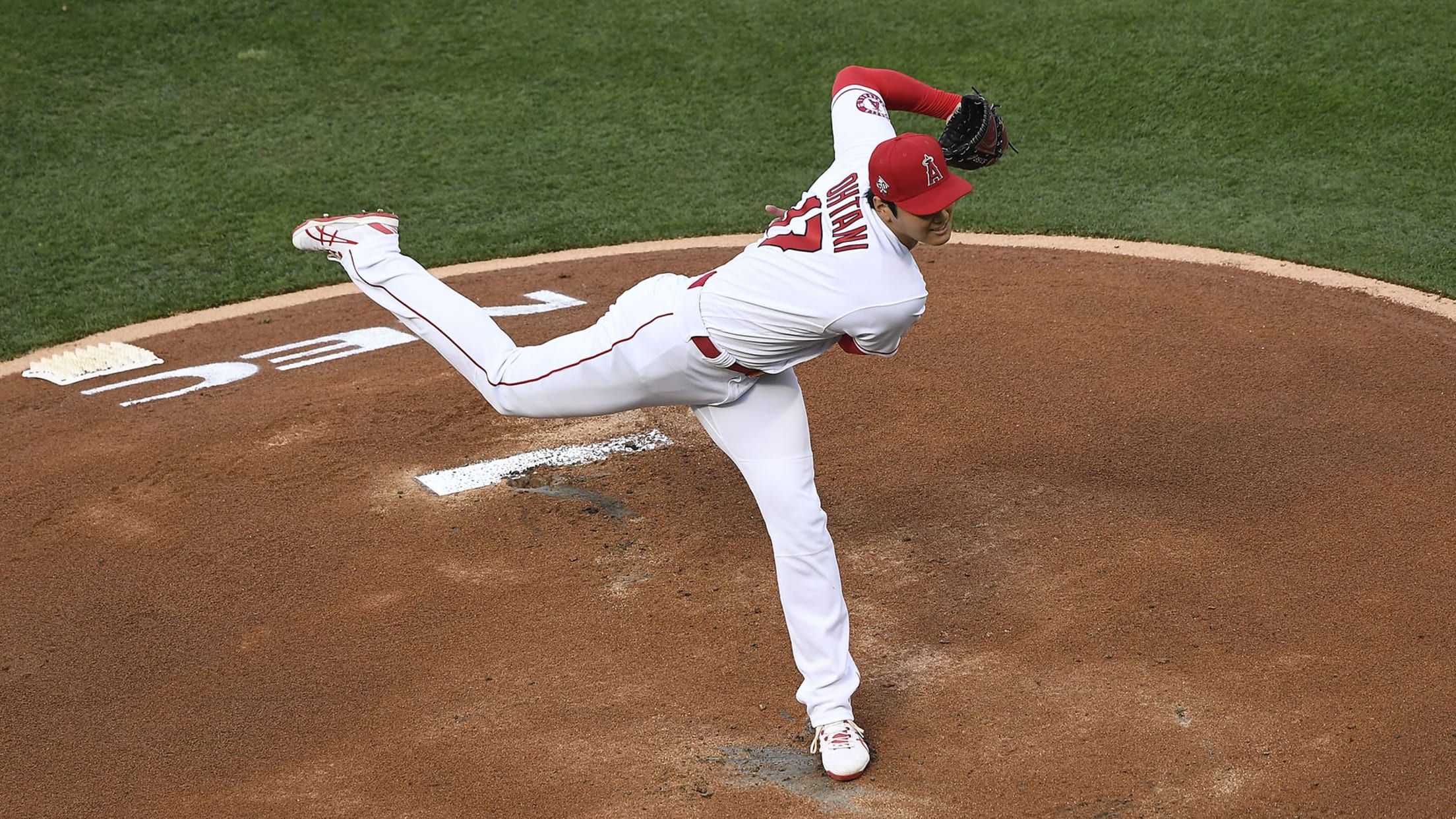 ANAHEIM -- Angels two-way star Shohei Ohtani threw a 30-pitch bullpen session off the main mound at Angel Stadium on Saturday and will be reevaluated on Sunday to determine when he'll make his next start. Angels manager Joe Maddon said that outing could come as soon as Tuesday against the
Alfaro: 'The mentality right now is no quitting'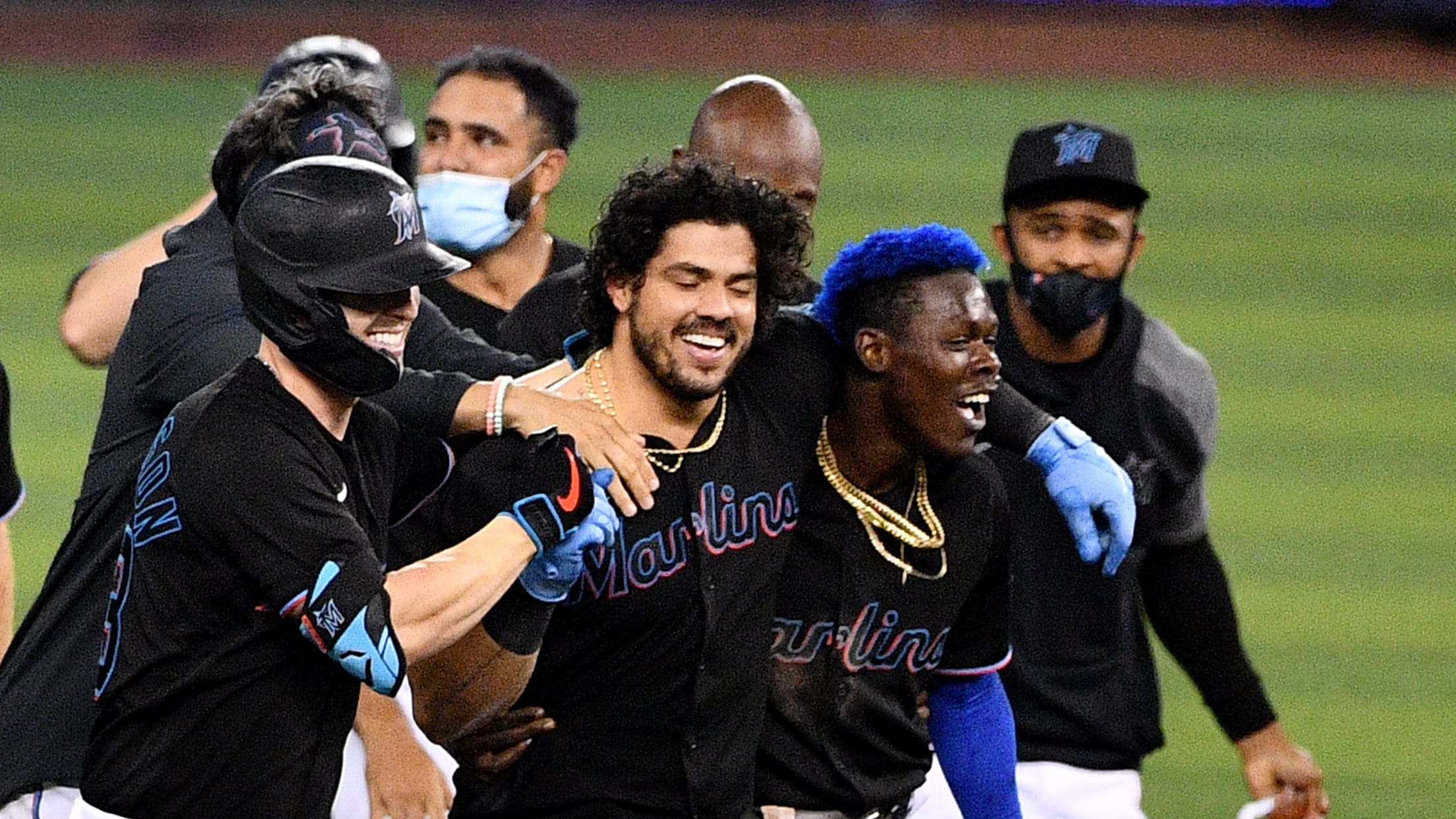 MIAMI -- Not too long after providing the heroics in a thrilling 7-6 walk-off victory over the Giants in 10 innings on Saturday night at loanDepot park, Marlins catcher Jorge Alfaro turned philosophical. "The road will display a lot of obstacles," Alfaro said via an interpreter. "You've got to go
Olson, A's utilizing VR to prepare for at-bats
Smith throwing from 100 feet
OAKLAND -- During Spring Training, the A's became one of the latest teams to adopt virtual reality as a hitting tool to prepare for opposing pitchers. For hitters like Matt Olson, the new technology is already benefitting him at the plate early in the season. Having never faced Tigers starter
Reds battle back, walk off in the 10th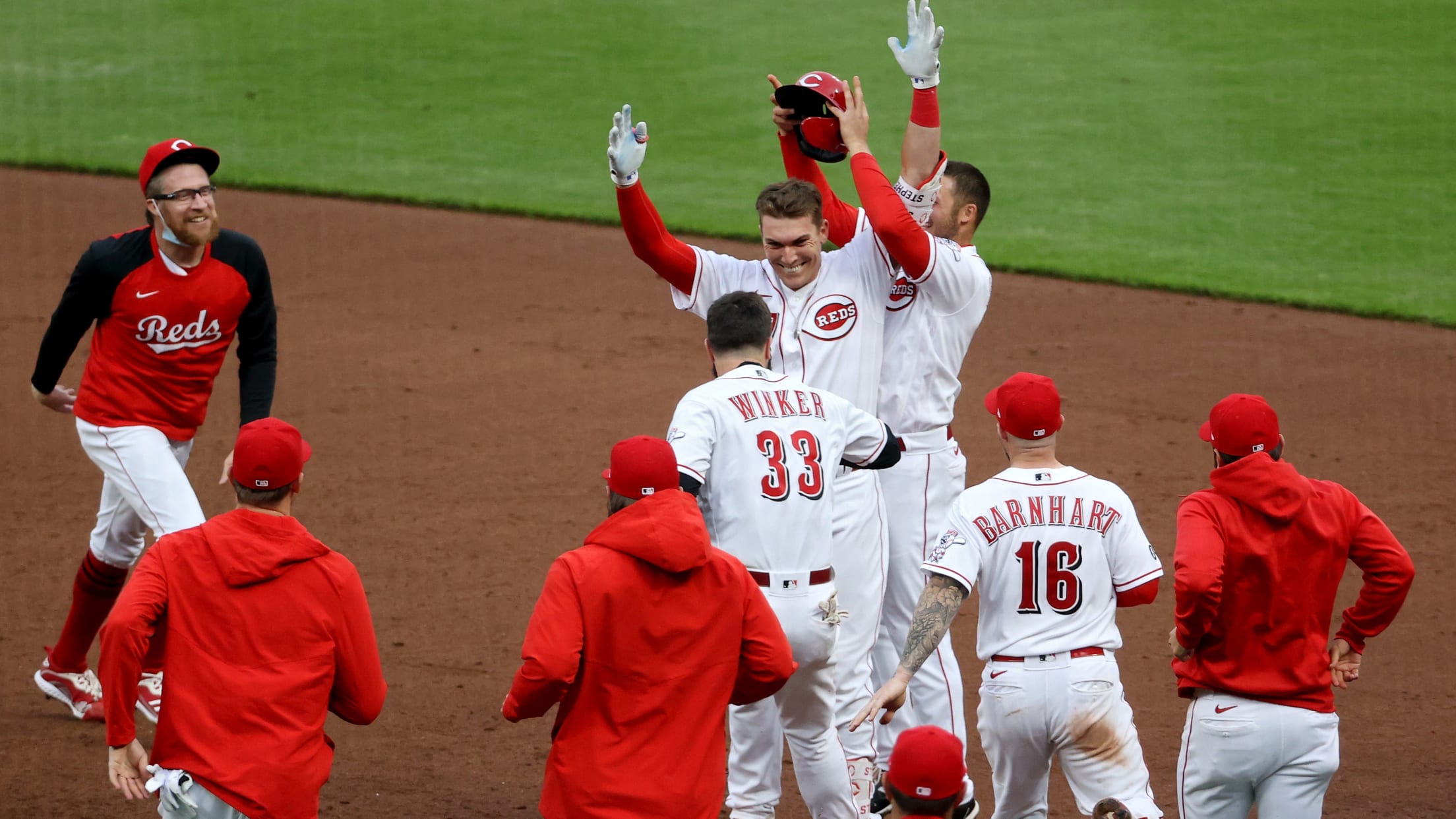 CINCINNATI -- The Reds were 26 outs into the game, and it wasn't looking too good for Cincinnati when Max Schrock hit a routine ground ball to first base. Cleveland first baseman Josh Naylor, who had just turned back-to-back unassisted putouts on the previous two plays, had one more to