They're in! Sox ride G1 HRs to division title
Anderson 'sets tone' with 2 jacks; Chicago claims first championship since 2008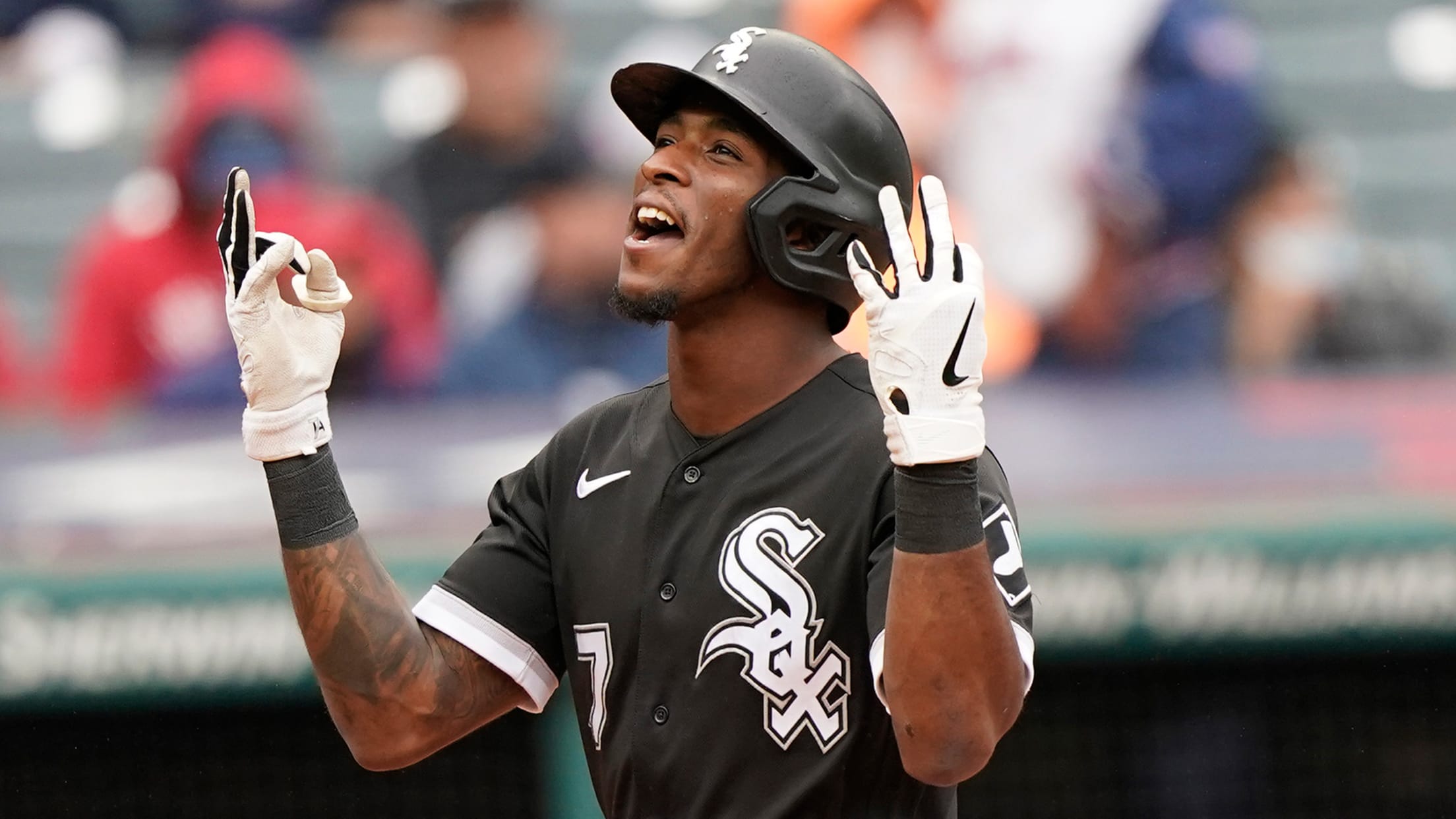 CLEVELAND -- For the first time since 2008, the White Sox are the American League Central champions. And they won the division crown in style with a 7-2 thumping of Cleveland on Thursday afternoon at Progressive Field in the opener of a split doubleheader that officially eliminated the Indians from
Goldy's clutch HRs help stretch streak to 12
Waino on slugger's heroics: 'I gave Goldschmidt a big ol' smooch on the top of his head'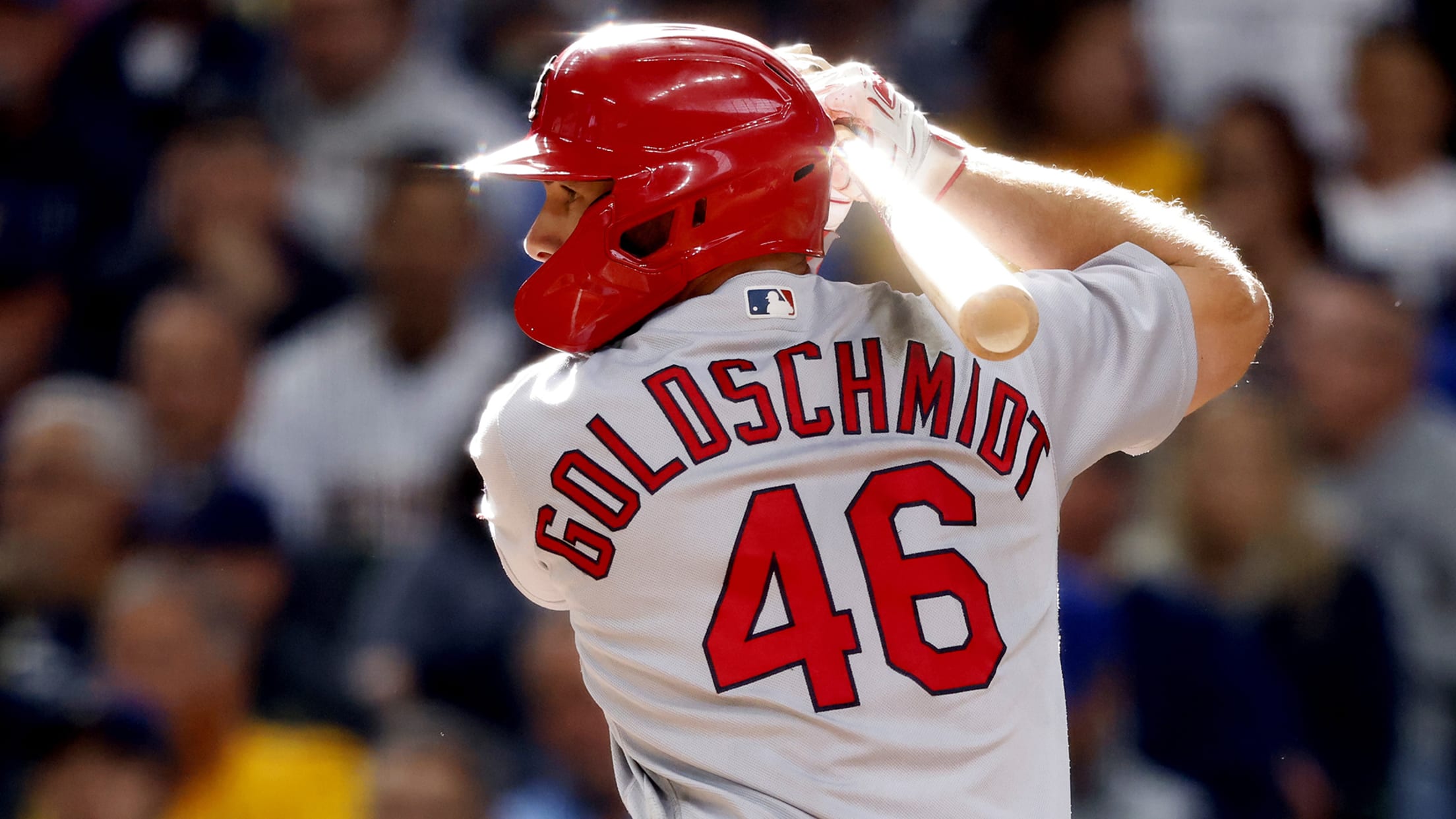 MILWAUKEE -- The crack of the ball hitting Paul Goldschmidt's bat in the ninth inning on Thursday afternoon was so loud that even if you weren't watching the game, you didn't need to look up to know where the ball was headed. Brewers left fielder Christian Yelich got up from
Help make 1 iconic card finish Top of the Pack
Like the Highlander, there can only be one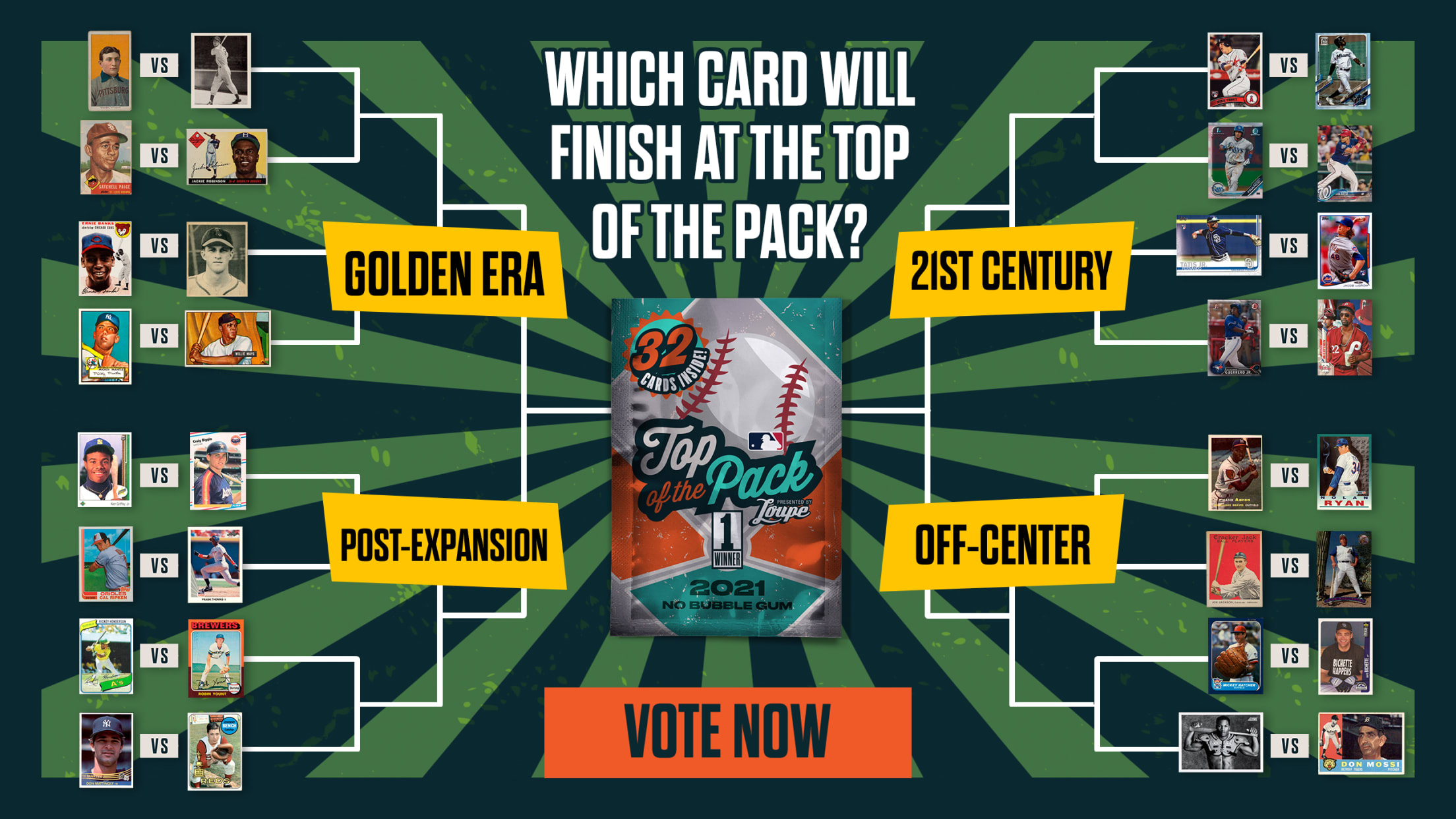 They've filled binders and boxes. You use them as bookmarks and investments. They're art pieces that fit in the palm of your hands, and they can make your bicycle sound like a (very weak) motorcycle. Whether you're a collector, dabbler, or simply a baseball fan, there's no way to escape
Dodgers rally to keep pressure on SF in NLW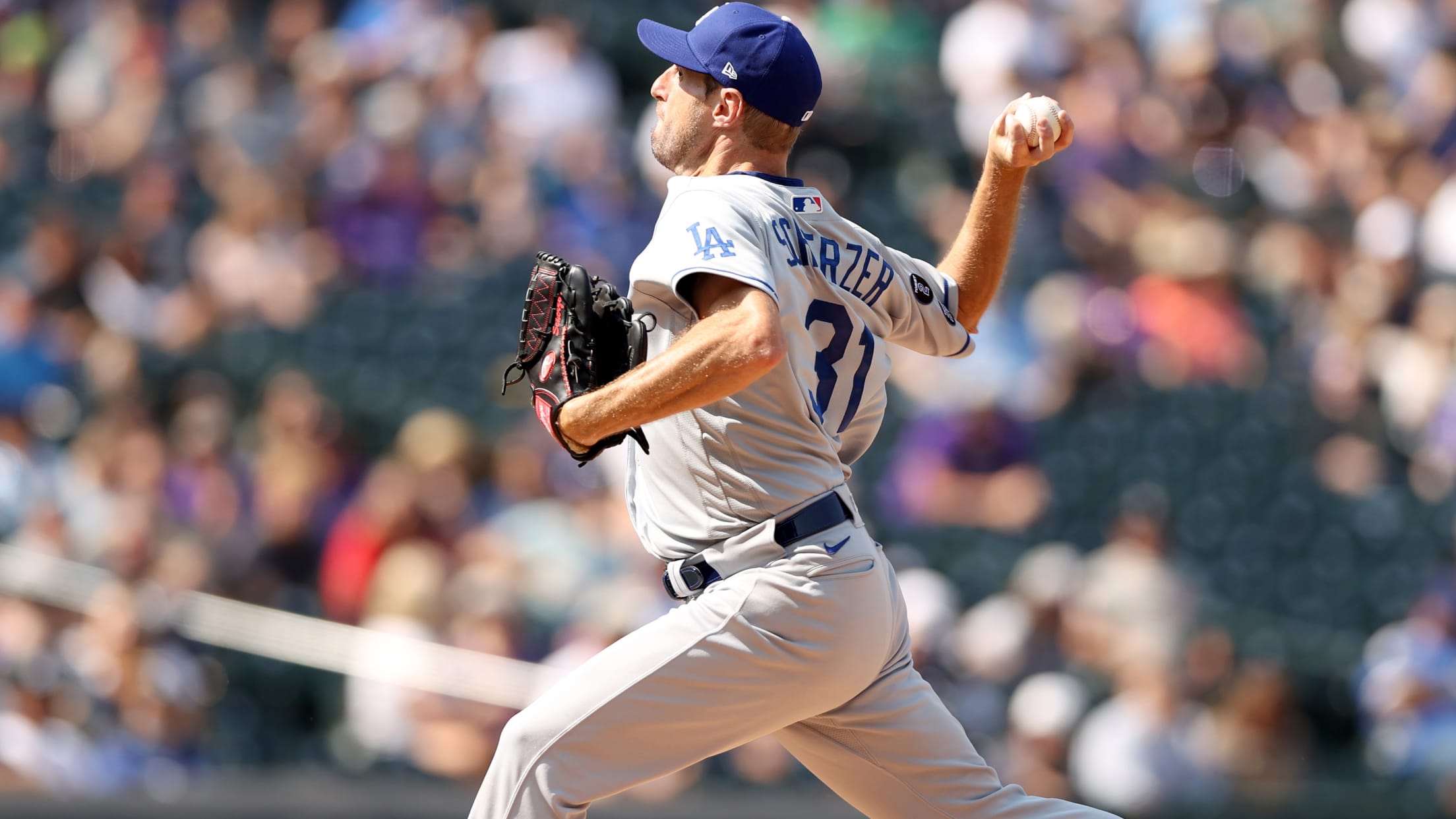 DENVER -- The Dodgers saw their division hopes flash before their eyes. They were down to their last out in what would've been a disappointing series loss to the Rockies. To make matters worse, as they looked up at the out-of-town scoreboard, they could see that the Giants had taken
These prospects are stats stars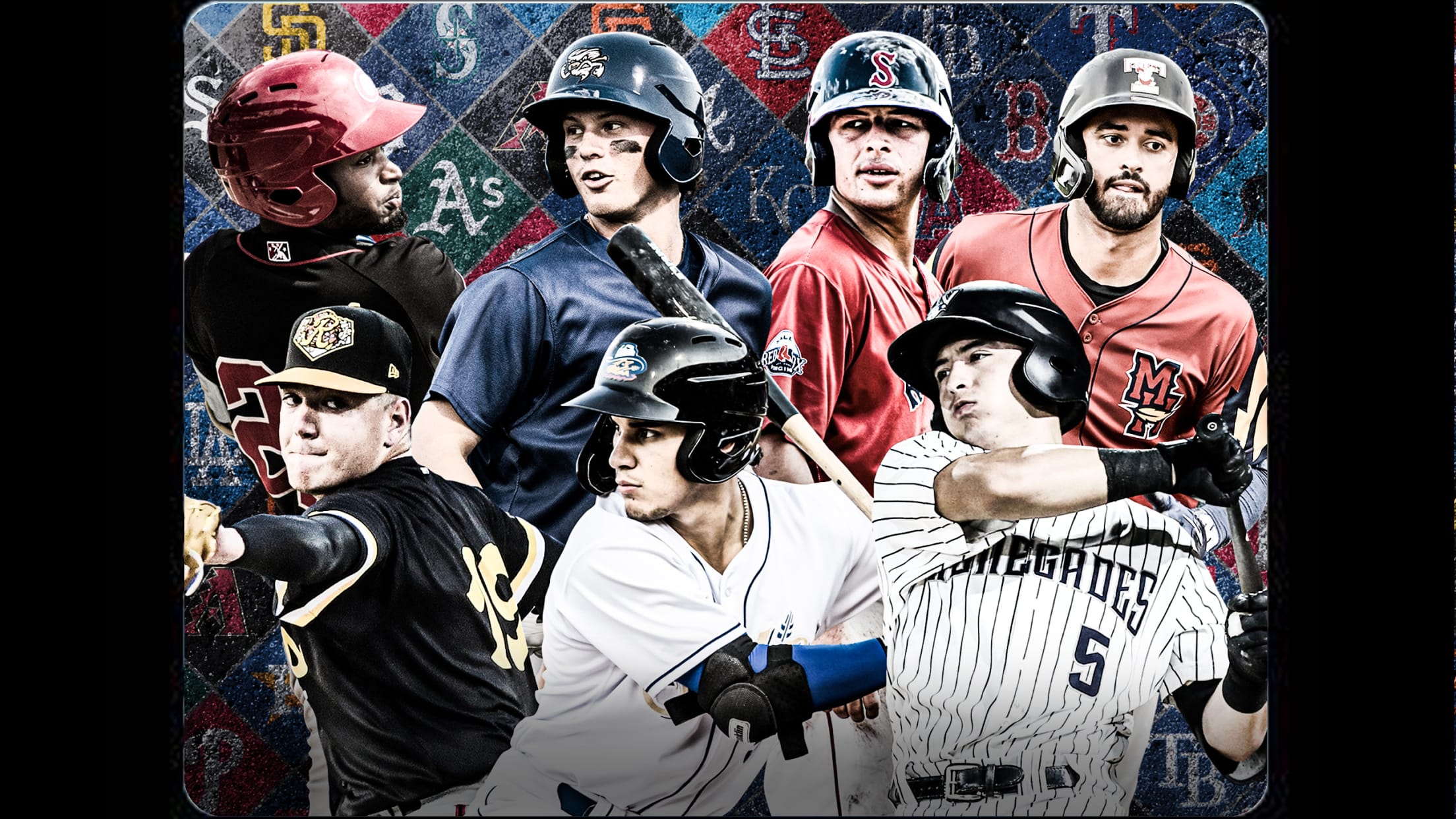 They say that numbers don't lie. But it's also true that they don't tell a complete story all the time. That's certainly true in baseball, where statistics of all shapes and sizes have been used to measure performance for generations, even if those measuring sticks have changed over the years.
Surging Mariners hit 3 homers to sweep A's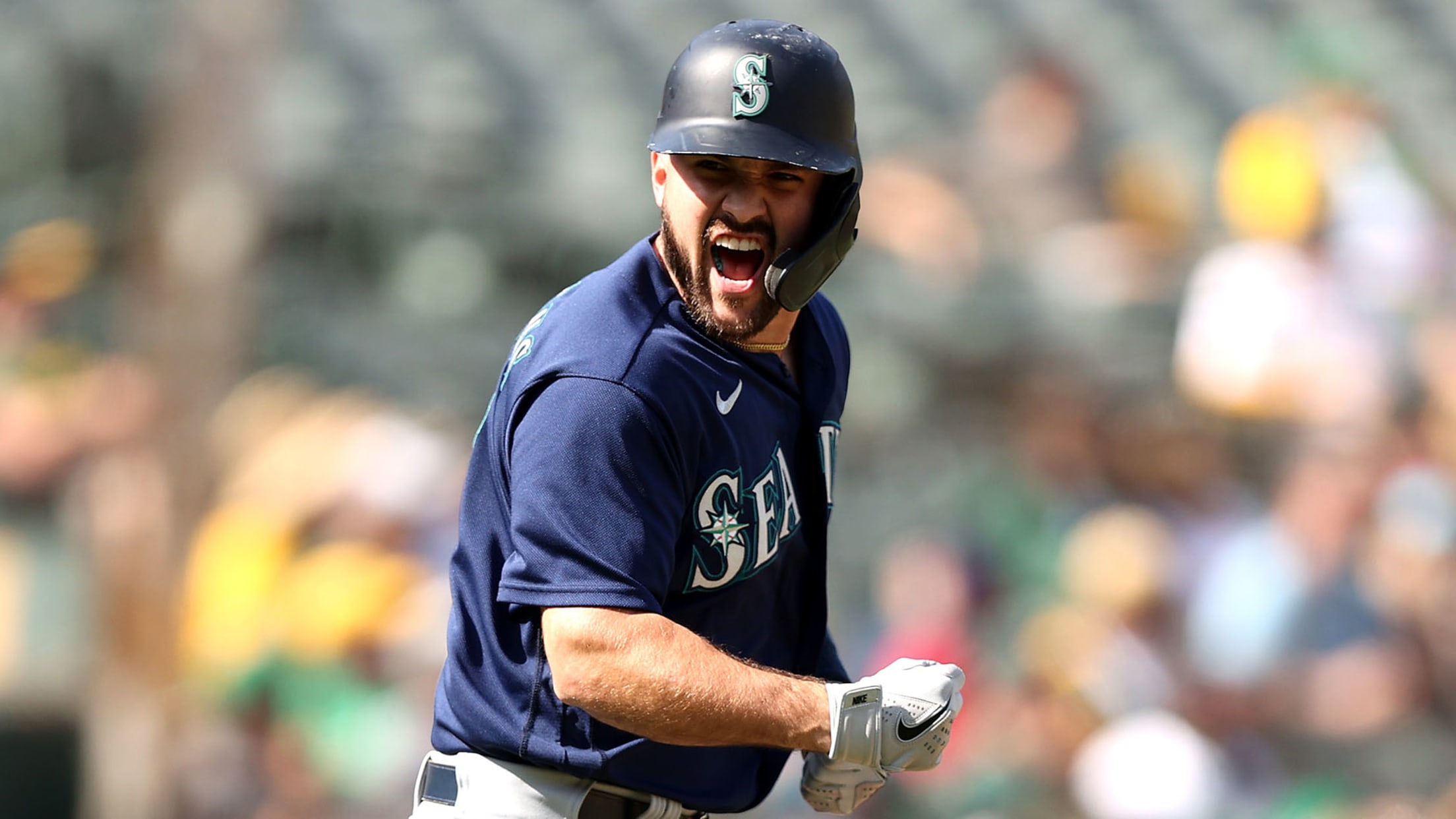 OAKLAND -- So often in this Mariners season of surprise, to just about everyone outside of their confident clubhouse, there have been countless times in which they've looked down and out. Yet every time it looks like Seattle is on the cusp of a spiral, it climbs its way back
Borucki gets 3-game suspension for HBP
Montoyo also suspended one game for incident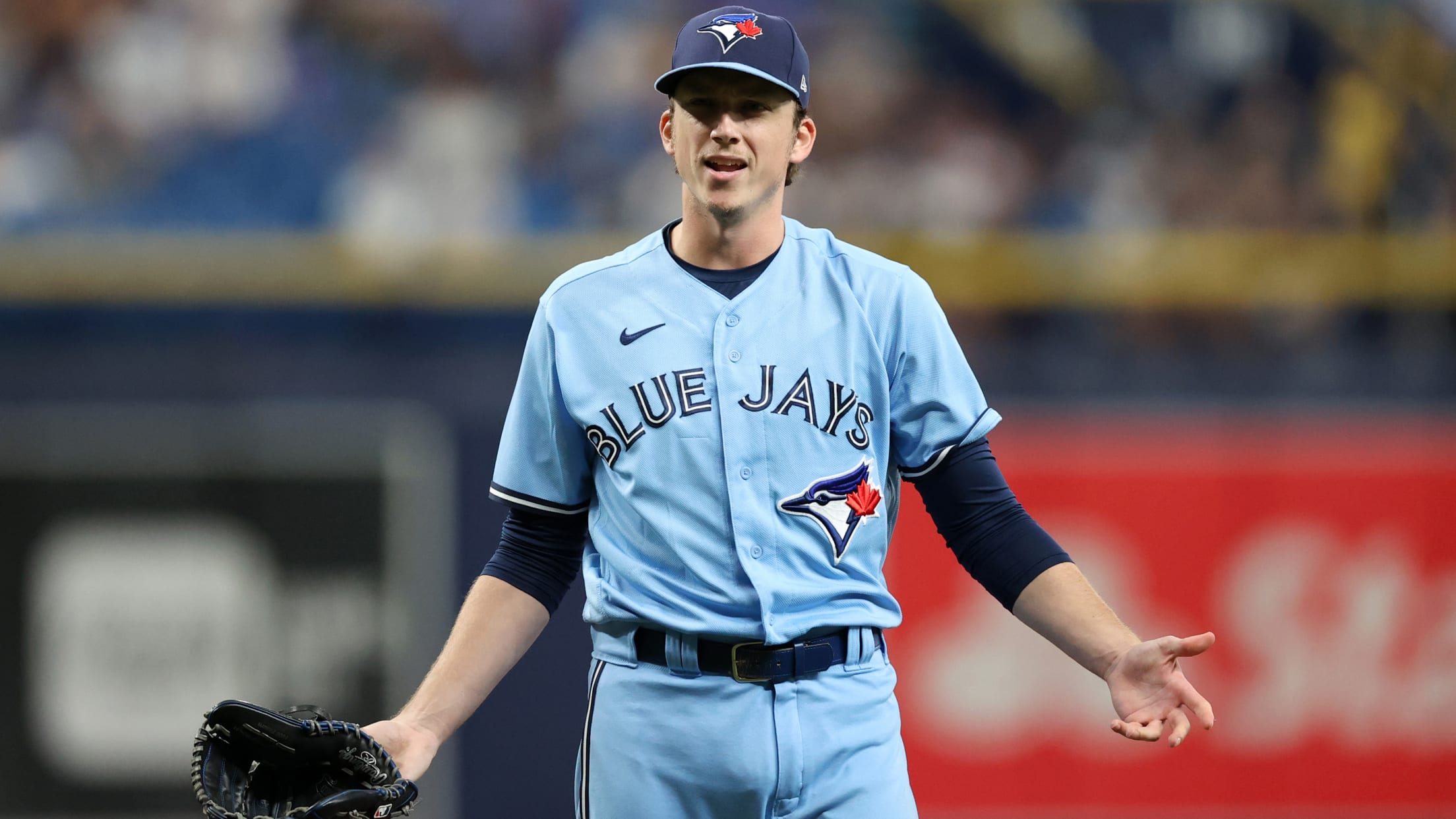 MINNEAPOLIS -- Ryan Borucki has been suspended for three games and fined an undisclosed amount for "intentionally hitting" Kevin Kiermaier on Wednesday, MLB announced. Borucki is appealing the decision. Manager Charlie Montoyo has also been suspended one game, which is automatic for a manager in this situation. This isn't the
Soto breaks Nats' walks record set by Harper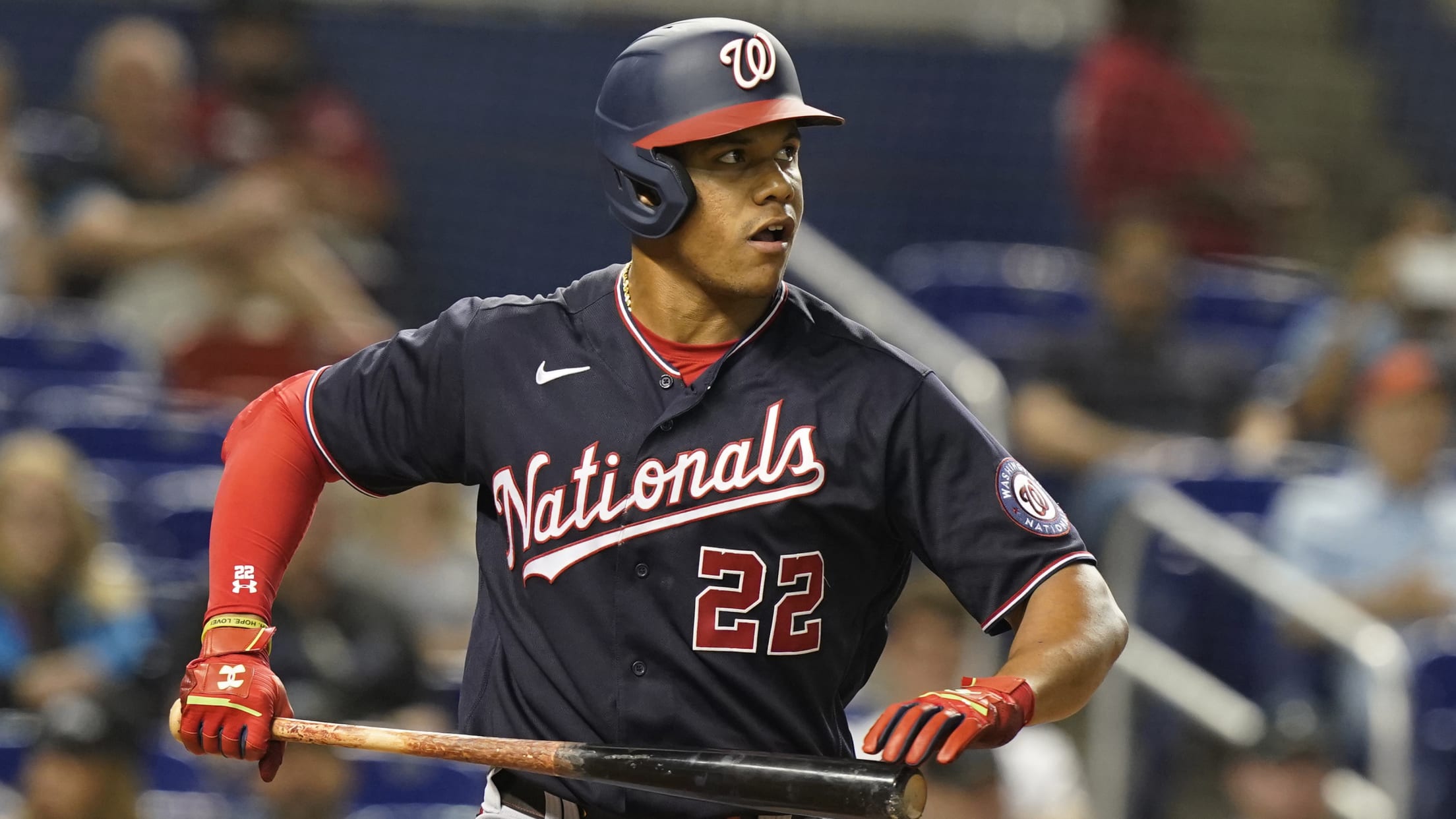 CINCINNATI -- Juan Soto walked in the first inning of Thursday night's series opener at Great American Ball Park to move past Bryce Harper into first place on the Nationals' all-time single-season walks list. Reds right-hander Luis Castillo issued the historic free pass on nine pitches. After that first plate
Waino pads standout résumé with 2,000th K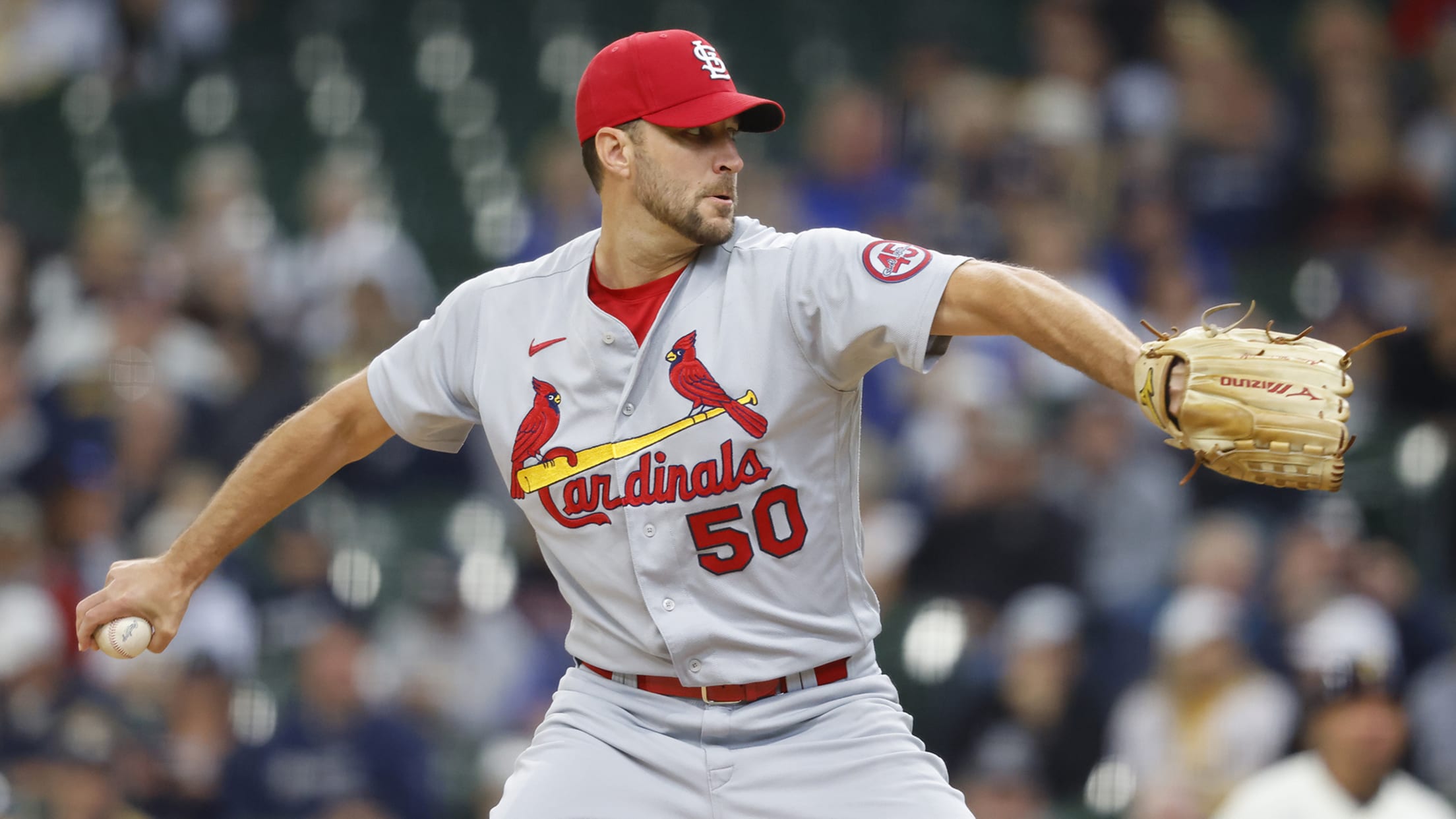 MILWAUKEE -- Adam Wainwright and Brewers third baseman Luis Urías were stuck in a furious battle in the fourth inning on Thursday afternoon. After the count reached 2-2, neither Wainwright nor Urías would give in. Wainwright refused to throw ball three, and Urías made sure to get a piece of
Braves fade late, four-game win streak ends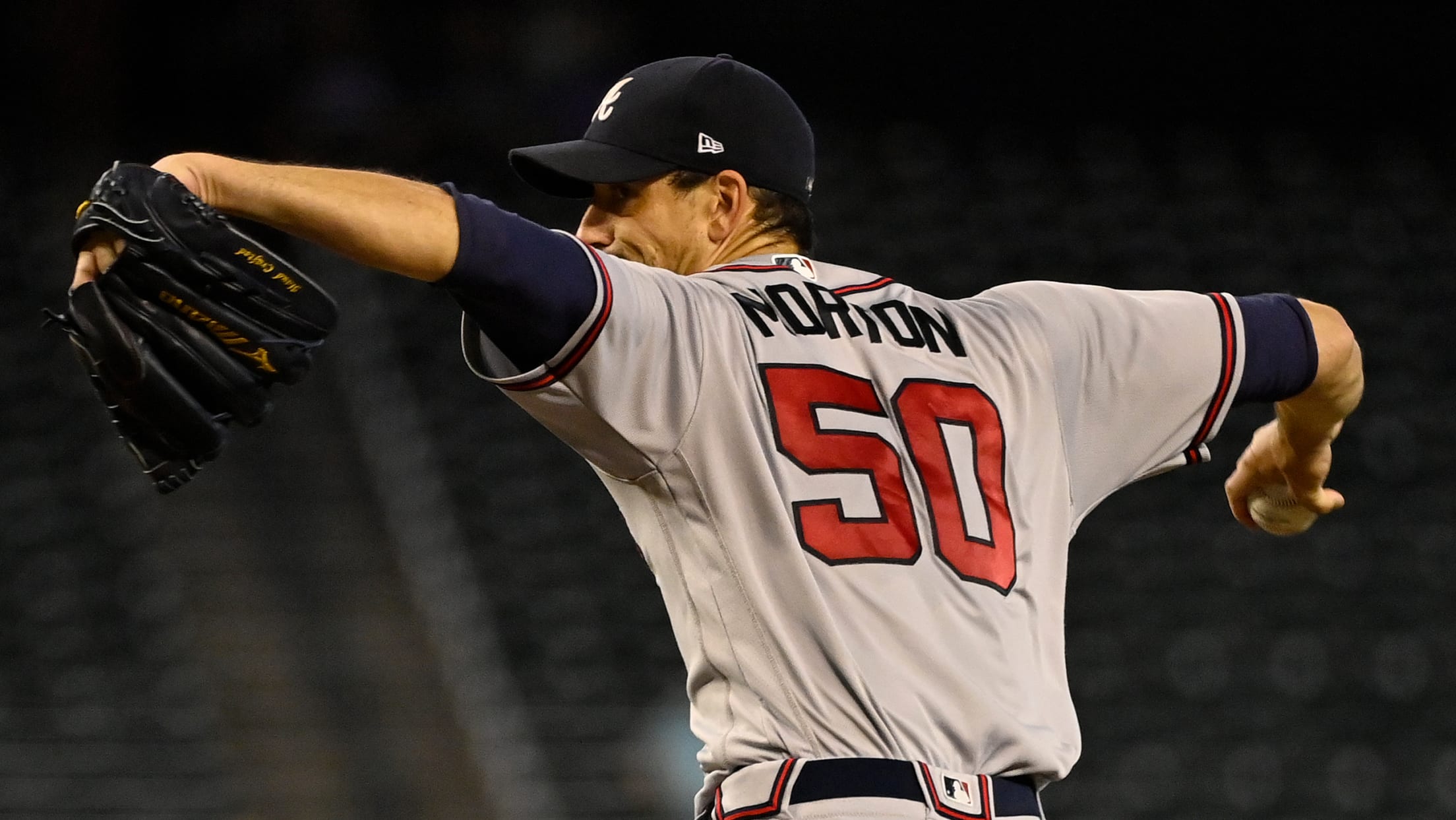 PHOENIX -- Instead of cruising to another win and completing a four-game sweep, the Braves were left wondering how everything seemed to go wrong so quickly in the 6-4 loss to the D-backs on Thursday afternoon at Chase Field. Carson Kelly hit a three-run homer off Jacob Webb and Daulton
Stakes are high with The Rivalry resuming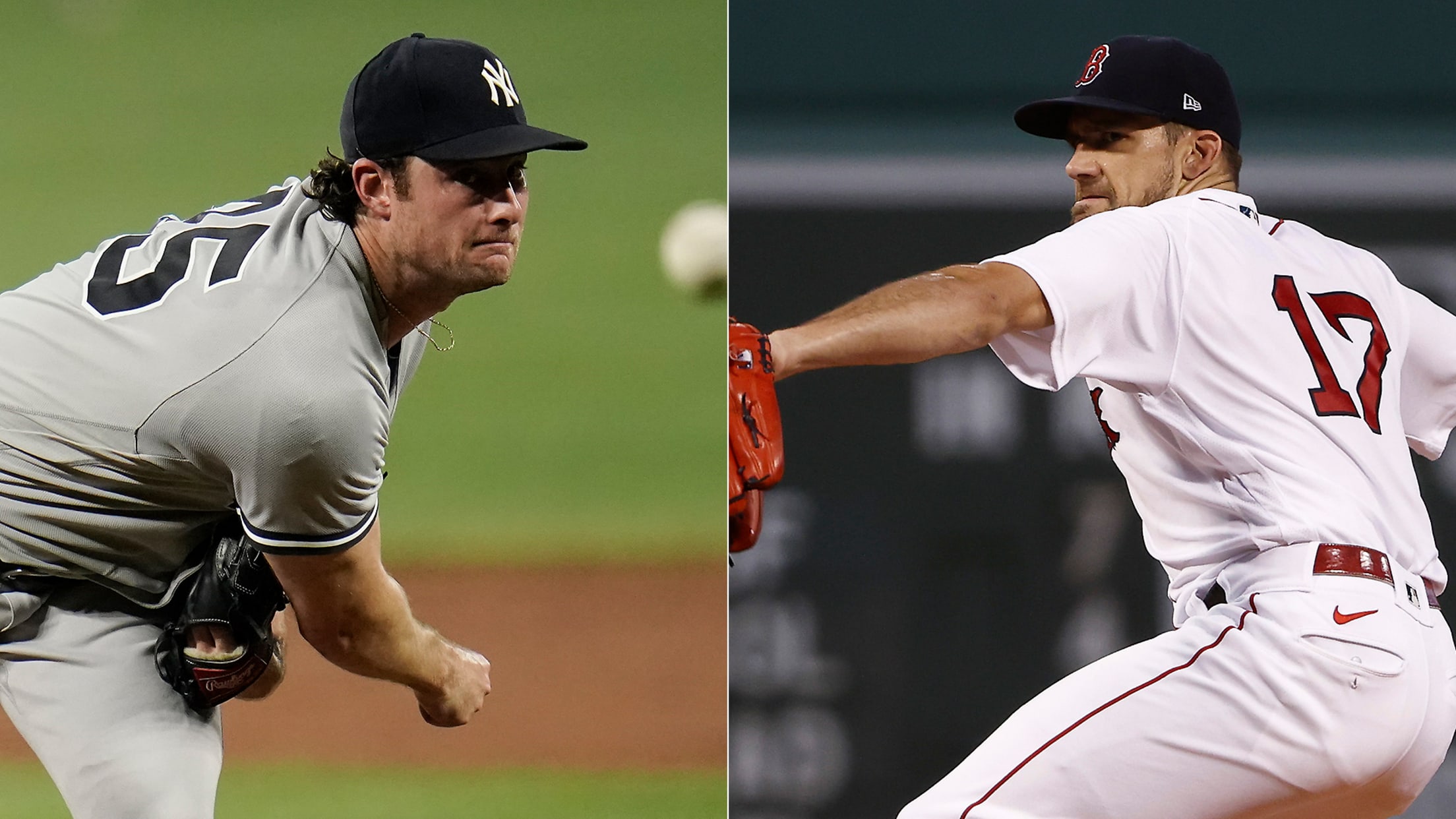 It has been a long time since the Red Sox and Yankees played a September series like this in which both teams had so much skin in the game. Maybe too long. The Red Sox, who continue to be one of the great surprises in baseball this season, come into
Complete 2021 MLB postseason schedule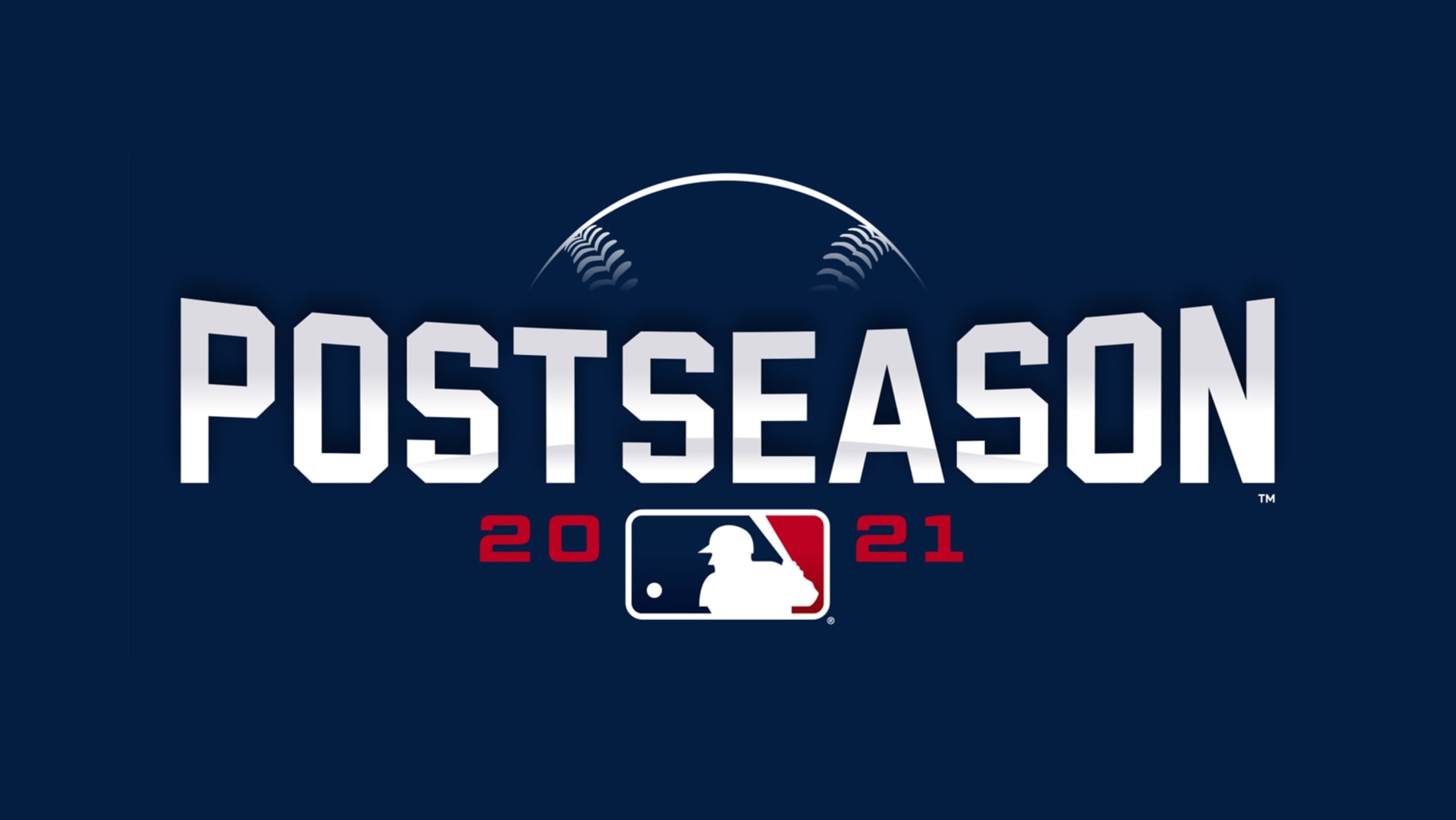 Major League Baseball today announced the schedule for the 2021 Postseason, which is set to open with the American League Wild Card Game presented by Hankook on ESPN on Tuesday, Oct. 5, followed by the National League Wild Card Game presented by Hankook on TBS on Wednesday, Oct. 6. Game
Here are the '21 playoff tiebreaker scenarios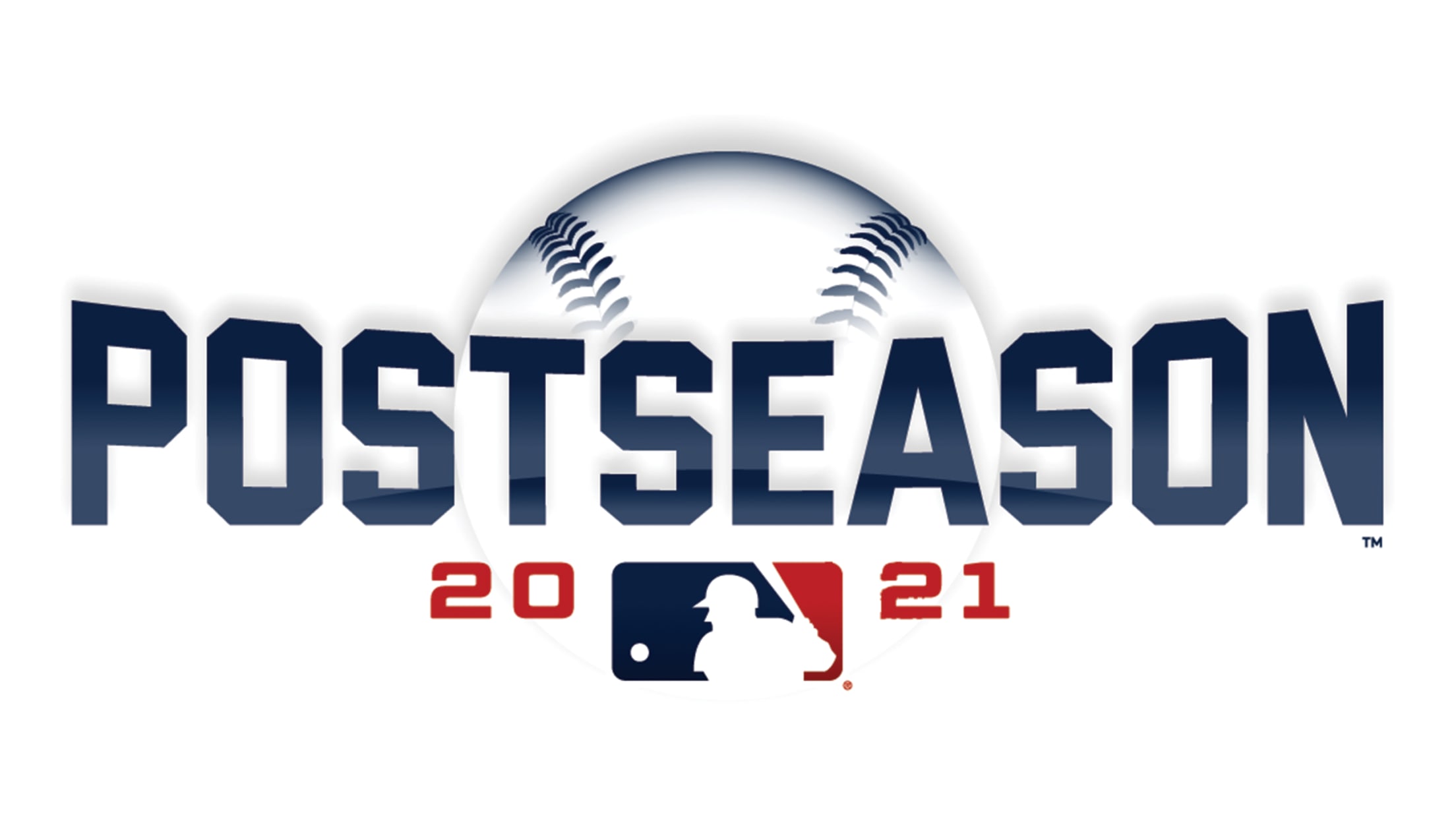 Just as extra innings are sometimes required to resolve games, extra games are sometimes required to resolve regular-season races. It hasn't happened often, even in the dual-Wild Card era in which more teams are in the late-season mathematical mix. Since Major League Baseball went to the dual-Wild Card format in
Injuries: Arenado, Cruz, Giants, Astros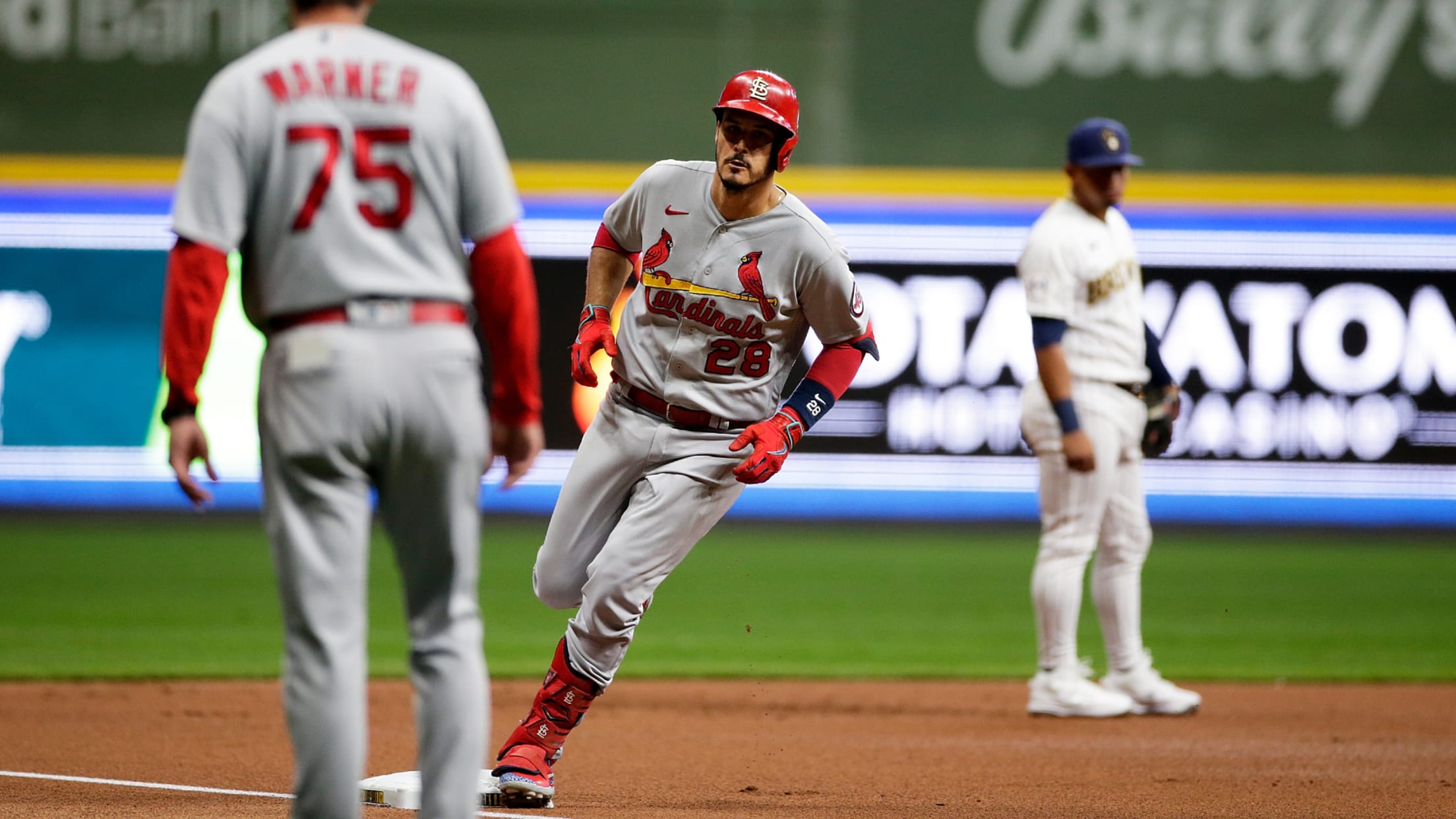 Stay up-to-date with all the latest news on injured and recovering players from across Major League Baseball.
Mets' future tied to key front office hire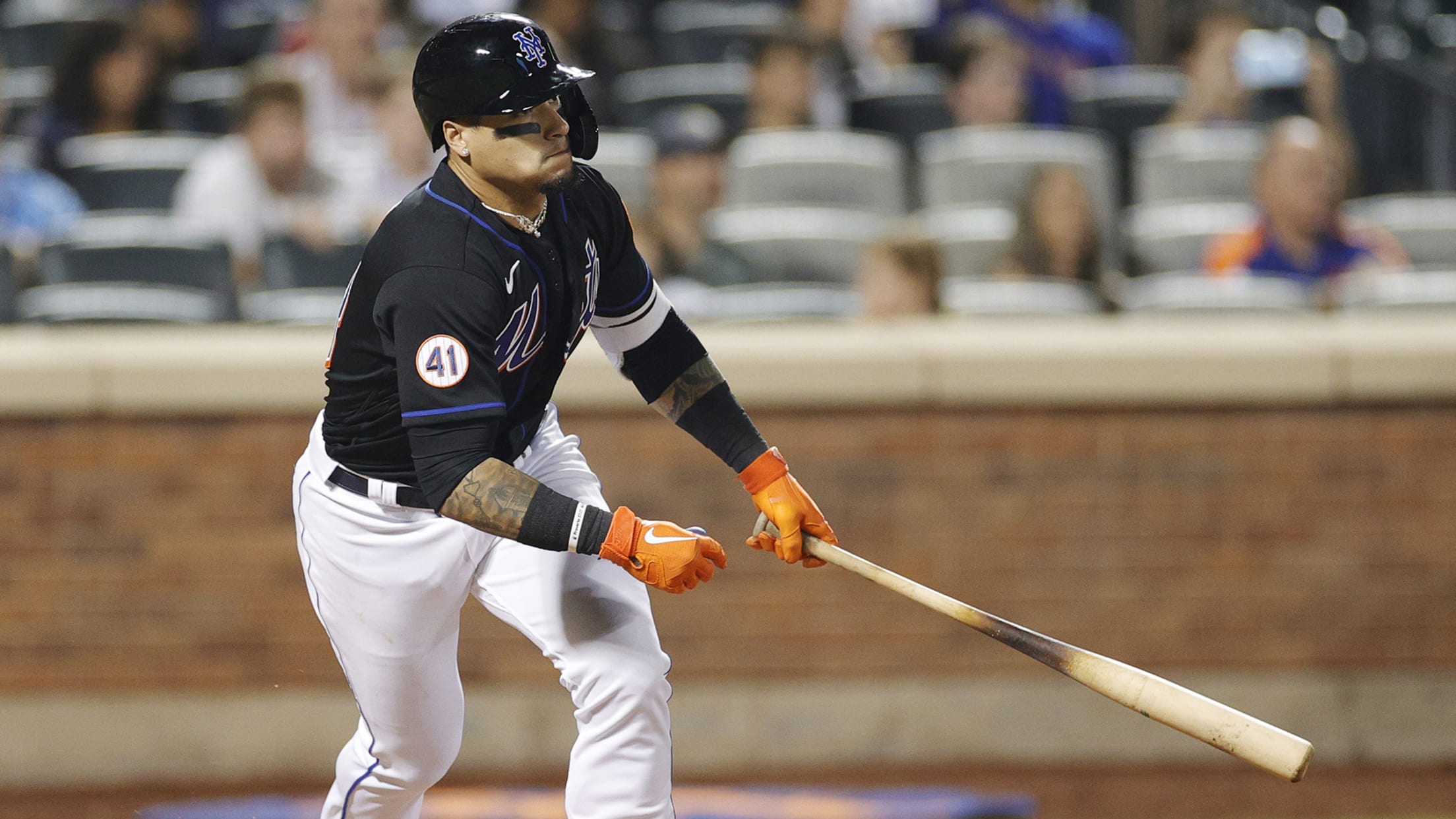 As another Mets season draws to a close, offseason questions are moving to the forefront. It figures to be another busy few months for a team growing a longstanding tradition of November upheaval. Before that future starts to unfold, it's time to dip back into the Inbox:
Which top prospects will we see in AFL?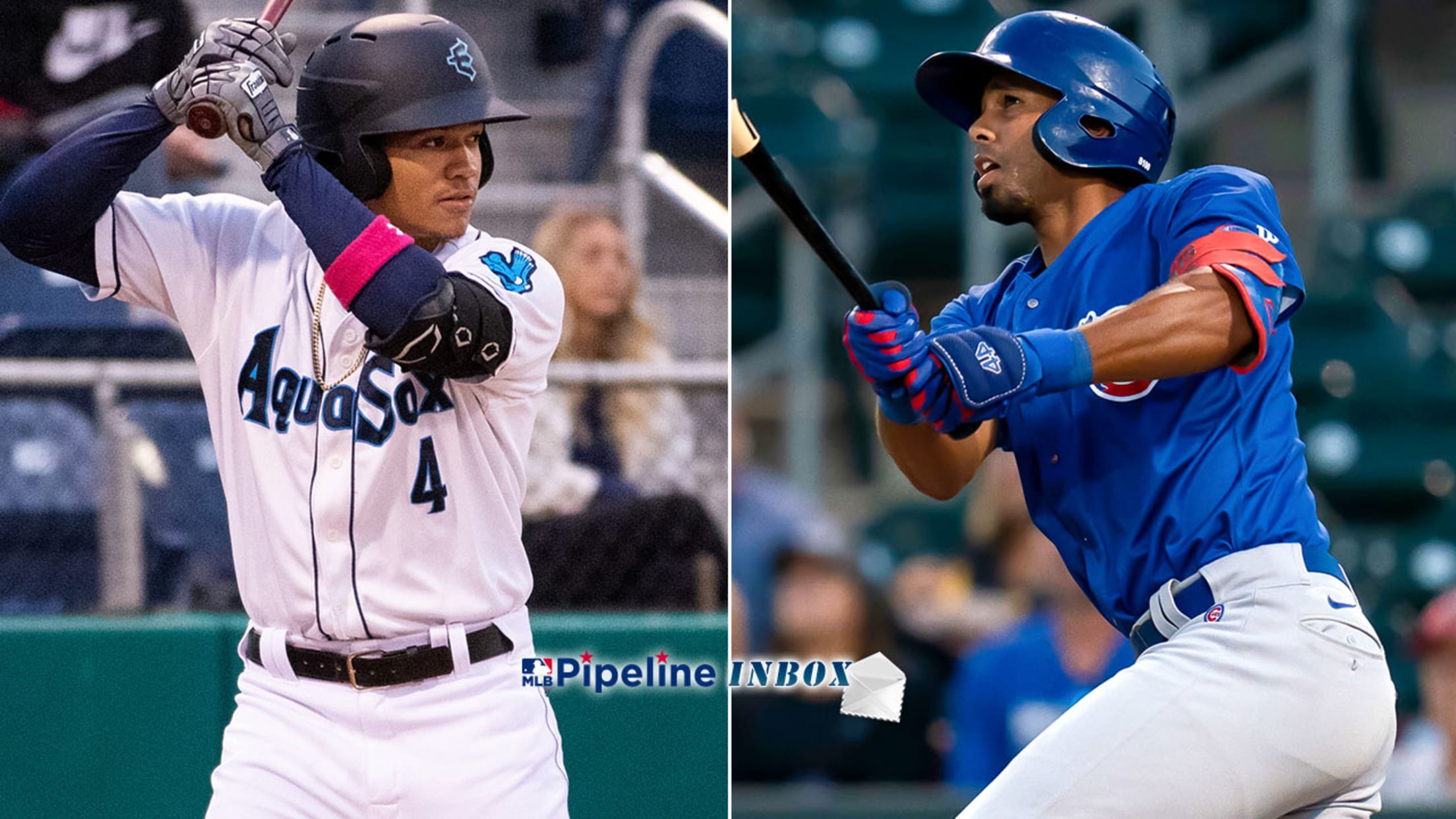 With the Minor League playoffs underway, that means the 2021 season, at least as it pertains to prospects, is almost over. But there are a ton of high-level prospects in the postseason and teams that are absolutely stocked. There's still time to watch a lot of them and the remaining
After benches clear, a postseason clinch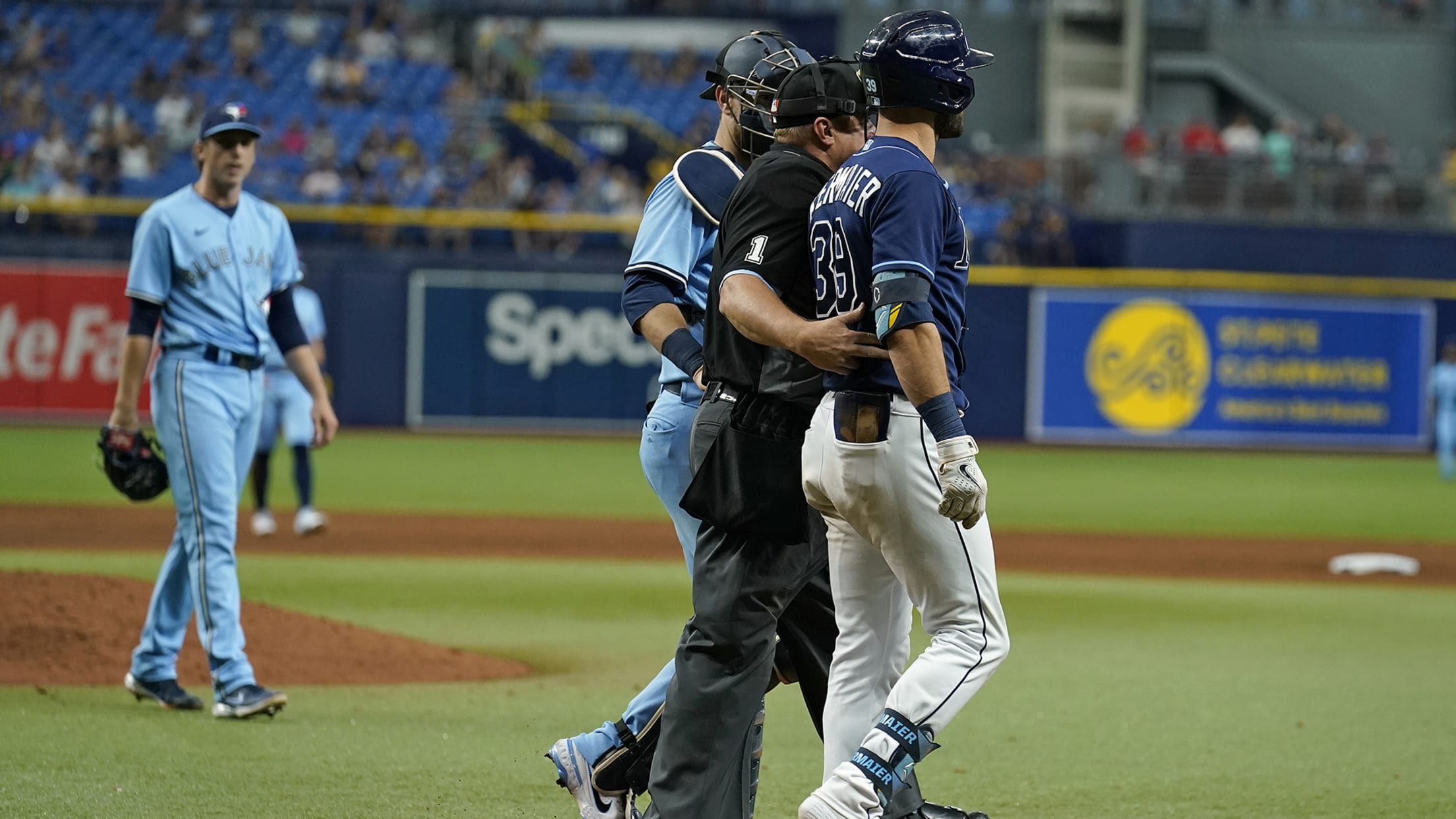 What Blue Jays manager Charlie Montoyo termed "agua under the bridge" on Tuesday night escalated on Wednesday afternoon when Rays outfielder Kevin Kiermaier was hit in the back with a pitch from Toronto reliever Ryan Borucki in the 8th inning. Kiermaier, who had picked up and kept a scouting card
D-backs keep Lovullo with 1-yr. extension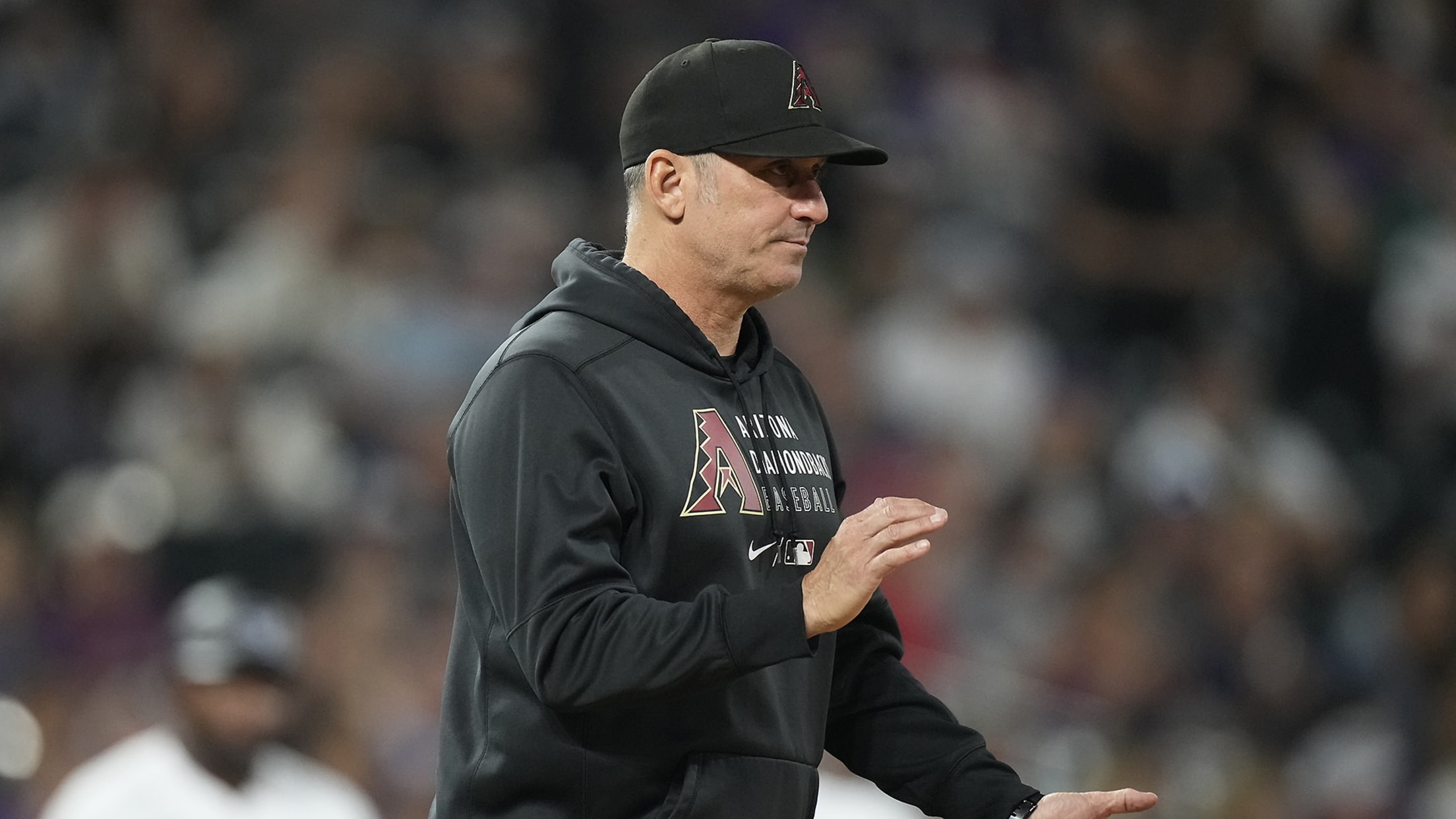 PHOENIX -- D-backs manager Torey Lovullo will return in 2022 after he agreed to a one-year extension on Thursday that also includes a club option for 2023. Lovullo was hired Nov. 4, 2016, just after Mike Hazen took over as Arizona's general manager. His original contract was for three years,
Here's how Duvall's HR became ... a single?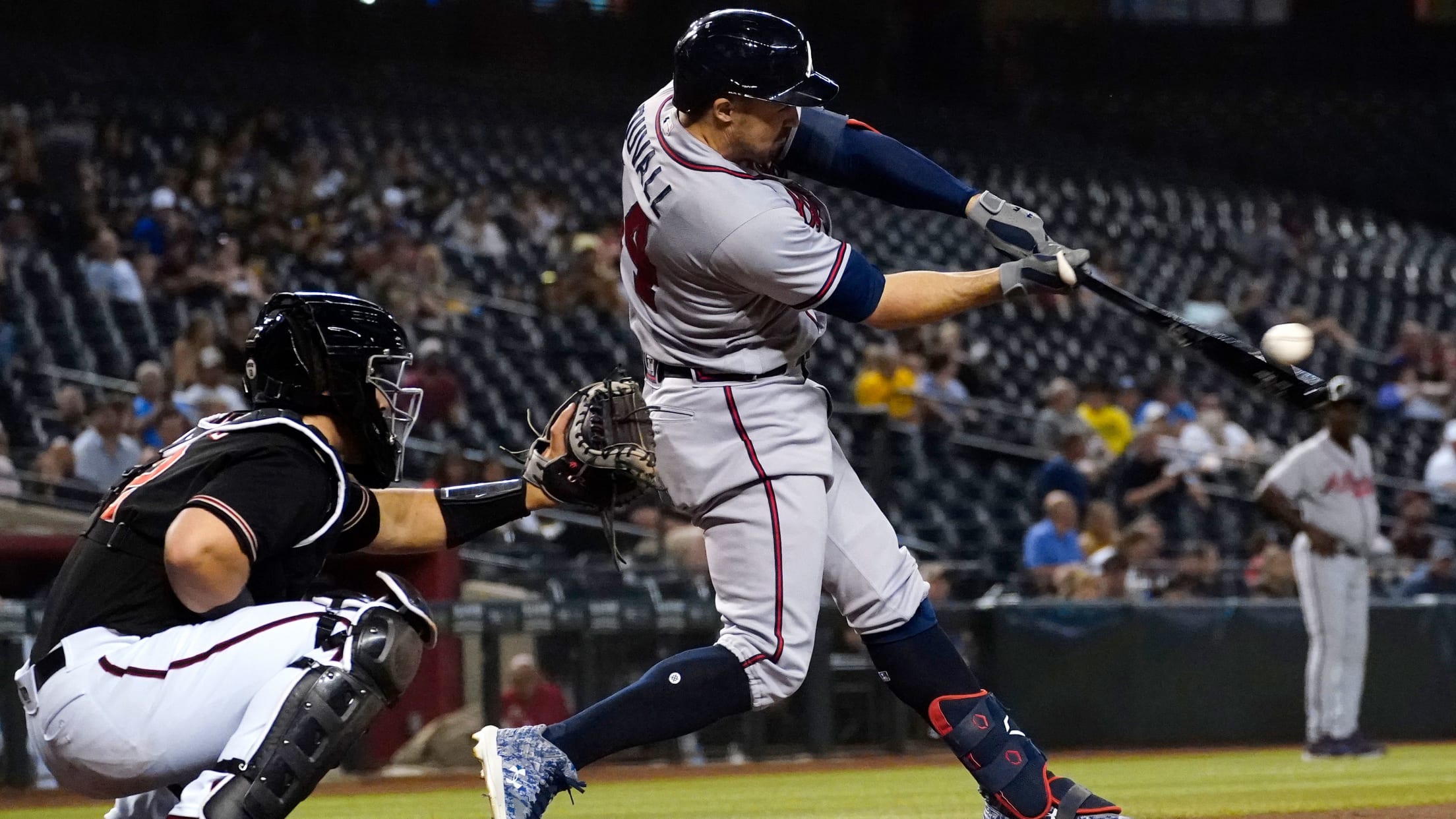 PHOENIX -- To record his first career 40-homer season, Adam Duvall will need to clear the outfield wall at least 41 times this year. Confused? So too was Austin Riley and many others who were watching when Duvall appeared to hit his 38th homer of the season during the first
11 surprising things about '21 leaderboards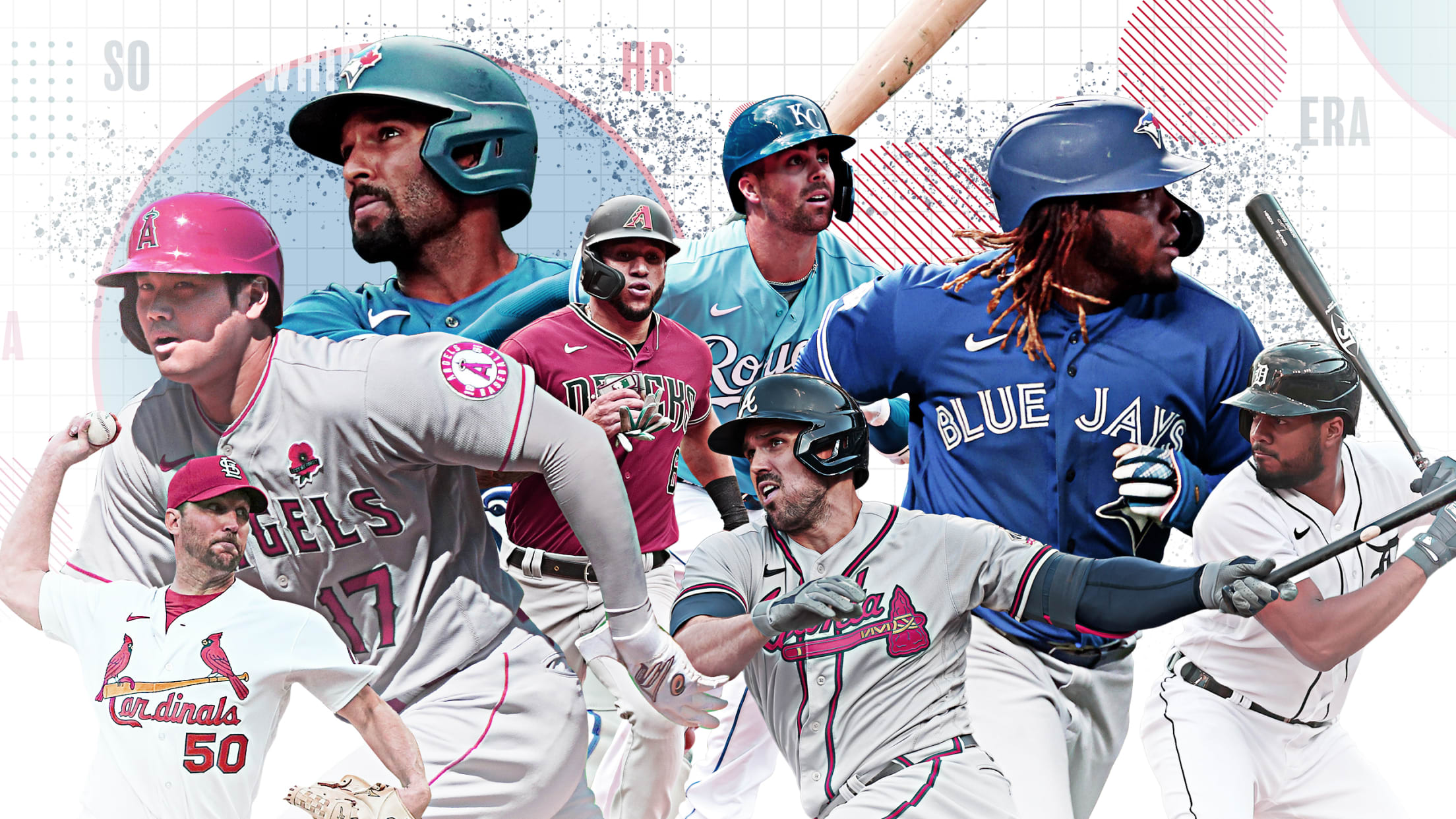 In about 10 days, MLB's regular-season leaderboards are going to lock in place, and an active, living, breathing document will be frozen in amber forever. We'll look back at the 2021 season with pleasure, I bet, with the relief that, after the 2020 chaos, we got a full season of
95 mph strike ... from right field?! Check it out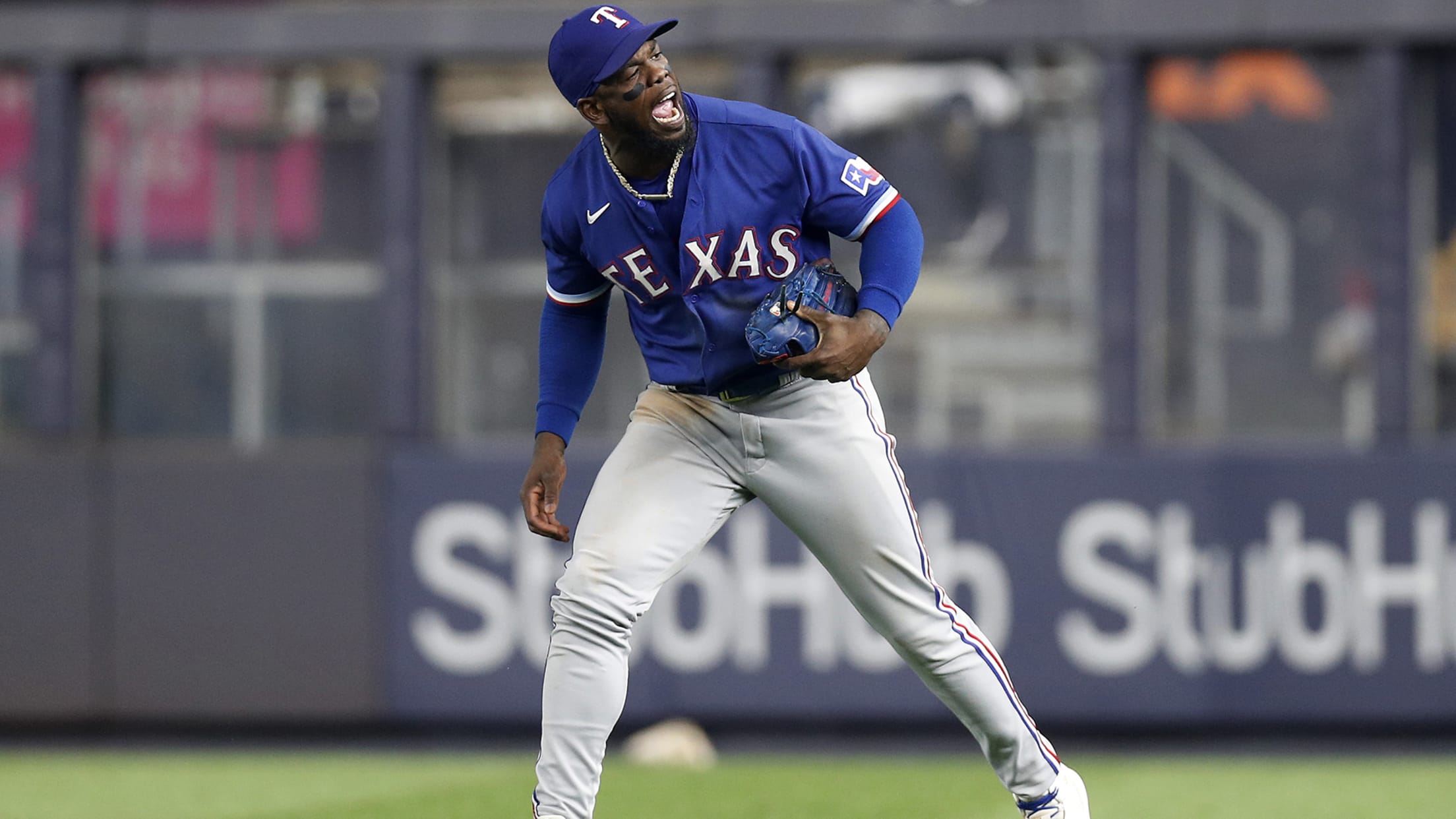 NEW YORK -- When you hear 95.5 mph strike, you usually think it's coming off the mound, right? Well, think again, because Rangers rookie Adolis García's mind-bending throw was exactly that ... except it came from right field and cut down the tying run at home plate. The Yankees would
MLB picks, predictions for Sept. 23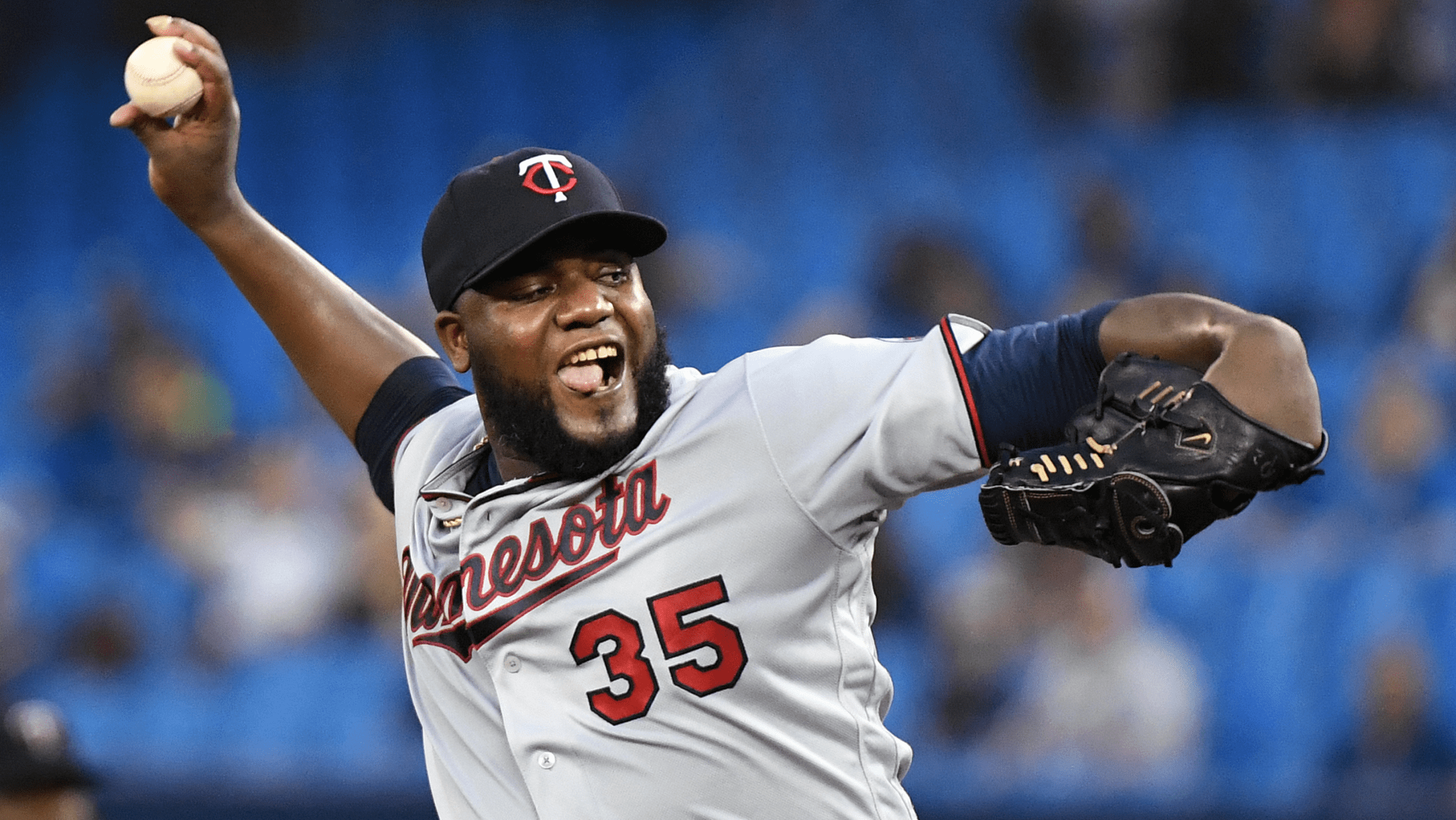 A version of this article originally appeared on DraftKings. For more betting insights, check out DraftKings.com.
Yanks rally to move into AL Wild Card picture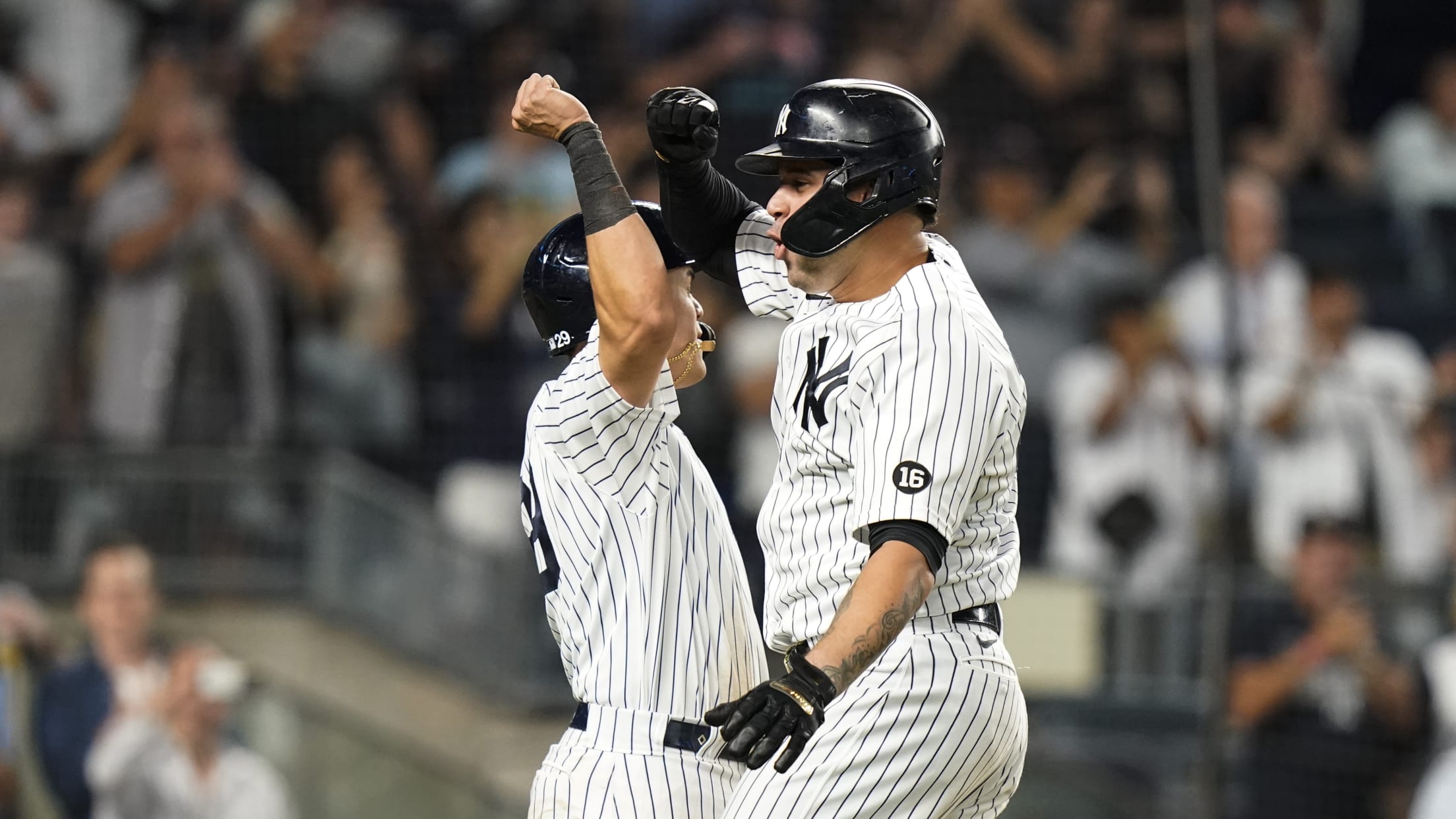 NEW YORK -- The world went silent for Gleyber Torres as he strode to Yankee Stadium's home plate in the eighth inning on Wednesday, flashing back to a previous at-bat in the game that had resulted in a bases-loaded strikeout. He'd steeled himself for the next chance, and now it
Giants expand West lead in Kazmir's return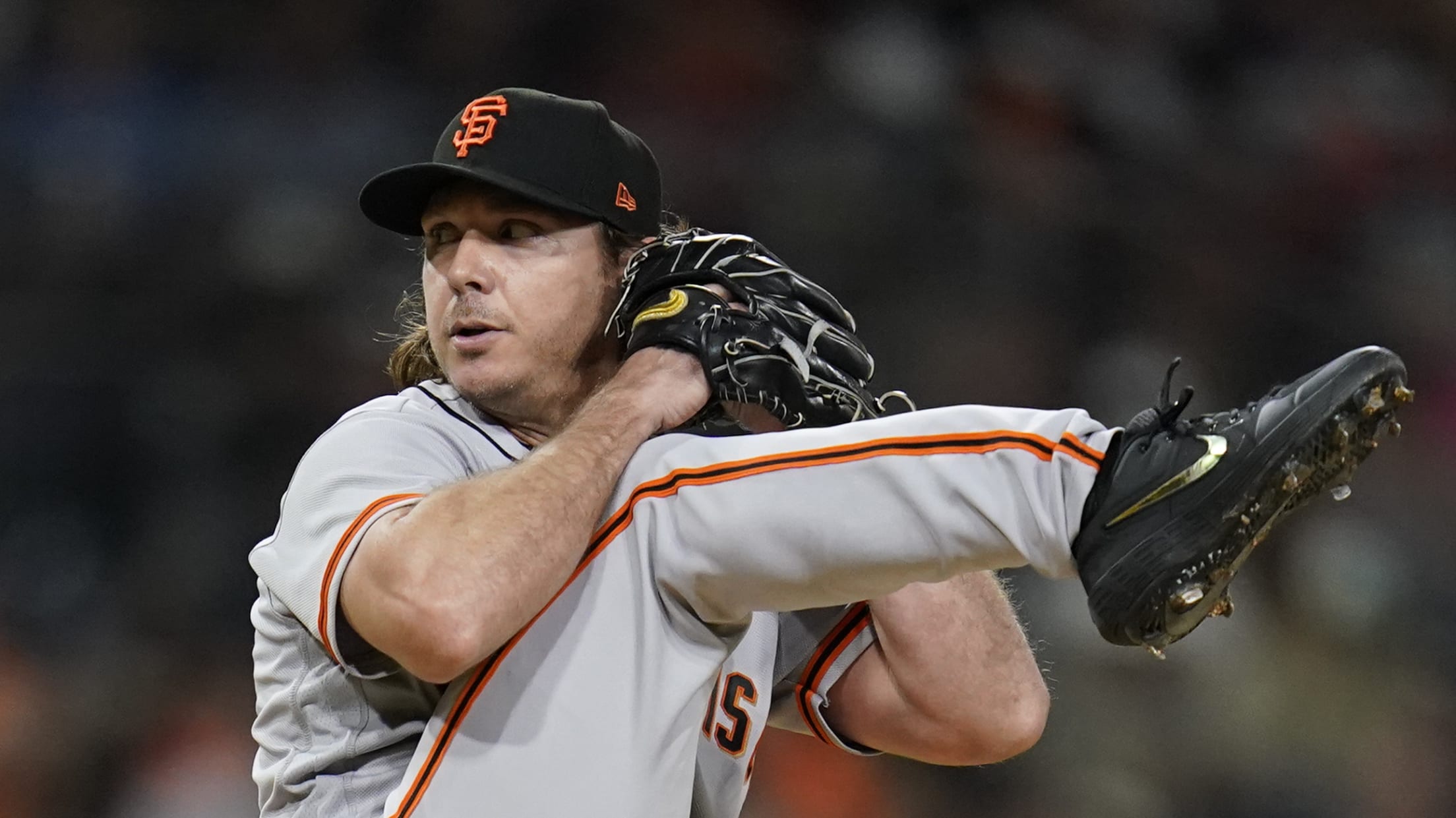 SAN DIEGO -- At the beginning of the year, Scott Kazmir couldn't have fathomed what awaited him in 2021. A second Major League comeback. An Olympic silver medal. And now, a chance to make a meaningful start for the first-place Giants in late September. "It's been a crazy year, a
Albies rips homer to join 30-HR, 100-RBI club
Riley adds solo shot as Braves' young core stacks accolades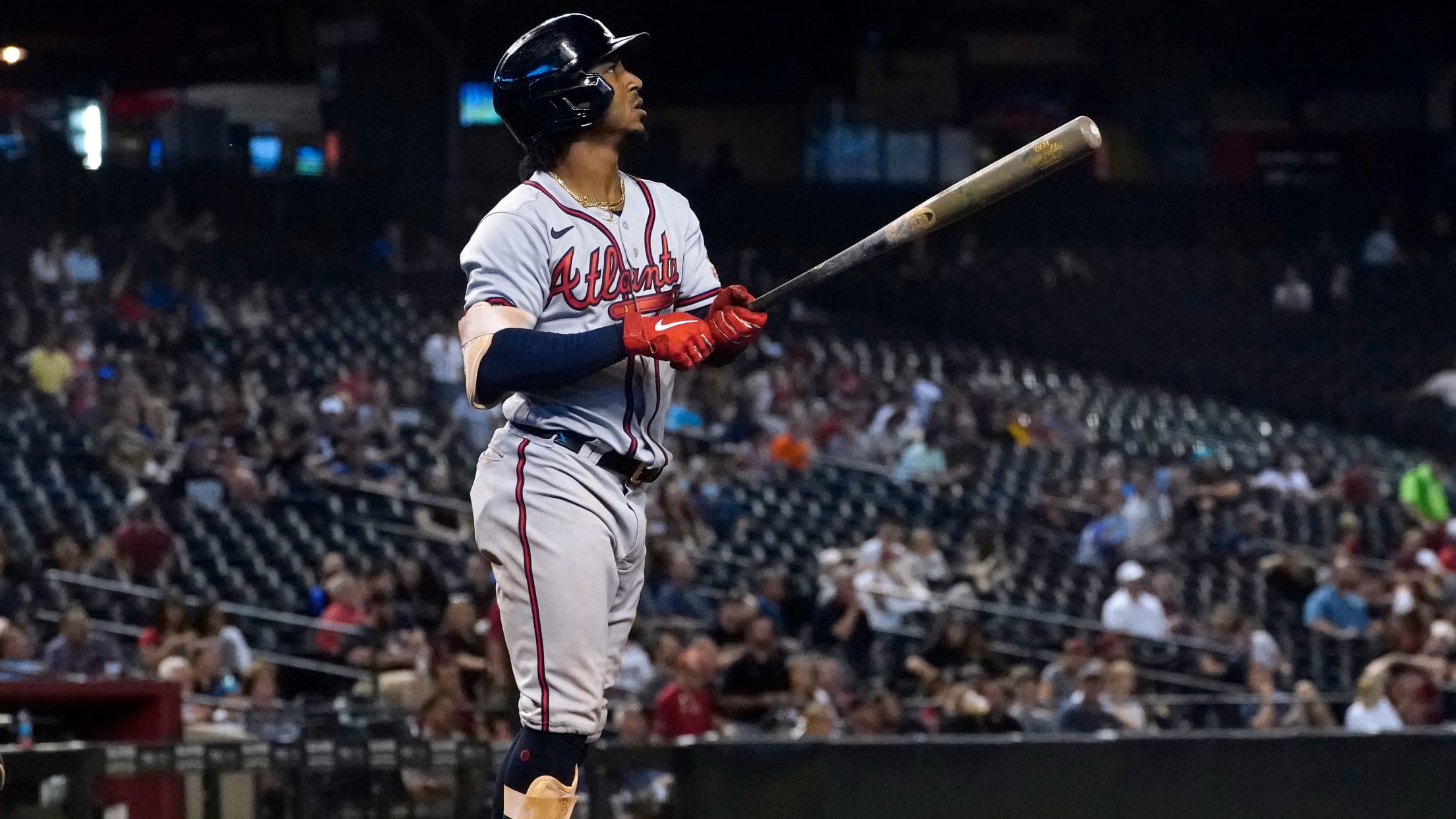 PHOENIX -- Along with providing daily entertainment via the incessant barbs he exchanges with Braves third-base coach Ron Washington during batting practice, Ozzie Albies has regularly energized his teammates with the tremendous talent he's displayed during this special season. Albies created a lasting memory with the home run he hit