Paddack makes deep run at Padres' first no-no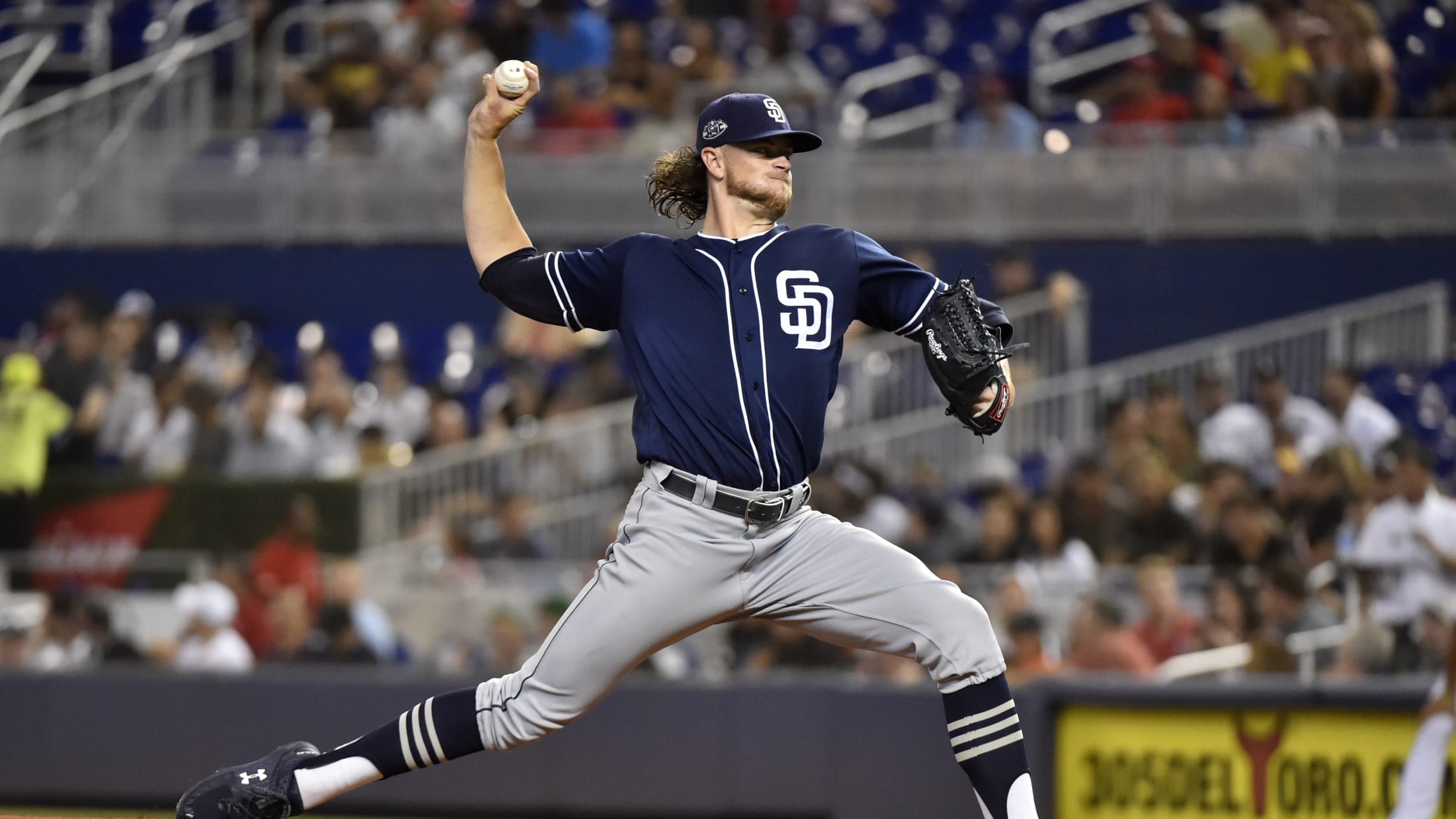 MIAMI -- Chris Paddack flirted with history against the team that drafted him on Wednesday night. In the end, he didn't throw a no-hitter. But he showed the Marlins precisely what they're missing out on. The Padres rookie right-hander carried a no-no into the bottom of the eighth inning in
Clevinger returns to form against division rival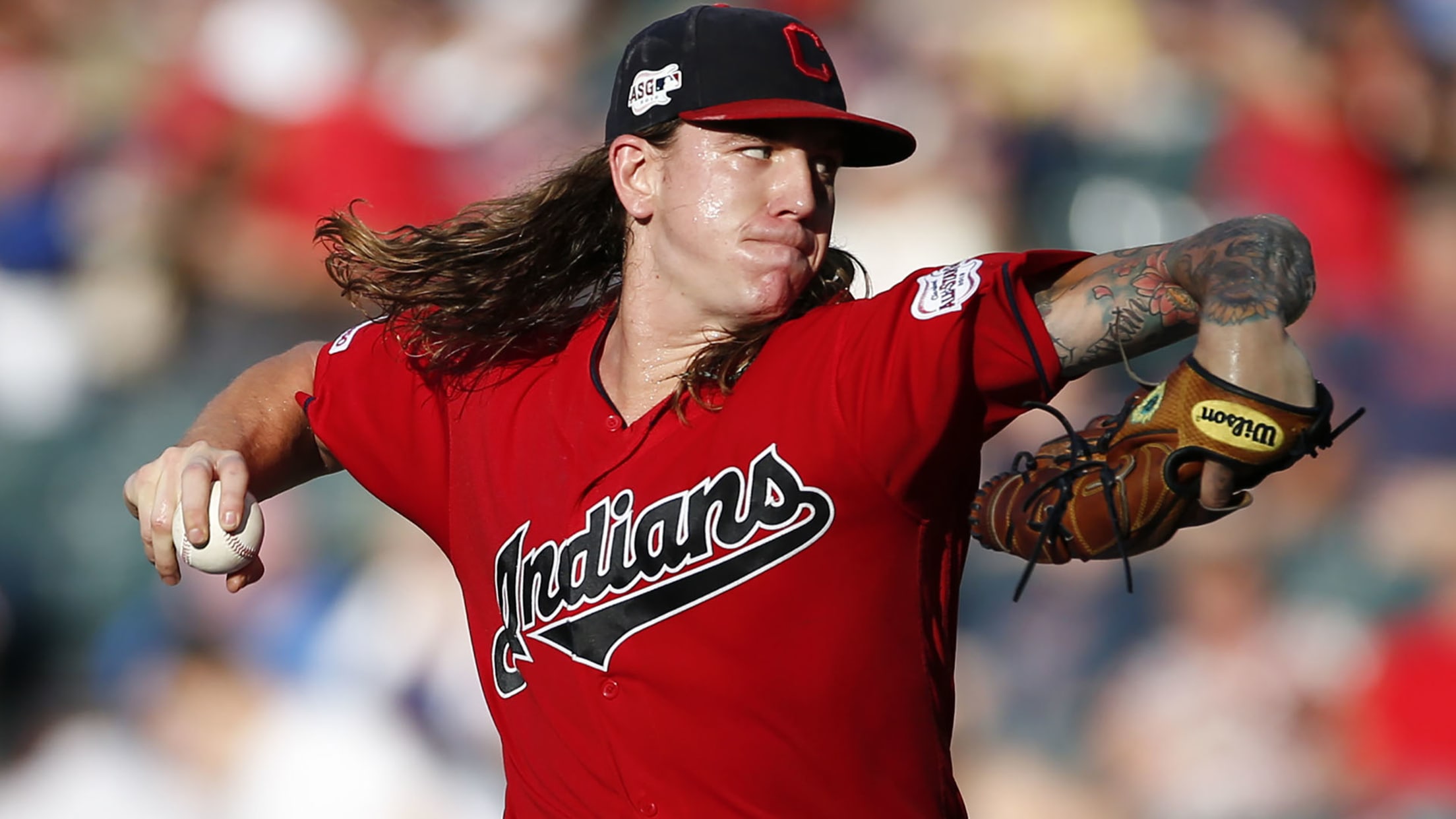 CLEVELAND -- The Indians knew heading into the 2019 season that they'd need to be able to rely on their starting rotation if they were going to be a contender this season. But just weeks into the year, Mike Clevinger landed on the injured list with an upper back strain.
Price responds as Eckersley dispute resurfaces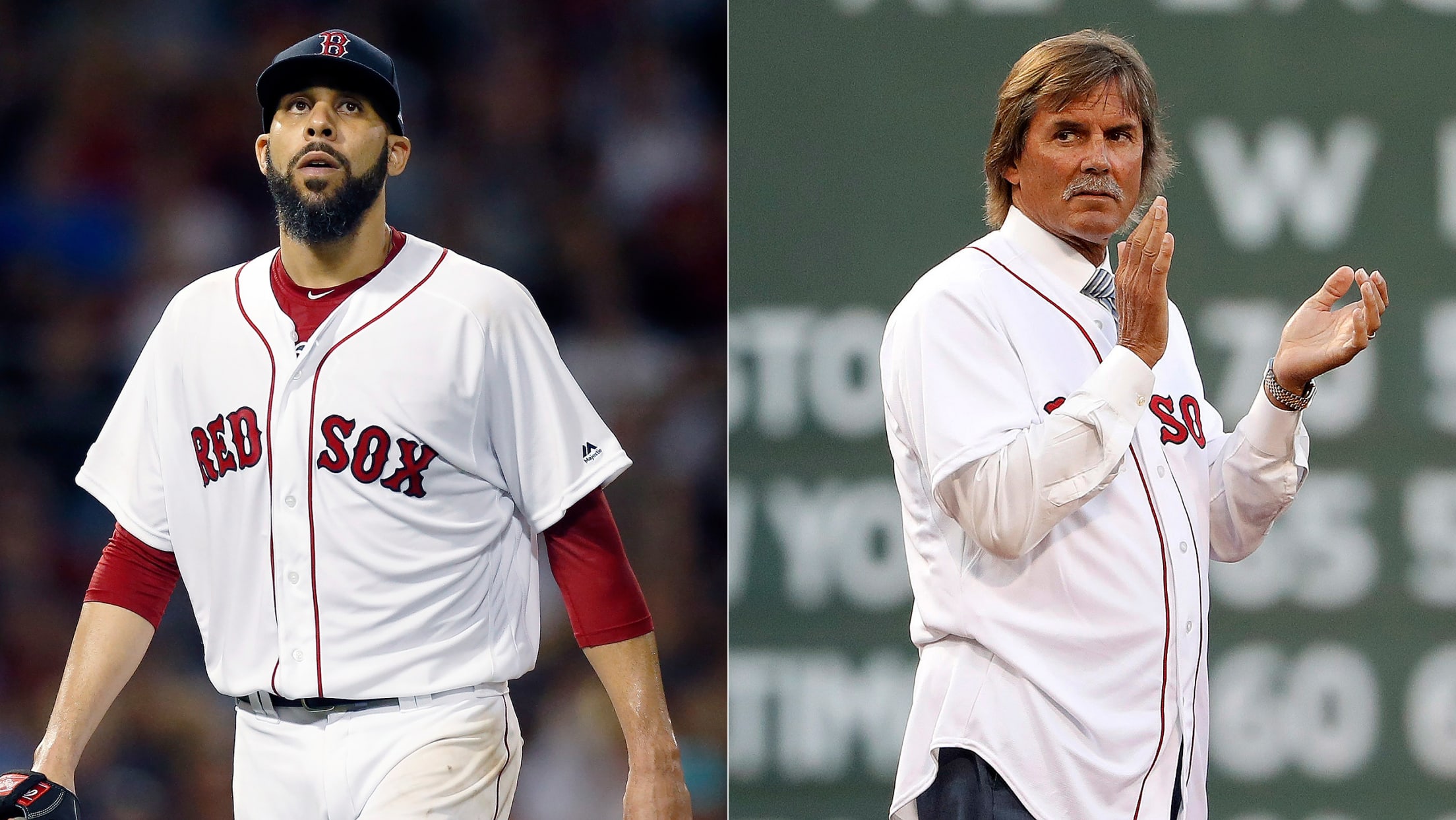 BOSTON -- Two years ago, Red Sox lefty David Price set up a meeting to apologize to Dennis Eckersley for yelling at the Hall of Famer in front of his teammates on a team flight from Boston to Toronto. When Eckersley chose not to show up for the meeting, he
Rumors: Thor, Bauer, Minor, Stroman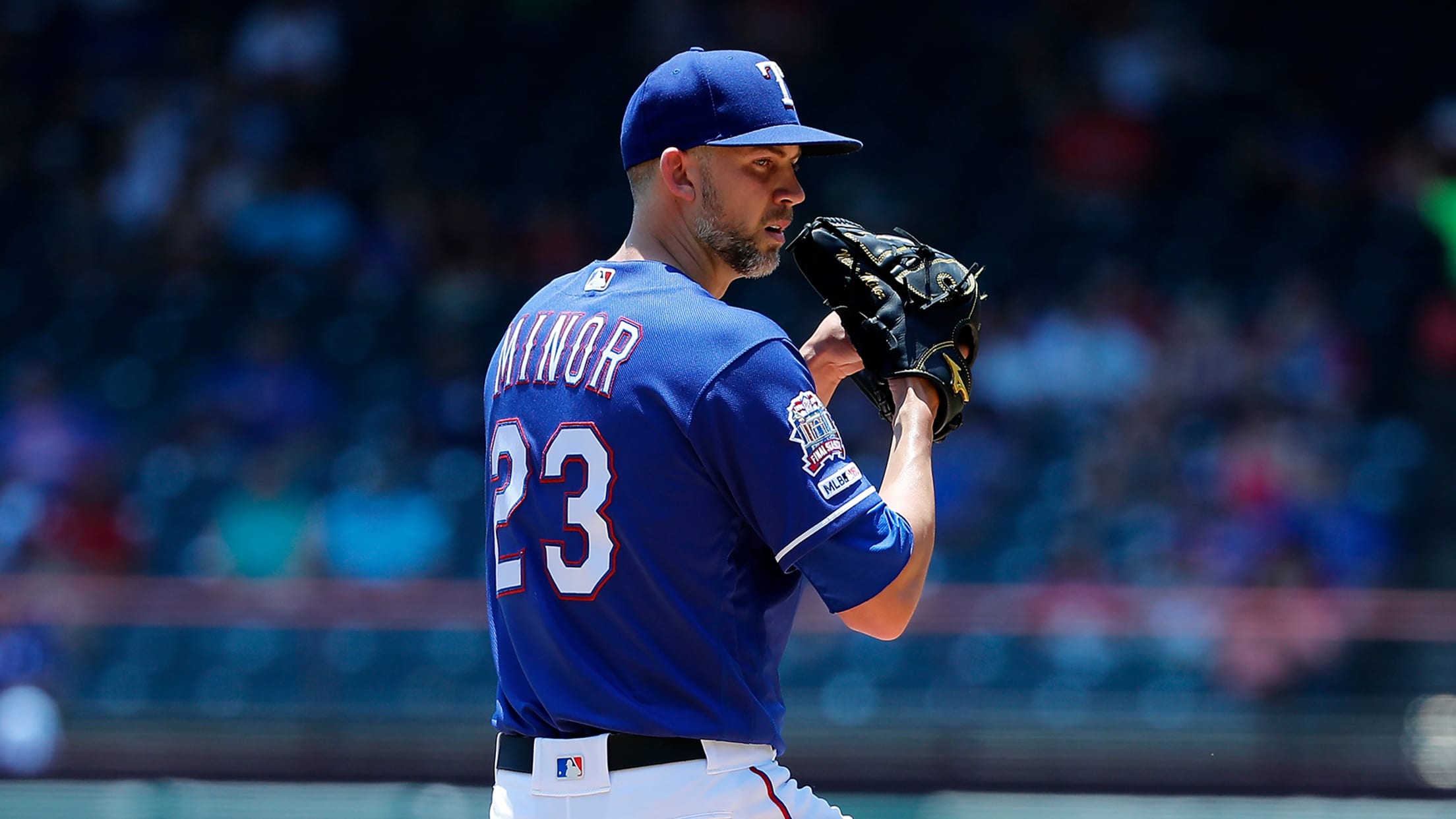 MLB.com is keeping track of all the latest free agent and trade rumors right here.
Ramirez, Ausmus suspended for Marisnick HBP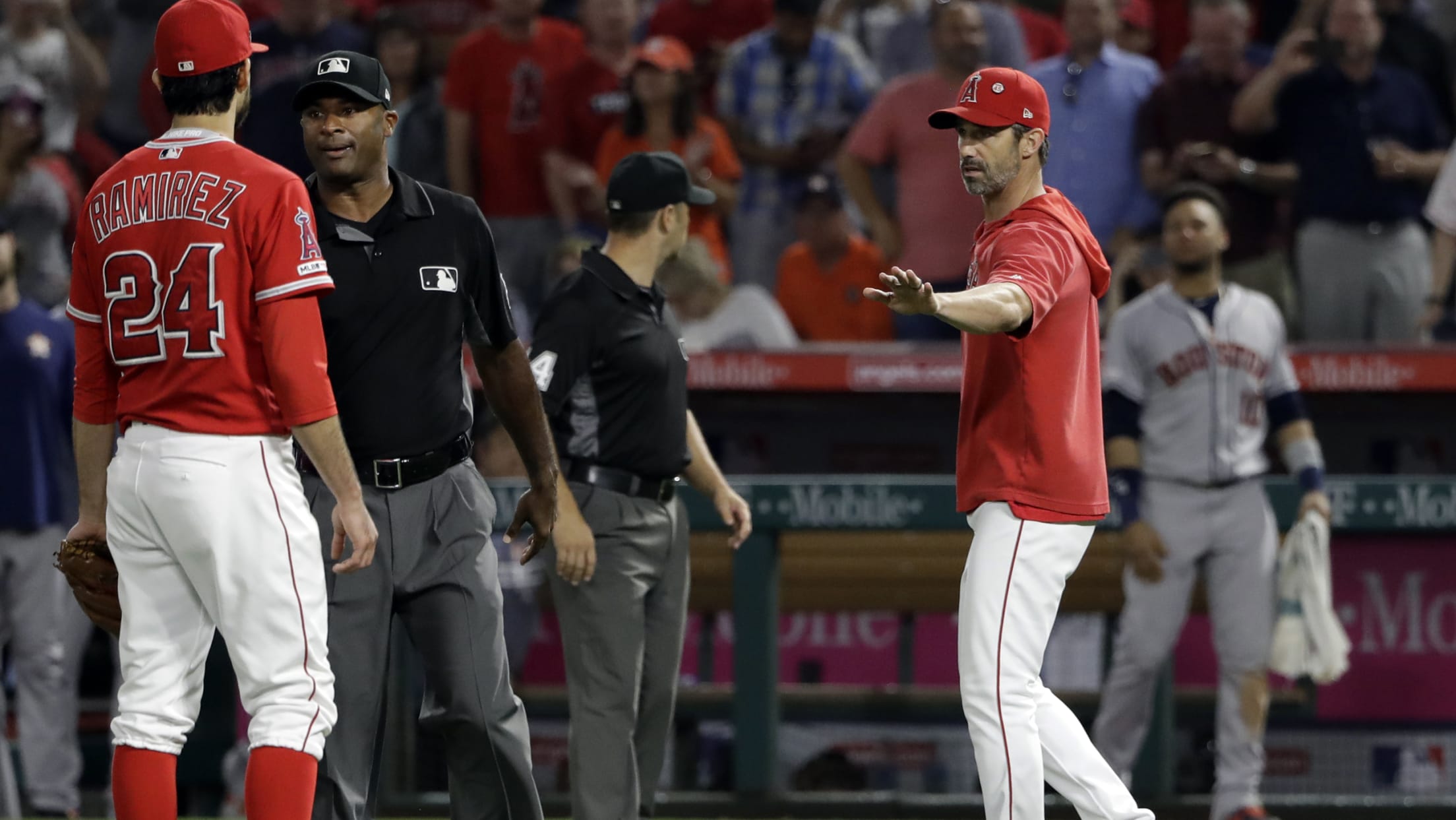 ANAHEIM -- Angels reliever Noé Ramirez and manager Brad Ausmus were both suspended on Wednesday, one day after Ramirez hit Jake Marisnick with a pitch that the Astros believe was retaliation for Marisnick's violent collision into catcher Jonathan Lucroy on July 7. Ramirez was suspended for three games and fined
Speedy Gore acquired by Yanks, sent to Minors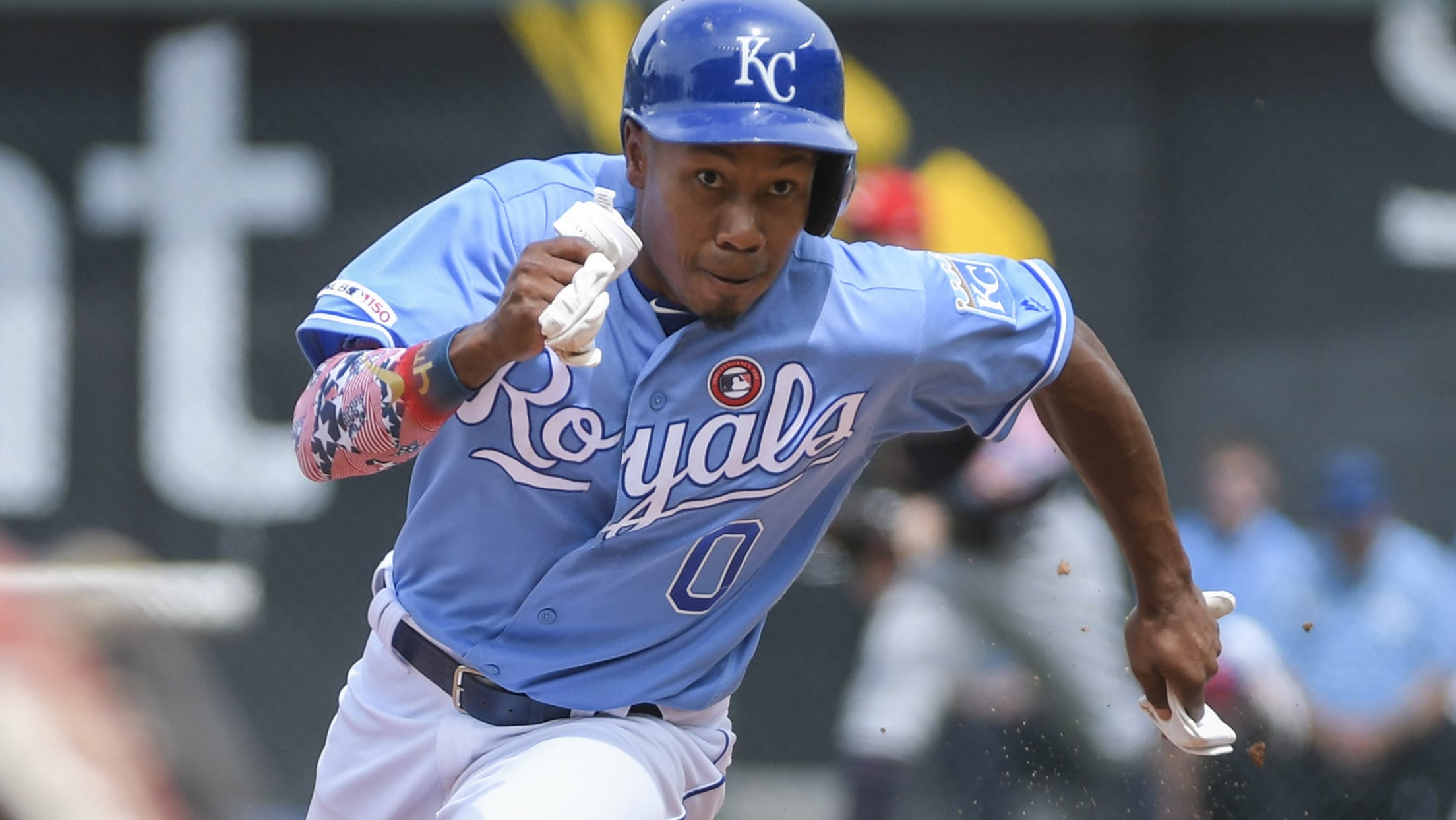 NEW YORK -- Terrance Gore has already shown the ability to impact the postseason with his legs, and as the Yankees eye a deep October run, they moved on Wednesday to stash the speedster's wheels within the organization. New York acquired Gore from the Royals in exchange for cash considerations.
Darvish's first win at Wrigley is a scoreless gem
Bryant, Russell homer behind right-hander's 2-hit effort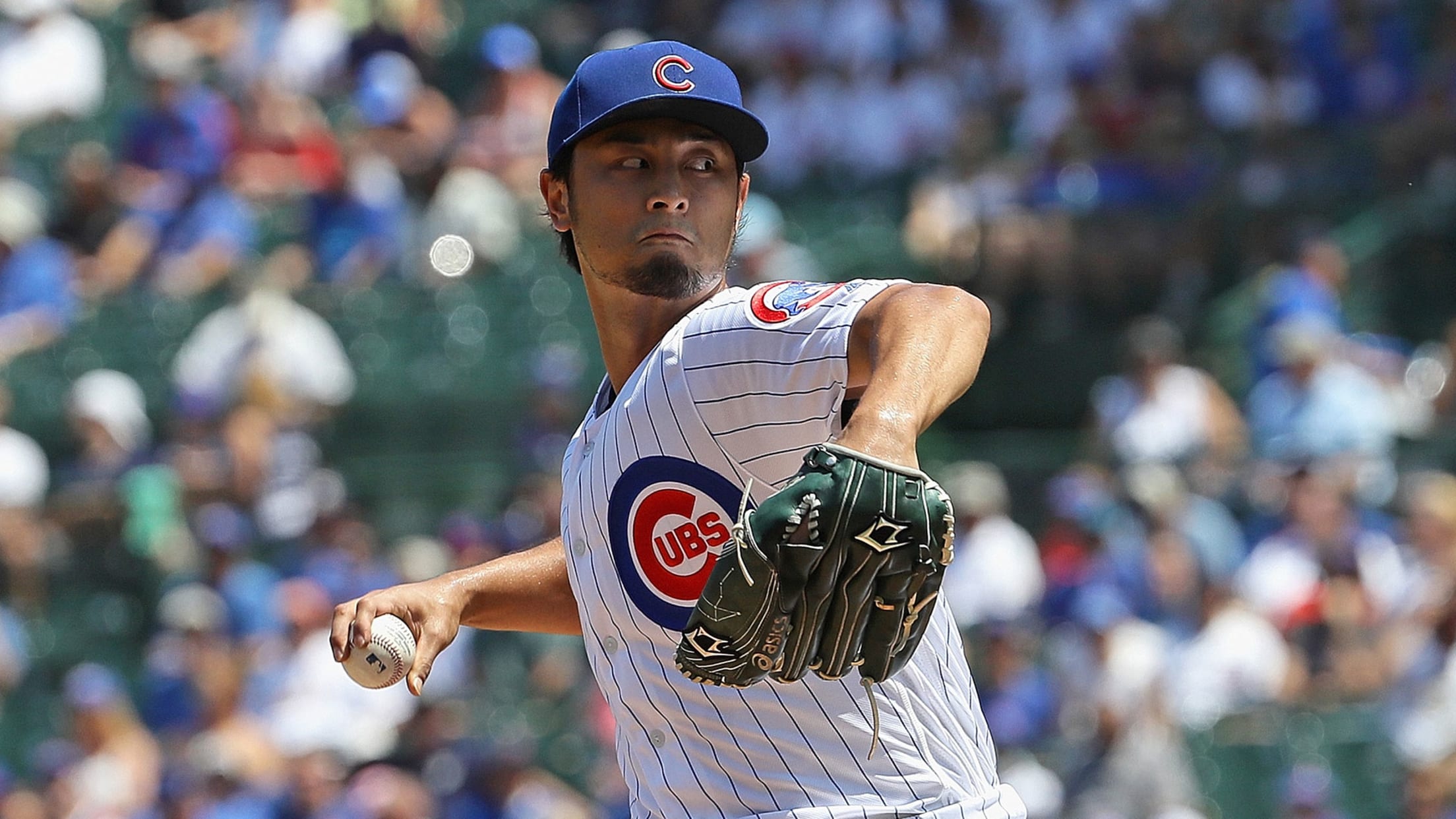 CHICAGO -- There was a baseball sitting atop a shelf in Yu Darvish's locker on Wednesday, secured in a plastic case with a yellow note on the side citing its significance. The ball commemorated Darvish's first win at Wrigley Field in his career, but most importantly achieved while wearing a
Aroldis says report of his opting out is false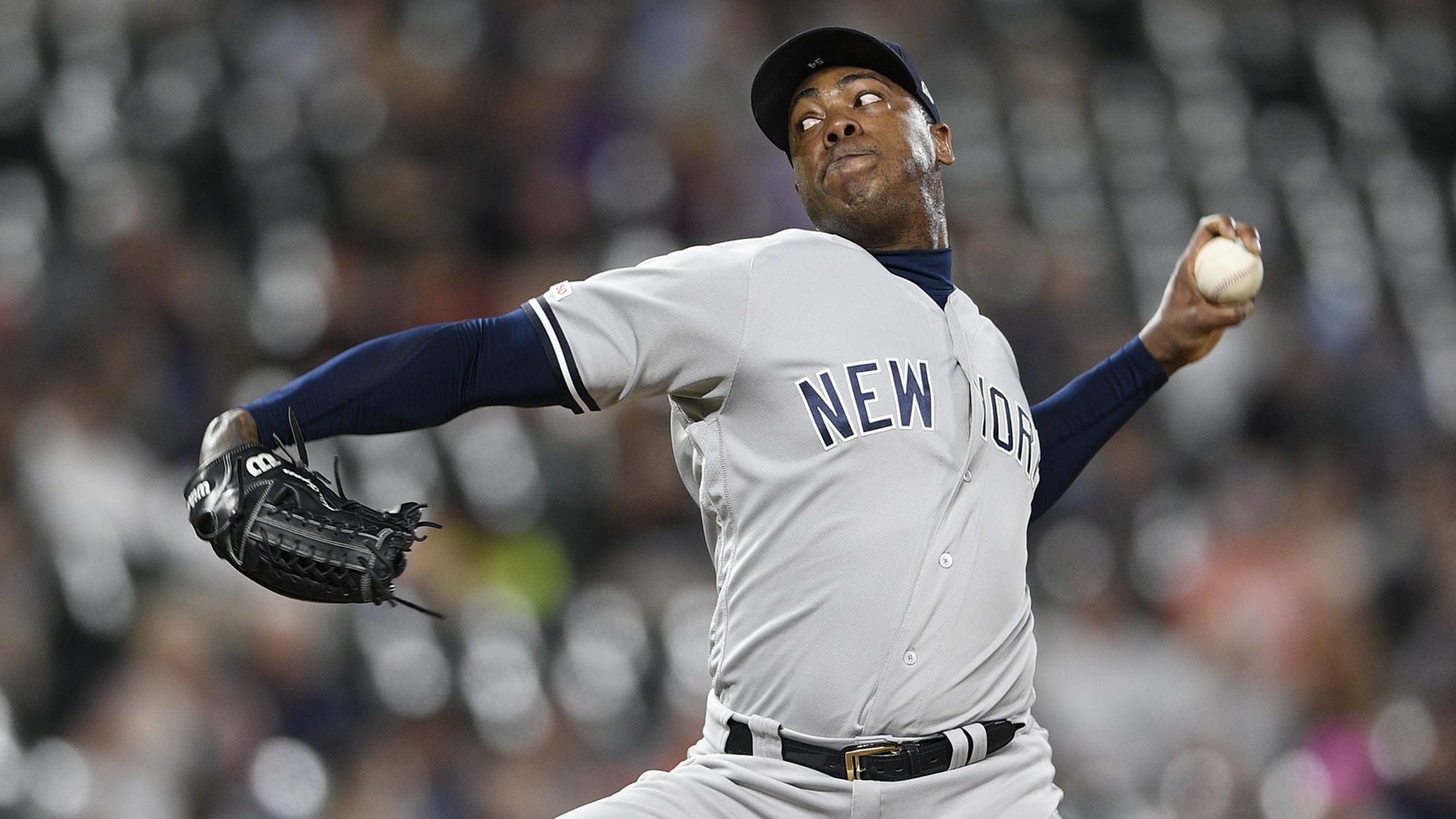 NEW YORK -- Aroldis Chapman smirked as a group of reporters approached his Yankee Stadium locker Wednesday afternoon, having been briefed about the latest whispers concerning the looming opt-out clause in his contract. As he did at the All-Star Game, the closer said that no decisions about his future have
Rays-Yanks game Wed. postponed; DH Thurs.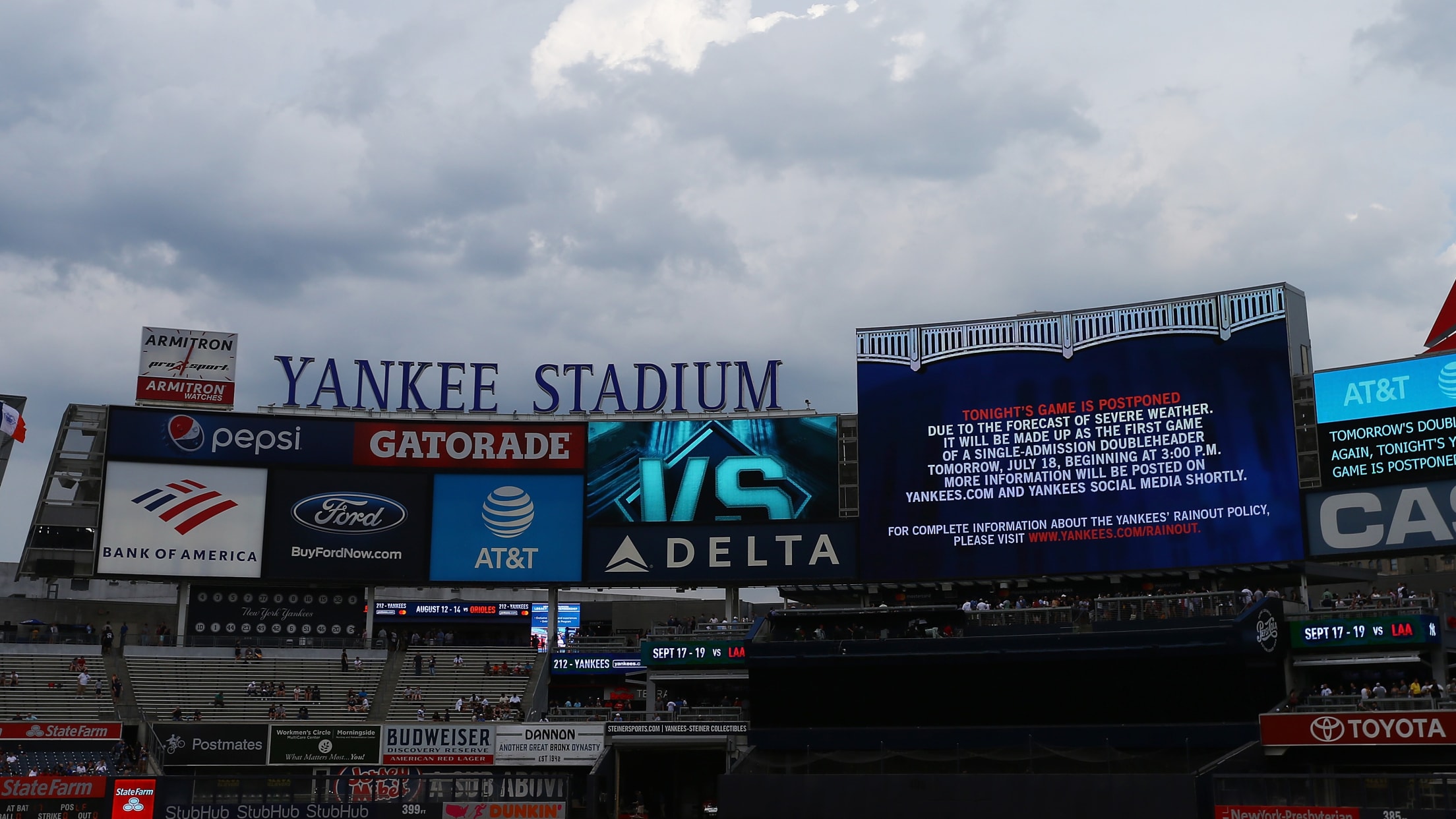 NEW YORK -- The Rays and Yankees game on Wednesday was postponed due to the forecast of severe weather around the Yankee Stadium area. It will be made up as the first game of a single-admission doubleheader on Thursday, beginning at 3 p.m. ET. The regularly scheduled second game will
Yelich hits No. 34 as Crew holds off Braves 
Slugger tied for HR lead with LA's Bellinger; Brewers win series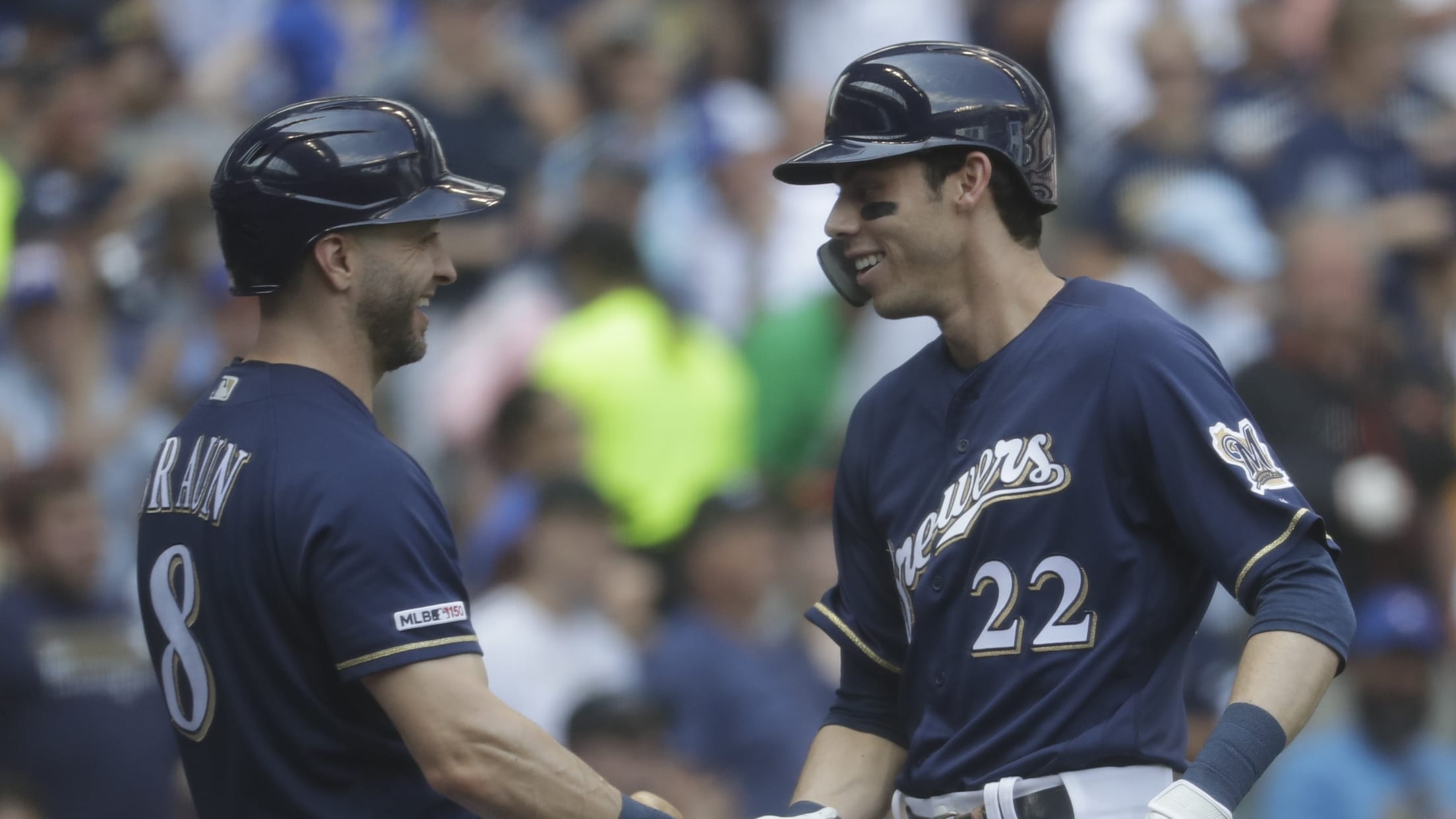 MILWAUKEE -- Cody Bellinger, meet Christian Yelich. You two have met before. In what is shaping into a memorable home run race, Yelich went the opposite way for his 34th home run Wednesday to match Dodgers slugger Bellinger atop the Major League leaderboard in the Brewers' 5-4 win over the
Injury updates: Trout, Max, Jansen, M. Chapman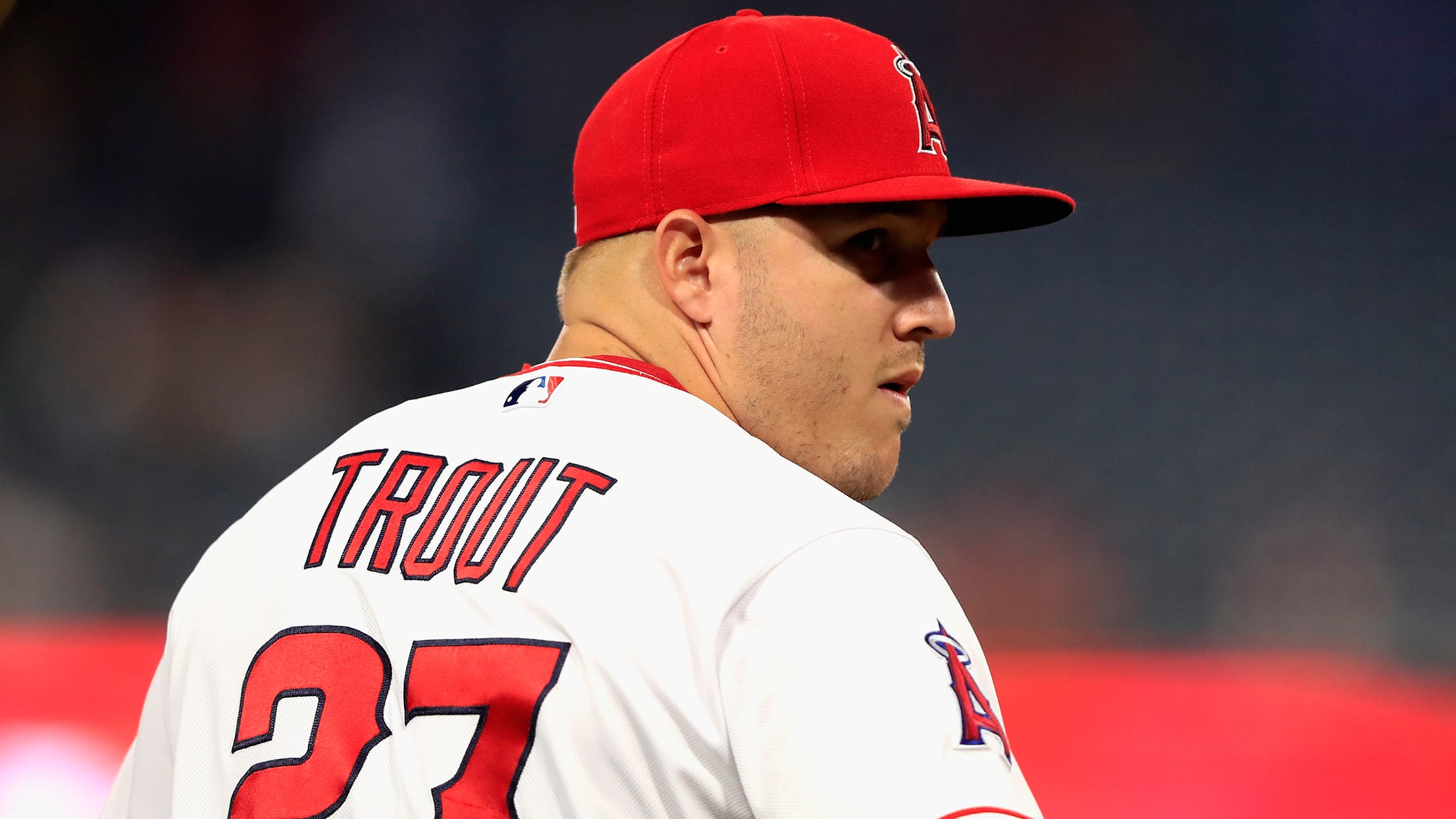 Here is the latest injury news from around Major League Baseball.
Jansen unavailable Wednesday, but IL unlikely
Roberts discusses postgame remarks with closer after 4th blown save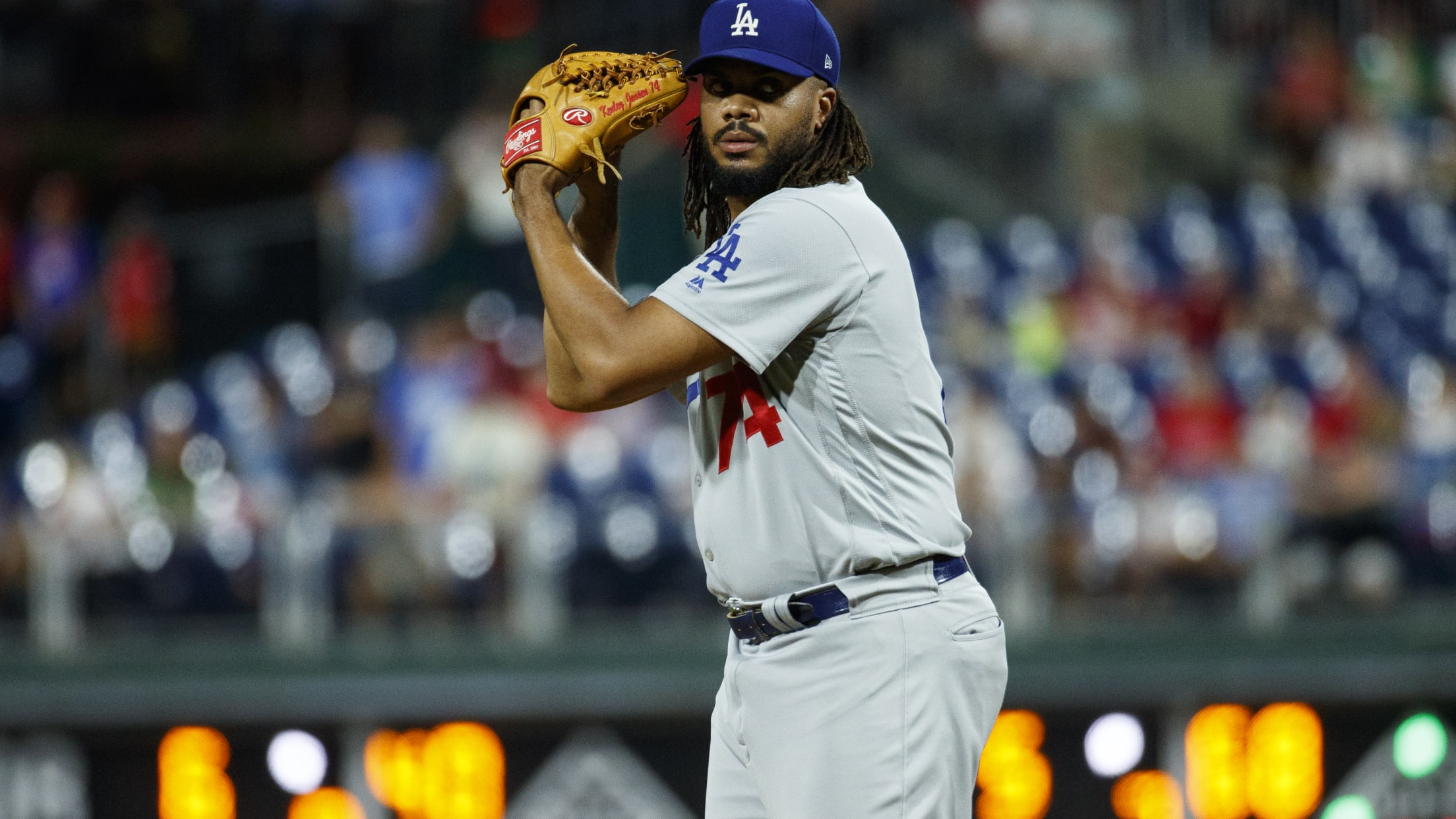 PHILADELPHIA -- Kenley Jansen was not available for Wednesday's game against the Phillies after taking a comebacker off his right ankle in the ninth inning one night earlier. The right-hander had a significant limp in the clubhouse following Tuesday's 9-8 walk-off loss at Citizens Bank Park, but he said his
Watch Dodgers-Phils Thursday, live on YouTube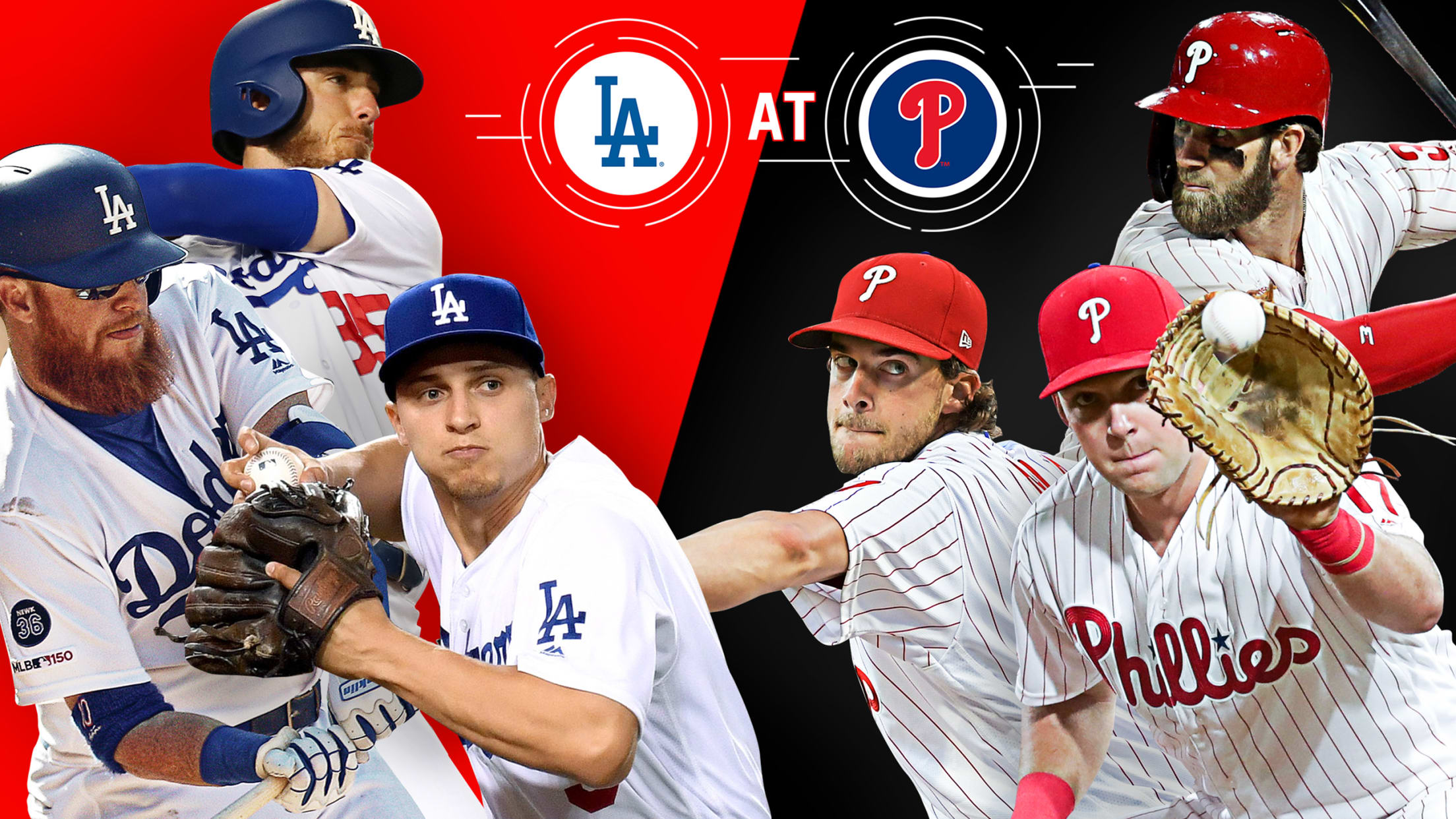 Thursday will see a pair of National League contenders make history, with the Dodgers and Phillies squaring off in the first MLB game to be broadcast live exclusively on YouTube. The finale of a four-game series at Citizens Bank Park is the first of 13 games that will be live
Bailey keeps momentum going in A's debut
Veteran solid for 6 innings for Oakland, which wins 6th straight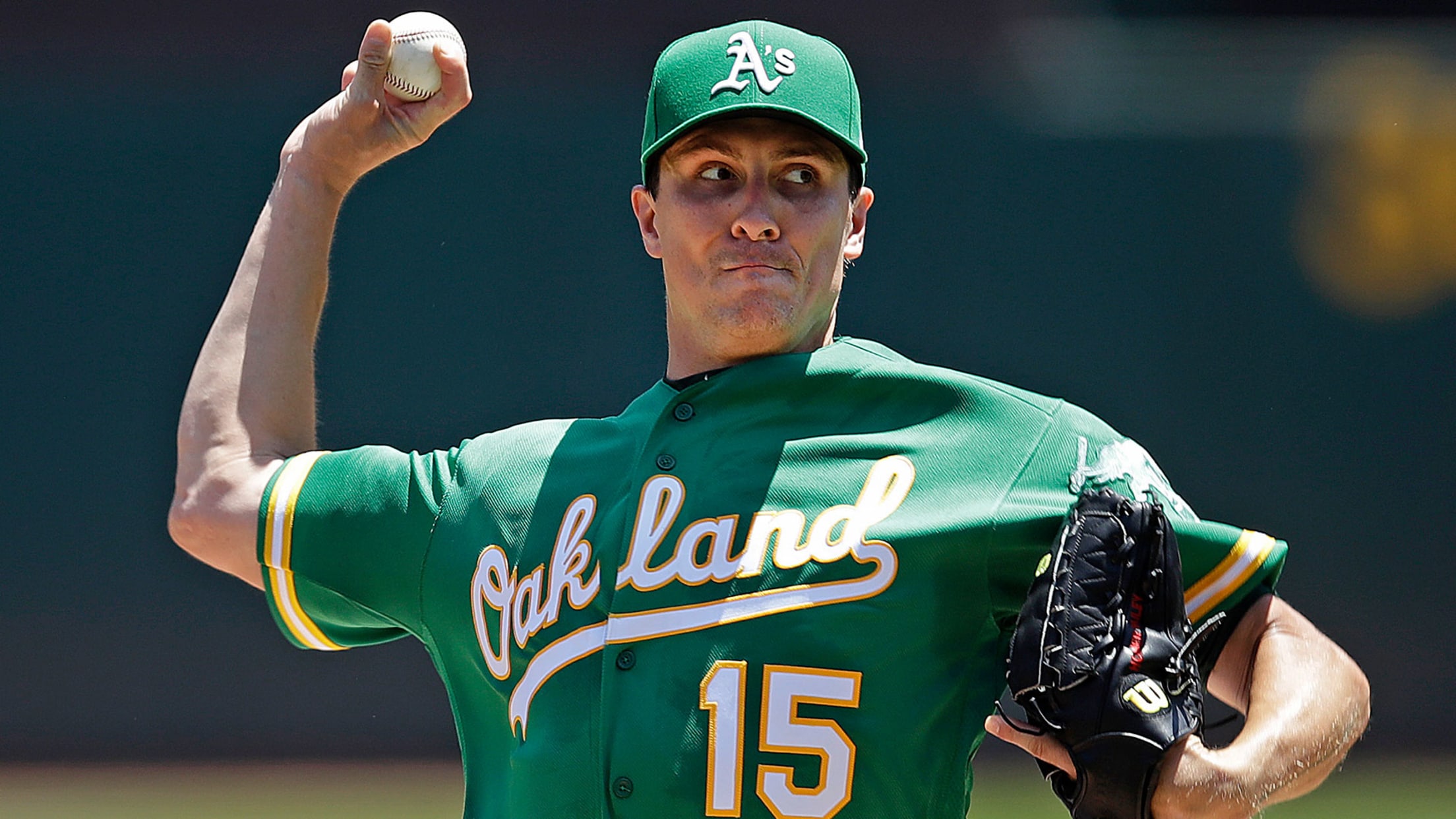 OAKLAND -- Homer Bailey had a tough act to follow coming into his A's debut on Wednesday. Bailey arrived via trade from the Royals on Sunday with the usual high expectations set for a newcomer looking to help out in a push to the postseason. He was also tasked with
Alonso's 474-ft bomb proves every day's a Derby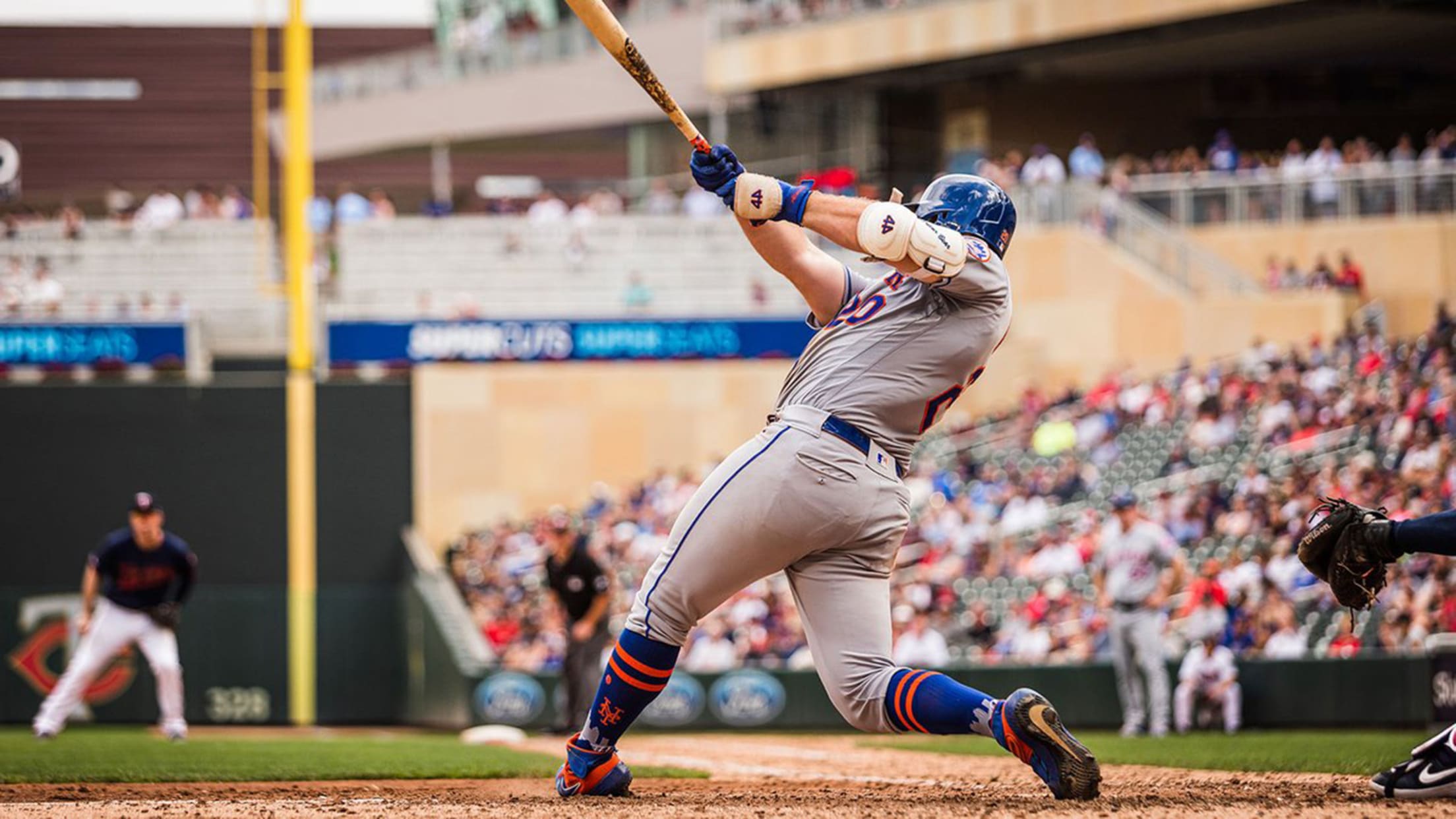 MINNEAPOLIS -- As it turns out, the Home Run Derby did not ruin Pete Alonso's swing. Nine days after his Derby victory, Alonso bashed his first home run of the season's second half in the Mets' 14-4 rout of the Twins on Wednesday. For the Mets, it was worth the
Matching 7 contenders with Deadline targets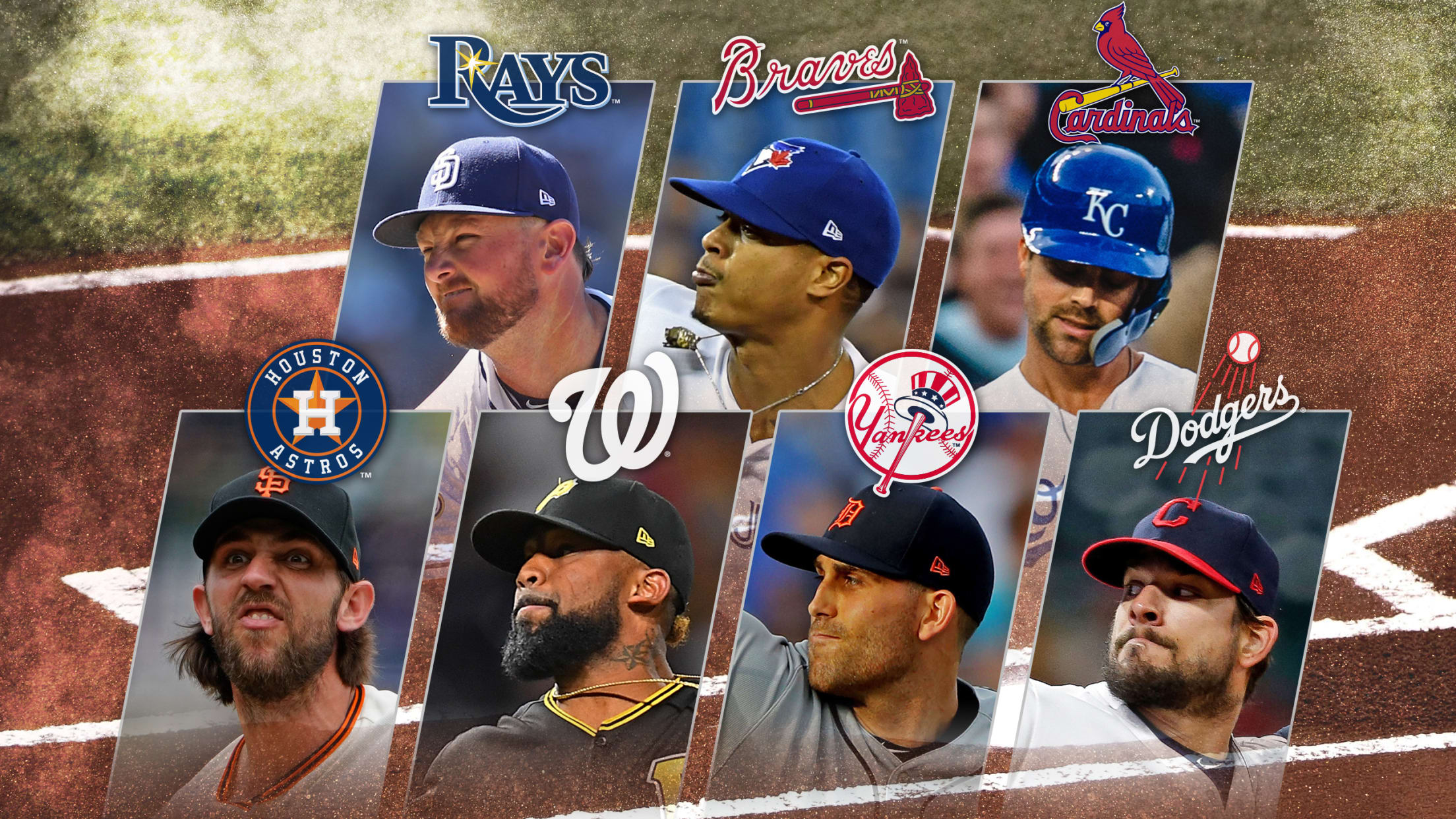 Jim Leyland once stuck his head into a meeting of Tigers scouts and announced, "I want to remind you guys that there are no perfect players." In his not-so-subtle way, the former Tigers skipper was telling his guys it was important to emphasize a player's strengths rather than his weaknesses.
Watch Laureano make sick homer-robbing catch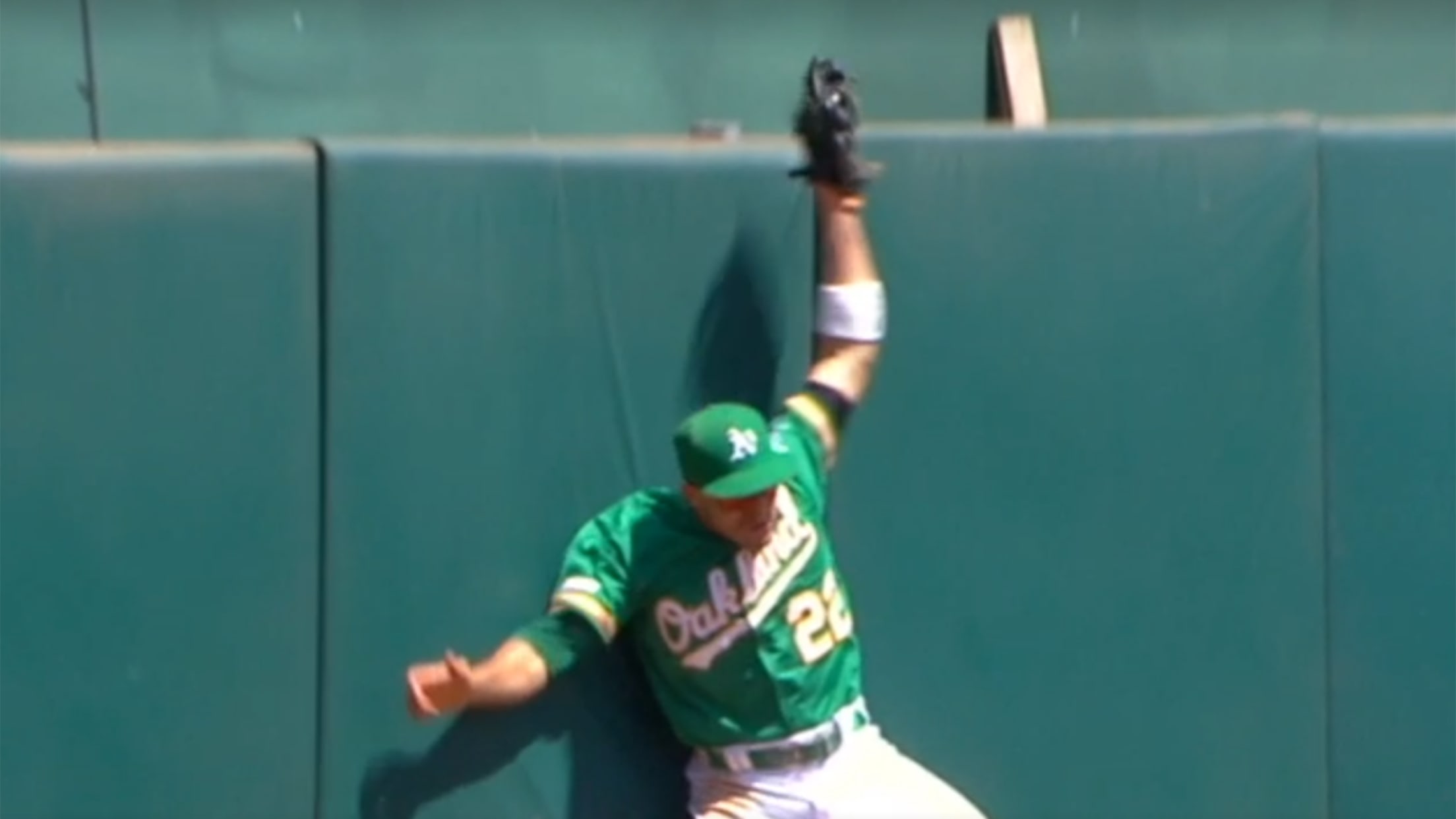 OAKLAND -- The defensive highlight reel being compiled by Ramón Laureano is about as good as it gets for any player barely going through his first full big league season. He provided another gem for that collection on Wednesday in a 10-2 win over the Mariners. With the A's already
Trout hopes to return for finale vs. Astros
Cozart undergoes season-ending surgery; Bard recalled from Triple-A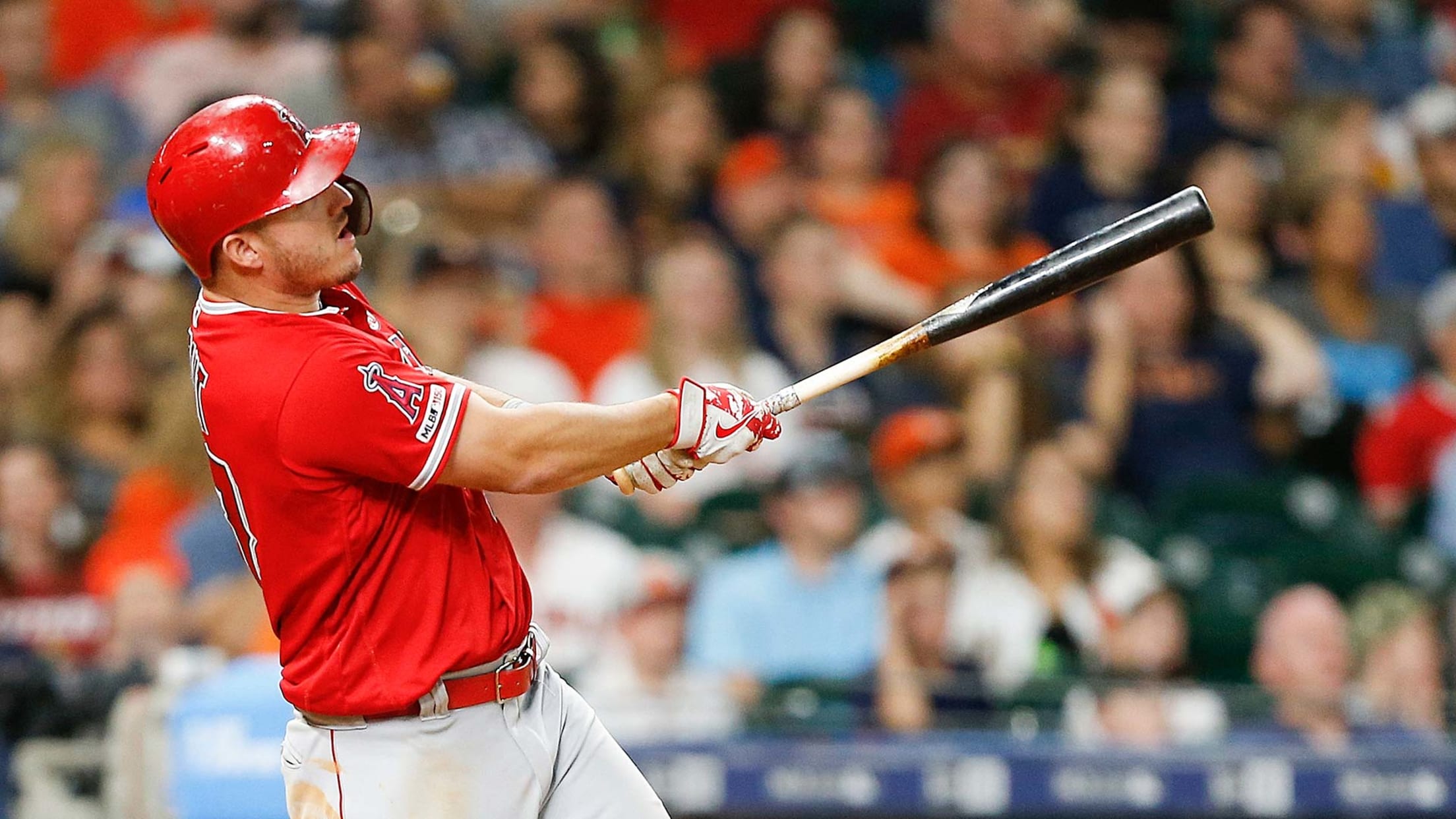 ANAHEIM -- Angels center fielder Mike Trout said he expects to rejoin the lineup on Thursday against the Astros after missing three games with a right calf strain, including Wednesday's game at Angel Stadium. Trout met with team doctors on Wednesday to get a better sense of the calf strain,
Red-hot Giants complete 4-game sweep
Posey, Yastrzemski, Dickerson, Vogt power S.F. to 6-1 road trip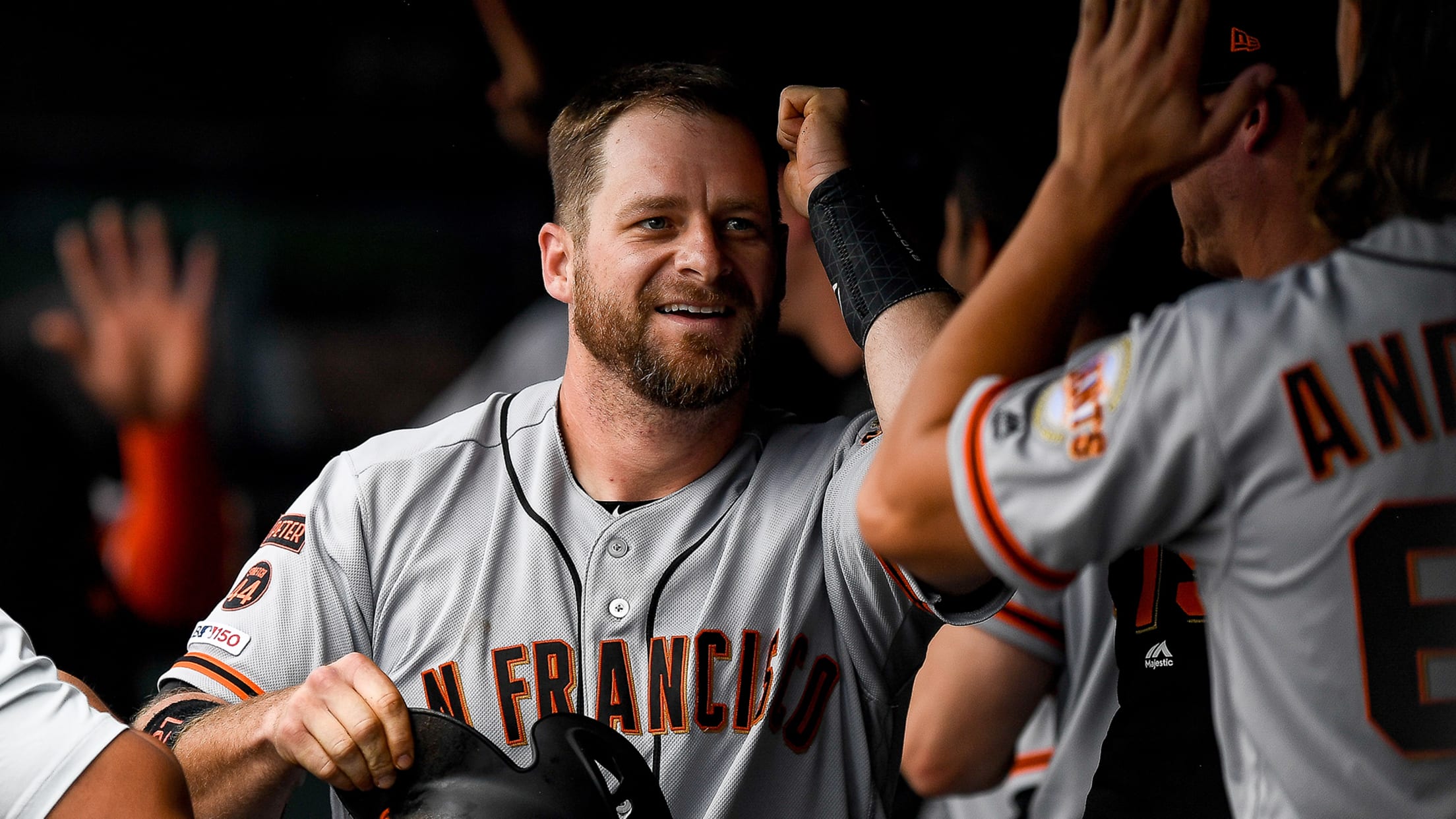 DENVER -- The Giants entered the second half hoping the All-Star break wouldn't interrupt a hot streak over which San Francisco had won seven of nine to close to within 4 1/2 games of a National League Wild Card spot. Interruption? Hardly. With their 11-8 victory to complete a four-game
Ned Yost student of space travel, moon landing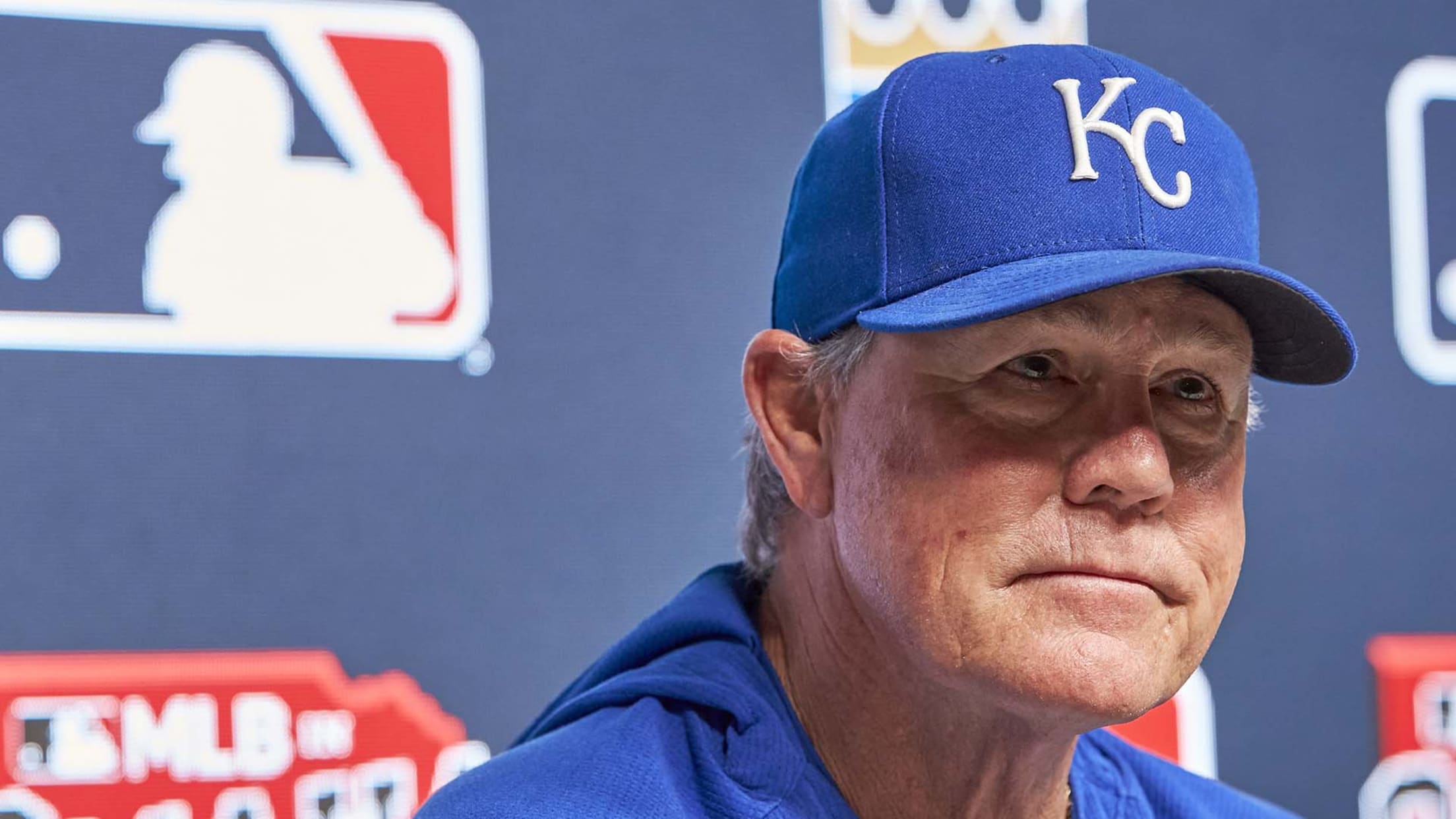 KANSAS CITY -- Word of warning: If you're going to ask Royals manager Ned Yost about space exploration or moon landings, you better not do so casually. As Saturday's 50th anniversary of the moon landing by Apollo 11 approaches, Yost was asked by reporters about his recollection. That set off
Mariano for Felix Fermin? Deal almost happened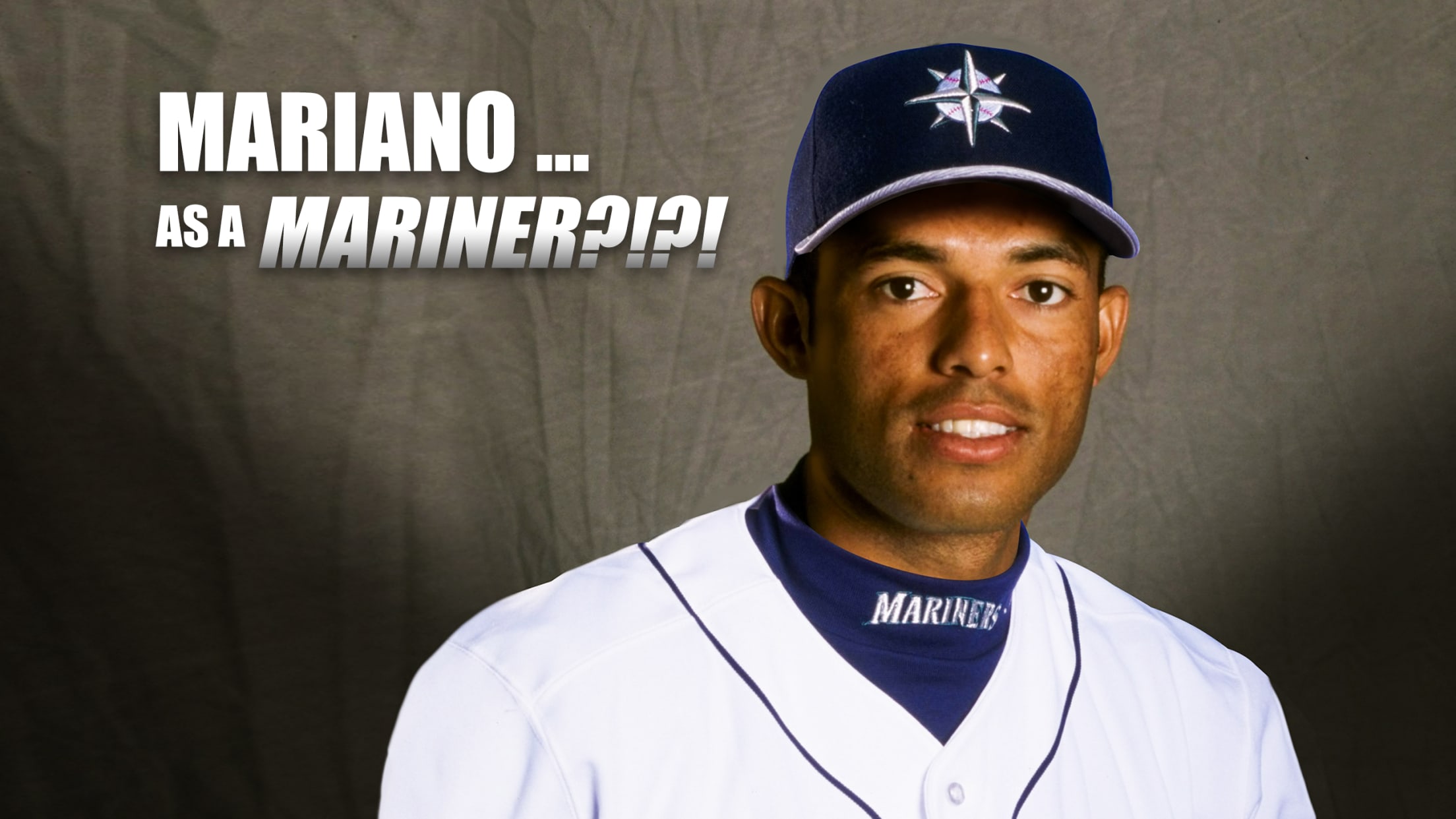 Now pitching for the Seattle Mariners, No. 42, Mariano Rivera. It's difficult to imagine, but that unfathomable scenario was close to becoming a reality. MLB.com's Full Account takes a deep dive into Mariano Rivera's life, including that time the Yankees nearly traded him to Seattle -- a move that would
The 10 biggest Deadline deals of the decade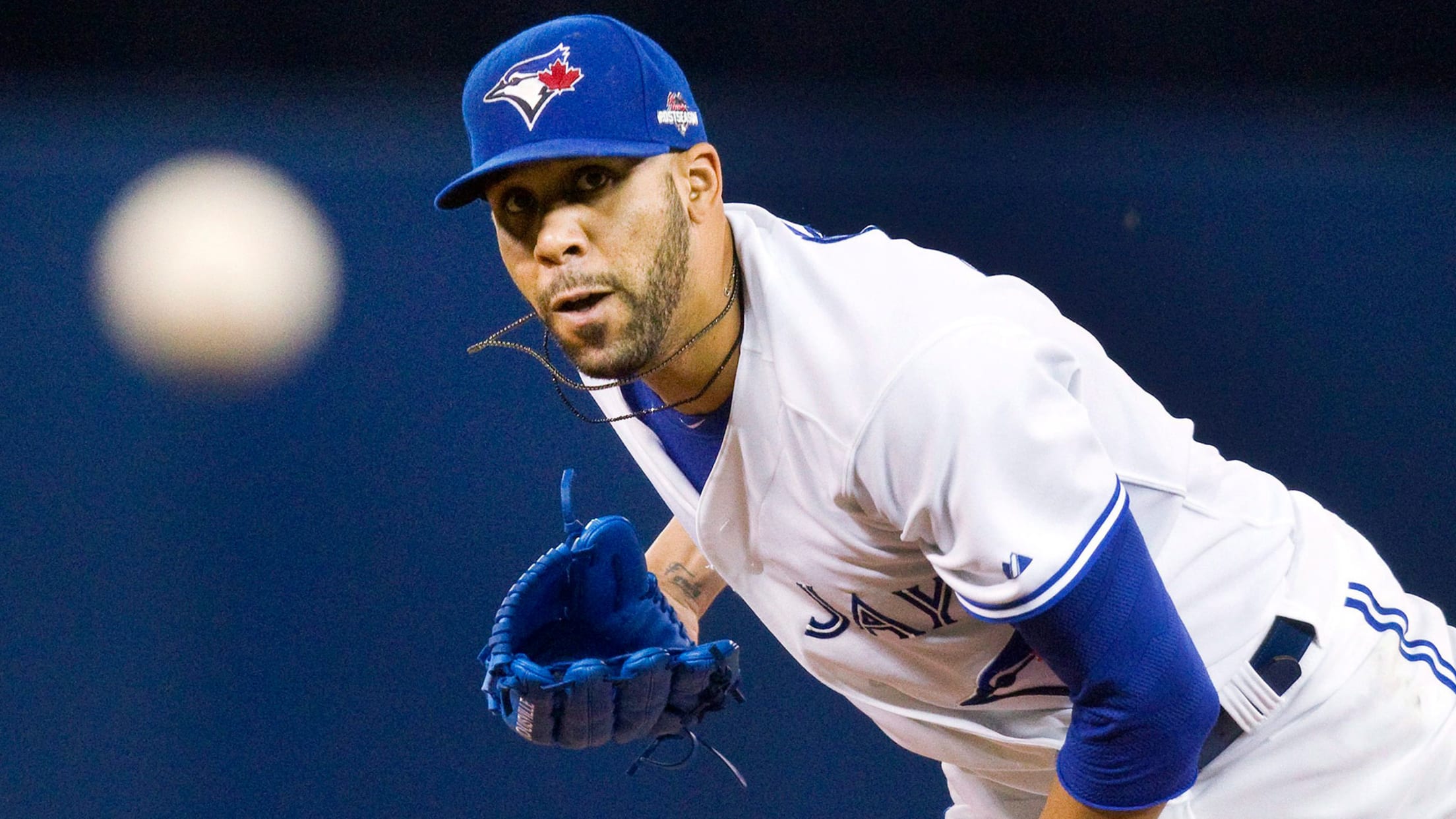 Will Leitch's series on the Data Decade, closing out this remarkable decade in the year of baseball, runs every other Wednesday. Today we look at the biggest Deadline-month trades of the decade. The strangest thing about going back and looking at old Deadline trades is how poorly most of them
MLB, Feeding Children Everywhere team up
Interns package over 10,000 meals for local families
NEW YORK -- For over 60 interns at Major League Baseball, Wednesday started off as a typical workday. After reporting to their respective office locations at Park Avenue and Chelsea Market, they began their morning routine, checking in with their supervisors and working on their assigned tasks. But at 11:30
Boyd ready to square off against Bauer again
Stewart signs ball for little girl hit by foul ball off his bat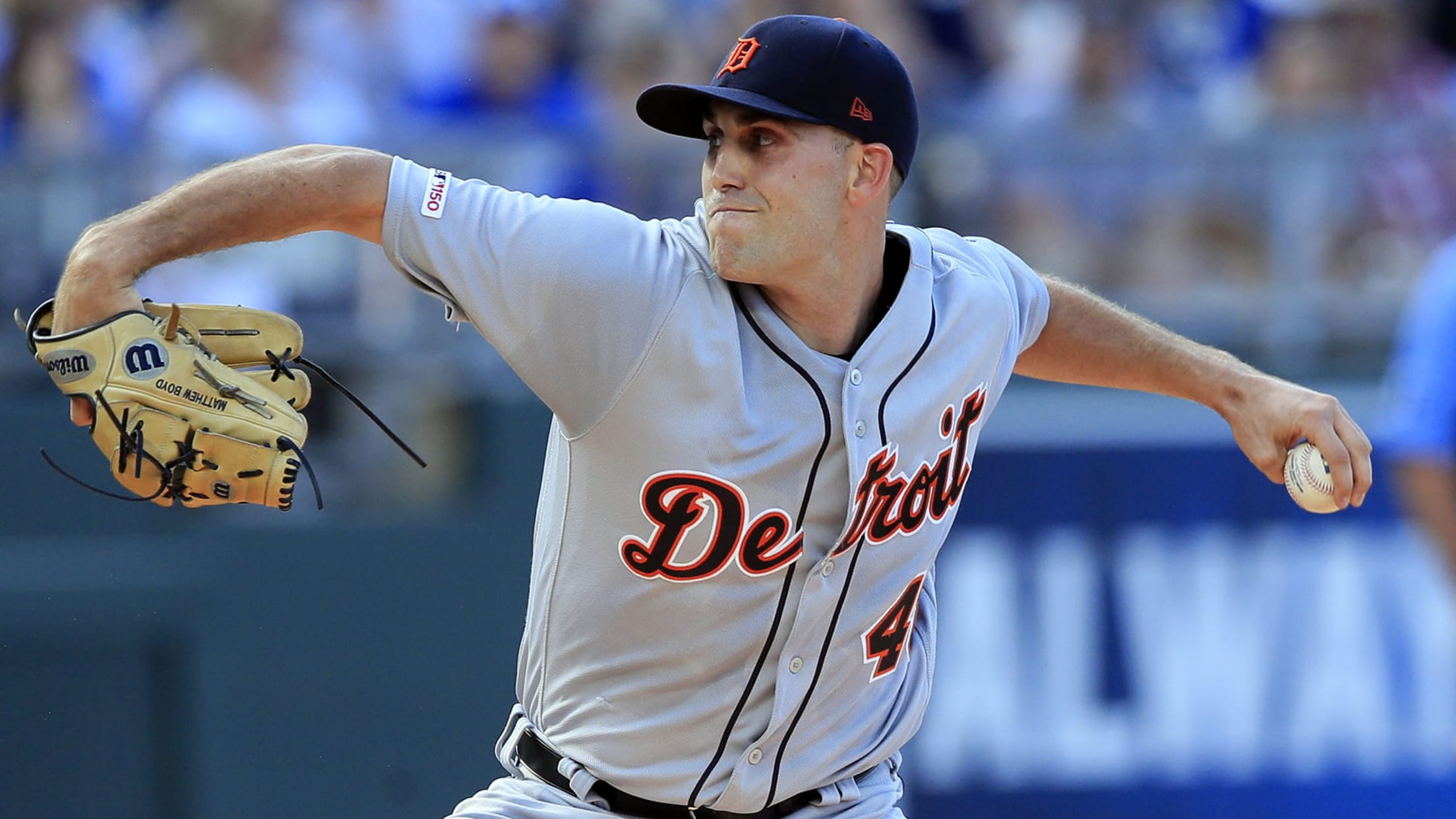 CLEVELAND -- Matthew Boyd and Trevor Bauer got to know each other in college as Pac-12 rivals -- Boyd at Oregon State, Bauer at UCLA. They were both early adopters of the Driveline Baseball program, which played a role in the development of Boyd's now-devastating slider and Bauer's two-seam fastball,
Armenteros to get another turn in rotation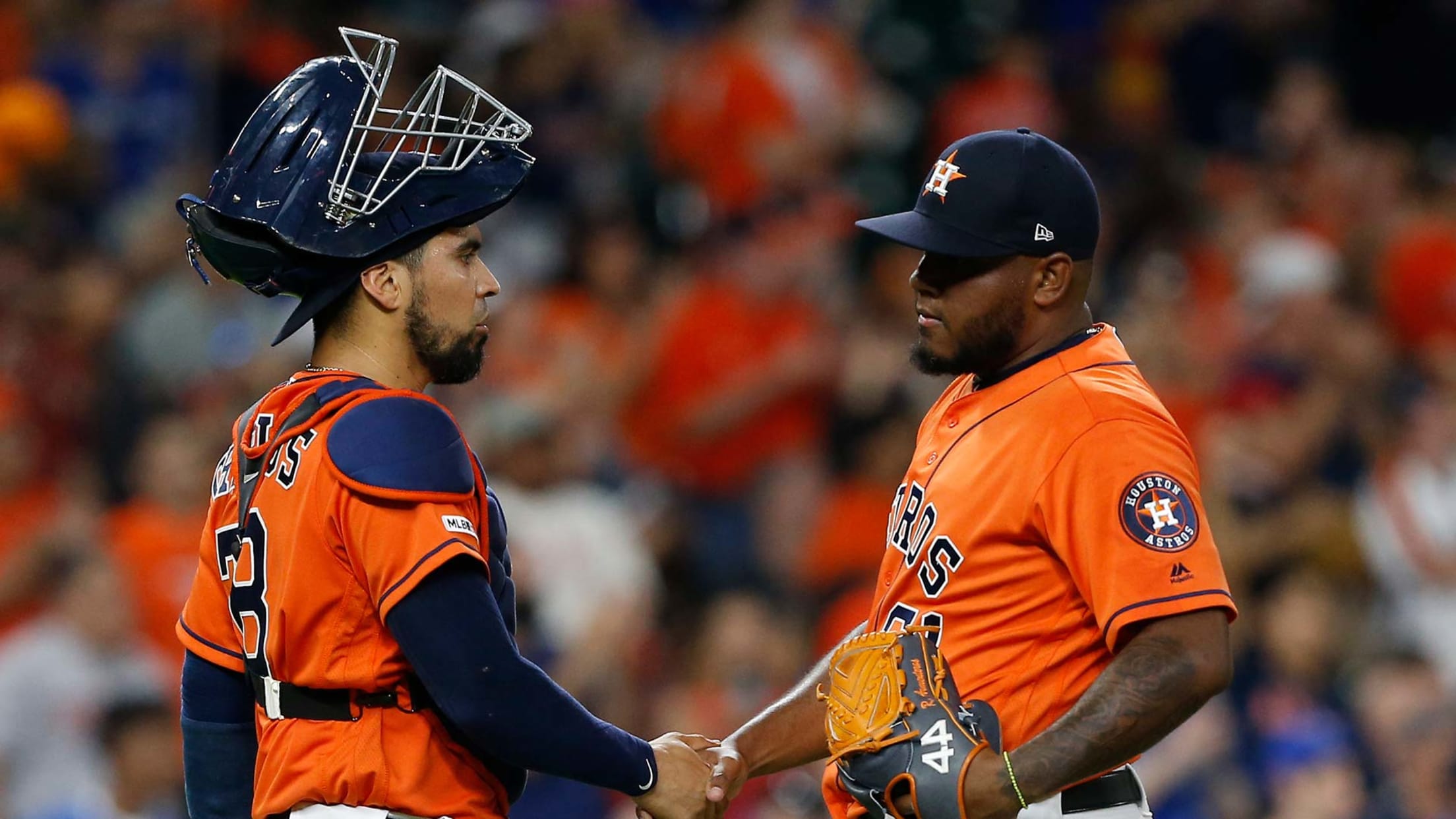 ANAHEIM -- It's mostly a matter of circumstance, but Rogelio Armenteros will get another turn in the Astros' rotation against the Rangers this weekend. It's not that Armenteros wasn't effective in the first appearance of his second Major League stint, as he allowed just one unearned run in four innings