Cole reaches 300-strikeout milestone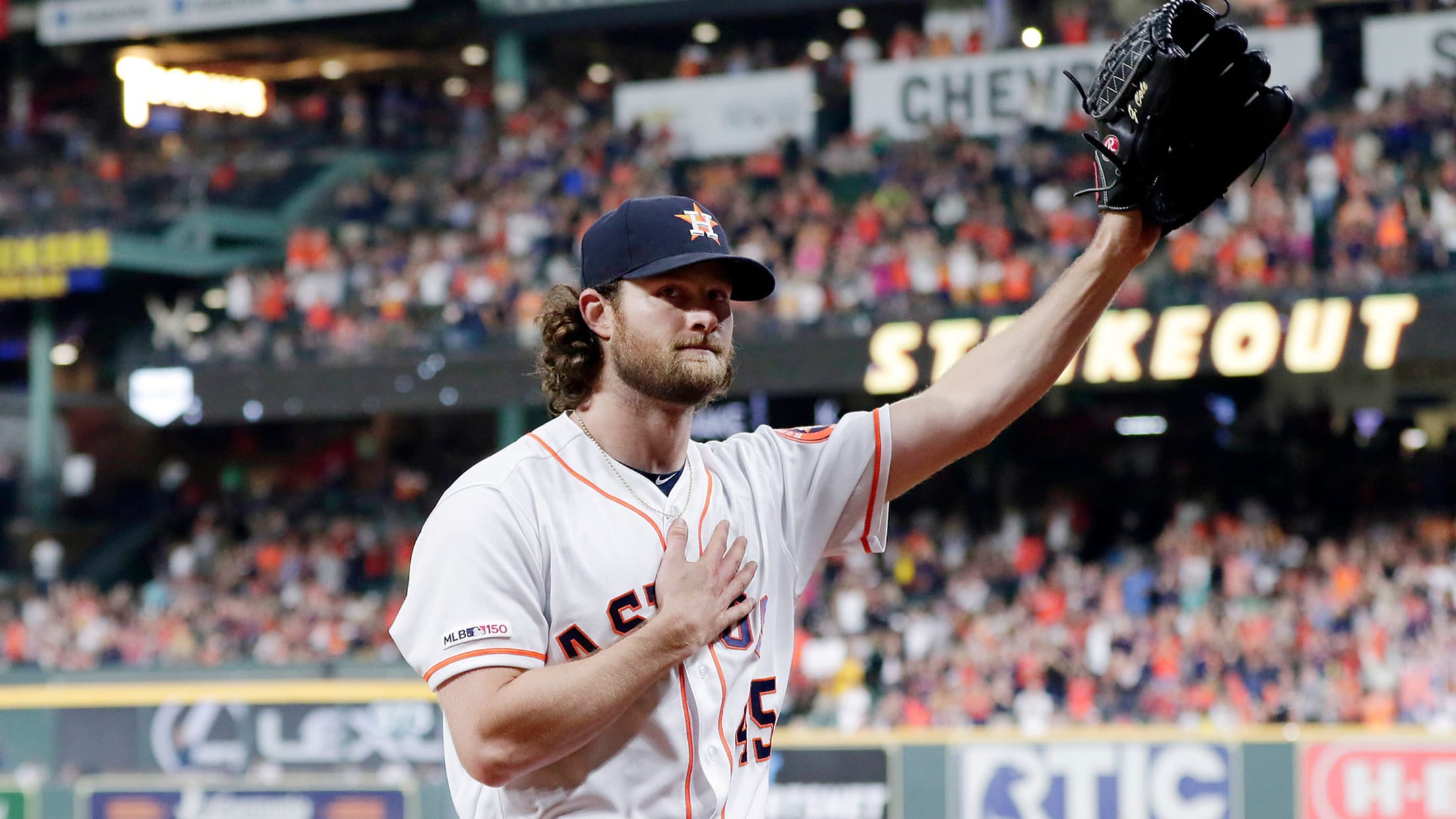 HOUSTON -- An amazing season by right-hander Gerrit Cole has been punctuated by something no other Astros pitcher has done in more than 30 years. By striking out Shin-Soo Choo in the sixth inning Wednesday night against the Rangers, Cole became the first pitcher in the Major Leagues this season,
Carl Yastrzemski throws first pitch to grandson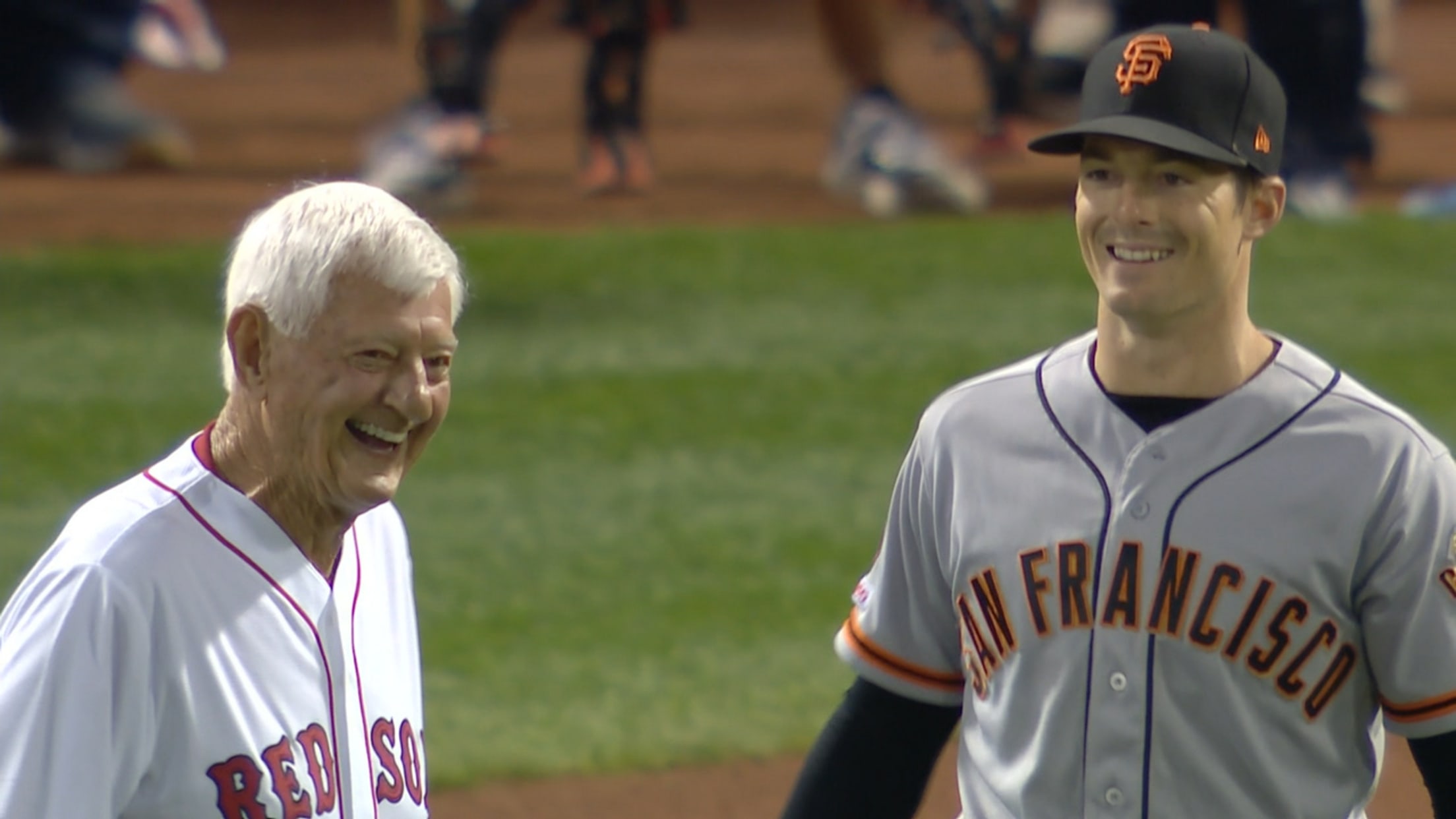 BOSTON -- The historical moments continued on Wednesday night when baseball legend Carl Yastrzemski threw out the ceremonial first pitch to his grandson, Giants outfielder Mike Yastrzemski, in front of a captivated crowd at Fenway Park. Carl, who played his entire 23-year Hall of Fame career in Boston, emerged from
Mets make history, then stun Rockies with rally
Alonso's 49th HR of 2019 sets Amazin's single-season franchise record for long balls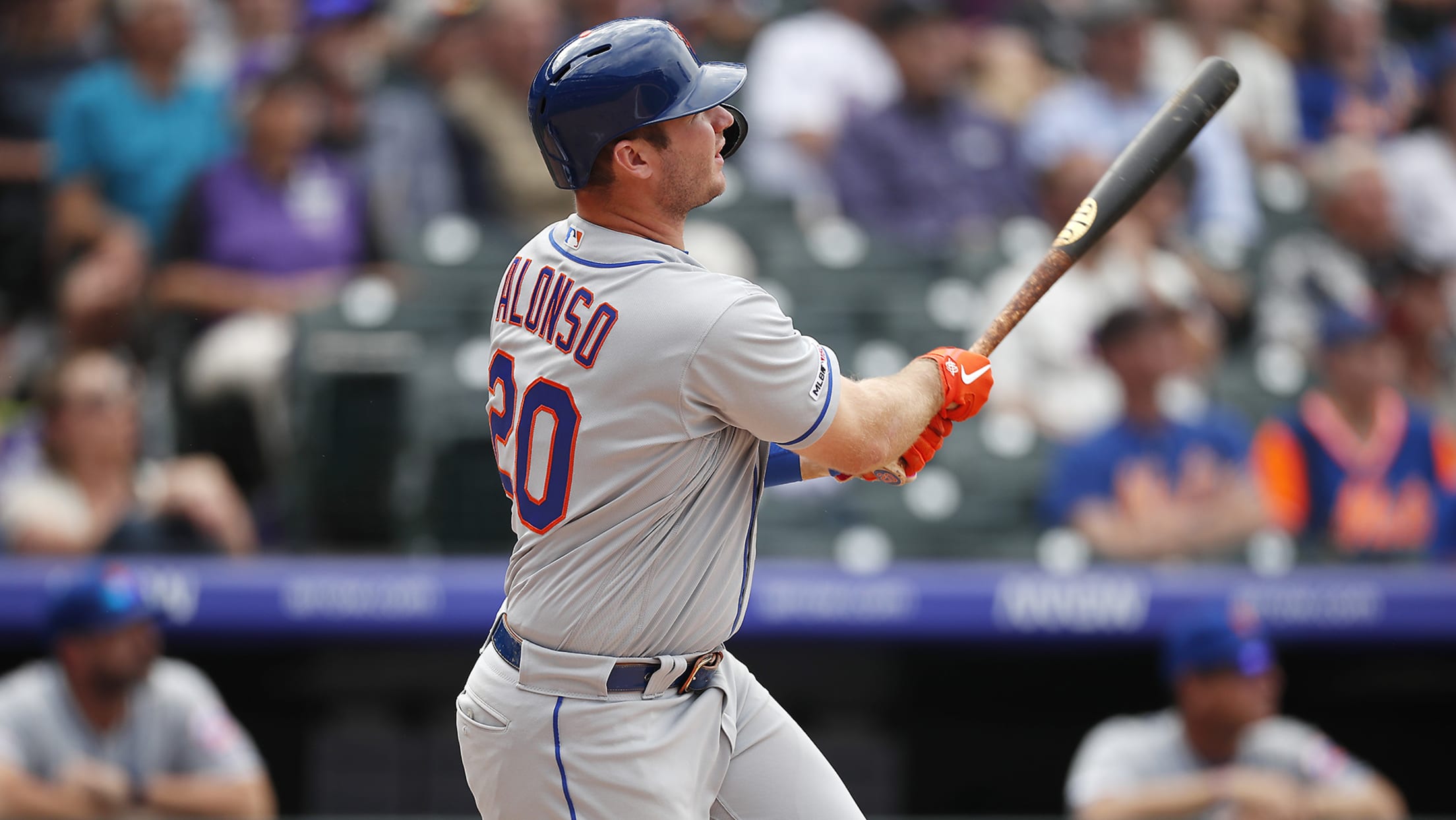 DENVER -- Before delivering the go-ahead RBI in the Mets' 7-4 win at Coors Field on Wednesday, Pete Alonso offered the Rockies another demonstration of his offensive potency. Batting with one out in the sixth inning, Alonso smacked his 49th home run a projected 448 feet to left to give
Next Bronx start unclear, CC earns hugs, ovation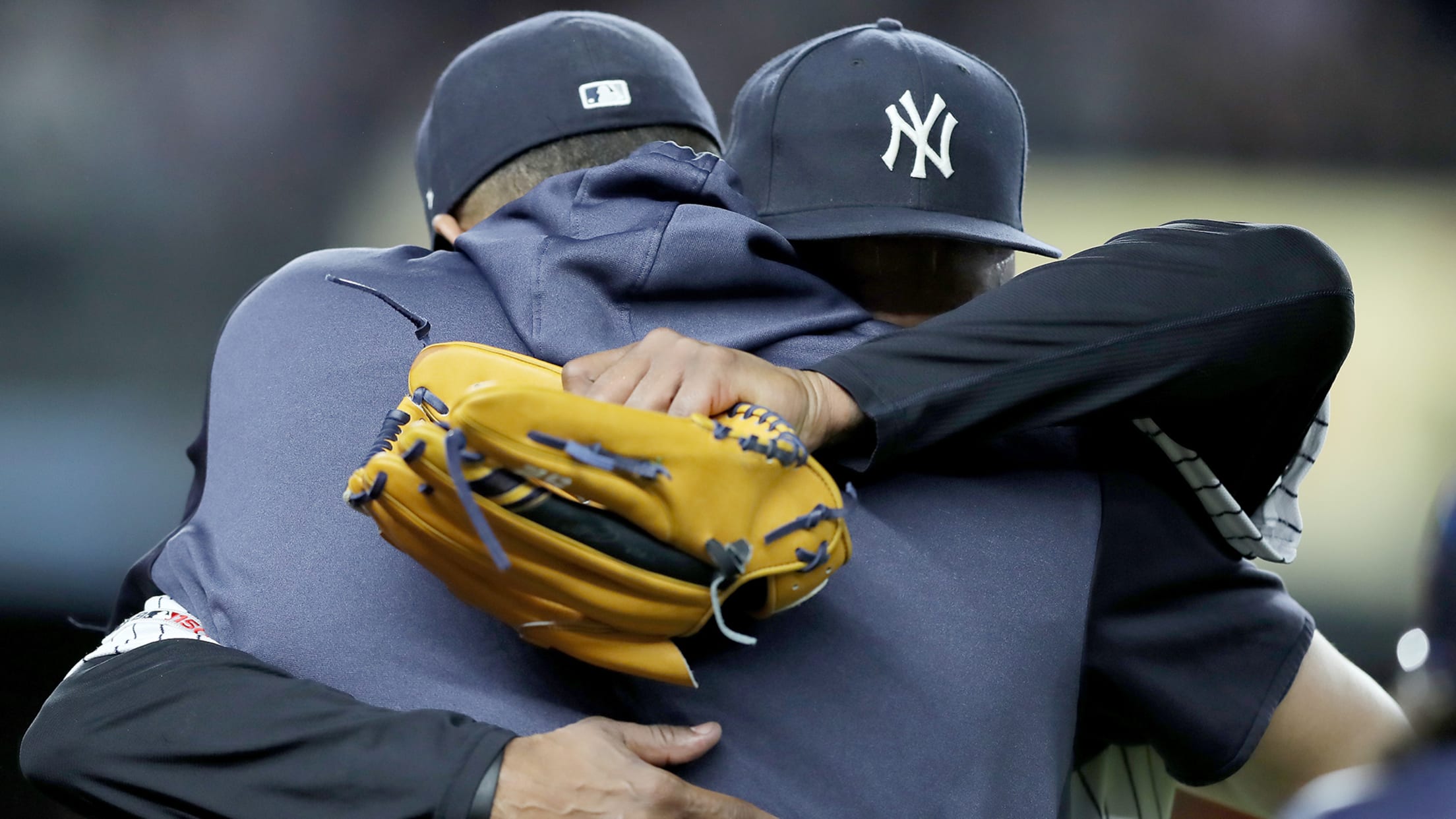 NEW YORK -- CC Sabathia tipped his cap as he walked off the field in the third inning of Wednesday night's 3-2 loss to the Angels, greeted at the dugout steps by his applauding teammates as they acknowledged the veteran left-hander's final regular-season Yankee Stadium start. Manager Aaron Boone retrieved
Suárez hits most HRs in season by Venezuelan
Slugger ties NL mark for most homers by third baseman in a year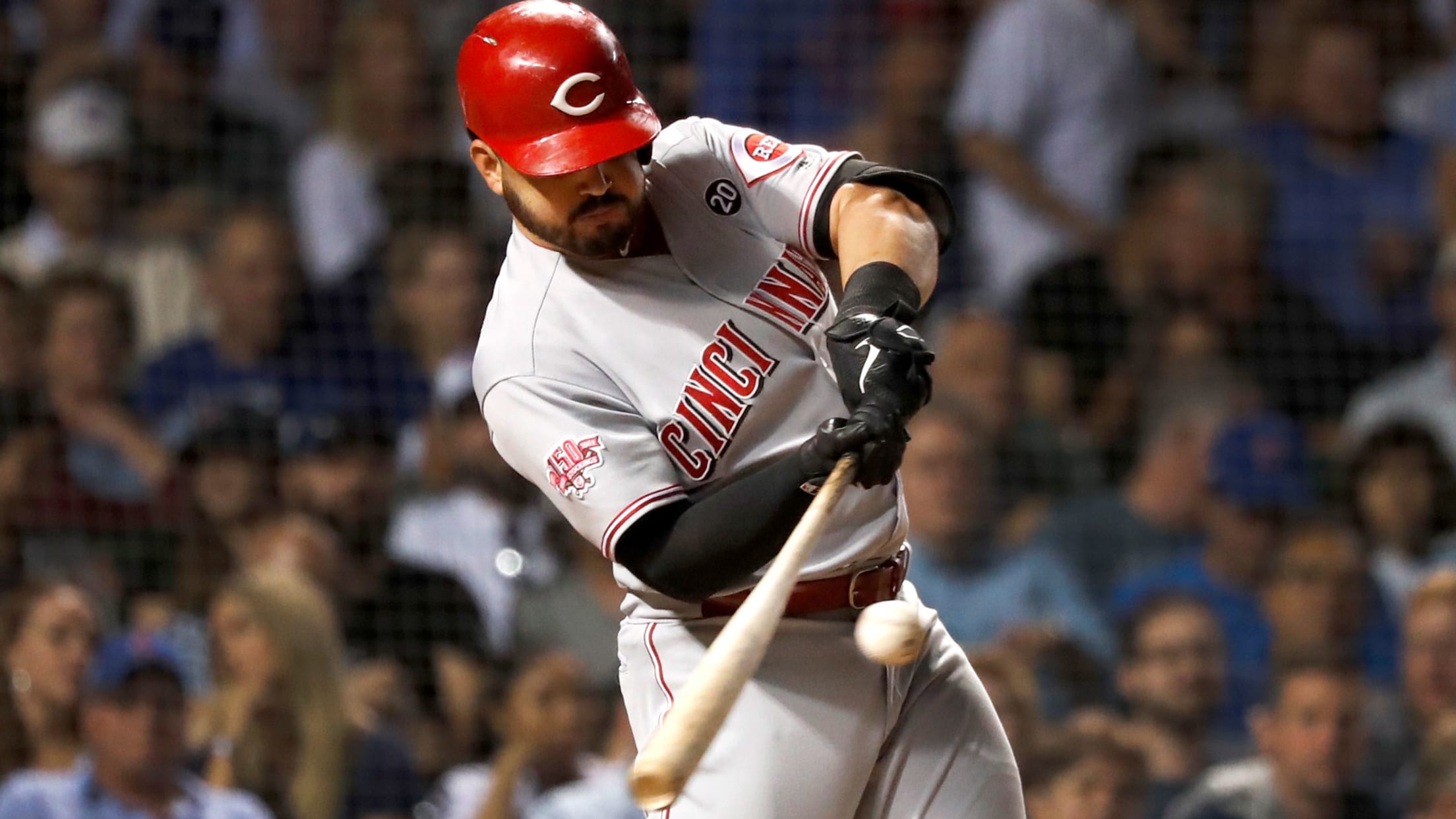 CHICAGO -- Among all the great Venezuelan players to have featured in MLB's history, Eugenio Suárez is the single-season home run king. In the fourth inning on Wednesday night at Wrigley Field, Suárez crushed a 1-1 cutter from Cubs starter Jon Lester for his 48th home run of the year,
Marte to have CT scan, may be shut down
MRI on Wednesday showed lower-back inflammation for NL All-Star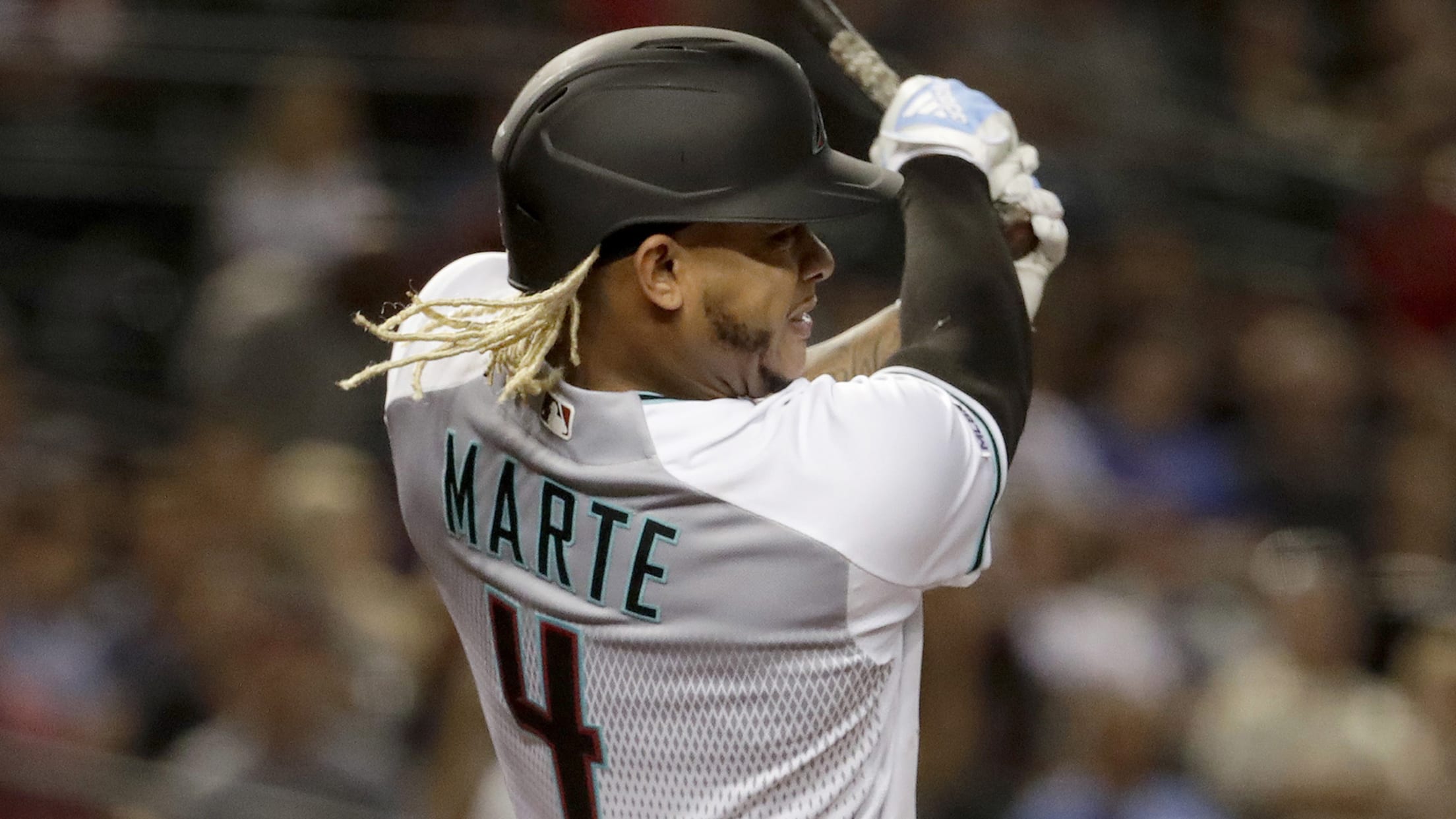 PHOENIX -- The D-backs kept their slim postseason hopes alive by beating the Marlins, 5-4, on Wednesday afternoon at Chase Field, but it looks like they might have to finish out the year without 2019 National League All-Star Ketel Marte. Marte had an MRI on Wednesday that showed inflammation in
Here's the final Top 100 Prospects list of the year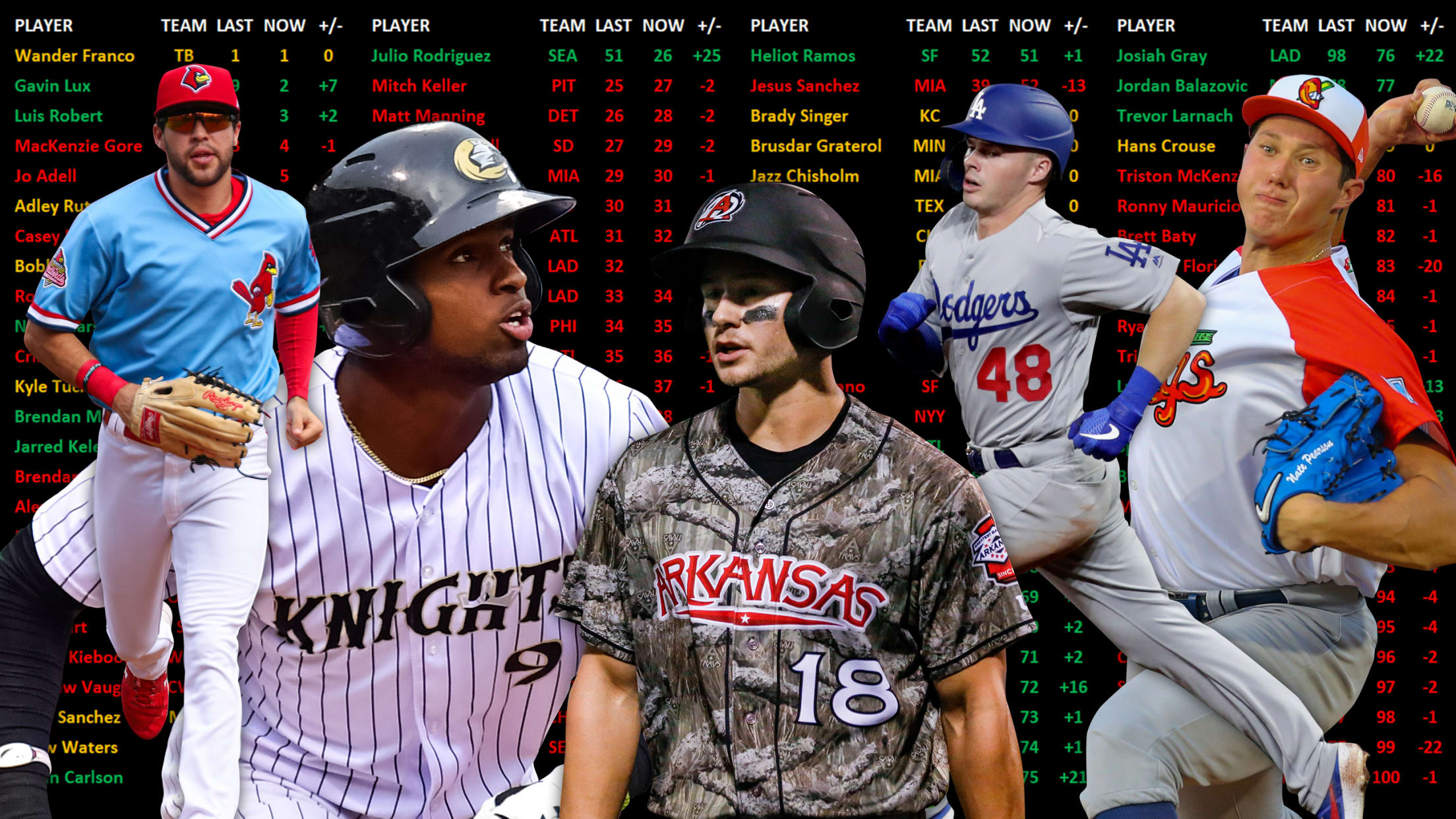 Now that the Minor League regular season and playoffs have concluded, we're making a few adjustments to MLB Pipeline's Top 100 Prospects list. While Rays shortstop Wander Franco remains at No. 1, we've jumped a pair of position players to the Nos. 2 and 3 spots and anointed a new
Injury updates: Yanks, Kimbrel, Kipnis, Correa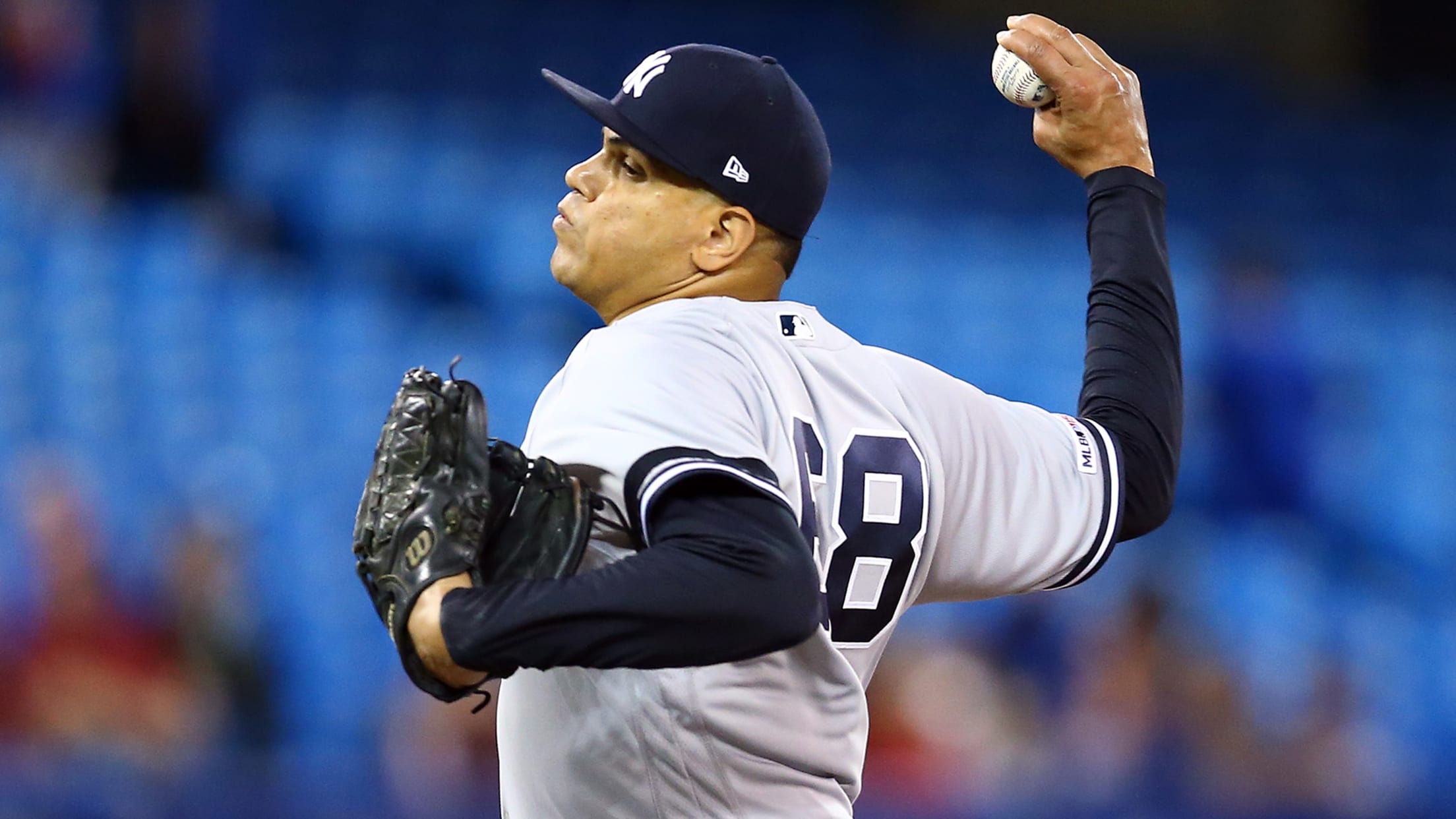 Here is the latest injury news from around Major League Baseball.
Stuck on 99 wins, Yanks undone by costly error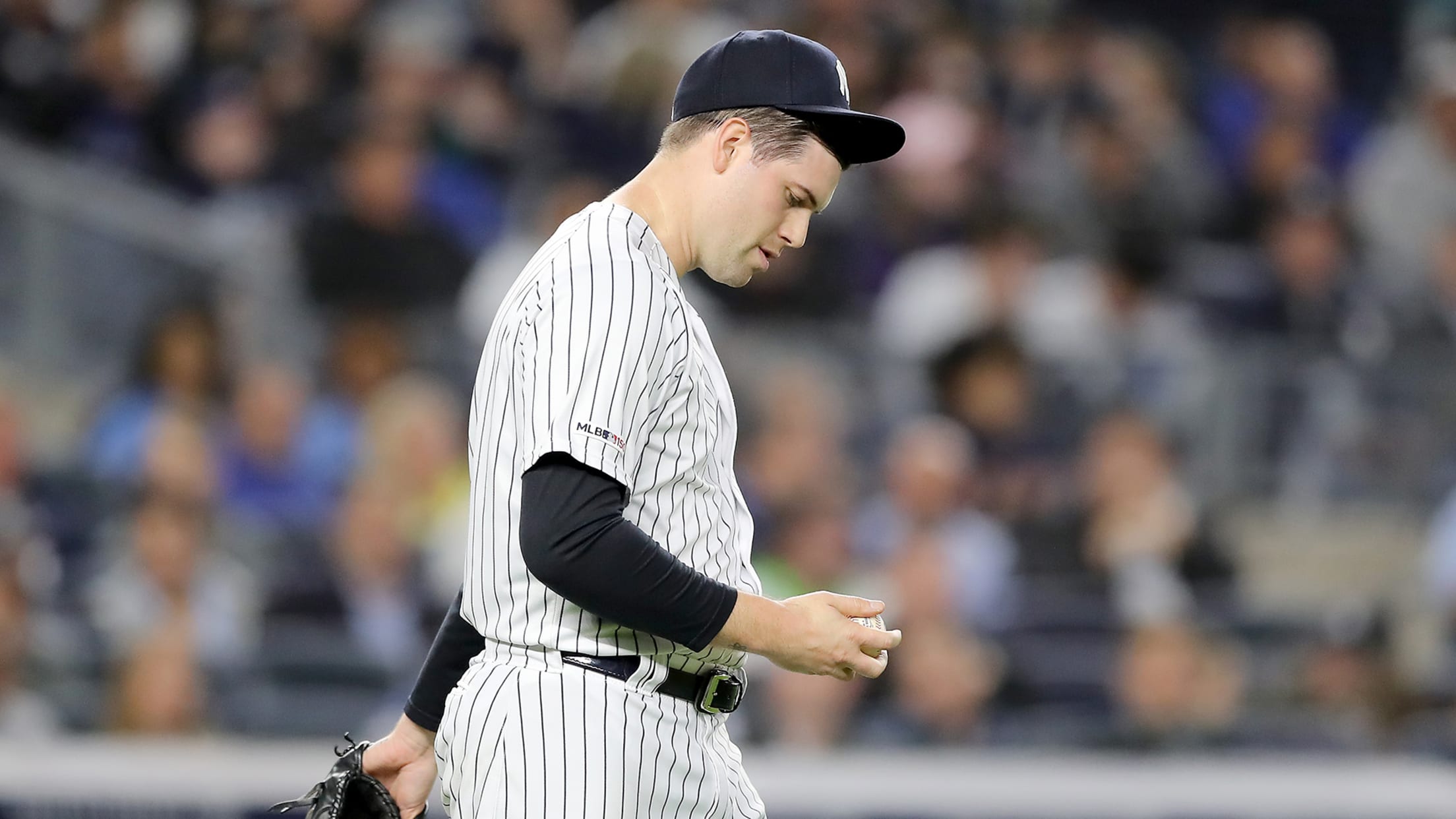 NEW YORK -- The ideal script for the Yankees to celebrate their first American League East title since 2012 would have included CC Sabathia pitching well, Giancarlo Stanton delivering a big hit in his return from the injured list and a splendid bullpen performance. However, like so many developments in
Explaining postseason tiebreaker scenarios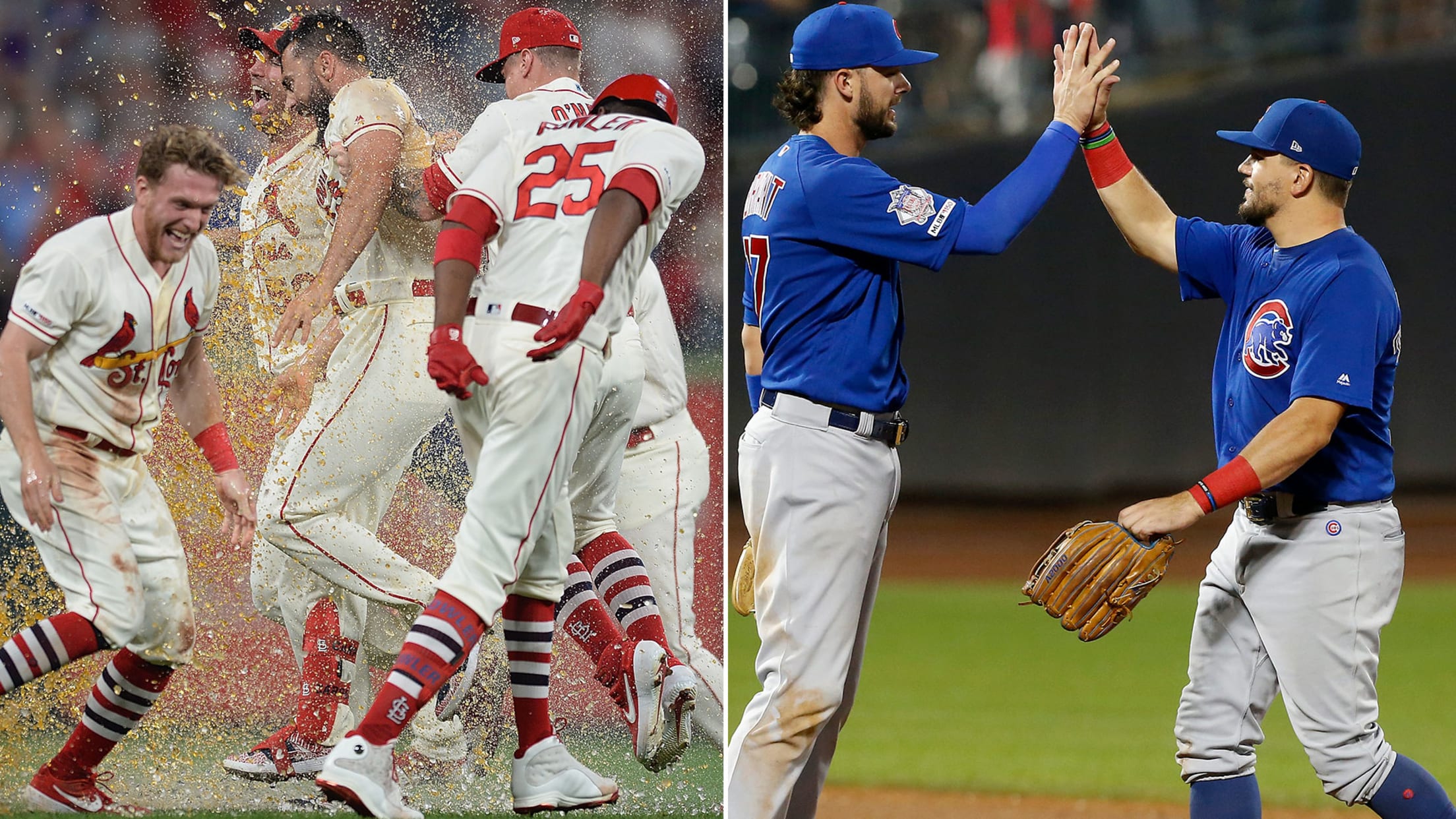 When Major League Baseball instituted the dual-Wild Card system before the 2012 season, it was pretty widely assumed that there would be years in which a cluster of clubs with identical records would require, essentially, their own tournament to decide who advances to the one-and-done Wild Card round. To date,
Here is the 2019 postseason schedule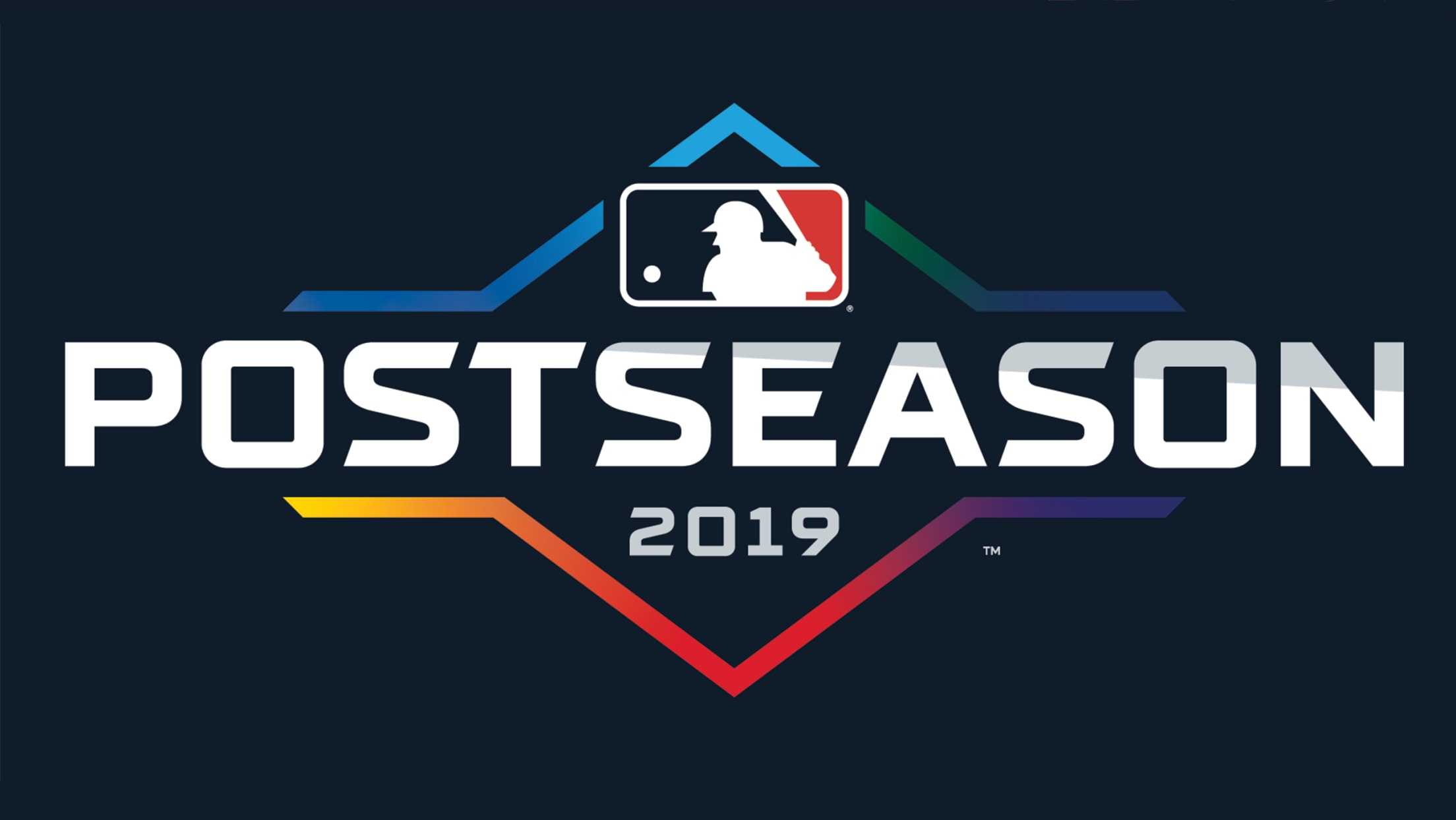 Major League Baseball today announced the schedule for the 2019 Postseason, which is set to open with the National League Wild Card Game presented by Hankook Tire on TBS on Tuesday, Oct. 1, followed by the American League Wild Card Game presented by Hankook Tire on ESPN on Wednesday, Oct.
Here's how the playoff rosters might look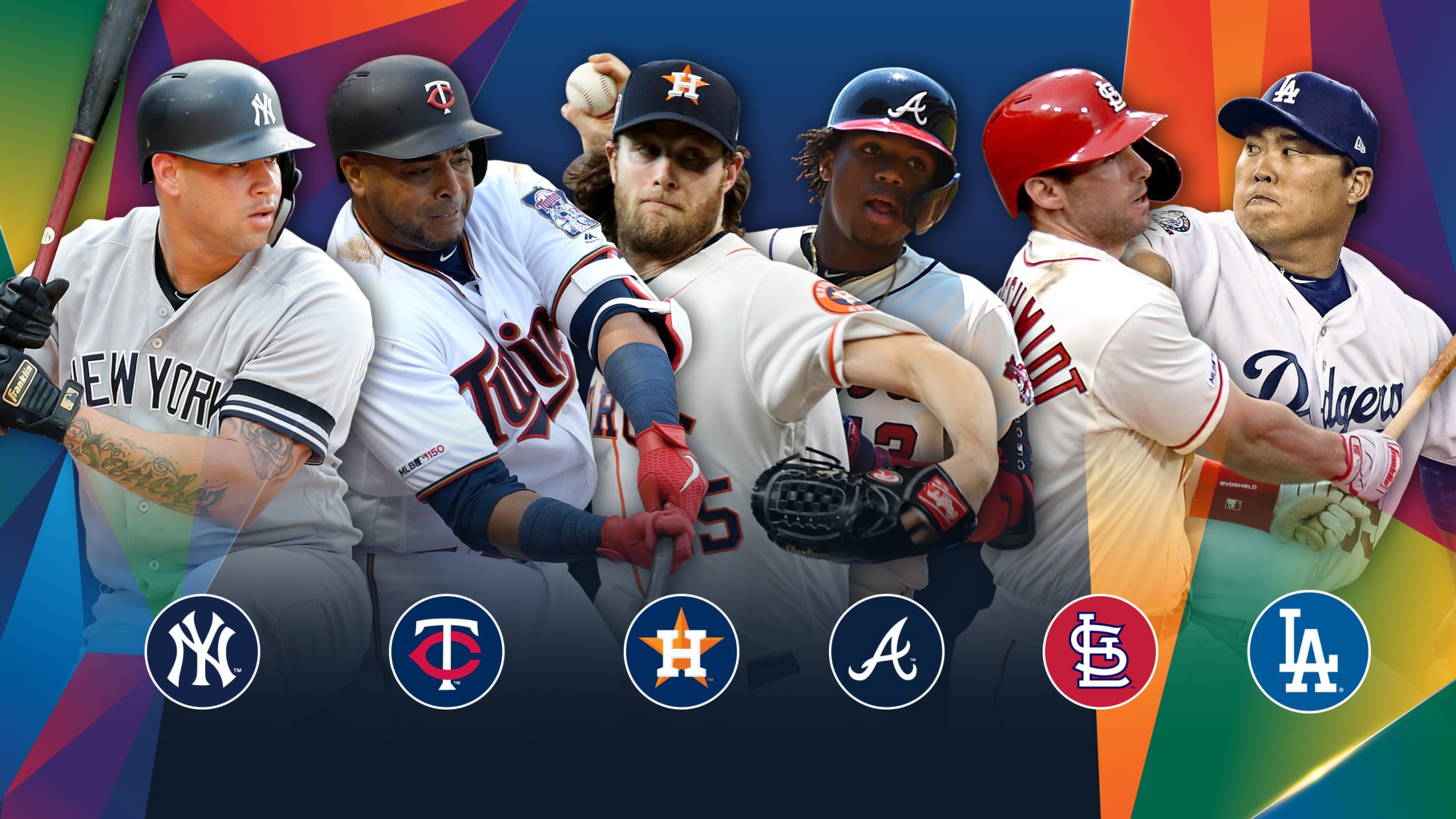 The postseason picture is far from settled, but that doesn't mean it's too early to start thinking about what October could look like. Contenders' front offices might not publicly acknowledge the postseason out of superstition, but they're likely doing the same, looking over their rosters and penciling in who's in
Select few have reached 300 K's in a season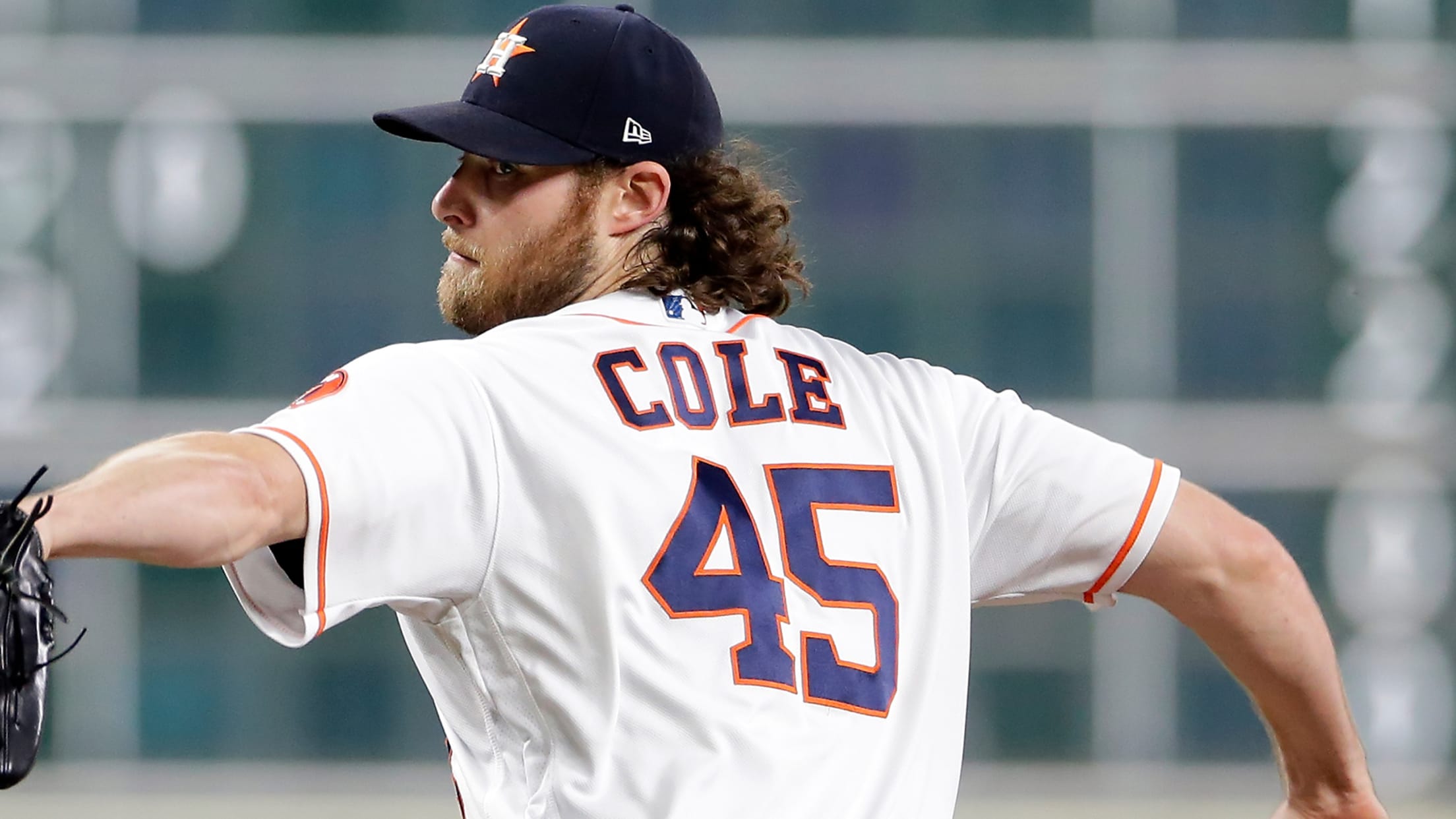 While baseball's obsession with round numbers runs deep, there's little denying the significance of a 300-strikeout season (even in today's K-friendly climate for pitchers). Only 18 pitchers in the modern era (since 1901) have reached the 300-K plateau within a single season. The newest member of the club is Astros
Eflin's gem keeps Phils' Wild Card hopes afloat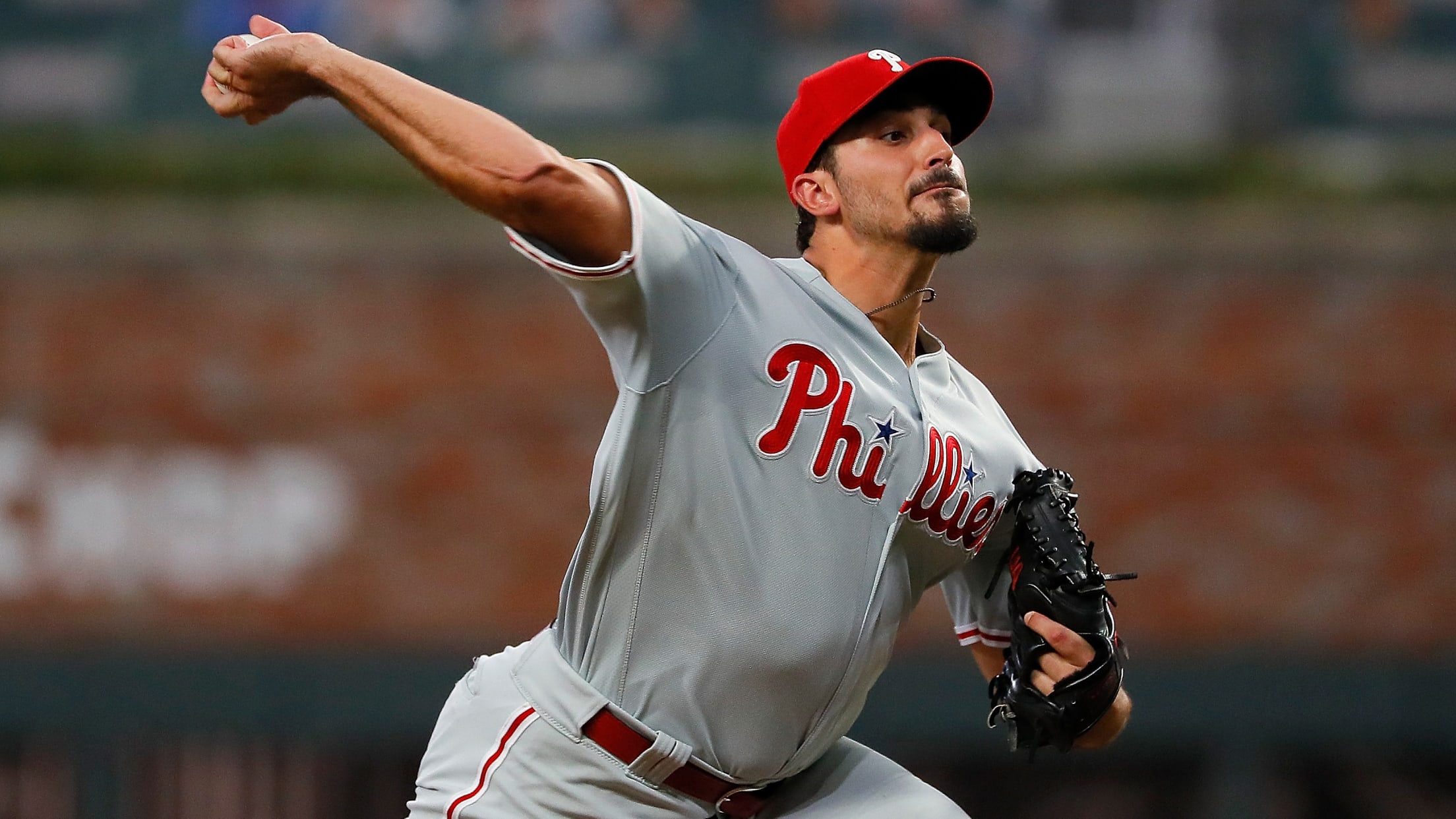 ATLANTA -- The Phillies are conducting exit interviews this week at SunTrust Park. They will continue through the end of the season. The sessions include Matt Klentak, Gabe Kapler and a player in the manager's office, where they rehash the season and talk about the future. Kapler said each meeting
Civale cruises before Puig delivers walk-off hit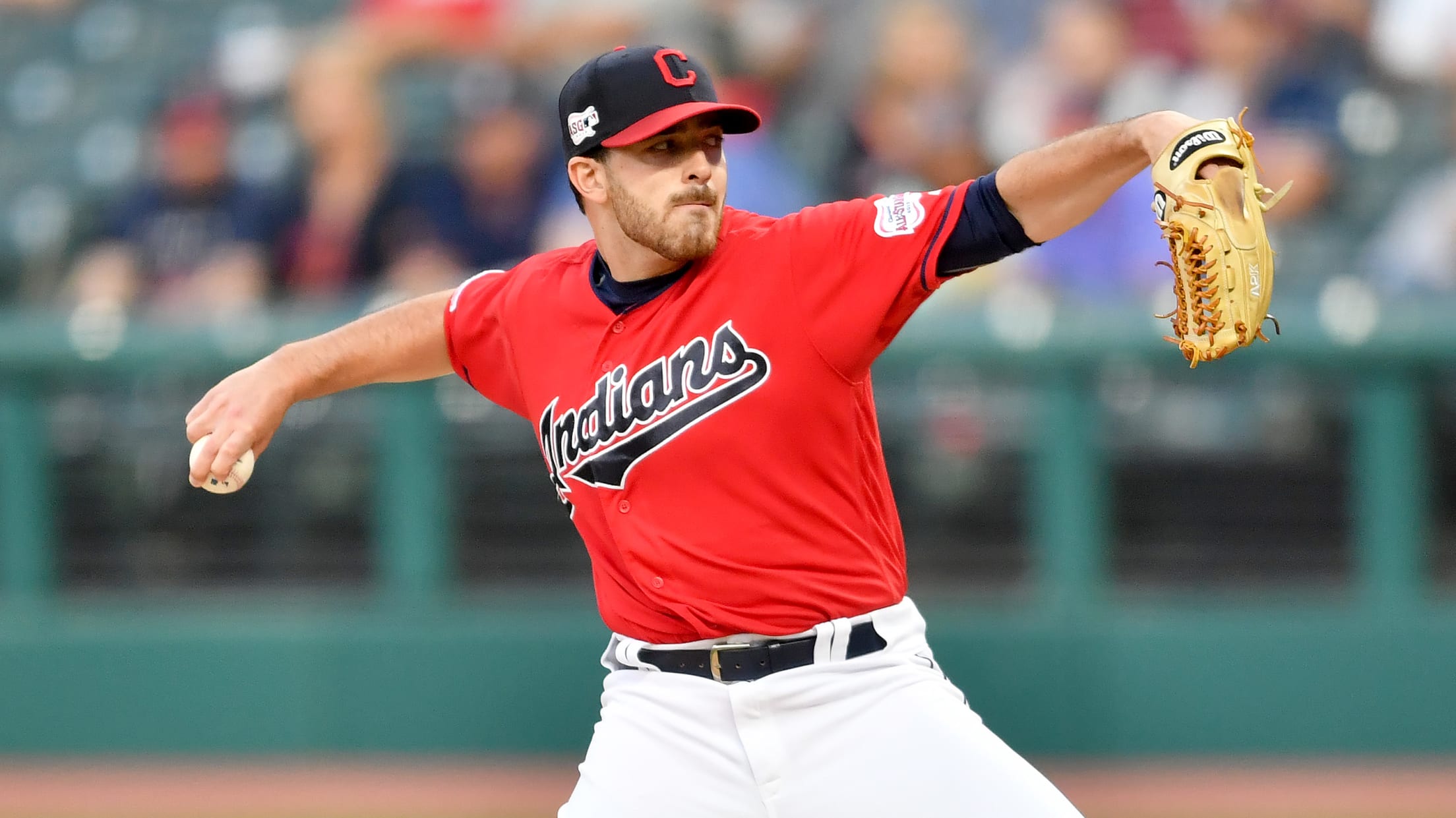 CLEVELAND -- The Indians entered Wednesday's game against the Tigers with the possibility of moving into the second American League Wild Card spot if they won and the Rays lost to the Dodgers. But no matter how much pressure has been put on rookie Aaron Civale this season, the 24-year-old
Cards top Scherzer, strengthen hold on Central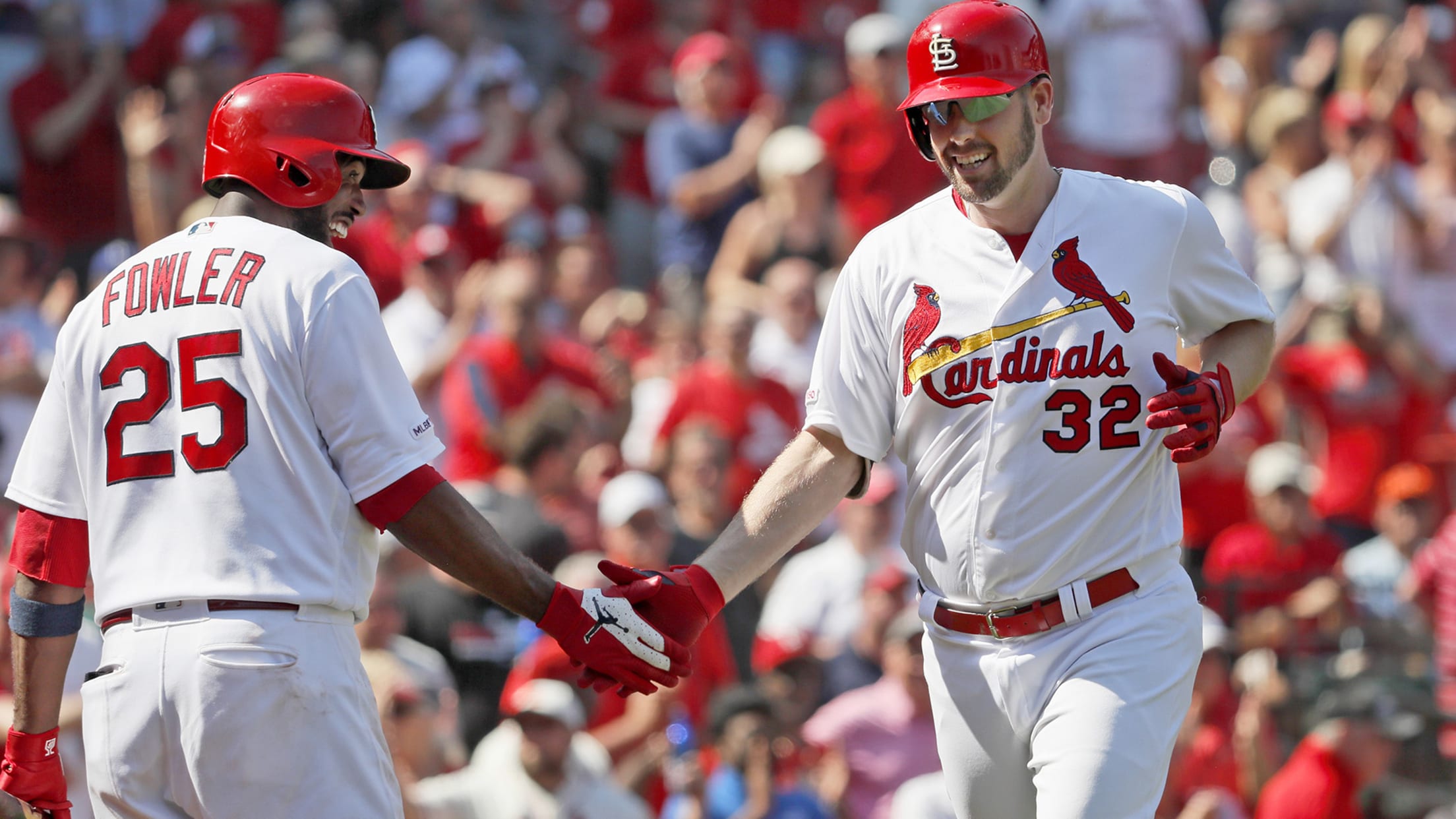 ST. LOUIS -- Cardinals manager Mike Shildt and his players have insisted that no matter how meaningful these games in September are, their goal is to treat every game the same. But there was no denying how important Wednesday's game against the Nationals was for the Cardinals' playoff hopes.
On Canha T-shirt day, guess who plays A's hero?
Oakland's CF provides walk-off double in 11th for only run of game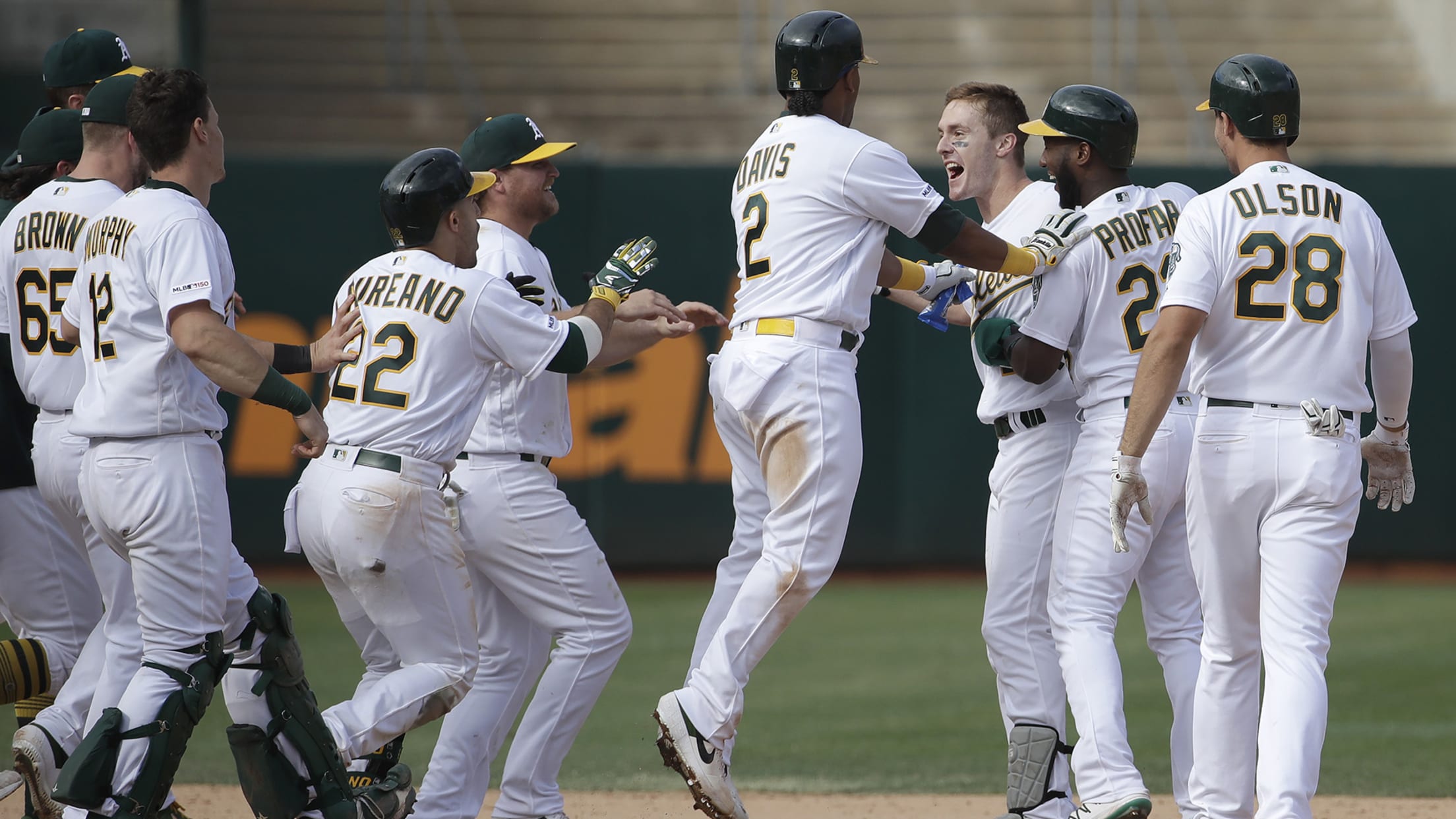 OAKLAND -- In the span of a year, Mark Canha has gone from part-time player to an integral piece of an A's club that finds itself holding a playoff spot. He's even reached the point of getting his own T-shirt giveaway, with shirts that featured Canha and the words "Hometown
Back in lineup, Stanton laces double in first AB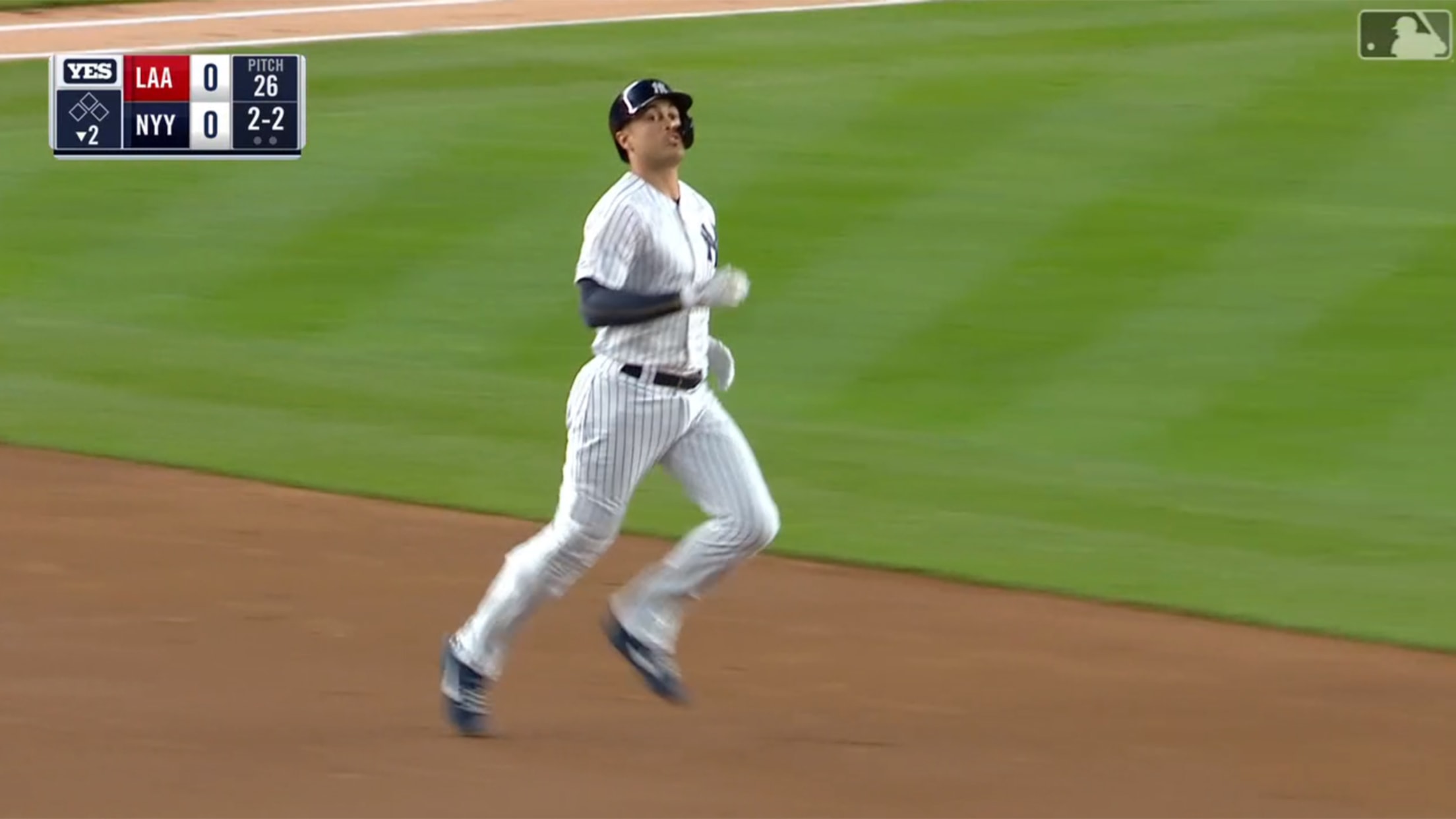 NEW YORK -- As the Yankees aim to secure their first American League East title since 2012, Giancarlo Stanton returned to the lineup on Wednesday for the first time since June 25, batting fifth and playing left field in a 3-2 loss to the Angels. It didn't take Stanton long
A rare Cubs-Cards race comes down to the wire
With series starting Thursday, a look at some past pennant chases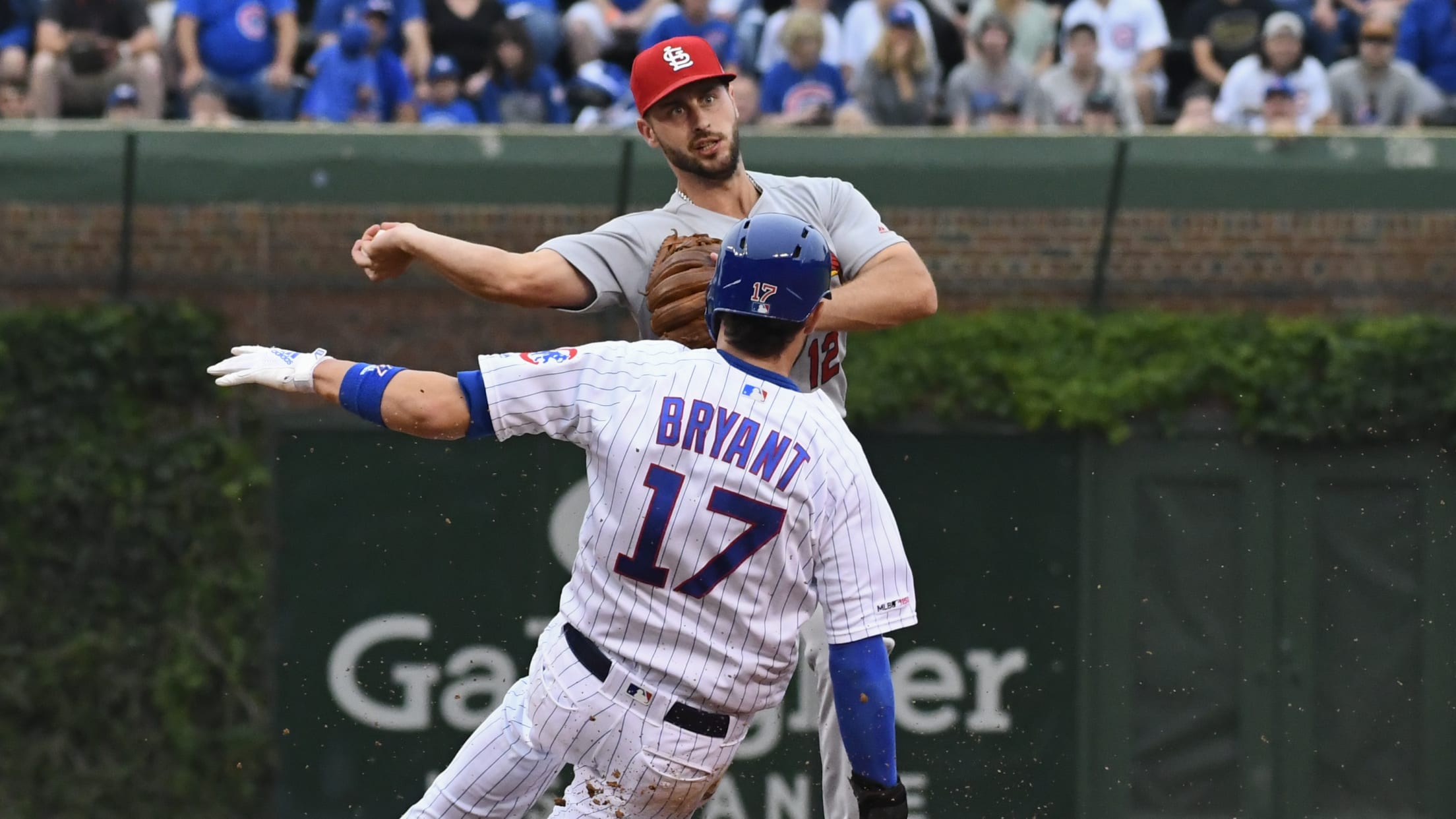 Starting Thursday night at Wrigley Field, the Cardinals and the Cubs, those two perpetual rivals of the Midwest, will play seven games over the next 11 days that will determine the National League Central, the NL Wild Card and maybe just the futures of both franchises. The Cardinals haven't made
Dodgers giving Turner plenty of time to heal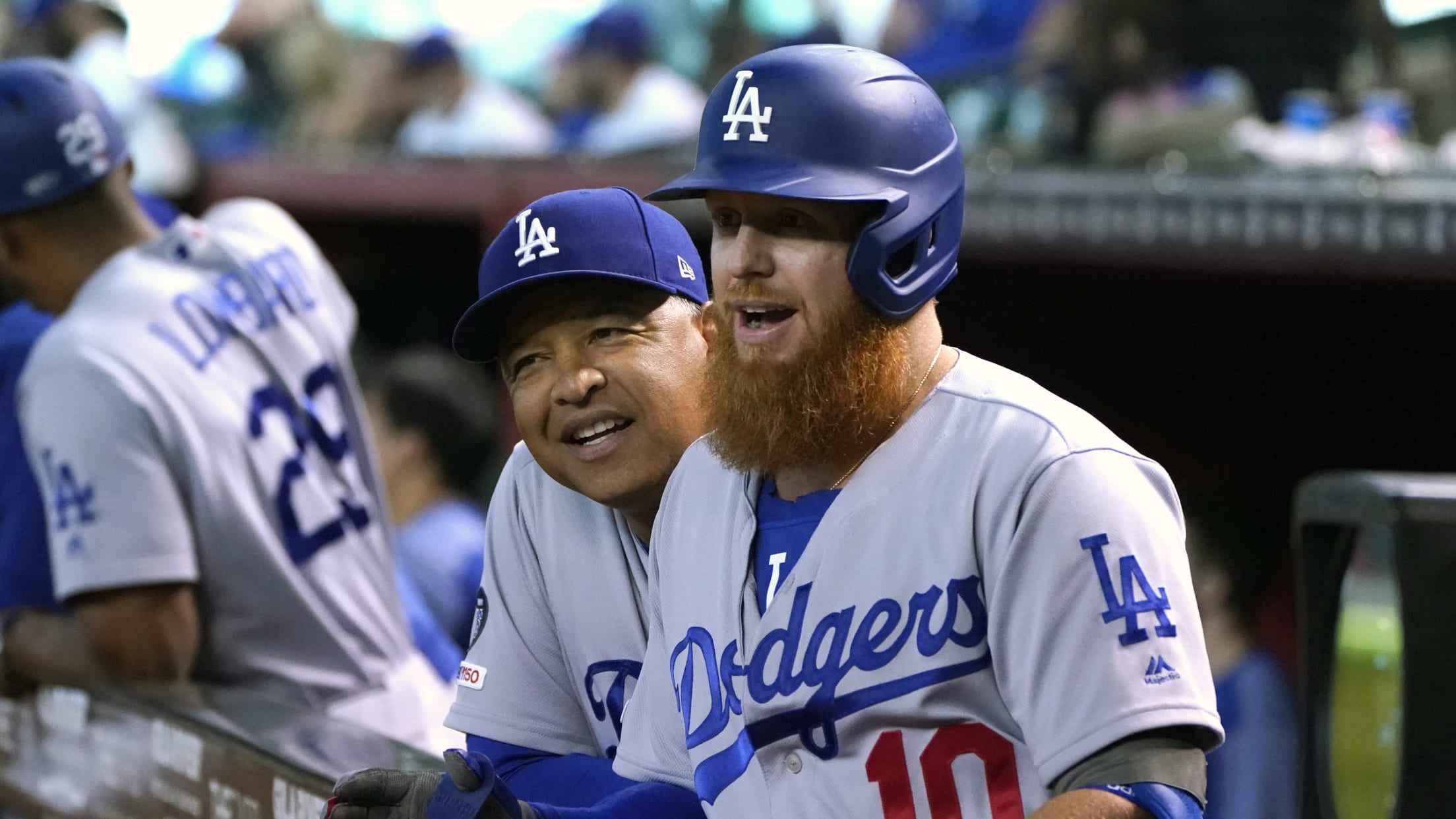 LOS ANGELES -- Justin Turner has been known to play hurt, and he might be playing hurt in October. He missed his ninth consecutive game Wednesday with a sprained left ankle. The Dodgers have only nine regular-season games remaining before the National League Division Series opens at Dodger Stadium on
Williams leads Bucs' celebration of Clemente
Hall of Famer, humanitarian forever cherished in Pittsburgh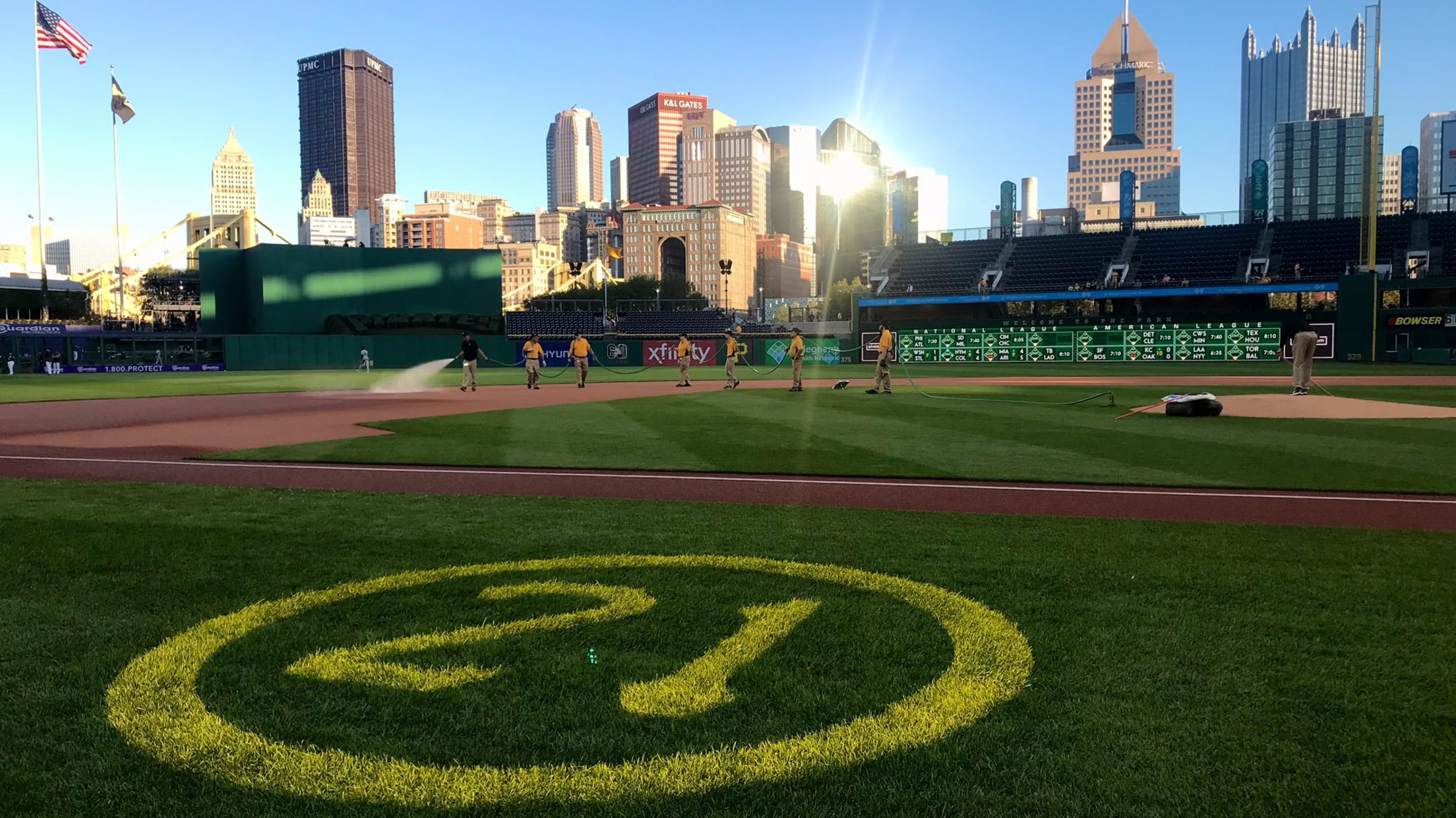 PITTSBURGH -- "When you're in baseball," Trevor Williams said Wednesday, "you know the man." And when you're in Pittsburgh, you know the man: Roberto Clemente. Major League Baseball honored Clemente's life and legacy on Wednesday, and Roberto Clemente Day is particularly meaningful for the Pirates. His No. 21 was painted
Surgery on Trout's foot slated for Friday
NEW YORK -- Superstar Angels outfielder Mike Trout will undergo right foot surgery on Friday in Anaheim, manager Brad Ausmus announced before Wednesday's game against the Yankees. Trout, who is currently traveling with team, will head to Anaheim on Thursday. Trout has been dealing with Morton's neuroma for about a
Rangers set events for Globe Life Park farewell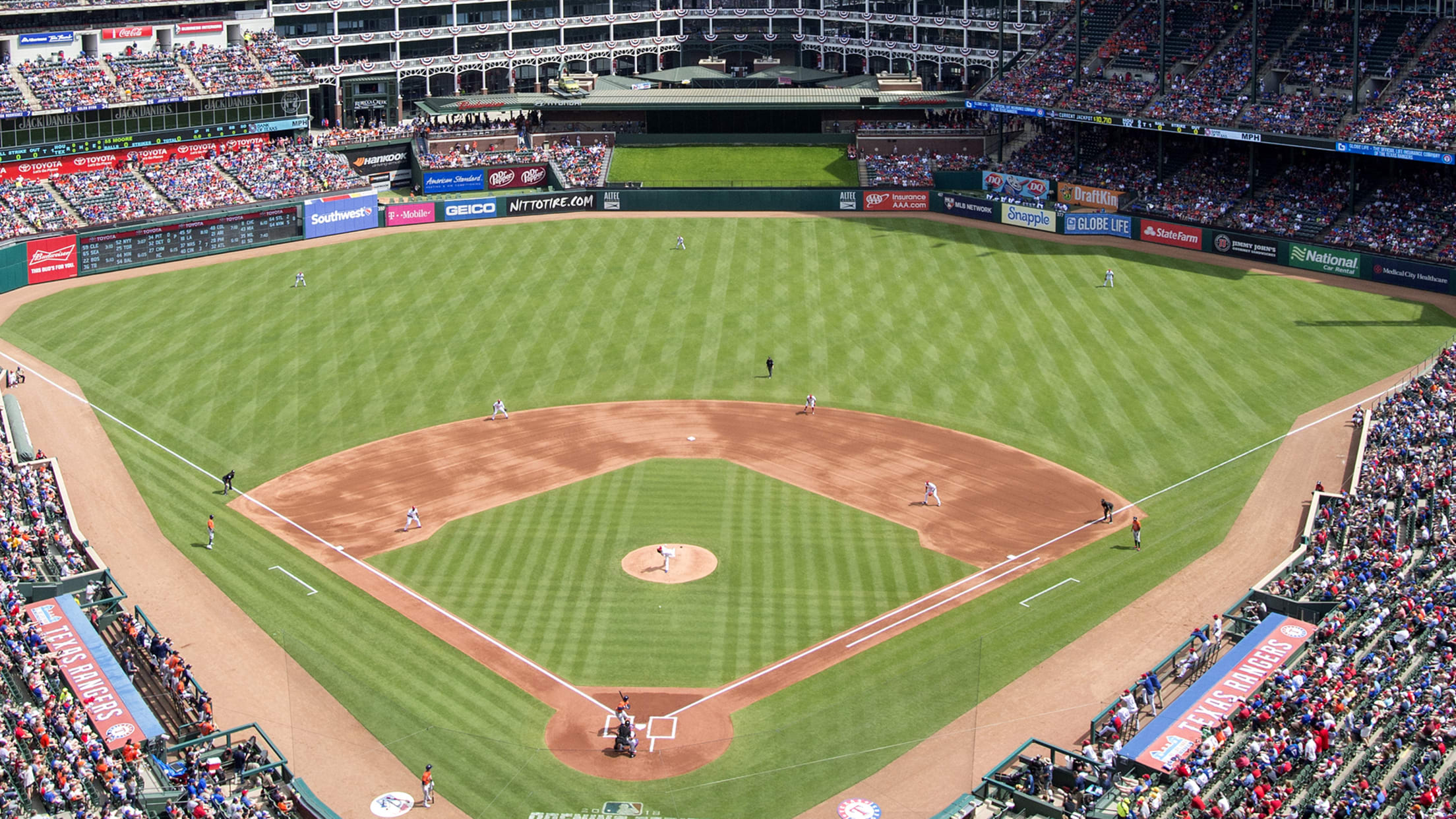 HOUSTON -- The Rangers will place standing-room only tickets on sale Thursday morning for the final game at Globe Life Park. That game -- the 2,081st and final regular-season game in the ballpark's 25 years -- will be against the Yankees at 2:05 p.m. CT on Sept. 29. All reserved
Treinen shut down for rest of regular season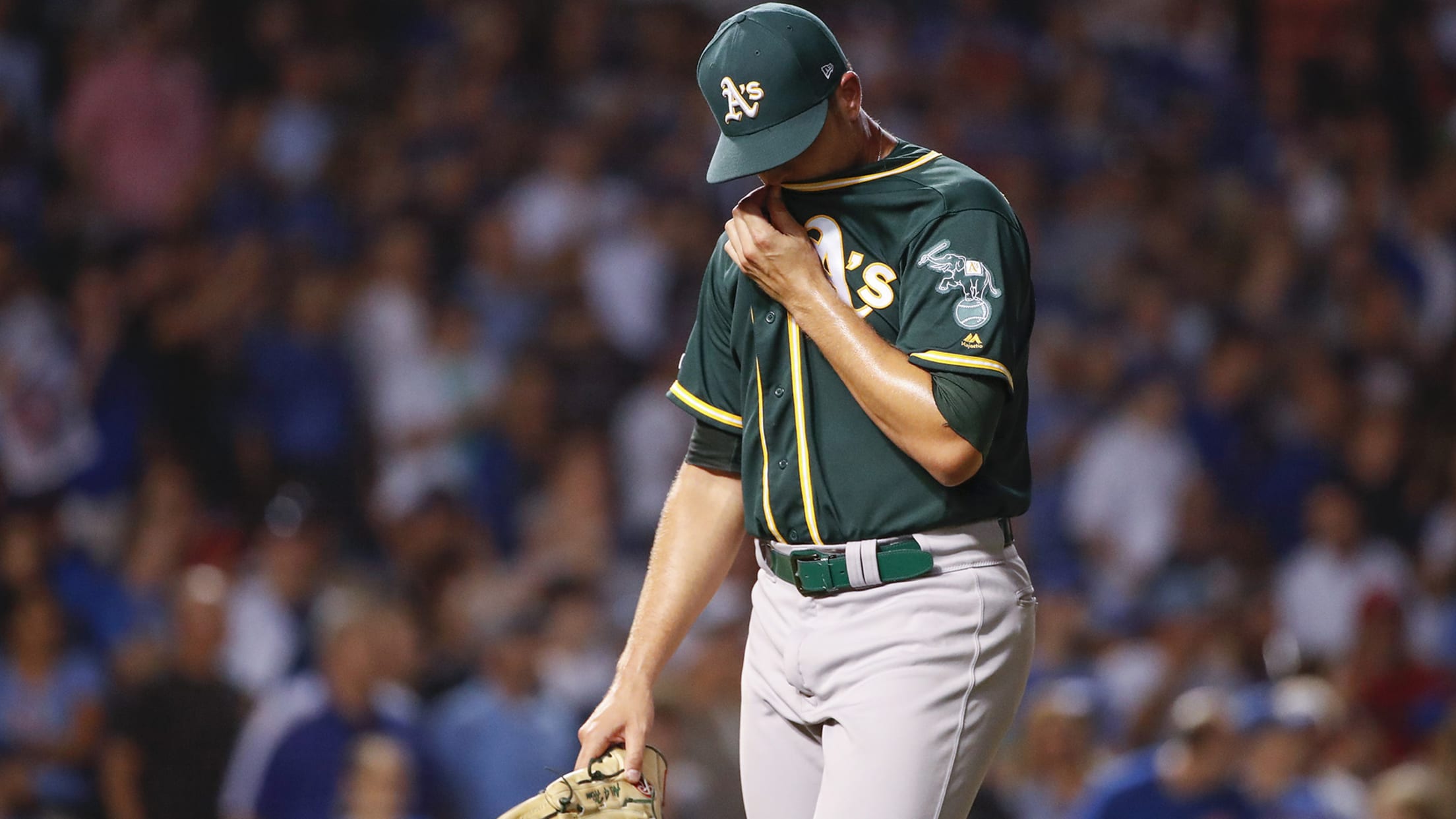 OAKLAND -- Blake Treinen's 2019 season has not gone the way he imagined, and it came to an abrupt end on Wednesday afternoon. Following the A's 1-0 walk-off victory over the Royals in 11 innings, manager Bob Melvin revealed that Treinen would be shut down for the final nine games