Is it a glitch? Reliever's sideways spin throws hitters for loop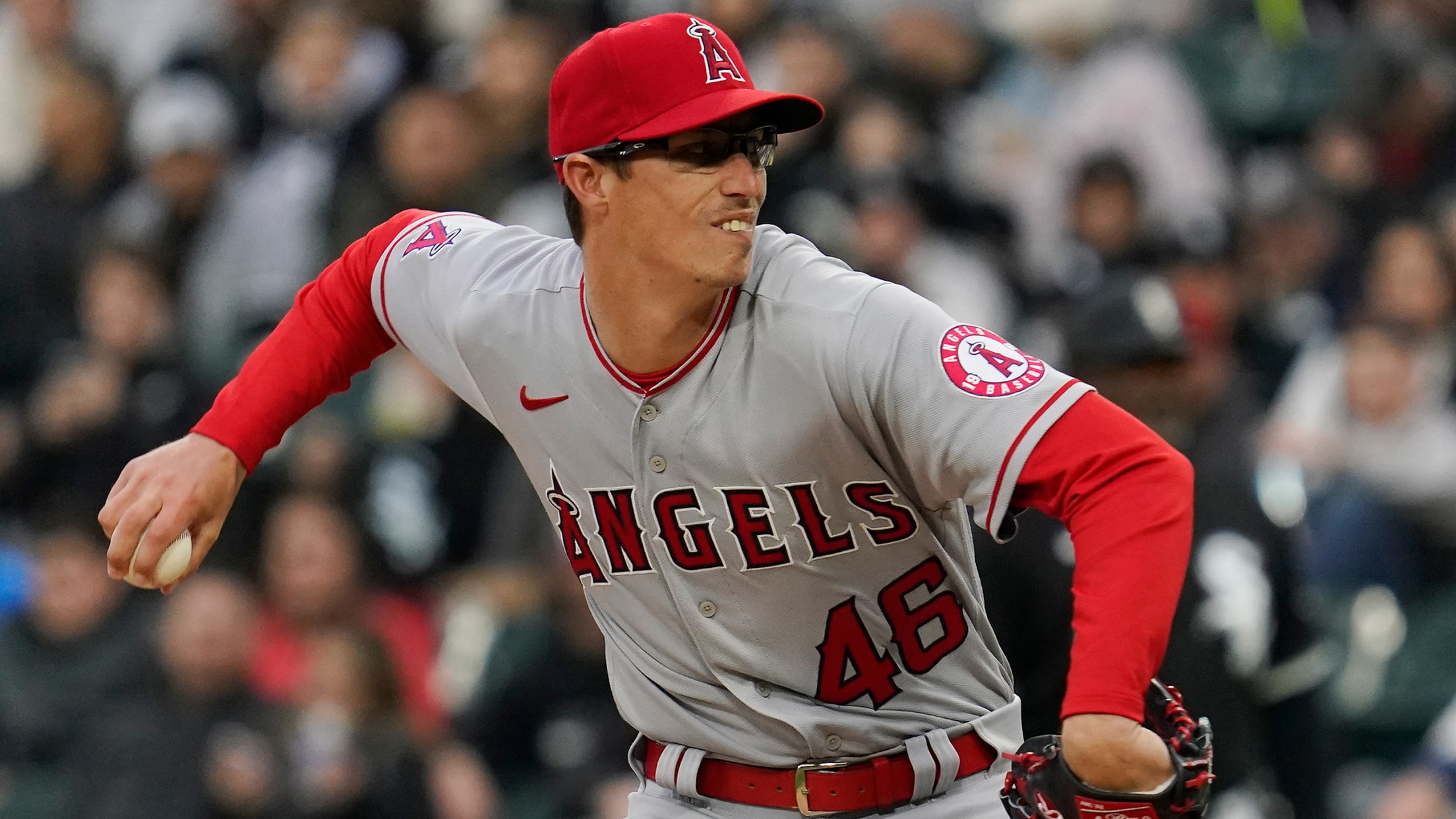 Angels reliever Jimmy Herget caught baseball fans' attention Wednesday when he struck out Francisco Mejía on a curveball that broke so far inside that it actually hit him. You don't see Major League hitters swing at a pitch that hits them very often, and when you do, you want to
There is a new No. 1 atop Power Rankings
Dodgers fall from top spot for first time this season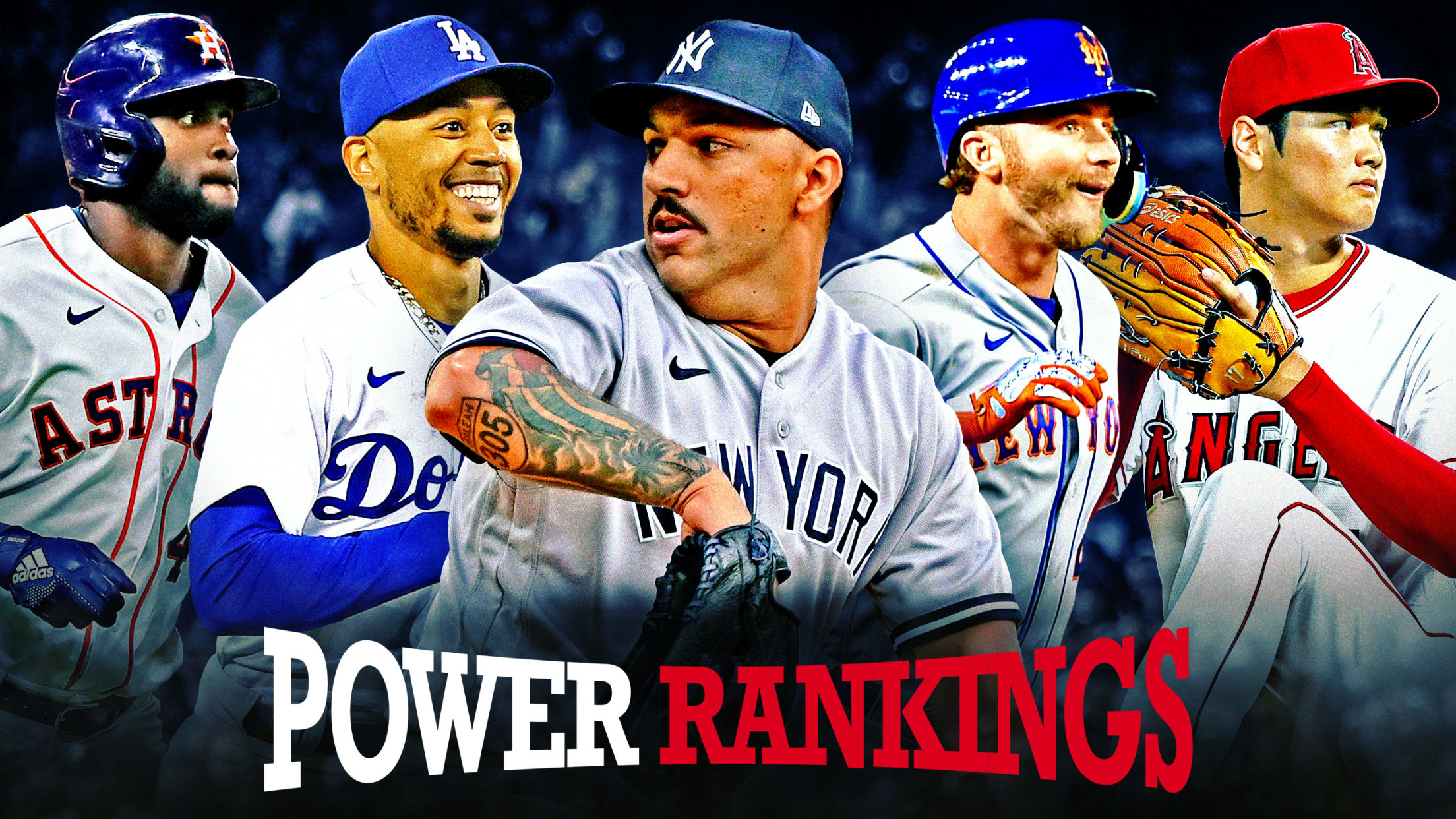 For the first time this season, there is a new No. 1 team atop the Power Rankings. While the Dodgers have held the top spot dating to the preseason edition, the Yankees now claim the crown. That was far from the only movement within the rankings from last week, though,
Mets playing 'long game' with deGrom's recovery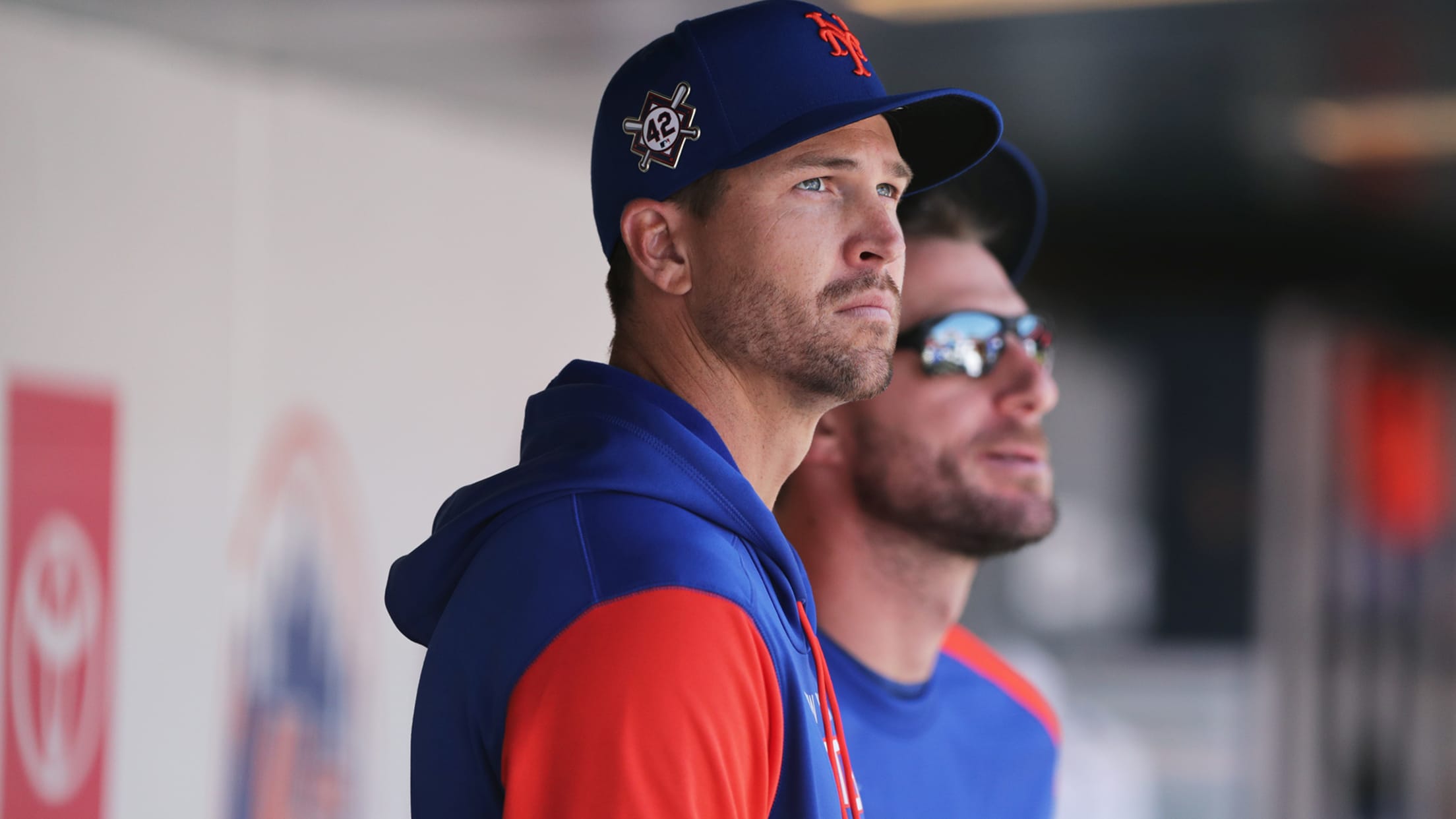 NEW YORK -- Although Jacob deGrom is approaching a return to mound work, he remains at least a month away from a return. deGrom will require three to five Minor League rehab starts in his progression back from a stress reaction in his right scapula -- a process that will
Now pitching for the Cardinals ... Albert Pujols?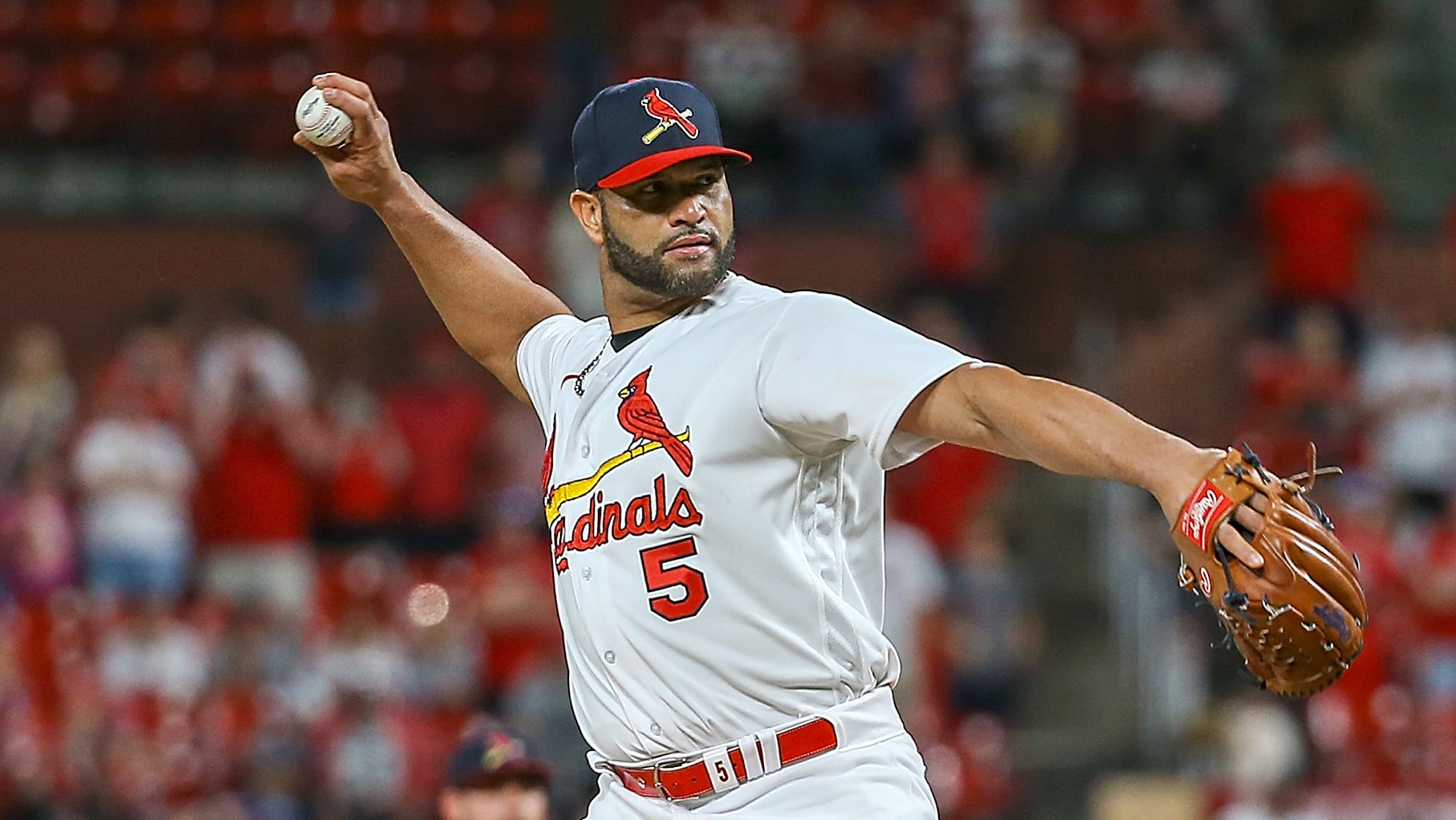 ST. LOUIS -- As of late Sunday night, the revised list of Major League Baseball players who have hit at least 600 home runs in their career and have pitched in a game is as follows:
Pirates 1st team to win a game without a hit since 2008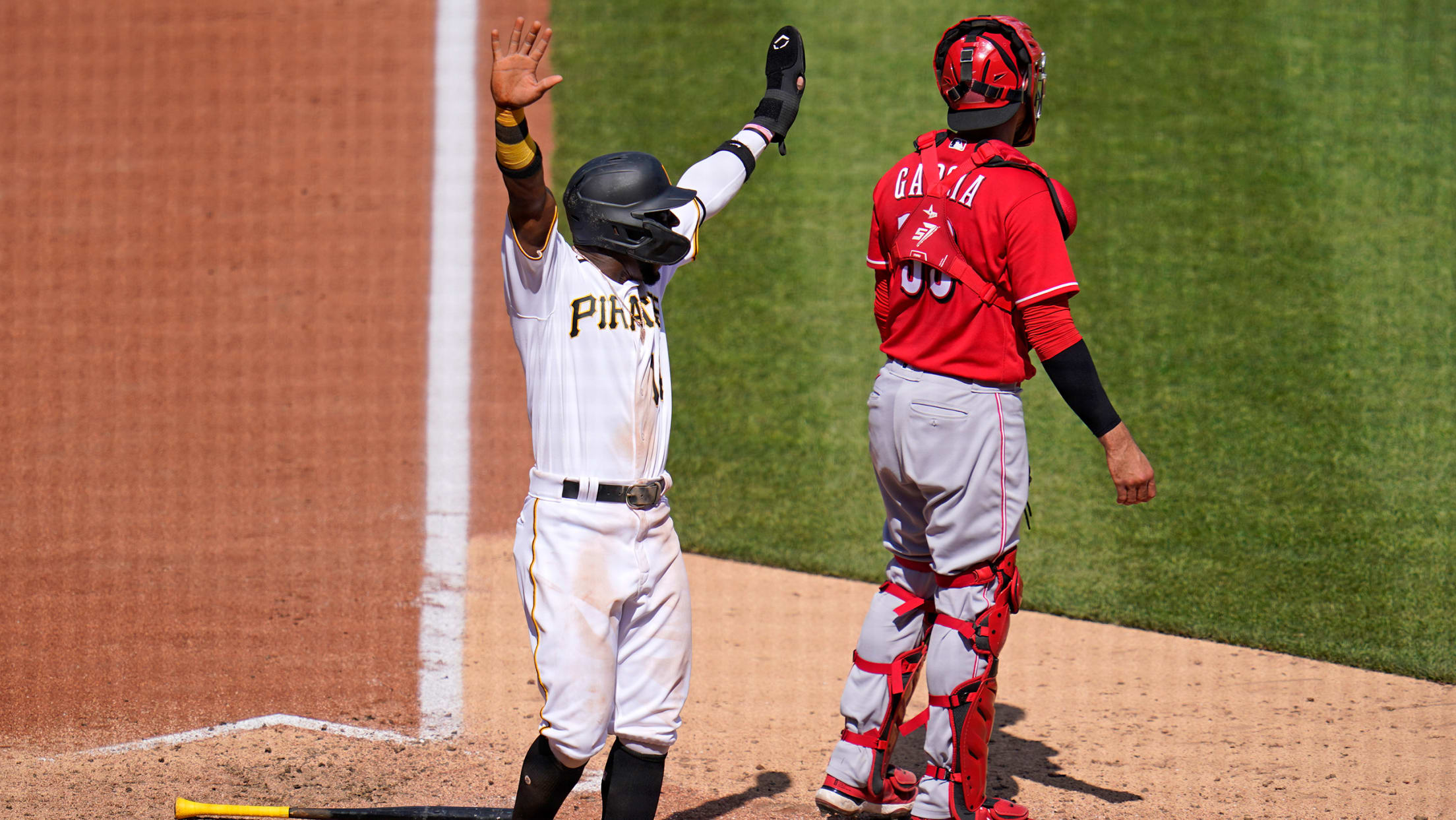 PITTSBURGH -- Josh VanMeter called it. As the Pirates were facing the possibility of being no-hit by Hunter Greene, the Reds' electrifying rookie who looked as if he could do no wrong Saturday at PNC Park, VanMeter made his prediction. The Pirates would get no-hit, but they would still win
Cueto called up by White Sox, to start vs. Royals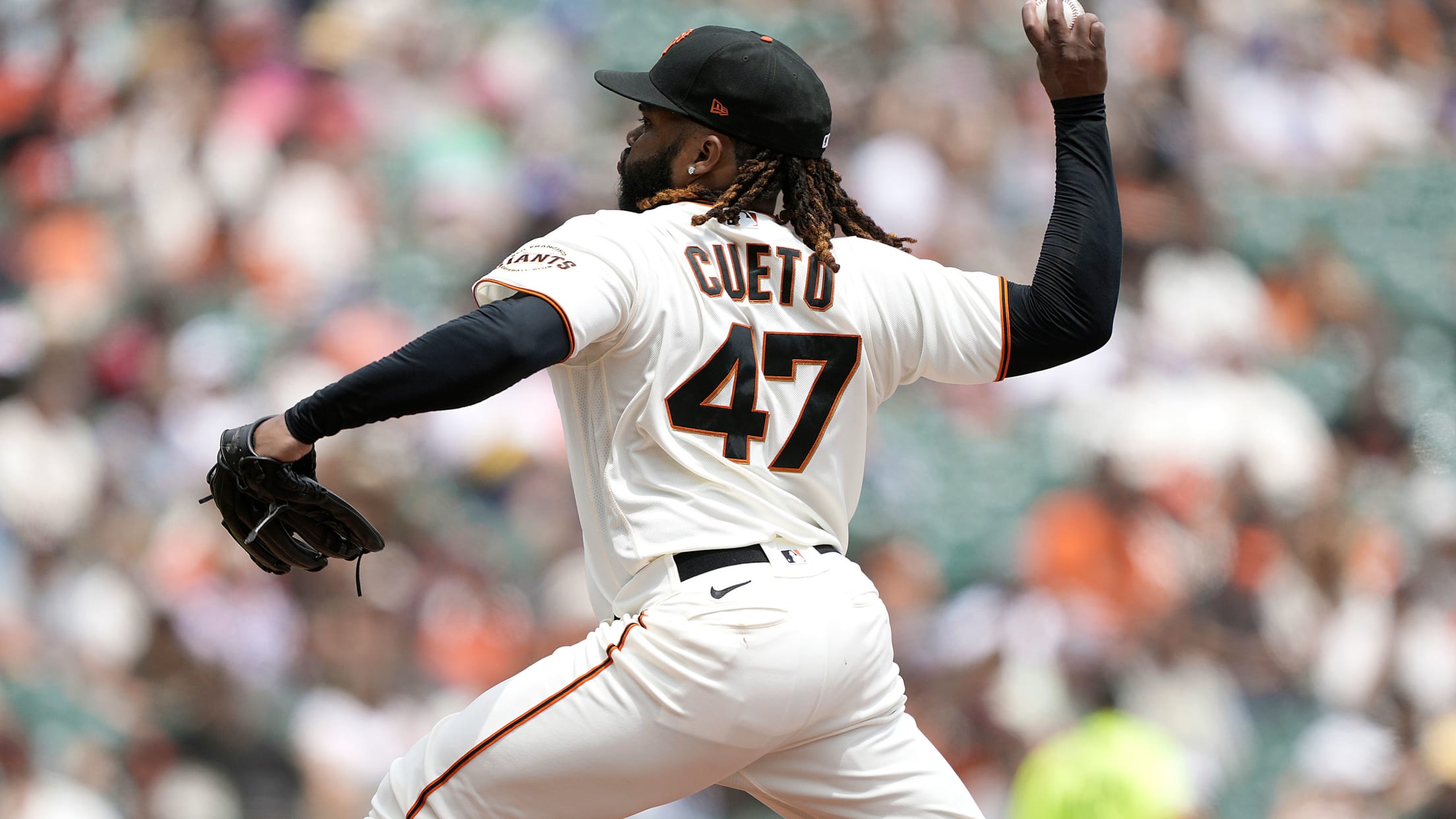 Prior to Monday's series opener at Kansas City, the Chicago White Sox purchased the contract of two-time All-Star right-handed pitcher Johnny Cueto from Triple-A Charlotte and optioned infielder Danny Mendick to Charlotte. Cueto will start Monday's game at Kauffman Stadium. Cueto, 36, is 0-1 with a 5.17 ERA (9 ER/15.2
Cards-Mets postponed; twin bill Tuesday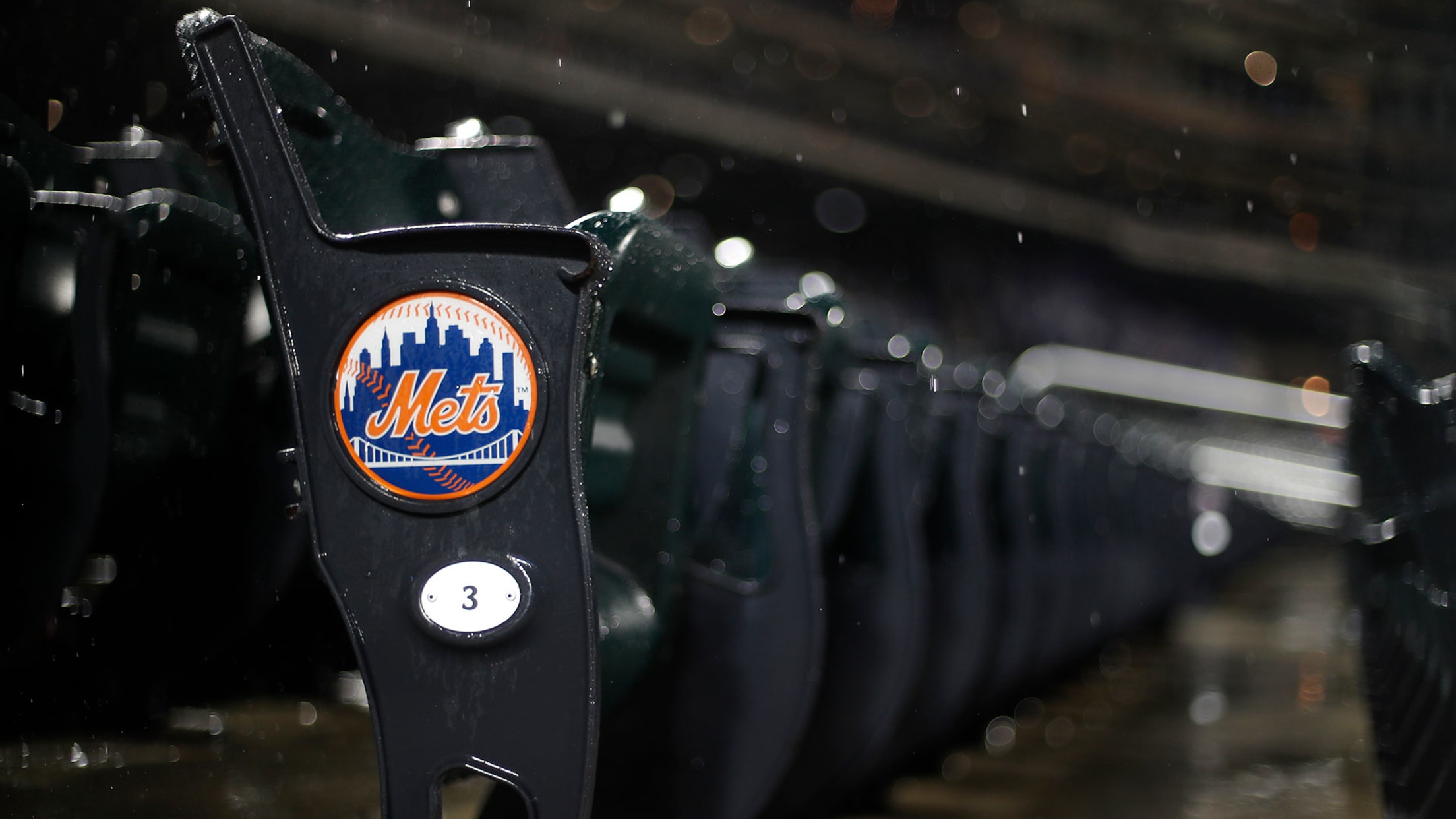 NEW YORK -- With thunderstorms scattered throughout the tri-state area on Monday, the Mets postponed their series opener against the Cardinals. The game will be made up as part of a single-admission doubleheader beginning at 3:10 p.m. ET on Tuesday. Although the doubleheader won't allow the Mets to alter their
Yelich talks swing and 'going underwater'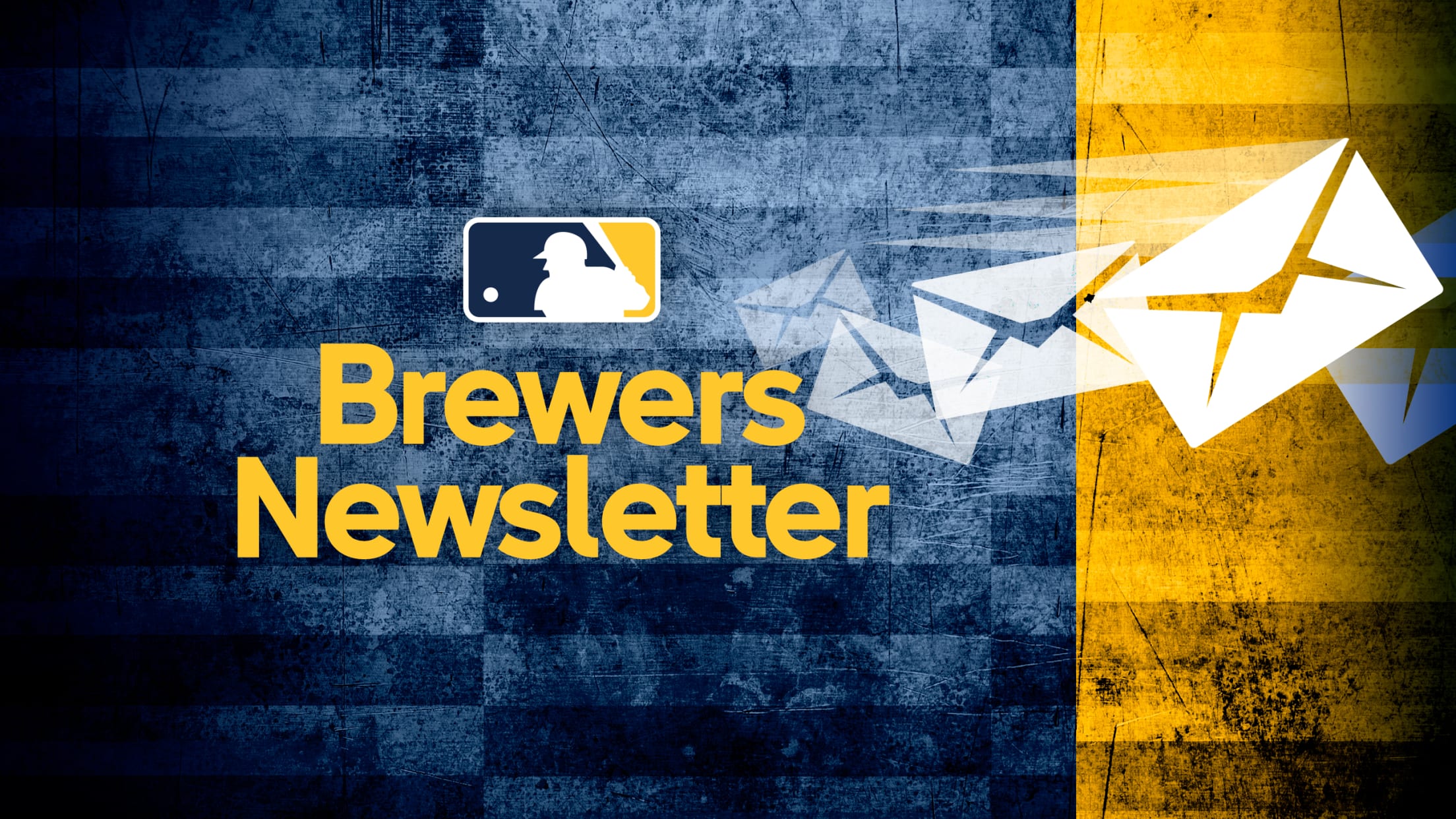 This story was excerpted from Adam McCalvy's Brewers Beat newsletter. To read the full newsletter, click here. And subscribe to get it regularly in your inbox.
Detmers, Bryce garner weekly league honors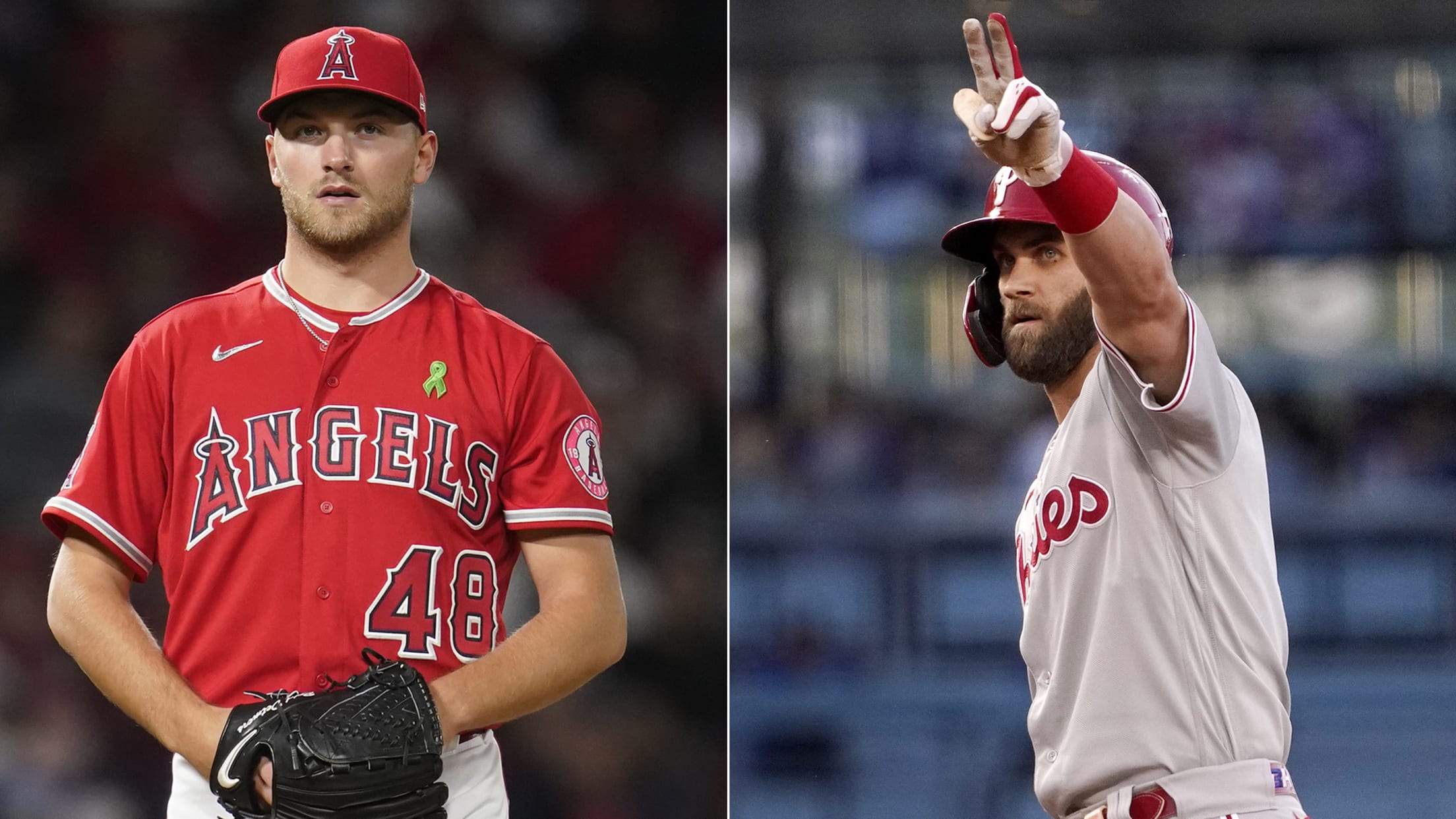 Angels starting pitcher Reid Detmers and Phillies outfielder Bryce Harper each put together memorable performances last week. For their efforts, they were named the Players of the Week presented by Chevrolet on Monday. Making just his 11th career start, Detmers threw one of the most unlikely no-hitters in recent memory
Dombrowski says Harper might be 'underrated'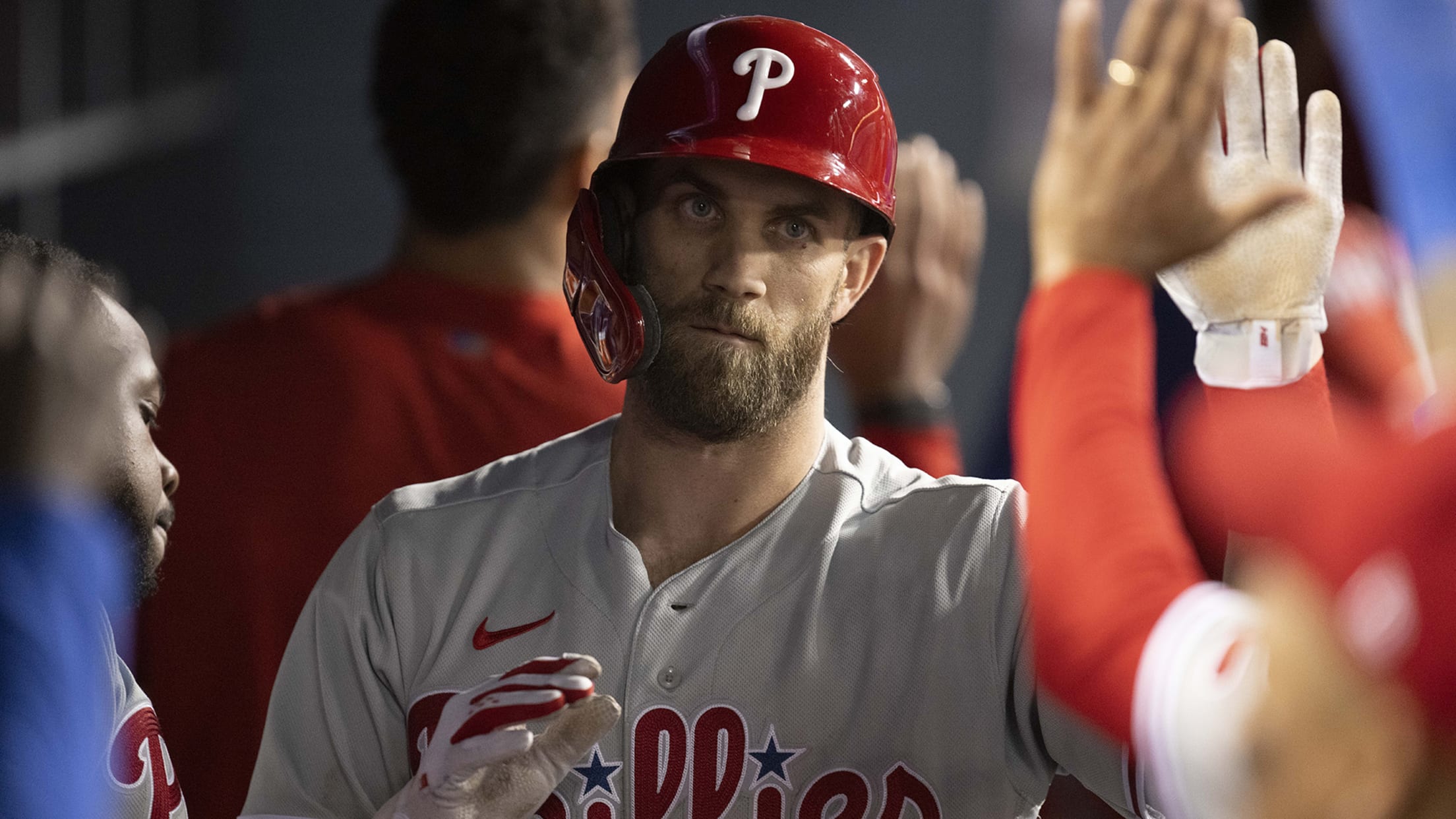 Every time Bryce Harper gets hot, the way he was really hot against the Dodgers last weekend before he took Sunday's game off as a way of resting his injured elbow, it's as if he reminds us all over again why and how he has been one of the great
Play Beat the Streak now -- and lock in these picks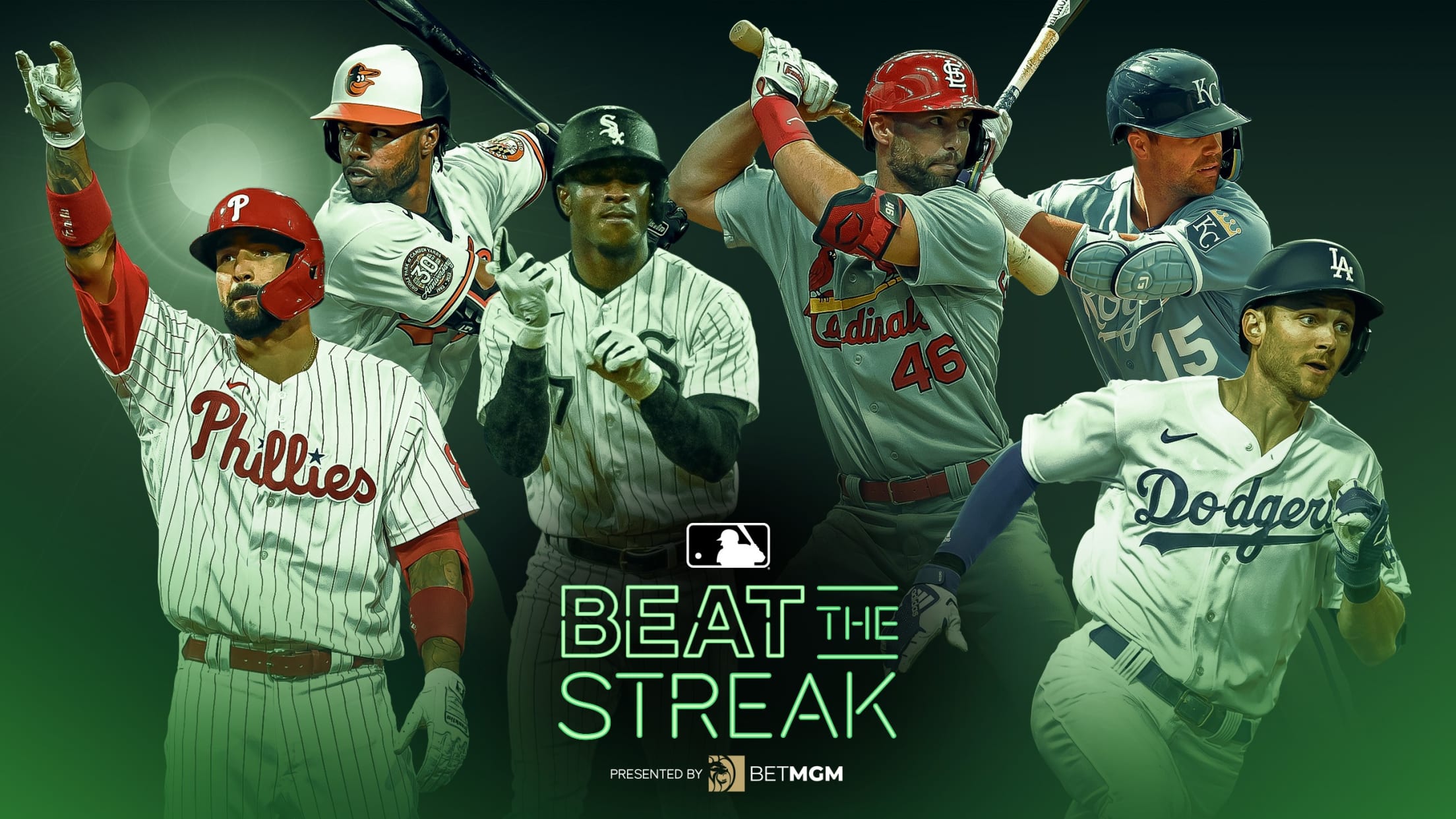 Beat the Streak is back for the 2022 season -- and the $5.6 million prize is still up for grabs. The idea is simple -- pick one player (or two) every day who you think will get a hit. The objective -- surpass Joe DiMaggio's record-long 56-game hitting streak --
Nasty Nestor's latest gem puts him atop AL leaderboard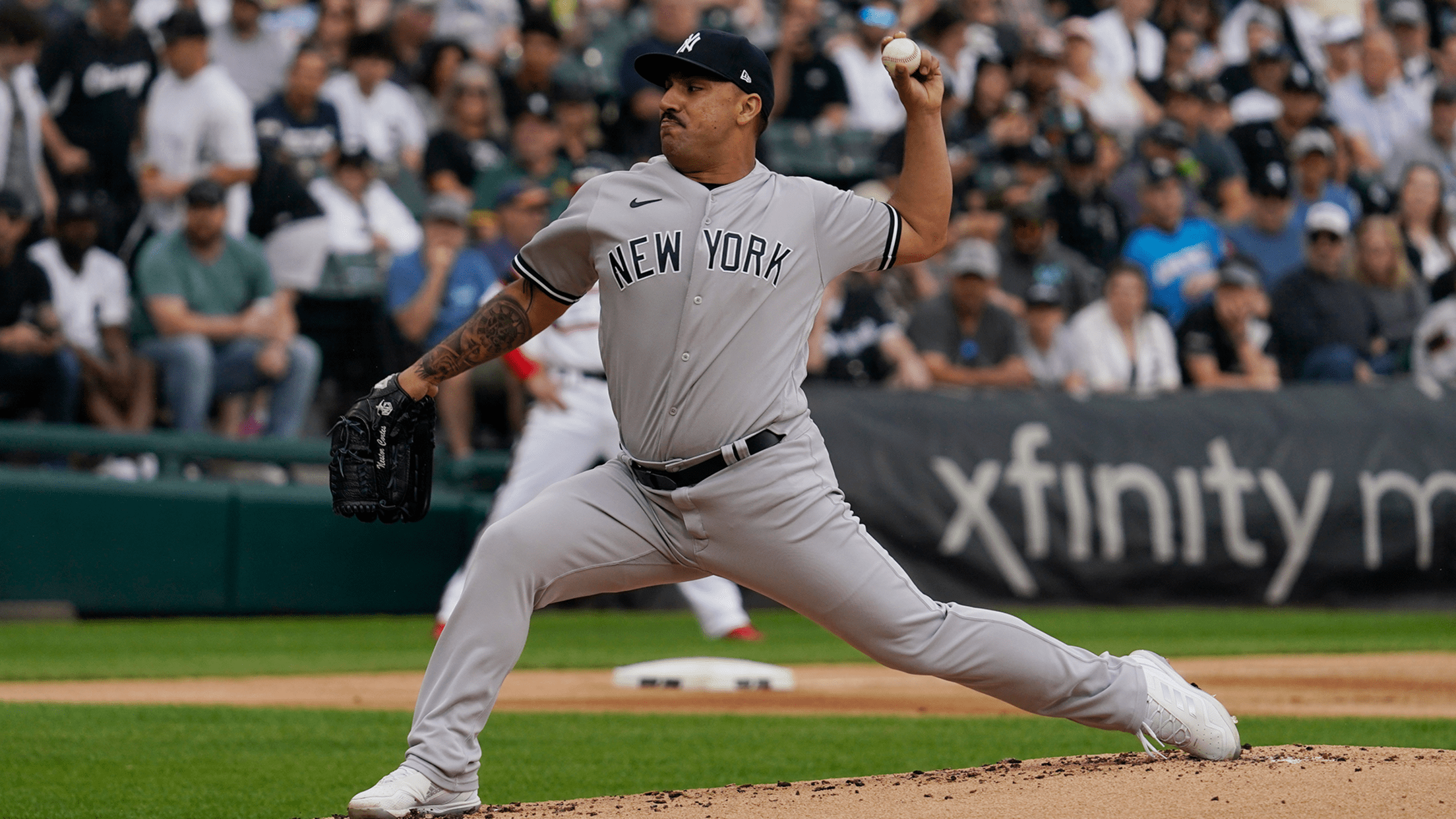 CHICAGO -- Prior to Sunday's game, neither Nestor Cortes or Michael Kopech ranked among the official league leaders in ERA -- despite Cortes coming in at 1.41 and Kopech sitting at 0.93. But since they hadn't pitched more innings than team games played, they did not qualify for MLB leaderboards.
A pitch between the hitter's legs -- for a strike!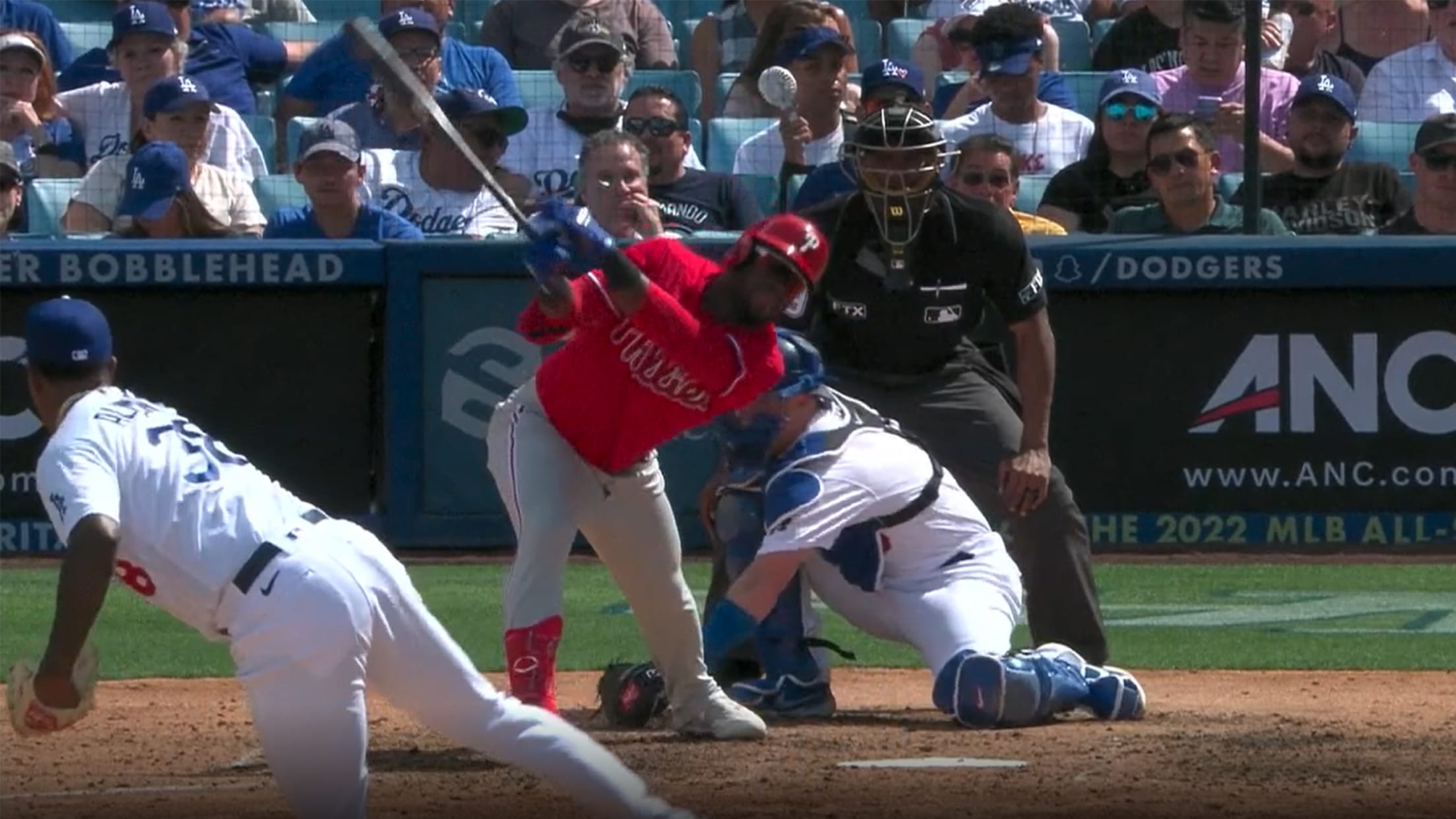 Phillies outfielder Odúbel Herrera rarely sees a pitch he doesn't like. There might be no better visual representation of Herrera's plate discipline -- or lack thereof -- than what happened during his at-bat versus Dodgers reliever Yency Almonte in Sunday's 5-4 Dodgers win. As Almonte unleashed a 2-1 slider, Herrera
Hunter Greene: By the numbers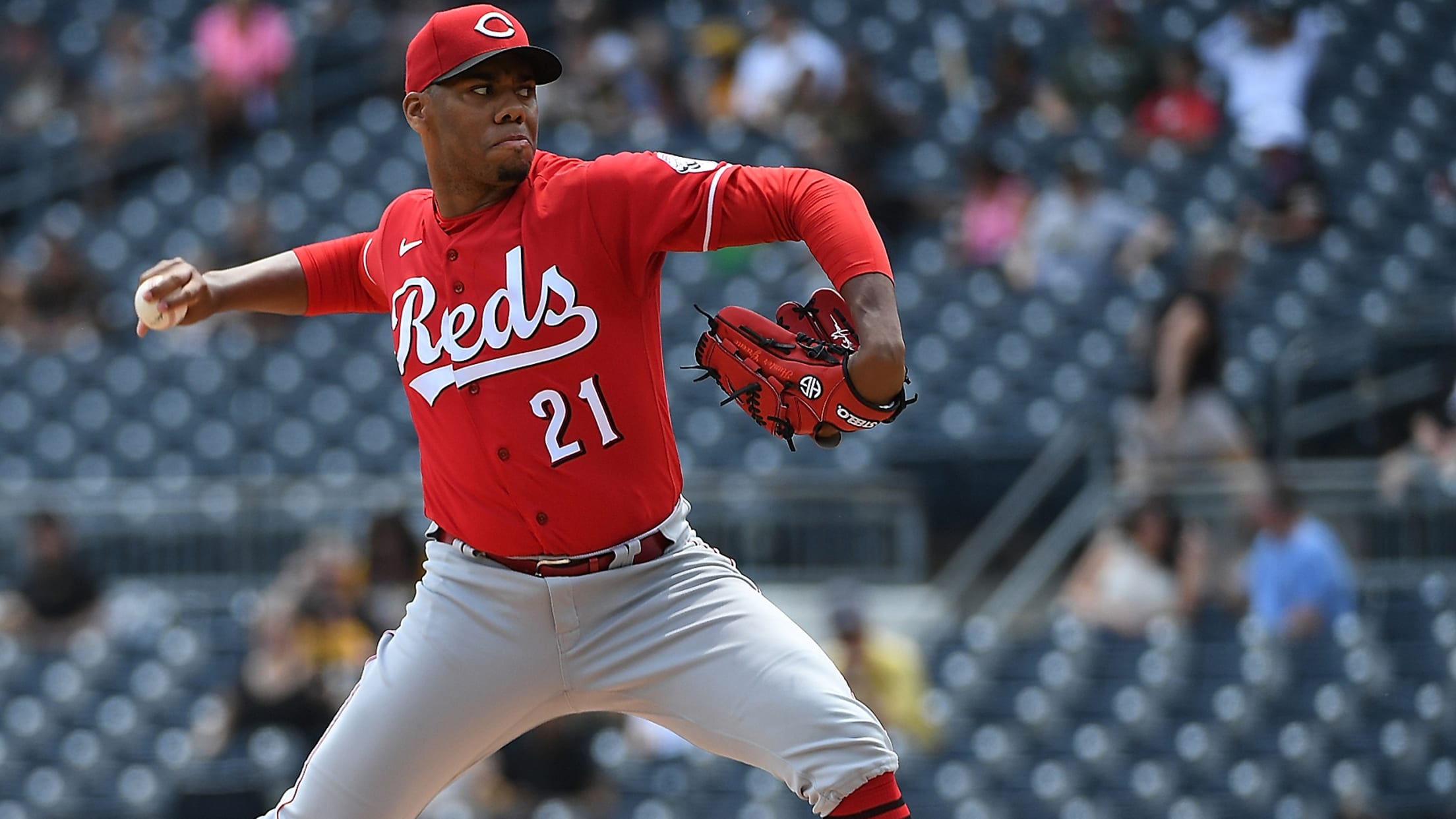 PITTSBURGH -- Through seven starts in the big leagues, Reds top prospect Hunter Greene has provided a wide spectrum in his efforts. We've seen no-hit type stuff like on Sunday during a crushing 1-0 loss to the Pirates. Greene has also been roughed up badly and has had some middling
Ageless Verlander brings the heat vs. Nats
39-year-old veteran throws season-high 107 pitches, sees steady uptick in velocity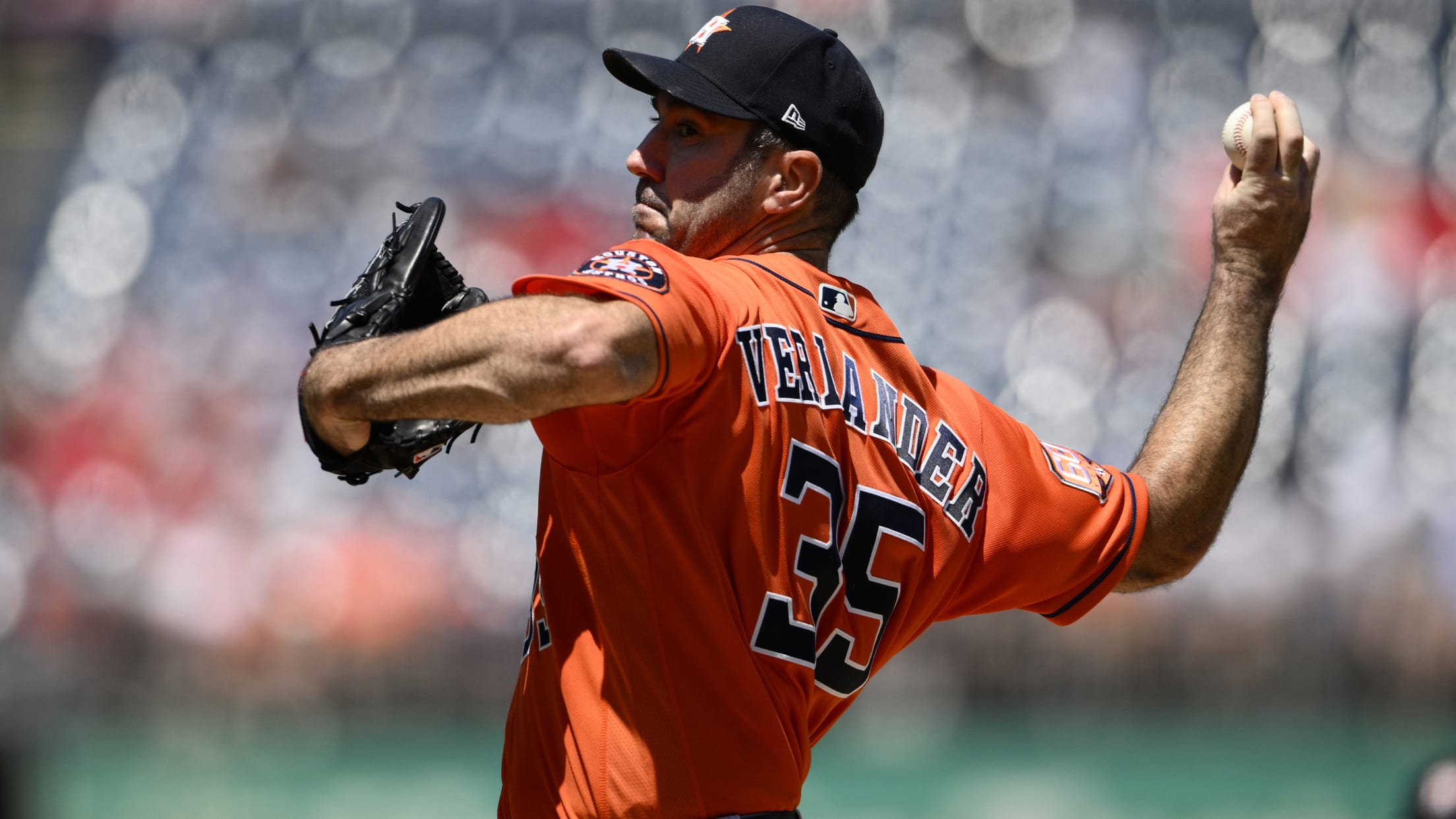 WASHINGTON -- Astros pitcher Justin Verlander reared back and let fly a 98.3 mph fastball in the first inning Sunday, which reminded him he can still bring the gas at 39 years old. He was told it might take him a little while to get his velocity back following Tommy
Backed by Ohtani HR, 'gutty' Sandoval gets it done
Lefty helps Halos win first series in Oakland since 2019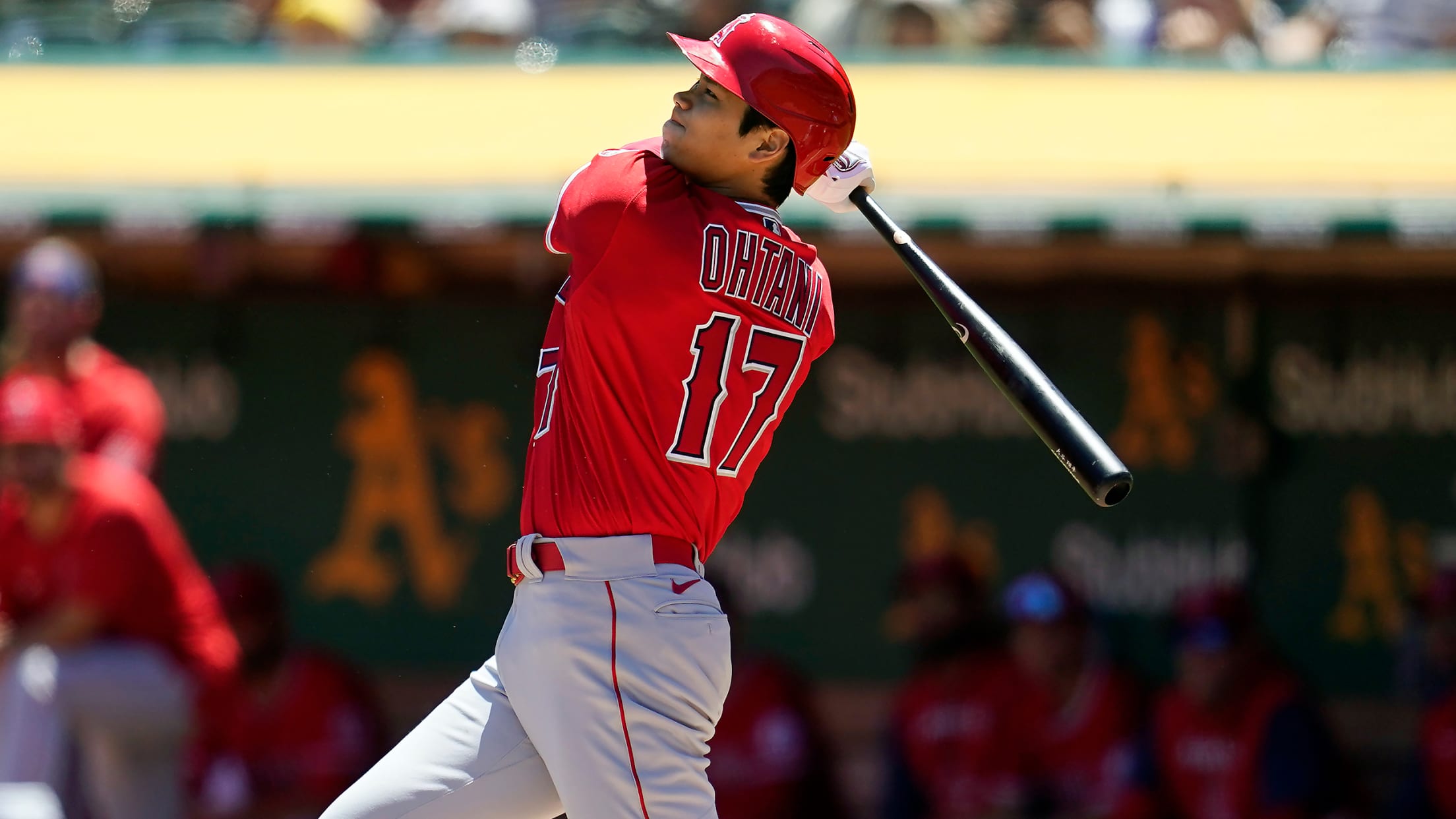 OAKLAND -- It wasn't always pretty and he finally gave up his first hits of the season on his changeup, but lefty Patrick Sandoval turned in yet another strong outing against the A's on Sunday. Sandoval grinded his way through 6 1/3 innings, allowing one run on four hits and
Mariners' series 'W' comes down to one big AB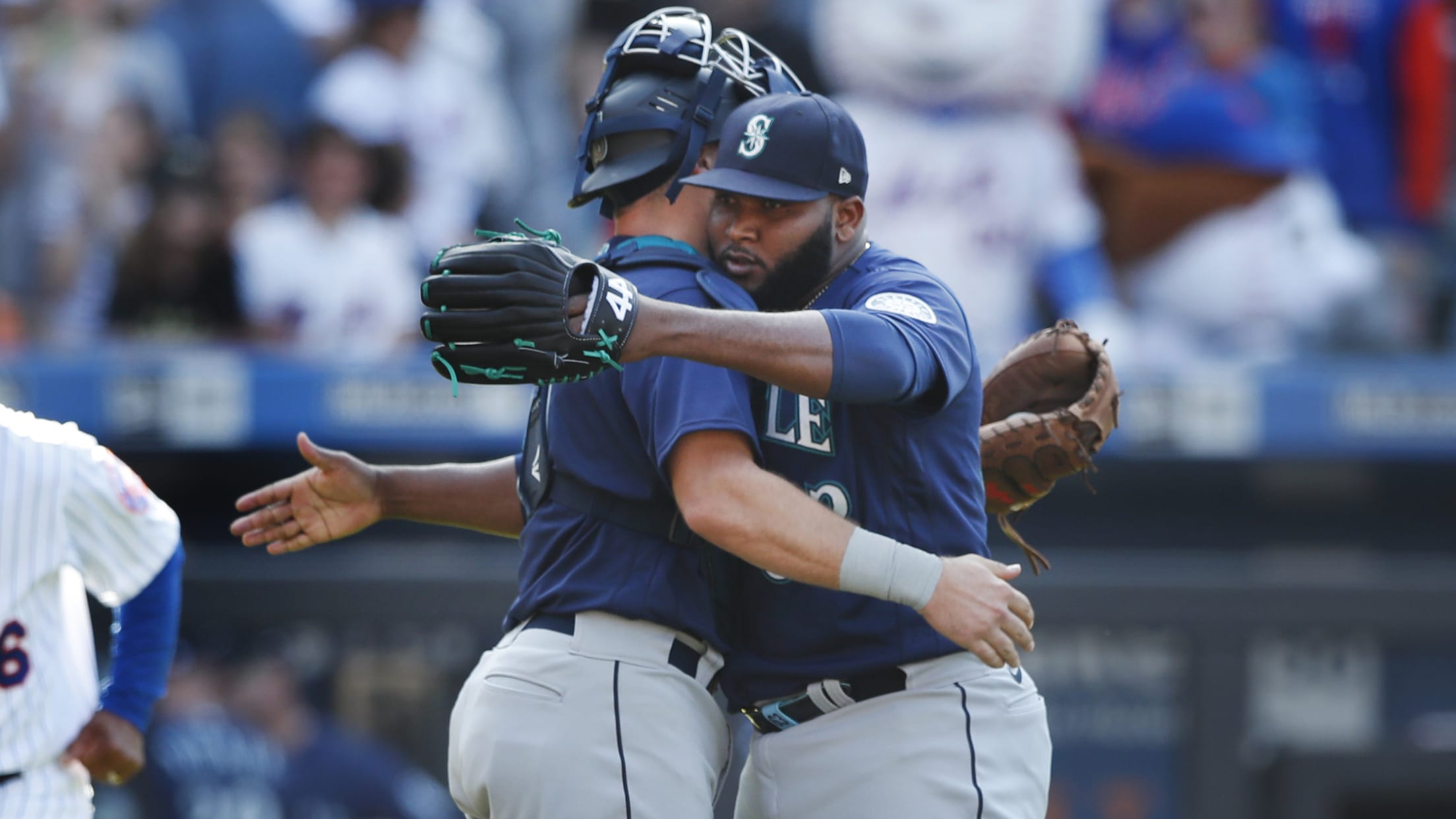 NEW YORK -- The Mets were on the move, anxiety was high and the outlook was bleak. Yet despite Diego Castillo's recent hiccups, he'd been in this moment before. Castillo, Seattle's up-and-down leverage reliever, was called on with one out in a ninth inning that began with him assuming there'd
These pitchers gave up no hits ... and lost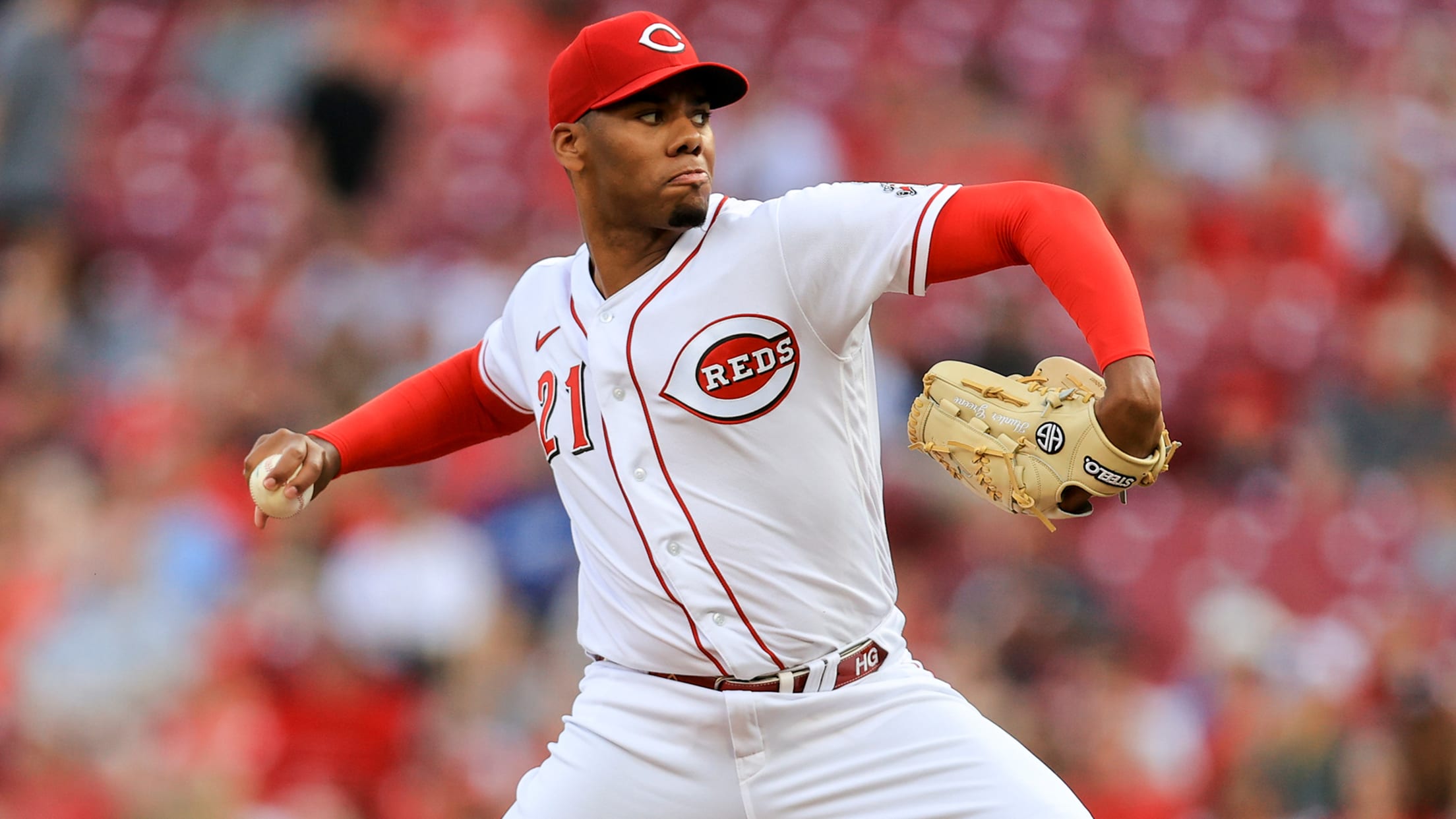 As you probably know, allowing zero hits is usually a good way to set up your team for success and a win. To wit: There have been more than 300 nine-inning no-hitters in AL/NL history, including combined no-hitters, and the team to throw the no-hitter has won all but two
Lux redeems early error with first walk-off hit
No. 23 prospect Grove's MLB debut nearly spoiled by four unearned runs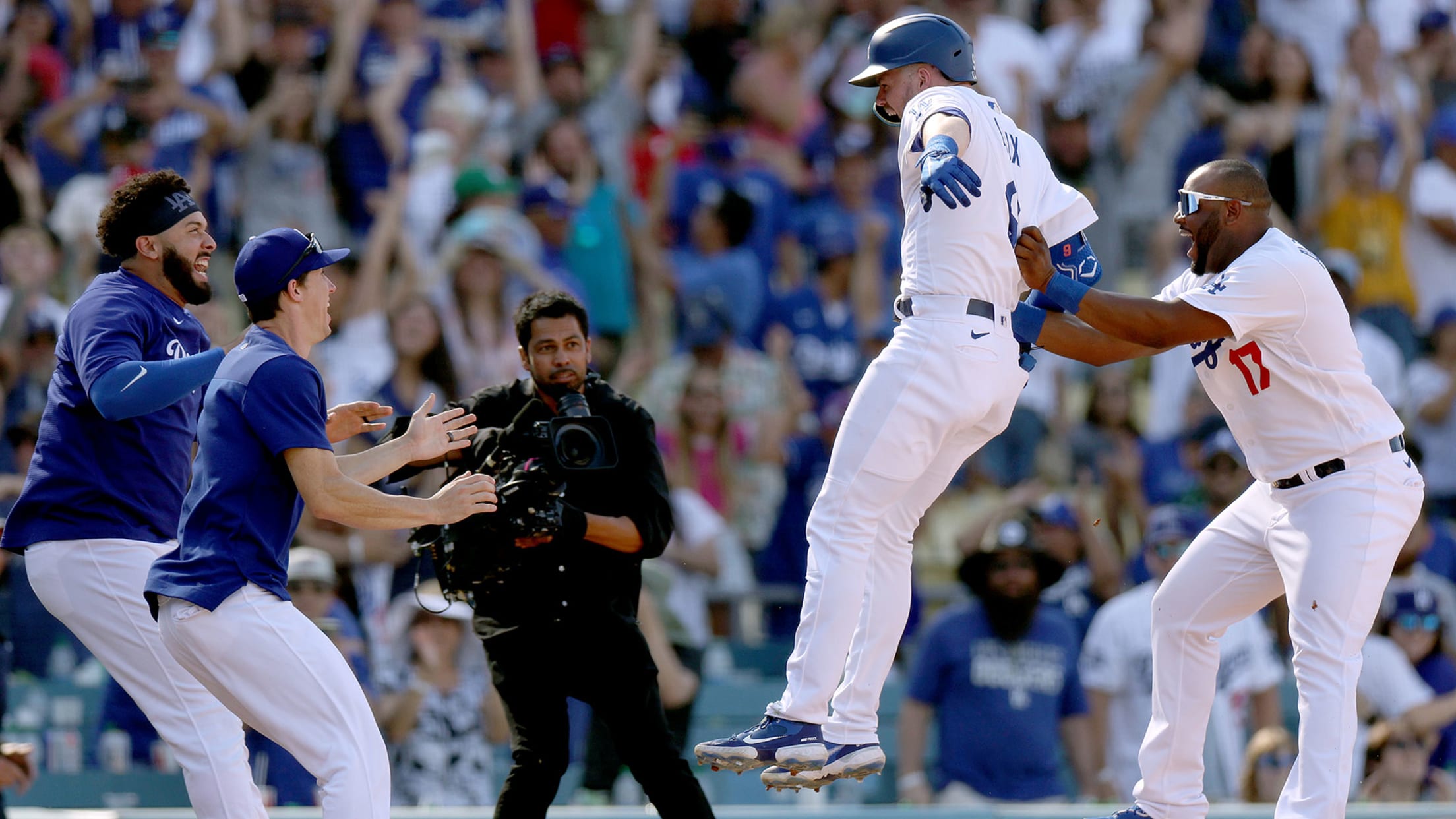 LOS ANGELES -- Down to their final out of the game, the Dodgers were searching for any way to fend off a series sweep at the hands of the Phillies. After Max Muncy and Justin Turner recorded the first two outs in the bottom of the ninth, it was left
García fulfills promise to win game for Pérez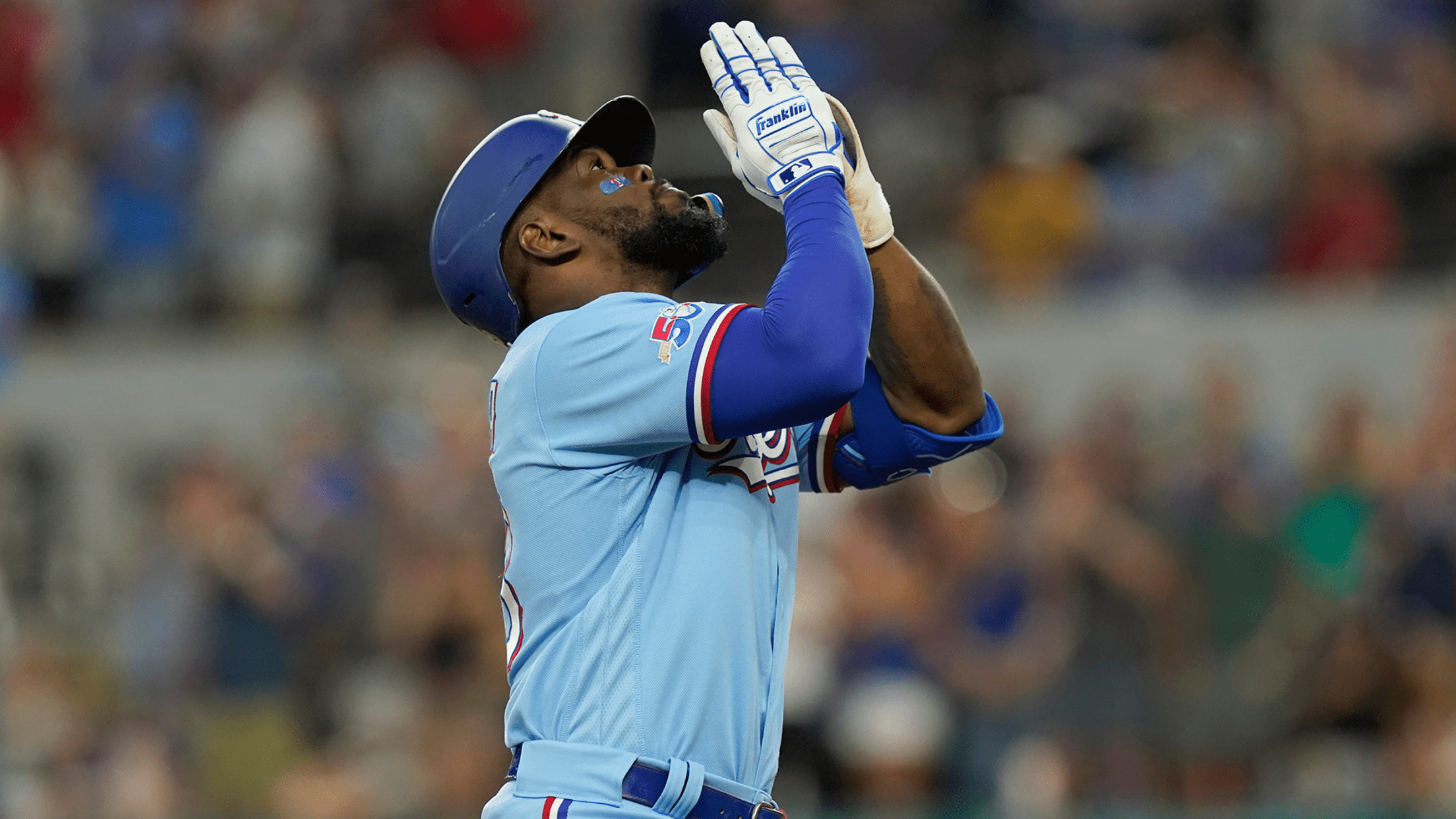 ARLINGTON -- Adolis García strutted out of the batter's box, banging his chest and pointing toward the dugout before taking off and rounding the bases for his first of two home runs on the day. He pointed toward Rangers starting pitcher Martín Pérez, who he talked to between innings. Pérez
Greene sublime, but Reds lose without allowing a hit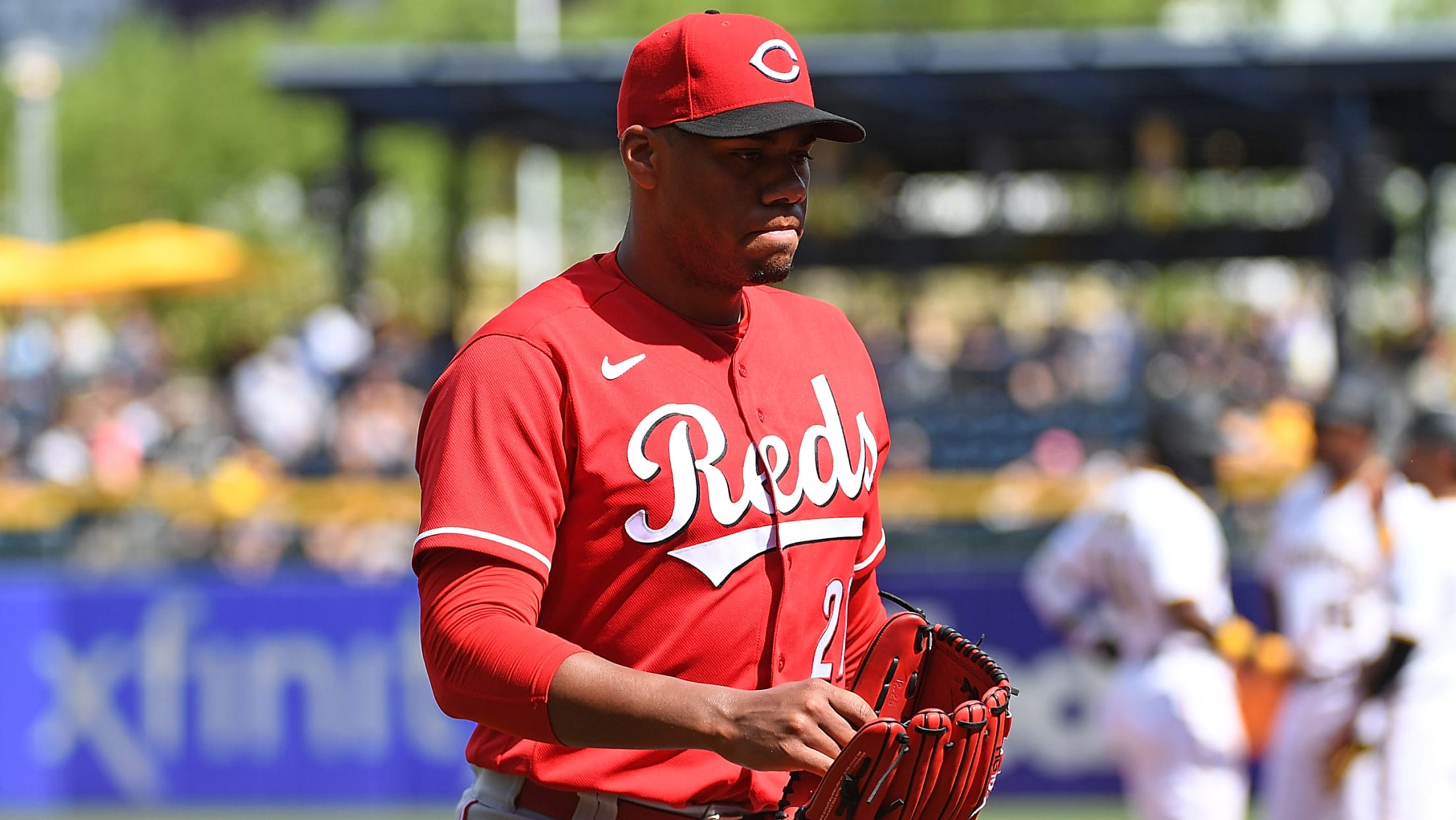 PITTSBURGH -- Two Reds pitchers, namely top prospect Hunter Greene, didn't allow a hit to the Pirates on Sunday afternoon, but there was no rejoicing, no celebrating and worst of all for the team -- no winning. Instead there was only heartbreak following a 1-0 Cincinnati loss to Pittsburgh at
'Best win of year': Salvy, Royals rally past Rox
Perez's clutch single in 9th helps Kansas City win series after Colorado's 7-run 7th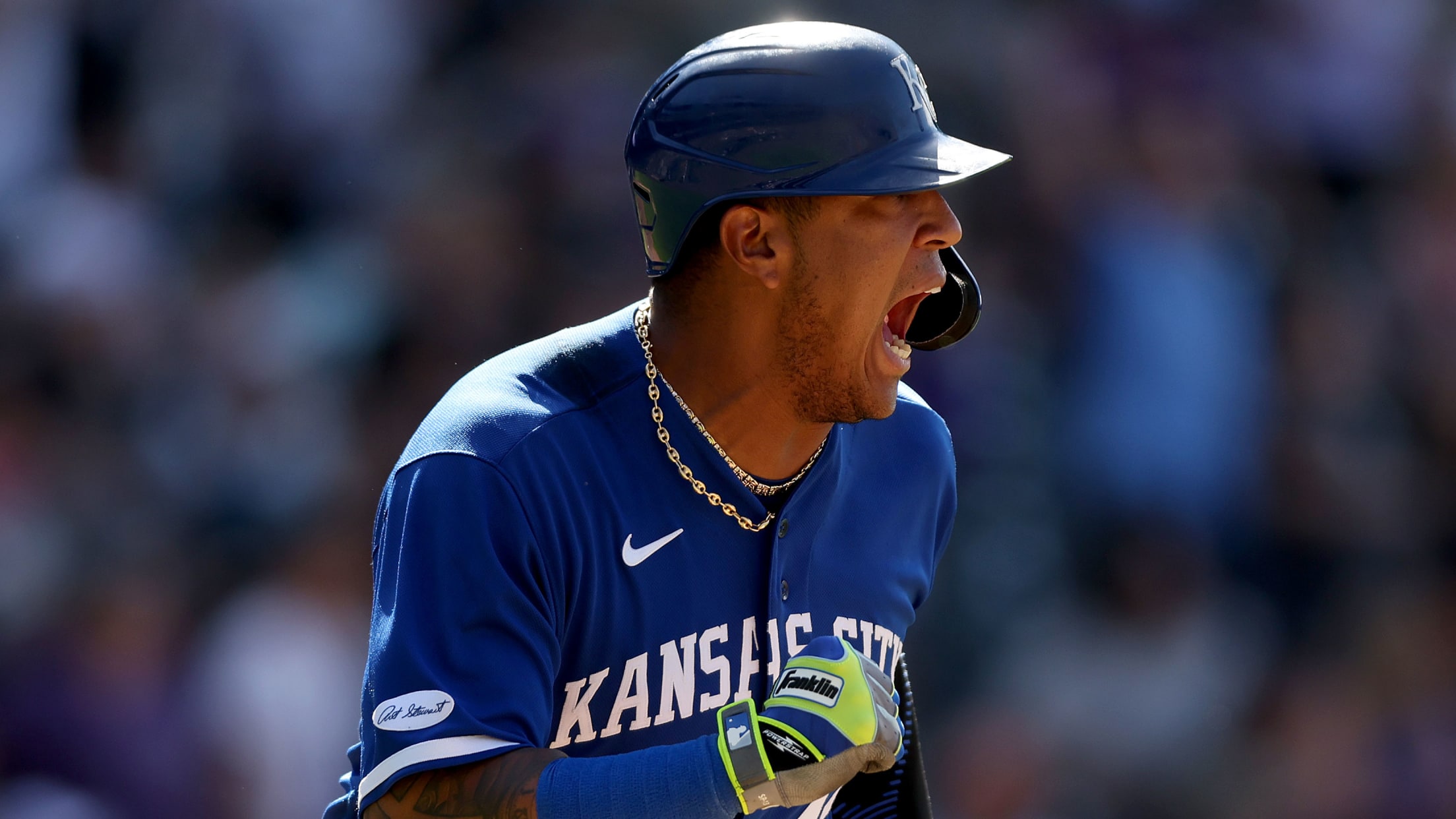 DENVER -- Royals manager Mike Matheny used six words to sum up Sunday's 8-7 victory over the Rockies in the rubber game at Coors Field: "The best win of the year." The Royals have been searching for offense, consistency in the starting rotation and continued progress from young players seen
Waino, Yadi set wins record as Cards erupt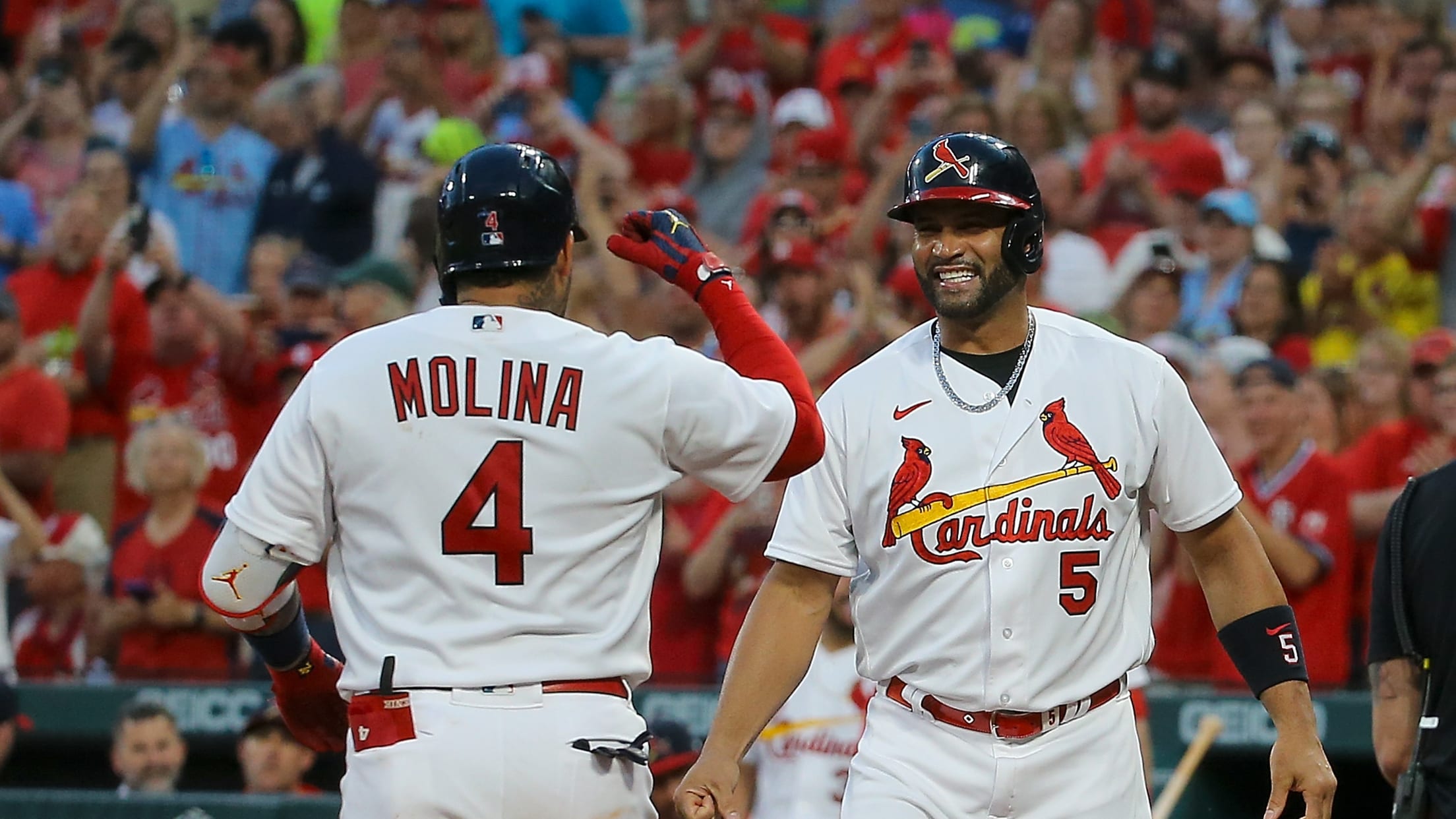 ST. LOUIS -- A Cardinals offense that had been bizarrely feast or famine over the past two weeks was so downright potent in a six-inning flurry on Sunday night that it even overshadowed a historical accomplishment of batterymates Adam Wainwright and Yadier Molina. However, one thing the offensive fireworks couldn't
'Wild night': Giants outfielder pitches, then homers ... off Pujols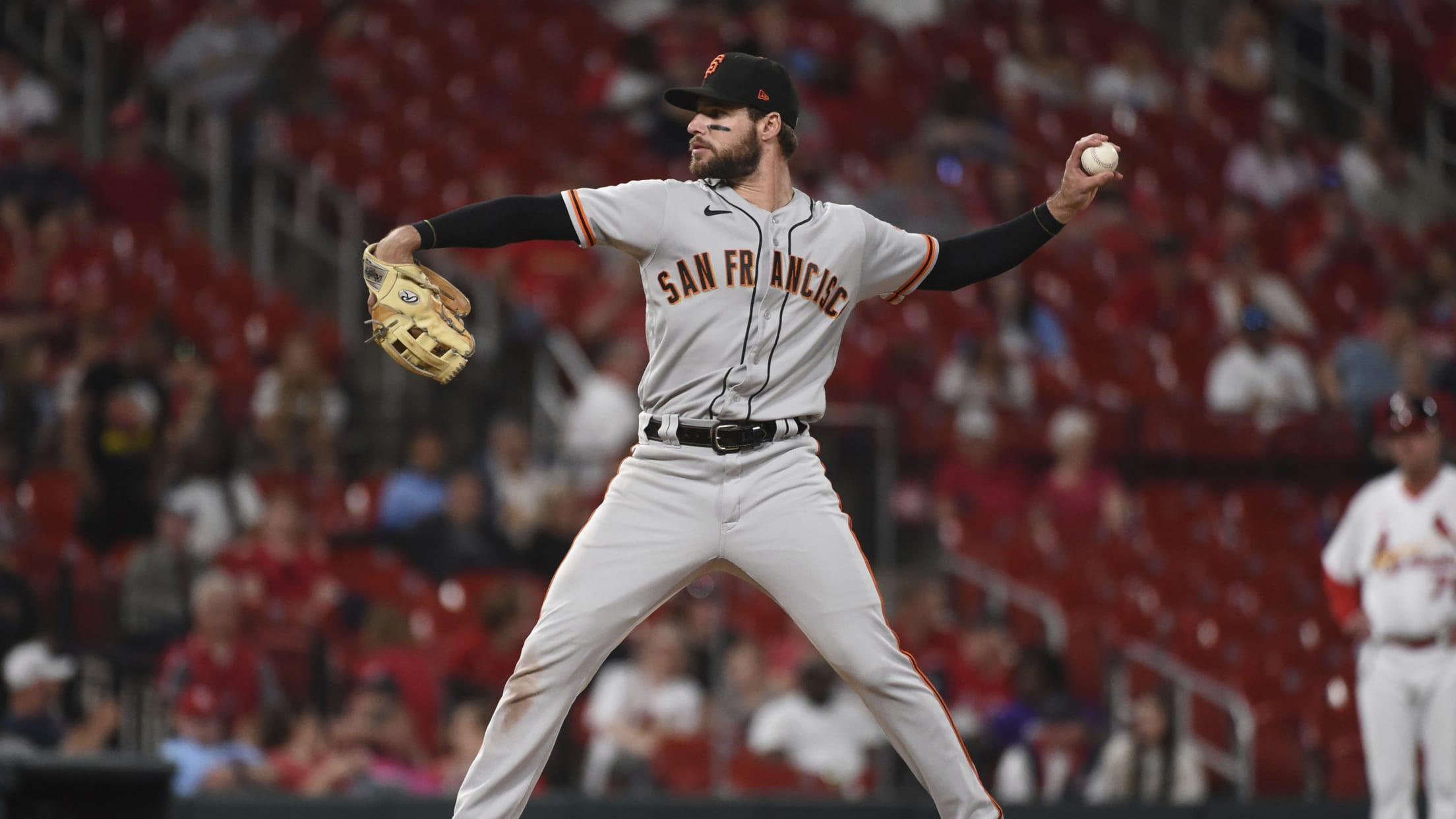 ST. LOUIS -- Rookie outfielder Luis González summed it up best: "It was just a wild night." The Giants dropped two out of three games to the Cardinals following their 15-6 shellacking in Sunday night's series finale at Busch Stadium, but the sting of the blowout loss was partly ameliorated