Predicting the next number each team will retire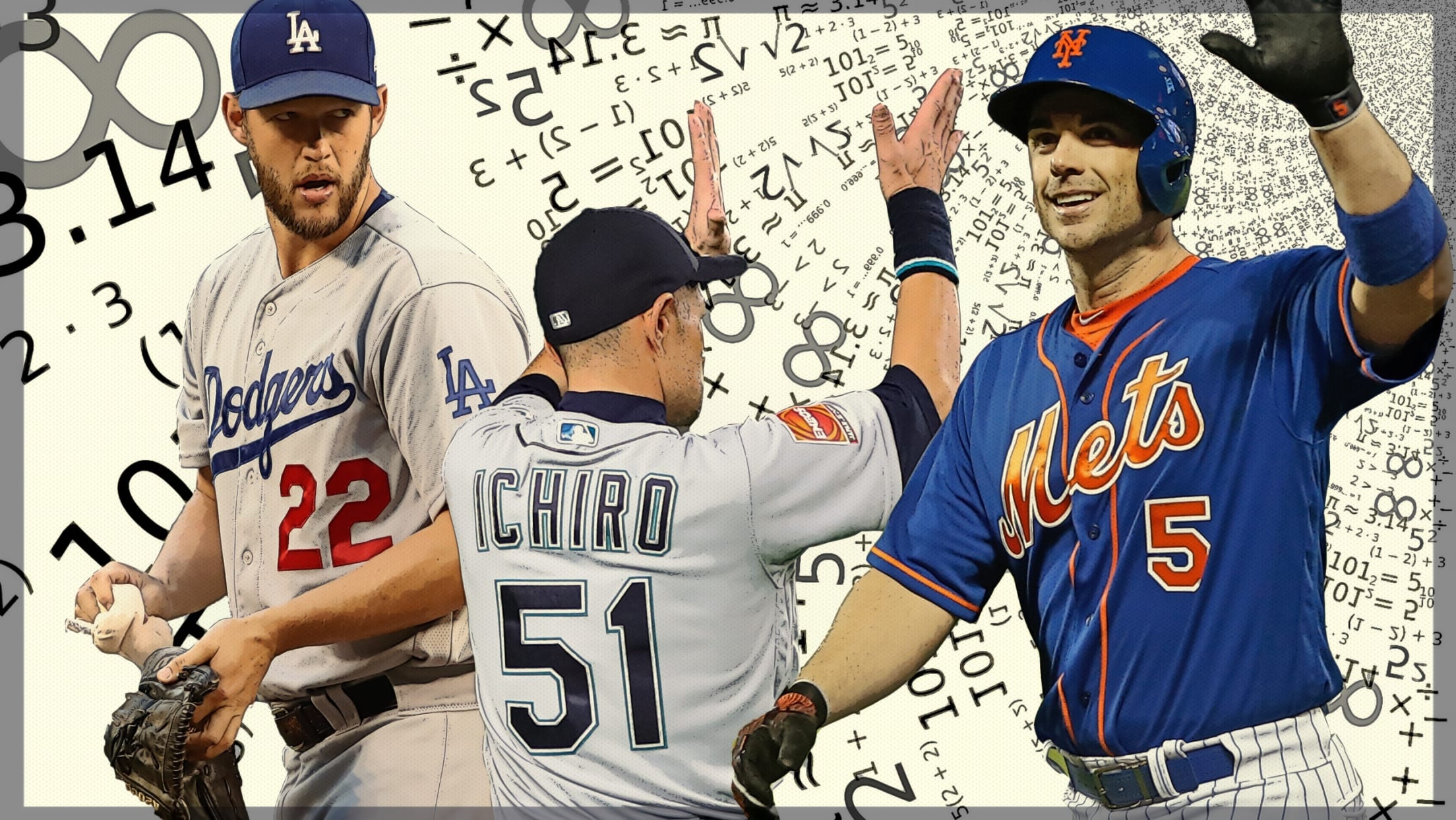 A retired number is perhaps the greatest honor a team can bestow upon a player or manager. And while every franchise has different criteria for retiring numbers, there's a common thread among all 30: You don't get your number retired unless you made a truly special impact on a specific
Check out the play ... before The Play
Every rally needs a 'table-setter,' and these set history in motion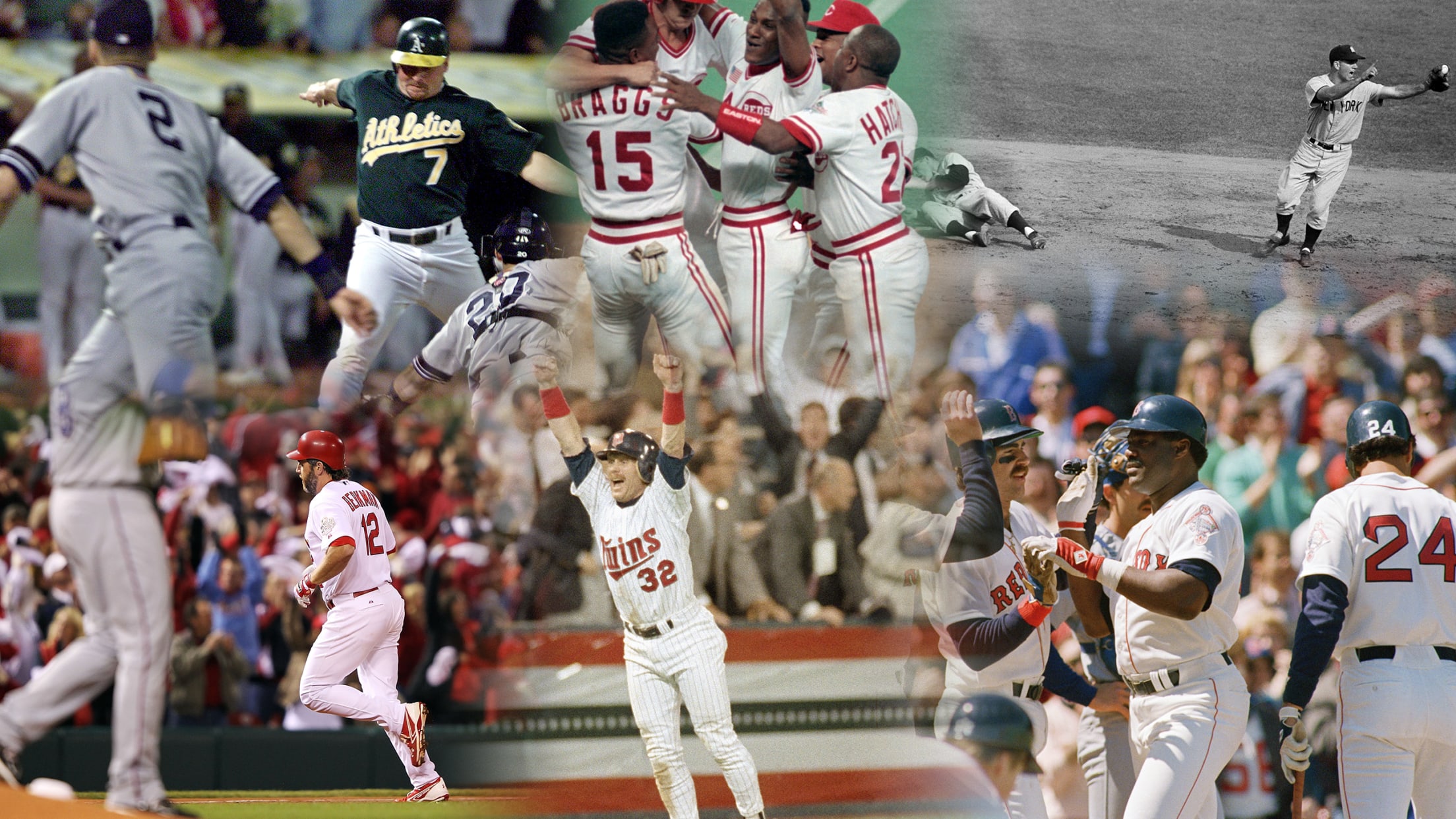 Pressure. It seems to apply to every pitch come October, setting the Major League postseason apart from playoffs in any other sport. History shows that any play, no matter how small it seems in the moment, can wind up changing everything. That pressure can grind certain moments into diamonds, and
Was Pedro robbed of '99 MVP? Here's a re-vote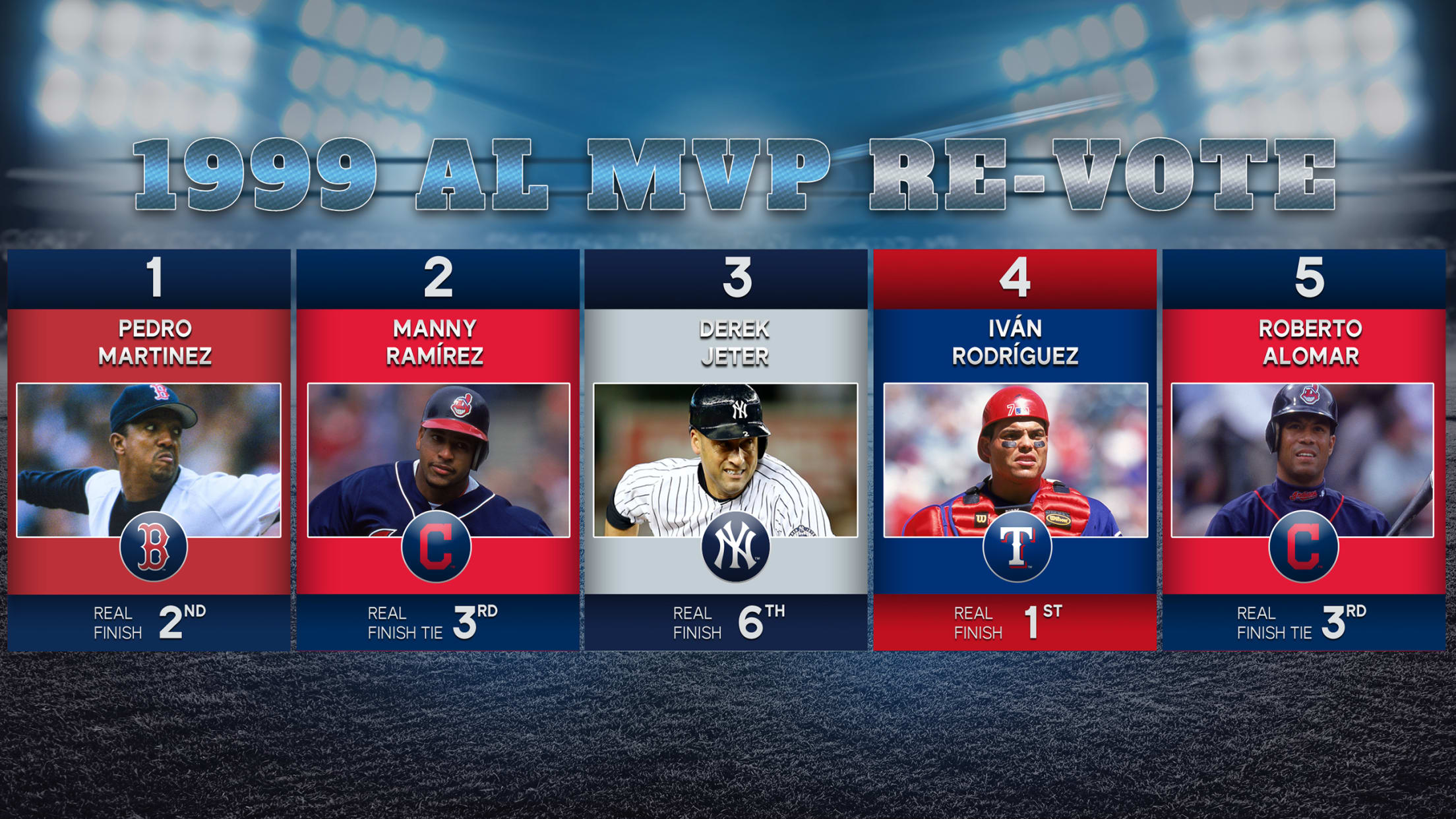 The annual awards voted on by the Baseball Writers' Association of America often produce solid debate material. The 1999 American League Most Valuable Player Award vote took that to a whole new level. Every MVP ballot contains a list of criteria for the award, one of which is "actual value
This reliever was traded for same HOFer -- twice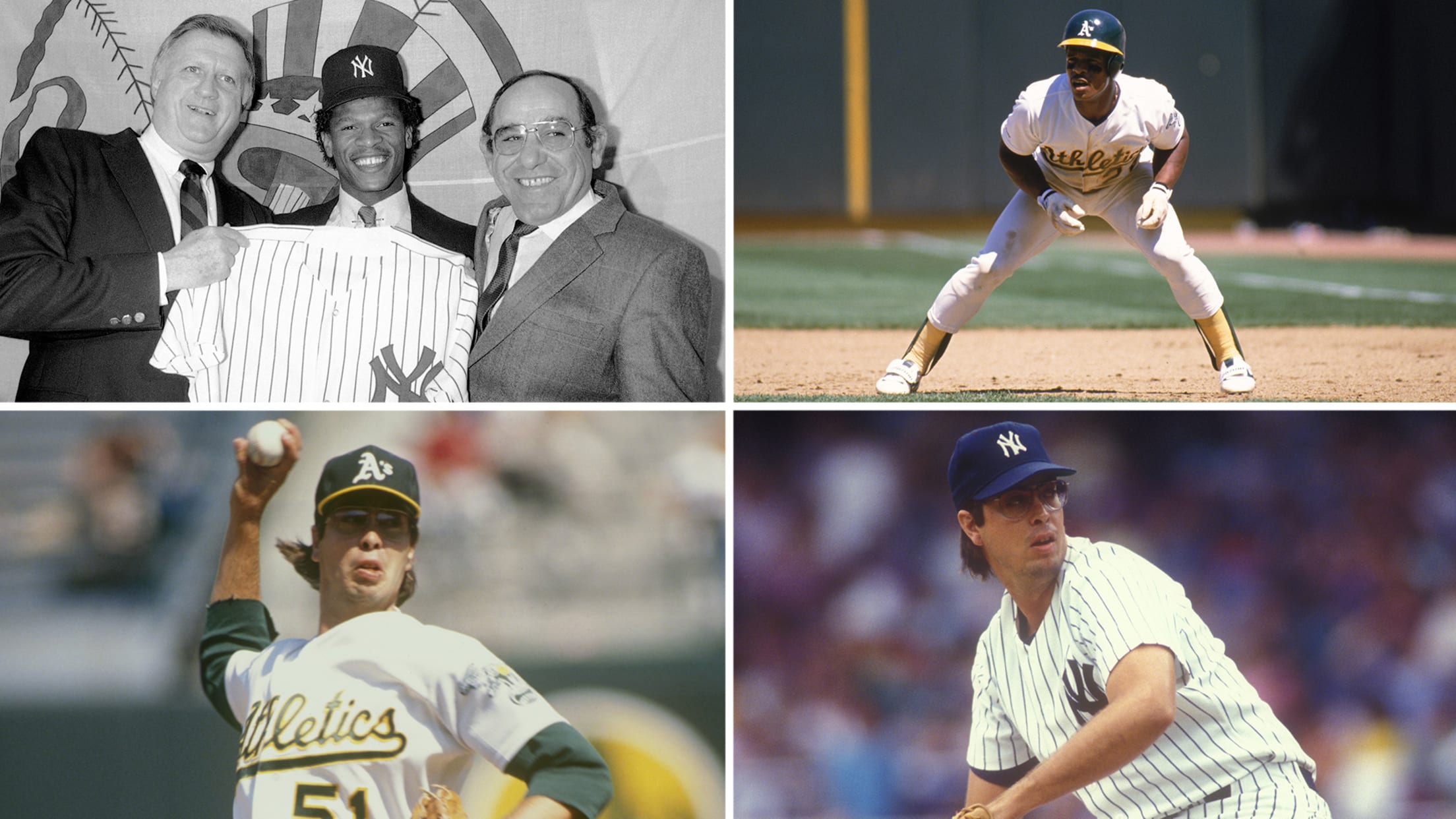 The second time Eric Plunk was traded for Rickey Henderson, it began to feel personal. Plunk was going to the bathroom when the phone rang to inform him of the June 1989 trade, so that's about as personal as it gets. And after that phone call sent him scrambling across
One weird retro commercial for every team
Eat your heart out, Don Draper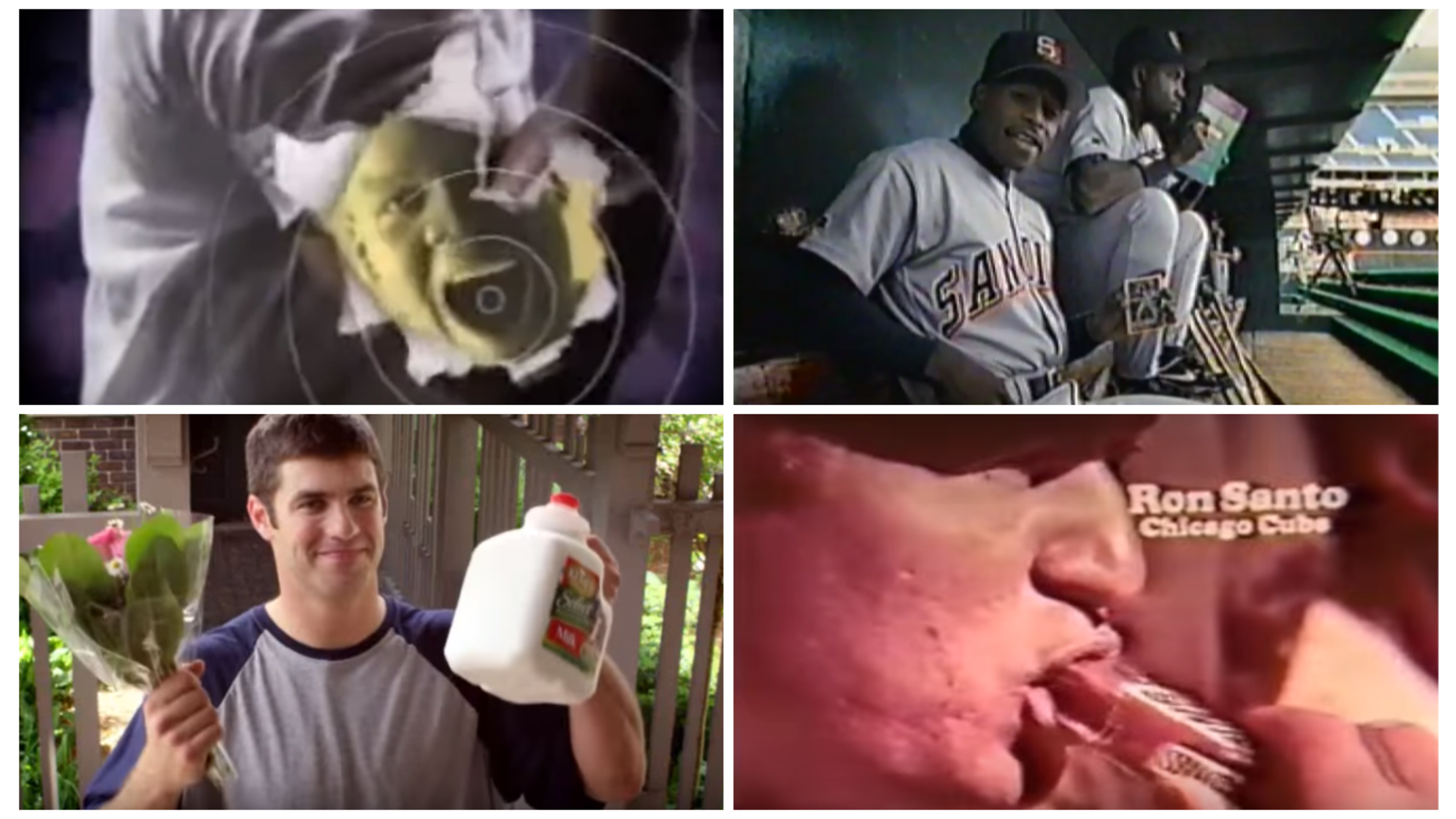 Sure, you roll your eyes at commercials in the moment -- you mean I have to wait a few minutes for this? But give it a few years (or decades), and all of a sudden they become something sublime -- bizarre time capsules that make us ask, "Wow, did Bob
How Wilmer's tears changed baseball history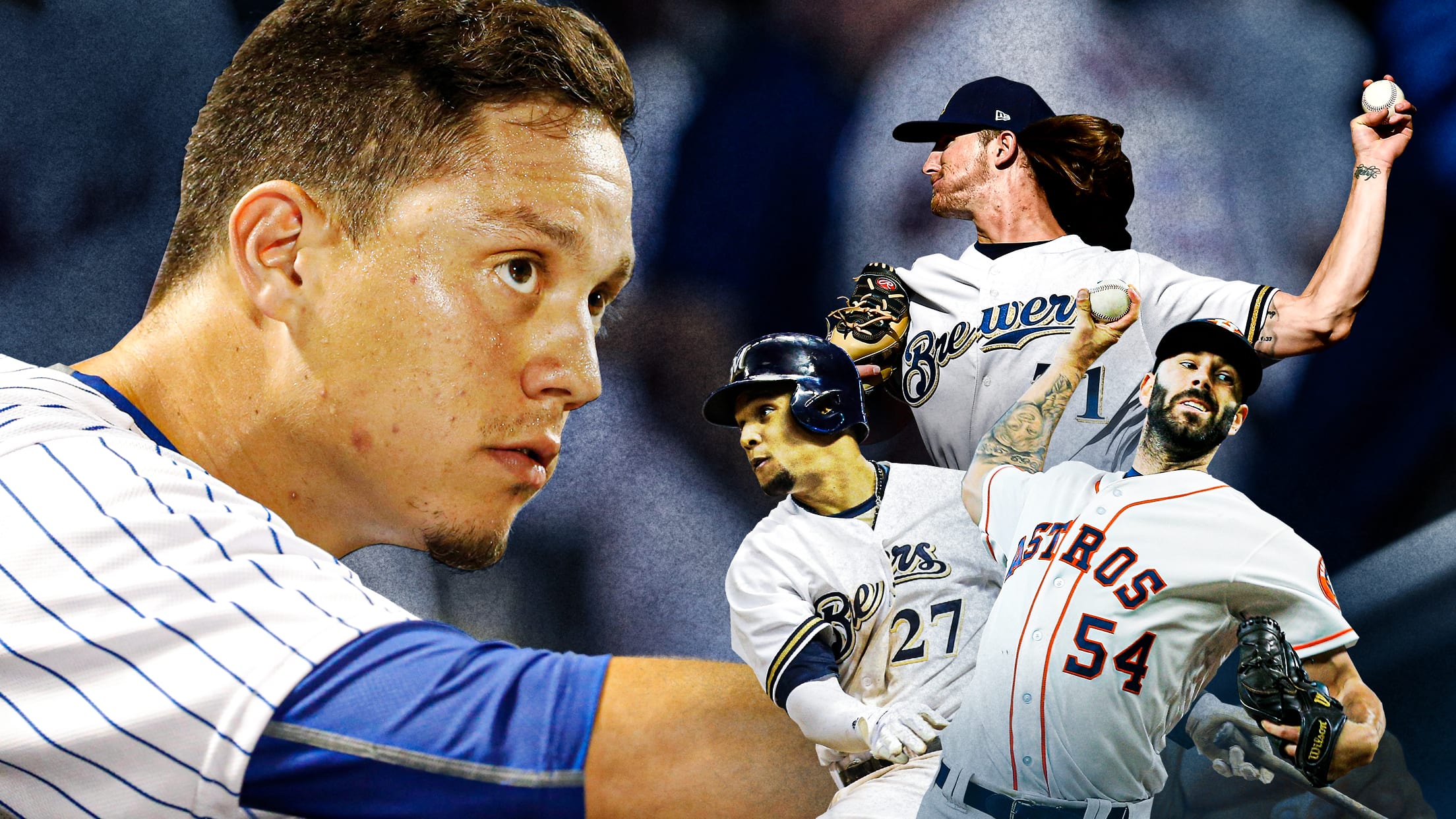 Wilmer Flores cried, and baseball changed. Many of us watched what went down at Citi Field the night of July 29, 2015, when Flores, then the Mets' 23-year-old homegrown utility infielder, found out he had been traded and tried to hold back tears he couldn't control. It was a rare,
Ex-Cardinal Hamilton now a doctor on front lines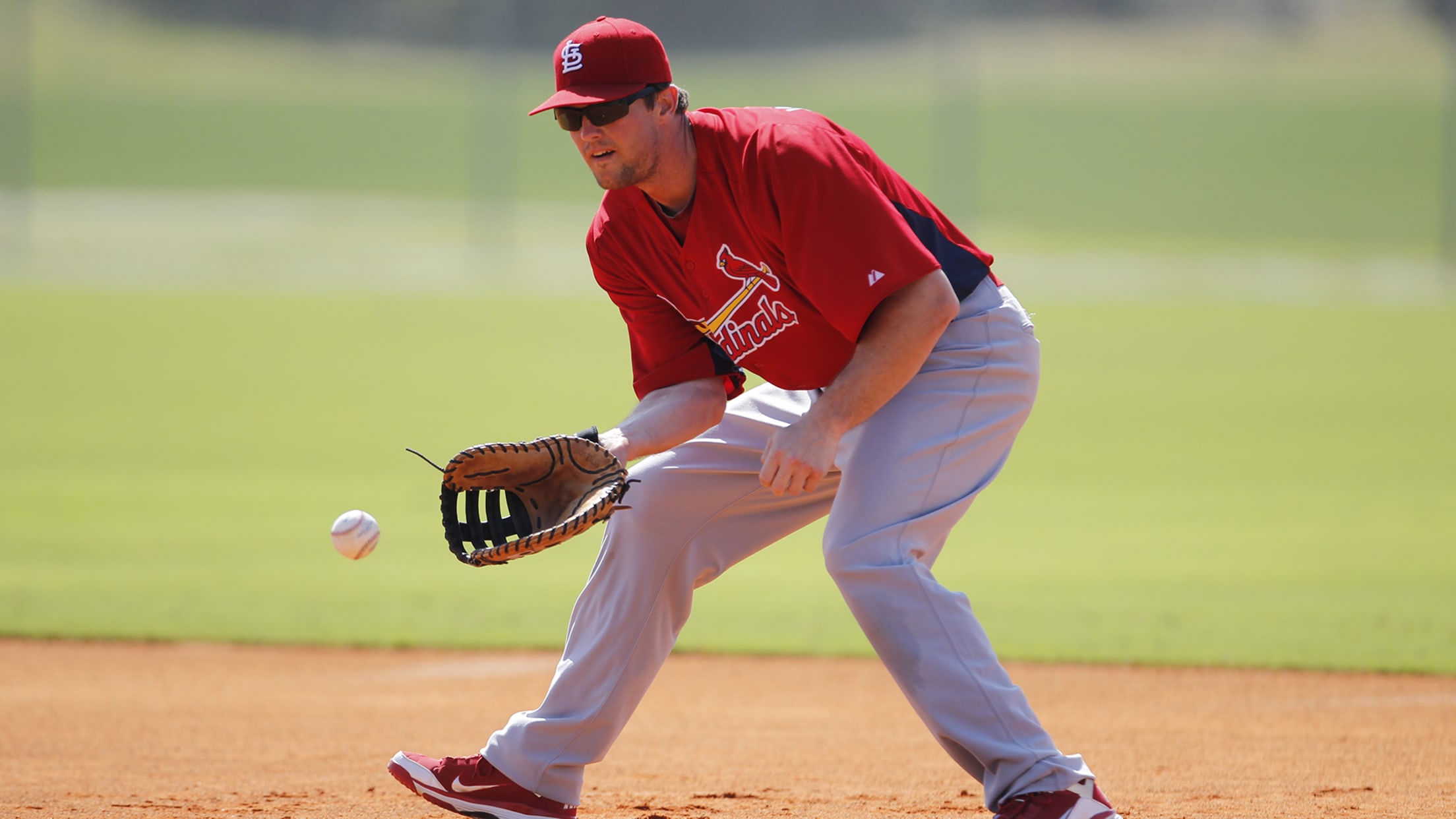 ST. LOUIS -- Mark Hamilton knew when he decided to go into medicine that there was always a risk of exposure to the various things he would treat as a doctor. The medical world is constantly evolving, and there's always some unknown. He just didn't know he'd be fighting something
Watch Hill come ever so close to no-no at 1 ET
Here's the schedule of games to watch on MLB.com, social media, TV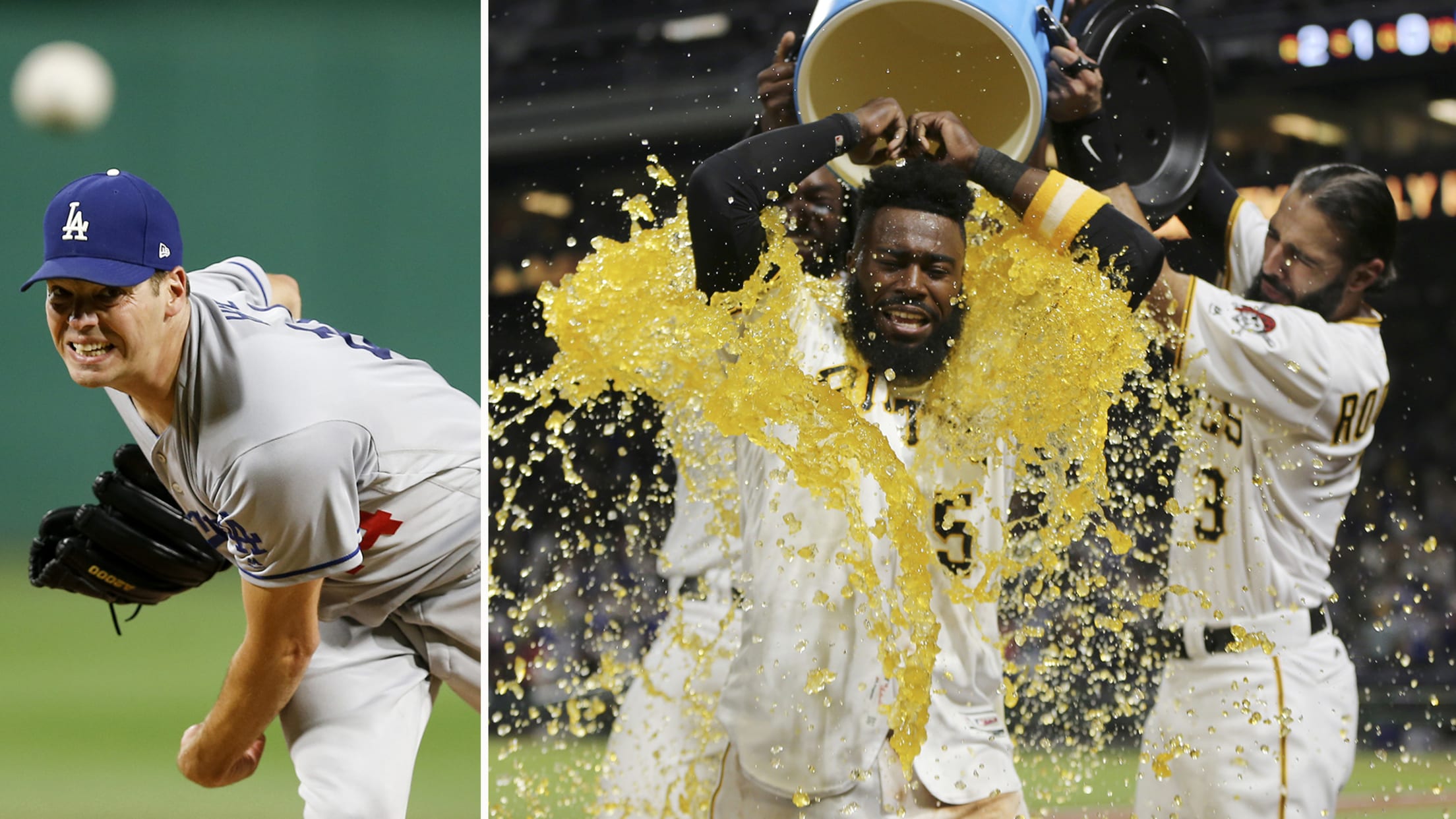 Why not enjoy some of MLB's classic games while you wait for baseball to come back? MLB is streaming games every day across its various platforms -- one in the afternoon at 1 p.m. ET, and another in the evening at 7 p.m. ET. In addition, MLB Network, ESPN and
Slugger Reynolds calls it a career with 298 HRs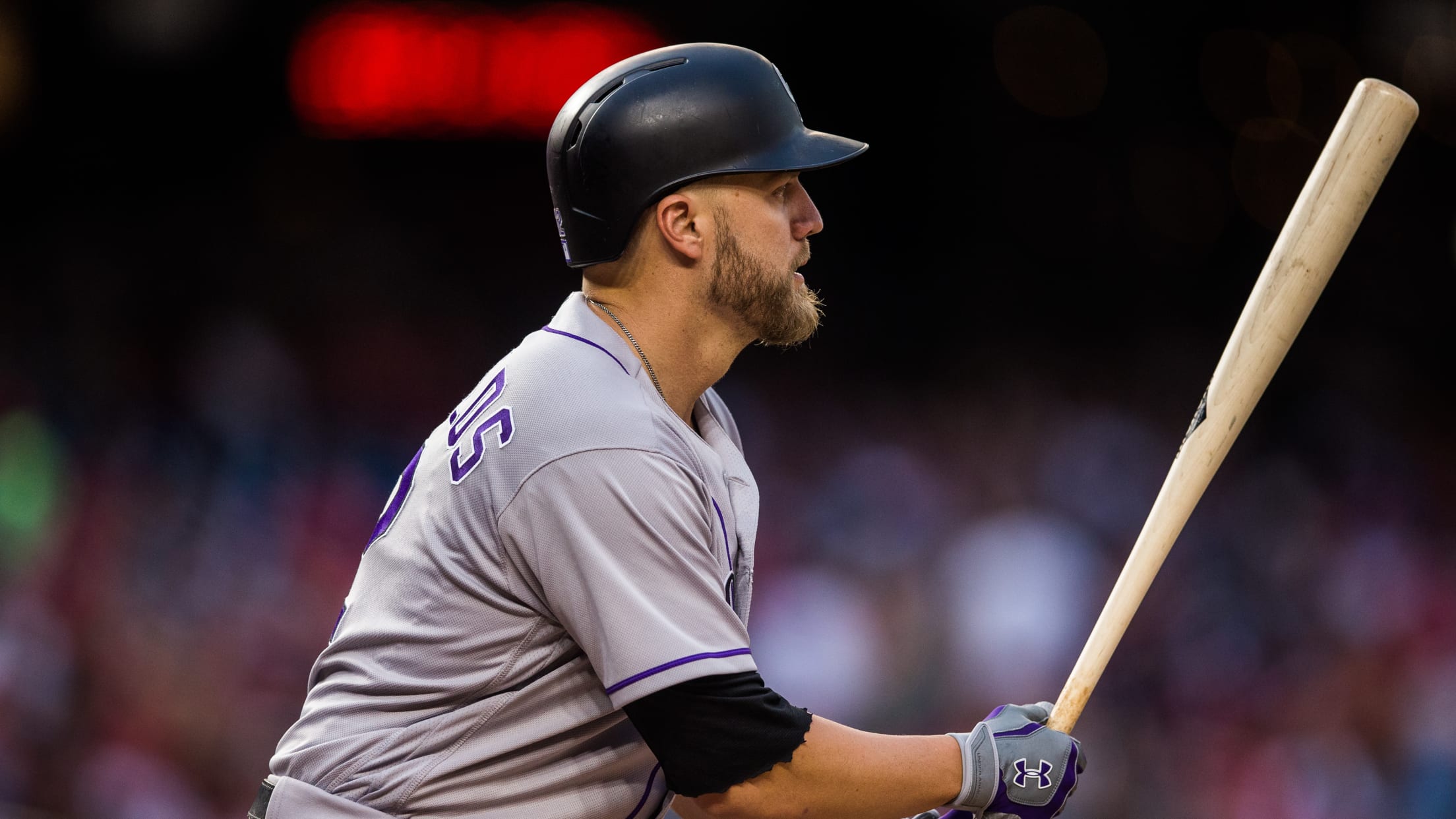 DENVER -- Mark Reynolds, who hit 298 home runs in a 13-year career, announced his retirement on Thursday on MLB Network Radio on SiriusXM. Reynolds last played with the Rockies last season – his second stint and his third season with the club. Reynolds was released on July 26 with
Can you guess which star's autograph this is?
Are those letters or squiggles?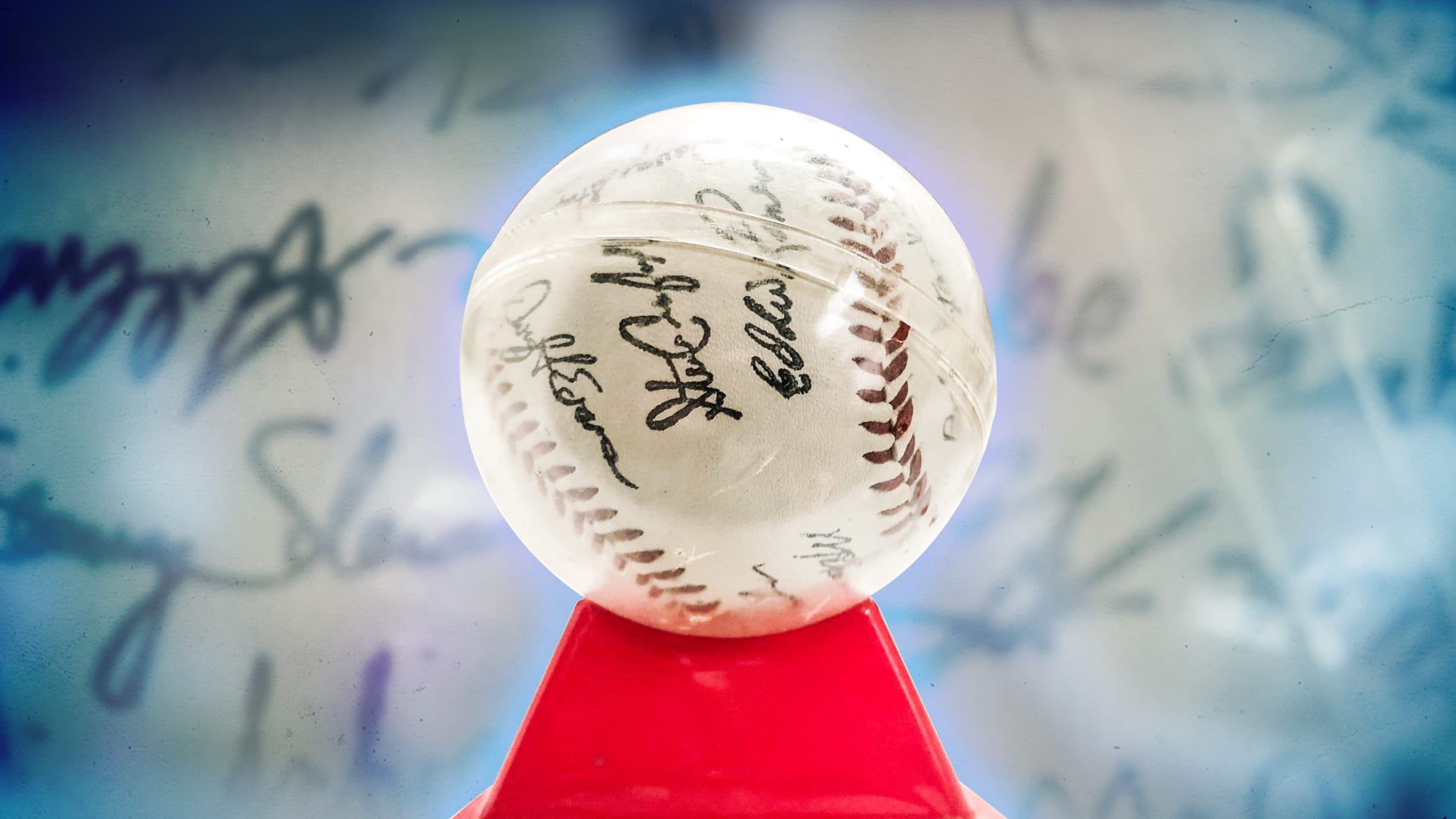 Professional athletes are masters at repeating the same motions over and over in exactly the same way. That's how pitchers throw strikes and basketball players knock down shots. Nowhere is this skill more clearly on display than when they're signing autographs -- despite looking like they're scribbling mindlessly on random
Stream dozens of classic games on YouTube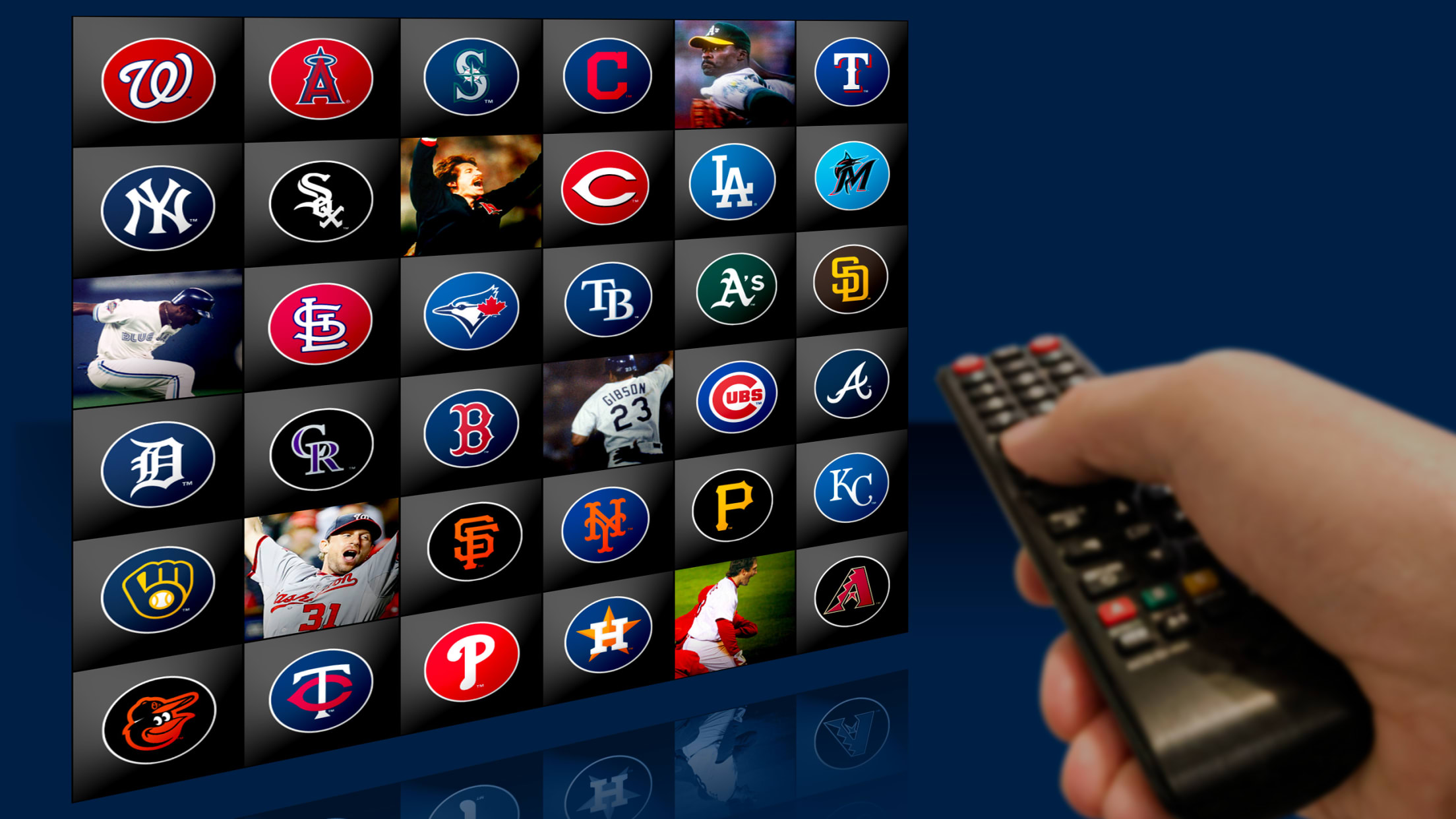 In difficult times like these, we often look to sports for an escape, which is part of the reason why the lack of live games right now is so frustrating for many. To help fill the void, here's a complete guide to how you can watch any number of classic
Here are some home baseball activities for kids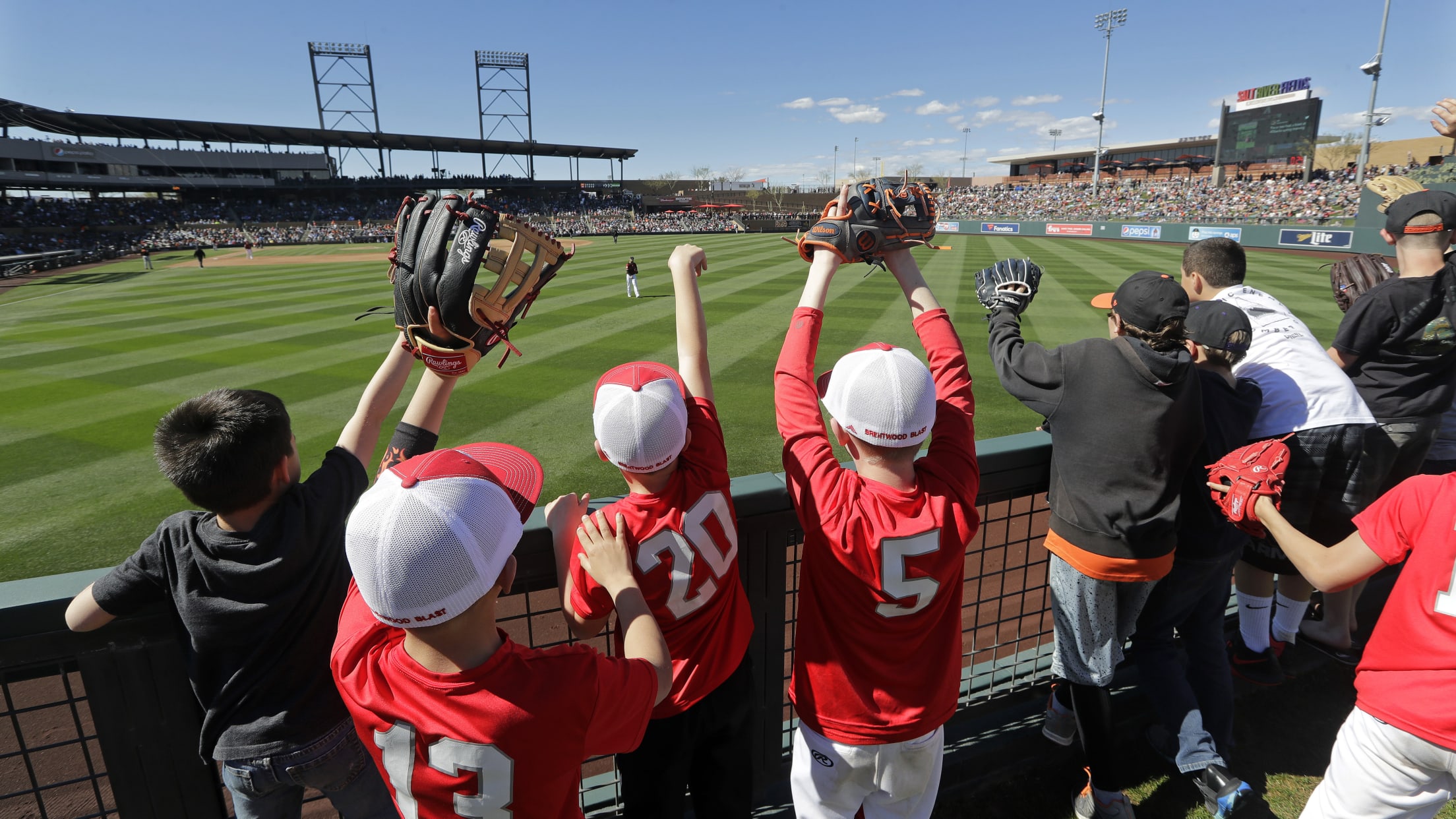 Have kids who need something fun to do while they're at home? Your favorite baseball teams have you covered. Lots of MLB teams are posting games, coloring pages and more to help keep young baseball fans busy. Check out these baseball-themed activities from MLB and teams around the league. MLB:
Pitch grips, fielding and hitting drills from the pros
The pros share their expertise to help you improve your skills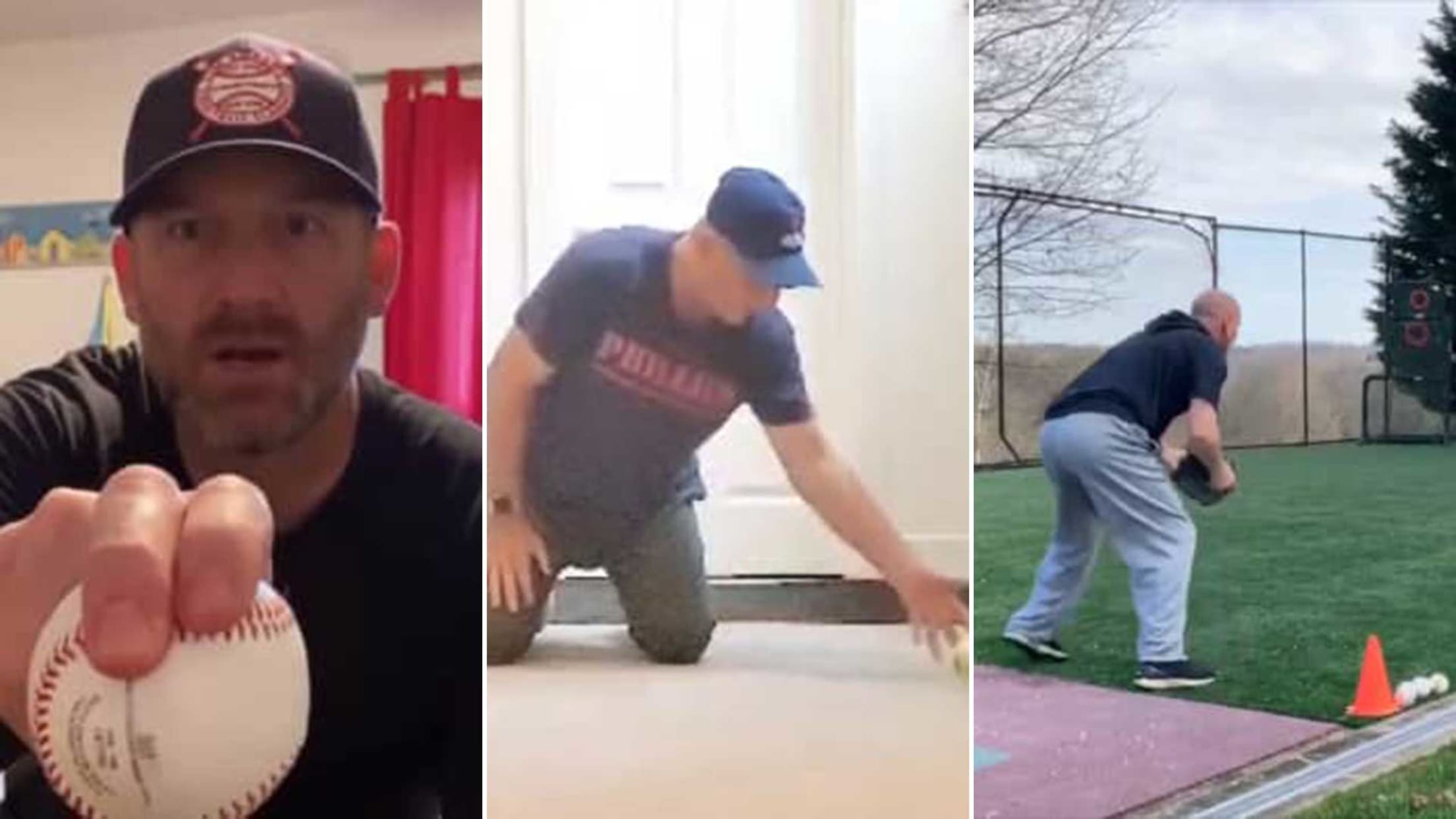 Following the current social guidelines during the ongoing coronavirus pandemic means, in most cases, remaining at home in order to stay a safe distance away from others. But just because you're spending a lot of time inside doesn't mean you can't still practice and improve your baseball skills. That's right:
Watch every 2018 and '19 game free on MLB.TV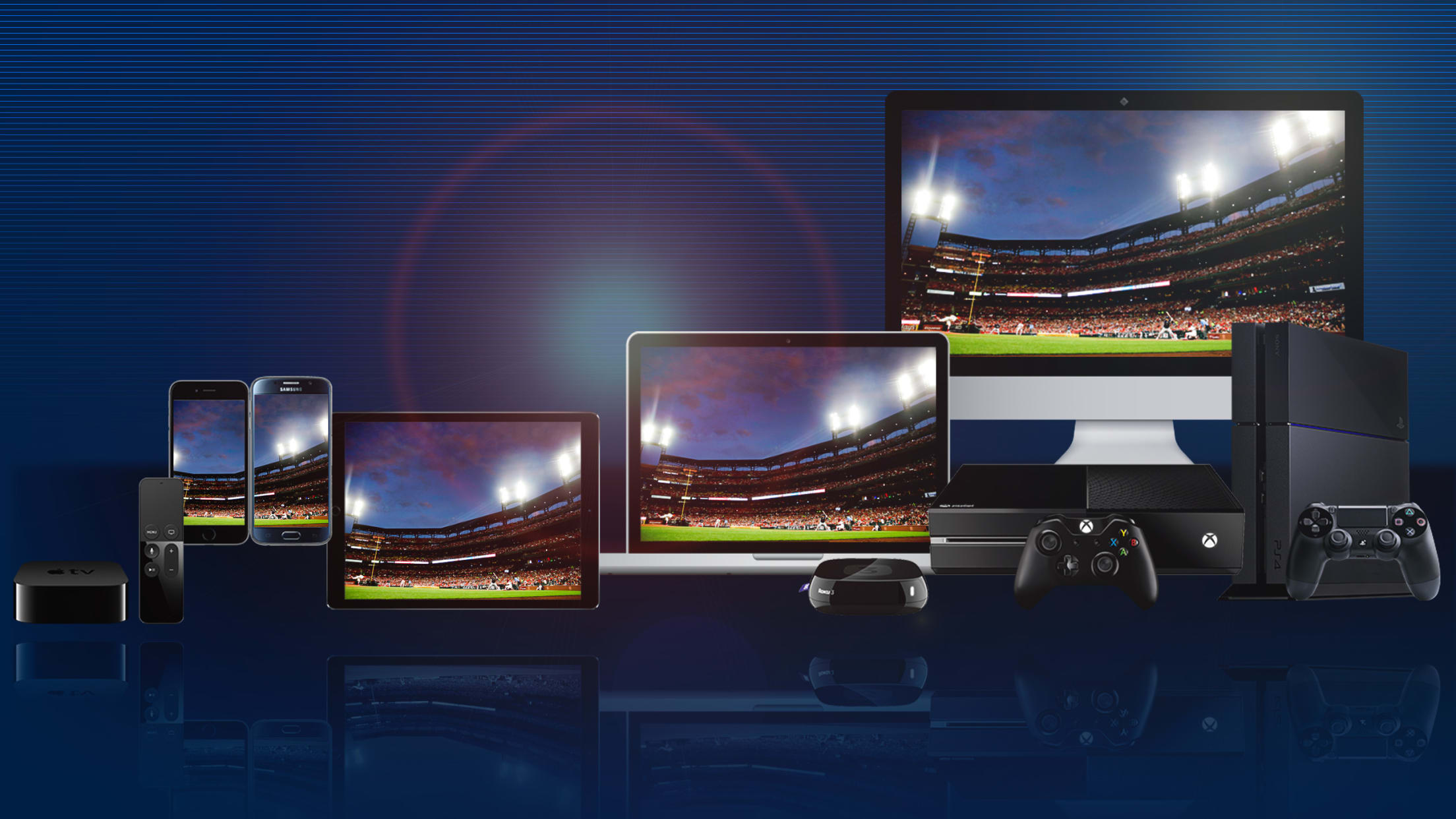 There's no live baseball for the time being, but you can now experience the last two years of Major League action on MLB.TV for free. The MLB.TV archives of the 2018 and '19 seasons are open and accessible for all, which means more than 4,800 games are available to stream
How Kaline connected with younger players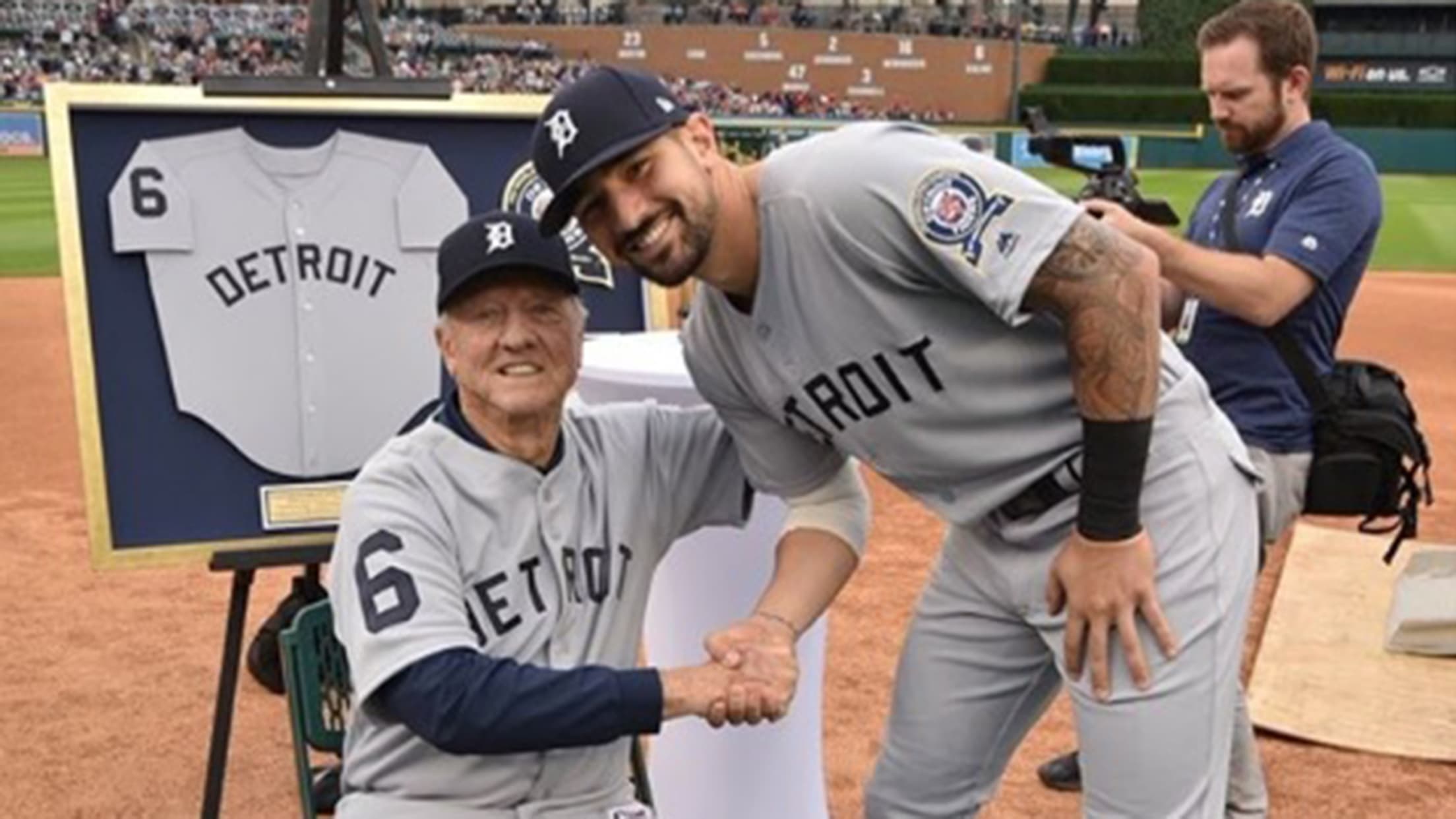 DETROIT -- Mike Ilitch was getting restless. The late Tigers owner was hearing plenty about his top hitting prospect, Nicholas Castellanos, but was wondering why he wasn't in the Majors yet. This was 2012, and the Tigers had Prince Fielder and Miguel Cabrera at the infield corners, so they had
Most hyped 2B prospects of the past 20 years
He's so good, Moncada appears twice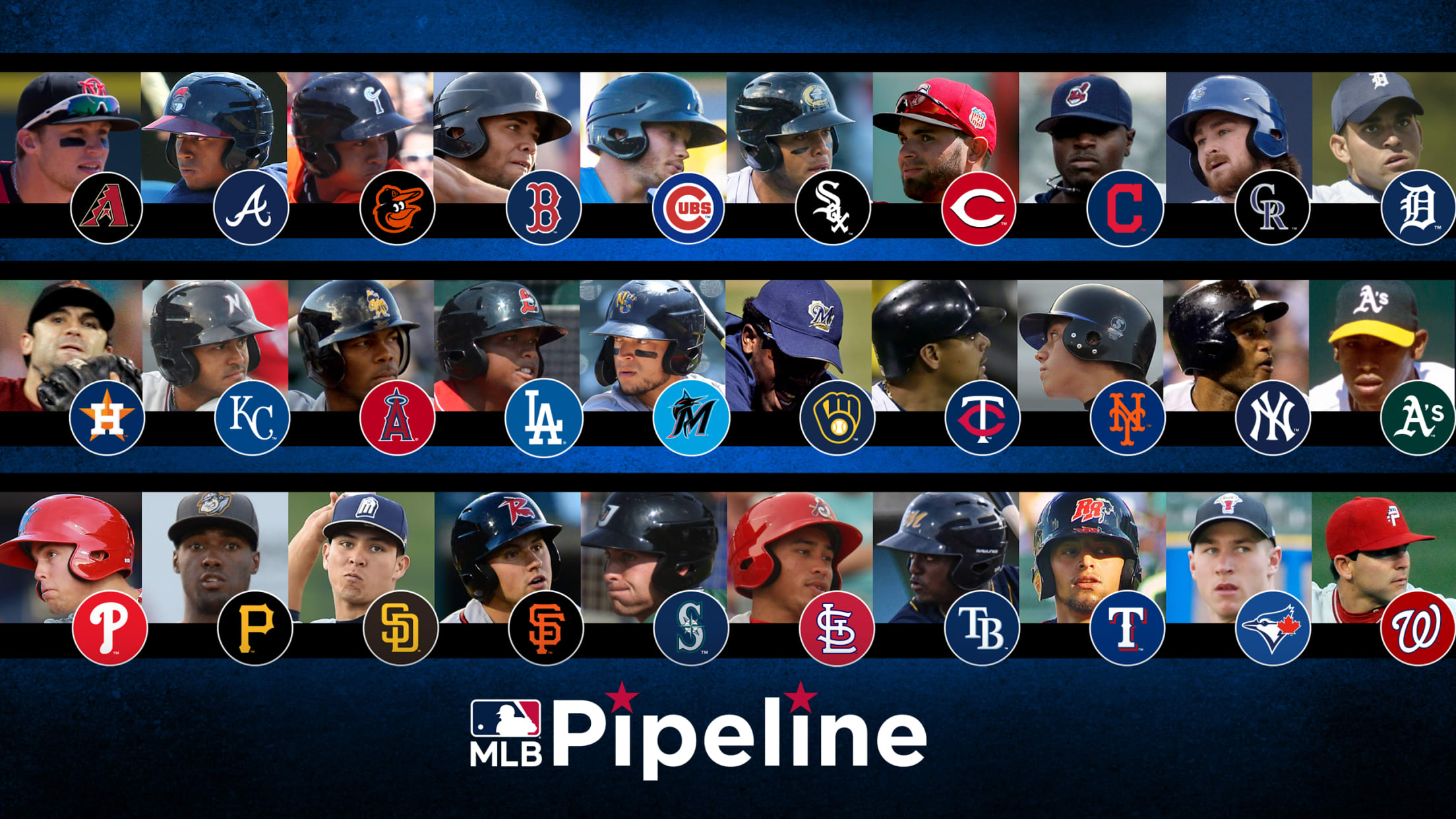 It used to be that second base was the position that guys who couldn't handle playing shortstop would go to play. But that's no longer the case, even if some once played on the left side of the infield back in their amateur days. At times, it's been challenging to
Examining Varitek's impact on Red Sox history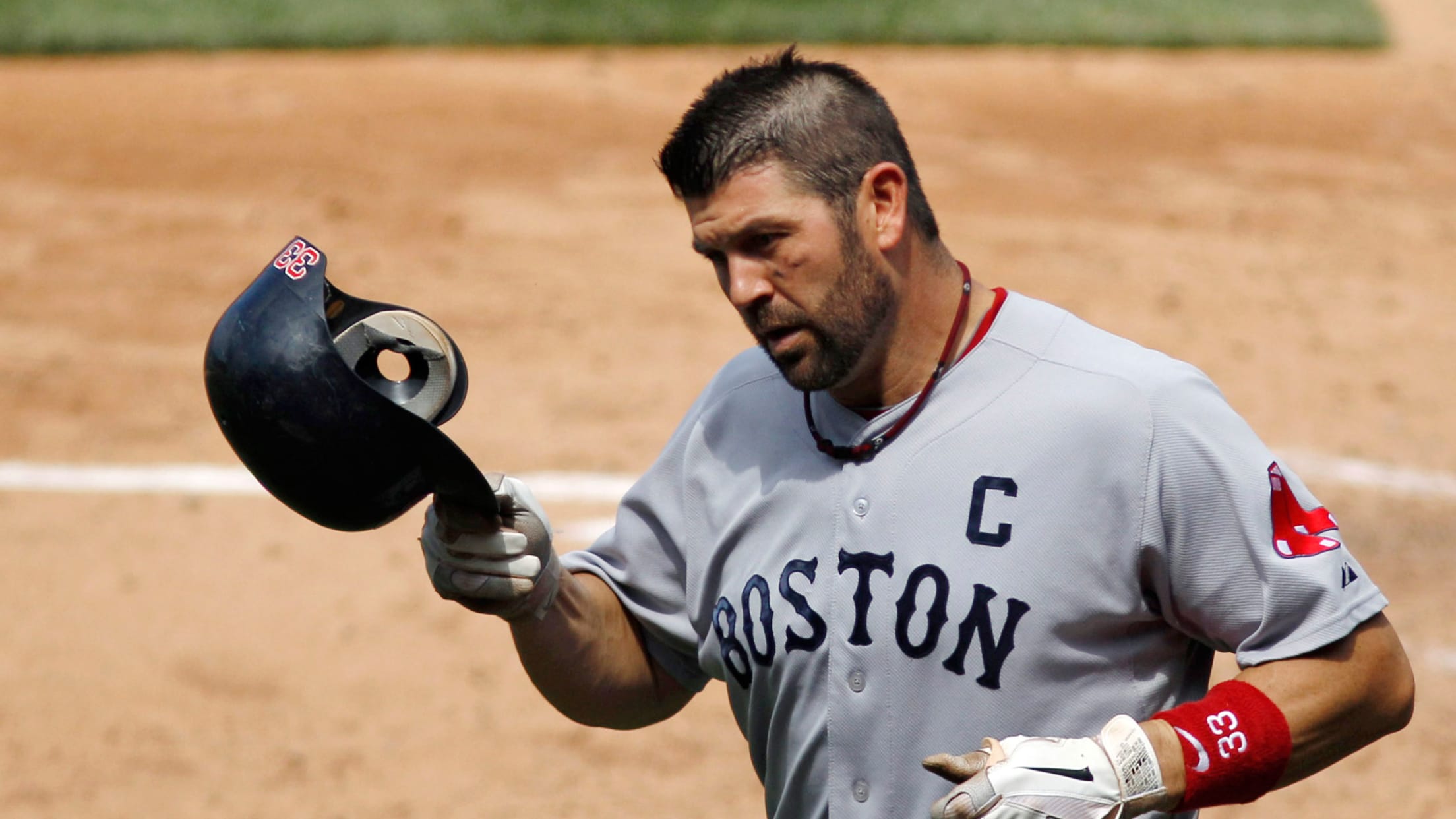 While we're waiting for baseball to come back, we are making do. So once a week, inspired by the late Deadspin's "Let's Remember Some Guys" series, we will take a look at one player in baseball history, why he was great, why he mattered, why we should hang on to
Box score of the day: Griffey hits No. 400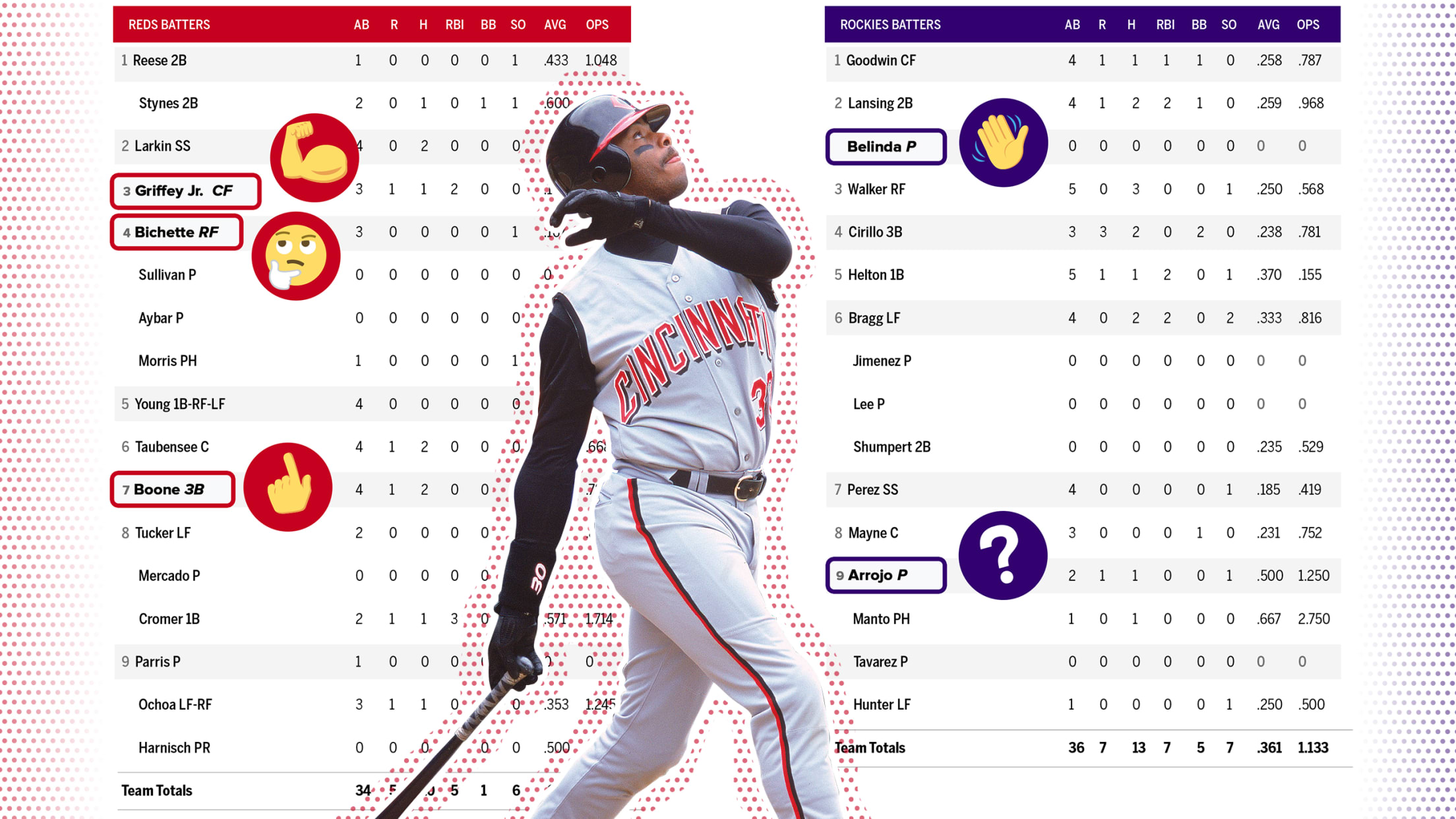 Does your dad have a milestone birthday coming up? Do you have a plan for what to get him? Ken Griffey Jr. had a famously close connection with his dad, as you might recall. And when he and the Cincinnati Reds stepped off the bus outside Denver's Coors Field on
Solak, fiancée build BP field in backyard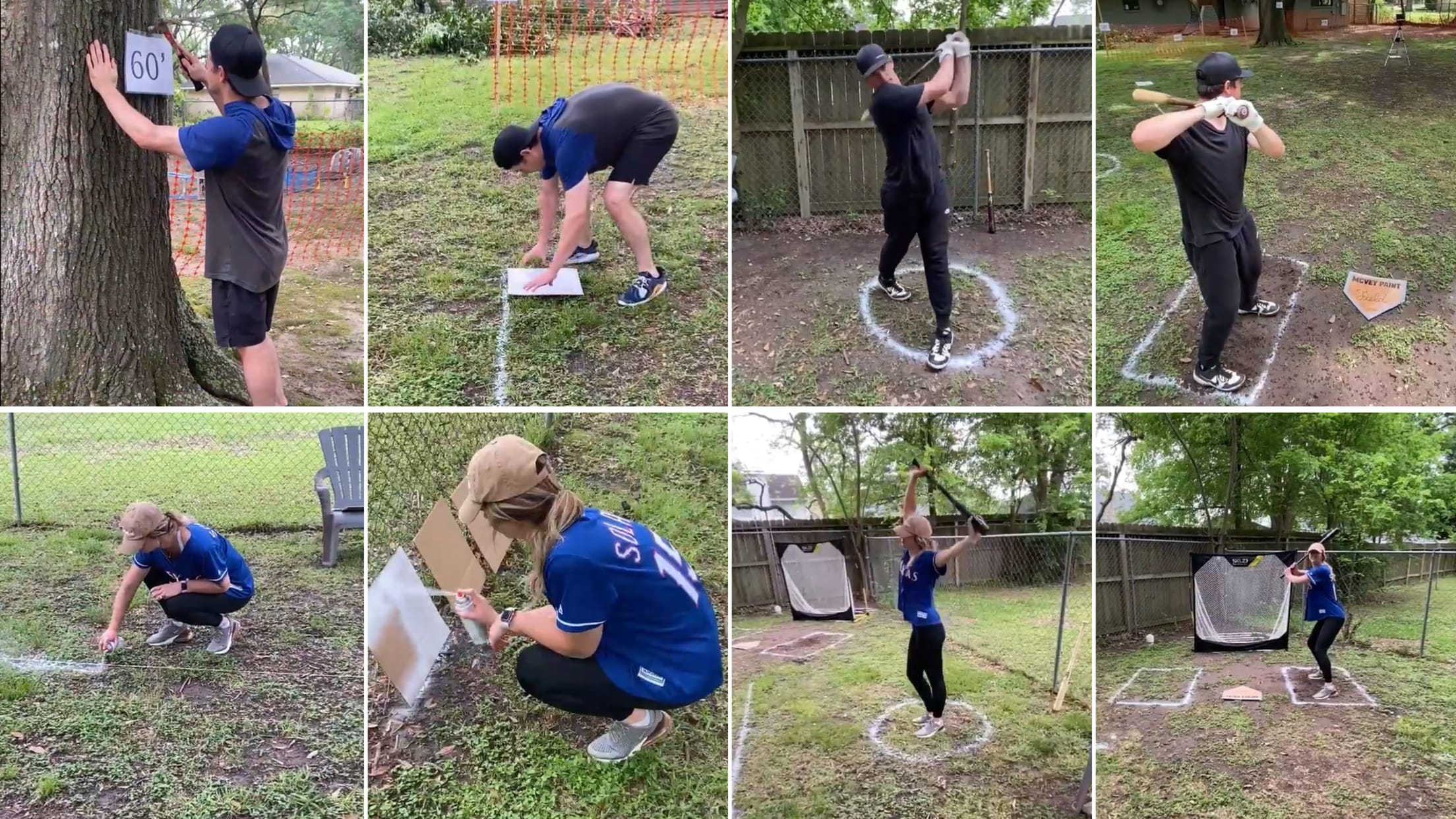 ARLINGTON -- Rangers utility player Nick Solak has taken to hitting golf-ball-sized plastic balls for batting practice. His fiancée, Roxanne McVey, likes to take her cuts, too, and she took the pitching machine deep in their backyard in the Houston suburb of Jersey Village. The pitching machine didn't like it
A year ago today: Machado steals show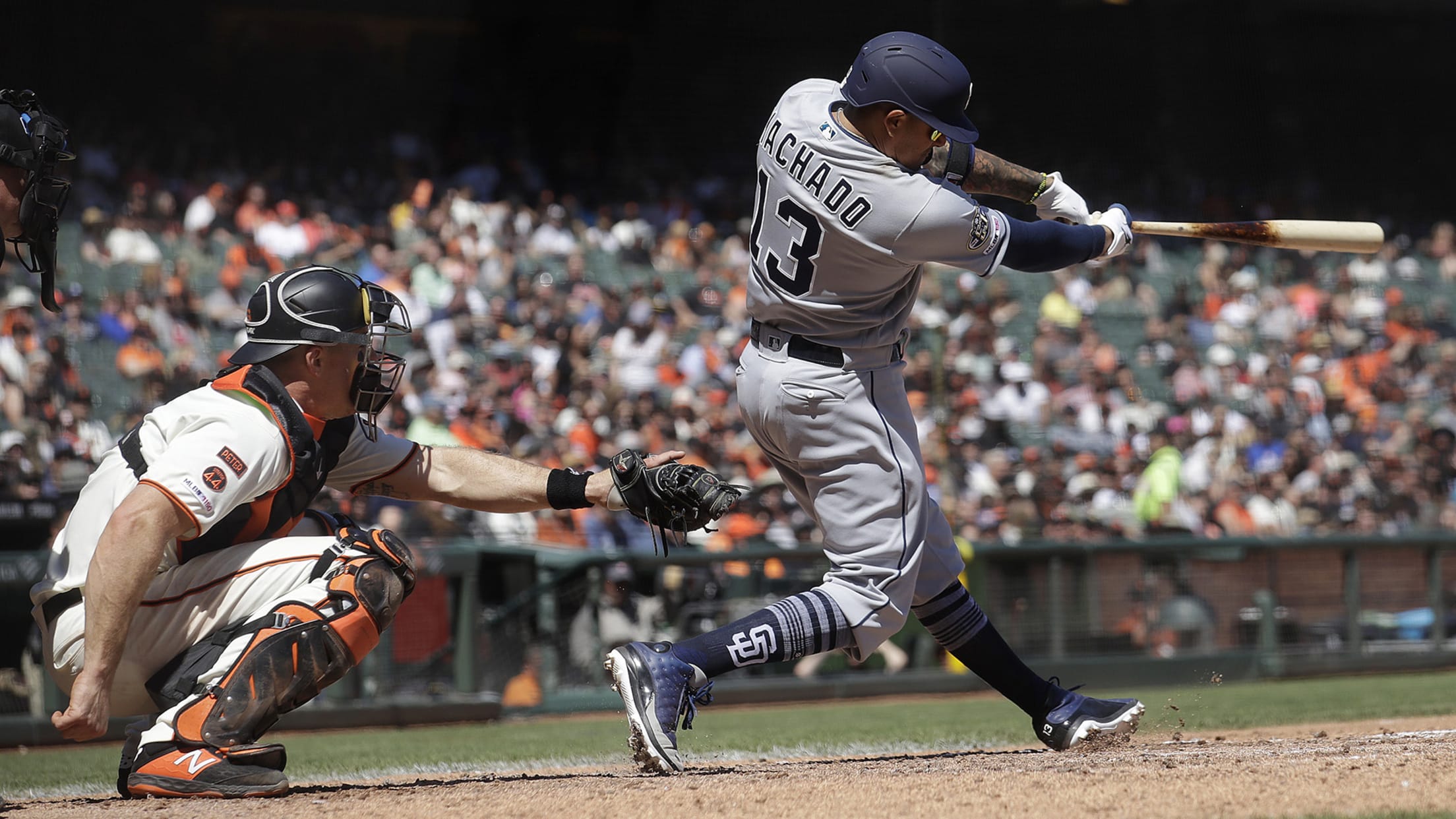 To help fill the baseball void, we're flipping the calendar back one year to remind us all just how awesome our great game is. Here's a look back at the best of April 10, 2019: Manny Machado's well-rounded skill set was on full display in the Padres' 3-1 win over
'Tell 'em Tucker sent ya': Barnhart gives back
Reds catcher donating meals to health care workers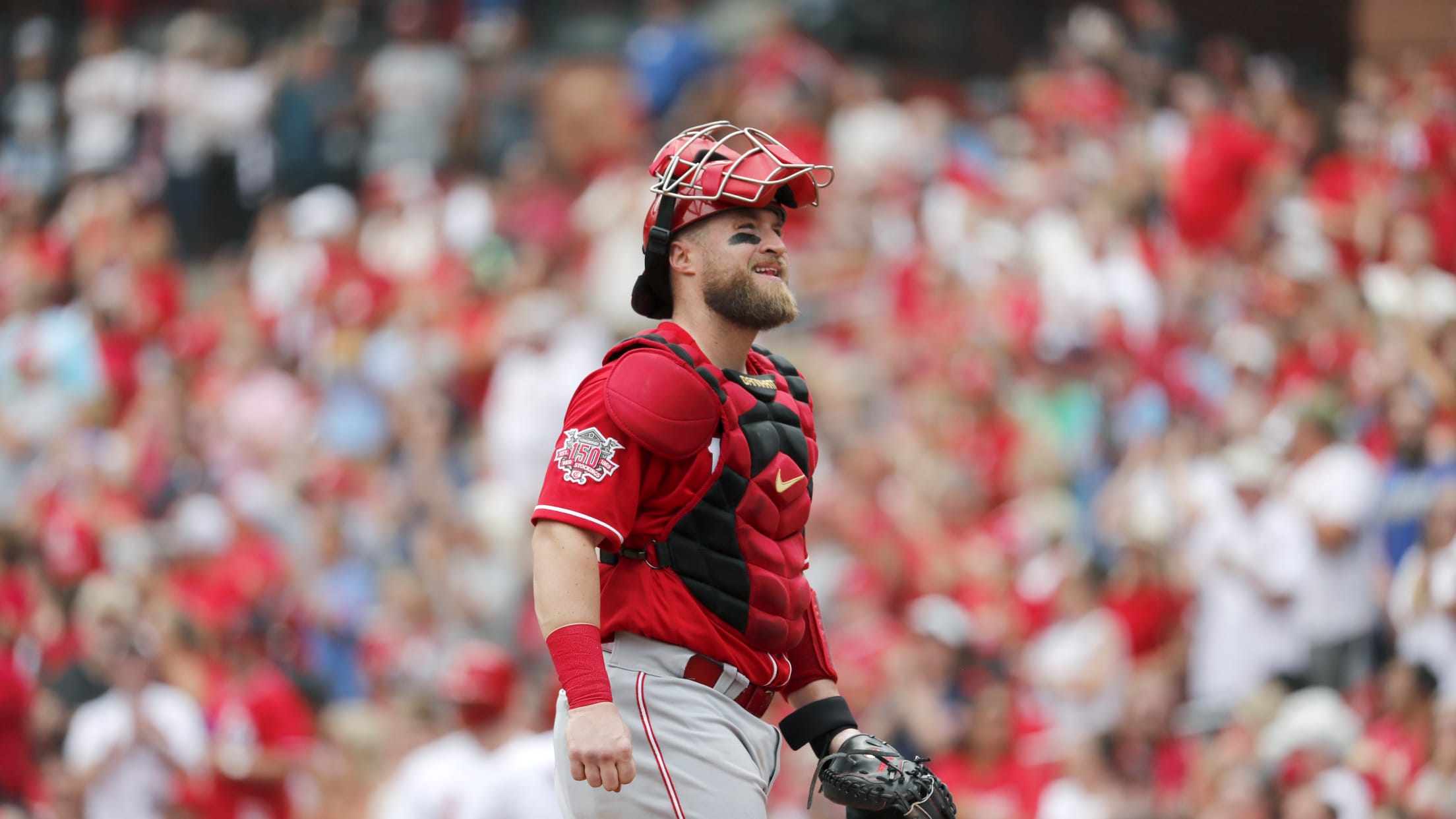 Reds catcher Tucker Barnhart extended his culinary outreach to the health care system on Thursday, providing free lunches to the staff at Good Samaritan TriHealth Hospital. Partnering with Frisch's, Barnhart provided 40 gift cards worth $25 apiece to various nurses, doctors and staff members at the hospital. The $1,000 donation
Dogs, books feature in Doolittle's home workout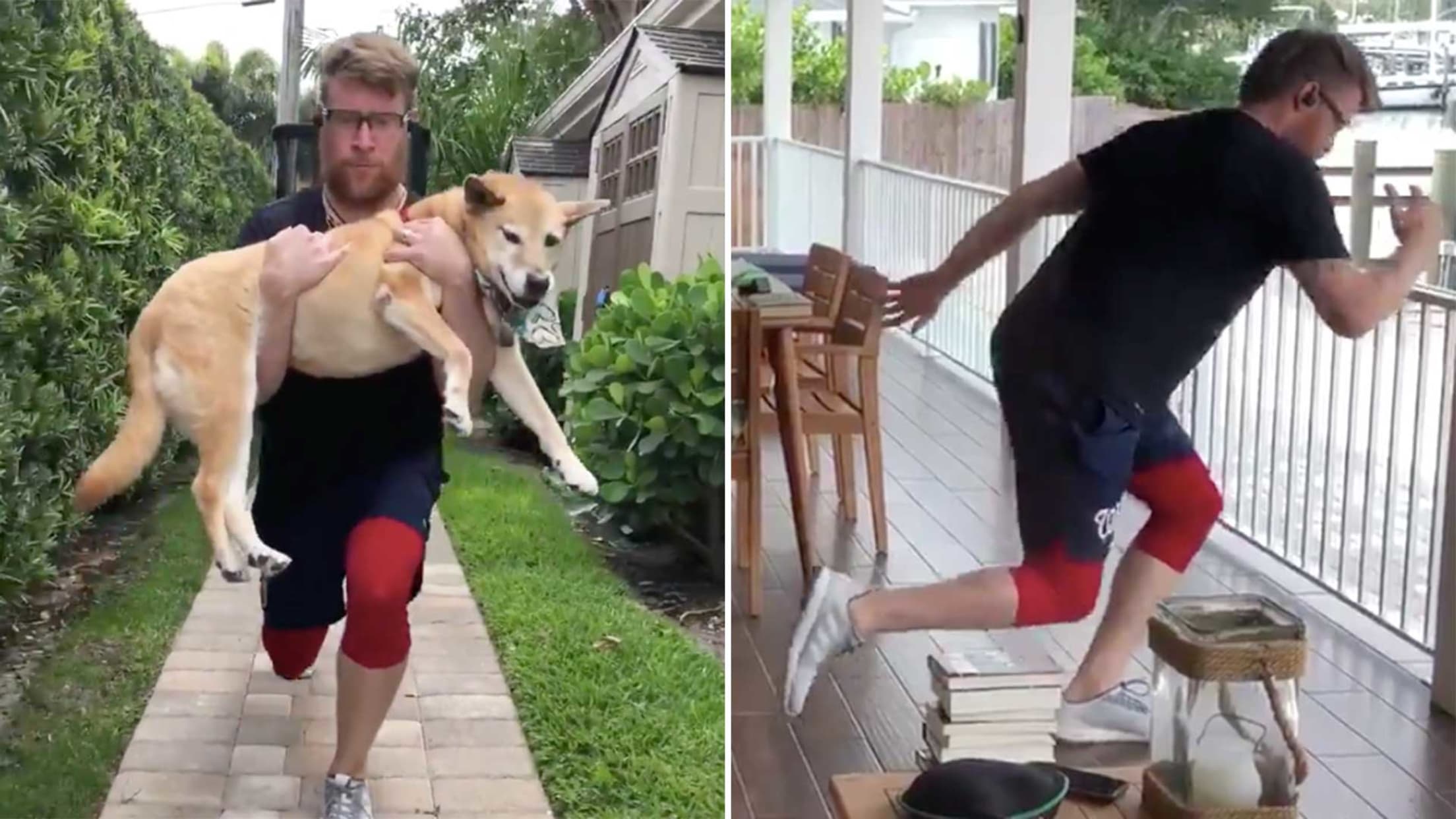 Closer Sean Doolittle made a call to his bullpen on Thursday to help complete an at-home workout. Carrying his pup, Sophia, Doolittle did lunges on a walkway in his yard. She isn't exactly a teacup dog, either. Take a look.
Box score of the day: The Dark Knight returns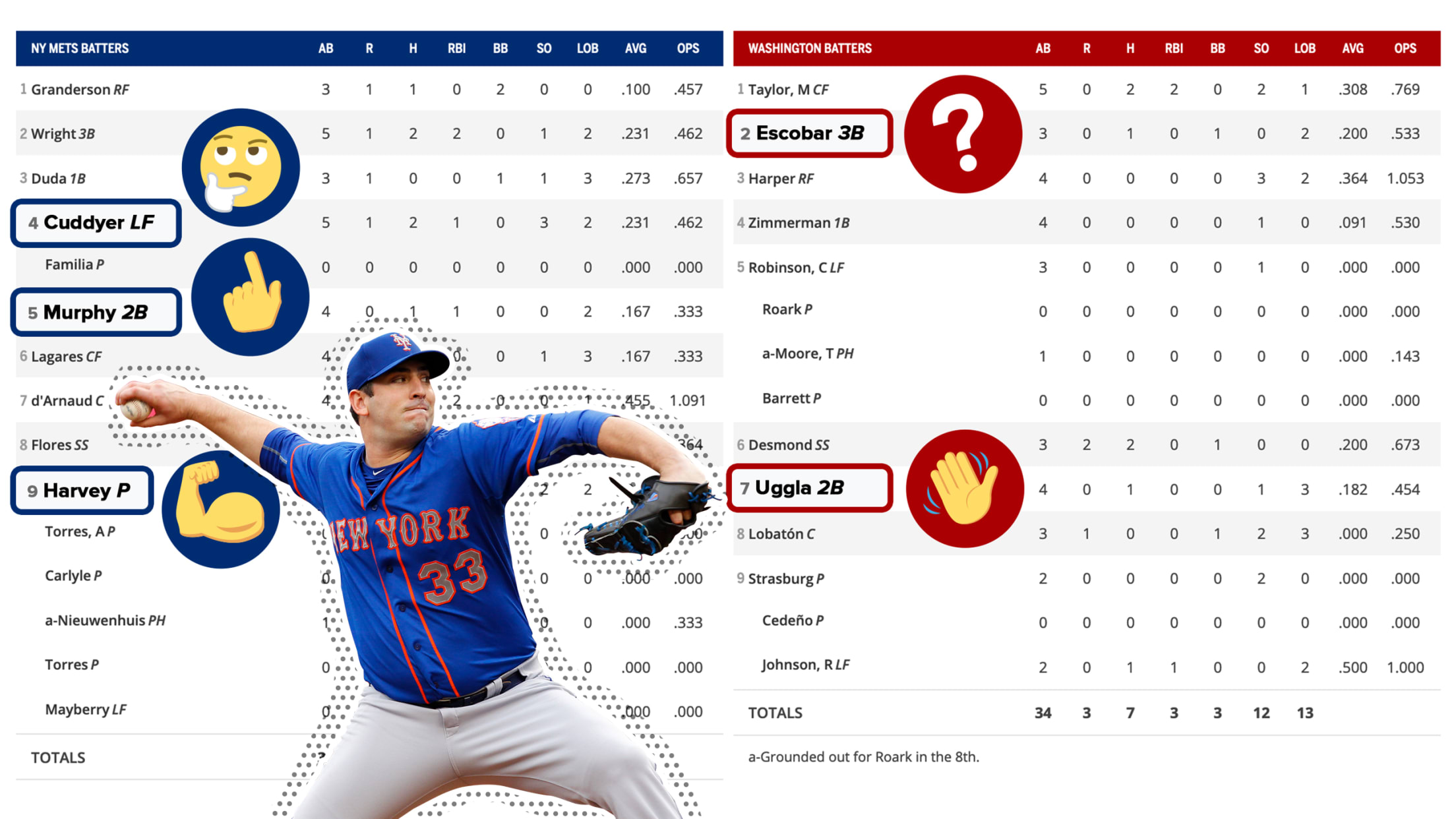 Think back to when Matt Harvey was the Dark Knight of Gotham, and Harvey Day was a holiday for Mets fans. Five years ago today was one of the best of them. The Mets' 2015 season ended with a wild run to the National League pennant and a roller-coaster loss
The best second baseman in every team's history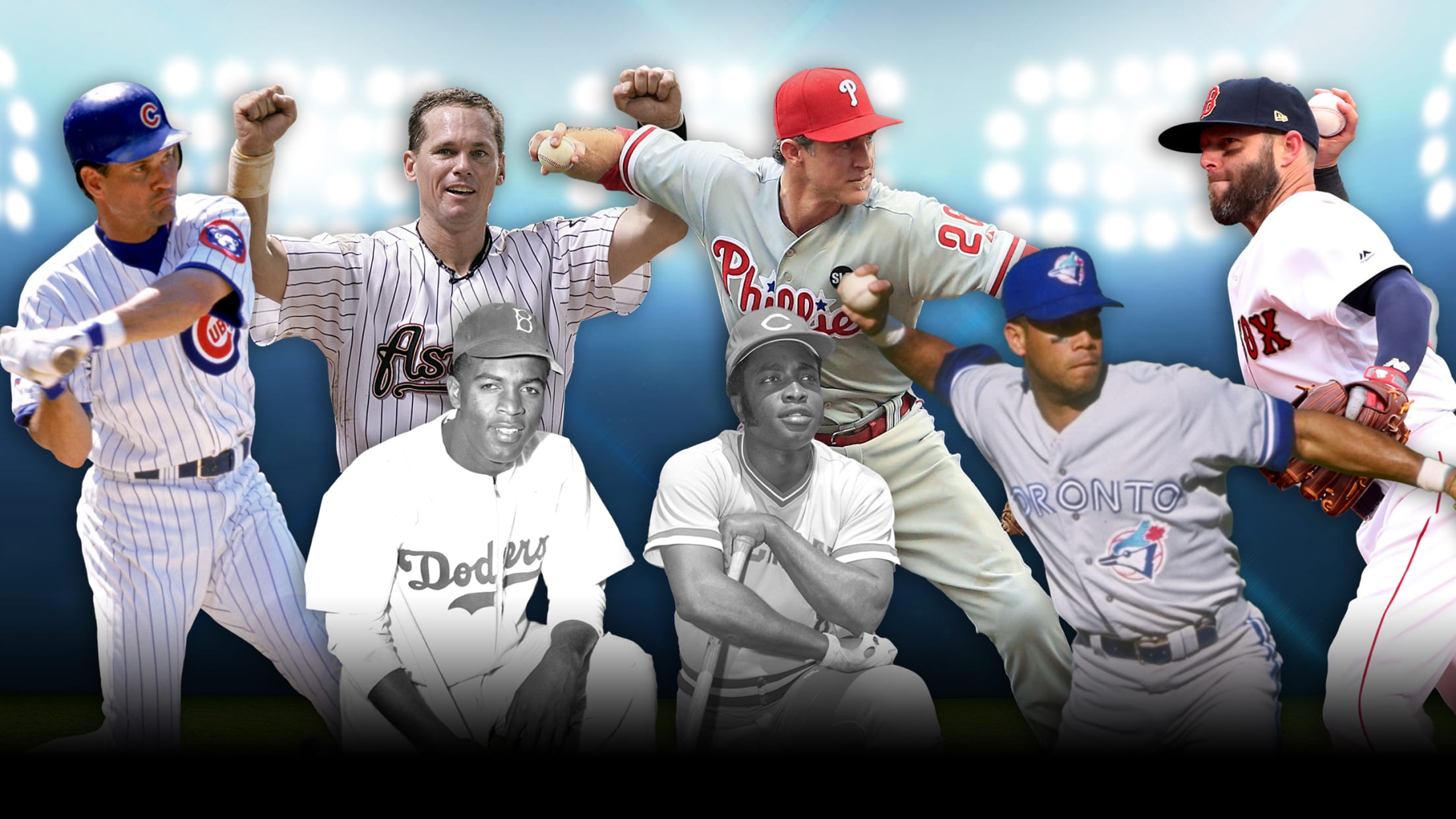 No one loves a good debate quite like baseball fans, and with that in mind, we asked each of our beat reporters to rank the top five players by position in the history of their franchise, based on each player's career with that franchise. With catchers and first basemen in
Hendriks family buys lunch for first responders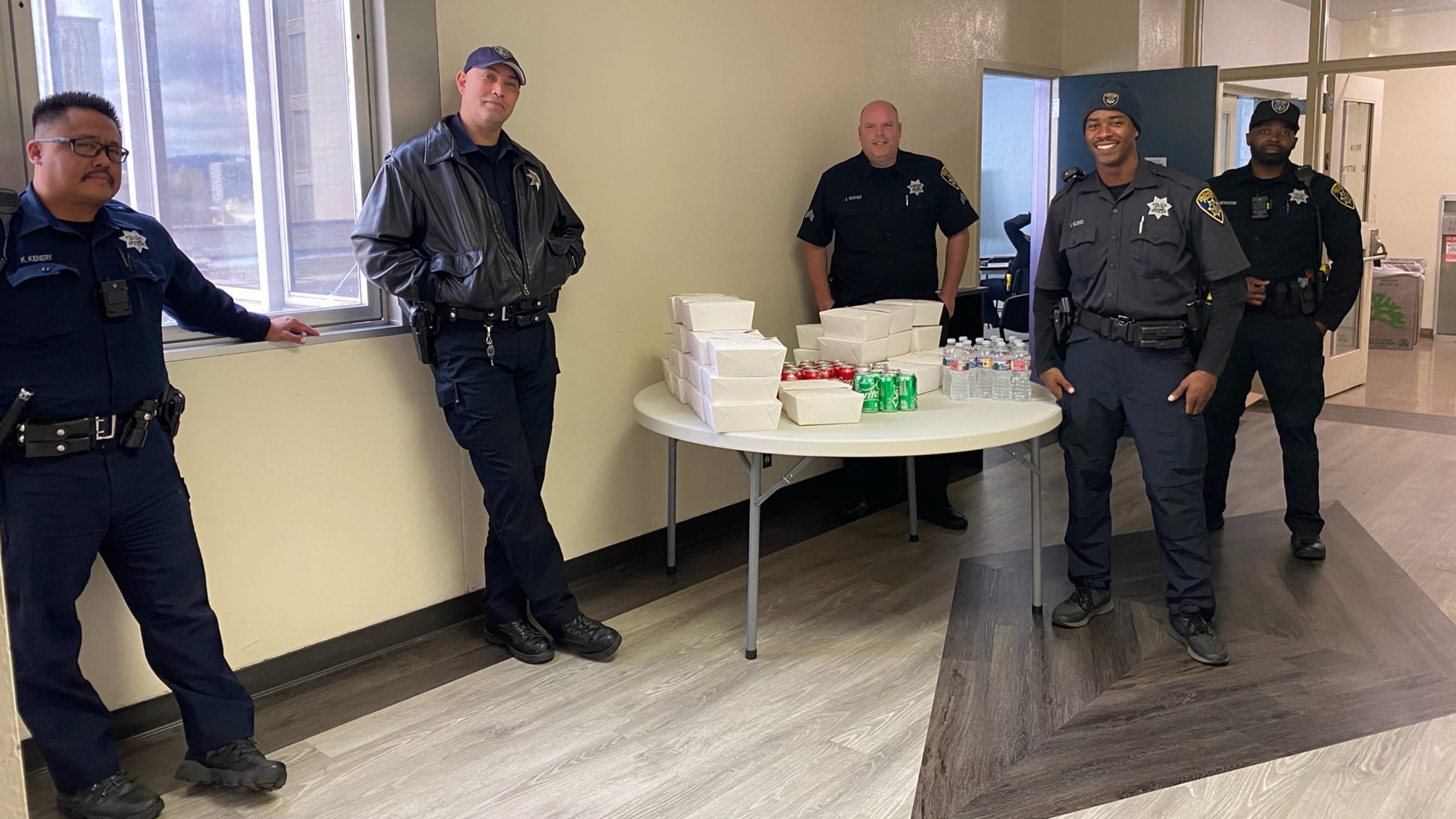 As impressive as Liam Hendriks has performed on the field for the A's, he's made quite a mark off the field as well with his charitable contributions. So it should come as no surprise that with the ongoing coronavirus pandemic that the All-Star closer is stepping up his efforts. Hendriks