Injury updates: Max, Sevy, Price, Eloy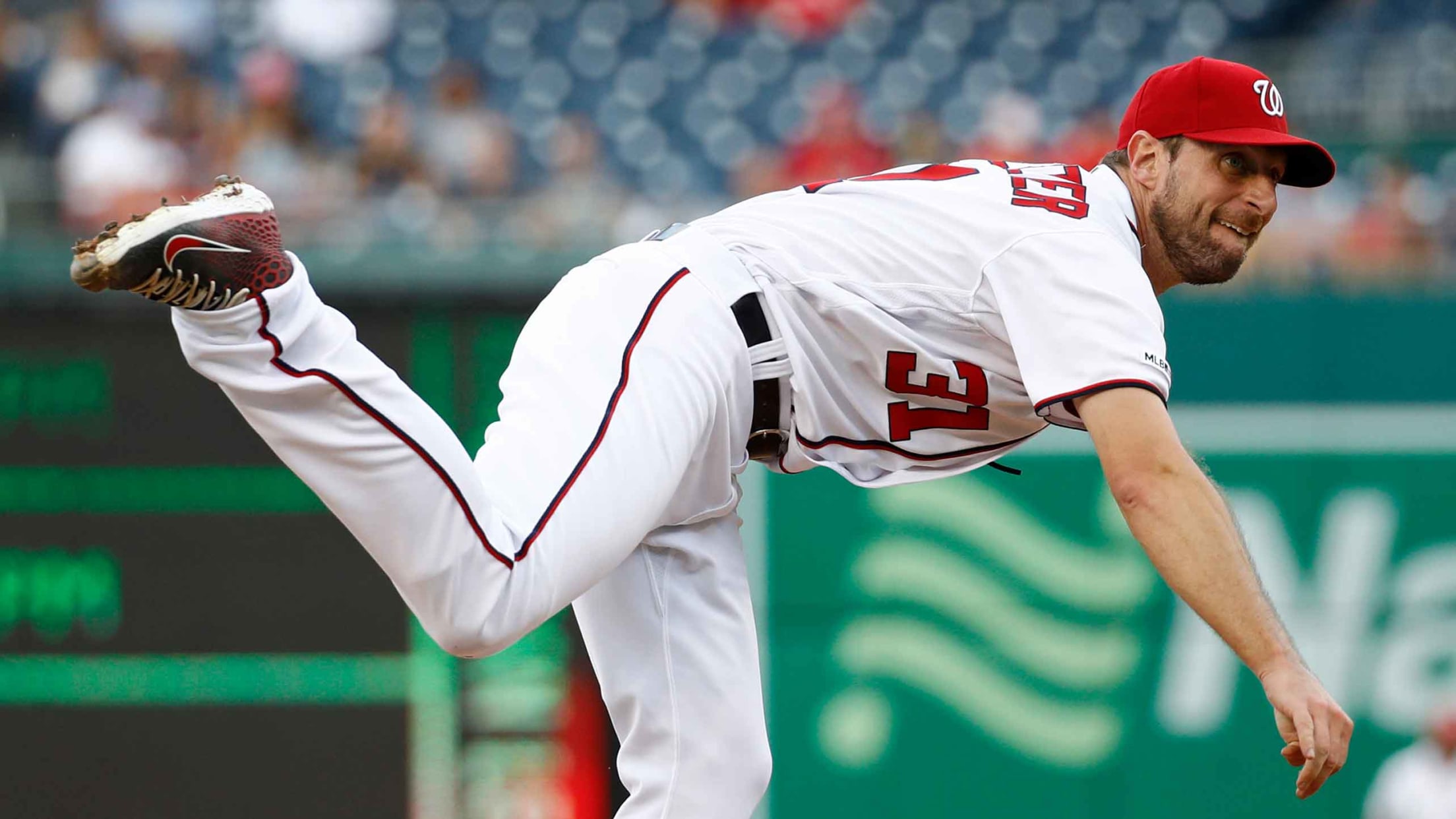 Here is the latest injury news from around Major League Baseball.
Here is the latest injury news from around Major League Baseball.
Max Scherzer and Joe Ross, Nationals
The good news from Scherzer on Friday morning was he was able to play catch without issue prior to the Nationals' series opener against the Cubs, keeping in line with his normal routine after a start. Scherzer was still not ready to put his battle with back and shoulder injuries completely behind him, however, maintaining that he was "not out of the woods" just yet. Scherzer returned from the injured list on Thursday to make just his second start since July 6.
After being struck by a sharp grounder off the bat of Josh Bell on Tuesday, Ross is ready to make his next turn in the rotation Saturday against the Cubs. More >
Luis Severino and Luke Voit, Yankees
Severino felt "really good" on Friday, according to manager Aaron Boone, one day after the rehabbing right-hander threw two simulated innings at the Yankees' complex in Tampa, Fla. Severino, who is now on a five-day routine to facilitate his return to the rotation, is expected to next throw another two innings totaling 30-35 pitches.
Voit (sports hernia) played first base on Friday for Triple-A Scranton/Wilkes-Barre at Lehigh Valley, his first Minor League rehab game as Voit attempts to rejoin the Yankees on Aug. 30. Voit is expected to play six innings on Friday, then serve as the designated hitter for nine innings on Saturday. More >
David Price and Michael Chavis, Red Sox
Price is still in play to make his return to the rotation in Southern California. However, it's not going to be San Diego this weekend.
A day after Price threw his third bullpen session within the span of a week at Fenway Park, manager Alex Cora announced that the lefty will throw a simulated game at Coors Field in Denver on Tuesday. This means that Price could be back next weekend, when the Red Sox play a three-game series against the Angels in Anaheim.
Chavis started a Minor League rehab assignment for Triple-A Pawtucket on Friday night, playing first base. He will stay with Pawtucket through the weekend, and there's a chance he could join the Red Sox for their upcoming series with the Rockies, which starts Tuesday night.
Chavis has been on the injured list since Aug. 12 with a sprained AC joint in his left shoulder. More >
Eloy Jimenez, White Sox
Jiménez missed a second straight game with right hip flexor soreness. Jimenez pronounced himself available, if necessary, on Friday but hoped for a Saturday return. The injury happened in his second at-bat Wednesday against the Twins. More >
Carlos Carrasco, Corey Kluber and Jordan Luplow, Indians
Carrasco (leukemia), who made two relief appearances for Double-A Akron this week, will continue to pitch in Minor League games for the time being.
Carrasco, who has pitched 2 2/3 scoreless innings for Akron, will throw around two innings for Triple-A Columbus on Sunday and, in all likelihood, he will make a couple more rehab appearances later in the week.
Kluber's schedule in his return from an oblique injury is two weeks off, then a re-examination to see if he's ready to throw, the Indians were having him get a second MRI as of Friday evening, just in case.
As for Luplow (strained right hamstring), he was running the bases on Friday and he will do so again on Sunday before the Indians determine what the next step in his rehab will be. More >
Willson Contreras, Cubs
Contreras, who has been on the 10-day injured list since Aug. 4 due to a right hamstring strain, has played catch and worked through running and agility drills for the past few days.
The Cubs are planning on having Contreras travel with the team on its upcoming trip to face the Mets in New York, where he might add more baseball activities to his program. There remains no firm timetable for Contreras' return to games or a target date for his activation. More >
Brian Anderson, Marlins
Anderson, a major piece of the Marlins' building process, will likely miss the rest of the season due to a fractured left hand.
The 26-year-old, who paces the club with 20 home runs and 66 RBIs, sustained the injury after being struck by a pitch in the third inning of the Marlins' 19-11 victory over the Phillies on Friday at Marlins Park.
An X-ray revealed a fractured fifth metacarpal bone. Anderson will be examined by a hand specialist on Monday and noted that recovery will be at least six weeks. More >
Robbie Ray, D-backs
Ray threw a successful bullpen session prior to Friday night's game against the Brewers.
Ray's successful bullpen session is the final hurdle before his potential return. While the team hasn't officially announced, all signs point to Ray, who was placed on the 10-day injured list on Aug. 15 with back spasms, making his return when he's eligible to, which means he would start on Sunday at Miller Park in the finale vs. Milwaukee. More >
Avisail Garcia, Rays
García rejoined the Rays in Baltimore on Friday and was activated from the injured list after the 7-1 win over the Orioles at Camden Yards.
Garcia wrapped up a minimum stay on the 10-day injured list with a right oblique strain. He required just one test game with Triple-A Durham to make sure he was back to 100 percent, which he feels is the case. A 2-for-3 performance while slotted in at right field Thursday seemed to back up that belief. More >
Byron Buxton and Eddie Rosario, Twins
Buxton could begin a rehab assignment in the coming days after successfully participating in a wide variety of baseball drills, including hitting off a velocity machine and running around at full speed. He also took batting practice during Thursday's off-day at Target Field.
He has been on the injured list since Aug. 3 with a left shoulder subluxation (partial dislocation) after crashing into the outfield fence at Marlins Park while attempting to catch a ball in the right-center-field gap. He had previously missed 10 games in late July with concussion-like symptoms.
Rosario's tight right hamstring showed no damage after the left fielder was removed from Wednesday's game as a precaution. He wasn't in Friday's lineup against the Tigers, but he took batting practice and Baldelli expected that he could be available for the game depending on the results of his pregame activity. More >
Dansby Swanson, Austin Riley and Darren O'Day, Braves
Swanson's previously bruised right heel did not create any discomfort when he went 3-for-4 while serving as a designated hitter for Class A Rome on Thursday night. Swanson will extend his rehab assignment by playing at least six innings at the shortstop position on Friday.
The Braves will evaluate Swanson on Saturday to get a better feel for when he will be ready to be activated. There's a chance the 25-year-old shortstop could be activated early next week, but the Braves want to give him time to regain his endurance and shake off the rust that has developed since he was placed on the injured list retroactive to July 24.
Riley began his rehab assignment by serving as Rome's designated hitter on Friday. Riley has not experienced any lingering discomfort since a MRI exam performed on Aug. 8 showed a partially torn ligament in his right knee. The young slugger will likely remain on his rehab assignment until rosters expand on Sept. 1.
O'Day recorded two strikeouts in a scoreless inning for the Gulf Coast League Braves on Friday. This was the first time O'Day pitched in a game since he strained his right forearm during his Spring Training debut on March 1. O'Day, currently on the 60-day injured list, is a possible September addition, but before making a decision, the Braves need to make sure he's healthy and that there is room on what has become a crowded 40-man roster. More >
Niko Goodrum, Tigers
Just as the Tigers breathed a sigh of relief that Goodrum was back from a groin injury, the versatile cleanup hitter is headed to the injured list after re-aggravating it on Friday. He left Detroit's 9-6 win against the Twins with a left groin strain. The Tigers will make a corresponding move on Saturday. More >
Felix Hernandez, Mariners
Hernández moving back into the rotation on Saturday, the Mariners are shifting veteran southpaw Wade LeBlanc into a long relief role in the bullpen and will stick with a five-man rotation for now, manager Scott Servais said Friday.
Hernandez will be making his first start for the Mariners since May 11 at Boston when he takes on the Blue Jays in Saturday's 6:10 p.m. PT game at T-Mobile Park. The 33-year-old right-hander has missed 3 1/2 months with shoulder issues, but has thrown four Minor League rehab outings in recent weeks. More >
Tomas Nido amd Jeff McNeil, Mets
The crack of Josh Donaldson's bat was violent enough for Donaldson to stick around near home plate, concerned for Nido's health. Braves first baseman Freddie Freeman also wandered over as a pair of Mets trainers checked on Nido.
Hours later, Mets manager Mickey Callaway said the team was still unsure of Nido's health following the Donaldson backswing that struck the catcher's helmet, forcing him to exit the Mets' 2-1 loss to the Braves in the sixth inning. More >
McNeil continued his Minor League rehab assignment on Friday, shifting his work from Triple-A Syracuse to Class A Short-Season Brooklyn as a way to stay local. As has been his custom in the Majors, McNeil opened the night for the Cyclones with a single. The Mets planned to give him time at third base in the game, as well.
Although Callaway wouldn't say if the Mets might activate McNeil when he's first eligible on Saturday, there doesn't appear to be any obvious reason to continue his rehab assignment. McNeil went just eight days between live games after landing on the injured list Aug. 14 with a strained left hamstring. More >
Juan Nicasio, Phillies
Nicasio left Friday night's game after throwing only two pitches in the third inning of Philadelphia's 19-11 loss at Marlins Park as a precautionary measure because of soreness in his right shoulder. More >
Brandon Woodruff, Jhoulys Chacin and Jimmy Nelson, Brewers
Woodruff was scheduled to throw from 120 feet on Friday afternoon, a milestone in that it is the final distance of flat-ground throwing prior to a pitcher getting back on a mound. Woodruff is itching to do so as he continues a comeback from a left oblique injury.
He will have to navigate several throwing sessions from that distance before he's cleared to get on a mound, but it's progress.
Chacin said he expects to throw two simulated innings totaling 45-50 pitches on Saturday. He is on the injured list with a right lat strain.
Nelson is "absolutely" a candidate for a September callup, manager Craig Counsell said on Friday, a day after Nelson struck out five batters without allowing a walk or a hit in three innings for Triple-A San Antonio. Nelson, who struggled for the Brewers after returning from a long rehab following shoulder surgery, has been unscored upon in five of his last six appearances. More >
Austin Gomber, Cardinals
Gomber (left biceps injury) will throw an inning for Class A Advanced Palm Beach on Friday night as he begins to work his way back to the Cardinals. The maximum amount of pitches Gomber throws will hover around 25. The Cardinals hope to have him back as a reliever in September.
Gomber hasn't pitched in a game since May 13 with Triple-A Memphis. More >
Clay Buchholz and Ryan Tepera, Blue Jays
Buchholz is expected to be activated from the 60-day injured list Sunday to make his first start since May 5.
Buchholz has been battling a Grade 2 teres major muscle strain in his upper back, but recently made three rehab starts -- two games in the Gulf Coast League before his final outing for Class A Advanced Dunedin, in which he allowed one run over four innings while striking out seven on 67 pitches.
Tepera is also on his way back and has been promoted to Triple-A Buffalo to continue his rehab from right elbow surgery. Tepera last pitched for the Blue Jays on May 20. He posted a 6.55 ERA over 11 innings in 12 outings for the big league club, and has made two rehab outings over the past week. More >