Injury updates: Kershaw, Fulmer, Severino, Darvish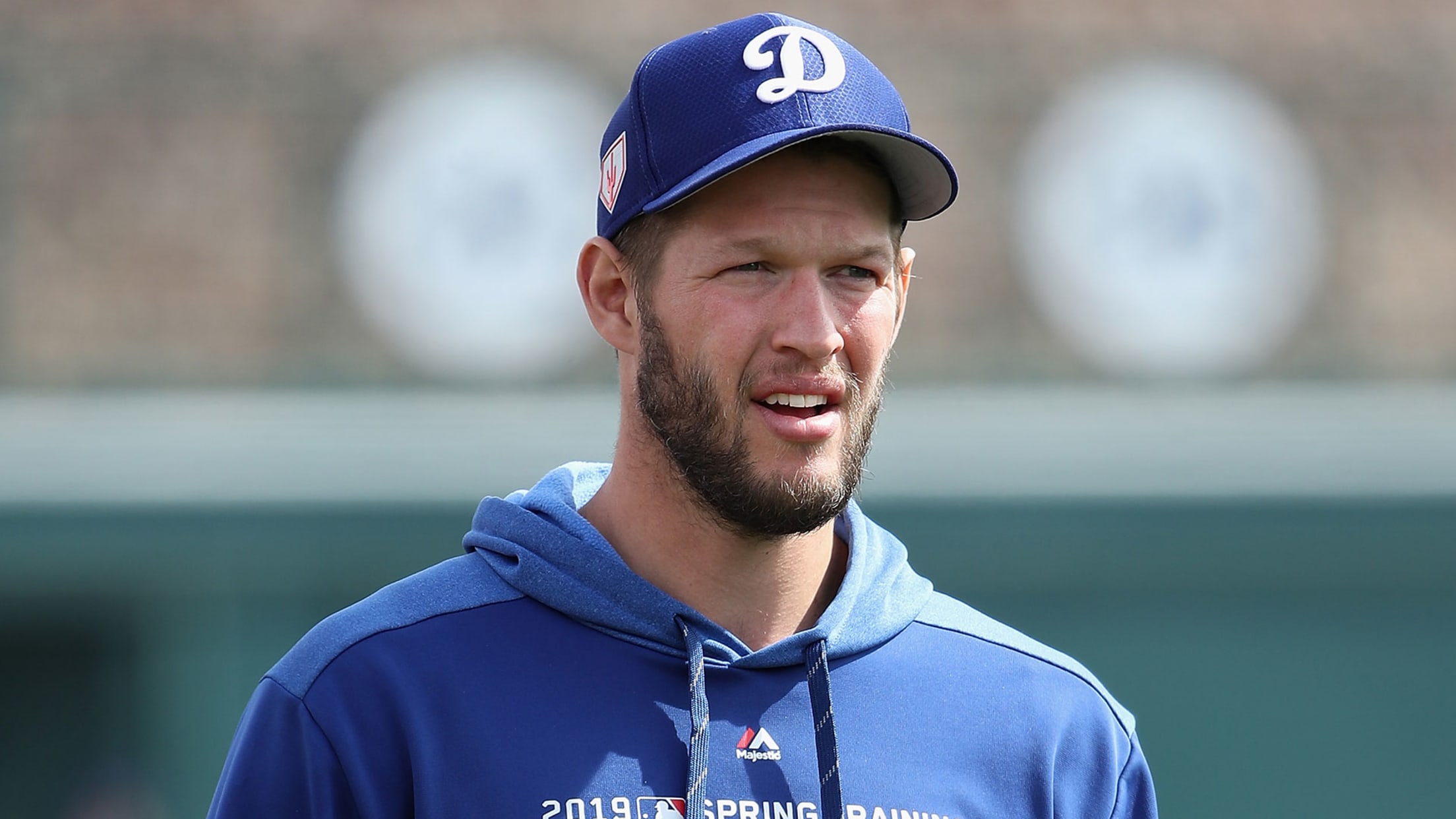 Here's a roundup of the latest injury news around the Majors. Clayton Kershaw, Dodgers After throwing a 22-pitch "inning" to batters Joc Pederson, Max Muncy and David Freese -- who tracked pitches and didn't swing -- Kershaw conceded the shoulder injury he suffered last month did more than just interrupt
Here's a roundup of the latest injury news around the Majors.
Clayton Kershaw, Dodgers
After throwing a 22-pitch "inning" to batters Joc Pederson, Max Muncy and David Freese -- who tracked pitches and didn't swing -- Kershaw conceded the shoulder injury he suffered last month did more than just interrupt his training.
"I haven't had a Spring Training yet, so I got to go through it all," said Kershaw. "It's tedious and boring, but hopefully it pays off with a healthy season."
Kershaw had already been named the Dodgers' Opening Day starter for a ninth consecutive time when he developed left shoulder inflammation. He stopped throwing long enough for medication to take effect, and he's resumed a methodical throwing program. More >
Michael Fulmer, Tigers
After seeking three separate opinions on his sore right elbow, Fulmer revealed Wednesday that he will undergo Tommy John surgery to repair the damaged ulnar collateral ligament.
Fulmer has not yet scheduled the surgery or picked the surgeon. Dr. James Andrews performed surgery to reposition the ulnar nerve in his elbow in 2017, as well as surgery last fall to repair a torn meniscus in his right knee.
Fulmer, who called the news "a punch to the gut," is expected to miss the entire 2019 season and likely the start of 2020 as well. More >
Luis Severino, Yankees
Severino reported no issues after making 25 tosses at a distance of 60 feet on Wednesday morning at George M. Steinbrenner Field, marking the right-hander's first on-field action in two weeks. He said his mechanics felt "a little bit off" due to the layoff, but there were no signs of the discomfort that prompted him to be scratched from a March 5 Grapefruit League game against the Braves.
Severino also said that he is scheduled to play catch again on Thursday, increasing the number of throws to 50, then he will take Friday off. Yankees general manager Brian Cashman has said that Severino will be unavailable to pitch in a big league game before May 1. More >
Yu Darvish and Daniel Descalso, Cubs
Darvish, who exited Tuesday's start against the Mariners after the blister impacted the inside of his right ring finger in the fifth inning, played catch Wednesday with no issues. His next test will be a bullpen session Friday. After that, Chicago will have a better gauge as to whether the starter will need more healing time.
Descalso tested his left shoulder with some light hitting during the team's workouts on both Tuesday and Wednesday. Cubs manager Joe Maddon said the veteran utility man is on the cusp of being cleared to get some game at-bats and there is growing optimism that Descalso will be ready for Opening Day. More >
Francisco Lindor, Indians
On Wednesday, Indians manager Terry Francona said that Lindor had been out running the bases that morning at a pretty decent effort. Although he may not have been at top speed, Lindor said he went on to play in the Minor League game, running at nearly 100 percent.
The only thing left for him to accomplish is playing in a Major League game. More >
David Price and Steven Pearce, Red Sox
Scratched from his last start because of an illness, Price is going to throw "an aggressive bullpen" on Thursday, according to manager Alex Cora. Price will no doubt make the Opening Day roster, and Cora will put him in position to get ready for that.
Pearce took batting practice inside today and will most likely hit off Minor League pitching Thursday. He left Sunday's split-squad game against the Pirates with a left calf strain. More >
Jesus Luzardo, A's
Luzardo has been shut down for four to six weeks after straining a muscle in his left shoulder. Oakland's top prospect and the top left-handed pitching prospect in baseball, according to MLB Pipeline, was very impressive in Cactus League play, posting a 0.93 ERA over 9 2/3 innings, striking out 15. More >
Joey Gallo, Rangers
Gallo remains sidelined with a strained right groin muscle, but he's doing full baseball activities, including batting practice. He remains confident that he'll be ready for Opening Day.
Gallo has just 29 at-bats in Spring Training, but will be able to get extra work in Minor League games on the back fields if needed. He is hoping to play in Sunday's exhibition game at Nashville and the final two spring games against the Indians on Monday and Tuesday in Arlington. More >
Rhys Hoskins, Phillies
Hoskins said there is no reason to worry, but he is battling "mild" soreness in his left shoulder. He is expected to be in the Opening Day lineup on March 28.
Hoskins said he first felt something after taking an "awkward swing" Sunday. An MRI exam Tuesday showed no structural damage. More >
Gregory Polanco, Elias Diaz, Chad Kuhl, Edgar Santana and Jacob Stallings, Pirates
Working his way back from surgery in September to repair the labrum in his left shoulder, Polanco is increasing the intensity of his defensive drill work and could play the outfield in a Minor League spring game early next week.
Polanco has been hitting without restrictions since January and recently began DHing in simulated games and Minor League camp games. He is now throwing from 150 feet. He won't get into a Major League Spring Training game before the Pirates break camp, but playing right field in any capacity is an obvious step in the right direction.
Diaz, who missed two weeks of camp due to a virus, has resumed full baseball activities. He is now beginning a modified Spring Training program, which means he could be ready to join Pittsburgh's active roster in a few weeks if all goes well. Diaz will begin the season on the injured list and won't get into any Major League spring games before the Pirates break camp.
Kuhl and Santana, who will sit out all season following Tommy John surgery, are playing catch from 90 feet and feeling good as they work through their throwing program. More >
Stallings left Wednesday's game early as a precaution after experiencing neck tightness following his at-bat in the second inning. Stallings, who will be further evaluated by the training staff, was replaced by Steven Baron in the top of the fifth inning. More >
Matt Carpenter and Jedd Gyorko, Cardinals
Cardinals manager Mike Shildt described Carpenter (back tightness) as "moving around better" on Wednesday and said the club expects to see him back in Grapefruit League action before it departs Florida on Sunday.
That's unlikely to be the case for Gyorko (right calf strain), who is targeting Sunday as a possible return date to action on the back fields. By getting work in Minor League games, he can have a potential stint on the injured list backdated. More >
Ryan Tepera and John Axford, Blue Jays
The Blue Jays' bullpen was dealt a potentially serious blow Wednesday morning when it was revealed that both Tepera and Axford are experiencing right elbow soreness.
Tepera and Axford were evaluated earlier this week, and the test results are expected to be announced Thursday morning. Toronto is remaining vague on the details until the full diagnosis is known, but internally there is obvious concern. More >
Andrew Heaney, Angels
Heaney has continued his throwing program after sustaining left elbow inflammation that will cause him to open the season on the injured list. Manager Brad Ausmus said he's optimistic Heaney won't miss much time early in the season. More >
Taijuan Walker, D-backs
Walker felt fine Wednesday after throwing a 20-pitch bullpen session Tuesday, his first since undergoing Tommy John surgery last May. He is currently on the 60-day injured list and is hoping to return by June. More >