Injury updates: Goldy, Piscotty, Céspedes, Hamels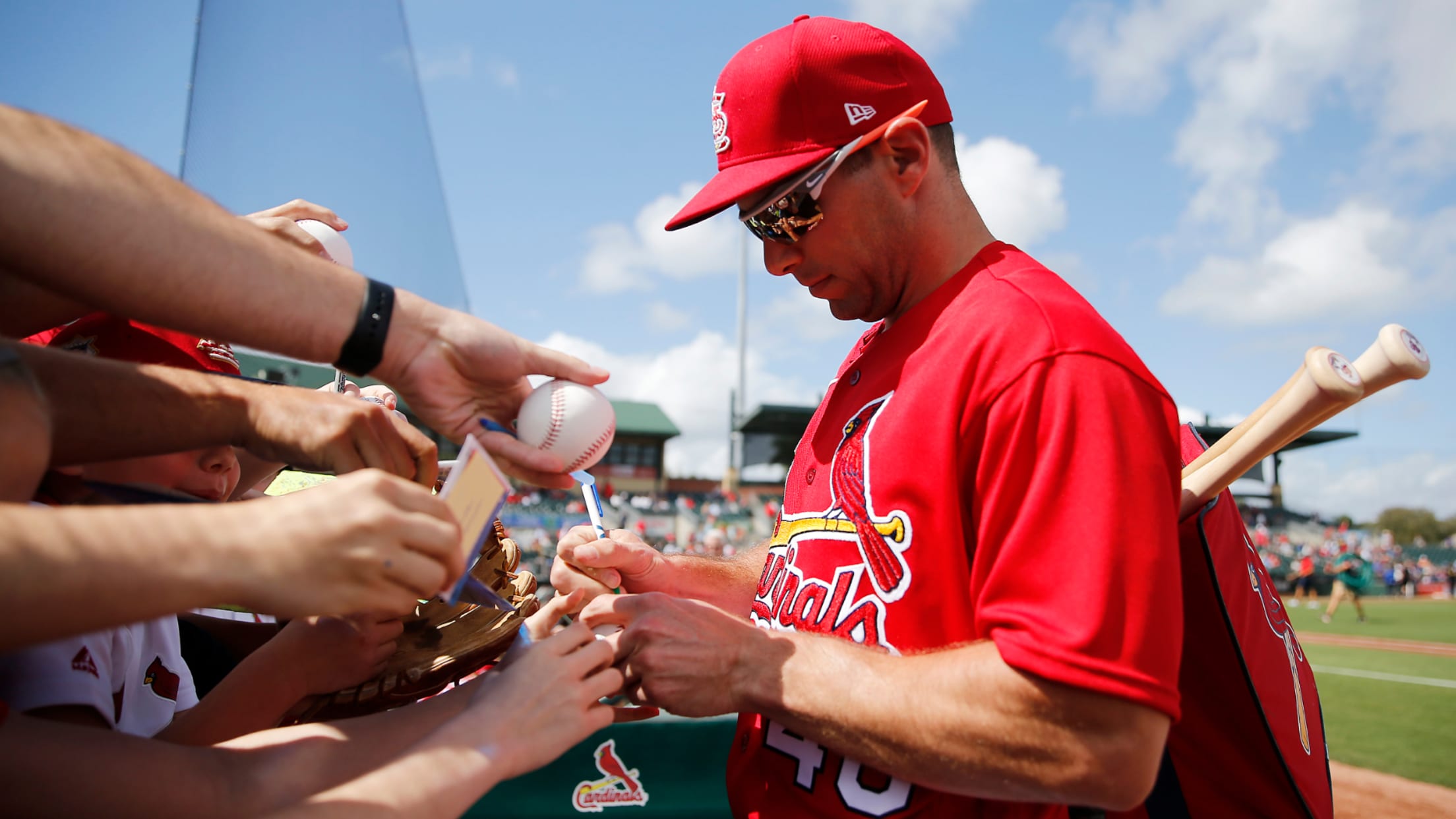 Here is the latest injury news from around Major League Baseball.
Here is the latest injury news from around Major League Baseball.
Paul Goldschmidt, Cardinals
Goldschmidt (right elbow soreness) threw from a distance of 120 feet Monday, and was in the Cardinals' lineup as the designated hitter for the second time in three days. Manager Mike Shildt did not give a timetable for Goldschmidt's return to first base, saying the club wants to be sure he is fully healthy before sending him out onto the field. More >
Stephen Piscotty, Athletics
Piscotty is dealing with a rib cage issue, and remains day-to-day.
"He's still trying to get through it," manager Bob Melvin said of Piscotty before Monday's game against the Brewers. "The last thing you want to do is reinjure something in your rib cage. He's had good days and other days where he's sore. Sometimes it's difficult to differentiate between the soreness in there and what is pain. Whether it's a couple more days or whatever, we'll see." More >
Yoenis Céspedes, Mets
The slugger broke his media silence Sunday morning to make a big proclamation: He intends to be ready to play for the Mets on Opening Day.
Céspedes said his heels and ankles feel "good" and that he is "happy with the progress." He would not discuss the wild boar accident that resulted in his broken ankle. More >
Cole Hamels, Braves
Atlanta is also remaining patient with Hamels as he recovers from shoulder inflammation. Hamels has received treatment while recuperating near his Dallas-area home over the past couple weeks. He is expected to be re-evaluated in early March. More >
Mike Soroka, Braves
Soroka said he felt "awesome" following a live batting practice session on Monday, easing any concerns about the right-hander's status moving forward. The 22-year-old Atlanta ace had been scheduled to start Sunday, but the Braves opted to push him back a few days after he tweaked his right adductor muscle while throwing a live BP session last week. Soroka is expected to make his spring debut on Friday against the Yankees, putting him back on track for his expected Opening Day assignment. More >
Khris Davis, A's
Davis will be held out a few extra days before making his Cactus League debut. The A's slugger is dealing with a mild left calf strain, manager Bob Melvin revealed before Sunday's game against the Giants. Davis expects to play Tuesday when the club travels to Peoria for a game against the Padres. More >
James Paxton, Luis Severino and Aaron Judge, Yankees
Paxton is well ahead of schedule in his rehab from surgery to remove a cyst from his back, and instead of the initial four- to six-month timetable given for his return to the mound, that could be shortened to as little as six weeks if he starts throwing in 10 days, which he said he is optimistic about. It comes as great news after a week of bad news on the starting pitching front. More >
Severino has been shut down indefinitely with soreness in his right forearm, an issue that the hurler said first affected him following his Game 3 start against the Astros in last year's American League Championship Series. The righty was evaluated by team physician Dr. Christopher Ahmad on Friday and is scheduled to travel to New York on Monday for a battery of tests at New York-Presbyterian Hospital. More >
Judge resumed hitting drills in the indoor batting cages on Friday, and took 50 swings off a tee before throwing at a distance of 90 feet Saturday, manager Aaron Boone said. Judge has been proceeding deliberately after experiencing right shoulder soreness while taking swings at the Yanks' Minor League complex earlier this month.
"We'll be conservative with how we build him up hitting," Boone said. "We won't rush him, but he's fine." More >
Shohei Ohtani, Angels
Ohtani had a light bullpen session on Sunday, throwing 20 times off a mound. He'll continue his progression to full bullpen sessions, which will begin in mid-March. He's still slated for a return to the mound with the Angels in mid-May. He'll remain available as a designated hitter until he's ready to pitch. More >
Lucas Giolito and Gio González, White Sox
Chicago's ace got a bullpen session in despite the White Sox first Spring Training game being rained out Saturday in Arizona. Giolito said he is no longer feeling any of the discomfort from the chest muscle he strained in January, stating he's been pain-free since beginning his throwing program. More >
As for González (left shoulder discomfort), the left-hander threw some curveballs and changeups during his long-toss and flat-ground throwing sessions on Sunday and is on track to throw a side session by the end of the week. More >
Chris Sale and Dustin Pedroia, Red Sox
Sale continues to progress after an illness led to his late arrival in camp. The lefty threw a bullpen session on Sunday in Fort Myers. Manager Ron Roenicke and pitching coach Dave Bush hope to meet with Sale on Monday to outline his program for the rest of Spring Training. That could be the determining factor in whether Sale is ready to pitch Opening Day.
Meanwhile, the Red Sox placed Pedroia on the 60-day injured list Sunday. The second baseman is still in shutdown mode after having a significant setback with his problematic left knee in late January, and there are currently no plans for him to report to Spring Training. More >
Luis Urías, Brewers
Urías was cleared to begin ramping up for the 2020 season after a smooth follow-up appointment Friday regarding his surgically repaired hamate bone in his left hand. The Brewers' offseason acquisition has been limited to running the bases until this point, but he played catch Friday and will now progress toward hitting off a tee. More >
Brendan Rodgers, Rockies
Colorado's top prospect (and MLB's No. 29 overall, per MLB Pipeline) is progressing faster than expected as he rehabs his surgically repaired right shoulder labrum. Rodgers said he is tentatively scheduled to be the designated hitter for the Rockies' March 3 matchup against the Cubs, and he is not ruling out a full return on Opening Day. His original target date was to return some time in May. More >
Brendan McKay, Rays
McKay said he felt "really good" after throwing from 120 feet on Friday. He was shut down from throwing Tuesday and Wednesday due to left shoulder stiffness, but is now tentatively scheduled to throw a bullpen session on Sunday. More >
Carlos Carrasco and Mike Clevinger, Indians
Carrasco was moving around without a crutch Saturday as he continues to progress in the right direction. The Tribe seemingly dodged a bullet Friday, when tests revealed that Carrasco merely suffered a mild strain of his right hip flexor and is listed as day-to-day. More >
Meanwhile, Clevinger has already moved on from his crutches and is moving around pretty seamlessly on his surgically repaired knee. More >