Thursday's best: Puk, Lauer dominate in Double-A duel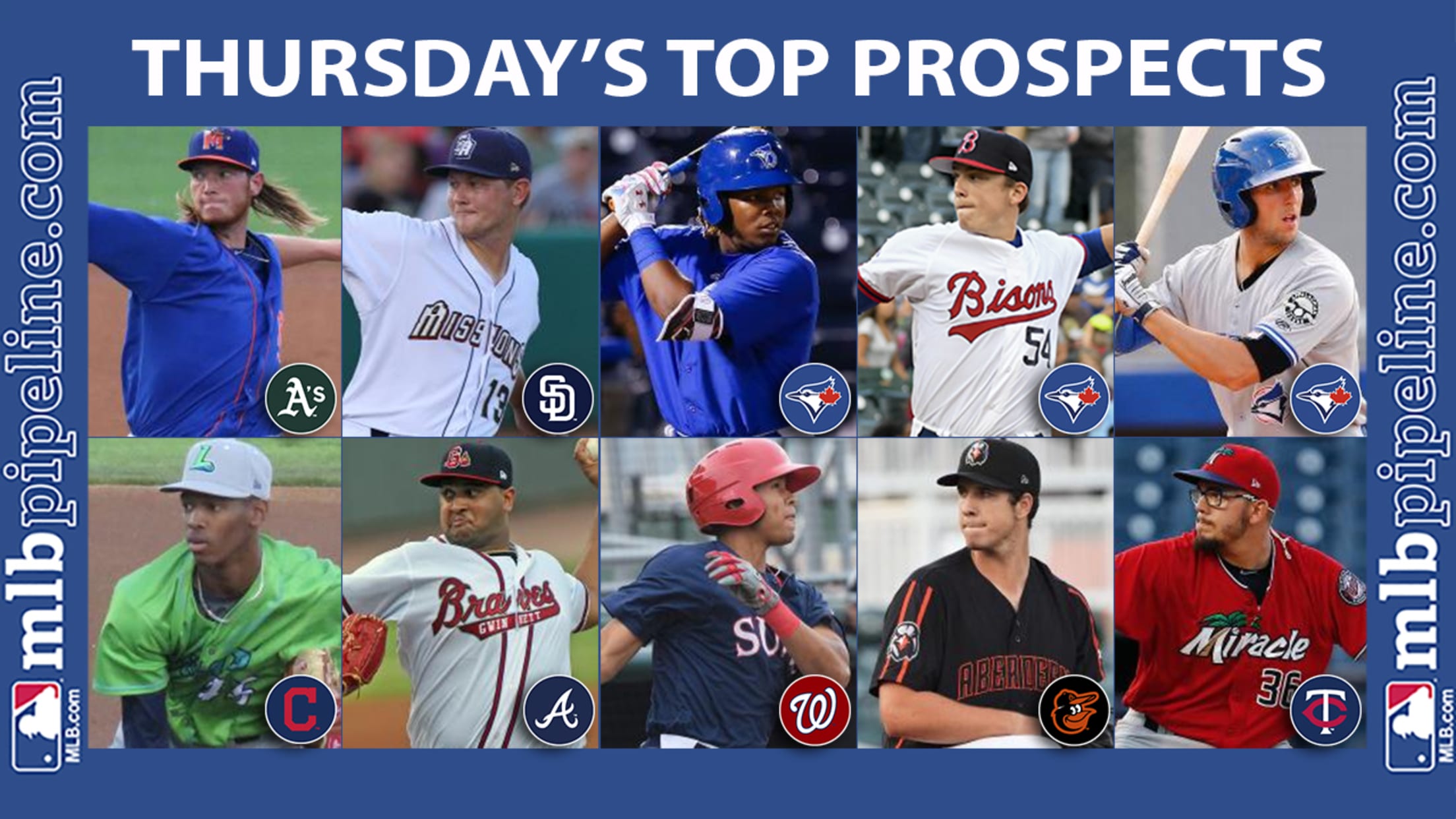 Fans in the Texas League were treated to a pitchers duel between 2016 first-rounders A.J. Puk and Eric Lauer on Thursday night, and neither left-hander disappointed in his final regular-season start.Puk, Oakland's No. 2 prospect and No. 39 on MLBPipeline.com's Top 100, was a tough-luck loser for Double-A Midland despite
Fans in the Texas League were treated to a pitchers duel between 2016 first-rounders A.J. Puk and Eric Lauer on Thursday night, and neither left-hander disappointed in his final regular-season start.
Puk, Oakland's No. 2 prospect and No. 39 on MLBPipeline.com's Top 100, was a tough-luck loser for Double-A Midland despite matching a career high with 13 strikeouts. He allowed two unearned runs on seven hits in six innings as the RockHounds fell to San Antonio, 5-0.
"I thought I had pretty good command of my fastball today," Puk told MiLB.com. "That helps a lot because that sets up all of my pitches. I felt that anytime, wherever I needed to put the ball, I was able to put it there.
"It's just a matter of executing pitches and getting ahead of hitters," Puk said. "It's about keeping them on the defense, and then you can do what you want with them. ... Everything was kind of just clicking. I've been like that through the month of August. I was able to get ahead of those hitters and all my pitches felt good from the start. That helps a lot."
MILB Video - Title: Puk records 13th strikeout - Url: http://www.milb.com/r/video?content_id=1795666283
The double-digit strikeout performance was Puk's fourth this season and his second in 13 starts with Midland. He last accomplished the feat on Aug. 3, when he punched out 13 batters over 6 2/3 innings in a no-decision.
Altogether, Puk, the sixth-overall Draft pick in 2016, has pitched to a 4.03 ERA in 125 innings (27 games/24 starts) across two levels in his first full season. He's permitted three home runs and a .227 average while piling up 184 strikeouts, third-most among Minor Leaguers.
As for Lauer, the Padres' No. 8 prospect carried a perfect game into the sixth inning for the Missions en route to completing seven one-hit frames. He struck out nine, one shy of his career-best mark, and generated another nine outs on the ground, throwing 63 of his 93 pitches for strikes in the outing.
MILB Video - Title: Lauer pitches seven scoreless - Url: http://www.milb.com/r/video?content_id=1795708083
"He was throwing a no-hitter for almost six innings there," Puk said of Lauer. "I just try to go out there after seeing a pitcher do that well and he's throwing up zeros, and I want to go out there and match him and put up zeros too."
Like Puk, Lauer, whom San Diego selected 25th overall last year, has enjoyed success across two levels in his first full season, posting a 3.30 ERA with 132 strikeouts and 36 walks in 122 2/3 innings between San Antonio and Class A Advanced Lake Elsinore.
Other top prospect performances from Thursday's action:
• No. 6 overall prospect Vladimir Guerrero Jr. (Blue Jays' No. 1) delivered a go-ahead two-run homer in the top of the ninth inning to lead Class A Advanced Dunedin past Clearwater, 5-3, and into the Florida State League playoffs via a Wild Card berth. The home run was the 18-year-old third baseman's 13th of the season and sixth in the FSL, where he's now batting .340/.455/.509 with 34 walks and 26 strikeouts through 45 games.
• No. 24 overall prospect Triston McKenzie (Indians' No. 2) pushed his Minor League-leading strikeout total to 186 with his sixth double-digit strikeout performance this season for Class A Lynchburg. The 21-year-old righty racked up 10 strikeouts without issuing a walk over seven innings, allowing one run on five hits. Named the Carolina League Pitcher of the Year earlier in the day, McKenzie sports a 3.46 ERA and a 1.05 WHIP across 143 innings (25 starts) this season, during which he's held opposing hitters to a .203 clip.
"I'm feeling really good, just kind of glad I went out there and competed for my team and gave us an opportunity to win," McKenzie told MiLB.com. "It's just kind of being on the same page as my catcher [Martin Cervenka] and being on the same page as my coach [Rigo Beltran]. It's going out there with an intensity from pitch one.
"I'd say it's a big part of my success right now," the right-hander said of working with Cervenka. "It aids in different things, especially with my game, speed of play and stuff like that. It kind of lets me focus less on what pitches to call and more on just executing the pitches he puts down."
• No. 93 overall prospect Luiz Gohara (Braves' No. 93) struck out seven over five scoreless innings for Triple-A Gwinnett en route to his second win in as many starts. He allowed three hits and walked two in the performance, with 57 of his 85 pitches finding the strike zone. Meanwhile, the 21-year-old lefty recorded all 15 of his outs either via a strikeout (seven) or a ground ball (eight).
• Nationals No. 11 prospect Blake Perkins went 3-for-4 with a two-run home run and scored three runs out of the leadoff spot to pace Class A Hagerstown in a 9-6 win over Delmarva. The homer was the eighth of the season for the 20-year-old switch-hitter, and he boosted his slash line to .255/.356/.379 with the three-hit effort. Perkins' 103 runs scored and 71 walks both pace the South Atlantic League, and he's also gone 31-for-39 on the basepaths.
• Orioles No. 14 prospect Cameron Bishop once again was nearly untouchable in a start for Class A Short Season Aberdeen, as he yielded just one hit while striking out five in six scoreless innings en route to his first professional win. The 2017 26th-rounder has dominated over his seven starts in the New York-Penn League, posting a 0.85 ERA and a .157 batting average against with 34 strikeouts in 31 2/3 innings.
• Blue Jays No. 14 prospectRyan Borucki made it look easy in his Triple-A debut, scattering six hits over six scoreless innings in a no-decision for Buffalo. He issued one walk and struck out six before departing after 85 pitches (54 strikes). Borucki was promoted to the International League after making seven dominant Double-A starts during which he registered a 1.94 ERA and a 0.84 WHIP in 46 1/3 innings with New Hampshire. Overall, the 23-year-old lefty has made 21 quality starts in 26 turns this season across three levels.
MILB Video - Title: Bisons Pitcher Borucki - Url: http://www.milb.com/r/video?content_id=1796496783
• Twins No. 15 prospect Lewis Thorpe posted a career-high 11 strikeouts over seven innings in a no-decision for Class A Advanced Fort Myers. The 21-year-old left-hander allowed two runs (one earned) on five hits while throwing 66 of his 91 pitches for strikes. After missing all of 2015-16 due to injury, he has returned to the mound this season to post a 2.93 ERA with 91 strikeouts over 83 innings in the Florida State League.
• Blue Jays No. 25 prospect Kevin Smith went 3-for-5 with a career-high six RBIs, plating half of the 12 runs scored by Rookie-level Bluefield in a victory over Johnson City. The 21-year-old shortstop drove in a pair with each of his hits, connecting on a home run in the first inning before delivering a pair of singles in his final two trips to the plate. A fourth-round pick in June, Smith has opened his career by slashing .271/.312/.466 with eight homers and 25 doubles in 61 games.
• Cubs No. 28 prospect Bryan Hudson allowed one unearned run on three hits over a career-high 7 2/3 innings in Class A South Bend's win over West Michigan. The 6-foot-8 southpaw threw 58 of his 94 pitches for strikes, compiling four strikeouts and two walks. Hudson also generated 13 ground-ball outs in the performance, continuing a trend that's seen the 20-year-old record more than three times as many ground outs as air outs over 124 1/3 innings (24 starts) in 2017.
• Red Sox No. 30 prospect Hildemaro Requena fired two-hit ball and struck out six in six innings in his fourth straight scoreless start for Class A Greenville. The 20-year-old righty has worked 25 innings during that stretch, allowing 11 hits and seven walks while fanning 22. Shifted from the bullpen to the rotation in July, Requena is 7-0 with a 0.59 ERA and a 0.89 WHIP in his eight starts for the Drive.