First round's finest: Best pick ever at each slot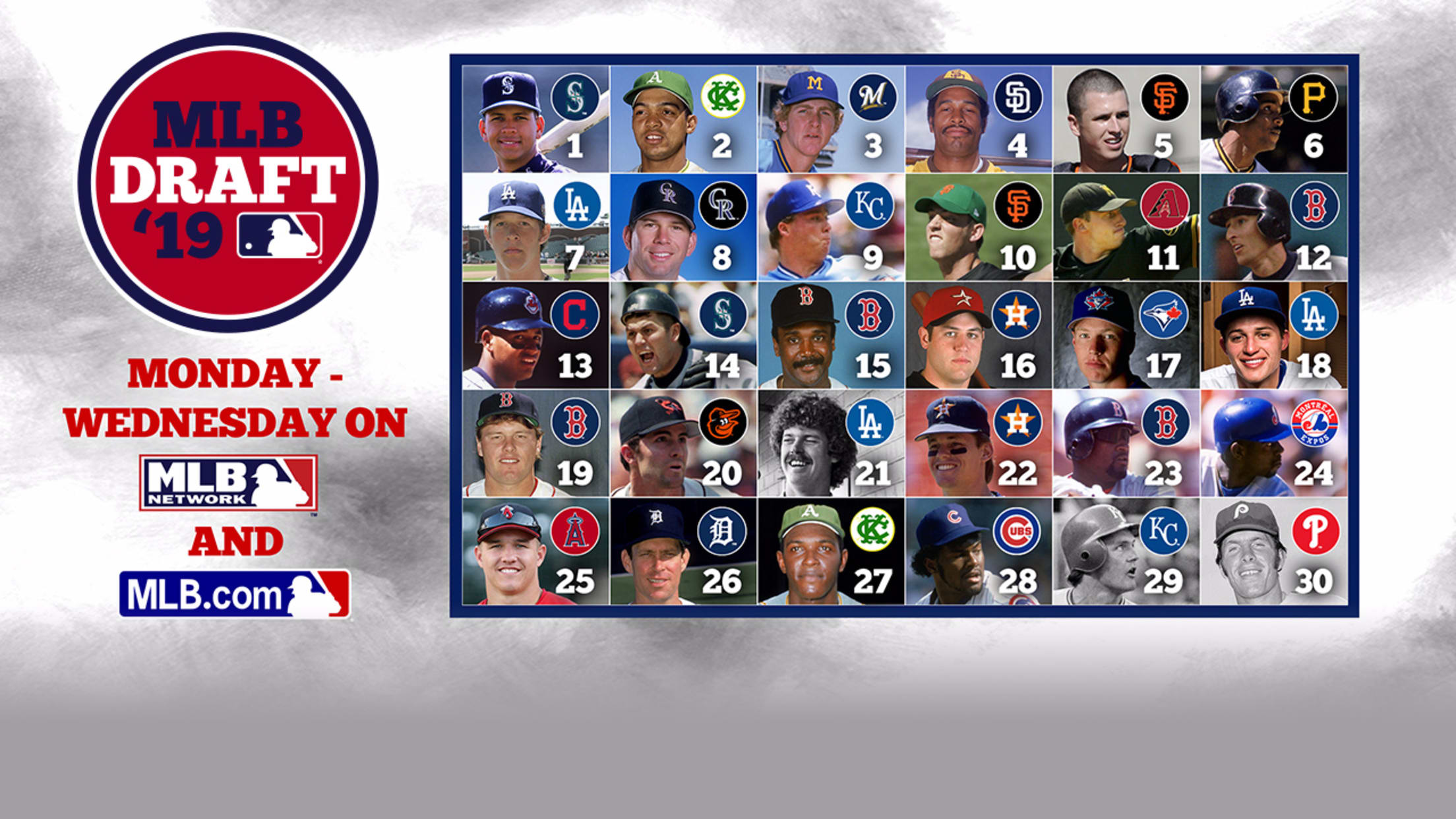 Success in the MLB Draft is, at its best, an inexact science. At its worst, it can be an illogical, unpredictable challenge. Hall of Famers have gone No. 1 overall and No. 1,390 overall. Sure, things flame out. Unknowns become stars. More than in any other sport, teams simply do
Success in the MLB Draft is, at its best, an inexact science. At its worst, it can be an illogical, unpredictable challenge. Hall of Famers have gone No. 1 overall and No. 1,390 overall. Sure, things flame out. Unknowns become stars. More than in any other sport, teams simply do not know what the future holds.
Still, an inordinate number of Major Leaguers come from the first round. That's where teams invest most heavily, and a first-round selection often guarantees a prospect at least a chance. What they do with it is often another story.
As the 2019 MLB Draft approaches (begins June 3 on MLB.com and MLB Network), we attempted to answer a simple question: Who is the best pick ever at each of the first 30 spots?
1. Alex Rodriguez, Mariners, 1993
You can't do much better than the Mariners did with the top overall pick in 1993. They selected the high school shortstop from Miami, the player scouts said was as close to a sure thing as anyone in Draft history. And that kid became A-Rod.
Honorable mention: Chipper Jones, Ken Griffey Jr., Bryce Harper
2. Reggie Jackson, A's, 1966
The Mets owned the No. 1 overall pick in 1966, but passed on Jackson, then the best college player in the country. New York selected high-school catcher Steve Chilcott instead. Chilcott never reached the Majors.
That left Jackson for owner Charley Finley and the A's, who relocated to Oakland during Jackson's sophomore season. Jackson hit 269 home runs, won an MVP Award and two World Series titles -- one against the Mets -- across 10 seasons with the A's. He retired No. 6 on the all-time home run list.
Honorable mention: Justin Verlander, Kris Bryant, Will Clark
3. Robin Yount, Brewers, 1973
The two can't-miss prospects in 1973 were high school lefty David Clyde and University of Colorado catcher John Stearns, selected by the Rangers and Phillies with the first two picks. Those two clubs missed out on the two Hall of Famers who would be selected with the next two picks. Robin Yount, and his 3,142 hits, was the first, to Milwaukee. He spent his entire 20-year career there.
Honorable mention: Paul Molitor, Manny Machado, Evan Longoria, Matt Williams
4. Dave Winfield, Padres, 1973
It was a pretty good first round in 1973, as Winfield went directly after Yount, at No. 4, to the Padres. It's easy to forget that Winfield was actually drafted as a pitcher coming out of the University of Minnesota, and that he turned down offers from the NFL and NBA to play baseball. He ended up becoming one of the best outfielders of all time.
Honorable mention: Thurman Munson, Barry Larkin, Kevin Brown
5. Buster Posey, Giants, 2008
Posey won the Golden Spikes Award, given to the best amateur baseball player, as a junior at Florida State in 2008 before sliding down to the Giants at pick No. 5. He'll likely be remembered as the best player ever drafted there, and his three World Series championship rings don't hurt that case.
Honorable mention: Ryan Braun, Dwight Gooden, Mark Teixeira
6. Barry Bonds, Pirates, 1985
Seven MVP Awards, the all-time home run mark and the most dominant five-year stretch of hitting this side of Babe Ruth helps Bonds top even Derek Jeter, who famously slid to No. 6 in 1992.
What's different about Bonds' Draft story is that four of the five players picked before him ended up becoming successful Major Leaguers: B.J. Surhoff, Clark, Bobby Witt and Larkin.
Honorable mention: Derek Jeter, Gary Sheffield, Zack Greinke
7. Clayton Kershaw, Dodgers, 2006
The Dodgers chose the man who may well be remembered as the best left-handed starter of all time at No. 7 in 2006, out of Highland Park High School in Texas.
The Royals passed on him at No. 1 for Luke Hochevar. The Rockies did the same at No. 2, for Greg Reynolds. Longoria and Andrew Miller were picked before Kershaw, but so were Brad Lincoln and Brandon Morrow.
Honorable mention: Frank Thomas, Troy Tulowitzki, Prince Fielder
8. Todd Helton, Rockies, 1995
Helton was picked by the Padres in the second round in 1992 out of high school, but opted to attend the University of Tennessee. The decision worked out pretty well.
Honorable mention: Jim Abbott, Francisco Lindor
9. Kevin Appier, Royals, 1987
An overall solid body of work led Appier, who was a can't-miss prospect in the 1987 Draft, to a career 54.9 WAR. That's why he tops the list of No. 9 picks -- a group of players who had very good but not historically great careers.
Honorable mention: Barry Zito, Michael Cuddyer, Ron Darling
10. Madison Bumgarner, Giants, 2007
Bumgarner, one of the best postseason pitchers of his generation, went 10th overall to the Giants in 2007, a year before they selected Posey.
Honorable mention: Mark McGwire, Robin Ventura
11. Max Scherzer, D-backs, 2006
The University of Missouri is known now for its ability to foster starting pitching talent. That more of less started with Scherzer, the St. Louis boy who dominated the Big 12 before going No. 11 overall to the D-backs in 2006.
Honorable mention: Andrew McCutchen, Greg Luzinski, George Springer
12. Nomar Garciaparra, Red Sox, 1994
The Brewers selected Garciaparra in the fifth round out of high school in 1991, but he chose to attend Georgia Tech instead. Three years later he went No. 12 overall to the Red Sox, one pick before Paul Konerko and two before college -- and future -- MLB teammate Jason Varitek.
Honorable mention: Kirk Gibson, Billy Wagner, Matt Morris
13. Manny Ramirez, Indians, 1991
Ramirez is the best hitter and one of the most accomplished players to ever be drafted out of New York City. The 12-time All-Star grew up in the Washington Heights section of the Bronx.
Honorable mention: Chris Sale, Konerko, Garry Templeton, Frank Tanana
14. Jason Varitek, Mariners, 1994
The two-time World Series champ was drafted three times, including two first-round selections out of Georgia Tech. When he signed, following his senior season, it was after the Mariners took him 14th overall in 1994. He was traded to Boston in 1997.
Honorable mention: Tino Martinez, Jose Fernandez
15. Jim Rice, Red Sox, 1971
Chase Utley has a higher career WAR, but the tiebreaker here goes to the Hall of Famer. Boston selected the future MVP out of the South Carolina high school scene in 1971.
Honorable mention Utley, Chris Carpenter
16. Lance Berkman, Astros, 1997
A few really good left-handed hitters highlight this Draft spot, led by Berkman, who was a switch-hitter. The Astros snatched him from Rice University in 1997.
Honorable mention: Shawn Green, Lance Parrish, Nick Swisher
17. Roy Halladay, Blue Jays, 1995
It took some time for Halladay to reach the potential that led Toronto to draft him this high in 1995, but once he did, he really did.
Honorable mention: Cole Hamels, Charles Nagy, Gary Matthews
18. Corey Seager, Dodgers, 2012
Scouts knew about Seager from a young age, thanks to his older brother, Mariners third baseman Kyle Seager. Even if they hadn't, Seager would have emerged as one of the top prospects in what's looking now like a loaded 2012 Draft.
Honorable mention: Willie Wilson, R.A. Dickey
19. Roger Clemens, Red Sox, 1983
Pretty easy selection here. Boston's 1983 first-round pick out of the University of Texas went on to become one of the best right-handed pitchers ever.
Honorable mention: Bobby Grich, Mike Scioscia
20. Mike Mussina, Orioles, 1990
The Orioles drafted "Moose" twice -- once out of high school and then in the first round out of Stanford in 1990 -- before he pitched 10 stellar seasons in Baltimore. Now, he's a Hall of Famer.
Honorable mention: CC Sabathia, Torii Hunter, Bob Welch
21. Rick Sutcliffe, Dodgers, 1974
Sutcliffe won National League Rookie of the Year honors five years after L.A.'s selection.
Honorable mention: Todd Worrell
22. Craig Biggio, Astros, 1987
The undersized kid taken out of Seton Hall University is one of two Hall of Famers from the 1987 Draft, alongside No. 1 overall pick Ken Griffey Jr.
Honorable mention: Rafael Palmeiro, Jayson Werth, Chet Lemon
23. Mo Vaughn, Red Sox, 1989
Two Seton Hall guys in a row? Vaughn and Biggio were teammates in college, then occasionally were opponents towards the end of Vaughn's career. The Red Sox drafted the future MVP No. 23 overall in 1989.
Honorable mention: Jason Kendall, Jacoby Ellsbury, Christian Yelich
24. Rondell White, Expos, 1990
A talented outfielder for seven teams, White's best seasons came with the Expos, who took him here in 1990.
Honorable mention: Alex Fernandez, Chad Billingsley
25. Mike Trout, Angels, 2009
Nearly every team in baseball will have to live with the fact that it passed on Trout in the first round in 2009. And it probably hurts every single day.
Honorable mention: Chuck Knoblauch, Matt Cain
26. Alan Trammell, Tigers, 1976
Trammell has a higher career WAR than Tony Gwynn, Ivan Rodriguez, Tom Glavine, Eddie Murray, Biggio and Rice. He's also one of the Draft's best steals. In 1976, the No. 26 overall pick came in the second round.
Honorable mention: Dave Henderson, Dan Plesac
27. Vida Blue, A's, 1967
Blue was Kansas City's second-round pick in 1967. Four years later, he was named the American League MVP and won the AL Cy Young Award.
Honorable mention: Rick Porcello, Todd Jones
28. Lee Smith, Cubs, 1975
Smith was the last Cubs player drafted by the Wrigley family ownership to make the Major Leagues. He retired as the all-time leader in saves.
Honorable mention: Charles Johnson
29. George Brett, Royals, 1971
How different would baseball history be if the Royals selected Mike Schmidt, who was still available with this pick in 1971, instead of Brett?
Honorable mention: Adam Wainwright
30. Mike Schmidt, Phillies, 1971
Brett, then Schmidt? That's a pretty good back-to-back, which is how the Draft's second round went in 1971. They only had 5,388 hits and 865 homers between them.
Honorable mention: David Wells