The best No. 2 picks of all time
Cincy's Nick Senzel, set to debut Friday, hopes to join these ranks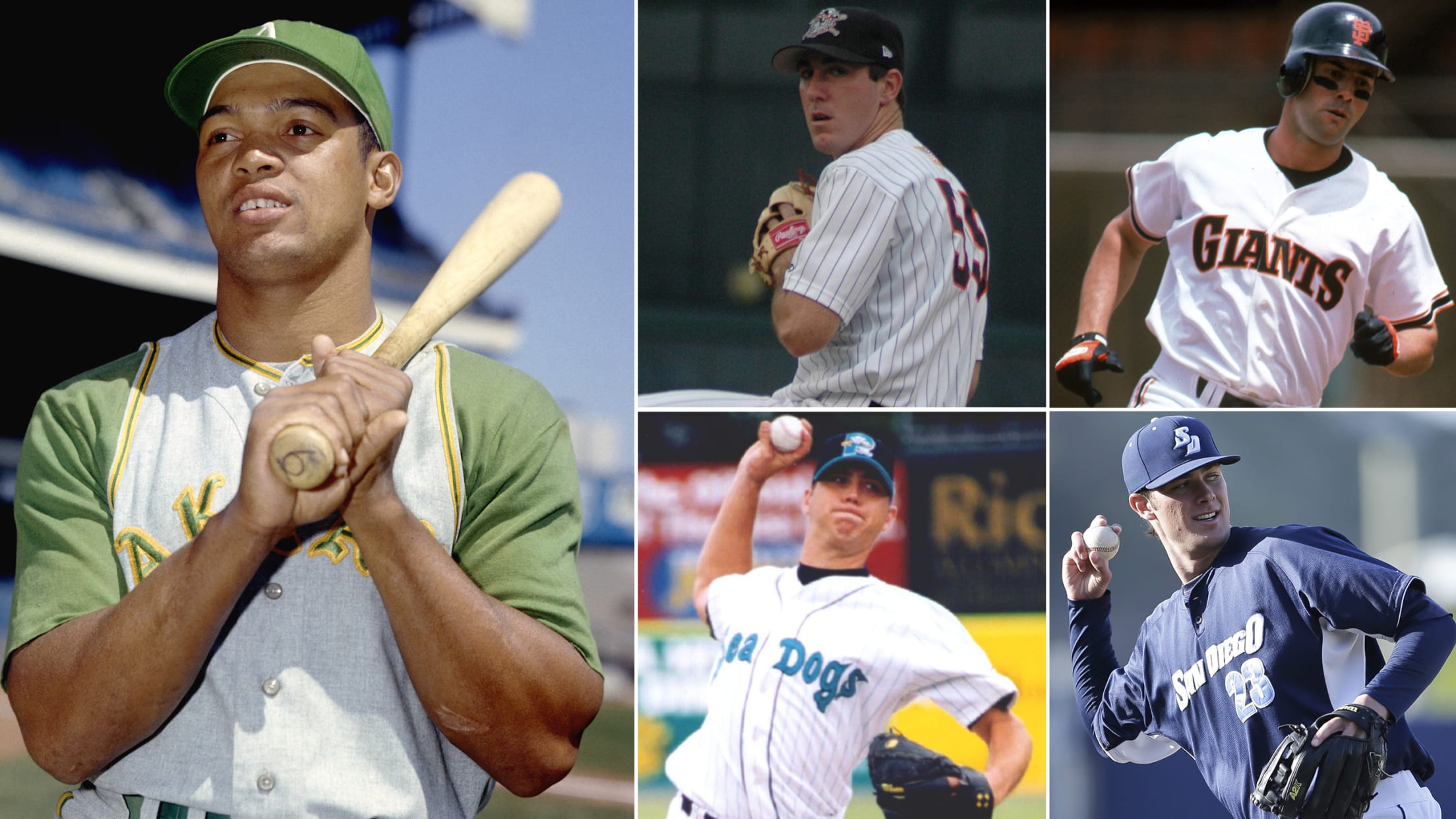 Fans have been clamoring for Nick Senzel to be called up to the Majors for a while now, and they're about to get their wish. Senzel -- baseball's No. 5 overall prospect who was drafted by the Reds with the second overall pick in 2016 -- will make his big
Fans have been clamoring for Nick Senzel to be called up to the Majors for a while now, and they're about to get their wish.
Senzel -- baseball's No. 5 overall prospect who was drafted by the Reds with the second overall pick in 2016 -- will make his big league debut tonight in Cincinnati's 7:10 p.m. ET homestand opener against the Giants at Great American Ball Park. The game will be the MLB.TV Free Game of the Day.
No. 1 overall picks get a great deal of the attention, but plenty of great players have been picked second. Senzel has a chance to follow those No. 2 picks who became stars. (He'll also join notable active big leaguers who went No. 2, such as Byron Buxton, Jameson Taillon and Mike Moustakas.)
• Top 50 Draft Prospects | All-time Draft database | 2019 Draft coverage
Here are 10 of the best players drafted No. 2 overall:
1) Reggie Jackson -- A's, 1966
No. 1 pick: Steve Chilcott, Mets
There's only one Hall of Famer (for now) to have come out of the No. 2 slot in the Draft. It's Mr. October. A 20-year-old Jackson was taken by the Kansas City A's in 1966 -- just the second MLB draft ever. He would go on to win an MVP trophy and three World Series rings with the 1970s A's dynasty that began after the franchise moved to Oakland, and he cemented his postseason legacy with the Yankees with two more championships in the latter part of the decade. After hitting 563 home runs (plus 18 more in the playoffs) and winning five championships in a 21-year career, Jackson was inducted into Cooperstown in 1993.
2) Justin Verlander -- Tigers, 2004
No. 1 pick: Matt Bush, Padres
Verlander is easily the best pitcher ever drafted No. 2 overall, and when all is said and done, he might be the best player, period. The Tigers snapped him up out of Old Dominion in 2004, and Verlander proved himself from the very start -- in his first full season in 2006, he won the American League Rookie of the Year Award and led Detroit to a Fall Classic appearance. He's now a Cy Young Award winner and MVP, Triple Crown winner, seven-time All-Star, World Series champion and likely future Hall of Famer.
3) Will Clark -- Giants, 1985
No. 1 pick: B.J. Surhoff, Brewers
The first round of the 1985 Draft produced some premier players -- Clark went to the Giants at No. 2, Barry Larkin to the Reds at No. 4, Barry Bonds to the Pirates at No. 6 and Rafael Palmeiro to the Cubs at No. 22. Clark starred for San Francisco for the better part of a decade. He homered off Nolan Ryan in his very first MLB at-bat, made five straight All-Star teams, won a Gold Glove and two Silver Sluggers and finished in the top five in NL MVP voting four times. Clark retired with a .303 career batting average and 2,176 hits over 15 big league seasons.
4) Josh Beckett -- Marlins, 1999
No. 1 pick: Josh Hamilton, Rays
Beckett was plenty good in the regular season, but more important, he's one of the great postseason pitchers of all time. He was at the heart of the Marlins' quick rebuild into second-time World Series champions in 2003 -- Beckett was named the MVP of the Fall Classic after pitching a five-hit shutout against the Yankees in the title-clinching Game 6 win. He'd win another World Series in 2007 with the Red Sox, and in his career he went 7-3 with a 3.07 ERA and 99 strikeouts in 14 postseason games.
5) Kris Bryant -- Cubs, 2013
No. 1 pick: Mark Appel, Astros
Bryant had crushed the ball all year as a college junior at San Diego, leading the nation with 31 homers. But the Astros took Appel with the first pick in the Draft, leaving Bryant for the Cubs at No. 2. He's become one of the faces of the franchise after winning the 2015 NL Rookie of the Year Award, the 2016 NL MVP Award and leading the Cubs to their 108-year drought-shattering World Series championship in '16. Bryant could easily move further up these rankings, too, as his career progresses.
6) Alex Bregman -- Astros, 2015
No. 1 pick: Dansby Swanson, Braves
Bregman is part of the core of homegrown stars who blossomed together in Houston -- along with George Springer, Carlos Correa and Jose Altuve -- and brought the Astros their first World Series title in 2017. The Astros landed Bregman with a Draft pick they received as compensation for being unable to sign No. 1 overall pick Brady Aiken the year before. Bregman has become everything Houston could have hoped for and more. He broke out to be one of the American League's best players in 2018, hitting 31 homers and 51 doubles and finishing fifth in MVP voting, and it looks like the best is still to come for the 25-year-old third baseman. Like Bryant, Bregman might well end up much higher on this list someday.
7) Joe Carter -- Cubs, 1981
No. 1 pick: Mike Moore, Mariners
Another World Series hero to come out of the No. 2 spot. Unfortunately for the Cubs, Carter didn't do it for them, but he at least got them a star -- Carter was traded to the Indians in 1984 in the deal that brought Rick Sutcliffe to Chicago, and Sutcliffe won the NL Cy Young Award that first year after leading the Cubs to the NL East title. Carter was traded again to the Padres in 1989 in the deal that got Cleveland Sandy Alomar, and then a third time from San Diego to the Blue Jays in 1990 in the deal that got the Padres Fred McGriff. In Toronto, Carter helped the Jays win back-to-back World Series in 1992 and '93, and his World Series-winning walk-off home run in Game 6 in 1993 is one of the most memorable Fall Classic moments of all time.
8) Alex Gordon -- Royals, 2005
No. 1 pick: Justin Upton, D-backs
Gordon is still with the Royals nearly 15 years after they drafted him in 2005. He's come a long way from his struggles in his early years in Kansas City -- for a long while, Gordon was thought of as a bust. But since his breakout season in 2011, Gordon has made three All-Star teams, won six Gold Gloves in left field and in 2015 he helped lead the Royals to their first World Series championship since 1985.
9) Mark Mulder -- A's, 1998
No. 1 pick: Pat Burrell, Phillies
Mulder helped anchor the fearsome A's starting rotations of the early 2000s along with Tim Hudson and Barry Zito -- a trio of homegrown aces, with Zito being drafted ninth overall by Oakland in 1999 and Hudson taken in the sixth round in '97. Mulder was a two-time All-Star with the A's, and the left-hander finished as the AL Cy Young runner-up in 2001 after going 21-8 with a 3.45 ERA in 229 1/3 innings. Mulder also had a 2.34 ERA in seven career postseason starts.
10) Mark Prior -- Cubs, 2001
No. 1 pick: Joe Mauer, Twins
Prior makes this list because of how exciting he was to watch at his all-too-short peak. When he was on the field, the right-hander was electric. In his first full season with Chicago in 2003, a 22-year-old Prior went 18-6 with a 2.43 ERA and 245 strikeouts, making the NL All-Star team and finishing third in Cy Young voting and ninth in MVP voting. He also shined in the postseason with a complete-game masterpiece in Game 3 of the NLDS against the Braves. Sadly, arm injuries derailed his career, leaving Prior as one of baseball's most notable "what might have been" stories.
Honorable mention: J.D. Drew -- Phillies, 1997
Drew was drafted No. 2 overall by the Phillies out of Florida State -- but he didn't sign. The Phillies didn't want to meet Drew and agent Scott Boras' contract demands, and Drew ended up going to play for the independent league St. Paul Saints. Drew re-entered the Draft in 1998 and was taken fifth overall by the Cardinals. He went on to play a 14-year career that included one All-Star nod and a World Series win with the Red Sox in 2007.