Crew readies for town hall meeting at Miller Park
Counsell, Stearns, Schlesinger will take questions from fans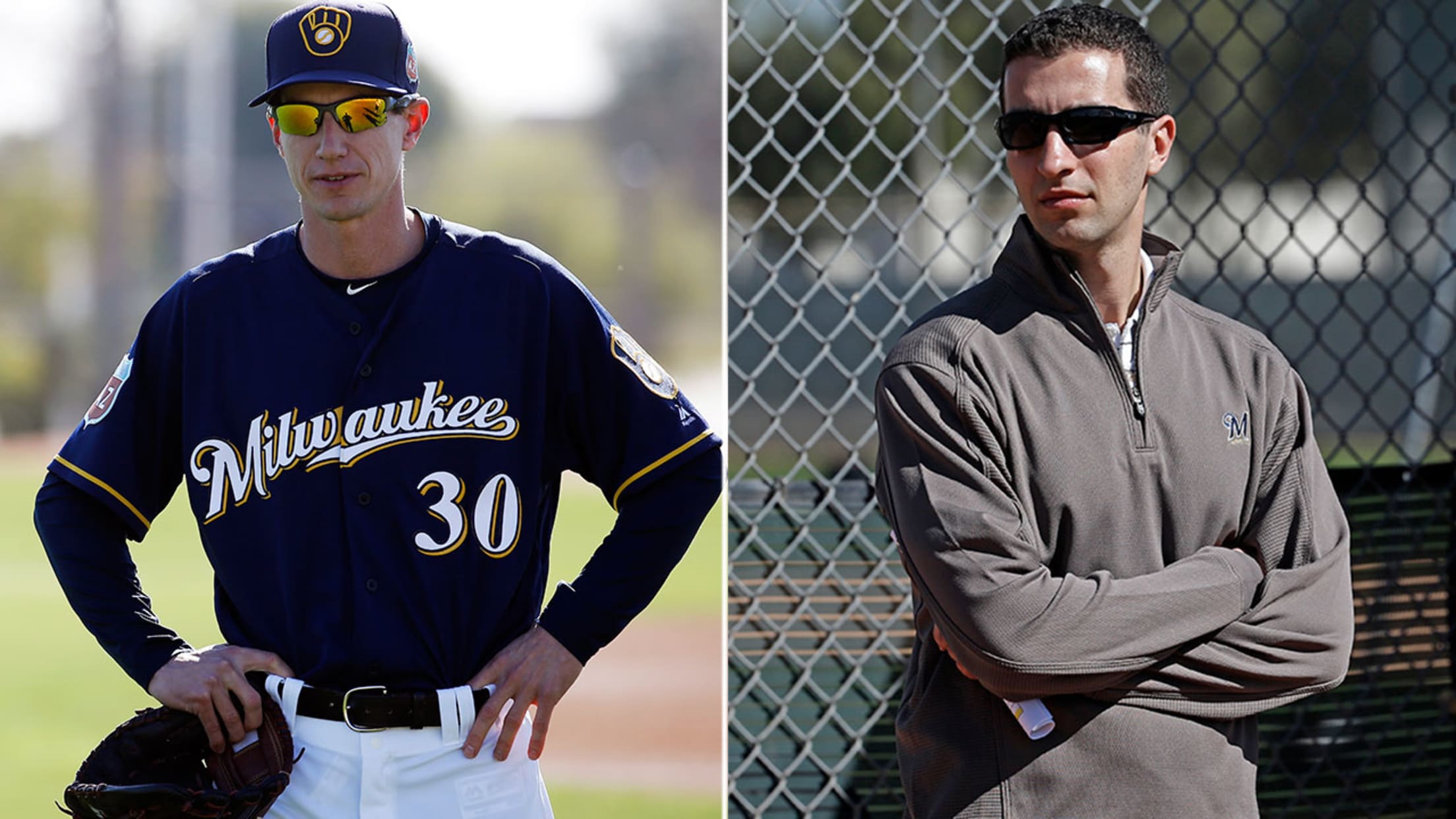 Manager Craig Counsell and GM David Stearns will take questions from fans at Miller Park on Nov. 3. (AP)
MILWAUKEE -- After the World Series, the Brewers will open Miller Park to fans for another free town hall-style event, marking an unofficial start to the hot stove season.On Thursday, Nov. 3 at 7 p.m. CT, fans will have the opportunity to ask questions of general manager David Stearns, manager
MILWAUKEE -- After the World Series, the Brewers will open Miller Park to fans for another free town hall-style event, marking an unofficial start to the hot stove season.
On Thursday, Nov. 3 at 7 p.m. CT, fans will have the opportunity to ask questions of general manager David Stearns, manager Craig Counsell and chief operating officer Rick Schlesinger at "Inside the Brewers." Unlike last year, when the event was open to season seatholders, it is open to all fans this time.
No tickets are required and parking is free. Lots will open at 6 p.m. and the stadium gates will open at 6:15 p.m. Stearns, Counsell and Schlesinger will be positioned on the third-base dugout.
In addition to questions from fans in the stands, the Brewers are soliciting submissions from social media. Fans will be able to pose questions on specific posts on Facebook and Instagram, as well as on Twitter by using the hashtag #InsideTheBrewers.
The event will be live streamed for all fans on brewers.com and will later air as a special program on FOX Sports Wisconsin.
Liriano claimed by Sox
The White Sox claimed outfielder Rymer Liriano off waivers from the Brewers on Friday, ending a tenure marked by a significant injury. Liriano, a former top-100 prospect acquired in a trade with the Padres in January, was bidding for a spot on Milwaukee's Opening Day roster during Spring Training when he was struck in the face by a pitch from Dodgers pitcher Matt West on March 20 at Maryvale Baseball Park.
Liriano underwent surgery to repair facial fractures and attempted a comeback, but he suffered setbacks related to head trauma and never made it into a Minor League game in 2016. He turned 25 in June.
If Liriano can rebound to play a significant role with the White Sox, it would help ease the pain of another waiver claim just more than one year ago. On Oct. 7, 2015, the Brewers claimed right-hander Junior Guerra off waivers from the White Sox, and Guerra turned into the Brewers' most valuable pitcher. He posted a 2.81 ERA in 20 Major League starts in his rookie season.
Crew signs pitcher to Minors deal
The Brewers extended their first non-roster invitation to Spring Training this week after re-signing right-hander Stephen Kohlscheen to a Minor League deal. The 28-year-old made 50 appearances in Milwaukee's system with Double-A Biloxi, posting a 2.54 ERA and 23 saves. He walked just 17 batters, four intentionally, in 49 2/3 innings.
Kohlscheen has made it as far as the Triple-A level for the Mariners and Padres, but has yet to pitch in the Major Leagues.
Four removed from 40-man roster
Also on Friday, the Brewers removed four players from the 40-man roster: third baseman Garin Cecchini, infielder Jake Elmore, first baseman Andy Wilkins and left-hander Sean Nolin. All were outrighted to Triple-A Colorado Springs. Nolin, who is recovering from Tommy John surgery, had to be reinstated from the 60-day disabled list first. The team's 40-man roster stands at 37 after the moves.