The Brewers' Players' Weekend nicknames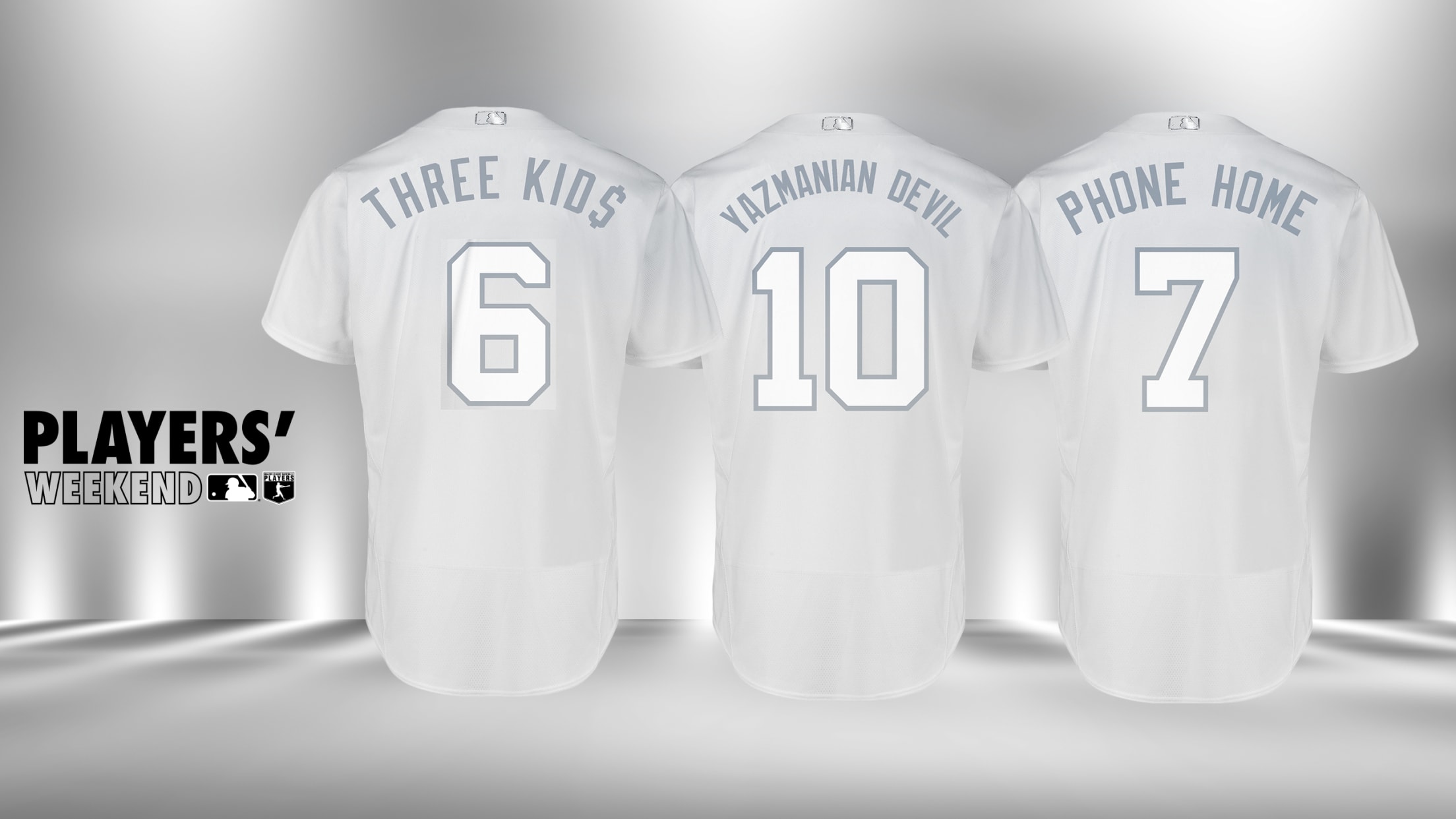 The Brewers will happily don nicknames on the back of their jerseys for the third annual Players' Weekend when they host the D-backs from Aug. 23-25. Some names are obvious, others make you think and a few you have to ask about to have any semblance of a clue where
The Brewers will happily don nicknames on the back of their jerseys for the third annual Players' Weekend when they host the D-backs from Aug. 23-25. Some names are obvious, others make you think and a few you have to ask about to have any semblance of a clue where it came from.
• Every team's Players' Weekend nicknames
Here's a rundown of what each player (and some coaches) chose and what it means to them:
Matt Albers: "BIG SALT"
Sometimes it's just a random moment that sticks. A couple of Spring Trainings back, Albers and former Brewers catching prospect Dustin Houle were throwing, and out of nowhere, Houle referred to the veteran as "Big Salt."
"I was giving him a hard time, and he was like, 'Oh Big Salt's over there wearing me out,'" Albers said. "Just kind of stuck. I don't know where he came up with it from. It was out of nowhere."
Chase Anderson: "CHASER"
Orlando Arcia: "EL NINO"
Arcia didn't know his nickname already holds a special meaning in the Brewers' organization when he first chose it for the inaugural Players' Weekend in 2017. It translates to "The Kid," the nickname held by Hall of Famer and former Brewers shortstop Robin Yount, who made his Major League debut at age 18.
"Now, it has to be me," joked Arcia, who made his debut in 2016 when he was 21.
So how did Arcia get the same nickname as a Brewers legend?
"The time I got here, [Manny] Pina, [Junior] Guerra and some of those guys started calling me 'El Niño,'" Arcia said. "I was the youngest one here, and they just started calling me 'El Niño.' Back home in Venezuela, a lot of people called me that, too. It just kind of stuck."
• Shop for Players' Weekend gear
Ryan Braun: "OCHO"
Fans of the film "Dodgeball" will recognize the reference to No. 8, which is Braun's uniform number.
Lorenzo Cain: "THREE KID$"
Cain dropped his "Lo Cain" nickname from previous Players' Weekends in favor of this one to honor his sons Cameron, Jayden and Landyn. It's a "you had to be there" kind of thing, because Cain regularly ambles around the clubhouse wearily telling anyone who will listen that he's 33 years old and has three kids and he's too old and tired for this. That's the paraphrased version.
"It's draining, it really is; I will be honest," Cain told the Milwaukee Journal Sentinel earlier this season. "I want to spend time with them. I will be [playing baseball] for eight months; you can't just take eight months off from your kids. I try to love 'em, spend as much time as I can, and then come here and perform each and every night. It's tough."
Jhoulys Chacín: "LA MAKINA"
It started with teammates in Colorado occasionally calling him "Chacin the Machine," but Chacin was uncomfortable putting that moniker on the back of his jersey for the inaugural Players' Weekend in 2017 because the nickname is usually associated with Albert Pujols. But Chacin adopted it with a twist -- adding a "K" to the Spanish word máquina for a pitcher's touch.
Alex Claudio: "AC"
Manager Craig Counsell: "EL POLLO"
The Chicken. It's a tear-jerking story told best by former Marlins (and Brewers) coach Rich Donnelly about his late daughter and Counsell's dash home with the winning run in Game 7 of the 1997 World Series. Counsell told MLB.com the tale before the inaugural Players' Weekend in 2017, and earlier this year it was the subject of a book.
"It's not a nickname that I'm called by my friends or teammates or people here at the field," Counsell said. "It's the product of a great story -- 'The Chicken Runs at Midnight.' It's a wonderful story."
Zach Davies: "BAT BOY"
Davies is back to his original Players' Weekend nickname after going as "COUNS" last year, a nod to his resemblance to his baby-faced manager. At 6-feet tall and 155 pounds, Davies doesn't always look the part of Major League pitcher.
"He got that dropped on him in Oakland -- the bat boy," Counsell said. "We told one of the security guards the guy at the end of the bench was pitching. And he said, 'Who? The bat boy?'"
Jake Faria: "FUH-REE-UH"
Ben Gamel: "GAM"
Gio Gonzalez: "DOUBLE G"
Yasmani Grandal: "YAZMANIAN DEVIL"
"My first year in the big leagues, I had a pretty good run for a second there, and we were playing here in Arizona against the Diamondbacks," Grandal said. "It was the first time my wife was able to see me in the big leagues. She made this huge sign that said, "Yazmanian Devil tearing it up." That night, I hit a homer. It kind of stuck for a little bit because she came on the TV and fans saw it. The next year, I was like, why not? Let's own it. I got the Tazmanian Devil tattoo with catcher's gear on it. I thought it was pretty cool, the fact she was able to come up with a nickname that stuck.
"After that, the Yazmanian Devil kind of came alive. I started throwing the horns up after a homer. Even last year, you'd see guys in the dugout, as soon as I would hit a homer they threw the horns up. I think it's pretty cool that it has stayed throughout my career."
Trent Grisham: "GRISH"
Junior Guerra: "CABEZÓN"
Guerra's nickname -- which translates to "pigheaded" -- isn't the most flattering, but it's one he's taken in stride ever since he was a youngster in Venezuela.
"Because I had a big head," Guerra laughed. "Everyone calls me Cabezón … except my wife and my daughters."
Josh Hader: "HADERADE"
Hader earned the nickname from a teammate his sophomore year of high school.
Hitting coach Andy Haines: "HAINSEY"
Bullpen catcher Marcus Hanel: "BEAR"
"He's part grizzly bear," pitcher Kameron Loe said of Hanel, the Brewers' longtime bullpen catcher in a 2012 story. Hanel fits the bill physically -- a tall, imposing figure known for his gigantic hands.
Keston Hiura: "KESTDADDY"
"It's a nickname I've had since my junior year of high school. To be completely honest, I'm not sure how I got that nickname," Hiura told the Milwaukee-based clothier Routine Baseball for a blog post during Spring Training. "It was probably from one of my friends messing around, and it had a nice tone to it, so I decided to keep it. It's been my username for all of my social media accounts, and I find it funny when random people come up to me and call me KestDaddy or ask me to sign a ball saying KestDaddy."
Pitching coach Chris Hook: "HOOKEY"
Adrian Houser: "DOOGY"
We've got some spelling issues to sort through here, but Brewers fans who are old enough will recognize the reference to Doogie Howser, M.D., the 1989-93 television show starring Neil Patrick Harris as a teenage doctor. Perhaps the Brewers' Houser could visit Dr. Howser for a diagnosis of his occasional bouts of nausea on the mound.
Jay Jackson: "SMILEY J"
There are worse things to be known for than a great smile. Jackson pitched for the Japanese Pacific League's Hiroshima Carp from 2016-18 and became a favorite after fans noticed his tendency to break into a wide smile whenever he escaped a tough jam. One fan turned the quirk into a logo -- the "Smiley J" -- which adorns Jackson's glove and some of the clothing he wore when he arrived in Brewers camp after inking a Minor League deal early in Spring Training.
Fun fact: New Brewers pitcher Jay Jackson has a logo! A friend created it while he was playing in Japan, and it took off. pic.twitter.com/2Kj2W9jeN1

— Adam McCalvy (@AdamMcCalvy) February 15, 2019
Jeremy Jeffress: "[bread emoji] & [butter emoji]"
Jeffress opened a food truck this summer, "JJ's Bread and Butter," which serves up the fried seafood he grew up on as a kid in South Boston, Va. It's a collaboration with the righty's favorite spot back home, a joint called Breedlove's, and can be found around Milwaukee.
"This food needed a larger audience," Jeffress told the Wall Street Journal. "It has to be bigger than it is, because anybody who gets a taste of it is coming back for sure, and that's no lie."
Bullpen coach Steve Karsay: "KARS"
Assistant hitting coach Jason Lane: "LANER"
Jordan Lyles: "J LYLES"
Mike Moustakas: "CA STRONG"
Moustakas said he made the easy decision to stray away from his typical nickname of "Moose" in order to honor the California Strong campaign, which supports those affected by the wildfires this past winter. It's a campaign with co-sponsorship from Ryan Braun and Christian Yelich -- two other Southern California natives. Moustakas hopes to be able to auction off his jersey after the weekend to raise more funds for the cause.
Bench coach Pat Murphy: "MURPH"
Manny Piña: "PINEAPPLE"
Sometimes, the simplest choice is the right choice. Piña is Spanish for pineapple.
Manny Pina is having a day. Double and run scored in the third inning. Throws out Rosario trying to steal for the final out of the sixth.

Unrelated: His brother Omar wore a sweet shirt to the yard yesterday. 🍍 pic.twitter.com/zW3YDP9YNj

— Adam McCalvy (@AdamMcCalvy) May 5, 2019
Drew Pomeranz: "
"
"Pom." Palm. Sometimes they write themselves.
Third-base coach Ed Sedar: "EDDIE LOVE"
It started with Bill Hall and Mike Cameron, who urged Sedar to adopt an alias as many players do when they check into the team hotel on the road. And the name stuck.
"The guys call him that because of his dashing and debonair manner," Brewers TV analyst Bill Schroeder wrote in his book, "If These Walls Could Talk." "He was also known as Captain Eddie. He and I have enjoyed a few Captain Morgan and Cokes on occasion."
Cory Spangenberg: "SPANGY"
First-base coach Carlos Subero: "COMETIERRA"
Meaning "Eat Dirt" in Spanish, this one for Subero harkens back to his childhood. A shortstop, he was given the nickname for how much he dove for balls in gaps. The first Cometierra jersey he wore a few years back is now with the Venezuelan baseball academy he grew up in.
"If I didn't come out a game dirty then I thought I didn't play," Subero said.
Eric Thames: "PHONE HOME"
His initials are E.T. And the lovable little alien in the 1982 film wanted nothing more than to phone home. Well, that and to eat Reese's Pieces.
Devin Williams: "DAVE"
"That's my hard-throwing alter-ego," Williams said. Brewers Minor Leaguer Luke Barker was the mastermind behind the name, and it came when Williams started to throw in the upper-90s to 100 at Double-A Biloxi this year.
Brandon Woodruff: "WOODY"
Woodruff's buddy Brent Suter actually looks a touch like Woody, a character in the Toy Story franchise of films. But Woodruff is called this not because of resemblance but because of baseball's century-old habit of calling everyone a shortened version of their last name with a "Y" tacked on the end.
"We actually went and saw the 'Toy Story 4' movie -- my wife and I with him and his wife," Davies said recently, "and he had to take a picture with the big Woody cutout, which was perfect."
Christian Yelich: "YELI"