Machado welcomes arrival of new Wilson gloves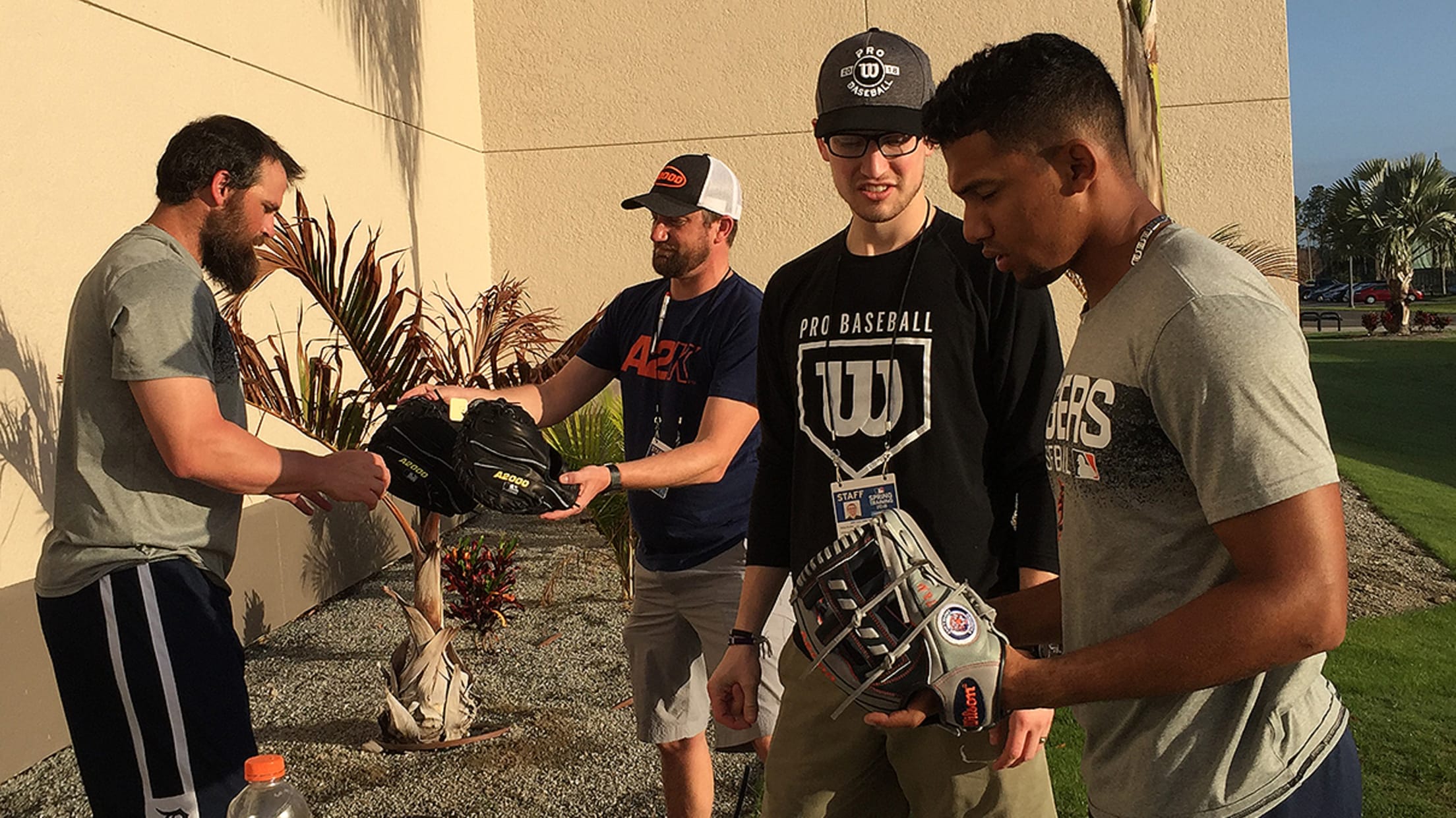 LAKELAND, Fla. -- Unlike a lot of former utility players, the Tigers' Dixon Machado doesn't have a lot of gloves. He uses one infield glove, whether he's at second base, third or shortstop. Also unlike a lot of young players, he has a pretty sweet glove.As the Wilson representatives lined
LAKELAND, Fla. -- Unlike a lot of former utility players, the Tigers' Dixon Machado doesn't have a lot of gloves. He uses one infield glove, whether he's at second base, third or shortstop. Also unlike a lot of young players, he has a pretty sweet glove.
As the Wilson representatives lined up bags of gloves for their Tigers clients, Machado's custom-ordered infield gloves were easy to find. If the blue and gray colors didn't stand out, the club's old-school logo -- the Tiger inside the circle logo from the 1980s -- on the side of the glove did.
Tigers Spring Training:Info | Tickets | Schedule
Machado has a home and road version. The latter has orange stitching around the webbing.
"This is different," Machado said. "They made it pretty cool."
:: Spring Training coverage presented by Camping World ::
Machado actually ordered those gloves late last season. Custom orders usually are made in the fall so that there's enough time to do the work in case of any supply shortage. Players can put in their custom orders online themselves or have someone with their agency place it for them.
The company delivers gloves early in Spring Training, going from camp to camp in Florida and Arizona. Various glove manufacturers have been through Tigers camp this week. Thursday was Glove Day for Wilson representatives to deliver gloves to clients like Machado, Jose Cabrera, Matthew Boyd, Alex Wilson, Daniel Norris, Derek Norris and Mike Fiers, and take any additional orders from players as they check out different models for different positions.
Don't expect to see Machado's gloves in action right away. Like most infielders, he has to wear his gloves until they're soft and flexible enough for him to feel comfortable using every day.
What a glovely day! Nothing like getting a new @wilsonballglove in #SpringTraining. #GloveDay pic.twitter.com/MU9ZqNjsqJ

— Detroit Tigers (@tigers) February 22, 2018
"I don't think that I could use this, this year," he said. "Maybe in June, July, but I don't think so, because I won't change my glove during the season. Next year, I'll use it."
Machado's Wilson glove from the last couple of years is still in good enough shape that he wants to keep using it.
"It's fine and I feel comfortable with it," he said. "And I didn't use it that much last year."