Giants renewing focus on international market
Zaidi: 'It's got to be a huge part of what we do over the next few years'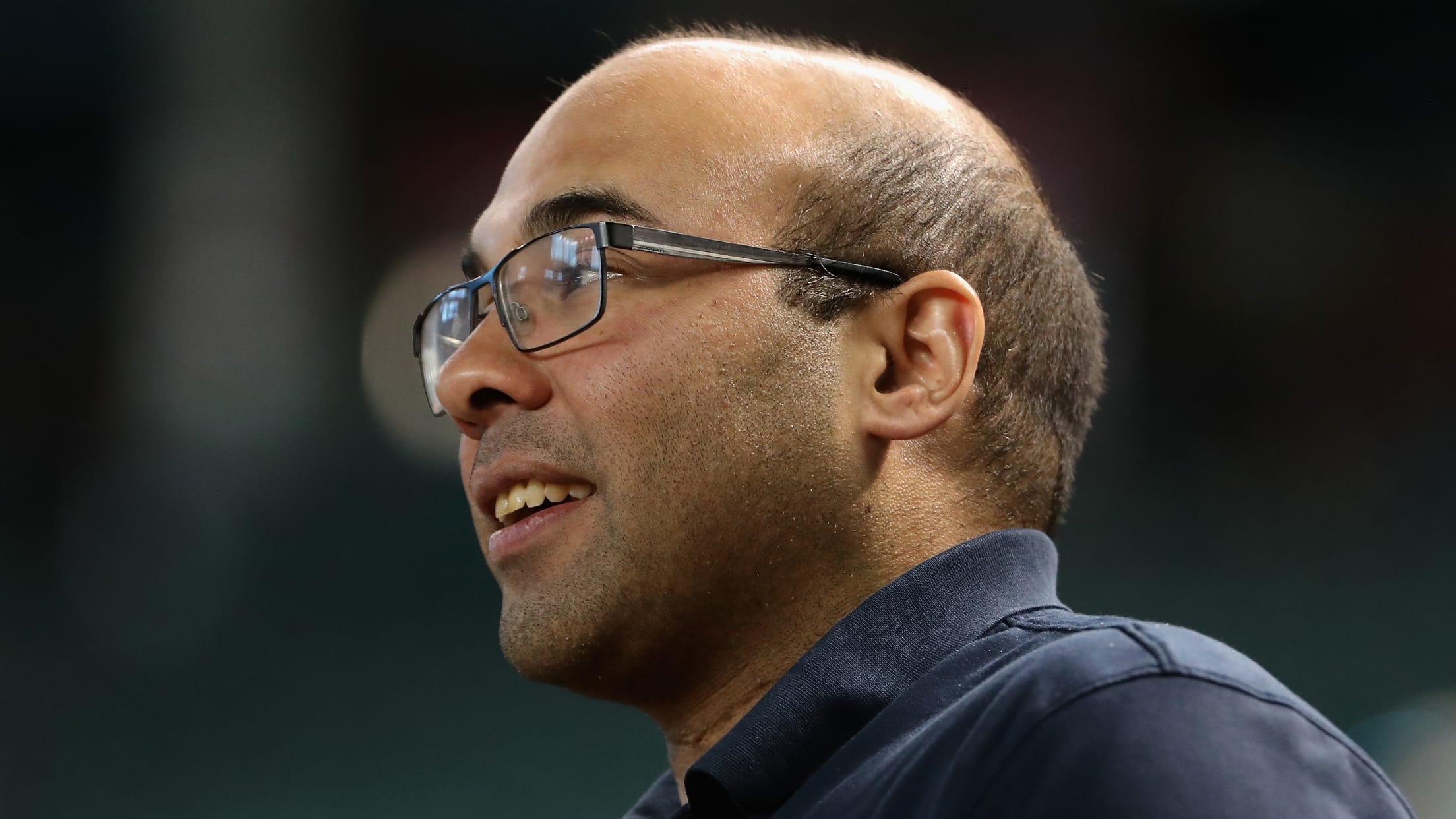 SCOTTSDALE, Ariz. -- In 2010, the Giants signed Reyes Moronta as an international free agent out of the Dominican Republic for $15,000. It was a modest investment in a teenage pitcher that has already paid off in a big way for the Giants. Moronta debuted with the Giants in 2017
SCOTTSDALE, Ariz. -- In 2010, the Giants signed Reyes Moronta as an international free agent out of the Dominican Republic for $15,000. It was a modest investment in a teenage pitcher that has already paid off in a big way for the Giants.
Moronta debuted with the Giants in 2017 and became a key cog in the bullpen last year, posting a 2.49 ERA over 69 appearances. With an upper-90s fastball, sweeping slider and improving changeup, he has the potential to become the club's closer of the future.
"I had been talking to other teams like Kansas City and the Chicago Cubs, but the Giants had never seen me," Moronta said in Spanish. "Once they saw me, they signed me that same day. I never felt bad about the bonus they gave me. I felt grateful because it was an opportunity, and thank God, I'm here now."
But Moronta has been one of the Giants' rare success stories on the international market in recent years. According to research from Grant Brisbee of The Athletic, Moronta is one of only four homegrown international pitchers to appear for the Giants since 2000. The others? Right-handers Osiris Matos and Waldis Joaquin and third baseman Pablo Sandoval, who pitched one inning of relief in a blowout loss against the Dodgers last April.
Sandoval, who signed with the Giants out of Venezuela in 2003, also has the distinction of being the club's last homegrown international All-Star.
The Giants' recent struggles to mine the international market for impact talent is especially surprising given their rich history of developing Latin American icons like Juan Marichal, Ozzie Virgil and the Alou brothers -- Felipe, Matty and Jesus.
"I was surprised by it," president of baseball operations Farhan Zaidi said. "It's interesting because it wouldn't match your perception. It feels like there's always a Moronta or someone like a Moronta in the 'pen. I guess you don't always think about whether that was a homegrown player or not. But it's certainly an area we'd like to be better in."
Scouting international teenagers has always been an exercise fraught with risk, but the Giants' recent track record with their high-profile international investments has been particularly checkered.
Angel Villalona, who signed for a then-franchise record $2.1 million in 2006, was arrested on a murder charge in the Dominican Republic in 2009 and spent nearly a year in jail and under house arrest before being acquitted after reportedly paying the victim's family $139,000. Visa issues kept him out of baseball for another year, and when he finally returned to the Giants' organization, he did not advance past Double-A Richmond.
In 2008, the Giants gave $2.55 million to Dominican outfielder Rafael Rodriguez, whose career stalled at Class A Advanced San Jose, leading to his retirement in 2015. They had high hopes for outfielder Gustavo Cabrera, who received a $1.6 million bonus in 2012, but he nearly severed his right hand in a freak accident at his Dominican Republic home and was never the same. He retired last year.
The Giants also shelled out $6 million to land Bahamian shortstop Lucius Fox in 2015, a signing that sent them into the penalty for exceeding their international bonus pool. Not only were the Giants subject to a 100 percent tax on the pool overage, but they were also prohibited from spending more than $300,000 on international amateurs for the next two years, making them long shots for blue-chip prospects in search of million-dollar bonuses.
Despite the high cost of the signing, the Giants later traded Fox and third baseman Matt Duffy to the the Rays in exchange for left-hander Matt Moore at the 2016 non-waiver Trade Deadline. Fox, 21, is now ranked the Rays' No. 9 prospect and could be in the Majors by next year. Moore logged a 5.52 ERA for the Giants in 2017 and was promptly shipped to the Rangers that December.
Though none of those investments have panned out, the Giants expect to be better moving forward. San Francisco is working to re-establish that pipeline of international talent, and it will be a point of emphasis for Zaidi, who was instrumental in the A's signing of Cuban star Yoenis Cespedes in 2012.
"It's got to be a huge part of what we do over the next few years," Zaidi said.
Zaidi revamped the Giants' scouting departments by bringing in Zack Minasian and Michael Holmes as the new directors of pro and amateur scouting, respectively, and he said he expects both to assist international scouting director Joe Salermo in evaluating prospects from abroad. J.P. Ricciardi and Craig Weissmann, both of whom have extensive scouting backgrounds, also joined the Giants' front office over the offseason.
"I always think it's the most mind-blowing task in baseball to go scout and evaluate 16-year-olds," Zaidi said. "I do think we're going to use technology more like a lot of organizations are in evaluating players down there. But having experienced sets of eyes is probably the single most important thing from an international scouting standpoint."
As MLB.com's Jesse Sanchez wrote last September, an increasing number of teams are outfitting their international scouting departments with tools like Trackman, which measures metrics such as velocity, spin rates and exit speeds, swing analysis devices and force plates, which track force production and weight distribution. Advanced camera or radar technology from companies like Edgertronic and Rapsodo -- which the Giants have been using this spring -- are also becoming more widespread among the international scouting community.
"I think gathering as many measurables as you can in such an uncertain evaluation environment is critical," Zaidi said. "We're definitely going to invest money in that and make sure that's kind of part of our scouting protocols down there."
The hope is that by blending newer technologies and traditional scouting, the Giants will be able to unearth a steady stream of Reyes Morontas and Pablo Sandovals in the future. There's already reason for optimism. The Giants' $300,000 spending restriction on the international market ended last year, and they received high marks for their 2018 international class of amateurs, which was headlined by shortstop Marco Luciano and outfielders Jairo Pomares and Luis Matos.
"I've had a chance to see a lot of the kids from the last couple of classes in January at instructs, and I think they brought in some really good talent," Zaidi said. "On the international side in particular is probably where it's the closest balance of scouting and player development, because I think you're getting players who are more tools than developed when they're coming in at 16. So whether it's position players or pitchers, I think it's as much of the responsibility of the player development as it is for the scouting department to bring in the talent."
Maria Guardado covers the Giants for MLB.com. She previously covered the Angels from 2017-18. Follow her on Twitter.