This is the next-level tech changing the game
"Wow, I'm looking at something in a different language here," Twins reliever Taylor Rogers, fresh off a breakout year, said to MLB.com's Do-Hyoung Park after throwing his first bullpen in front of the team's new bullpen hardware. "I've learned more in the past month than I have in the past
"Wow, I'm looking at something in a different language here," Twins reliever Taylor Rogers, fresh off a breakout year, said to MLB.com's Do-Hyoung Park after throwing his first bullpen in front of the team's new bullpen hardware.
"I've learned more in the past month than I have in the past four or five years," Angels lefty Tyler Skaggs told the Los Angeles Times this spring. "Which is no knock on any coaches, but I'm just really excited with all the information we have now."
"I've never had a meeting like that before," Orioles righty Jimmy Yacabonis said to MLB.com's Joe Trezza, referring to "mandatory group spin axis seminars" with organizational experts.
"This day and age, players want the truth," Pirates assistant pitching coach Justin Meccage said to MLB.com's Adam Berry. "This gives you the truth."
"That's the new phase of baseball that we're in," Blue Jays righty Ryan Tepera said to MLB.com's Gregor Chisholm.
What are they all talking about? Players across baseball are realizing that the next revolution in the sport is already here, and it's becoming clear if you've looked at any of the bullpen pictures streaming in across Spring Training sites in Florida and Arizona. The names "Edgertronic" and "Rapsodo" may not exactly have the cache of "Harper" and "Machado," but for many teams, they're becoming just as important. If you're just catching up, you're already behind.
* * *
"[In 2017]," wrote Driveline Baseball founder Kyle Boddy on Twitter last spring, "only one team had Edgertronic cameras, and three people." He was referring to the Houston Astros, Cleveland pitcher Trevor Bauer, Bauer's father Warren, and Boddy himself.
"Today," Boddy continued in February 2018, "five to 10 teams have them."
That was only a year ago. We don't have an exact number for 2019, but you can be sure it's more than "five to 10" just by looking at pictures tweeted out from every Spring Training site. Advanced camera or radar technology from companies like Edgertronic and Rapsodo has become ubiquitous, to the point that it's almost stranger when you don't see a camera or radar set up than when you do. As Boddy noted last month, he sold out of three months of his stock of the Edgertronic cameras in a single day.
Once you see the gear in a bullpen shot, you won't be able to unsee it -- like the small blue camera sitting on a tripod over the shoulder of Mariners righty Justin Dunn. That's an Edgertronic.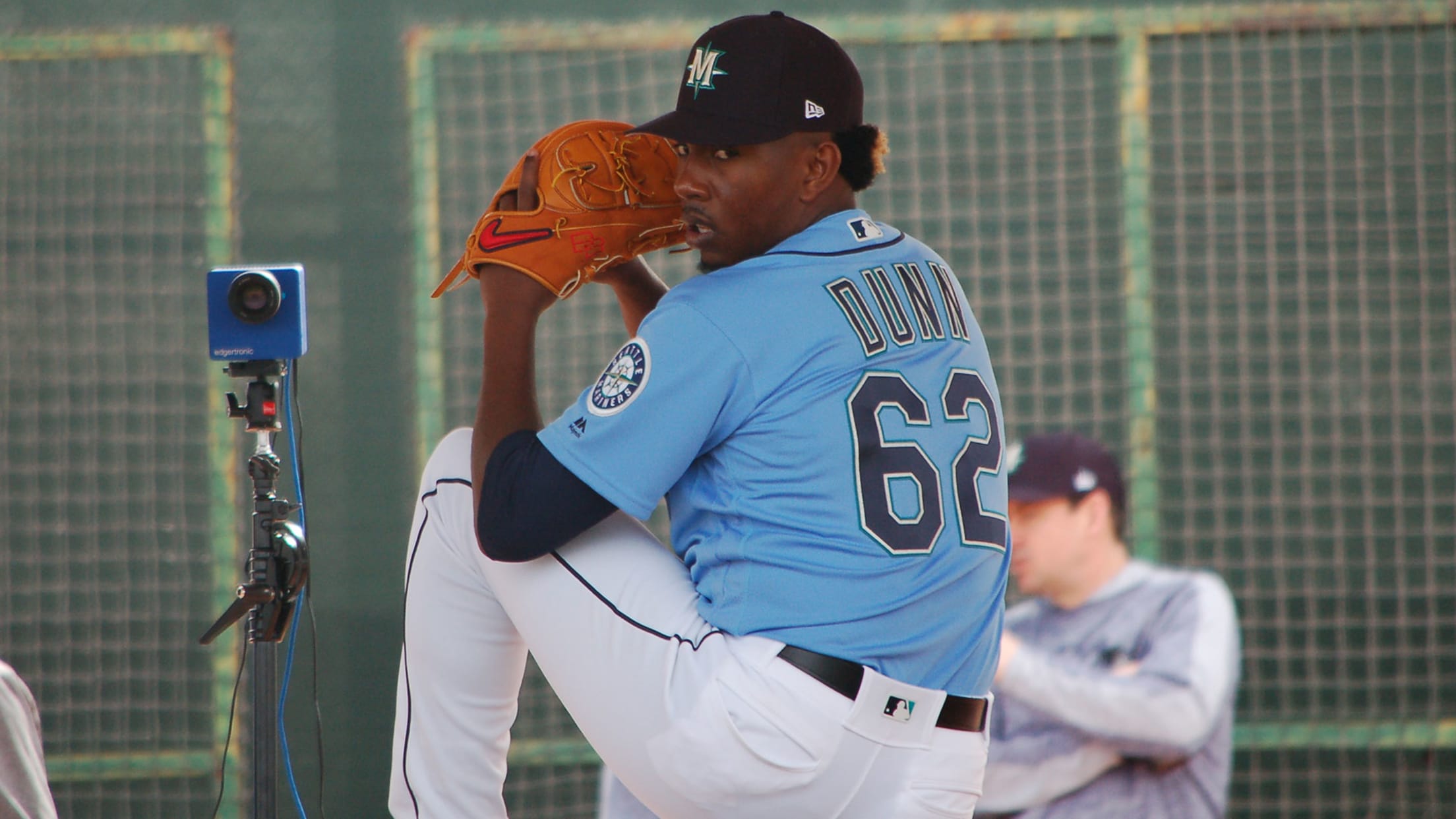 There's also the small ground-based unit, housed in a triangle casing, sitting partway between the catcher and the pitcher. That's a Rapsodo, shown here in use while Andrew Heaney throws in Angels camp.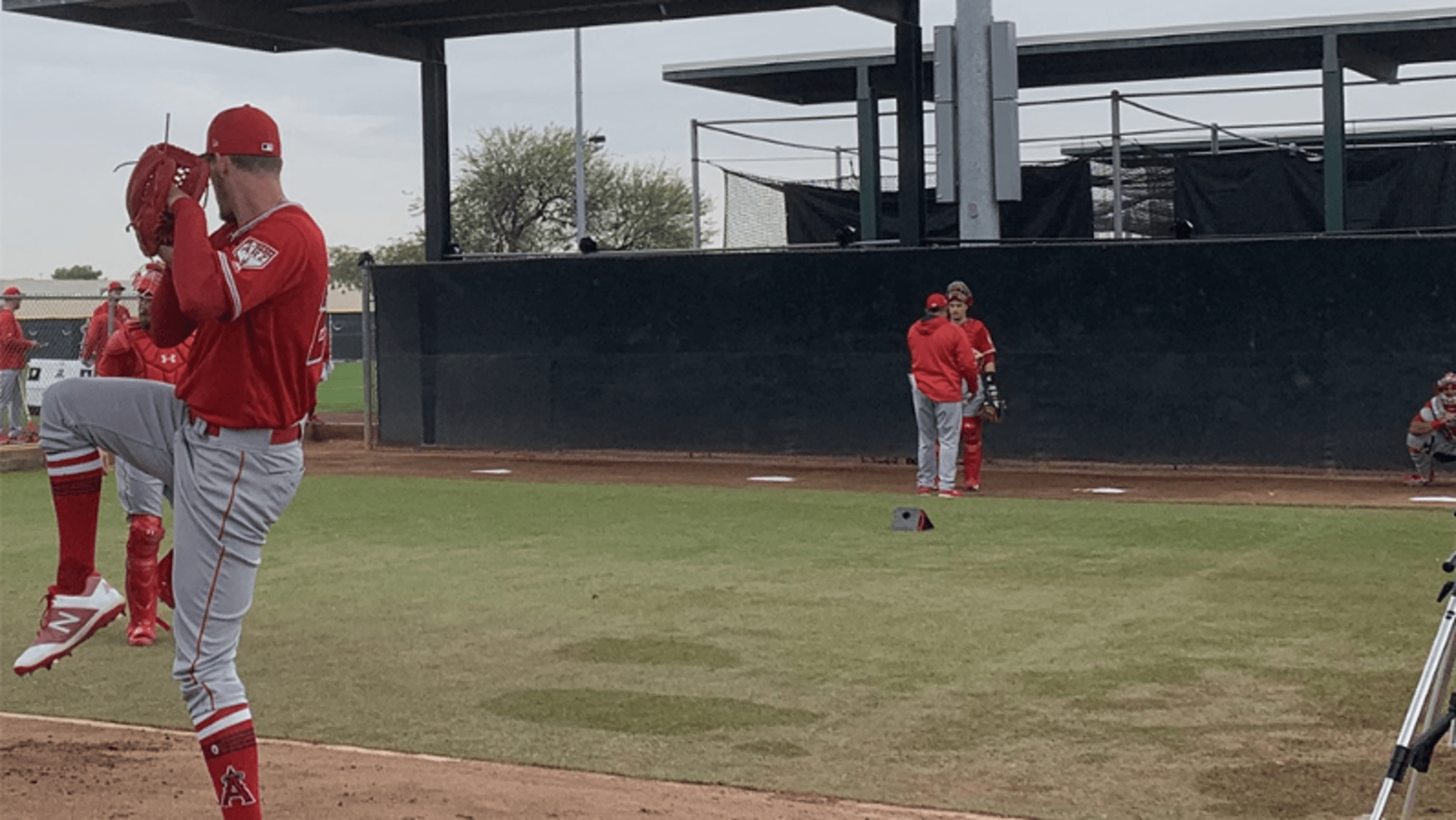 Twenty-eight of the 30 teams now use Rapsodo, reports Baseball America's J.J. Cooper, and the two that don't aren't behind the curve so much as they are simply using other kinds of gear, like Yakkertech. On Twitter, we've been collecting a running thread of photos and reports of the new technology permeating the game, with nearly every team represented, plus several more who have reached out privately to confirm they're on board as well.
As we've done so, it's become clear that not everyone understands what this equipment does, or how it can be used, so let's try to clear that up right now. What is this stuff, who's using it, and why does it matter?
The names to know: Edgertronic and Rapsodo
There are a few companies in this space, and you may be familiar with Trackman as the provider of the radar that collects metrics like exit velocity, launch angle, and spin rate for Statcast™. But there's a big difference between what you can measure in a ballpark in a real-world environment, and what you can capture when you have a controlled space in a bullpen or a gym.
As Boddy noted above, Edgertronic cameras have quickly gained currency in baseball, thanks to their ability to capture video at 1,000 frames per second, allowing for a much better view of a pitcher's grip and the spin and motion of the ball than any traditional video camera.
You can see it in place behind Astros prospect J. B. Bukauskas.
J.B. Bukauskas pic.twitter.com/6ZN36OyddH

— Brian McTaggart (@brianmctaggart) February 15, 2019
Here it is behind veteran Tigers righty Jordan Zimmermann.
A whole lot of electronics pointed at Jordan Zimmermann as he throws a bullpen session today. (Rapsodo machine not pictured) pic.twitter.com/lyrzYzrjCJ

— Jason Beck (@beckjason) February 16, 2019
Here's another behind several Twins relievers.
Now in the bullpen: Michael Pineda, Trevor Hildenberger, Fernando Romero, Tim Collins, as new pitching coach Wes Johnson looks on.

The cameras you see in the back are high-speed Edgertronic video cameras. pic.twitter.com/6tlv9BwUG1

— Do-Hyoung Park (@dohyoungpark) February 14, 2019
And here's Kenley Jansen getting real-time feedback on his bullpen work in Dodgers camp.
Kenley Jansen is getting that #live #spinrate #data after throwing another bullpen session at Camelback Ranch. pic.twitter.com/hZQD90W4g4

— Pedro Moura (@pedromoura) February 17, 2019
If you're wondering what the output actually looks like, Twins reliever Trevor May, who last season struck out 36 while walking only five in 25 1/3 innings after returning from elbow surgery, tweeted out exactly what his curveball looks like through an Edgertronic camera. (Note also the black box on the ground. That's a Rapsodo.)
Actual slow mo video of curveball spin in the bullpen today. In black and white for effect. pic.twitter.com/RPFvIVh7q4

— Trevor "IamTrevorMay" May (@IamTrevorMay) February 16, 2019
The benefit here is clear: A pitcher can see the spin and rotation in ways the human eye can't possibly detect, thus allowing them the freedom to tweak and shape the pitch into more effective movement. If this sounds familiar, this is basically what Adam Ottavino set up in his Harlem pitching lab, enabling him to have a breakout 2018 that turned into a three-year deal with the Yankees.
The other main name to know here is Rapsodo, which also incorporates radar into its technology. That's what you can see on the ground in front of Angels pitcher Trevor Cahill ...
Trevor Cahill throwing a live bullpen session. The device on the ground in front of the hitter is a Rapsodo device that tracks pitcher spin rates. pic.twitter.com/L5174RXefs

— Rhett Bollinger (@RhettBollinger) February 19, 2019
... and arranged in front of multiple mounds in Reds camp.
@mike_petriello here you go, setting up the Rapsoto in Goodyear pic.twitter.com/4pC2sT2Y5a

— C. Trent Rosecrans (@ctrent) February 17, 2019
Some older versions can be found mounted on poles, as the Blue Jays have done. (They have the newer ground-based units, too.)
#BlueJays are collecting spin rate data with a Rapsodo this spring, and a number of pitchers have already been talking about the benefits of that information. pic.twitter.com/6lVihbjnDI

— Scott Mitchell (@ScottyMitchTSN) February 15, 2019
The output of all that is a visually appealing dashboard, allowing pitchers to instantly understand the data behind the pitch they just threw.
EXCITING STUFF BREWING... We are now the FIRST high school in Indiana to bring the Rapsodo 2.0 pitching upgrade and the new Rapsodo 2.0 Hitting Unit into our arsenal. We are now able to measure every aspect of pitching and hitting at a MLB Level! @rapsodo #1%BetterEachDay pic.twitter.com/In5dxOgOp7

— SHS Baseball (@SHSGBBaseball) February 12, 2019
It's not just for pitchers, for what it's worth, as Matt Adams of the Nationals shared.
I ❤️ @rapsodo #belatedvalentine https://t.co/DdODQnw2P0

— Matt Adams (@BigCityForReal) February 17, 2019
Unlike the Edgertronic, which is more for seeing things clearly in slow motion, the Rapsodo outputs real-time actionable data, not just the velocity and spin rate that you're used to, but also things like "spin axis" and "spin efficiency." Those are complicated terms, but the general idea is that it's not just how much spin you have, but the direction you spin it in, and a pitcher can see right away if what feels good also rates well, too.
A tidal wave of change
Clearly, this is a massive tectonic shift in just a few years, especially in a sport generally slow-moving to adapt. (As recently as 2010, the year Madison Bumgarner and Buster Posey led the Giants to their first San Francisco title, then-Phillies assistant Charlie Kerfeld famously said, "We don't have an in-house stats guy, and I kind of feel we never will.") In years past, pitchers like Bauer and Ottavino, inquisitive minds working apart from the team to gain independent data, may have been outliers. It's clear by listening to the players just how quickly that has changed.
"When it first started coming, everybody was totally against it, thought it was almost hocus pocus," Orioles pitcher Alex Cobb said. "I think guys realize now how overwhelmingly obvious the information has become, as a proponent not only for the front offices, but for other players, and how it's been able to help them accelerate their production on the field. Nobody is too naive now to not embrace it."
"It's crazy. If you'd have asked me two years ago, I'd have said, 'I'm not using that stuff,'" Mariners lefty Wade LeBlanc told MLB.com's Greg Johns. "But I'm an average pitcher. I want to be above average. So why wouldn't I use something that we have here that can help?"
"Honestly, I think it's the most efficient way of pitch design, to develop a pitch," said Detroit's Casey Mize, the top overall pick in the 2018 Draft, to MLB.com's Jason Beck. "The numbers are right there in front of you. You can see the flight of the ball, the path of the ball, to know how it's playing off your other pitches.
"We have these slow-motion cameras where I can see the last thing that the ball touches in my hand. I can see so much spin. I can see the way the ball kicks out of my hand, the rotation. Spin axis and efficiency is stuff that I've kind of really bought into, because it's just better pitches."
The Brewers, meanwhile, have an entire wing of their new Spring Training home dedicated to "sports sciences." The Cubs, Padres, Rangers, White Sox, Reds, D-backs, Rockies, Pirates, Red Sox, Royals, Giants and everyone else are at various stages of implementation of their own gear, alongside the teams mentioned above and those not mentioned at all. It's now a requirement, not an experiment.
Two mounds on the Cubs' bullpens have high-speed cameras (Edgertronic) and instant data feedback (Rapsodo) today. Carl Edwards Jr. throwing on one now. pic.twitter.com/H8C6FSTaoZ

— Jordan Bastian (@MLBastian) February 13, 2019
As you might imagine, this data requires some interpretation. Bauer may be a notable exception, but you can't simply put players in front of a laptop and expect them to know how to translate that into on-field results.
It's that kind of requirement that has changed more than just the physical hardware on the field, but the types of hires teams are making as well, with such importance placed on taking numbers and helping players understand what to do with them.
For example: The Driveline staff has turned into something of a coaching pipeline this winter, with hires like Jason Ochart (Phillies) and Matt Daniels (Giants). The Angels have added private hitting instructors who made their names on social media like Ryan Parker and Derek Florko. And most interestingly, teams have dipped into the college ranks to find coaches in larger numbers, like when the White Sox hired Missouri hitting coach Matt Lisle as an instructor, and when the Twins hired University of Arkansas pitching coach Wes Johnson, believed to be the first college pitching coach to move directly to the Majors, to lead their staff.
This may not appeal to everyone, understandably. Then again, the only reason players of the past weren't using this sort of technology was because it simply wasn't available. Tony Gwynn, for example, was famous for pioneering the use of video in the 1980s; Ted Williams' 1971 book "The Science of Hitting" essentially described launch angle more than 40 years before anyone had ever heard of Statcast™. You can safely assume they'd have been thrilled to have access to this data.
The Houston pipeline
Back to the present day. As Boddy noted, this largely began in Houston. The Astros were the first team with an Edgertronic, and anecdotally, they remain ahead of the field in this area, which is part of the reason they have found such success in acquiring pitchers like Justin Verlander, Gerrit Cole, Ryan Pressly, and Charlie Morton and simply making them better. You may remember how often we talked about their pitching staff being up there with the best ever in 2018. (Verlander's journey back to greatness, in part thanks to using the Houston high-speed cameras at a time when few other clubs had them, was detailed by Tom Verducci in this 2017 Sports Illustrated piece.)
Success breeds imitation, and the Houston front office has been raided this winter.
"We've had a great response for the interest level from [our pitchers] into the new analytics stuff that we've brought in, the guys from Houston have brought here," said new Orioles manager Brandon Hyde. "I think we've got a great response to it."
The "guys from Houston" he's referring to are new Baltimore general manager Mike Elias and assistant GM Sig Mejdal, who each came from the Astros this offseason.
In Anaheim, new pitching coach Doug White had been in the Houston organization since 2013. As Skaggs noted above, things are a little different these days.
Rondon, Devenski, Osuna and Peacock in action pic.twitter.com/5YIAi84Kem

— Brian McTaggart (@brianmctaggart) February 15, 2019
For those just getting used to the gear now, the gap between teams remains sizable. "Other teams are way ahead of us," Detroit manager Ron Gardenhire told The Athletic, "but we're trying to catch up."
Yankees reliever Zack Britton told FanGraphs last fall that "there's a gigantic difference in how we use analytics here compared to Baltimore," a thought echoed on the other side by incoming prospects Dean Kremer and Luis Ortiz, acquired in the Manny Machado and Jonathan Schoop trades, respectively, who were surprised to find that Baltimore wasn't using the same kind of gear as their previous systems were. (Obviously, that's changing under the new Orioles regime.)
"[We're] still in the process of vetting it and figuring out the best use for it," Cardinals manager Mike Shildt told MLB.com's Jenifer Langosch. "[Cameras on the field are] something that we continue to explore, but I wouldn't say you'll see it [this spring]."
"Using a Rapsodo isn't getting ahead," Boddy added last week. "It's just doing your job these days."
This is the kind of idea that's gone from revolutionary to expected in just over two years. That's how fast baseball moves these days. Just imagine what we'll be talking about two years from now.