Guessing who will fill 8 manager openings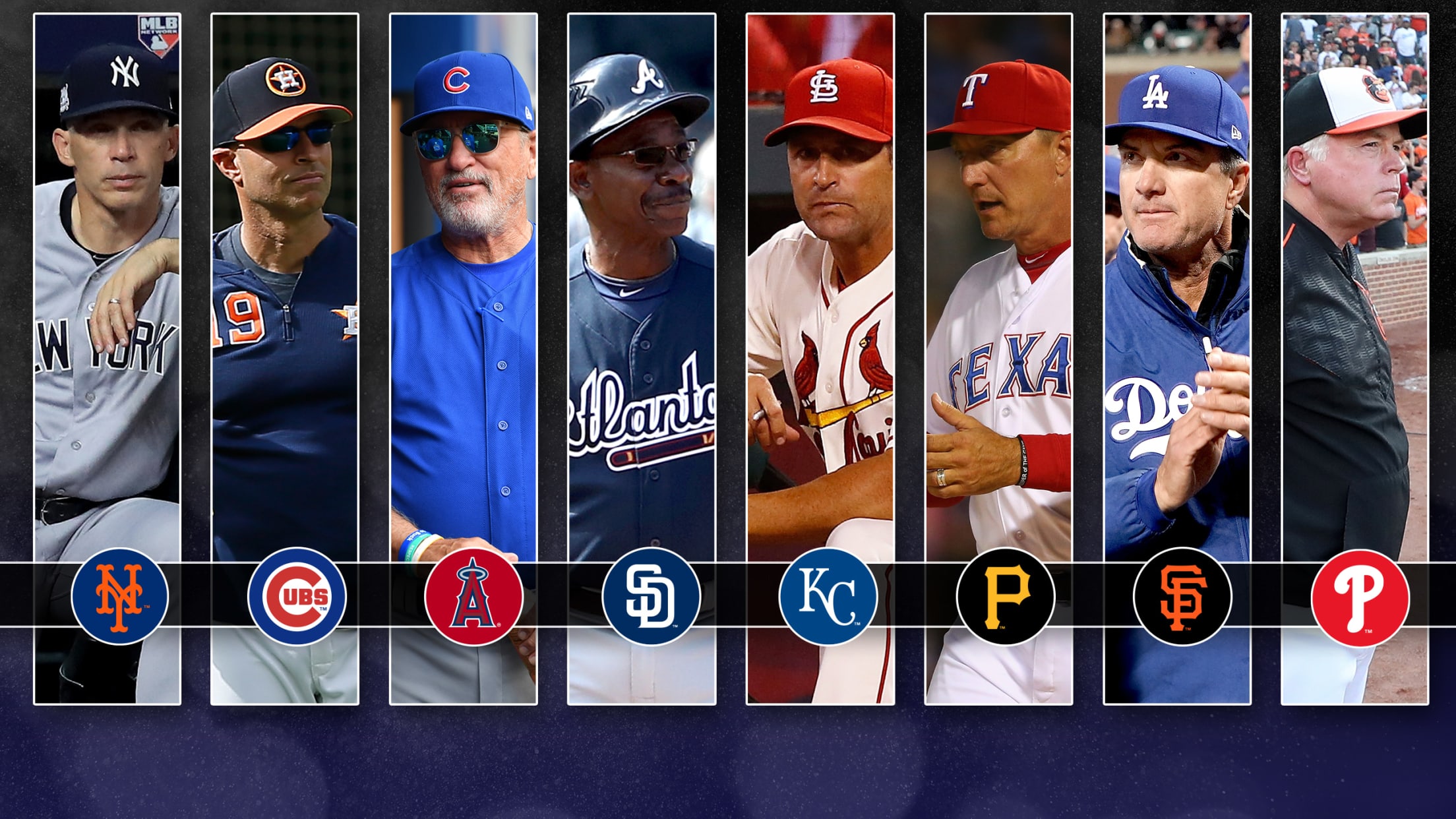 Hey, want to be a Major League manager? This could be your chance! There are eight jobs available, now that the Phillies have decided to move on from Gabe Kapler. Though we know this job has evolved a lot in a short time and in many places doesn't carry the
Hey, want to be a Major League manager? This could be your chance!
There are eight jobs available, now that the Phillies have decided to move on from Gabe Kapler. Though we know this job has evolved a lot in a short time and in many places doesn't carry the weight it once did (many teams view the manager role as a "collaboration" with the front office, and personality and past performance in the role don't always win out in the interview process), it's still fun to speculate on who will end up where. Especially when the market is this crowded, and there are so many quality candidates on the shelves.
• Manager rumors and candidates
So let's play a game of Skipper Selection Supposition -- one man's guesses as to how this will all shake out in the coming hours, days and weeks.
Mets
In the wake of dismissing Mickey Callaway last week, they're looking at a wide and varied pool of candidates, from Name Brand Managers like Buck Showalter, Dusty Baker and Joe Girardi to inexperienced skippers but prominent former players like Carlos Beltrán to everything in between. The Mets totally went off the grid in hiring Brodie Van Wagenen as their general manager last year, and maybe, as an extension of that, Van Wagenen will totally go off the grid here.
But the Mets job is screaming for stability, for tactical know-how, for major market media savvy, for somebody who has been to the mountaintop. And if that somebody happens to already have a home in the New York area, well, all the better.
• New Mets manager: Favorites and wild cards
Best guess: Girardi
Cubs
It's a demanding job in terms of the media pressures, the big shoes Joe Maddon left behind and the work that must be done internally to shake off consecutive late-season skids. But it's still as attractive a job as there is. Will that lure David Ross, whom many consider the odds-on favorite for the gig, out of a swell broadcast role with ESPN and time with his young family? Will the Cubs promote their bench coach and 15-year Major League veteran Mark Loretta or first-base coach and nine-year veteran Will Venable? Will Girardi return to his Cubs and Illinois roots?
• Cubs begin managerial search with Loretta
Though my gut initially went with Loretta in a Tweet on this subject, all Tweets are subject to change (but, alas, not editing). Every team is looking for an AJ Hinch type right now, and what better way to do that than by (much like the 2018 Red Sox with Alex Cora) hiring Hinch's bench coach, Joe Espada, who has been lurking in the wings as an important piece of the coaching staff for the Astros and Yankees in recent years (and on the Puerto Rican runner-up squad in the '17 World Baseball Classic).
Skipper Selection Suppositions:

Mets: Girardi
Angels: Maddon
Royals: Matheny
Cubs: Loretta
Padres: Washington
Pirates: Banister
Giants: Geren
Phillies: Kapler survives!*

*If he doesn't... Buck.

— Anthony Castrovince (@castrovince) October 8, 2019
Best guess: Espada
Angels
Well, we're not going off the grid here, sorry. If anybody other than Maddon gets this job, it will be a stunning upset. From the moment the Angels let go of Brad Ausmus after just one season at the helm (a season that spiraled out of control due to factors totally beyond his control), the industry assumption has been that the Halos must know they can and will get Joe, who spent 31 years in their organization.
• Maddon interviews with Angels (source)
Best guess: Maddon
Padres
This will be an especially fascinating hire, because there's a lot of love for a Padres team that, frankly, can only go up from here after yet another season in which it was mired in mediocrity despite the big-ticket acquisition of Manny Machado, and that also has one of the strongest farm systems in baseball. You also get to live in San Diego. So there's that.
Interim manager Rod Barajas is a candidate, as is Ausmus. With the Padres reportedly placing emphasis on experience, the well-decorated Mike Scioscia could return to managing, and, while this feels unlikely, maybe the Friars will coax Bruce Bochy back to the bench after just a few weeks of retirement. But I think general manager A.J. Preller is going to go back to his Rangers roots and bring in the guy who led Texas to consecutive American League pennants in '10 and '11. Ron Washington is a great teacher of the game for a team with a young core, and he has been vital in the Braves winning consecutive National League East titles.
Best guess: Washington
Royals
The Royals believe in looking internally first for all openings, and so it is with this high-level one to replace the retired Ned Yost. While Pedro Grifol and Dale Sveum (both of whom were on Yost's staff) are also qualified, it seems a fait accompli that this job will go to former Cardinals skipper Mike Matheny. He has been working in the front office as a special adviser for a year, and people with the Royals rave about his leadership and the lessons he learned from when things went off the rails in St. Louis. The only wild card in this search is the transition to new ownership. But for now …
Best guess: Matheny
Pirates
The Pirates need a kick in the pants after two straight miserable second halves. And while there are loads of quality candidates in systems and on coaching staffs across the country, it's really hard to imagine a better fit for this job than the one that is sitting in-house. Jeff Banister was plucked from Clint Hurdle's Pittsburgh staff and had instant success with the Rangers in 2015 and '16, winning consecutive AL West titles. Then he had two humbling seasons and learned some hard lessons along the way about what it takes to get through to today's players. He has been back with the Pirates the past year as a special assistant, he's a natural-born leader and he deserves another opportunity.
• Pirates embark on first manager search since '10
(He's also one of just five living position players with one plate appearance and one hit in the big leagues. Read all about it!)
Best guess: Banister
Giants
Another job that, like the Cubs' gig, requires filling enormous shoes (and an enormous hat size). Bochy's a legend, and, if the standard is three World Series titles per decade, um, good luck. But this is obviously an attractive opportunity to work with one of the brightest front-office minds in the game in Farhan Zaidi and a team that is consistently going to have the resources to put its best foot forward. The competitive outlook for 2020 might not be outstanding at the moment, but it might not take long for the Giants to be a power again.
Bruce Bochy, hat size 8+, hit a walk-off HR off Nolan Ryan. A red carpet was run from the clubhouse door to his locker. In his locker, Padre teammates had placed a celebratory six-pack of beer, with ice, in his helmet. #bestofalltim

— Tim Kurkjian (@Kurkjian_ESPN) September 21, 2018
Bochy staff members Hensley Meulens and Ron Wotus are candidates here, but my hunch is that Zaidi goes with somebody with whom he goes back further. Mark Kotsay, the former outfielder turned A's quality control coach, goes back a ways with Zaidi from their shared A's days. This could also be a landing spot for Gabe Kapler now that he's been dismissed by the Phillies, as Zaidi and Andrew Friedman nearly promoted him for the Dodgers' opportunity that went to Dave Roberts. But I'm going with Bob Geren, Roberts' bench coach and possibly the safer play as a guy who has experience managing in the bigs and working with Zaidi at multiple spots (A's and Dodgers).
• Zaidi details Giants' upcoming manager search
Best guess: Geren
Phillies
Let's be real: It was pretty strange that we (and especially Kapler) didn't know for a week and a half after the regular season ended if Kapler was going to remain the manager of this club. No matter how you felt about the job he had done (Phillies fans are a passionate and opinionated bunch, as you know), it was not exactly fair to leave him twisting in the wind. GM Matt Klentak and quite a few players wanted Kapler back, but this (much like the decision to bring back Charlie Manuel as hitting coach during the season) was an ownership decision, and John Middleton was doing some back-channeling to determine what his options were and the best path to take. Now that Kapler is out, the Phillies could go with somebody internal like former player-turned-player information coordinator Sam Fuld. But that would be a hire in a vein not terribly dissimilar from the Kapler hire.
Middleton will probably want somebody with pedigree and panache and personality. Maybe even somebody who once worked with current Phillies president of baseball operations Andy MacPhail in Baltimore.
That, in case you haven't figured it out by now, is Showalter. He'd cost a pretty penny relative to some other names in the marketplace, but the Phillies have famously spent some "stupid" money in the recent past.
Best guess: Showalter