Hot Stove 'homecomings' we'd like to see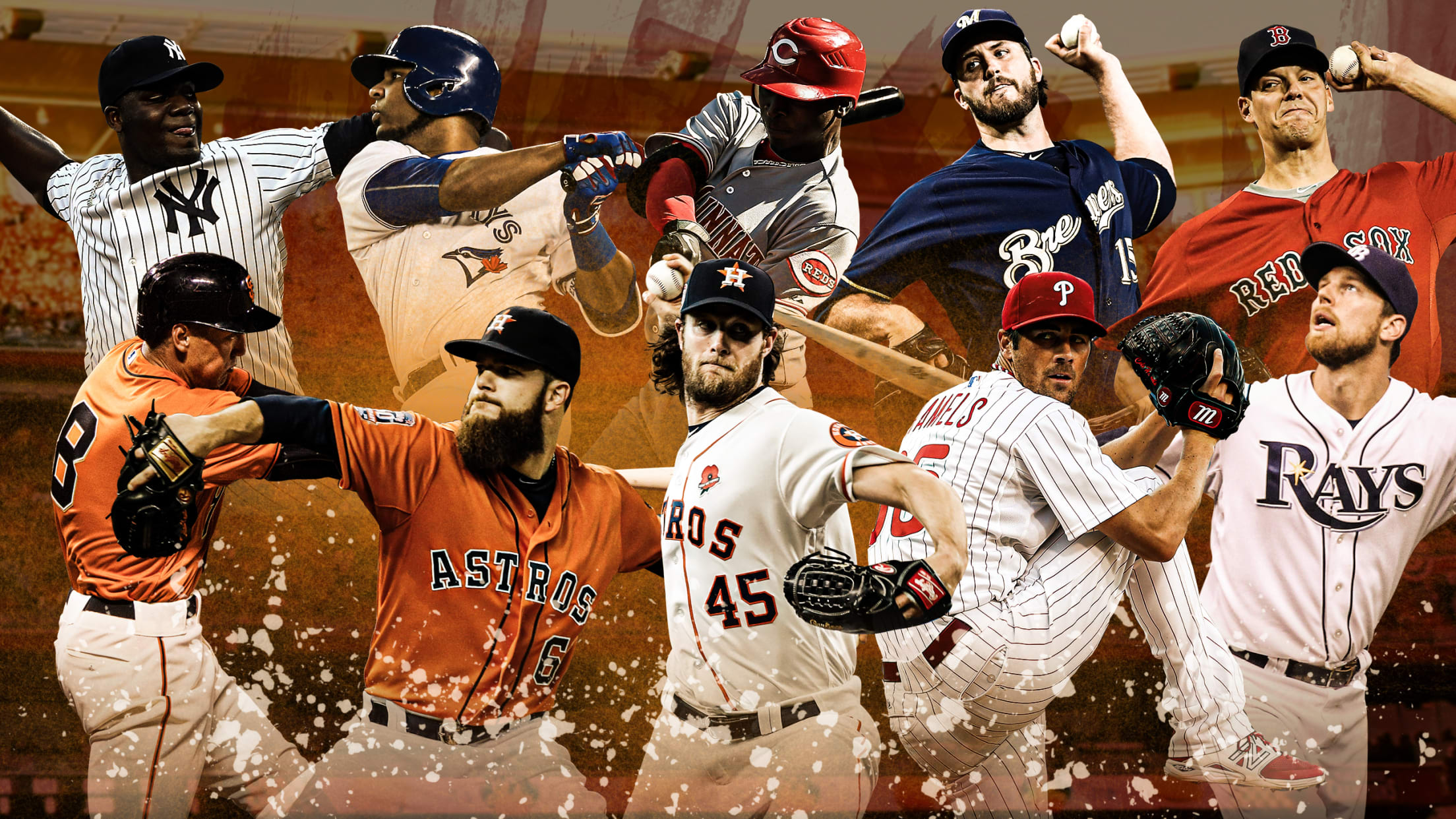 More than 55 million people will travel this Thanksgiving, according to AAA (the motor club association, not the professional baseball level), and many among them will be heading back to places that birthed or otherwise built them into the people they are today. With so many homecomings happening in the
More than 55 million people will travel this Thanksgiving, according to AAA (the motor club association, not the professional baseball level), and many among them will be heading back to places that birthed or otherwise built them into the people they are today.
With so many homecomings happening in the coming days, let's discuss some potential Hot Stove "homecomings" that would reunite people with their former clubs.
We already got a taste of this when Carlos Beltrán returned to the Mets ... as the manager. But here are some examples of player movement that could elicit fuzzy or funny feelings ... and maybe even make sense from a baseball perspective, too!
Gregorius to the Reds
For a measly $50,000 signing bonus, the Reds nabbed Didi Gregorius as an amateur out of Curaçao in the summer of 2007. But before he could blossom for them at the big league level, he was included as part of the package to land Shin-Soo Choo from the Indians in a three-team trade prior to the 2013 season. Gregorius went to the D-backs in the deal, then to the Yankees two years later in another three-team deal as the heir to Derek Jeter's shortstop spot.
The Reds weren't able to reunite with their former first-round Draft pick Yasmani Grandal. But with Gregorius looking for a new opportunity post-Tommy John surgery, he's a natural fit for a Cincinnati team with a shortstop need.
Hamels and/or Giles to the Phillies
Cole Hamels' great Philadelphia career went out on a high note with that no-hitter in 2015, shortly before he was traded to the Rangers. But a reunion makes sense, given the Phils' need for help in multiple spots of their rotation. They certainly have other priorities in that marketplace (Gerrit Cole, for instance), but Hamels would be a fine secondary addition, and it would be fun to see him finish his career where it started.
The Phils are also in the market for bullpen help, and Ken Giles, a free agent after 2020, is readily available in trade from the Blue Jays. He, too, was dealt by the Phillies to a Texas team in 2015.
Keuchel to the Astros
This one doesn't seem especially likely, as Dallas Keuchel felt as if the Astros -- who didn't put a high value on his sinkerball skill set -- lowballed him in free agency last year.
That was the beginning of what turned out to be an extensive time in the wilderness before he finally landed with the Braves in June. But the Houston rotation has holes with Gerrit Cole and Wade Miley in free agency, and Keuchel is certainly capable of filling one of them.
Cole and/or Pineda to the Yankees
The Gerrit Cole concept stretches the limits of the exercise slightly, because, while Cole was drafted by the Yankees at No. 28 overall in 2008, he famously spurned them by opting to instead attend UCLA. Of course, there is added weight to the relationship here, because we've all seen that picture of an 11-year-old Cole at the 2001 World Series, holding a sign reading "Yankee fan today tomorrow forever."
Gerrit Cole: Yankee Fan Forever pic.twitter.com/hWOcoQQkpJ

— A.J. Herrmann (@AJHerrmannYES) October 15, 2019
Well, OK, maybe we shouldn't hold an 11-year-old kid to his word for the rest of his life. But Michael Pineda would be a more straightforward reunion. A major Yankees trade acquisition way back in 2012, Pineda's tenure in the Bronx is remembered for injuries, pine tar and, ultimately, unmet expectations. His free agency is clouded by the 39 games remaining on his 60-game suspension for use of a diuretic. But the Yankees do need starting help, and, after posting a 2.76 ERA in his last 11 starts of 2019 with the Twins, Pineda's one of the upgrades available on the open market.
Encarnación to the Blue Jays
The recent arrivals of Vladimir Guerrero Jr., Bo Bichette and Cavan Biggio give the Blue Jays the makings of what could one day become an elite offense. But there is something to be said for a veteran presence to serve as both a resource and run-producer, and who better to fill that role for a Toronto team with some financial flexibility (and first baseman Justin Smoak in free agency) than old pal Edwin Encarnación?
Both sides wanted to renew the relationship at the end of 2016, but Encarnación wrongly turned down an $80 million offer early in the offseason and wound up in Cleveland. The parrot's passport is still valid, so this reunion would work.
Pomeranz to the Indians
Drew Pomeranz was the key prospect the Indians traded for Ubaldo Jiménez at the 2011 Trade Deadline, which is crazy because:
A. Remember when Drew Pomeranz was a top prospect?
and
B. Remember when Ubaldo Jiménez was a top trade target?
Anyway, the Indians are like pretty much every team in baseball in that they could stand to improve the bullpen, although it doesn't appear as though it will be a major focus of theirs this winter. Pomeranz has emerged as one of the top relief weapons available, so he'll likely be out of their price range. But it would still be interesting to see the two sides reunite all these years later under much different circumstances.
Hill to the Red Sox
The Red Sox need to round out their rotation on the cheap this winter, and, given the injuries that plagued Rich Hill in 2019 with the Dodgers, the 39-year-old Boston native should be a reasonably affordable option.
The Red Sox are the team with whom Hill resurrected his career in 2015, and it would be touching to see him return there. Not even the old Baker Chocolate Factory on the Neponset River could have turned out something that sweet.
Zobrist to the Rays
This is admittedly a forced "fit," because, while the Rays do need a right-handed bat and could employ Ben Zobrist's positional flexibility, they ultimately need somebody with more thump. Plus, it's not even 100% certain that Zobrist will play in 2020 after missing much of '19 due to personal issues.
But there's no denying it would be fun to see him lengthen the roster of a very good Rays team in his old stomping grounds at The Trop.
Pence to the Giants
It's kind of hard to go back after you've already given an emotional goodbye speech and been presented with a custom scooter at the end of 2018. And Hunter Pence's comeback campaign in Texas in 2019 was made possible in part by the DH role, which obviously wouldn't be available to him in San Francisco.
But now that he's proven himself to be a viable big leaguer again, would it be fun to see Pence back in the Bay Area? To borrow a phrase once borrowed by Pence, "Yes! Yes! Yes!" Heck, we'd settle for a bench gig in Oakland, if need be.
By the way, it would also be interesting if the Giants, who drafted Zack Wheeler sixth overall in 2009 before trading him to the Mets two years later, were the team that landed Wheeler in free agency. But it's hard to imagine San Francisco forking over that kind of cash at this stage of the rebuild.
Actual homecomings!
What if several of the top free agents in this market sign with hometown teams?
We all know the Angels are going to put the full-court press on Cole, who grew up in Orange County. We all know the Padres are interested in San Diego's own Stephen Strasburg. We can certainly speculate that the Braves would be one of the teams interested in Zack Wheeler, a native of nearby Smyrna, Ga., (after signing Newnan native Will Smith).
And while this would obviously require a lot of heavy lifting and therefore isn't very likely, hear us out: What if the Astros were to trade Carlos Correa two years ahead of his free agency, move Alex Bregman to short and sign native Houstonian Anthony Rendon?
Yes, you can go home again. Especially when you're getting paid millions of dollars to do so.