Didi, Phillies agree to deal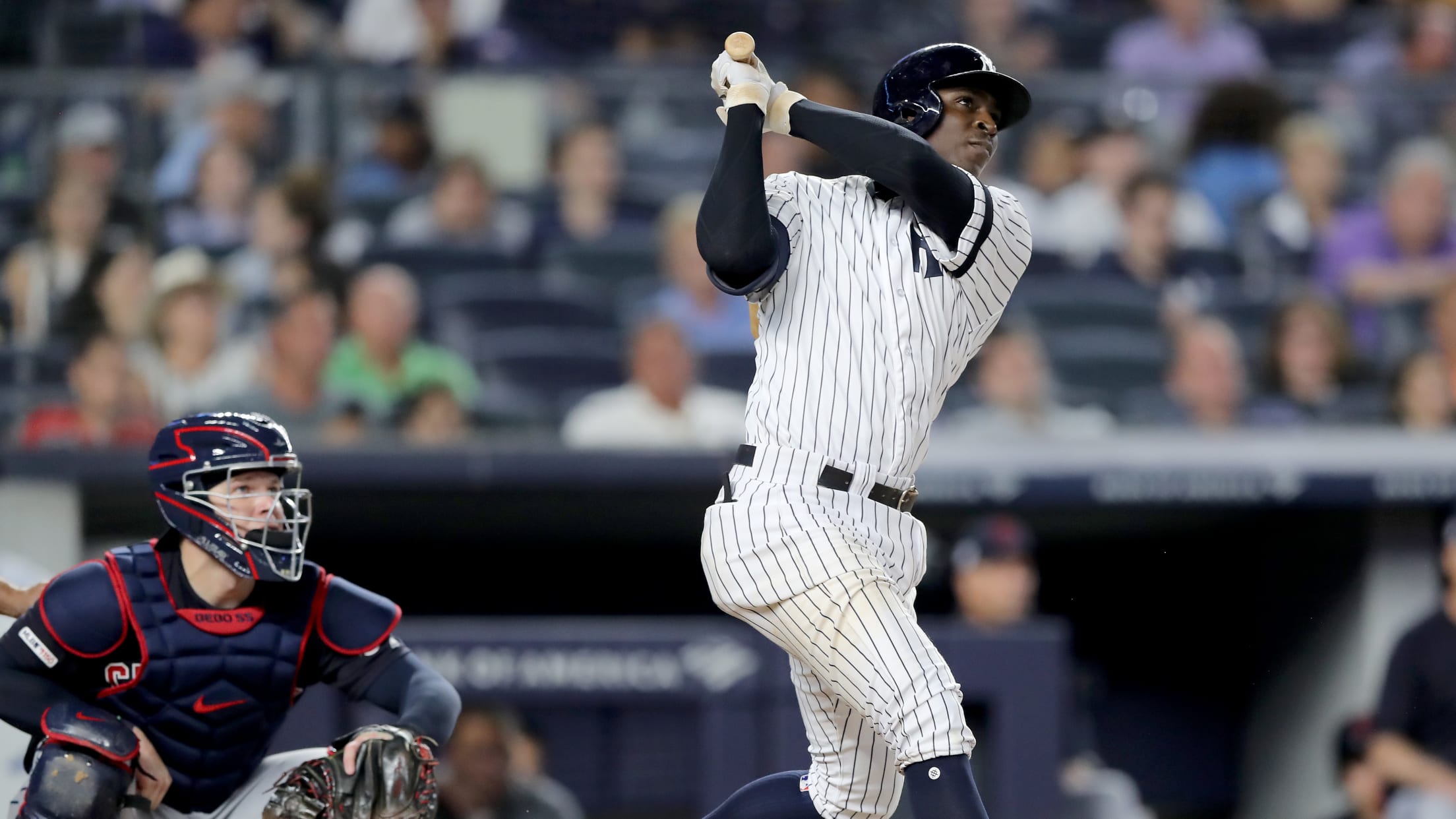 After playing his way through a 2019 campaign limited by his return from Tommy John surgery, Didi Gregorius could very well be swapping uniforms in the coming months. Below is a list of the latest news and rumors surrounding the 29-year-old shortstop, who is now a free agent.
After playing his way through a 2019 campaign limited by his return from Tommy John surgery, Didi Gregorius could very well be swapping uniforms in the coming months.
Below is a list of the latest news and rumors surrounding the 29-year-old shortstop, who is now a free agent.
Gregorius signs with Phillies
_Dec. 13_: The Phillies signed Didi Gregorius to a one-year deal on Friday, adding a veteran shortstop to the mix on a $14 million deal. That was the team's No. 2 need for the offseason, behind adding a starting pitcher -- which they did when they signed Zack Wheeler. The Phillies are now only a few million dollars underneath the $208 Competitive Tax Balance threshold. The Phillies have no intentions of significantly passing that mark -- or passing it at all -- unless there is a dramatic shift in their feelings, according to MLB.com's Todd Zolecki. Assuming there is not, it means the main components for next season's Phillies are on the 40-man roster.
Crew eyeing Didi
Dec. 9: Add the Brewers to the list of clubs with their eyes on Gregorius, according to MLB Network insider Jon Heyman.
Milwaukee, as Heyman notes, has become a very different-looking club over the past few seasons. But they recently acquired Luis Urias from the Padres in a deal that sent Zach Davies to San Diego, and Urias would presumably slot in at short. That would change, of course, if the Crew landed Gregorius, who is com
Gregorius could command up to $15 million per year
Dec. 9: Gregorius "seems likely" to get a multiyear contract worth $14 million to $15 million per year, according to MLB Network insider Jon Heyman, who reports that the Phillies are among the clubs eyeing the shortstop.
Philadelphia is overhauling its infield this offseason after non-tendering second baseman César Hernández and third baseman Maikel Franco. The club has been linked to Anthony Rendon and Josh Donaldson in addition to Gregorius. If the Phils sign Gregorius, they are expected to move shortstop Jean Segura to another position or trade him.
Heyman reported Sunday that the Reds were still interested in Gregorius, even after signing Mike Moustakas for $64 million over four years. However, Heyman now notes that Gregorius' expected price tag could take Cincinnati out of the running.
With Eugenio Suarez entrenched at third base, Moose is set to handle second-base duties for the Reds, and the club has shortstop Freddy Galvis signed for $5.5 million in 2020.
Gregorius seems likely to get 14-15M a year on a multiyear, which may price out Reds, who like him but are covered there with Galvis, in case. Phillies, others thought to be in.

— Jon Heyman (@JonHeyman) December 9, 2019
Reds reportedly still have interest in Didi
Dec. 8: The Reds' addition of free agent Mike Moustakas on a four-year, $64 million contract seemed likely to take them out of the running for Gregorius. With Eugenio Suarez entrenched at third base, Moose is set to handle second-base duties, and the club has shortstop Freddy Galvis signed for $5.5 million in 2020.
However, MLB Network insider Jon Heyman reports that Cincinnati still has interest in Gregorius, who began his career with the team before being traded to the D-backs and then the Yankees.
Galvis and Gregorius were similar hitters this past season, with Galvis posting a 92 OPS+ to Gregorius' 87 mark. Galvis, though, has never had an OPS+ above 100, which represents a league-average hitter. Meanwhile, Gregorius recorded a 108 OPS+ from 2016-18.
The Reds ranked 25th among all big league teams in runs scored with 701 in 2019, so it wouldn't be surprising to see the club make another notable offensive acquisition. In addition to Gregorius, Cincinnati has been connected to outfielders Nicholas Castellanos and Marcell Ozuna.
Reds do like Didi Gregorius, and he still seems to be a consideration for them. He's originally a Red, plus they want to add gritty, winning players (ie Moose). They are covered at SS tho with Freddy Galvis, and at $5.5M too, which would be pricey for a Reds bench player.

— Jon Heyman (@JonHeyman) December 8, 2019
Is Didi a priority target for Phillies?
Dec. 6: The Phillies are expected to focus on improving their infield after addressing the rotation by agreeing to a five-year, $118 million deal with right-hander Zack Wheeler on Wednesday, and they are known to have interest in Gregorius. Given the size of Wheeler's deal and the amount of money Philadelphia spent last offseason, Gregorius seemed like a more likely target than, say, Josh Donaldson, another player to whom the team has been connected.
However, USA Today's Bob Nightengale reported Friday that the Phillies are not only eyeing Donaldson, but also Anthony Rendon. Per Nightengale, Philadelphia considers Donaldson a fallback option to Rendon. The team would likely need to go over the $208 million Competitive Balance Tax threshold to sign either player, but Nightengale doesn't think that will deter managing partner John Middleton.
It's unclear where the Phils stand on Gregorius, though the team also has an opening at second base and could conceivably sign both Rendon and Gregorius and then either move Jean Segura to the keystone or trade him.
Phillies maintaining contact with Donaldson, Didi
Dec. 3: The Phillies' infield is in a state of flux after the club non-tendered second baseman César Hernández and third baseman Maikel Franco on Monday, and MLB.com's Jon Paul Morosi reports that Philadelphia is maintaining contact with Josh Donaldson and Gregorius. The two could make up the new left side of the Phillies' infield, bumping shortstop Jean Segura to second base and keeping Scott Kingery in a super-utility role. Philadelphia also has a need in the rotation and has been linked to Madison Bumgarner.
According to Morosi, the Phillies are more likely to target Donaldson than fellow free-agent third baseman Anthony Rendon because of the expected cost disparity.
"With all the money they spent last offseason, they still have, in my opinion, multiple needs," Morosi said Tuesday on MLB Network's "Hot Stove" program. "One more bat, at the very least, and at least one more arm for the rotation.
"They could probably afford and pay for ... Donaldson and a Madison Bumgarner for less money than it's going to cost to sign Rendon all by himself. So I think that, if I'm the Phillies, I'm thinking strategically -- multiple moves, as opposed to the one big one like [Bryce] Harper last wintertime. I do think that Donaldson plus Bumgarner may be, in fact, the Phillies' best strategy in the weeks to come."
One factor the Phillies are likely to consider is the development of third baseman Alec Bohm (Phillies' No. 1 prospect, MLB's No. 34 overall). According to Scott Lauber of the Philadelphia Inquirer, Phils general manager Matt Klentak said it's "very reasonable" to expect Bohm to impact the big league club at some point in 2020. Bohm's presence in the farm system could make Gregorius a more likely target than Donaldson.
#Phillies still view Alec Bohm as a third baseman and believe it's "very reasonable" he can impact the big-league club at some point in 2020, GM Matt Klentak said, "and that's something we need to consider as we make the rest of our offseason decisions."

— Scott Lauber (@ScottLauber) December 3, 2019
Reds add Moose; is there still room for Didi?
Dec. 2: The Reds made a big addition to their infield on Monday, but it wasn't Gregorius. Rather, the club has agreed to a four-year contract with Mike Moustakas, a source told MLB.com.
Moustakas, whose deal is for a reported $64 million, is expected to get the majority of his reps at second base. After previously picking up Freddy Galvis' $5.5 million option, Cincinnati appears to have the middle-infield spots covered, making it more unlikely the team will pursue a reunion with Gregorius.
That said, the Moustakas move may have inadvertently reopened the door for Gregorius to join the Brewers. Milwaukee initially seemed like a good fit for the veteran shortstop before the team acquired Luis Urías in a trade with the Padres. But with Moustakas off the market, the Brewers have fewer options to fill their hole at third base. They also have 88 home runs to replace with Moustakas, Yasmani Grandal and Eric Thames no longer on the roster.
The Brewers aren't expected to be in on Anthony Rendon or Josh Donaldson, but perhaps the club could sign Gregorius as a way to address the hot corner, either by playing Gregorius there or keeping the 29-year-old at short and playing Urías or Keston Hiura at third.
Non-tenders could clear way for Didi in Philly
Dec. 2: The Phillies are expected to non-tender second baseman César Hernández and third baseman Maikel Franco, reports MLB Network insider Ken Rosenthal in an article for The Athletic (subscription required). Those moves could clear the way for Gregorius to join Philadelphia. The deadline for teams to tender contracts to arbitration-eligible players is Monday night.
Hernández and Franco earned nearly $13 million combined in 2019, and Gregorius, 29, could be looking for a similar average annual salary on a multiyear deal. If the Phillies sign Gregorius, the club will likely move shortstop Jean Segura to second or third base.
MLB.com's Jon Paul Morosi previously reported that the Phillies were interested in Gregorius, who would be reunited with manager Joe Girardi if he heads to Philly.
At this point, the Phillies and Reds appear to be the two most likely suitors for Gregorius. The Brewers seemed to be a good fit as well, but Milwaukee acquired shortstop Luis Urías from the Padres last week.
Brewers make trade for shortstop; are they out on Didi?
Nov. 27: Did the Brewers just find their new starting shortstop? Milwaukee acquired Luis Urías from the Padres along with left-hander Eric Lauer for right-hander Zach Davies and outfielder Trent Grisham on Wednesday, according to MLB Network insider Ken Rosenthal. It is believed that Urias, a former highly ranked prospect who has struggled (75 OPS+) in limited plate appearances as a big leaguer, will be given a chance to take over at shortstop for the Brewers.
Earlier this week, Rosenthal mentioned the Brewers as a potential suitor for Gregorius, saying he thought Milwaukee was "the perfect fit" for the veteran shortstop.
Brewers shortstops had MLB's lowest OPS (.612) at the position in 2019, and it wasn't particularly close. The team's regular starter, Orlando Arcia, appeared in 152 games and recorded a .633 OPS, which was actually an improvement on his 2018 mark (.576) but still well below average (64 OPS+).
Meanwhile, three of the Brewers' top four home run hitters from 2019 are no longer on the roster, as Yasmani Grandal signed with the White Sox and Mike Moustakas and Eric Thames are free agents. Although Gregorius had a poor 2019 season after returning from Tommy John surgery, he owns a .778 OPS (105 OPS+) over the past four years, averaging 29 home runs per 162 games in that span. Given his power, Gregorius would have made sense as a target for Milwaukee, but it appears the team has decided to go in another direction.
Phillies eyeing Didi, Bumgarner
Nov. 22: After the additions of Bryce Harper, J.T. Realmuto, Jean Segura, Andrew McCutchen and David Robertson resulted in an 81-81 season in 2019, the Phillies are expected to have another busy offseason. According to MLB.com's Jon Paul Morosi, Philadelphia is interested in Gregorius and left-hander Madison Bumgarner.
Gregorius would presumably step in as the Phillies' new starting shortstop, bumping Segura to third base, where the club has a big hole. Philadelphia also could use Segura at second base, put Scott Kingery at third and non-tender Cesar Hernandez, who is in his final year of arbitration eligibility after earning $7.75 million in 2019.
If the Phillies bring in the veteran shortstop, it would reunite him with Joe Girardi, the Yankees' skipper during Gregorius' first three seasons in the Bronx (2015-17). Philadelphia hired Girardi to replace Gabe Kapler as its manager in late October.
Bumgarner, meanwhile, would boost a rotation that struggled to the tune of a 4.64 ERA in 2019. Philadelphia's starting staff has skewed right-handed in recent years, so adding a southpaw such as Bumgarner would make sense. Since 2017, the team's starters have allowed the fifth-highest wOBA (.340) in MLB against left-handed batters. Bumgarner limited lefties to a .237 wOBA in 2019.
The Phillies would need to surrender a Draft pick to sign Bumgarner, who rejected a qualifying offer from the Giants. Gregorius has no Draft-pick compensation requirements attached to him, as he didn't receive a QO from the Yankees.
Sources: #Phillies pursuing Didi Gregorius in free agency, as I reported on @MLBNetwork today, with the idea that Jean Segura would move to a different position or be traded. Joe Girardi managed Didi in New York, of course. @MLB

— Jon Morosi (@jonmorosi) November 22, 2019
A three-year contract for Didi?
Nov. 19: Gregorius' free-agent walk year couldn't have gone much worse. After back-to-back seasons with 4-plus Wins Above Replacement, per FanGraphs, Gregorius underwent Tommy John surgery and missed the first two months of the 2019 campaign. When he returned, he hit .238/.276/.441 and recorded 0.9 fWAR over 82 games.
The 29-year-old is seemingly a candidate to sign a one-year "pillow contract," which would give him the opportunity to rebuild his value before testing the free-agent market again next offseason. However, George A. King III of the New York Post reports that some teams think Gregorius has done enough to land a multi-year deal. One talent evaluator went as far as predicting a three-year contract for the shortstop, according to King.
"When he came back, there was enough there to believe he could return to the player he was before he was injured,'' a scout told King.
Gregorius is by far the most accomplished free-agent shortstop on the market, which also includes José Iglesias, Adeiny Hechavarría and Jordy Mercer. That factor could help him in negotiations. However, it's important to note that Marcus Semien, Andrelton Simmons and Jonathan Villar can become free agents in a year, and that Francisco Lindor might be available in a trade.
Is a return to Yankees still a possibility for Gregorius?
Nov. 15: When the Yankees chose not to present Didi Gregorius with the one-year, $17.8 million qualifying offer in early November, it seemed like a sign that the club was ready to move on from the shortstop who so deftly replaced Derek Jeter.
But perhaps that's not the case?
While Yankees GM Brian Cashman has indicated that the team is comfortable with its in-house infield options -- namely, shifting Gleyber Torres to short full time and putting DJ LeMahieu, who played all over the infield in 2019, at second base -- there's at least the possibility that Gregorius could return. More >
Yankees not expected to pursue Didi 'very aggressively'
Nov. 13: The Yankees opted not to extend a one-year, $17.8 million qualifying offer to Gregorius last week, and it doesn't appear as though re-signing the shortstop is high on the team's list of priorities. Citing talks with industry people, SNY's Andy Martino reports that New York is not expected to pursue Gregorius "very aggressively."
Martino was previously told by a source that it was "a very close call" whether Gregorius would be back in the Bronx because the 29-year-old's camp does not think he needs to sign a one-year "pillow contract" to re-establish his value.
The Yankees are keeping a close eye on the $208 million Competitive Balance Tax threshold, and choosing to move on from Gregorius would give the team more flexibility to pursue upgrades elsewhere.
If Gregorius walks, the club has the option of moving Gleyber Torres to short and using DJ LeMahieu at second base on a permanent basis after he filled a utility role in 2019. The Yanks would still have Gio Urshela and the returning Miguel Andújar at third base and Luke Voit at first.
Williams: 'I loved having' Didi
Nov. 12: Reds president of baseball operations Dick Williams only stoked the rumors linking Gregorius to Cincinnati on Tuesday at the GM Meetings.
"I loved having him there," Williams said of Gregorius' time in the Reds organization prior to his trade to the D-backs after his first MLB season in 2012. Williams said Gregorius was "incredibly popular," a "great teammate" and a "great communicator."
Dick Williams on Didi Gregorius' time with the #Reds prior to his 2012 trade: "Incredibly popular. Great teammate. Great communicator. I loved having him there." Of note, Gregorius is a free agent now. @MLBNetwork @MLB

— Jon Morosi (@jonmorosi) November 13, 2019
MLB Network insider Jon Heyman previously reported the Reds' interest in a reunion with the free-agent shortstop. Gregorius signed his first professional contract with the Reds back in 2007.
Didi reportedly receiving interest from Reds; NY return 'a very close call'
Nov. 8: At the end of the 2018 season, it seemed like a sure thing that Gregorius would be a long-term fixture in the Bronx. But after undergoing Tommy John surgery last October and then struggling in 2019, the shortstop did not receive a one-year, $17.8 million qualifying offer from the Yankees.
An industry source told SNY's Andy Martino that it is "a very close call" whether Gregorius will be back with the team. According to Martino, Gregorius' camp does not think he needs to sign a one-year "pillow contract" to re-establish his value.
The 30-year-old, who produced 8.8 FanGraphs Wins Above Replacement over 2017-18, is easily the top option in a weak class of free-agent shortstops. Not having the QO should help his market, as teams won't need to forfeit a Draft pick to sign him.
According to MLB Network insider Jon Heyman, the Reds, Gregorius' original team, have interest in a reunion.
Reds have interest in Didi Gregorius, whose original team was yes, the Reds. Gregorius is a good bounce-back candidate as @KMillar15 said on @IntentionalTalk today.

— Jon Heyman (@JonHeyman) November 8, 2019
MLB Trade Rumors previously predicted the shortstop would land with the Reds on a three-year, $42 million deal, and MLB.com's Mark Sheldon on Friday broke down the reasons why it would make sense for Gregorius to return to Cincinnati.
Would Tribe tab Didi to fill Lindor's shoes?
Nov. 7: Gregorius already has experience replacing one beloved shortstop in Derek Jeter. Could he be asked to do so a second time?
ESPN's Buster Olney writes (subscription required) that it's not a matter of "if" Cleveland will trade Lindor, but when, considering that he would in all likelihood depart for a substantial free-agent deal after the 2021 season. And if the Indians move forward with a deal this offseason, former Mets general manager Steve Phillips believes Gregorius could fill that big shortstop hole in Cleveland. Speaking on MLB Network radio Thursday, Phillips said the free agent could be an ideal safety option if Lindor is indeed dealt.
Could a change at shortstop be coming in Cleveland? @StevePhillipsGM | #Indians pic.twitter.com/WvQSA5UamN

— MLB Network Radio on SiriusXM (@MLBNetworkRadio) November 7, 2019
"I look at Francisco Lindor being traded and Didi Gregorius being the replacement at shortstop in Cleveland," said Phillips. "[They could sign him to a] five-year deal, for $60 million, and you've got cost containment for the next five years. Lindor is going to be a $20 million guy, so why not lock in Didi, and let him be your guy for the next five years? To me, that's the fallback if Lindor gets dealt."
Could Didi return to Bronx even without qualifying offer?
Nov. 4: The Yankees' decision to not extend a qualifying offer to Gregorius could help open up the market for the free-agent shortstop. That said, Gregorius could also return to New York on a new deal.
Gregorius, who turns 30 in February, is coming off an injury-shortened 2019 season in which he hit .238/.276/.441 with 16 homers and 61 RBIs in 82 games. Though he has said he hopes to remain with the Yankees, Gregorius will be testing free agency for the first time in his career -- and can now do so without being attached to a compensatory Draft pick for potential suitors.
While it's certainly possible that Gregorius could work out a new contract with the Yankees, the club could also decide to simply shift Gleyber Torres to shortstop and have DJ LeMahieu -- a three-time Gold Glove winner at second base -- return to his natural position.
Without a qualifying offer attached to Gregorius, however, he figures to garner plenty of interest from teams looking for a veteran presence up the middle. For starters, MLB.com's Mark Feinsand suggests the Brewers, Phillies and Reds could all make a play for Gregorius this winter. The Marlins could also be among the clubs that reach out to Gregorius in the coming weeks, according to MLB.com's Joe Frisaro.
The Yankees' decision not to make Didi a QO isn't shocking. They have a crowded INF w/o him: Voit/Ford/Bird at 1B, LeMahieu at 2B, Gleyber at SS, Urshela/Andujar at 3B. Good chance he would have accepted the QO had it been offered. Brewers, Phillies, Reds could be interested.

— Mark Feinsand (@Feinsand) November 5, 2019
CBT concerns could affect Yanks' plans for Didi
Nov. 3: Would the Yankees let Gregorius leave via free agency -- and choose not to extend him the one-year, $17.8 million qualifying offer -- in order to go after the top free-agent starting pitchers?
The answer could come down to payroll math. Aroldis Chapman's reworked contract keeps the Yankees' payroll situation relatively neutral in comparison to his former deal, but New York's competitive balance tax (CBT) considerations could still affect their ability to go after Gerrit Cole or Stephen Strasburg this offseason.
Writing for the New York Post on Sunday, MLB Network insider Joel Sherman estimates that Chapman's $48 million salary over the next three seasons will cost the Yanks roughly $17.5 million annually toward the CBT payroll. Adding that figure to the Yankees' signed players, arbitration-eligible players and handful of non-arbitration-eligible players that the club needs to sign to fill out the roster, Sherman estimates that New York will be right up against the $208 million threshold for the first CBT penalty (20% tax on all overages for first-time offenders). That means the Yankees would have roughly $20 million to spend before triggering the second CBT penalty (additional 12% surtax), and roughly $40 million before triggering the third and final penalty (42.5% tax).
The Yankees have been hesitant to cross the CBT threshold in past years (the Red Sox notably did so while assembling their 2018 World Series champion roster), but the pressure to spend might be heightened in the Bronx after New York finished the 2010s without a single American League pennant. Extending the qualifying offer to Gregorius could, therefore, limit their ability or desire to spend even more money in the free-agent market and thus run the risk of incurring further CBT penalties. The deadline for teams to extend qualifying offers to their impending free agents is Monday at 5 p.m. ET.
Would Yanks move Andújar, keep Didi?
Nov. 2: The Yankees' constant injury woes this year were well documented, but the pinstripes seem to have plenty of infield depth. Does that automatically mean they should let Gregorius walk away in free agency?
FanGraphs' Dan Szymborski argues instead that the Yankees should not only extend Gregorius the qualifying offer, but also consider trading third baseman Miguel Andújar to clear up New York's infield logjam and leave room for Gregorius. Andújar finished runner-up to Angels star Shohei Ohtani in the 2018 American League Rookie of the Year Award vote, but he appeared in just 12 games this season before tearing the labrum in his right shoulder and undergoing surgery in May. He was an excellent hitter in '18, but continuing questions about his defense precludes him from being a no-doubt starting candidate for the Yankees in 2020.
Gregorius, Szymborski points out, was worth nearly 5 fWAR as recently as 2018, and the Yankees might be wiser to bank on him returning to form. At the very least, Szymborski argues that New York should extend the qualifying offer to him to receive some form of compensation, should he ultimately sign elsewhere.
Yanks mum on Didi, but indicate he could be back
Nov. 1: According to SNY's Andy Martino, the Yankees are keeping their intentions regarding free agent shortstop Didi Gregorius quiet, but do "like him as a person and see him as a bounce-back candidate as a player."
Gregorius was hurt for much of last season, and over 82 games, struggled to a .238/.276/.441 slash line, though he did hit 16 home runs. But he's still 29, and a season removed from career highs in homers (27) and OPS (.829).
With Gregorius a free agent, New York does have an infielder who can play shortstop in Gleyber Torres, who filled in for him at the position while he was sidelined last season.
Yankees quiet about their intentions with Didi Gregorius. They do like him as a person and see him as a bounce back candidate as a player

— Andy Martino (@martinonyc) November 1, 2019
Reds pick up Galvis' option; does Didi still fit?
Nov. 1: After making his Major League debut and playing eight games for the Reds in 2012, Gregorius was sent to the D-backs as part of a three-team, eight-player trade that also included the Indians. Seven years later, could the veteran find himself back in Cincinnati?
MLB.com's Mark Sheldon suggested earlier this week that the Reds could take a look at the free-agent shortstop this offseason. Cincinnati has an opening at that position, with José Iglesias also hitting the open market. The Reds exercised Freddy Galvis' $5.5 million club option for 2020 on Friday, but Sheldon doesn't think that will prevent the team from pursuing another shortstop.
Galvis does have extensive experience at short, but he doesn't really solve the team's need for an offensive upgrade, as he's a lifetime .248/.291/.384 hitter, albeit one who produced personal bests in homers (23) and OPS (.734) last season.
Gregorius is coming off a poor season with the Yankees, missing April and May while recovering from Tommy John surgery and then hitting just .238 with a .276 on-base percentage in 82 games. But prior to 2019, Gregorius produced back-to-back seasons with a FanGraphs Wins Above Replacement total above 4.0, slashing .277/.326/.486 in that span, and he could be more affordable after his down year.