How Cards' infield D went from worst to first
In 2018, the Cardinals won 88 games and fell three short of a playoff spot, missing a third straight postseason for the first time since 1997-99. In 2019, the Cardinals won 91 games, emerging from a three-team battle to capture the National League Central title by two games over the
In 2018, the Cardinals won 88 games and fell three short of a playoff spot, missing a third straight postseason for the first time since 1997-99.
In 2019, the Cardinals won 91 games, emerging from a three-team battle to capture the National League Central title by two games over the Brewers. St. Louis not only made the postseason, but it avoided a winner-take-all Wild Card Game in Washington, helping the club advance to the NL Championship Series.
In other words, those three additional victories were crucial. And while there were several reasons behind that jump -- Jack Flaherty's incredible second-half surge, notably -- the recent release of outs above average data for infielders provides an interesting one.
• A new way to measure MLB's best infield defenders
In terms of infield OAA, the Cardinals leaped from nearly worst in the Majors to first. Their -18 OAA in 2018 ranked 28th, but their 42 OAA this past season was the best in MLB, easily beating out the Rockies (33), Astros (27) and Angels (22). It was a massive change -- more than double the increase of any other team (and that's without Nolan Arenado, for whom the Cardinals are considered a top suitor if his recent clash with the Rockies leads to a trade).
Biggest 2018-19 INF OAA gainers
STL +60 (-18 to 42)
LAA +28 (-6 to 22)
LAD +15 (-4 to 11)
COL +13 (20 to 33)
HOU +12 (15 to 27)
The @Cardinals defense had a bunch of red last year on their infield 🔥🔥🔥 pic.twitter.com/P5NDpYCPJc

— Daren Willman (@darenw) January 24, 2020
On the other hand, the Cardinals' outfield defense took a step back. St. Louis slid from nine OAA in 2018 (eighth in MLB) to -10 last season (tied for 26th), with Harrison Bader a bit less spectacular, Marcell Ozuna (who just left for Atlanta) struggling and a group including Dexter Fowler and the since-traded José Martínez taking innings that had belonged to Tommy Pham.
Even so, that left St. Louis with a total OAA of 32, up from -9 in 2018, and tied for second in the Majors, behind only a 107-win Houston club, which was at 41. (OAA does not cover catchers, although nine-time Gold Glove Award winner Yadier Molina had a modest two defensive runs saved in 2019, and was about average in Statcast's framing metric).
So how does an infield take such a dramatic step forward in just one year? Here is a three-part recipe:
1) Have a breakout at shortstop
After debuting a couple of months into the 2017 season and then missing time with a fractured hand in '18, Paul DeJong played a full MLB season for the first time last year. He started 156 games at short, a position at which he had minimal experience before reaching the Majors. He also soared from -5 to 13 OAA, the latter putting him seventh among all infielders.
That 18 OAA jump tied Javier Báez of the Cubs for the second-largest among infielders, trailing only Yoán Moncada of the White Sox. But Báez went from splitting time between second base and shortstop in 2018 to being a full-time shortstop in '19; Moncada switched from second to third. DeJong had the biggest gain for an infielder who remained in the same position.
How did DeJong vault from below average to seventh best in MLB in infield OAA? Back in Spring Training, DeJong told MLB.com's Jenifer Langosch that he felt he was "on the cusp" of becoming an elite defender, and that he was "trying to take it to the next level." One specific goal was to get better at following the catcher's signs and being ready to get a jump one way or the other based on the upcoming pitch.
The 26-year-old still struggled moving toward third base (-5 OAA) in 2020, but he improved considerably coming in on the ball (-2 to 6) and moving toward first base (from -1 to 10). Perhaps the pre-play preparation was part of that, and DeJong may also have benefited from being positioned further toward third base in some situations, as Zach Gifford pointed out at the site Birds on the Black. Consider the plays in the Twitter video below that DeJong made going up the middle, each of which had an expected success rate below 50 percent -- based on the distance he needed to travel, how much time he had and the speed of the runner.
Paul DeJong in 2018: -1 Outs Above Average going toward 1B

Paul DeJong in 2019: +10 Outs Above Average going toward 1B

Plays like these were key to DeJong's OAA improvement. pic.twitter.com/gaJfswWRy9

— Andrew Simon (@AndrewSimonMLB) January 17, 2020
2) Observe the Goldy effect
When the Cardinals acquired Paul Goldschmidt from Arizona last offseason, his bat was the headline. But while the six-time All-Star first baseman didn't have his typically excellent offensive season upon coming to St. Louis (113 OPS+), he certainly stabilized the defense. After a combination of Matt Carpenter, Martínez and Matt Adams took most of the first-base innings in 2018 and combined for -4 OAA, Goldschmidt played 95 percent of the Cardinals' first-base innings in '19 and was worth 5 OAA.
Keep in mind that one thing OAA does not currently account for -- but could in the future -- is a first baseman's ability to receive throws, such as saving errors via scoops. Yet Goldschmidt likely excelled in that respect as well, something that could have helped the rest of the infield's OAA.
Among the Cardinals' MLB-high 133 errors in 2018, 53 were throwing errors charged to second basemen, shortstops, third basemen and pitchers. The error is far from a perfect stat, and not all of those throws were necessarily directed to first base, but it's worth noting that those four positions committed only 16 throwing errors for St. Louis in 2019. Goldschmidt almost certainly prevented more.
3) Stay healthy and stable
Things were a lot simpler for the St. Louis infield in 2019. DeJong and Goldschmidt both played about 95 percent of the innings at their positions and shined. Kolten Wong played 83 percent of the innings at second base and won a Gold Glove. Between those three, the Cardinals had two of the best infield combos in MLB.
Top current infield combos based on 2019 Outs Above Average

Up the middle -- Cardinals
DeJong (SS) +13, Wong (2B) +10

Corners -- A's
Chapman (3B) +14, Olson (1B) +12

Left side -- Rockies
Arenado (3B) +17, Story (SS) +15

Right side -- Cardinals
Goldy (1B) +5, Wong (2B) +10

— David Adler (@_dadler) January 9, 2020
Imagine Arenado (17 OAA in 2019) joining that group, should the trade rumors pan out. But the Cardinals did just fine at third base last season. After splitting 2018 between the infield corners, Carpenter played third almost exclusively and improved quite a bit (from -4 to 6 overall). Rookie Tommy Edman arrived and was worth 3 OAA in limited action at the hot corner (5 overall between third, second and the outfield).
Meanwhile, three infielders from the 2018 club didn't return: Adams (-3), Greg Garcia (-2) and Patrick Wisdom (-2). Martínez (-1) remained on the roster but didn't play the infield at all. Jedd Gyorko (-1) and Yairo Muñoz (-11) combined to play more than 1,000 fewer innings in the Cardinals infield but contributed positive OAA when they did.
Here is a full breakdown of each player who accrued positive or negative infield OAA for St. Louis in 2018 and/or '19.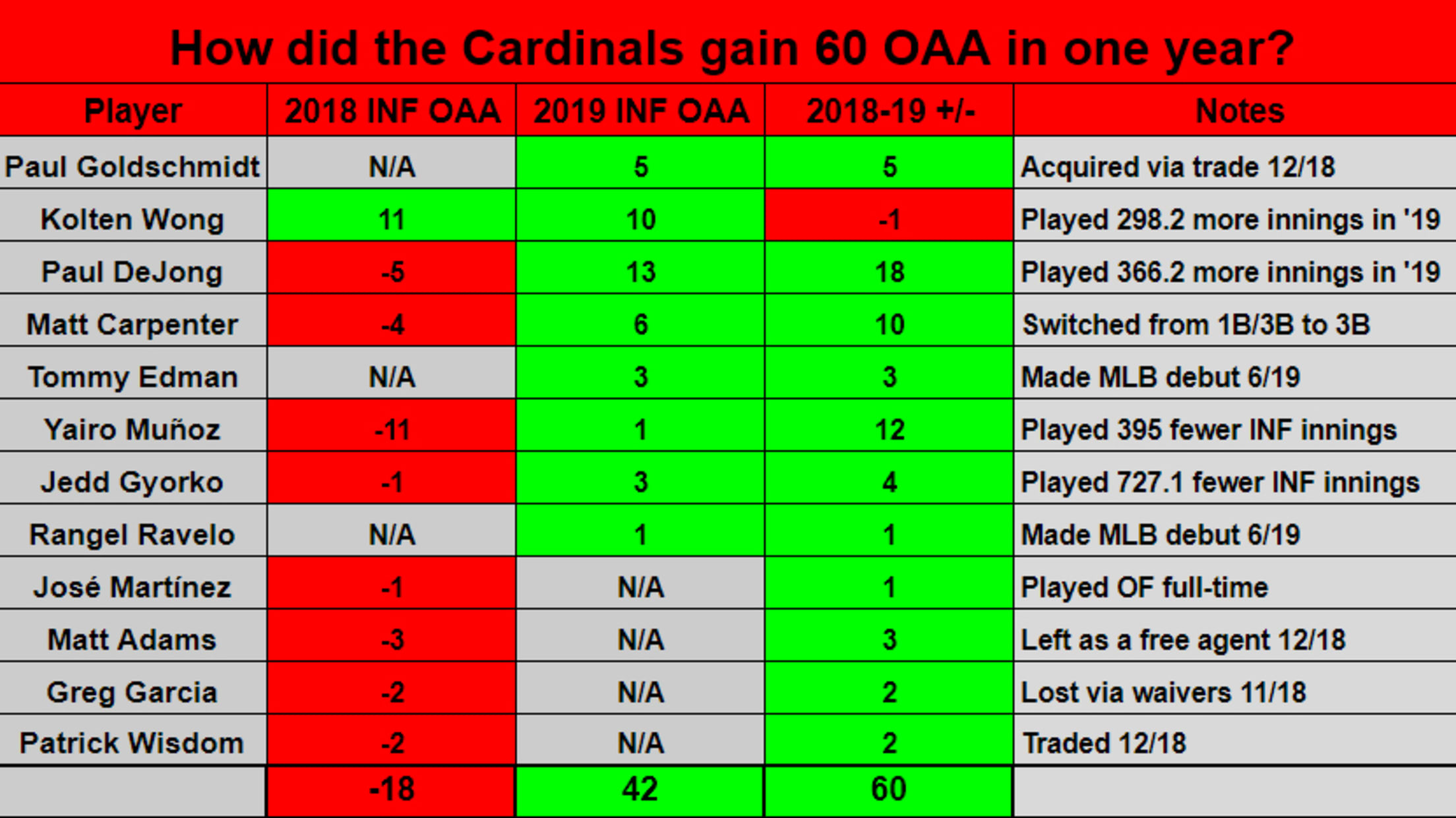 And so that's all there is to it: Have poor defenders play less and good defenders play more. Acquire a smooth-fielding first baseman. Call up a rookie with a slick glove. See players already on your roster improve and remain relatively healthy. And that's to say nothing of the behind-the-scenes work -- the Spring Training instruction, the in-game positioning and so forth.
There's no one simple solution to pulling off this sort of enormous upgrade. It takes a team effort, and in 2019, the Cardinals got one that just might have boosted them back to October.