Indians want Miller Time fresh for postseason
Lefty relief ace slowly building back up since return from DL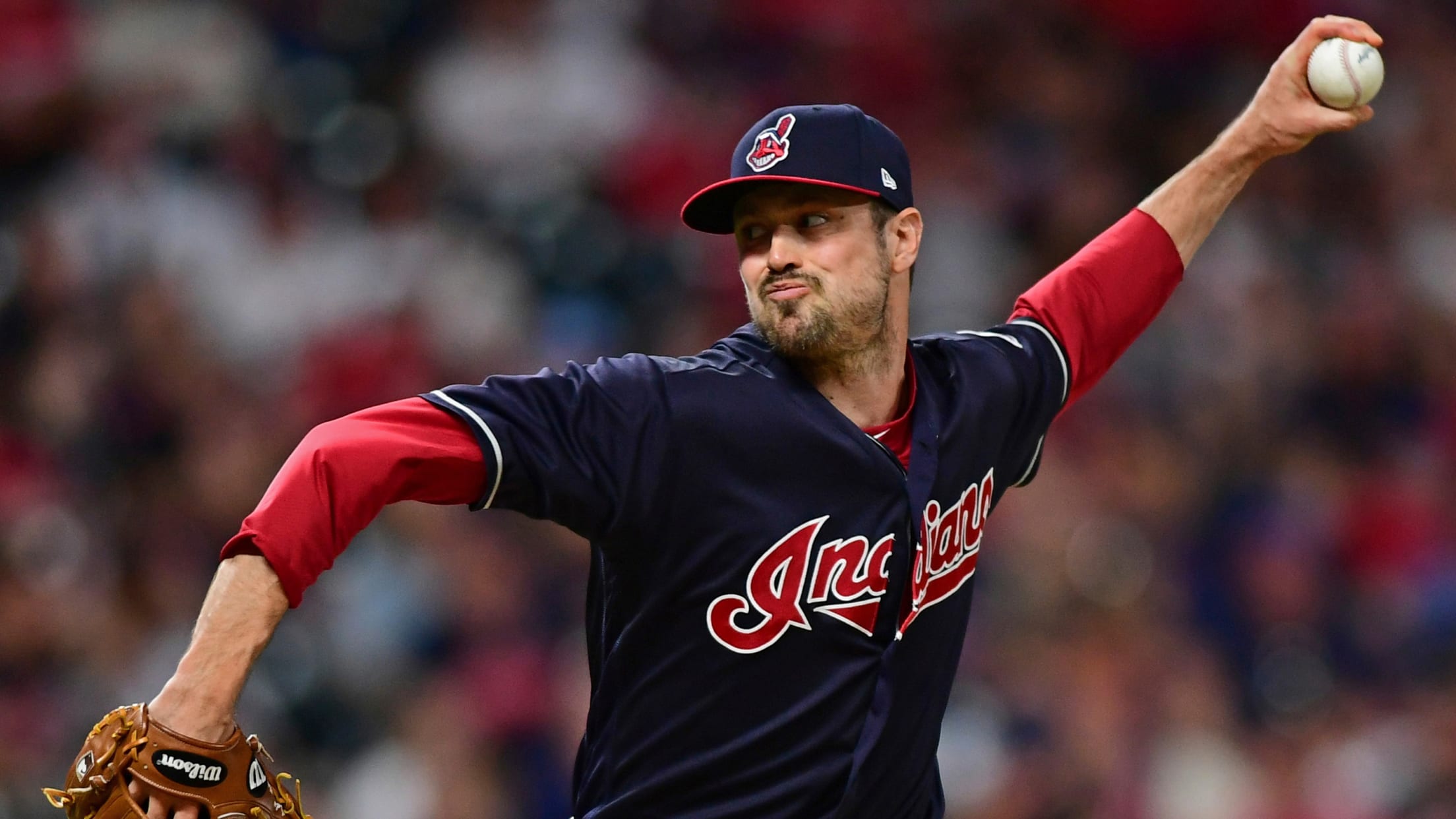 KANSAS CITY -- The Indians' hefty lead atop the American League Central has afforded the club the ability to be cautious with reliever Andrew Miller (Miller Time) during his comeback. The left-hander has been pitching semi-regularly, but his workload has been monitored closely with a slow build to October in
KANSAS CITY -- The Indians' hefty lead atop the American League Central has afforded the club the ability to be cautious with reliever Andrew Miller (Miller Time) during his comeback. The left-hander has been pitching semi-regularly, but his workload has been monitored closely with a slow build to October in mind.
Miller has been on board with the approach and pleased with the progress made of late.
:: Players' Weekend presented by Valspar Stain ::
"So far, there's no complaints," Miller said prior to Friday's series opener against the Royals to begin Players' Weekend at Kauffman Stadium. "I think it's frustrating not being able to contribute [in as many games as usual], but fortunately, our team's pretty darn good and I've been able to hang in there and do what we need to do. I can kind of be a little bit selfish and make sure I'm getting right at the right time."
• Shop for Players' Weekend gear
Miller appeared only once during the recent four-game series against the Red Sox at Fenway Park, striking out two and inducing a groundout in the eighth inning of Tuesday's 6-3 win. Since being activated from the disabled list on Aug. 3, following a bout with a right knee issue, Miller has had three days' rest between outings twice and one off-day between appearances on five occasions.
The Indians have not used Miller in consecutive games since May 22-23, and he has not appeared in back-to-back games overall since July 30-31, when he was on a Minor League rehab with Triple-A Columbus. In his first eight outings off the DL, Miller logged no more than 23 pitches and was limited to one inning or fewer seven times. The lone exception was on Aug. 7, when he worked 1 2/3 innings against the Twins, but he only threw 18 pitches.
"Every day we try to have a game plan," manager Terry Francona said. "There have been days when he first came back that we stayed away. Then there have been days where we've had him [warming] up, but only if we're trying to win a game. That's kind of where we are now."
The good news in Miller's view is the knee is no longer the issue. Right now, he said his primary focus is getting his arm back to full strength and tightening up his command.
Prior to going on the DL in late May, Miller was averaging 93 mph with his fastball. That has dipped slightly to 92.5 mph so far in August, but he has returned to a 93-mph average in his five most recent appearances entering Friday. Miller's walk rate for the season was 5.3 per nine innings going into Friday -- up from 3.0 in 2017 and 1.1 two seasons ago.
Looks like I've got the right cleats for #PlayersWeekend pic.twitter.com/9uUjTpdLzg

— Andrew Miller (@a_miller48) August 24, 2018
"I kind of went through a Spring Training-type process, building up," Miller said. "I feel that, physically, my knee's in a really good spot. I think we did a really good job of getting it back. For me, it's a good thing that the arm getting in shape has kind of been the bigger challenge. I'm absolutely glad that that's the focus, as opposed to dealing with the knee again. It's about getting into pitching shape."
Miller reiterated the conservative approach of the past two months will have been worth it if he is able to get locked in by the time the playoffs arrive.
"The reality of baseball is there's always bumps here and there," he said. "The idea for a lot of us in this locker room is to peak at the right time. If we do that, we're a pretty big threat. That certainly applies to me, personally."
Worth noting
• Francona noted that righty Cody Anderson (60-day DL) is scheduled to pitch in the Arizona Rookie League on Saturday, marking his first Minor League rehab appearance since undergoing Tommy John surgery two springs ago. Francona added the Indians are still discussing the best approach for continuing to get Anderson innings. Calling him up to the Majors in September seems unlikely.
"I don't know what we're going to do with him," Francona said. "Not that we don't want to see him -- we'd love to see him -- but I don't know if that's fair. Especially Cody. He goes 110 mph in a 55. We're trying to figure it out. Could it be the [Arizona] Fall League? There are a lot of things."
• Right-hander Nicholas Goody (60-day DL) has his throwing elbow examined on Thursday by Dr. Keith Meister, with Dr. James Andrews consulting. Francona said the positive news is the UCL is intact, meaning that Tommy John surgery is not expected to be necessary. Goody will, however, undergo a lesser procedure in the near future. The details and timing are still being worked out.