Hiura set to go full tilt with hammy feeling good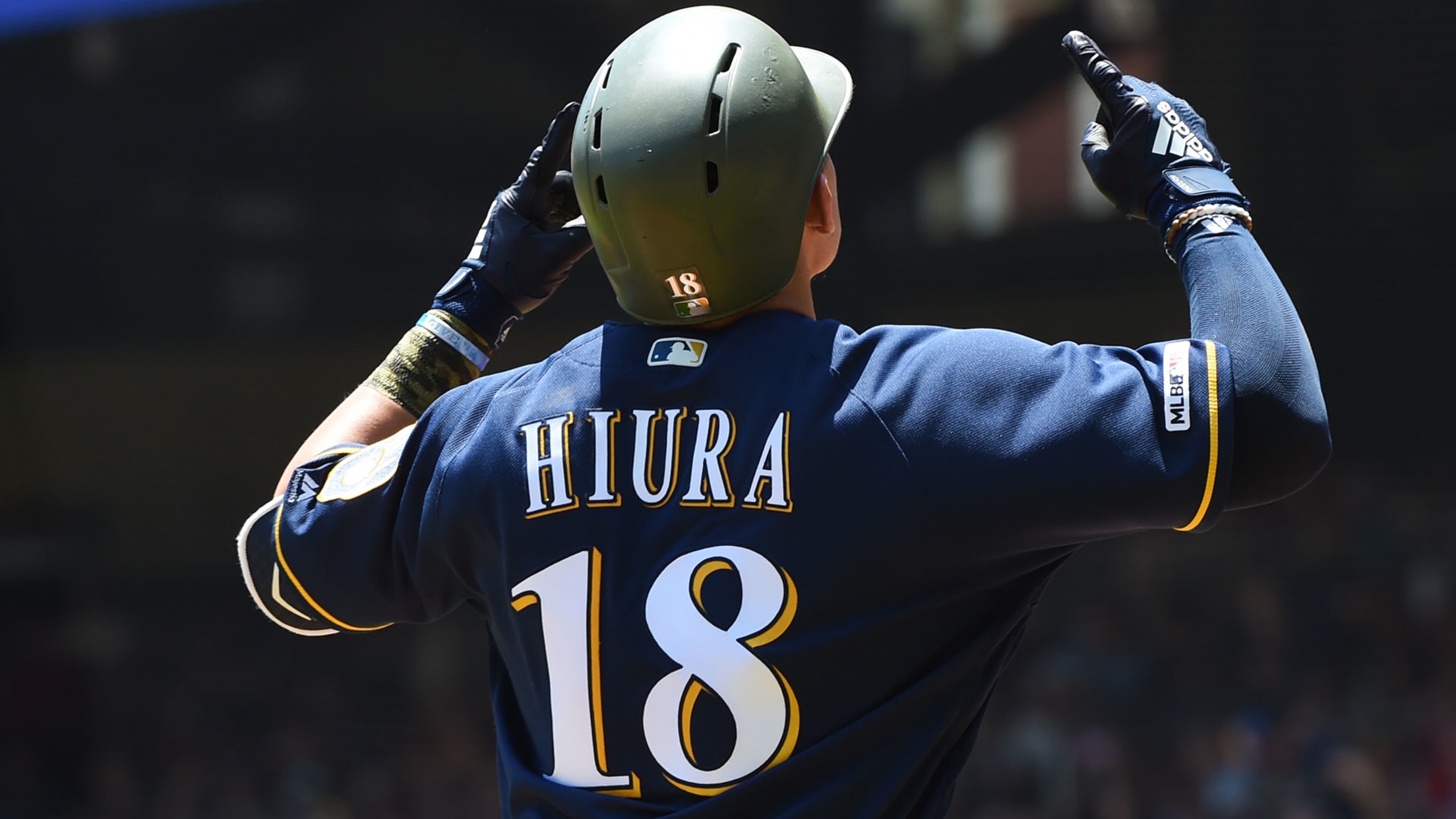 CINCINNATI -- Rookie Keston Hiura is finding good health at just the right time for the Brewers. "It's back to normal," said Hiura, who made an eighth straight start Wednesday after missing about two weeks with a strained left hamstring. "There have been some plays I've had to kick it
CINCINNATI -- Rookie Keston Hiura is finding good health at just the right time for the Brewers.
"It's back to normal," said Hiura, who made an eighth straight start Wednesday after missing about two weeks with a strained left hamstring. "There have been some plays I've had to kick it into gear a little bit and see how it felt, and it felt good. So everything is going well. This series I'll probably be able to go even more all-out."
Hiura executed one of those plays in the seventh inning of Tuesday's 4-2 win over the Reds, ranging to his left to pick a tricky hop off the bat of Jose Iglesias and making an off-balance, on-target throw to first base for the first out of what became a tricky inning for Brent Suter.
It was the third straight game in which Hiura completed eight innings. When circumstances have called for it since his return to action, he has been replaced for a pinch-runner or sometimes a defensive replacement.
"The goal was to just use caution when we could," manager Craig Counsell said. "I think that was successful and we're getting him healthier. Look, we probably pushed him back on the field because of where we're at and the situation we're in. But I thing getting through [some] partial games every night was good, and that he's getting better as we go."
Postseason tickets on sale
On Wednesday morning, the Brewers launched a ticket pre-sale for Wisconsin residents for a potential National League Wild Card Game at Miller Park. Tickets will go on sale to the general public at 9 a.m. CT on Friday.
The same process will repeat next week, when single-game tickets for potential NL Division Series games at Miller Park will be available for purchase by Wisconsin residents beginning at 9 a.m. CT on Tuesday and to the general public at 9 a.m. CT on Wednesday, Oct. 2.
In the event that fans purchase tickets for any postseason games that do not occur, the full value of the purchase (including fees) will be refunded to the credit card within 10 business days of the scheduled game. Full details are at brewers.com/postseason.
Moose on Ned: 'He believed in me'
News that Royals manager Ned Yost was retiring stirred memories in different corners of the Brewers' clubhouse this week. Yost managed Milwaukee from 2003-08 and helped lay the foundation for the end of a 26-year postseason drought before going to Kansas City and managing in back-to-back World Series in 2014-15. With Lorenzo Cain and Mike Moustakas among his players, the Royals won the 2015 World Series.
"Obviously, I'm excited for him to get to do some hunting and fishing and all that good stuff," Moustakas said. "I talked to him a little bit the last couple of days and congratulated him on a great career. Pretty awesome."
Does Moustakas have a favorite Yost story?
"I always remember every time he came out to the mound -- we could be winning by five or losing by five," Moustakas said. "He'd always say, 'All right boys, listen. I've got a plan. I just need you guys to execute it.' Seriously, we could be down by 10, up by 11. He'd start, 'All right boys, listen …"
Moustakas laughs at the memory.
"He always knew how to keep the mood light," Moustakas said. "It was a lot of fun to play for him. He definitely believed in me, that's for sure. He could have sent me down a few times and he stuck with me. I owe him a lot."