This FA is left-handed version of LeMahieu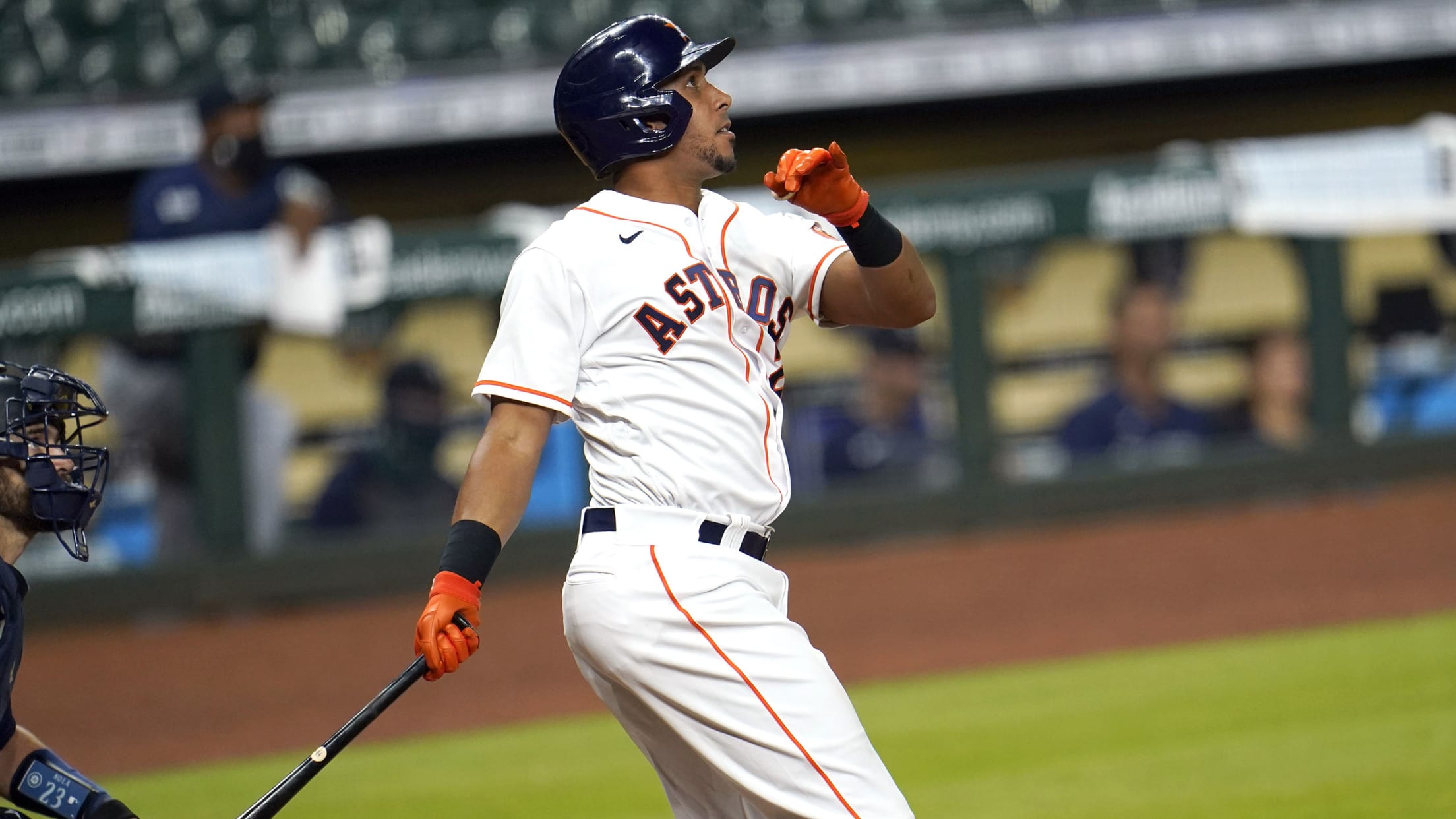 With Trevor Bauer, George Springer, DJ LeMahieu and J.T. Realmuto drawing much of the attention on the free-agent market this offseason, Michael Brantley has found himself in a familiar spot -- flying under the radar. It's been a recurring theme for Brantley not just in the past few seasons, but
With Trevor Bauer, George Springer, DJ LeMahieu and J.T. Realmuto drawing much of the attention on the free-agent market this offseason, Michael Brantley has found himself in a familiar spot -- flying under the radar. It's been a recurring theme for Brantley not just in the past few seasons, but throughout his MLB tenure.
Now 33 years old, Brantley has spent a considerable portion of his career sharing the spotlight with superstar teammates such as Springer, Francisco Lindor, José Ramírez, Jose Altuve, Carlos Correa and Alex Bregman.
The left fielder also has spent some time out of sight -- and thus, out of mind -- due to nagging injuries, missing 293 regular season games since the beginning of 2015. Right shoulder surgery sidelined him for all but 11 games in 2016, forcing him to miss Cleveland's run to the World Series.
And while Brantley initially joined the Indians as part of the high-profile trade that brought CC Sabathia to the Brewers in July of 2008, he wasn't even the headliner of the package Milwaukee sent to Cleveland. In fact, he was the player to be named later.
But Brantley has outlasted the other three players Cleveland received in that trade, including Matt LaPorta, a former top prospect who last played in the Majors in 2012.
Brantley left the Indians for the Astros after the 2018 season, signing a two-year, $32 million contract. The deal expired at the end of the '20 campaign, making him a free agent again, and he actually has a lot in common with the 32-year-old LeMahieu at the plate, besides hitting from a different side.
In fact, Steamer projects Brantley and LeMahieu will be virtually identical hitters in 2021.
LeMahieu: 19 homers, .294/.352/.450 slash line, .341 wOBA, 111 wRC+
Brantley: 19 homers, .289/.354/.458 slash line, .344 wOBA, 113 wRC+
Here's a closer look at what Brantley offers potential suitors as he enters his 13th big league season.
He's a contact machine
When it comes to putting the ball in play, Brantley is one of the best in the game.
The MLB-wide strikeout rate has increased in each of the past 15 seasons, climbing seven percentage points in that span and topping out at 23.4% in 2020.
Brantley, though, has struck out at a career 10.8% clip in 5,307 plate appearances. And while his strikeout rate in 2020 was his highest in nine years, he still had the 21st-lowest mark (15.0%) among the 142 hitters who qualified for the batting title.
In general, Brantley rarely misses when he decides to swing at a pitch. In Statcast history (since 2015), only one hitter has posted a higher contact rate.
Highest contact rate, since 2015
Min. 2,000 swings
1. Eric Sogard -- 89.0%
2. Michael Brantley -- 88.9%
3. Joe Panik -- 88.6%
4. Dustin Pedroia -- 88.0%
5. Norichika Aoki -- 87.8%
Granted, merely putting the ball in play a lot doesn't guarantee production. Sogard (85 OPS+ since 2015), Panik (94 OPS+ since '15), Pedroia (108 OPS+ since '15) and Aoki (102 OPS+ since '15) are proof of that.
But Brantley hits the ball hard often enough to make a difference. That's not immediately evident from his hard-hit rate -- which measures his percentage of hard-hit balls (batted balls with 95+ mph exit velocity) per total batted balls. His hard-hit rate ranked in the 40th percentile in 2020 and has never been higher than the 57th percentile since Statcast began tracking.
However, on a per-swing basis, Brantley is elite. His rate of hard hit balls per swing since 2015 is 18.5%, the 13th-best mark in MLB among the 334 players with at least 2,000 swings in that span.
In comparison, LeMahieu owns a career 14.7% strikeout rate, and he has recorded MLB's 14th-highest contact rate (86.0%) and third-best hard-hit-per-swing rate (20.5%) since 2015.
Just focusing on the past two seasons, when LeMahieu reached new heights with the Yankees, the two were comparable.
Strikeout rate: LeMahieu, 12.7%; Brantley, 11.4%
Contact rate: LeMahieu, 85.1%; Brantley, 88.0%
Hard-hit-per-swing rate: LeMahieu, 21.9%; Brantley, 18.5%
Barrel rate: LeMahieu, 6.4%; Brantley, 5.3%
Against righties, there's few better
It's not surprising that Brantley, a left-handed hitter, does his best work against right-handed pitching, but the high level at which he performs in those matchups is impressive nonetheless.
Since 2014, 317 hitters have logged at least 1,000 plate appearances against righties, and only 10 have posted a higher OPS than Brantley.
OPS vs. RHP, since 2014
Min. 1,000 plate appearances vs. RHP
1. Mike Trout -- 1.040
2. David Ortiz -- .986
3. Freddie Freeman -- .969
4. Cody Bellinger -- .951
5. Aaron Judge -- .940
6. Bryce Harper -- .939
7. Joey Votto -- .936
8. Anthony Rizzo -- .917
9. Ronald Acuña Jr. -- .902
10. J.D. Martinez -- .901
11-T. Michael Brantley -- .900
11-T. Corey Seager -- .900
Brantley also ranks first among the group in average vs. righties (.322) during that span. The veteran hit .331/.402/.525 against right-handers in 2020.
For this reason, Brantley would fit especially well with teams whose best hitters skew right-handed, such as the Yankees, White Sox, Blue Jays, Angels and Padres, as well as his most recent club, the Astros.
He's remarkably consistent
Brantley broke out in 2014, recording a .327/.385/.506 slash line and finishing third in the American League MVP Award race behind Mike Trout and Victor Martinez.
The outfielder hasn't quite returned to that level, but he has remained a consistently productive player for more than a half-decade. Here are his yearly slash lines since 2014 -- excluding '16, when he played 11 games.
2014: .327/.385/.506 (148 OPS+)
2015: .310/.379/.480 (129 OPS+)
2017: .299/.357/.444 (108 OPS+)
2018: .309/.364/.468 (124 OPS+)
2019: .311/.372/.503 (126 OPS+)
2020: .300/.364/.476 (126 OPS+)
Brantley is one of 10 players to register at least five qualified seasons with an OPS+ of 120 or better in that span.
The other nine? Trout, Altuve, Nelson Cruz, Anthony Rizzo, Freddie Freeman, Paul Goldschmidt, Nolan Arenado, Anthony Rendon and José Abreu, who have combined for six MVP Awards and an additional 15 top-five finishes since 2014.
He's also one of three players to hit .299 or better in five or more seasons during that stretch, joining Altuve and (yep) LeMahieu.
Brantley may not receive the same acclaim as some of those superstars, but his production speaks for itself.