Inbox: Big arms, big names in Draft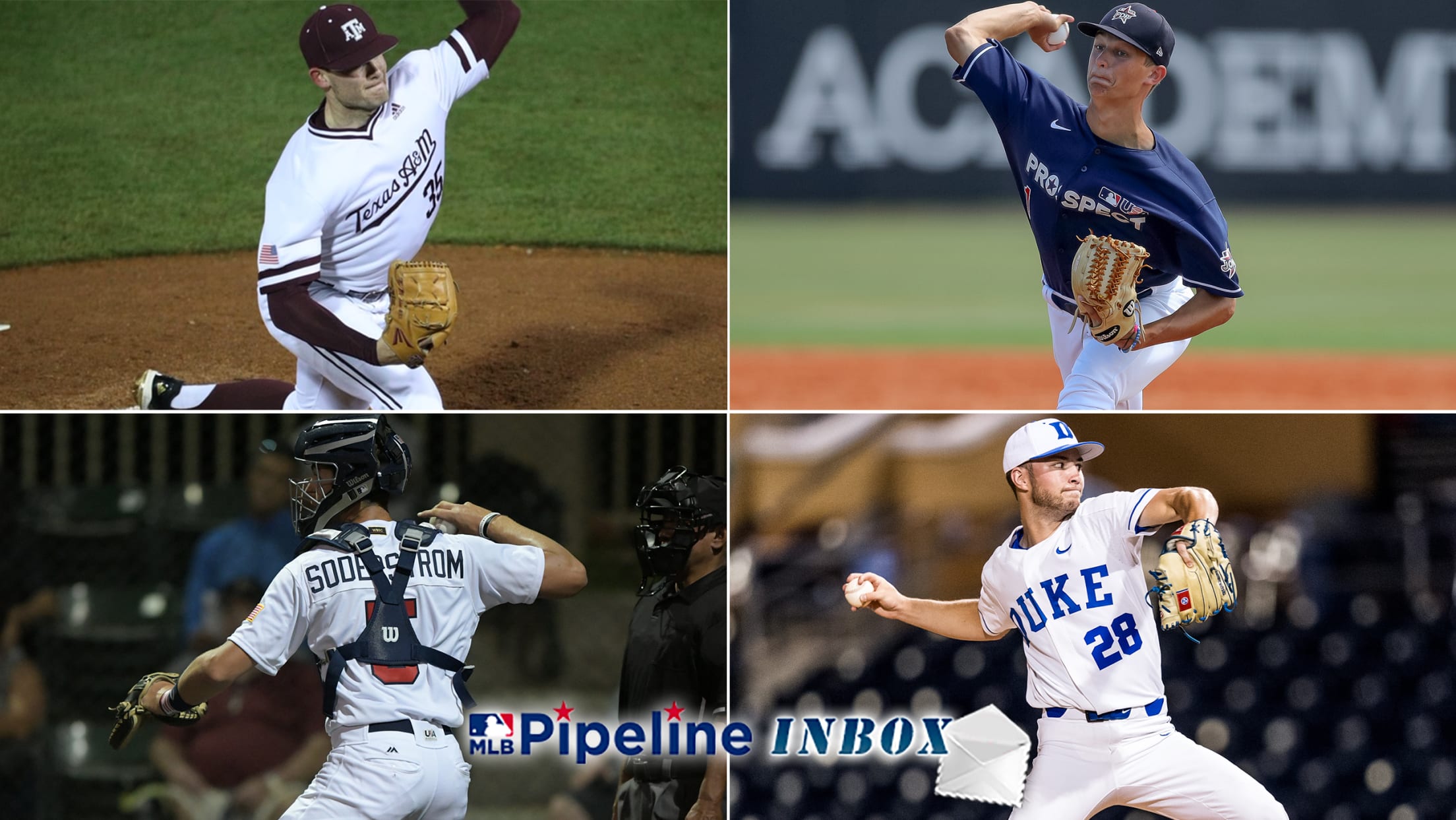 We're now less than two weeks away from the 2020 Draft, so that's obviously very much on everyone's minds. We have a new mock draft, courtesy of Jim Callis, and tons of content at Draft Central. As has been typical in recent weeks, most of the questions sent in for
We're now less than two weeks away from the 2020 Draft, so that's obviously very much on everyone's minds. We have a new mock draft, courtesy of Jim Callis, and tons of content at Draft Central.
As has been typical in recent weeks, most of the questions sent in for the Pipeline Inbox were Draft-related. But we're going to start with a question about a nearly big league ready prospect and what he's doing to stay in shape.
Do you think Forrest Whitley is working hard to get in shape, or lazing around?

— Dome65 (@Dome651) May 26, 2020
All players are doing different things during this unprecedented time, but I doubt Whitley is "lazing about." But rather than me talk about it, I figured I'd go right to the source.
Looking at the top 10 LHP prospects:
1. Gore
2. Luzardo
3. McKay
4. Skubal
5. Lodolo
6. Liberatore
7. Puk
8. Lynch
9. Marquez
10. Hall

Where would you rank asa lacy amongst these pitchers? And Austin Martin amongst the top 10 2B?

— Chase Young Or King's Ransom (@HailToThefutuRe) May 26, 2020
Asa Lacy is currently our top-rated pitcher in the 2020 Draft class, coming in at No. 3 overall, behind the two college bats of Spencer Torkelson and Austin Martin. He's going to be a top-five pick and could conceivably go as high as No. 2 (though I personally still see the Orioles going with a bat).
That's where he belongs in this year's class. Figuring out how he stacks up against the lefties on that list is a bit tougher. I think the floor would be No. 5, just ahead of Nick Lodolo, a fellow college lefty who was the first pitcher taken, No. 7 overall, in last year's Draft. But Lacy's stuff and upside are better than Lodolo's, so he belongs in front of the Reds' top prospect.
If we want to go by our overall grade, Lacy's 60 would also put him ahead of the Tigers' Tarik Skubal, who is an overall 55. They are fairly comparable otherwise in terms of their stuff. And there's not much separating Lacy from Brendan McKay, the last overall 60 on that lefty list.
Skubal: 60 FB, 60 SL, 55 CB, 55 CH, 55 Control
McKay: 60 FB, 50 CB, 60 CU, 50 CH, 60 Control
In the end, I think I'd probably put Lacy ahead of Skubal and behind McKay, so that would put him at No. 4 on that Top 10 list.
As far as Austin Martin goes, we have to see if he ends up at second base. The more I talk to people, the more I wouldn't mind seeing him in center field ... but maybe that's just me. But sure, we'll go ahead and say he's going to be a second baseman at the next level. Based on his overall grade (60), he'd immediately hit the top spot on the Top 10 2B list, since the current top player, Brendan Rodgers, is a 55 overall. And Martin would belong atop that list in my estimation.
Are Abel, Kelley and Bitsko control really at 55 in the 20-80 scale? And how does their overall control/command compares to past elite HS pitchers with those same attributes?

— Leandro Espinal ⚾ (@LeandroEspinal) May 26, 2020
It seemed like it made sense to follow up the question above with one about grades.
The biggest point I want people to understand is that our grades are all future grades. Do we try to balance it with present ability? Of course we do, making it a bit more of a hybrid approach.
A very close second, especially as it pertains to this question, is that control and command are different things. A young pitcher can throw a lot of strikes, so he'll have a solid control grade, but he might need to keep working to refine his command.
We all know that control and command often come a bit later, but scouts can evaluate things about a pitcher to try and project what kind of control and/or command he's going to have in the future. All three of the high school pitchers you mention get high marks for their feel for pitching and the fact they have repeatable deliveries without a ton of effort, all things that point to future above-average control, if not better. That's why we gave them 55s in their Draft reports.
By comparison, our top high school arm in our Top 200 rankings a year ago, Matthew Allan (now with the Mets), also got a 55, as did Jack Leiter, who's now at Vanderbilt. Lefty Matthew Liberatore, now a Cardinals prospect, was our top prep arm in 2018, and he also got a 55 for his control. Current Padres prospect Ryan Weathers, a fellow southpaw from that Class of '18, also had a 55, and he was known for his feel for pitching. Same deal with 2017: Hunter Greene was our No. 1 prospect; MacKenzie Gore was No. 4 – again, 55s for control.
Now, I haven't done an exhaustive search, but I did confer with Jim Callis and we agreed that we're fairly certain we've never given above a 55 for a prep arm before the Draft. We don't give out many 60s for the Minor League prospects and we try to match that up as best we can. I'd say that the trio of arms this year probably aren't quite on Gore's level in terms of future command, but they're in the same ballpark.
Who are the second and third generation players that could be drafted this year?

— Chris Chapman (@Chapdaddy76) May 26, 2020
It's always fun to see who the sons (or grandsons) of former Major Leaguers are in each Draft class. And we just posted a story about players with legacies in the 2020 class. That goes much more in depth than anything I can say here, so I'm going to pick out a couple of the top players in the class who have lineage worth talking about.
The highest ranked player in our Top 200 is Tyler Soderstrom, our No. 19 prospect. His father, Steve, was the No. 6 pick in the 1993 Draft out of Fresno State by the hometown San Francisco Giants, and he pitched for the Giants, albeit briefly, in 1996.
Tyler is a catcher who can really hit and is athletic enough to move to another position if needed, or if a team thinks that would allow his bat to get to the big leagues faster. The Giants pick at No. 13 this year. How much fun would it be for the Giants to pick two generations of Soderstroms?
The pitching list is led by Duke right-hander Bryce Jarvis, ranked No. 25 on our list. His father, Kevin, was a 21st-round pick by the Reds out of Wake Forest back in 1991, and he spent parts of 12 seasons in the big leagues. Jarvis' name has come up as a potential pick at the back end of the first round.