2020 Draft legacies: Glavine, Boone ... Agassi?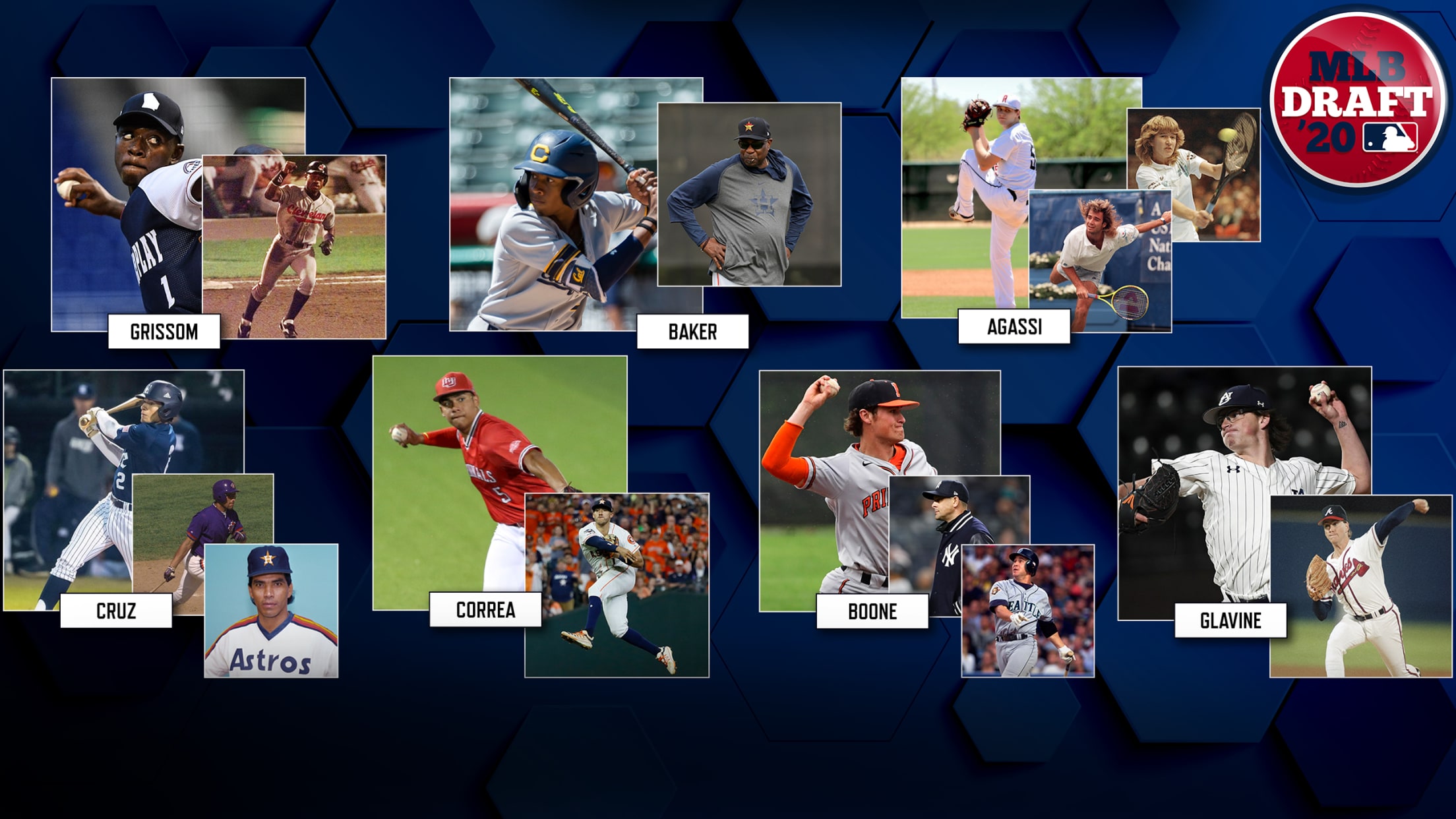 Three players who received Rookie of the Year Award votes in 2019 -- Cavan Biggio, Vladimir Guerrero Jr. and Fernando Tatis Jr. -- are the sons of prominent former Major Leaguers. That provides a hint to how important family ties can be in baseball. They certainly aren't everything, but it's
Three players who received Rookie of the Year Award votes in 2019 -- Cavan Biggio, Vladimir Guerrero Jr. and Fernando Tatis Jr. -- are the sons of prominent former Major Leaguers.
That provides a hint to how important family ties can be in baseball. They certainly aren't everything, but it's also no accident that familiar names always seem to pop up in the Draft.
So, with the 2020 Draft approaching on June 10, here is a look at some Draft-eligible players with legacies in baseball or elsewhere in the sports world.
MLB PIPELINE TOP 200 PROSPECTS
Player: Reid Detmers, LHP, Louisville (No. 8 Draft prospect)
Relative: Kris Detmers (Father, six Minor League seasons)
Kris was a left-handed pitcher just like his son, though not the same caliber of prospect. Selected in the 22nd round of the 1993 Draft by the Cardinals, he got as far as Triple-A in the St. Louis system, making 27 starts at that level. Reid is the No. 3 pitcher in this Draft class, behind only Texas A&M's Asa Lacy and Georgia's Emerson Hancock.
Player: Tyler Soderstrom, C, Turlock (Calif.) HS (No. 19 Draft prospect)
Relative: Steve Soderstrom (Father, one MLB season)
Steve, a right-handed pitcher, was first selected in the 15th round of the 1990 Draft out of Turlock High -- the same school his son later attended -- but he opted to go to Fresno State. That decision paid off when the Giants grabbed him at No. 6 overall in 1993, five picks after Alex Rodriguez went to the Mariners. Soderstrom went on to pitch nearly 800 innings in the Minors, but he got only a three-start cup of coffee in San Francisco in September 1996, going 2-0 with a 5.27 ERA. Tyler, a UCLA commit, is a polished left-handed hitter with some questions about his ability to stick behind the plate.
Player: Pete Crow-Armstrong, OF, Harvard-Westlake (Calif.) School (No. 20 Draft prospect)
Relative: Ashley Crow (Mother, actress)
OK, so Ashley Crow was not a pro ballplayer. But she did play the mother of a Major League manager in the classic 1994 film, "Little Big League." Crow's son on the silver screen, Billy Heywood, becomes the owner of the Twins, via his grandfather's will, and later appoints himself as the club's skipper. Her real-life son, Pete (a Vanderbilt commit), could potentially play for the Twins, who have the No. 27 overall pick.
Player: Cade Cavalli, RHP, Oklahoma (No. 22 Draft prospect)
Relative: Brian Cavalli (Father, one Minor League season)
While Cade is a big righty with easy velocity and a good curveball, Brian was a catcher who was selected in the now-defunct 50th round of the 1989 Draft and wound up playing briefly in the Angels' system in 1993. His pro career consisted of 14 games and 41 plate appearances with the Class A Short-Season Boise Hawks.
Player: Bryce Jarvis, RHP, Duke (No. 25 Draft prospect)
Relative: Kevin Jarvis (Father, 12 MLB seasons)
Bryce, a 37th-round pick by the Yankees a year ago, returned to Duke and raised his stock considerably, even with the 2020 season being cut short. While that could propel him into the first round, he will still have his work out for him to match the longevity of his dad. A 21st-round pick out of Wake Forest in 1991, Kevin Jarvis pitched 187 games (118 starts) in the Majors, despite rarely enjoying a stable roster spot. He bounced to 10 different teams, having his best year with the Padres in 2001.
Player: Tanner Burns, RHP, Auburn (No. 28 Draft prospect)
Relative: Mike Burns (Father, three Minor League seasons)
Previously drafted in the 37th round by the Yankees in 2017, Burns went on to Auburn, where he has racked up 210 strikeouts in 37 games. His father, a catcher and infielder, played in the Astros' system from 1991-93, though he never rose above Double-A.
Player: Carson Tucker, SS, Mountain Pointe (Ariz.) HS (No. 52 Draft prospect)
Relative: Cole Tucker (Brother, Pirates shortstop)
Cole was drafted 24th overall out of Mountain Pointe in 2014 and made it to the big leagues last season, starting 36 games for the Bucs. Carson has the tools to give the Tucker family a second MLB shortstop, with the Texas commit pushing his way into the first-round conversation this spring.
Player: Kyle Nicolas, RHP, Ball State (No. 60 Draft prospect)
Relative: Todd Blackledge (Uncle, NFL player)
Nicolas has one of college baseball's best fastballs, and strong right arms run in the family. Blackledge was a three-year starting quarterback at Penn State, where he won a national title in 1982. The Chiefs drafted him No. 7 overall in 1983 (ahead of Hall of Famers Jim Kelly and Dan Marino), and he played seven seasons in the NFL. He's now a college football broadcaster.
Player: Daniel Susac, C, Jesuit (Calif.) HS (No. 67 Draft prospect)
Relative: Andrew Susac (Brother, Pirates catcher)
The Susacs might not be the Molinas, exactly, but we could see both brothers catching in the big leagues at some point. Andrew, a second-round pick from Oregon State in 2011, has played for the Giants, Brewers and Orioles since '14, although he spent all of last season at Triple-A with the Royals. He was in Pirates camp as a non-roster invitee this spring. Daniel, an Arizona commit, boasts a strong arm behind the plate and raw power at it.
Player: Gage Workman, 3B, Arizona State (No. 74 Draft prospect)
Relative: Widd Workman (Father, four Minor League seasons)
A 6-foot-4 switch-hitter, Gage has suited up for the Sun Devils, just as his father did before the Padres drafted him in the third round in 1996. Widd Workman was a pitcher, however, and spent four years in the Padres' and Dodgers' systems, getting as far as Double-A.
Player: Jace Bohrofen, OF, Westmoore (Okla.) HS (No. 94 Draft prospect)
Relative: Brent Bohrofen (Father, two Minor League seasons)
Brent was also an outfielder, playing two Class A seasons in the Cardinals' organization in 1991 and '92. His son, a well-rounded prep player with a high floor, could go in the top few rounds if he can be signed away from his commitment to Oklahoma.
Player: Freddy Zamora, SS, Miami (No. 101 Draft prospect)
Relative: Freddy Zamora Sr. (Father, played professionally in Nicaragua)
The younger Zamora grew up in Miami and went on to play for the Hurricanes, establishing himself as a talented defender with an improving bat. His father never played in an MLB organization, but he competed in numerous tournaments for the Nicaraguan national team in the 1990s, including the '96 Olympics in Atlanta.
Player: Milan Tolentino, SS, Santa Margarita Catholic (Calif.) HS (No. 102 Draft prospect)
Relative: José Tolentino (Father, one MLB season)
José won a College World Series championship with Roger Clemens at Texas, was taken in the seventh round of the 1983 Draft by the A's and played 11 seasons in the Minors. His lone MLB stint consisted of 44 games with the '91 Astros, where he backed up Jeff Bagwell at first base. His son is a slick-fielding shortstop prospect, who signed to play at UCLA.
Player: Trei Cruz, SS, Rice (No. 127 Draft prospect)
Relative: Jose Cruz Jr. (Father, 12 MLB seasons); Jose Cruz (Grandfather, 19 MLB seasons)
Trei Cruz has a long baseball lineage. Jose Cruz Jr., Trei's father, played 12 seasons from 1997-2008, chiefly with the Blue Jays, and hit 204 career home runs. His grandfather was a two-time All-Star and Silver Slugger Award winner in a 19-year career from 1970-88, spent mostly with the Astros. Trei hit .328/.487/.500 in a shortened 16-game season for Rice in 2020.
Player: Yohandy Morales, 3B, Braddock (Fla.) HS (No. 132 Draft prospect)
Relative: Andy Morales (Father, two Minor League seasons)
Andy played professionally in Cuba before defecting and signing with the Yankees in 2001, although New York later voided the deal over discrepancies regarding the infielder's age. He last played at Double-A for the Red Sox in '02. Yohandy, a strong-armed infielder with raw power, is committed to the University of Miami.
Player: Shane Drohan, LHP, Florida State (No. 148 Draft prospect)
Relative: Bill Drohan (Father, four Minor League seasons)
A high-upside southpaw, Shane was previously drafted by the Phillies in 2017, but he opted to play for the Seminoles rather than turn pro. His father, a 15th-rounder in 1987, pitched in the Royals' system from 1987-90, though he never rose as far as Double-A.
Player: Zach Brzykcy, RHP, Virginia Tech (No. 181 Draft prospect)
Relative: Jerry Brooks (Grandfather, four Minor League seasons)
Brzykcy, who can reach triple digits on the mound, has the potential to be a lights-out reliever if he can lock in his command. His grandfather spent time in the Minors in the early 1950s, including with a few Yankees affiliates.
Player: Max Carlson, RHP, Burnsville (Minn.) HS (No. 193 Draft prospect)
Relative: Sam Carlson (Brother, Mariners prospect)
A second-round pick in 2017, Sam Carlson has not had much of a chance to pitch professionally yet, logging three innings before undergoing Tommy John surgery that kept him out for all of the past two seasons. But he remains Seattle's No. 15 prospect, and his brother could follow him into pro ball if he doesn't stick with his commitment to North Carolina.
Player: Jacob Berry, 3B, Queen Creek (Ariz.) HS (No. 198 Draft prospect)
Relative: Perry Berry (Father, four Minor League seasons)
Also an infielder, Perry Berry was a fourth-round pick by the Astros in 1990 and played 341 games in Houston's system, where he was teammates with a young Bobby Abreu. Jacob, a switch-hitter with big power potential, would have to be signed away from his commitment to Arizona.
MAJOR LEAGUE SONS
Player: Peyton Glavine, LHP, Auburn
Relative: Tom Glavine (Father, 22 MLB seasons)
As a left-handed pitcher, Peyton has a pretty good role model in his dad, a 10-time All-Star and two-time National League Cy Young Award winner who won 305 Major League games and cruised into the Hall of Fame on the first ballot in 2014. Peyton, a 37th-round pick by the Angels in 2017, has pitched sparingly thus far in his collegiate career with the Tigers.
Player: Darren Baker, 2B, UC Berkeley
Relative: Dusty Baker (Father, 19 MLB seasons/Astros manager)
Darren isn't just the kid who as a little Giants batboy was famously rescued at home plate by J.T. Snow during the 2002 World Series. He was also drafted by the Nationals in the 27th round in '17, before heading to Berkeley, where he batted .306 as a sophomore in 2019. His father was a two-time All-Star with nearly 2,000 career hits, but he has become more well-known as the skipper of the Giants, Cubs, Reds, Nationals and now Astros, entering this season 15th on the all-time wins list.
Player: Jake Boone, SS, Princeton
Relatives: Bret Boone (Father, 14 MLB seasons); Aaron Boone (Uncle, 12 MLB seasons/Yankees manager); Bob Boone (Grandfather, 19 MLB seasons); Ray Boone (Great-grandfather, 13 MLB seasons)
Baseball families don't get more impressive than this. Jake could represent the fourth generation of Boones, who thus far have produced four big leaguers, each of whom made at least one All-Star team and reached double digits in career Wins Above Replacement. Bob and Aaron have also managed in MLB, with the latter currently leading the Yankees, while Brett hauled in four Gold Glove Awards and two Silver Sluggers as a second baseman with the Mariners, Reds, Braves, Padres and Twins. Jake, a 38th-round pick by the Nationals in 2017, batted .312 and led Princeton in hits as a sophomore last year.
Player: Orlando Hernandez, RHP, Florida Christian School
Relative: Orlando Hernandez (Father, nine MLB seasons)
"El Duque" carved out a lengthy career in the Majors, despite not arriving from Cuba until he was 32. A right-handed pitcher like his son (a Florida International commit), he started more than 200 MLB games and became known as a terrific postseason performer, posting a 2.55 ERA in more than 100 playoff innings that yielded four World Series championships.
Player: Dante Girardi, SS, Calvary Christian (Fla.) Academy
Relative: Joe Girardi (Father, 15 MLB seasons/Phillies manager)
Also a Florida International commit, Dante is following in the footsteps of his father, who carved out a long career as a catcher with the Cubs, Rockies, Yankees and Cardinals that included an All-Star selection in 2000. Joe is now heading into his 12th season as a Major League manager after taking the helm in Philadelphia this past offseason.
Player: Marquis Grissom Jr., RHP, Counterpane (Ga.) School
Relative: Marquis Grissom (Father, 17 MLB seasons)
The younger Grissom, who is signed to play at Georgia Tech, excels most on the mound. But his dad had great success as a fleet-footed outfielder, stealing 429 bases, slugging 227 homers and winning four Gold Glove Awards. A World Series champion with the 1995 Braves, he batted .317 in 52 career postseason games.
Player: Cole Percival, RHP, UC Riverside
Relative: Troy Percival (Father, 14 MLB seasons)
A righty just like his dad, Cole passed up signing with the D-backs as a 31st-rounder in 2017, and headed to college, where he had a 3.38 ERA in four starts before the 2020 season was cut short. Troy, who also played at Riverside, was picked in the sixth round in 1990 by the Angels. He became a four-time All-Star closer for the Halos, helping the club win the 2002 World Series, and ranks 11th on MLB's all-time saves list (358).
Player: Kyle Karros, 3B, Mira Costa (Calif.) HS
Relative: Eric Karros (Father, 14 MLB seasons)
Kyle is set to head to UCLA, where his older brother, Jared, is a pitcher. Eric also played for the Bruins and was selected in the sixth round of the 1988 Draft by the Dodgers, taking home NL Rookie of the Year honors in 1992. He went on to smack 284 homers in the big leagues as a first baseman, spending most of his career in L.A.
Player: Garrett Bevacqua, 3B, South Mountain (Ariz.) CC
Relative: Kurt Bevacqua (Father, 15 MLB seasons)
Garrett's dad was a pinch-hitter extraordinaire for 15 big league seasons with six different teams from 1971-85. Bevacqua's career highlight was the 1984 World Series with the Padres -- San Diego fell to the juggernaut Tigers, but a 37-year-old Bevacqua hit .412 with a pair of homers.
Player: Luke Eldred, RHP, Dallas Baptist
Relative: Cal Eldred (Father, 14 MLB seasons)
Also a right-handed pitcher, Cal was taken No. 17 overall in the 1989 Draft by the Brewers and went on to pitch almost 1,400 big league innings. He's now the pitching coach for the Royals, who also have Luke's brother, C.J., as a pitcher in their Minor League system.
Player: Homer Bush, CF, Carroll (Tex.) HS
Relative: Homer Bush (Father, seven MLB seasons)
The younger Homer Bush is committed to play at Grand Canyon University. His dad, a second baseman, hit .380 in limited action as a rookie with the 1998 Yankees, winning a World Series title. He was traded to the Blue Jays in the ensuing offseason as part of the deal that sent Roger Clemens to the Bronx and David Wells to Toronto.
Player: Gunner Halter, SS, Oklahoma City U.
Relative: Shane Halter (Father, eight MLB seasons)
Gunner has already been drafted in both 2017 (Blue Jays, 22nd round) and '18 (Indians, 26th round), and bounced from Seminole State to Mississippi State to Oklahoma City. His dad, a Royals fifth-round pick in 1991, held on to a utility role in Detroit in the early 2000s, most notably playing all nine positions in a game in 2000.
Player: Andres Perez, C, North Georgia
Relative: Eddie Perez (Father, 11 MLB seasons)
Nobody caught more of Greg Maddux's career than Eddie Perez, who often served as the Hall of Famer's personal backstop in Atlanta. Perez, who was also MVP of the 1999 NL Championship Series, saw his son drafted by the Braves in 2016. Andres went on to North Georgia, where he hit .330 with 23 homers in 53 games as a sophomore in '18, before missing the next year due to injury. He had six home runs in nine games before the '20 season was cut short.
Player: Jaren Shelby, CF, Kentucky
Relatives: John Shelby (Father, 11 MLB seasons); Josh Harrison (Cousin, Phillies infielder)
Jaren, a senior, posted a .384 on-base percentage over the past two seasons at Kentucky. His dad, also an outfielder, won World Series rings with the 1983 Orioles and '88 Dodgers and has held several other coaching jobs throughout the Majors and Minors. Three of John's other sons have also been drafted and played in the Minors: John (fifth round, 2006), Jeremy (38th round, '10) and JaVon (fifth round, '16). And then there's Harrison, a two-time All-Star in his days with the Pirates.
Player: Tora Otsuka, OF, San Diego
Relative: Akinori Otsuka (Father, four MLB seasons)
Akinori enjoyed great success as a reliever in Japan before making the jump to the Majors as a 32-year-old in 2004, when he finished third in NL Rookie of the Year Award voting by posting a 1.75 ERA for the Padres. He later saved 32 games for the '06 Rangers after being part of the return in a trade for Adrián González.
Player: Mariano Ricciardi, 2B, Dayton
Relative: J.P. Ricciardi (Father, former Blue Jays general manager)
Currently a senior advisor with the Giants, J.P. Ricciardi has put together a long career in MLB front offices, including leading the Blue Jays from 2002-09. One son, Dante, was a 39th-round pick by the Mariners in 2015. As for Mariano, he was batting .339 through 14 games with Dayton this season.
RELATIVES IN THE GAME
Player: Dante Baldelli, CF, Boston College
Relative: Rocco Baldelli (Brother, Twins manager)
Rocco was 37 when the Twins named him manager after the 2018 season, following his seven-season playing career as an outfielder (2003-10), spent mostly with Tampa Bay. His first season at the helm in Minnesota resulted in 101 victories and the American League Manager of the Year Award. Dante, who's 16 years younger than Rocco, hit .255 in 15 games for the Eagles this season.
Player: J.C. Correa, SS, Lamar
Relative: Carlos Correa (Brother, Astros shortstop)
Carlos has become a huge part of the Astros' homegrown core of stars since Houston drafted him No. 1 overall in 2012. The Astros have drafted J.C. twice now, in the 33rd round in '18, and the 38th round in '19, though he opted to return to Lamar.
Player: Casey Dykstra, CF, Azusa Pacific
Relative: Lenny Dykstra (Uncle, 12 MLB seasons)
Two of Casey's cousins, Cutter (second round, 2008) and Luke (seven round, '14), were drafted and played professionally, although neither reached the Majors. But the most famous Dykstra is Lenny, a three-time All-Star center fielder and 1986 World Series champion with the Mets.
Player: Joe Baran, LHP, East Stroudsburg
Relative: Joe Maddon (Cousin, Angels manager)
Baran, whose dad is Maddon's first cousin, was drafted in 2018 by the Brewers (22nd round), but he continued his college career at East Stroudsburg, where he enjoyed a dominant-but-abbreviated senior season as a reliever (11 innings, one run, 21 strikeouts).
Player: Ryan Berardino, 1B, Bentley
Relative: Dwight Evans (Grandfather, 20 MLB seasons)
Evans isn't Berardino's only source of baseball lineage. His other grandfather, Dick Berardino, reached Triple-A as an outfielder, was a longtime Minor League manager and also spent time as a coach with the Red Sox. But Evans was the star in Boston, playing nearly his entire career there and winning eight Gold Glove Awards in right field while bashing 385 home runs.
Player: Brett Centracchio, 1B, Davidson
Relative: Jeff Bagwell (Godfather, 15 MLB seasons)
While not a blood relative, Bagwell is close with Brett's father, Greg, his college teammate at Hartford, and has served as a resource in Brett's career. Centracchio was putting up some Bagwell-like numbers before Davidson's season ended, batting .352 with a 1.058 OPS in 14 games.
Player: Gavin Casas, 1B, American Heritage (Fla.), School
Relative: Triston Casas (Brother, Red Sox prospect)
Triston, the No. 26 overall pick in 2018, hit 20 homers in his first full Minor League season and now ranks as MLB Pipeline's No. 77 prospect. His younger brother has committed to play at Vanderbilt.
Player: Shane McGuire, C, San Diego
Relative: Reese McGuire (Brother, Blue Jays catcher)
Shane was batting a ridiculous .469 in 12 games as a junior for the Toreros before the 2020 season was cut short. His older brother, Reese, was the No. 14 overall pick in the 2013 Draft by the Pirates, was traded to the Blue Jays in '16 and has posted an .882 OPS through his first 44 MLB games.
Player: Jamison Hill, RHP, Fresno State
Relative: Garry Templeton (Step-grandfather, 16 MLB seasons)
While Templeton might be best known as part of the trade that sent Ozzie Smith to St. Louis, he was an excellent player in his own right. The three-time All-Star shortstop collected more than 2,000 hits and 200 steals.
Player: Kyle Hess, OF, Pittsburgh
Relative: Chris Heisey (Cousin, eight MLB seasons)
As a sophomore at Pitt, Hess hit .373/.425/.627 in the shortened 2020 season. His cousin, Heisey, was a 17th-round pick by Cincinnati in 2006, and spent time as a part-time outfielder and pinch-hitter with the Reds, Dodgers and Nationals.
Player: Dylan Neuse, SS, Texas Tech
Relative: Sheldon Neuse (Brother, A's infielder)
Oakland's No. 6 prospect, Sheldon made his MLB debut last season and played 25 games. His younger brother was off to a hot start (.355) in 19 games for the Red Raiders this season.
NON-BASEBALL CONNECTIONS
Player: Jaden Agassi, RHP, Palo Verde (Calif.) HS
Relatives: Andre Agassi and Steffi Graf (Parents, former professional tennis players)
Of all the relatives on this list, none have been more successful in their sport than Agassi and Graf, two of the greatest players tennis has ever seen. Agassi won eight Grand Slam singles titles -- a distant second in his own family to Graf (22), who ranks third all time. Yet, their son is following a different path as an athlete on the mound. He is committed to play collegiately at USC.
He gets it from his mom #MarryUp pic.twitter.com/UvJCfR3xCx

— Andre Agassi (@AndreAgassi) May 22, 2020
Player: Oraj Anu, OF, Kentucky
Relative: Oralee Fowler (Mother, former Olympian track athlete)
Anu's mother was an Olympic sprinter for the Bahamas who competed in the women's 4x100 meter relay in the 1984 Olympics in Los Angeles.
Player: Conor Davis, 1B, Auburn
Relative: Ted Davis (Grandfather, former NFL player)
After playing at Georgia Tech, Ted Davis was an NFL linebacker with the Colts, Saints and Dolphins from 1964-70.
Player: Jayden Hill, CF, Frisco (Tex.) HS
Relative: Greg Hill (Father, former NFL player)
The Chiefs drafted Greg at No. 25 overall in 1994 out of Texas A&M, and he went on to rush for 772 yards and 12 touchdowns over six seasons for the Chiefs, Rams and Lions.
OTHER NAMES TO NOTE
Player: Brendon Beck, RHP, Stanford
Relative: Tristan Beck (Giants Minor Leaguer)
Player: Tommy Bell, SS, Old Dominion
Relative: Terry Bell (Uncle, two MLB seasons)
Player: Drew Brutcher, CF, Lakeland (Fla.) HS
Relative: Lenny Brutcher (Father, five Minor League seasons)
Player: Jack Dreyer, LHP, Iowa
Relative: Steve Dreyer (Father, two MLB seasons)
Player: Duke Ellis, CF, Texas
Relative: Robert Ellis (Father, four MLB seasons)
Player: Kalae Harrison, SS, Punahou (Hawaii) HS
Relative: KJ Harrison (Brother, Nationals Minor Leaguer)
Player: Landon Knack, RHP, East Tennessee State
Relative: Will Craig (Brother-in-law, Pirates Minor Leaguer)
Player: Ian McWilliams, RHP, UAB
Relative: Sam McWilliams (Brother, Rays Minor Leaguer)
Player: Will Pendergrass, 3B, Ridge Point (Tex.) HS
Relative: Rusty Pendergrass (Father, MLB scout)
Player: Kaden Polcovich, INF, Oklahoma State
Relative: Kevin Polcovich (Father, two MLB seasons)
Player: James Proctor, RHP, Princeton
Relative: Jim Proctor (Grandfather, one MLB season)
Player: Jason Ruffcorn, RHP, Oklahoma
Relative: Scott Ruffcorn (Father, five MLB seasons)
Player: Logan Steenstra, SS, Cowley County (Kan.) CC
Relative: Kennie Steenstra (Father, one MLB season)
Player: Will Treuel, RHP, Bryant
Relative: Ralph Treuel (Father, nine Minor League seasons)
Player: Tristan Weaver, LHP, Indiana State
Relative: Eric Weaver (Father, three MLB seasons)
Player: Cam Williams, SS, Texas
Relative: Reggie Williams (Father, four MLB seasons)
Player: Tyler Wilson, C, Hamilton (Ariz.) HS
Relative: Steve Wilson (Father, 6 MLB seasons)