Summer Camp performances that matter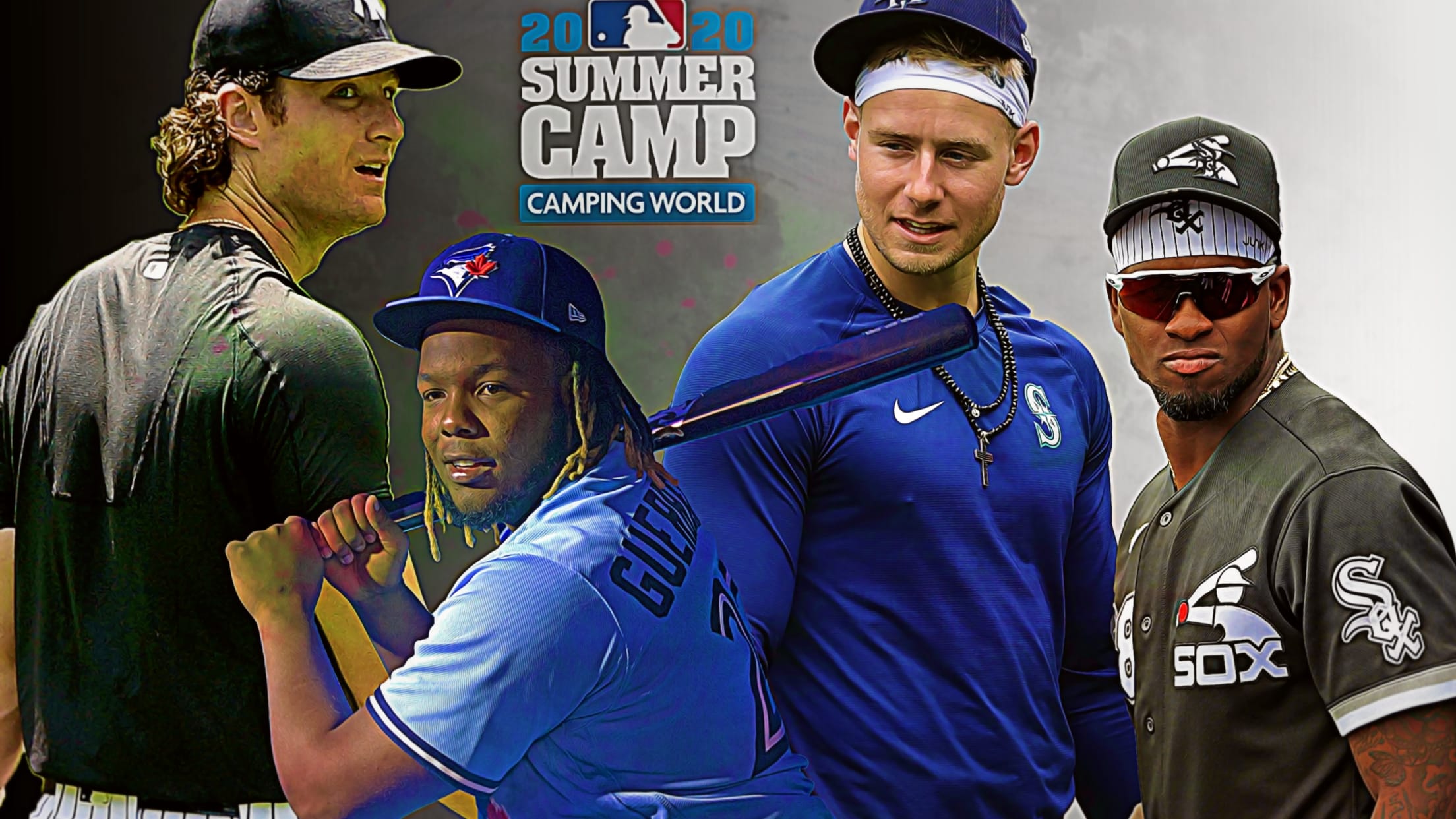 Summer Camp stats don't count, of course, but Opening Day is just days away now. These intrasquad and exhibition games are the last chance for Major Leaguers to get real-season-ready, and for top prospects to prove they're ready for the big leagues. Not every preseason hot streak or slump is
Summer Camp stats don't count, of course, but Opening Day is just days away now. These intrasquad and exhibition games are the last chance for Major Leaguers to get real-season-ready, and for top prospects to prove they're ready for the big leagues.
Not every preseason hot streak or slump is worth freaking out about. You probably shouldn't worry too much about Max Scherzer giving up homers to Bryce Harper, or Christian Yelich going cold against his own pitching staff. But who should be catching your eye right now?
Here are 10 Summer Camp performances worth paying attention to.
Gerrit Cole, Aaron Judge & Co., Yankees
When you're the new ace of the Yankees and a $300 million man, people want to see you dominating from Day 1. Cole is. It's no accident that he racked up 16 strikeouts over his last two intrasquad outings, nine in one and seven in the other. The Yankees' lineup is no joke, either. Cole's high heat looks as overpowering as ever, and his slider's getting ugly swings. Next up: a duel against Scherzer on Opening Day.
Meanwhile, the Bronx Bombers are slugging their way into the season. Judge quashed any doubts about his Opening Day readiness with three home runs in the last week -- a towering shot to Monument Park off James Paxton in Wednesday's instrasquad game, followed by a pair of homers to left field in Sunday's exhibition against the Mets. Giancarlo Stanton crushed homers in the same two games as Judge -- including a 113 mph, 448-foot blast on Sunday -- and Gary Sánchez belted one on Sunday, too. That troika all healthy, on the field together and crushing home runs is the Yankees' dream scenario. All rise for the 2020 season.
Luis Robert, White Sox
The hype is real. Robert is the No. 3 overall prospect in baseball per MLB Pipeline. The White Sox gave him a six-year, $50 million contract before he ever played a big league game. His teammates are raving about him. Eloy Jiménez says he's the next Mike Trout. And Robert has been looking the part all through Spring Training and Summer Camp.
Luis Robert hit another home run AND it hit the last row.

Say it with us: MERCY! pic.twitter.com/vFNcH2U2R9

— Chicago White Sox (@whitesox) July 19, 2020
From the home runs while falling down to the monster shots to the concourse, watching Robert should have White Sox fans excited.
Daniel Bard, Rockies
What an incredible story. How could you not sit up and pay attention? Bard's comeback is one of the unlikeliest you'll ever see. He hasn't pitched in the Major Leagues since April 27, 2013. He had the yips, every pitcher's bogeyman. Now, at age 35, the once-dominant Red Sox reliever has made the Rockies' Opening Day roster. He looks great. The only thing left is the crowning moment when he takes the mound in a big league game for the first time in over seven years.
Vladimir Guerrero Jr. and Nate Pearson, Blue Jays
Let's start with Vlad Jr. First of all, he's hitting bombs. (So is Bo Bichette, by the way.)
Art or not art? 💥 pic.twitter.com/uFBDFnigh7

— Toronto Blue Jays (@BlueJays) July 19, 2020
That's what we want to see, especially after his rookie season, which -- while it had some big highlights -- didn't quite realize the lofty dreams the baseball world had for Vladito. But keep this in mind: the things Vlad Jr. did as a 20-year-old are absolutely impressive. And he's a lot closer to a big hitting breakout than you might realize.
Second of all, he's got a new position -- Toronto has moved him from third base to first base and DH at Summer Camp, and that's where the Jays plan to use him going forward. That's big. Vlad Jr. was a defensive liability at the hot corner, and his position change should let him focus on the reason he was the most hyped prospect in a long time: crushing baseballs.
There's also another impressive young gun in Toronto: the 23-year-old Pearson, who's the No. 8 prospect in baseball. The 6-foot-6 right-hander is armed with a truly elite, triple-digit fastball, and even if he's not in the Blue Jays' Opening Day rotation, he should be in the Majors sooner rather than later. When he arrives, look out -- Pearson is already showing how dominant he is in Summer Camp.
What does 💯 MPH sound like?

Ask @big_nate5 🔥 pic.twitter.com/sbmYJnFioE

— Toronto Blue Jays (@BlueJays) July 11, 2020
Salvador Perez, Royals
The Royals' longtime rock at catcher missed all of the 2019 season recovering from Tommy John surgery, and Perez's return this summer was delayed when he tested positive for COVID-19. But Salvy is back. In his first intrasquad game following his return, he laced an RBI single. On Friday, he launched a three-run homer into the Kauffman Stadium fountains.
Yesterday, we filled the fountains.

Tonight, Salvy put a baseball in them.#AlwaysRoyal pic.twitter.com/KzbliGCQjq

— Kansas City Royals (@Royals) July 18, 2020
Perez is throwing out basestealers and looks to be in great form behind the plate. The six-time All-Star and five-time Gold Glover is ready for Opening Day. He's thrilled to be back, and Royals fans should feel the same.
Confirmed: Salvy's arm is in midseason form.#AlwaysRoyal pic.twitter.com/Rjsu38ZcG1

— Kansas City Royals (@Royals) July 16, 2020
Walker Buehler, Dodgers
Normally there would be no need to scrutinize the Dodgers' ace-in-the-making playing preseason baseball. But questions recently emerged about Buehler's Opening Day readiness, as manager Dave Roberts revealed the 25-year-old needs extra buildup time due to taking time off between Spring Training and Summer Camp. So all eyes were on Buehler for his first intrasquad outing on Friday. And his stuff spoke for itself. While Buehler might not be fully unleashed right out of the gate, his arsenal is as nasty as ever, as new teammate Mookie Betts found out.
Buehler's fastball last season:
+2.4 inches of rise vs. avg.

Buehler's slider last season:
+3.5 inches of drop vs. avg.
+6.6 inches of horiz. break vs. avg.

Tunneling not included https://t.co/lWGmYIHmXN

— David Adler (@_dadler) July 18, 2020
Jarred Kelenic, Mariners
Kelenic's Summer Camp might be a longer-term, stash-it-in-your-memory-bank type of performance. The Mariners want to give their top prospect (and MLB's No. 11 prospect) time to develop. But the fact that a 21-year-old outfielder who's only played 21 games at Double-A is pushing so hard to make Seattle's MLB roster should tell you all you need to know about Kelenic's talent. This kid can rake.
Jarred Kelenic home run swings 💥 pic.twitter.com/NiXbkpaRrN

— David Adler (@_dadler) July 14, 2020
Whenever his day comes, don't forget that Kelenic was already showcasing his sweet swing in Summer Camp, from his beauty of a home run in live batting practice in the tweet below to his two-homer game in intrasquad play. Such crisp contact. If Kelenic does make it to the big leagues in 2020, remember that you saw it back in July.
So a source sent me the video of Jarred Kelenic's swing on the homer in live BP. The sound ... pic.twitter.com/82RG82id4t

— Ryan Divish (@RyanDivish) July 7, 2020
Jeurys Familia, Mets
The Mets had high expectations for Familia when they brought him back to New York. But 2019 Familia looked nothing like the valuable setup man he was for the A's down the stretch in '18, let alone the dominant closer he was for the Mets' playoff teams of 2015 and '16. So Familia was always going to be a player to watch heading into this season -- especially after an offseason working with new analytically minded pitching coach Jeremy Hefner, who armed Familia with the key adjustment of widening his splitter grip to create more of a differential from his sinker.
Well, on Saturday, Familia took the mound in the Mets' first exhibition game against the Yankees -- and his splitter was the pitch of the night. Familia looked nasty. Bouncebacks for him, Edwin Díaz and Dellin Betances (who got his velo up to 96 in the same game … also worth watching) could be a difference-maker in the NL East.
Familia's splitter, three angles ✌️ pic.twitter.com/XhBGICwtOF

— David Adler (@_dadler) July 19, 2020
Brandon Woodruff, Brewers
Woodruff has gone from surprise postseason jack-of-all-trades in 2018, to breakout All-Star starting pitcher in '19, to the Brewers' 2020 Opening Day ace. Showing off his high-90s fastball, filthy changeup and more, Woodruff's Summer Camp performance is only cementing him as a strikeout artist. He struck out Yelich three times in one intrasquad game last Tuesday, and in his final tuneup on Sunday he punched out five more Brewers (including Yelich again) in five innings of one-unearned-run ball. He's ready for the game that counts against the Cubs at Wrigley Field on Friday.
Brandon Woodruff, Changeup (swing/miss) & Fastball (Swinging K), Overlay pic.twitter.com/h2nCFfozf0

— Rob Friedman (@PitchingNinja) July 19, 2020
Rays and Yankees team defenses
In an unprecedented season, teams who are willing to innovate and experiment might find an advantage. Two teams testing out the same type of new strategy during Summer Camp: the Rays and Yankees. The strategy they're trying? Two-outfielder, five-infielder defensive alignments. Both teams have different reasons to use it; both reasons are good.
#Rays with a two-man outfield pic.twitter.com/aPpVb9odqf

— Juan Toribio (@juanctoribio) July 16, 2020
New York has elite sinkerballer Zack Britton, who generates nearly 80% ground balls. The Yankees' "Britton package" could help them steal extra outs with as low of a risk as possible of a hitter putting the ball in the air and into the vacated area of the outfield.
Yankees trying the five man infield. pic.twitter.com/xSi1jWWN3u

— Bryan Hoch (@BryanHoch) July 11, 2020
Tampa Bay has elite defensive outfielders Kevin Kiermaier and Manuel Margot. The ground they cover, coupled with a pitching staff full of great curveballs and two-seamers that make life hard on hitters who want to elevate the ball, could let them successfully deploy a two-man outfield. The Rays are using Summer Camp to run various two-man trials. And don't dismiss all this as scrimmage antics -- it seems like it's only a matter of time before the Rays, Yankees or both uses a two-man outfield/five-man infield in a real game situation.