At camp, Pearson puts tools on display again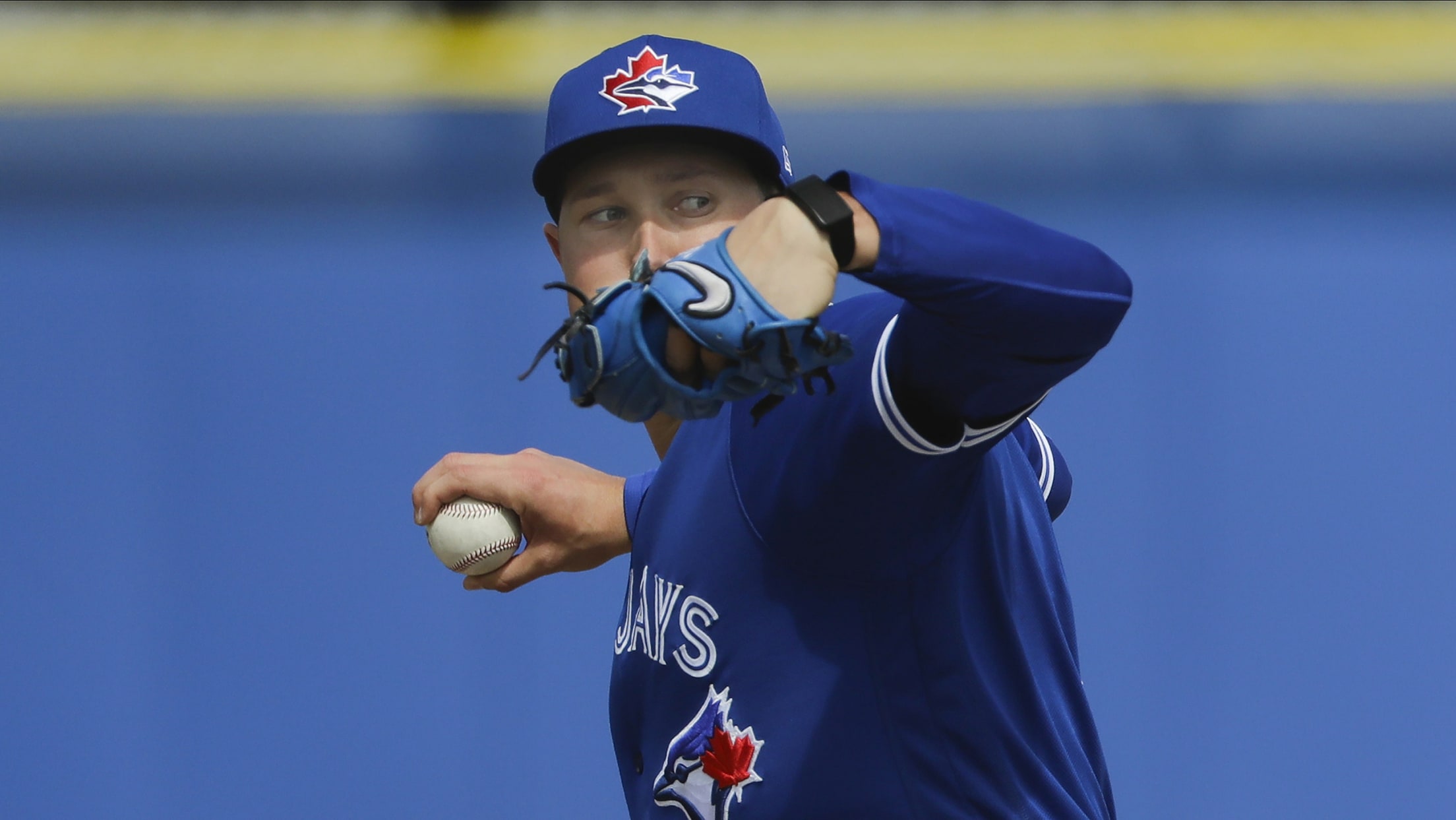 TORONTO -- Nate Pearson was the biggest story of Spring Training in Dunedin, and now he's the biggest story of Summer Camp in Toronto. On Saturday, the towering right-hander hit the ground, once again, in a full sprint. Pearson pitched two scoreless innings in the Blue Jays' intrasquad game, allowing
TORONTO -- Nate Pearson was the biggest story of Spring Training in Dunedin, and now he's the biggest story of Summer Camp in Toronto. On Saturday, the towering right-hander hit the ground, once again, in a full sprint.
Pearson pitched two scoreless innings in the Blue Jays' intrasquad game, allowing no hits and striking out two on 31 pitches. He did this against the club's best, too, facing Vladimir Guerrero Jr., Cavan Biggio, Bo Bichette and Randal Grichuk, among others. That's just what he wanted.
"When I saw who I was facing, I got really excited," Pearson said. "That's our 'A' lineup, and I'll be facing a lot of 'A' lineups once I get my call to the big leagues. It shows what my stuff measures up to, and I thought I did pretty well today."
Pearson believes he used the time during the shutdown to take his own game to another level, which is bad news for hitters in the American League East. His off-speed pitches, in particular, are feeling sharp, and we all know there are no problems with his fastball, which touches 100 mph and tiptoes beyond.
What does 💯 MPH sound like?

Ask @big_nate5 🔥 pic.twitter.com/sbmYJnFioE

— Toronto Blue Jays (@BlueJays) July 11, 2020
It's a unique situation for Pearson now as he's stuck facing his teammates, either in live BP sessions or intrasquad games. In some ways, that can be a disadvantage, but it isn't all bad.
The Blue Jays' hitters and pitchers can exchange information freely. Rowdy Tellez spoke about the value of this on Saturday, too, not just in terms of pitchers helping him with his weak spots, but how he can let pitchers know if a certain pitch looks hittable or if there's something in their delivery he's picking up.
The information he's been getting back from the young hitters like Guerrero, Bichette and Biggio has been valuable.
"How your fastball is coming out, how your off-speed compares to that, making sure you're in the same slot," Pearson listed. "Making sure you're not telegraphing your changeup, your curveball-slider. That's the kind of stuff I ask from the hitters just to get that honest feedback. They want to get me better, and I want to get them better."
The bright neon elephant in the room, of course, is whether Pearson starts the season with the Blue Jays. Service time is a factor and, when asked for the club's plans to manage Pearson through camp, manager Charlie Montoyo kept things close to the vest.
"Just like the other guys, we're going to build him up," he said.
The details around it paint a fairly clear picture, though. Montoyo plans to deploy a traditional, five-man rotation that will be led by four veterans in Hyun-Jin Ryu, Matt Shoemaker, Tanner Roark and Chase Anderson. The No. 5 job, as it was in Spring Training, is tilting in the direction of Trent Thornton.
The Blue Jays don't have any plans to use Pearson in a relief role, so it remains very possible that he's held down to start the season. Once Pearson is with the MLB roster, though, whether that's on July 24 or a week later, the Blue Jays will have a weapon that every team in baseball dreams of.