Once liabilities, these fielders improved the most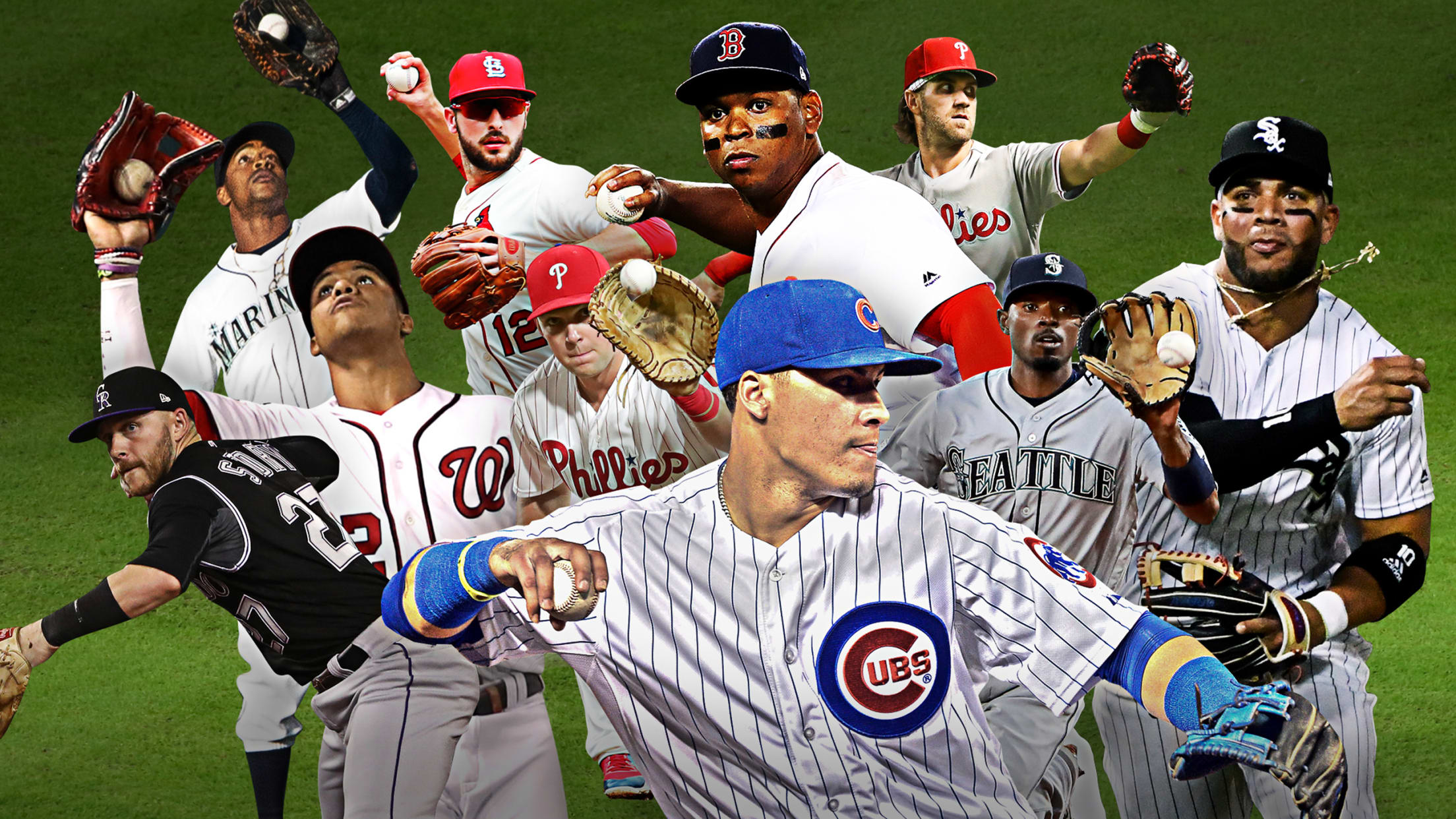 The Statcast lab recently unveiled Outs Above Average (OAA) for infielders, providing another way to measure infield defense -- one that takes into account positioning and defensive shifts. Infield OAA is now available not only for 2019, but also for the previous two seasons (Outfield OAA goes back to '16).
The Statcast lab recently unveiled Outs Above Average (OAA) for infielders, providing another way to measure infield defense -- one that takes into account positioning and defensive shifts.
Infield OAA is now available not only for 2019, but also for the previous two seasons (Outfield OAA goes back to '16). That provides an opportunity to judge defenders not only in terms of single seasons, but also see how they improved or declined over time.
• A new way to measure MLB's best infield defenders
Defensive metrics -- like those for hitting or pitching -- can fluctuate year to year based on any number of factors beyond a player's skill. Still, it's useful to take a look at which defenders took the biggest jumps in OAA from 2018 to '19.
The list below considers each player's total OAA (including time spent in the infield and outfield). It includes only those who saw significant Major League action in both seasons, thereby excluding last year's OAA leader, Nationals center fielder Victor Robles (+23), who played all of 116 innings in 2018.
1) Rhys Hoskins, 1B, Phillies
Gained 22 OAA (-18 to +4)
Plenty of things did not go according to plan for the Phillies in 2019, but one thing that certainly did was freeing Hoskins from the outfield. Almost exclusively a first baseman in the Minors, Hoskins struggled mightily while playing mostly left field in 2018. Then the Phillies traded first baseman Carlos Santana, while signing outfielders Bryce Harper and Andrew McCutchen. Part of the thinking was to move Hoskins back to first, and he wound up tied for fourth in OAA at the position.
2) Yoán Moncada, 3B, White Sox
Gained 19 OAA (-14 to +5)
That Moncada struggled so mightily at second base in 2018 was somewhat surprising, given his youth and athleticism. (Back when he was MLB's No. 1 prospect, MLB Pipeline's report said that Moncada, "...has the range and arm strength to play almost anywhere on the diamond…") It turns out that third base may have been a better fit, despite Moncada's minimal prior experience there. At second, Moncada had difficulty coming in and going to his right (up the middle), but both issues evaporated at the hot corner, while he also broke out at the plate.
3-T) Javier Báez, SS, Cubs
Gained 18 OAA (+1 to +19)
He led all infielders in OAA in 2019 and had a strong case as MLB's best defender, due to his range of skills and the variety of plays he made. Yet this was actually Báez's first full MLB season as a shortstop, finally supplanting Addison Russell there after years of more playing time at second base (as well as quite a bit of third). The stability seemed to suit Báez, who had a positive OAA moving in all four directions, as well as positioned in four different areas.
3-T) Paul DeJong, SS, Cardinals
Gained 18 OAA (-5 to +13)
DeJong matched the improvement of his counterpart on the Cardinals' National League Central rival, playing a major role in the St. Louis infield's ascent from near the bottom of the Majors in OAA to the very top. It was a sign of DeJong's growing experience at a position that he didn't play much before reaching the Majors, having been mostly a third baseman in the Minors. One sign of his improvement was how much better he fared going to his left, where he jumped from -1 all the way to +10 OAA.
Paul DeJong in 2018: -1 Outs Above Average going toward 1B

Paul DeJong in 2019: +10 Outs Above Average going toward 1B

Plays like these were key to DeJong's OAA improvement. pic.twitter.com/gaJfswWRy9

— Andrew Simon (@AndrewSimonMLB) January 17, 2020
5) Nick Castellanos, RF, Reds
Gained 17 OAA (-24 to -7)
Castellanos no doubt improved his free-agent stock with his red-hot late-season surge at the plate following a trade from the Tigers to the Cubs. Less obvious but perhaps just as important was the 27-year-old's strides on the other side of the ball. Early in his career, Castellanos played his way off third base. Detroit then tried him in the outfield, but in 2018, he ranked last in the Majors in outfield OAA. This past season saw an encouraging step forward as Castellanos adjusted to a relatively new position in right, and Cincinnati will now hope that progression continues.
6) Trevor Story, SS, Rockies
Gained 16 OAA (-1 to +15)
It's no secret that Nolan Arenado is a sensational third baseman. But what gave Colorado MLB's best defensive infield duo in 2019 was Story's improvement to Arenado's left. In his fourth big league season, Story made his biggest gains coming in on the ball, where his +9 OAA was second among all infielders, behind only Arizona shortstop Nick Ahmed.
7-T) Rafael Devers, 3B, Red Sox
Gained 14 OAA (-7 to +7)
Everything clicked for Devers in his age-22 season, as his bat and glove both took huge steps forward. When he wasn't leading the American League in doubles and total bases, he was turning around his reputation as a third baseman. Devers, who had -11 OAA in just 58 games as a rookie in 2017, worked hard to expand his range, making particular progress going to his left (+9 OAA) as he matured into one of the season's most surprising infield standouts.
Everyone knew Rafael Devers was going to hit. His defense was a different story.

But in 2019, Devers made big gains with his glove, too. Nolan Arenado was the only 3B better on plays to the left. #RedSox pic.twitter.com/Fu87nJKMm0

— Matt Kelly (@mattkellyMLB) January 24, 2020
7-T) Bryce Harper, RF, Phillies
Gained 14 OAA (-13 to +1)
Harper's defensive struggles in 2018 were a significant topic of conversation as he headed into free agency and ultimately signed a 13-year contract with the Phillies -- a team with no DH spot to offer (at least for now). But there were signs that the situation was not as dire as it looked, and indeed, Harper bounced back considerably in his first season in Philly. Playing only right field (instead of both right and center), Harper managed a sizeable boost in his sprint speed, and got much better jumps on the ball.
9-T) Juan Soto, LF, Nationals
Gained 12 OAA (-6 to +6)
When Soto burst into the Majors as a teenager in 2018, his .292/.406/.517 line belied his age and inexperience. But those factors showed on the defensive side, as a player with barely over 100 games played in the Minors (and almost none in left field) suddenly was manning left every day in big league stadiums. Soto's jumps improved in 2019, he addressed his struggles going back on the ball (from -5 to +2 OAA), and his conversion rate on 2- and 3-star chances (51-90% catch probability), surged from 66% all the way to 85%.
9-T) Mallex Smith, CF, Mariners
Gained 12 OAA (-2 to +10)
Smith has elite sprint speed, ranking in the 96th percentile last season. Yet that hasn't always translated to great defense for a player who has been traded four times in the past six years. In 2019, however, Smith was one of eight outfielders who reached double digits in OAA. The difference came mostly in how he handled 3-star opportunities -- those toss-up plays with a 51-75% catch probability. In 2018, Smith went 10-for-17 (58.8%) on them; this past season, that advanced to 18-for-20 (90%), a top-10 rate among qualifying outfielders.
9-T) Dee Gordon, 2B, Mariners
Gained 12 OAA (-12 to 0)
It would be tempting to say that this improvement was mostly about Seattle abandoning the Gordon-in-the-outfield experiment of 2018. After all, Gordon was a Gold Glove winner at second base in '15, but moved to center field when the Mariners acquired him before the '18 season, in deference to Robinson Canó. Yet Canó's suspension limited that experiment to 53 games, and Gordon's OAA in center (-3) was actually better than his OAA in 81 games at second (-9). Gordon was back at second nearly full-time in 2019, and back in the neighborhood of his '17 mark (-1 OAA).