Could all-debut team beat the best? Let's see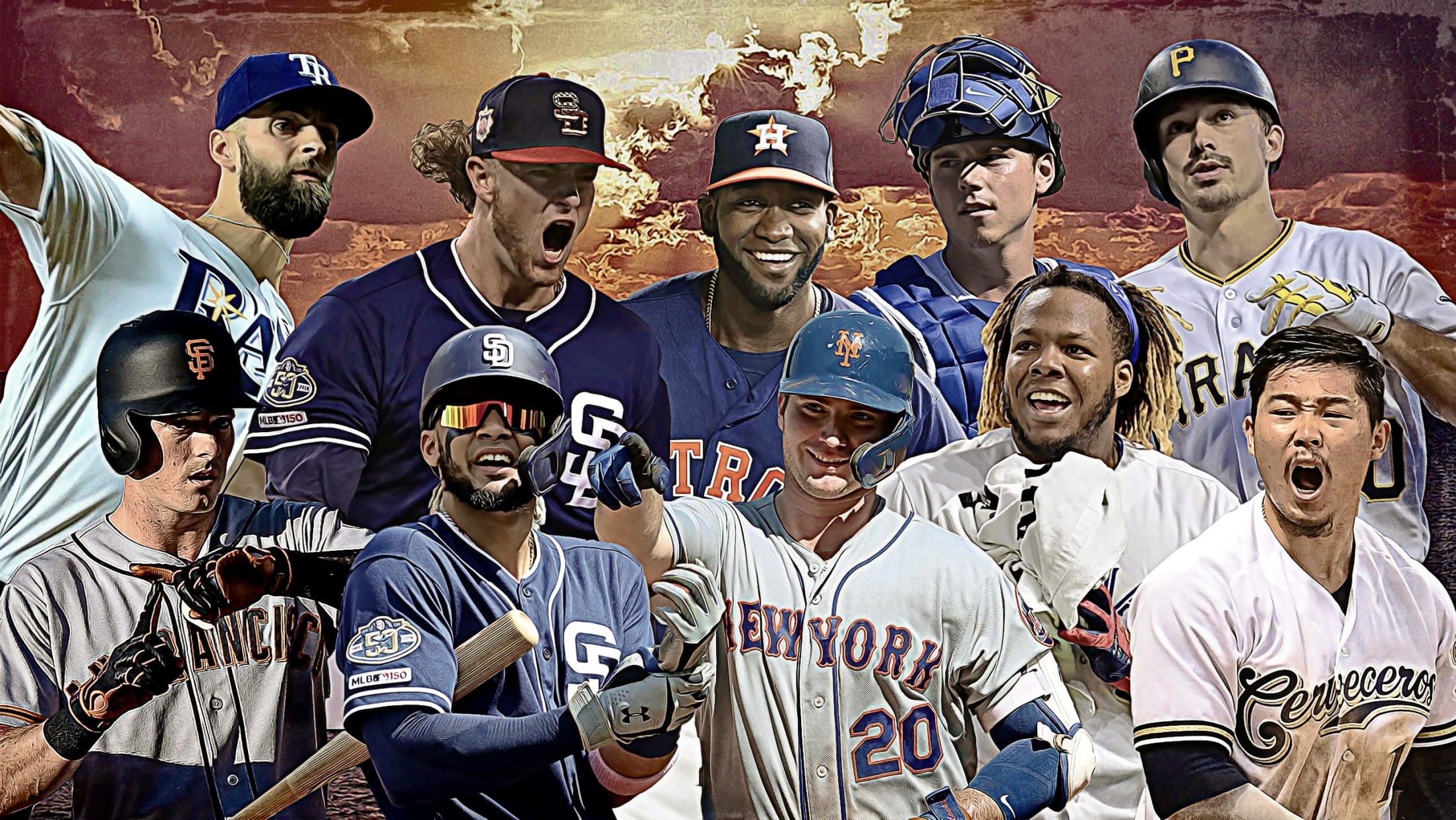 The player assembly line is always churning. And in recent years, as teams have more frequently given opportunities to young and unproven players, the player plant has been pumping out impact talent at a rate we've never really seen before. This brings up an interesting thought exercise: What if you
The player assembly line is always churning. And in recent years, as teams have more frequently given opportunities to young and unproven players, the player plant has been pumping out impact talent at a rate we've never really seen before.
This brings up an interesting thought exercise: What if you could construct a lineup made up entirely of players who debuted in 2019? And how would such a lineup fare against Major League Baseball's absolute best ballclubs?
That's what we'll explore here. To be abundantly clear: Not all of 2019's best rookies qualify for this list. Standouts like Mike Soroka, Brandon Lowe and John Means had already debuted before '19 began.
Let's take a look at the 2019 neophytes who had the highest Baseball Reference-calculated WAR tallies at the time of this writing and how they would fare against the Majors' big dogs.
C: Will Smith, LAD, 24 (Debut: May 28)
Stats: 1.7 WAR, 11 HR, 1.207 OPS, 207 OPS+
There was a bit of angst among the Dodgers faithful when the club wasn't able to reel in J.T. Realmuto in the trade market last winter, but you don't hear much about that these days. From a farm system deep on high-tier catching talent, Will Smith rose to the surface and grabbed the primary backstop role.
1B: Pete Alonso, NYM, 24 (Debut: March 28)
Stats: 4.4 WAR, 40 HR, .977 OPS, 156 OPS+
Pete Alonso won the Home Run Derby and in all likelihood will win the National League Rookie of the Year Award after a sensational season in which he has already set a new Senior Circuit mark for freshman dingers. The Mets were wise to give the "Polar Bear" an Opening Day opportunity, rather than delay his service clock, in a season in which every game and every win truly matters.
2B: Keston Hiura, MIL, 23 (Debut: May 14)
Stats: 1.7 WAR, 14 HR, .946 OPS, 139 OPS+
From the time he was taken ninth overall in the 2017 Draft, Keston Hiura had been advertised as having an advanced hit tool, and he has lived up to that billing while seizing the Brew Crew's second-base gig. Also worth noting here is that Michael Chavis (0.9 WAR) and his 18 homers provided a boost in Boston, and utilityman Luis Arraez (1.2) has done a little bit of everything for the first-place Twins.
SS: Fernando Tatis Jr., SD, 20 (Debut: March 28)
Stats: 4.2 WAR, 22 HR, .969 OPS, 151 OPS+
Very quickly -- and not unexpectedly -- Fernando Tatis Jr. has put himself on the short list of most exciting players in the sport with dazzling defensive gems, an impact bat, aggressive baserunning (he has scored twice on sacrifice flies to the second baseman) and overall energy. Alas, a left hamstring injury in late April and now a back issue in August have shortened a dynamic rookie year.
By the way, another sterling son at shortstop, the Blue Jays' Bo Bichette, merits mention here, as he has done a lot (1.5 WAR, 19 extra-base hits) in a short time (21 games).
3B: Vladimir Guerrero Jr., TOR, 20 (Debut: April 26)
Stats: 2.0 WAR, 14 HR, .818 OPS, 117 OPS+
Because of his pedigree and potential, Vladimir Guerrero Jr. had one of the most anticipated debuts in memory. And when you consider that the intense interest in Vladito extended from Canada to the Dominican Republic, it's hard to top. What has followed has been a rookie year of ups, downs and adjustments, but Guerrero's jaw-dropping Derby display was a window into what all the fuss is about.
LF: Bryan Reynolds, PIT, 24 (Debut: April 20)
Stats: 3.2 WAR, .913 OPS, 136 OPS+
Here's a guy from the other end of the spectrum, because, while Pirates fans were of course curious to see what this Andrew McCutchen trade acquisition could deliver, Bryan Reynolds was certainly at a lower profile than Guerrero and some others on this list. But in vying for a batting title (.325), he has been impressive.
CF: Oscar Mercado, CLE, 24 (Debut: May 14)
Stats: 1.4 WAR, 10 HR, .779 OPS, 101 OPS+
Oscar Mercado was a super quiet Trade Deadline acquisition by the Indians (from the Cardinals) in 2018, when he was still at Triple-A. After making some offseason swing changes, he had a strong spring to get on the big league radar. And from the time the Indians promoted him at a moment of desperation with their offense, he has come through with some big moments both at the plate and in the field.
RF: Mike Yastrzemski, SF, 28* (Debut: May 25)
Stats: 1.9 WAR, 16 HR, .868 OPS, 125 OPS+
Who would have thought we'd have another opportunity to wax poetic about a Yaz? Carl's grandson never found his footing as an Orioles prospect and landed with the Giants in a Minor League swap late in Spring Training this year. Mike Yastrzemski was nearly sent down in mid-July, but a last-minute change of plans bought him extra life, and all he has done in the second half is post an OPS over 1.000, along with a three-homer game.
*He turns 29 on Friday (Happy Birthday!)
DH: Yordan Alvarez, HOU, 22 (Debut: June 9)
Stats: 2.7 WAR, 19 HR, 1.120 OPS, 190 OPS+
Acquired three years ago in a trade that sent reliever Josh Fields to the Dodgers, Yordan Alvarez has made one of the best lineups in the Majors even more devastating. In a short time, the Cuban import has established himself as an extra-base (35) and RBI (56) machine in one of the all-time hottest starts to a career.
SP: Chris Paddack, SD, 23 (Debut: March 31)
Stats: 1.9 WAR, 121 K, 3.44 ERA, 124 ERA+
A Texan who throws gas is one of baseball's best motifs, and Chris Paddack, another 2016 Deadline acquisition, delivers. The Padres have had to be careful with his innings, but, on the whole, Paddack has delivered as strong a rookie season as you could ask from a previously untested starting pitcher.
The D-backs' Zac Gallen, Indians' Zach Plesac and Paddack's teammate Cal Quantrill all merit a mention here, too.
Reliever: Nick Anderson, TB, 29 (Debut: March 28)
Stats: 1.0 WAR, 51 2/3 IP, 87 K, 3.31 ERA
If not for a right elbow injury that prematurely ended his season a month ago, the Braves' Jacob Webb might be listed. Instead, Nick Anderson, who was dealt from the Marlins to the Rays last month, stormed his way onto our squad by being, to date, the most impactful bullpen pickup at the Trade Deadline, as our own Mike Petriello recently detailed.
Fresh vs. Best
So now it's time for the most important question you'll read all day: Could a team made up entirely of dudes who debuted in 2019 beat one of the best teams in the Majors?
To the WAR readings!
Here's how the most meaty lineup options of the three teams pretty widely regarded as the best in baseball stack up against our All-2019 Debut squad. Because the All-2019 Debut team was based entirely on season bWAR, it's only fair that these teams be treated the same. So while there might be unusual absences like a Didi Gregorius here or Kenley Jansen there, just know that the WAR readings are what they are.
Note that we'll use the Dodgers' best bench option as their DH for this exercise.
Also note that, yes, I know this isn't how WAR works and it would be awfully difficult for Smith and Alvarez to play for two teams at once. But we're trying to have fun here, capiche?
All-2019 Debut
Total WAR: 26.3
Yankees
C Gary Sanchez (2.4 WAR), 1B Luke Voit (1.8), 2B DJ LeMahieu (5.2), SS Gleyber Torres (3.0), 3B Gio Urshela (3.4), LF Mike Tauchman (3.5), CF Brett Gardner (3.4), RF Aaron Judge (3.0), DH Cameron Maybin (1.3), SP Domingo German (1.3), RP Adam Ottavino (2.2).
Total WAR: 30.5
Dodgers
C Smith (1.7), 1B Cody Bellinger (8.2), 2B Max Muncy (5.5), SS Corey Seager (3.0), 3B Justin Turner (3.7), LF Chris Taylor (1.7), CF Alex Verdugo (3.2), RF Joc Pederson (1.7), DH Enrique Hernandez (1.3), SP Hyun-Jin Ryu (5.2), RP Julio Urias (1.2).
Total WAR: 36.4
Astros
C Robinson Chirinos (2.8), 1B Yuli Gurriel (3.0), 2B Jose Altuve (3.0), SS Carlos Correa (2.9), 3B Alex Bregman (6.1), LF Michael Brantley (4.7), CF Jake Marisnick (1.7), RF George Springer (4.4), DH Alvarez (2.7), SP Justin Verlander (5.4), RP Ryan Pressly (1.5).
Total WAR: 38.2
Survey says: The newbie bunch might not have what it takes to go all the way this year, but without getting into the nitty, gritty and potentially upsetting details, let's just say there are some other Major League clubs I wouldn't be afraid to pit them against.