Here are the Mets' Players' Weekend nicknames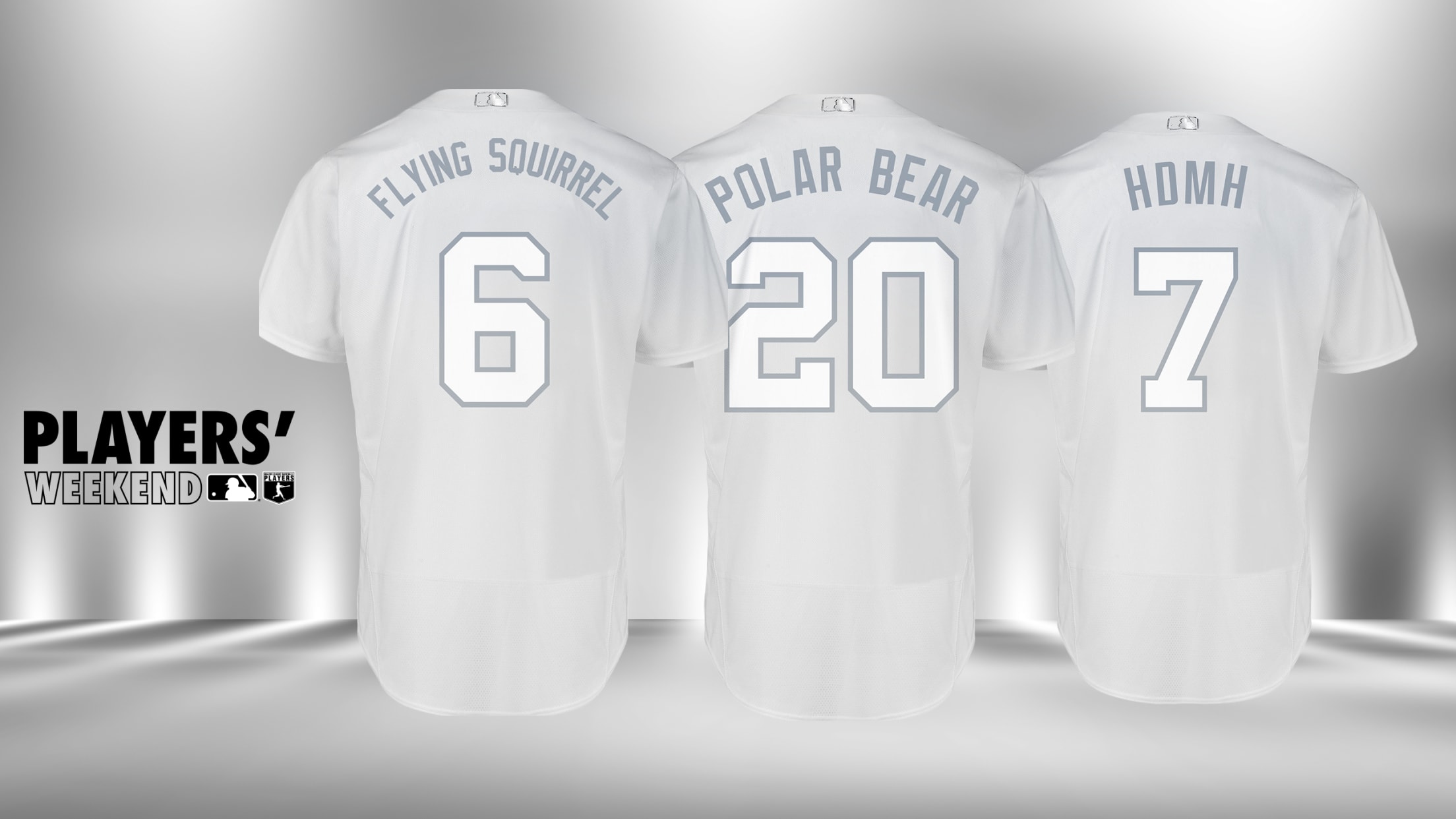 NEW YORK -- A polar bear and a flying squirrel are among the many colorful nicknames the Mets will use during Players' Weekend, which runs Friday through Sunday. Here is a look at what various Mets will put on the backs of their jerseys, as they look to further connect
NEW YORK -- A polar bear and a flying squirrel are among the many colorful nicknames the Mets will use during Players' Weekend, which runs Friday through Sunday. Here is a look at what various Mets will put on the backs of their jerseys, as they look to further connect with fans during one of Major League Baseball's signature annual events.
Pete Alonso: "POLAR BEAR"
Teammate Todd Frazier gave Alonso this nickname in Spring Training because, quite simply, he thought Alonso looked like "a big damn polar bear."
"And then it just kind of stuck," Alonso said. "Todd Frazier, he's a loud-mouth from Jersey. He tells it how it is. But I love that guy. He's a great teammate. He's quite the character. He's a clown. I definitely got [the nickname] from him."
• Every team's Players' Weekend nicknames
Aaron Altherr: "A-A-RON'
Luis Avilán: "AVI"
Robinson Canó: "NOLO"
Michael Conforto: "FORTO"
For years, Conforto's Mets teammates have called him "Scooter" -- a nickname they gave him because they thought it was funny and because he didn't already have one. Conforto used "Scooter" on his Players' Weekend jersey in 2017 and '18, but switched to a play on his last name for this year's event.
J.D. Davis: "DIZZLE"
Jacob deGrom: "deGROM"
"What's my nickname?" deGrom said. His question was met with silence. "Exactly."
Edwin Díaz: "SUGAR"
Diaz's high school friends thought he looked like the main character from the baseball movie "Sugar," and the nickname stuck. He's used it throughout his Major League career.
Jeurys Familia: "YAGUATE"
Yaguate is Familia's hometown in the Dominican Republic.
Todd Frazier: "TODDFATHER"
Robert Gsellman: "G"
Luis Guillorme: "LUISMI"
Like many of the Mets' nicknames, this is a play on Guillorme's actual name. (His middle name is Miguel.)
Juan Lagares: "JUAN JR"
Seth Lugo: "QUARTERRICAN"
This is a nod to Lugo's heritage: he's one-quarter Puerto Rican. Lugo's paternal grandfather hails from the island, a fact that made the Mets' pitcher eligible to compete for Puerto Rico in the 2017 World Baseball Classic.
Steven Matz: "MATZY"
Chris Mazza: "MAZZ"
Jeff McNeil: "FLYING SQUIRREL"
McNeil's nickname dates to his days at Long Beach State, when one of his teammates called him the Flying Squirrel. (Watch McNeil fly around the field for a bit, and it becomes obvious why.) The name stuck, but seemed to fade away once he left college. McNeil thought he was done with it until one of his Minor League roommates learned about it.
"It kind of spread through the locker room," McNeil said, "and then once I made the big leagues, these guys found out and it exploded."
Tomas Nido: "NEEDZ"
Brandon Nimmo: "TATER"
• Shop for Players' Weekend gear
Wilson Ramos: "BUFFALO"
Back when Ramos was playing for the Nationals, teammate Ian Desmond called him "Buffalo" because of how unfazed he was when foul balls hit him behind the plate.
"I was catching one day, and it was one of those rough days," Ramos said in 2017. "I'm catching all kinds of heat. Balls were hitting me all over the place, and I'm getting bruises all over my arms. Ian tells me, 'I don't know how you do it. No matter what happens, you're always ready to go. You're a buffalo.' After that, I was, 'The Buffalo.'"
Amed Rosario: "ROSIE"
Dominic Smith: "SUG"
Earlier this year, Mets hitting coach Chili Davis told Smith that his swing is "sweet like sugar." Smith liked it enough to adopt it for his Players' Weekend nickname, but he shortened it so no one would confuse him with Diaz. "He's the real Sugar," Smith said.
Marcus Stroman: "HDMH"
"HDMH" is more than a nickname for Stroman -- it's a brand. Standing for "Height doesn't measure heart," the acronym is an inspiration for Stroman, who stands 5-foot-7 and says he has heard all his life that he's "too short" to succeed. Stroman has his own web site selling "HDMH" gear.
Zack Wheeler: "WHEELS"
Justin Wilson: "J WILLY"