Cozens among Phillies' roster moves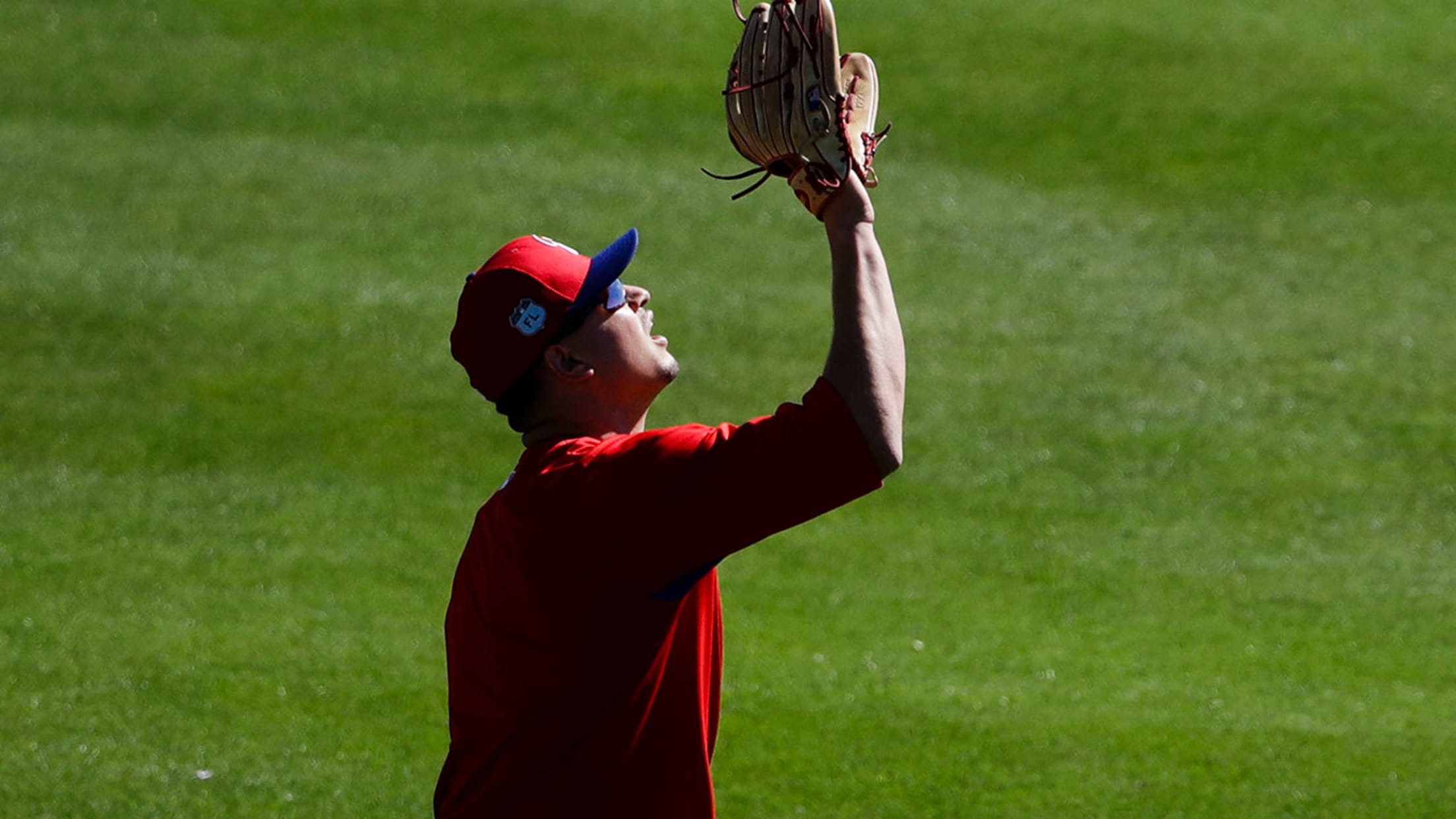 Dylan Cozens was among the Phillies reassigned to Minor League camp. (AP)
SARASOTA, Fla. -- The Phillies sent outfielder Dylan Cozens and four other prospects to Minor League camp Monday.The team announced it had optioned Cozens (the organization's No. 9 prospect, according to MLBPipeline.com), right-handers Drew Anderson (No. 22) and Alberto Tirado, and left-hander Elniery Garcia (No. 18). It also reassigned right-hander
SARASOTA, Fla. -- The Phillies sent outfielder Dylan Cozens and four other prospects to Minor League camp Monday.
The team announced it had optioned Cozens (the organization's No. 9 prospect, according to MLBPipeline.com), right-handers Drew Anderson (No. 22) and Alberto Tirado, and left-hander Elniery Garcia (No. 18). It also reassigned right-hander Victor Arano (No. 23). The Phillies on Sunday sent second baseman Scott Kingery (No. 11), first baseman Rhys Hoskins (No. 13), outfielder Andrew Pullin and catcher Chace Numata to Minor League camp.
Cozens hit .190 (4-for-21) with three RBIs, four walks and 11 strikeouts. He homered in an exhibition against the University of Tampa last month.
"He's going to be a real good hitter for power," Phillies manager Pete Mackanin said. "He's a good defensive player. We want him to be a two-way player, and he's a guy that can do it."
Kingery and Hoskins arguably made the best impressions of any Phillies prospects in camp. Kingery hit .286 (6-for-21) with one double, two home runs, three RBIs, four walks and four strikeouts. Coaches loved Kingery's defense and makeup.
"He's already opened eyes [being] a first-time Major League camp guy," Mackanin said. "If you can hit you can get to the big leagues. To stay, especially in the National League, you've got to play defense. He's got that out of the way."
Hoskins hit .278 (5-for-18) with two doubles, two homers, three RBIs, six walks and three strikeouts.
"He really has good at-bats," Mackanin said. "You can be a free swinger in Spring Training and hit four or five home runs. It really doesn't mean the guy is a home run hitter or a good hitter. But a guy like Hoskins has a plan when he goes to the plate. I think he's going to be a real good hitter. He needs some work on defense, and he knows it.
"As we told him, go down there, put up numbers and become a potential Major Leaguer at some point -- even this year, depending on a lot of things."
Anderson (three earned runs in five innings), Garcia (five earned runs in 4 2/3 innings) and Tirado (two earned runs in three innings) showed at times why they are highly regarded. Arano did not pitch this spring because of a sprained ulnar collateral ligament in his right elbow.
Pullin (1-for-5, one RBI, one strikeout) suffered an oblique injury and had not played since Feb. 27. Numata went 1-for-2 with one strikeout.