Here are Bucs' Players' Weekend nicknames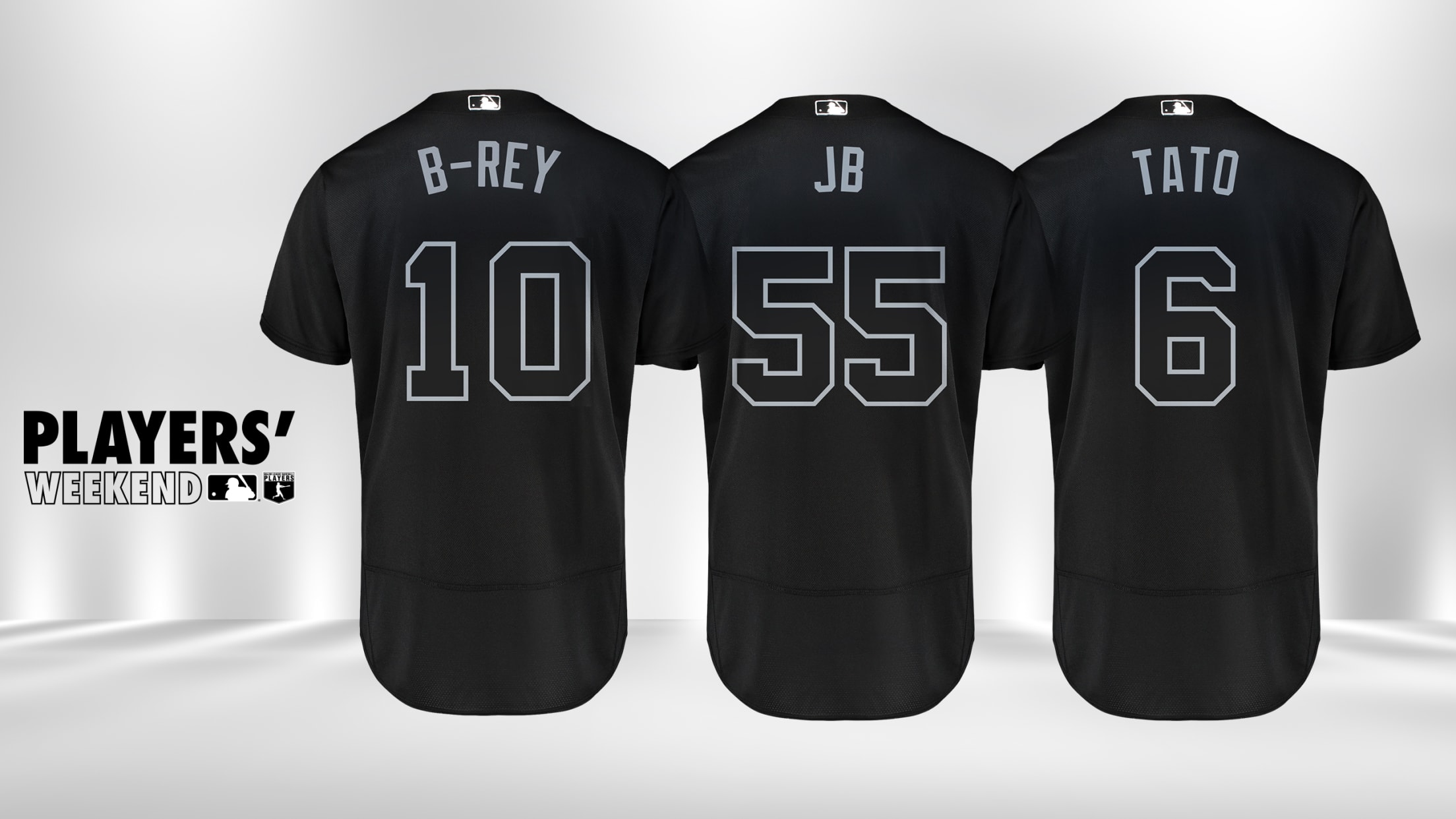 PITTSBURGH -- For the third straight year, Major Leaguers will bring their personal flavor to the forefront of their on-field appearance as Players' Weekend runs from Friday through Sunday. The Pirates provided a sneak peek during the Little League Classic presented by Geico last Sunday, but there's more on deck
PITTSBURGH -- For the third straight year, Major Leaguers will bring their personal flavor to the forefront of their on-field appearance as Players' Weekend runs from Friday through Sunday. The Pirates provided a sneak peek during the Little League Classic presented by Geico last Sunday, but there's more on deck for the main event.
• Every team's Players' Weekend nicknames
You'll see nicknames on the backs of their jerseys, colorful cleats and maybe even a few unusual accessories -- like Joe Musgrove's Infinity Gauntlet-themed glove -- along with their specially designed jerseys. They will be more monochromatic for Players' Weekend. In Williamsport, Pa., though, the Pirates represented "The Burgh" on the front of their jerseys.
Really nice of Thanos to let @Pirates Pitcher Joe Musgrove use his glove today.

He is inevitable. pic.twitter.com/QYW0JEEUE6

— FOX Sports: MLB (@MLBONFOX) August 5, 2019
Here are the nicknames the Pirates will go by, with explanations for those that may not be immediately obvious.
Dario Agrazal: "REY"
"Rey" is Spanish for "king," and there's a story behind that nickname dating back to Agrazal's childhood. The short version: He has sisters but no brothers, so he was dubbed "king of the house" in his family growing up. It stuck with the Panama native and followed him to the big leagues.
Josh Bell: "JB"
Steven Brault: "SQUID"
No, this one doesn't have anything to do with all the ink on the left-hander's arms. It's a nickname often given out by Stan Kyles, a pitching coach in the Pirates' organization who worked with Brault in Triple-A. For some reason, the moniker stuck with Brault. It's even his Twitter handle, @SquidBrault.
Melky Cabrera: "MELK MAN"
Kyle Crick: "CRICKY"
Elias Díaz: "EL MARACUCHO"
This one is all about home for Diaz, a native of the Venezuelan city of Maracaibo. Two years ago, he met a handful of Little Leaguers from his hometown at the Little League World Series in Williamsport, Pa., and he said they couldn't believe there was a big leaguer from Maracaibo, a "maracucho" just like them. The team from Maracaibo will return to Williamsport this year.
Michael Feliz: "FUEGO"
Feliz traced his "fire" nickname back to his days with the Astros. The hard-throwing pitcher struck out seven batters in three innings, displaying the power stuff that intrigued the Pirates. When he showed up the next day, his teammates were calling him "Fuego."
Adam Frazier: "FRAZ"
Erik González: "LA PARITA"
This one has its roots in Gonzalez's youth baseball days. It seemed like every time one of his friends hit a ball in his general direction, the slick-fielding shortstop caught it, scooped it up or found some other way to make the play. In Spanish, "parada" is the noun form of "stop." But Gonzalez was young, so he was "La Parita" -- the little stop, or if you will, the short stop.
• Shop for Players' Weekend gear
Keone Kela: "LLAVE"
Here is the evolution of Kela's Players' Weekend nickname, from 2017 to this year: Ke to Key to "Llave," which is Spanish for "key." Next year? Maybe the key emoji.
Mitch Keller: "KELLS"
Francisco Liriano: "LIRI"
Parker Markel: "MARKEL"
Starling Marte: "TATO"
It can be a sort of shorthand for "all right" in conversation, but it's also a common nickname for boys from Latin American nations. It stuck enough for Marte, a native of the Dominican Republic, to use it for Players' Weekend.
Colin Moran: "REDBEARD"
Well, take a look at him. Between his reserved personality and his bushy red beard, Moran might come across as older than his 26 years.
Joe Musgrove: "MOOSE"
Kevin Newman: "NEWMS"
Fun fact: Last year, when Newman was just a rookie, his jersey read "NEWNS." Why the change? Turns out the 2018 edition included a typo. They got it right this time.
José Osuna: "EL GOCHO"
Don't be fooled by the direct translation. Like Diaz, Osuna chose this nickname to represent his native Venezuela. Those who live in the mountains or at high elevations are known as "gochos," so Osuna again decided to be "El Gocho."
Pablo Reyes: "TOMKIM"
This is apparently less of a nickname and more of a code word used between Reyes and Cole Tucker, longtime friends and teammates working their way up the Pirates' farm system.
Bryan Reynolds: "B-REY"
The truth is, Reynolds has never really had a nickname. The rookie, a man of few words, kicked around the idea of just putting "Bryan" on the back of his jersey. Asked if anyone has ever called him "B-Rey," Reynolds quipped, "Maybe once or twice."
Richard Rodríguez: "PERRO FLACO"
Jacob Stallings: "STALLS"
Chris Stratton: "STRAT"
Felipe Vázquez: "NIGHTMARE"
This actually became his nickname thanks, in part, to Players' Weekend. It was two years ago that Vazquez, then going by Felipe Rivero, needed a nickname to adorn his No. 73 jersey. He put it in the hands of clubhouse manager Scott Bonnett, who joking calls Vazquez his "worst nightmare." Now, well, "Nightmare" takes on a different meaning for opposing hitters.
Trevor Williams: "PROJECT"
This still might be the cleverest use of the opportunity. Williams' nickname will be above his jersey number, once again spelling out "Project 34." That is the name of Williams' charitable nonprofit organization benefiting people with spinal cord injuries. Williams changed his jersey number to 34 last season in honor of his friend and former teammate, Cory Hahn, who was paralyzed from the chest down after sliding headfirst into second base at Arizona State University.