Play Ball opens doors for young ballplayers
The program, launched in 2015, gives boys and girls even more ways to play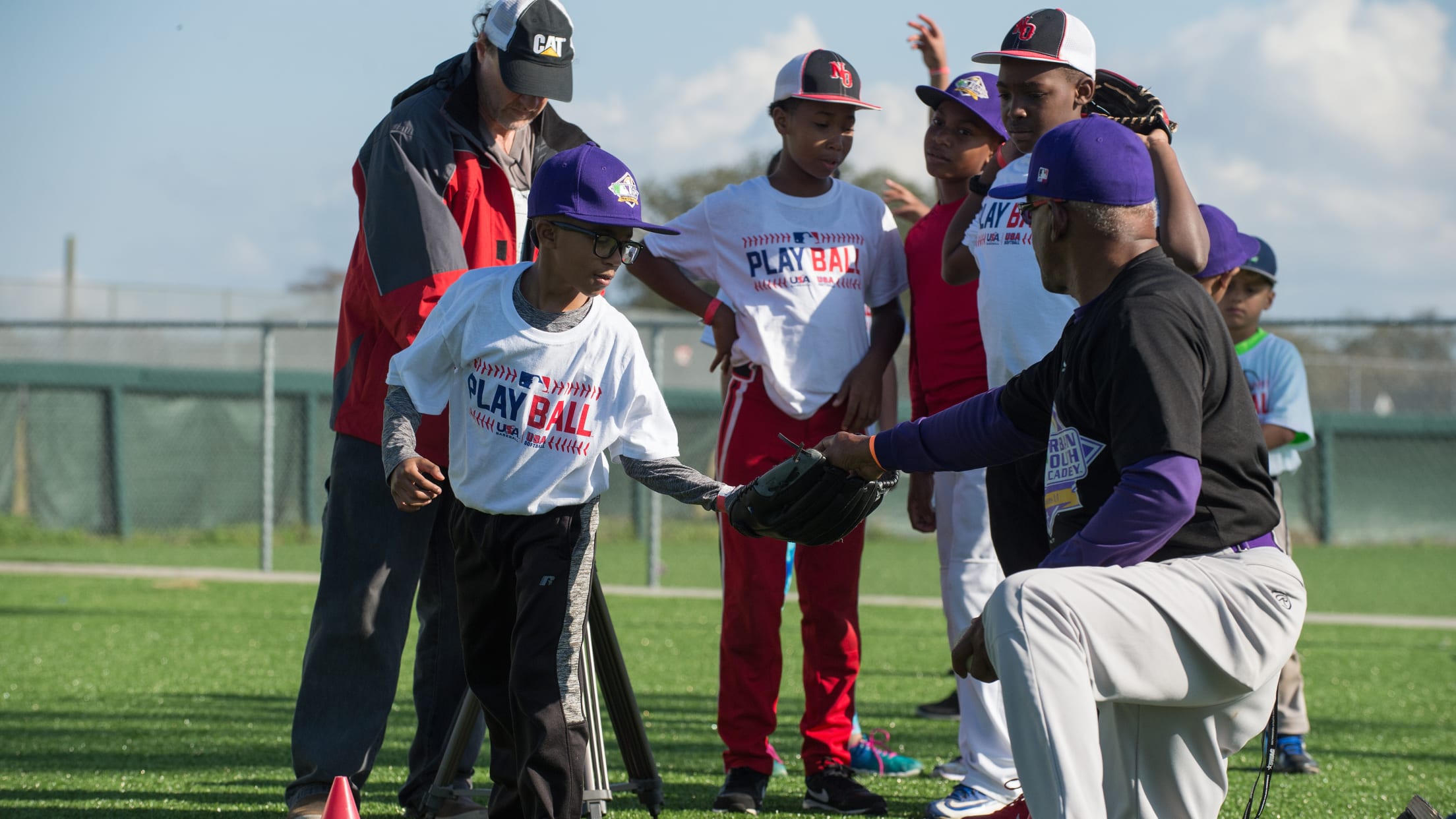 (J.T. Blatty/MLB Photos)
Every youth league has its legends, from the pinch-hitter who won the championship game with a walk-off double to the impossibly tall starting pitcher who throws harder than most coaches. These hometown heroes dominate local diamonds around the country and help make the lasting impressions that define youth sports.Now, imagine
Every youth league has its legends, from the pinch-hitter who won the championship game with a walk-off double to the impossibly tall starting pitcher who throws harder than most coaches. These hometown heroes dominate local diamonds around the country and help make the lasting impressions that define youth sports.
Now, imagine stepping between the lines and working on your skills with world-famous heroes, ones that we watch on TV and imitate in our backyards. Seems like a dream come true, right? Thanks to the Play Ball initiative, these dreams are becoming reality for young athletes across North America.
Launched in 2015 by MLB and USA Baseball, Play Ball aims at getting children involved in baseball- and softball-related activities, and enlists the help of the game's stars to hit its goal. Kids have learned, played and found their passion for our pastime through clinics led by All-Stars such as Francisco Lindor and Carlos Correa, and Hall of Famers such as Tim Raines and Ozzie Smith.
The Play Ball campaign provides plenty of exciting ways to get in the game, from cranking homers like a real Big Leaguer, to showing off your skills on a national level. Here are just a few of the ways that young ballplayers everywhere are getting involved (for more information, visit playball.org).
Play Ball Park at the LLWS
Play Ball made its Little League World Series debut last summer, and it brought a whole new dimension to the week-long excitement in Williamsport. Along with learning techniques that are vital to the sport -- including bunting and baserunning -- those in attendance at Play Ball Park copied some of the powerful prodigies playing in the tournament at the popular home run derby station.
"The future of USA Baseball is these kids," said Bill Krejci, a USA Baseball coach who helped out at Play Ball Park and has worked with several MLB stars. "If we don't get them engaged at a young age, we aren't going to have a Manny Machado or a Bryce Harper. So when you have something like this, it creates some enthusiasm for baseball. These kids will keep this in their mind. These are our next future Big Leaguers."
Pitch, Hit & Run
Do you prefer a little more competition on the diamond? Then sign up for your local baseball or softball Scotts MLB Pitch, Hit and Run competition in 2018 for the chance to win a national title during July's All-Star weekend in Washington, D.C. Competitors participate in three challenges: pitching into a strike zone, hitting off a tee and a timed sprint from second base to home plate.
Pitch, Hit and Run alumni include MLB All-Star and World Series champion Eric Hosmer and Phillies outfielder Rhys Hoskins. Local competitions usually take place before mid-May, putting the thrill of baseball into your local ballfield. Learn more about hosting a competition, or find an existing one near you, at pitchhitrun.com.
Jr. Home Run Derby
Kids can even swing for the fences in a locally-hosted MLB Jr. Home Run Derby, one of the most exciting events of the year! The derby, designed for players 14 years old and under, is also free to host on a local level and, like Pitch, Hit and Run, gives children the opportunity to advance to the National Finals during MLB All-Star Week, being held in the nation's capital in 2018.
To register as a host, or to view a listing of local events, check out mlb.com/junior-home-run-derby.
This article originally appeared in the 2018 Little League Magazine.