Thursday's top prospect performers
Brewers duo impresses on both sides of the ball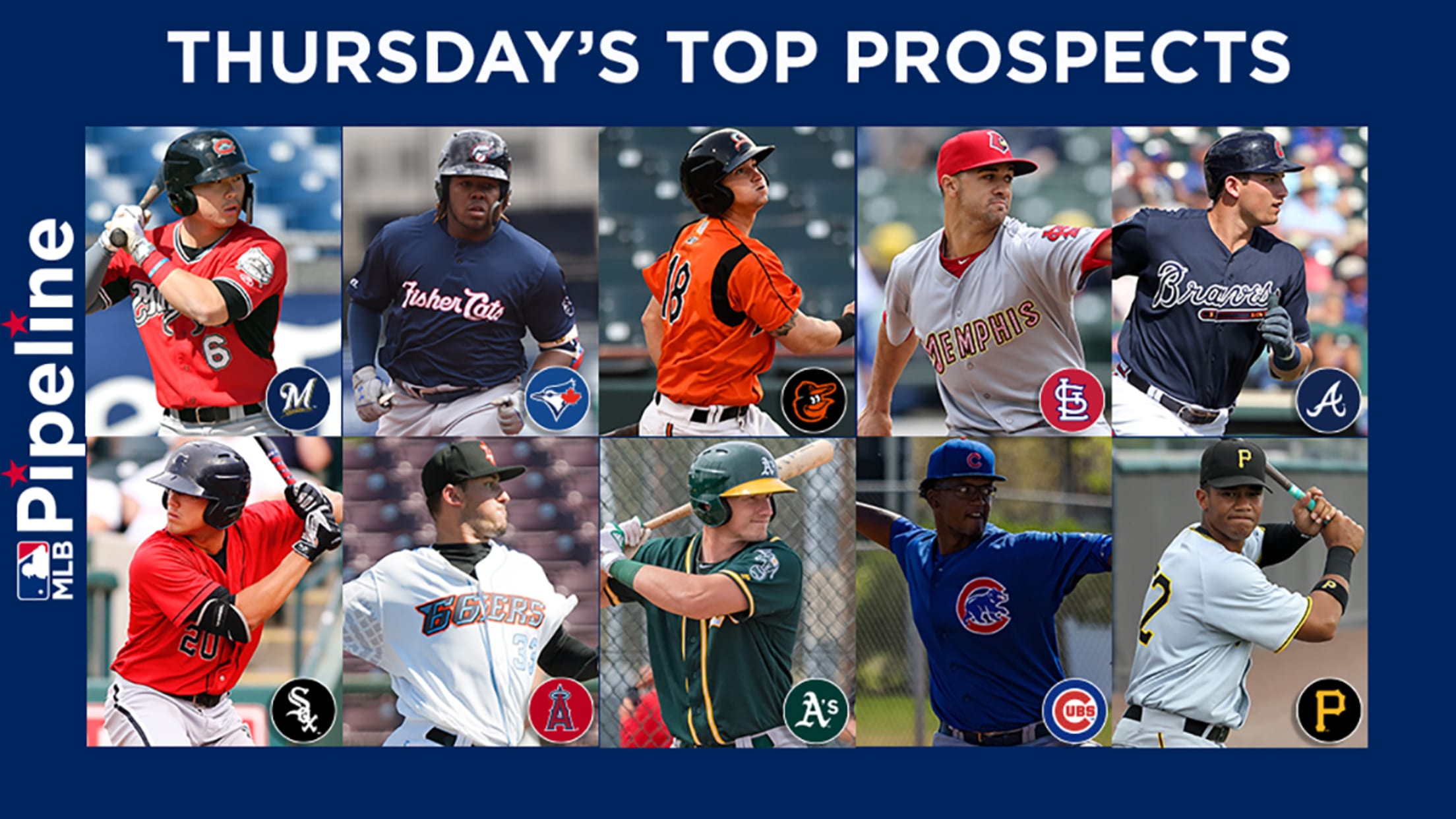 Here's MLB Pipeline's roundup of the top prospect performances in the Minor Leagues on Thursday.The Brewers' top two prospects showed a bit of why they are so highly-touted on Thursday night.Milwaukee's No. 1 prospect Keston Hiura (No. 56 overall) hit his first homer of the season in a 2-for-5 showing
Here's MLB Pipeline's roundup of the top prospect performances in the Minor Leagues on Thursday.
The Brewers' top two prospects showed a bit of why they are so highly-touted on Thursday night.
Milwaukee's No. 1 prospect Keston Hiura (No. 56 overall) hit his first homer of the season in a 2-for-5 showing with Class A Advanced Carolina while Corbin Burnes (Brewers' No. 2, No. 69 overall) spun a scoreless start and picked up the win for Triple-A Colorado Springs.
Hiura, who hit .371 in 42 games after he was picked in the first round a season ago, got off to a slow start this season, but he appears to be finding his rhythm. The 21-year-old has hits in four of his past five games, raising his average from .143 to .220 over that timeframe.
MILB Video - Title: Hiura's first homer of 2018 - Url: http://www.milb.com/r/video?content_id=1955008083
Burnes was impressive from start to finish as he struck out the side in the first inning, setting the tone for things to come. The right-hander notched at least one strikeout in five of his first six innings, ultimately finishing with nine.
Burnes faced one batter in the seventh, got a flyout, then was lifted after yielding three hits over 6 1/3 innings.
MILB Video - Title: Burnes rings up ninth strikeout - Url: http://www.milb.com/r/video?content_id=1955102783
Other top prospect performances from Thursday's action:
• No. 3 overall prospect Vladimir Guerrero Jr. (Blue Jays' No. 1) is hitting .362/.411/.596 after going 2-for-4 with Double-A New Hampshire. Guerrero has hits in 10 of 12 games this season and has notched multiple hits in five of his past six games. While Guerrero was contributing on the offensive end, Jordan Romano (No. 27) kept Binghamton in check with seven innings of one-run ball.
• No. 23 overall prospect Austin Hays (Orioles' No. 1) was responsible for half of Double-A Bowie's offense in a 6-1 win over Richmond. Hays finished just 1-for-4, but he drove in three runs via a sacrifice fly in the first and a two-run homer in the ninth. Cedric Mullins (Orioles' No. 7) collected a season-high three hits, going 3-for-5, and Keegan Akin (Orioles' No. 9) picked up his first win of the year as he struck out seven over six innings of one-run ball.
MILB Video - Title: Hays goes the other way - Url: http://www.milb.com/r/video?content_id=1954453583
• No. 38 overall prospect Jack Flaherty (Cardinals' No. 2) spun the first complete game of his career (seven innings) and moved to 3-0 as he led Triple-A Memphis to a win over Omaha in Game 1 of a doubleheader. The 22-year-old right hander gave up two runs (one earned) on two hits and struck out six while throwing 67 of his 95 pitches for strikes.
MILB Video - Title: Flaherty finishes complete game - Url: http://www.milb.com/r/video?content_id=1954460383
• No. 97 overall prospect Austin Riley (Braves' No. 8) is swinging a scorching-hot bat for Double-A Mississippi. The 21-year-old, who went 3-for-3, is hitting .408 after his fourth straight multi-hit effort. Over those four games, Riley is 10-for-15 with six extra-base hits and five RBIs.
• No. 99 overall prospect Blake Rutherford (White Sox No. 7) continued his hot start and extended his hitting streak to six games, going 4-for-5 with Class A Advanced Winston-Salem. Rutherford, who is batting .404 through 11 games, also set a career high with four RBIs. Micker Adolfo (No. 10) also contributed to the win, hitting his third homer of the year.
MILB Video - Title: Rutherford's two-run single - Url: http://www.milb.com/r/video?content_id=1955183283
• Athletics No. 8 prospect Sean Murphy pushed his average to .409 with his fourth consecutive multi-hit performance for Double-A Midland. Murphy, who hit just .209 in 53 games with Midland last season, went 4-for-5 and is off to a particularly fast start at the plate. The 23-year-old has hits in nine of the 11 games he's played in and has also racked up nine RBIs.
MILB Video - Title: Murphy knocks out four hits - Url: http://www.milb.com/r/video?content_id=1955455983
• Braves No. 10 prospect Joey Wentz was once again dominant for Class A Advanced Florida. Wentz retired the first five batters he faced on his way toward hurling five scoreless innings. The 20-year-old hasn't given up a run in either of his past two starts (10 innings) and has allowed just one run all season. Wentz struck out six, including the final two batters he faced, and has now fanned 15 in 14 innings.
• Cubs No. 3 prospect Oscar De La Cruz bounced back from a couple rough starts to spin a gem for Double-A Tennessee. The right-hander gave up 11 earned runs over six innings in his first two starts, but he showed no signs of struggle against Montgomery. De La Cruz dominated through six scoreless frames, surrendering just one hit and striking out six.
MILB Video - Title: De La Cruz fans six - Url: http://www.milb.com/r/video?content_id=1954550783
• Pirates prospects Calvin Mitchell (No. 16) and Travis MacGregor (No. 25) led Class A West Virginia to a 3-0 win over Asheville. Mitchell, who finished 2-for-4, provided all the offense with a three-run homer in the third while MacGregor did his part by pitching six scoreless innings. MacGregor, who struck out six and yielded three hits, has given up just one earned run over three starts this season.
• Red Sox No. 11 prospect Josh Ockimey picked the perfect time -- waiting until the bases were loaded -- to hit his first homer of the season. The 22-year-old went 3-for-4 for Double-A Portland and put the game out of reach with a grand slam in the seventh.
• Royals No. 25 prospect Chase Vallot snapped an 0-for-17 skid with a first-inning grand slam for Class A Advanced Wilmington. Vallot picked up a fifth RBI via a bases-loaded walk in the fourth, but is still having a tough time at the plate as he finished 1-for-5.
• Angels No. 29 prospect Joe Gatto gave up five runs in three innings in his last start with Class A Advanced Inland Empire, but he bounced back in a big way against Lancaster. The 22-year-old right-hander fired 53 of his 79 pitches for strikes as he struck out nine and yielded three hits over six scoreless frames. Gatto struck out the side in the first and notched at least one strikeout in five of his six innings.