Puerto Rico teens debut at Breakthrough Series
Development program welcomes top players to Bradenton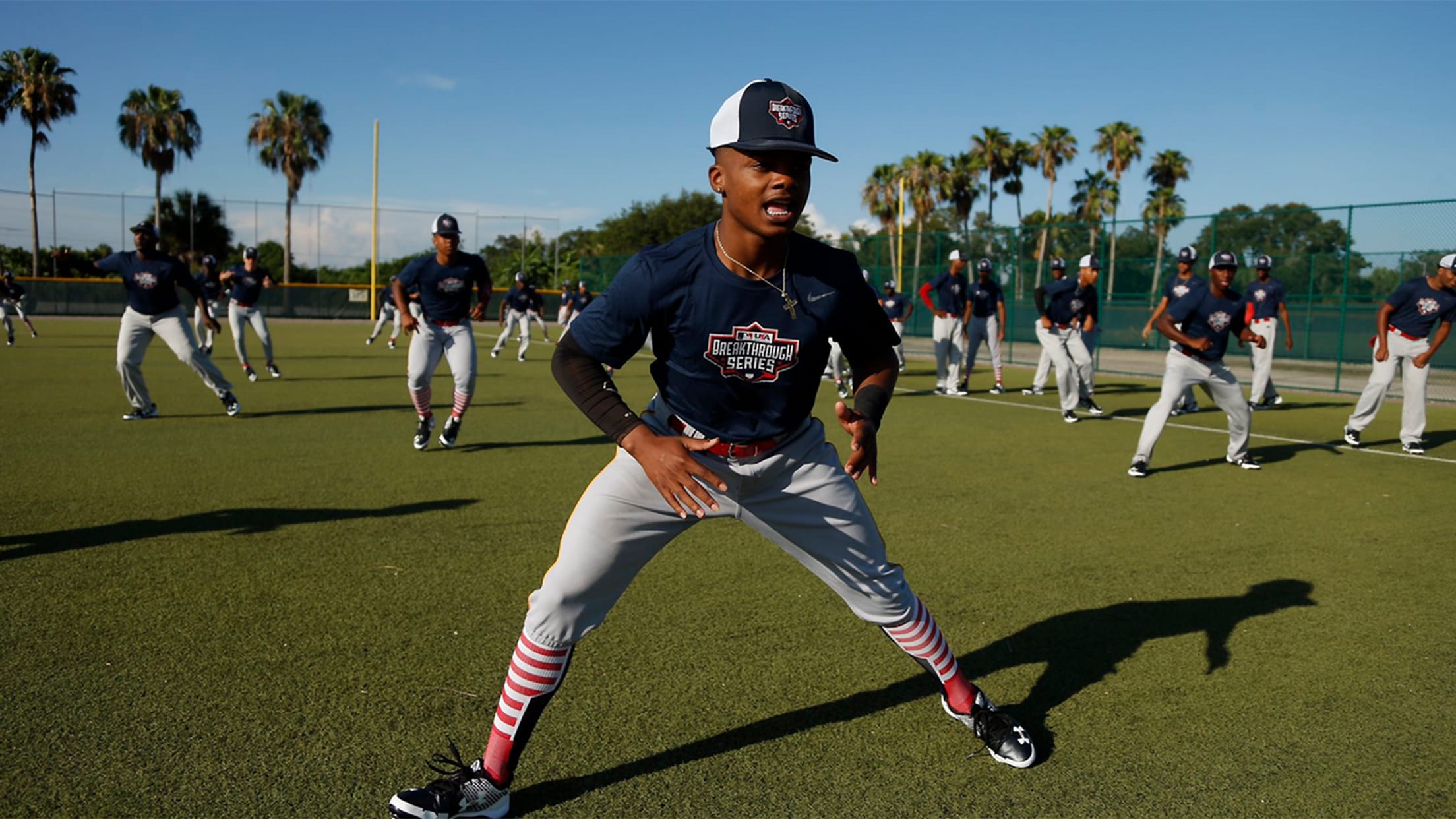 BRADENTON, Fla. -- Former 13-year Major League player Luis Alicea will never forget the advice he received from his father as he left his hometown of Santurce, Puerto Rico, to embark on a journey of baseball in the United States."My Dad said to me for the first time when I
BRADENTON, Fla. -- Former 13-year Major League player Luis Alicea will never forget the advice he received from his father as he left his hometown of Santurce, Puerto Rico, to embark on a journey of baseball in the United States.
"My Dad said to me for the first time when I left in the airport, 'You have to adjust to the system, because the system is not going to adjust to you,'" Alicea said.
Decades later, Alicea is taking those words he interpreted as working hard, following the rules and having a sense of urgency, and he is paying it forward to this year's crop of Breakthrough Series stars. The roster of 15- to 17-year-olds spans 12 states, but for the first time in the series, the final stop in Florida features players from Puerto Rico.
The #BreakthroughSeries is off to a flying start in Bradenton! pic.twitter.com/6u34guXLOl

— MLBDevelops (@MLBDevelops) June 26, 2018
"That's a product of our RBI [Reviving Baseball in Inner Cities] program; our RBI program has expanded all over the country and into Puerto Rico, " MLB senior director of baseball development Del Matthews said. "They've got kids that need opportunity, and with us being in Florida, not far from Puerto Rico, we were able to get a few recommendations from the RBI programs out there for some of their top kids and experience baseball here with some of the top players here in the country."
Making the move from Puerto Rico to the United States at the high school level has plenty of precedence -- as seen from Indians shortstop Francisco Lindor, who moved to Central Florida from Puerto Rico when he was 12. Cubs infielder and Puerto Rico native Javier Baez moved from his homeland to play his prep ball in Jacksonville.
"I think you're going to start seeing a lot of that, especially in a program like this where some of the families can't afford to bringing kids over," Alicea said. "Now they get an opportunity to have their kids come over and have a different experience and learn the right way."
One of those kids is outfielder Luis Villanueva, who found out that he would be invited to compete after baseball practice for Central Pointe Academy in Bayamon, Puerto Rico, two months ago, when his Mom told him she received an email from the Breakthrough Series.
"It excites me that I'm learning more about baseball every day. Every day I learn [a little more] about the sport," Villanueva said.
Villaneuva and pitcher Isaias Hernandez -- who is from Toa Baj, Puerto Rico -- have enjoyed the opportunity the Breakthrough Series has presented them, and they are soaking in the three-day experience.
"I think I have showcased my abilities, I have some [good] abilities and I will improve them more, that's all I came to do here, improve my abilities and show the coaches and the scouts everything," Vilanueva said.
The Breakthrough Series wants to help these players from a baseball standpoint but also in another way, as Puerto Rico continues to rebuild in the aftermath of the devastation of Hurricane Maria nine months ago.
"Obviously they're have been some things that have happened in Puerto Rico in the last year, giving those guys a glimmer of hope and some inspiration going back to Puerto Rico; hopefully they have a chance to continue to develop and hone their game, maybe they'll be better off for it," Matthews said.
The experience benefits these players on and off the diamond, a program Alicea wishes was around when he was a high school player coming out of Puerto Rico in the 1980s.
"The Breakthrough Series has been a blessing for a lot of these kids, because nobody is bringing the quality and the caliber of coaching in any program in the United States to teach these kids the right way to play the game," Alicea said. "Not only that, the exposure they are getting, this is a great avenue to be a part of."
Sage words from a Major League veteran who appreciates helping his country's youth the way his father's words of wisdom assisted him over 30 years ago.
"I never forgot it," Alicea said.
Mike Nabors is a contributor to MLB.com.