Thursday's best: Calhoun homers for first hit with Express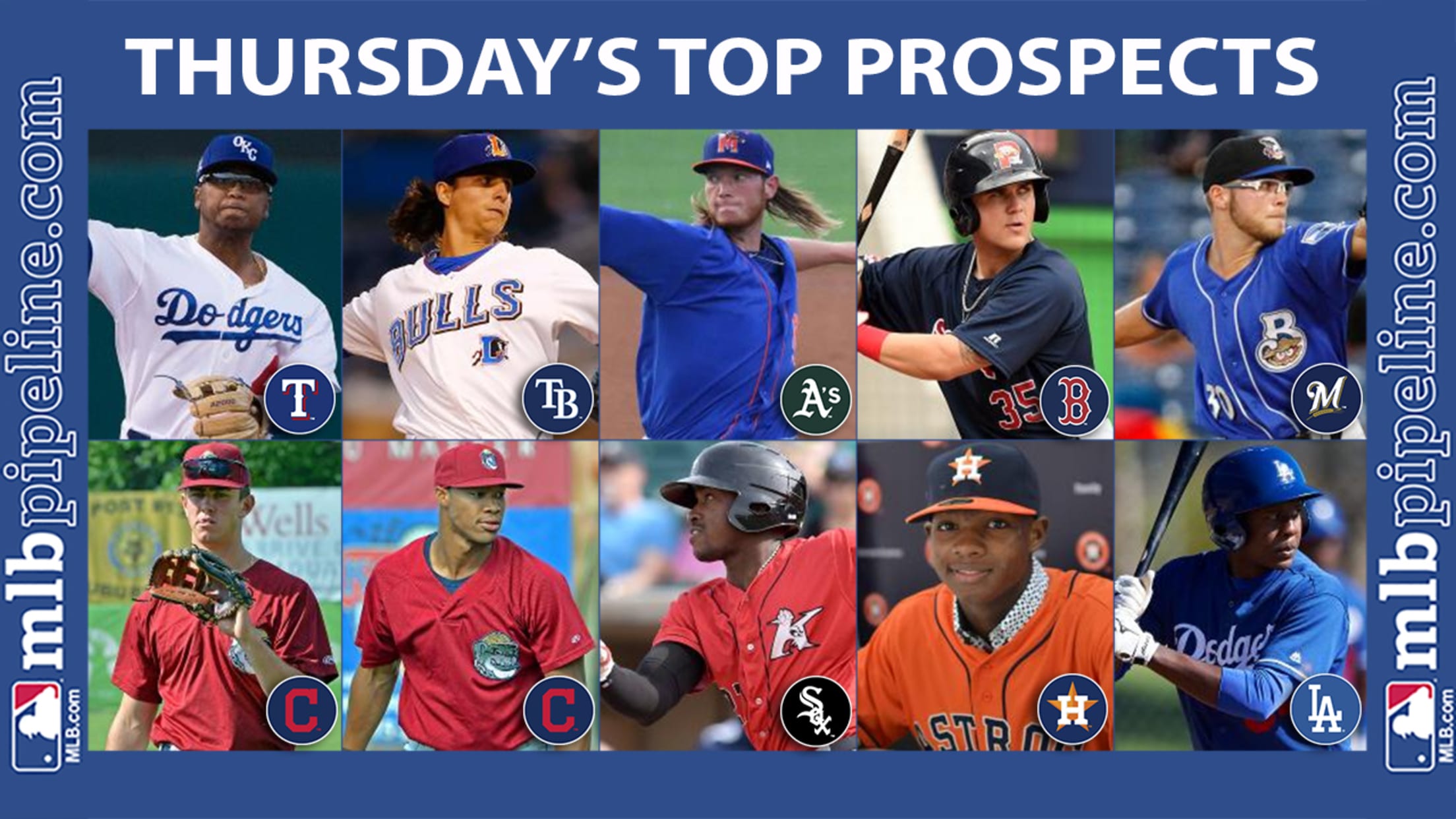 After going hitless in his debut for Triple-A Round Rock, a more relaxed Willie Calhoun had no trouble squaring up the baseball on Thursday night.Calhoun, the new Rangers No. 3 prospect (No. 69 overall), launched a solo homer in the first inning and later added an RBI double before finishing
After going hitless in his debut for Triple-A Round Rock, a more relaxed Willie Calhoun had no trouble squaring up the baseball on Thursday night.
Calhoun, the new Rangers No. 3 prospect (No. 69 overall), launched a solo homer in the first inning and later added an RBI double before finishing 2-for-4 in his second game with the Express, a 6-1 win over Albuquerque.
MILB Video - Title: Calhoun hits first Rangers homer - Url: http://www.milb.com/r/video?content_id=1685733183
The Rangers' key return in the Trade Deadline blockbuster that sent Yu Darvish to Hollywood, Calhoun batted .298/.357/.574 with 23 home runs in 99 games during his time with Triple-A Oklahoma City. He also scored 64 runs and plated 67, all while posting a strong 36-to-49 walk-to-strikeout ratio in 414 plate appearances.
After seeing much of his playing time at second base with Albuquerque, Calhoun has started both of his games for Round Rock in left field. It's the 22-year-old's bat, however, that will get him to the Major Leagues, where his left-handed power and aggressive approach could make him an impactful designated hitter.
The rest of the best performances from top prospects Thursday
• No. 14 overall prospect Brent Honeywell (Rays' No. 1) gave up one run on six hits in five innings as he won for the fourth time in five starts for Triple-A Durham. Throwing 57 of his 76 pitches for strikes, the 22-year-old righty struck out eight without issuing a walk in the performance. He's lowered his ERA from 4.91 to 3.95 over his last five turns, during which he's allowed just four earned runs while striking out 39 batters in 27 innings.
• No. 39 overall prospect A.J. Puk (A's No. 2) set a career high with 13 strikeouts in a no-decision for Double-A Midland. The 22-year-old lefty had yielded just one hit through the game's first six innings before running into trouble and departing after 6 2/3 frames. Overall, he allowed three earned runs on three hits and one walk in the outing.
MILB Video - Title: Puk records 13th K - Url: http://www.milb.com/r/video?content_id=1685672983
"I was able to get ahead of hitters and my changeup was really good," Puk told MiLB.com. "All my pitches were working. ... My command was really good and I was able to go out there and challenge hitters.
"It feels like I haven't gone for seven innings in a while. I felt good, strong," he said of his final frame. "I just fell behind a couple hitters and they got a couple hits and then I was out of the game."
• Red Sox No. 3 prospect Michael Chavis had another big game offensive game for Portland, going 2-for-4 with his 10th Double-A home run, a double and three RBIs in a win against Richmond. He's now homered 27 times across two levels this season, giving him a share of the Minor League lead with Triple-A Nashville's Renato Nunez. What's more, the 21-year-old third baseman is slashing .310/.374/.618 with 27 doubles, 76 runs scored and 81 RBIs.
MILB Video - Title: Chavis hits 27th homer - Url: http://www.milb.com/r/video?content_id=1683921583
• Indians No. 5 prospect Nolan Jones and Will Benson (No. 9) combined to go 7-for-11 in Class A Short Season Mahoning Valley's rout of Auburn. Benson paced the Scrappers' offense by going 4-for-5 with his sixth home run, a double and four RBIs, while Jones finished 3-for-6 en route to his fourth straight multi-hit performance. The Indians selected Benson and Jones in the first and second rounds of the 2016 Draft, respectively.
• Brewers No. 7 prospect Corbin Burnes struck out seven over five two-hit frames for Double-A Biloxi, his sixth scoreless performance in 11 starts since joining the Shuckers. He's posted a 2.12 ERA with a 61-to-9 strikeout-to-walk ratio over 59 1/3 innings in that span. In addition to a 1.58 ERA in 119 1/3 frames this season, the 22-year-old right-hander has logged a 0.88 WHIP while compiling 117 strikeouts against 25 walks and holding hitters to a .190 average.
• Marlins No. 8 prospect James Nelson set a career high with three doubles in his first four-hit game of the season for Class A Greensboro. It was the second straight multi-hit effort for the 19-year-old third baseman, who's slashing .308/.353/.456 with 36 extra-base hits through 89 games in his full-season debut.
• Blue Jays No. 13 prospectRyan Borucki was masterful once again for New Hampshire, only this time it resulted in his first Double-A victory. Working seven scoreless frames, the 23-year-old southpaw scattered six hits while striking out seven and throwing 64 of his 93 pitches for strikes. He's registered a 0.43 ERA and a 0.67 WHIP in three starts with New Hampshire with 18 strikeouts, three walks and 11 hits allowed in 21 innings.
• White Sox No. 17 prospect Micker Adolfo's breakout season continued Thursday as the 20-year-old outfielder put together his first career multi-homer game, going 2-for-4 with a pair of solo shot for Class A Kannapolis. After slashing .221/.273/.354 with six homers for the Intimidators in 2016, Adolfo has returned to the South Atlantic League this season to hit .277/.342/.478 with 14 homers and 27 doubles in 96 games.
• Astros No. 16 prospect Freudis Nova connected on a pair of home runs in Dominican Summer League action. The 17-year-old shortstop tallied three RBIs and also scored thrice before finishing the game 3-for-4 at the plate. Through 33 games, he's hitting .316/.426/.474 with four home runs and seven steals.
• Reds No. 24 prospect Jose Siri extended his Midwest League-record hitting streak to 39 games -- also the longest in the Minor Leagues this season -- with a bases-clearing double in the bottom of the eighth inning in Class A Dayton's loss against Great Lakes. It marked the second straight game that the 22-year-old center fielder extended his streak with a hit in his final at-bat.
MILB Video - Title: Siri extends streak - Url: http://www.milb.com/r/video?content_id=1685238783
• Dodgers No. 24 prospect Carlos Rincon hit back-to-back home runs with Cody Thomas twice in the first inning of Class A Great Lakes' win over Dayton. The feat has been achieved just once in baseball history -- by the Mariners' Mike Cameron and Bret Boone back in 2002. Rincon, 19, is up to 18 home runs this season after Thursday's multi-homer game, his second this year and the fourth in his 131-game career.
MILB Video - Title: Thomas and Rincon make history - Url: http://www.milb.com/r/video?content_id=1685800483
• Mets No. 28 prospect Corey Oswalt went the distance for the first time in his career as he paced Double-A Binghamton in a 2-0 shutout over Trenton in game one of a doubleheader. The 23-year-old allowed just two hits and struck out six while retiring the final 20 batters he faced in the performance. He threw 79 pitches in the outing, 54 for strikes.
MILB Video - Title: Oswalt finishes two-hit shutout - Url: http://www.milb.com/r/video?content_id=1684615783
"Those two singles definitely helped me lock in," Oswalt told MiLB.com. "Those two hits happened quickly and they weren't bad pitches or anything, they just jumped on me early. From there, I settled down and knew I had to make a pitch to get out of it. Once I did, I kind of just locked in."