Ranking Dodgers' potential playoff foes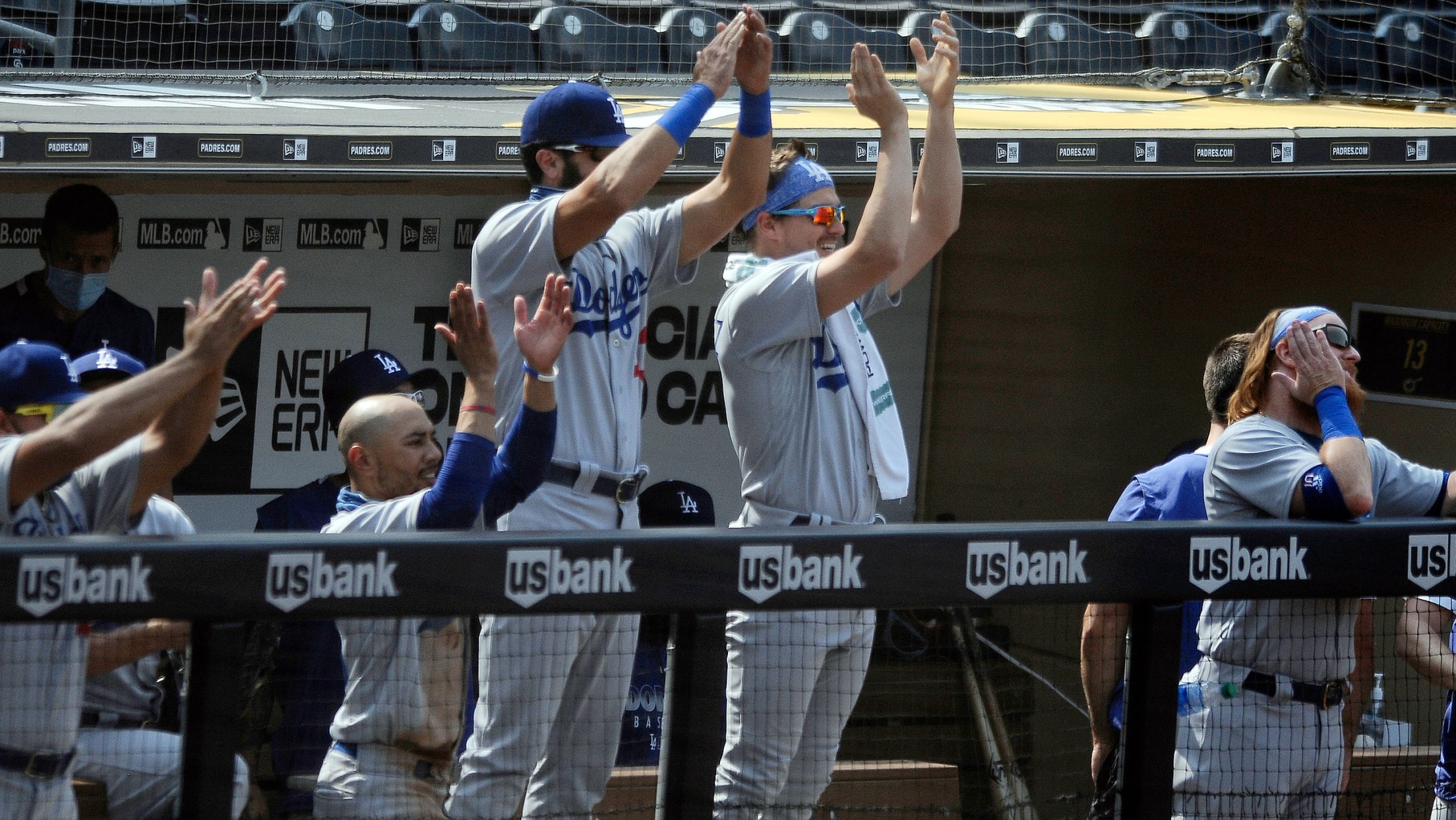 By just about any measure you can think of, the Dodgers are baseball's best team. They have the most wins and the highest winning percentage, obviously, but they also have the second-most runs scored and the third-fewest allowed. As it follows, their +122 run differential is the most, by a
By just about any measure you can think of, the Dodgers are baseball's best team. They have the most wins and the highest winning percentage, obviously, but they also have the second-most runs scored and the third-fewest allowed. As it follows, their +122 run differential is the most, by a large margin over San Diego's +79. You don't win eight straight division titles by accident, right?
That's wonderful. Now, welcome to October, where none of that matters.
Here's what's next: A best-of-three series in Dodger Stadium, but without fans in the seats. If they get through that, every NL team will play in the same neutral-site bubble in Texas after the first round anyway -- home field advantage isn't what it once was -- but let's not worry about that part yet. Let's talk about the best-of-three against the ... Brewers ... or Reds ... or Marlins ... or ... Cardinals ... or ... Phillies, or ... well, who should they want to see? There's so many options.
We'll get to that. But first, let's talk about what a three-game series even means in the first place. You might have noticed that the Dodgers have also been the best team in baseball since 2013 -- they have 710 wins, 41 more than second-place Cleveland -- and you might have also noticed that they've managed to lose in a variety of five-game (2014, '15, '19) and seven-game (2013, '16, '17, '18) postseason series. Those losses are partially due to their own mistakes, partially because their opponents played great baseball and largely because a five- or seven-game series isn't really long enough to outlast the effects of randomness to get to who the best team is.
Now, consider what that means over a mere three games. We did, actually. What we found was over the last decade of regular-season play, teams with meaningful gaps in winning percentage won three-game series over lesser teams about two-thirds of the time. Last June, the 22-58 Orioles faced the 44-36 Indians; they took the first two games 13-0 and 13-0. Last September, the 106-win Dodgers lost two of three to the on-the-way-to-85-loss Giants, including a Clayton Kershaw start. This sort of thing happens all the time; a good team losing to a worse team in a best-of-three is not surprising or unexpected.
Still, that's what the Dodgers face, and surely they have opinions on who they want their opponent to be. Not that they'd tell you, of course. If you were to ask manager Dave Roberts or any of his players publicly, they'd say that it doesn't matter, that it's on them to get the job done. They'd be somewhat less than truthful.
Not that there's any shortage of options, anyway. Looking at the current standings, it's clear that the Pirates, D-backs, Nationals and Rockies will not be participating in October. The Braves, Cubs and Padres are exceptionally likely to fill out the rest of the bracket's top half. After that? It's possible that any of seven teams -- half of the rest of the league! -- could be headed to Chavez Ravine next week.
Here, in order of "worst matchup" to "best," is what the Dodgers might be looking for in an opponent beginning on Wednesday.
1) Reds
Why: Because beware those starting pitchers
Trevor Bauer might win the NL Cy Young, but whether he wins it or not, he's clearly been one of 2020's elite pitchers. That said, working on short rest on Wednesday enables him to pitch Sunday, which helps the team try to get to the playoffs, yet would render him unavailable for a Wednesday Game 1 should they get there.
Then again, this isn't just the Bauer show. Luis Castillo (2.86 ERA) has started four times this month; he's allowed four earned runs, holding (some admittedly mediocre) offenses to a .163/.234/.245 line. Sonny Gray (career-best 32% strikeout rate) returned from injury on Tuesday to strike out eight Brewers over five innings. Even if Bauer can't start in the first game or two, these are formidable arms.
Now: Can they hit? They haven't, so far; their 3.96 runs/game are third worst in baseball, surprising both given the talent in the lineup and the hitter-friendly ballpark they call home. Even in what's been a strong September, the lineup is still below average. That might be enough to prevent a long playoff run to the World Series. The arms are enough to win two games in three tries.
2) Giants
Why: Because they're the Giants
We put the Reds first because they simply have the better team, and they do. But if you were to ask any Dodgers fan on Earth which team they fear playing the most in the first round, which opponent it would burn the most to lose to? It's the Giants. It's so obviously the Giants.
It's them because they're probably the weakest roster of any of our possibilities here, and "best teams in baseball" shouldn't lose to the weakest roster. It's them because they're run by Farhan Zaidi, who was the Dodgers' general manager between 2014-18. It's them because they're the Giants, the century-long bicoastal rivals who have won three rings since the last time the Dodgers took one home.
It'd sting if the Dodgers dropped a first-round series to the Reds, or the Brewers. It'd be crushing to lose it to the Giants, especially in Dodger Stadium.
3) Brewers
Why: Because their bullpen is dominant.
It's difficult to know what to make of the Brewers. The offense, with Lorenzo Cain choosing not to play and Christian Yelich struggling to find his 2019 form, has been a roundly below-average unit. Popular breakout pick Adrian Houser has a 5.40 ERA. Josh Hader suddenly has a walk problem, issuing double the free passes, on a rate basis, as last year.
It helps that Corbin Burnes has as strong a case for the Cy as Jacob deGrom or Bauer does, but mostly, this is about the bullpen and its pure, unfiltered dominance.
Highest strikeout rates, relievers
32% -- Brewers
28% -- Cubs, Twins, Reds, Indians
27% -- A's
That's the highest bullpen strikeout rate in post-war history, and while that's obviously partially a thing we can say because baseball sets new strikeout records every year, it's also a credit to the relievers Milwaukee has assembled.
It's not just Hader, obviously. Rookie Devin Williams may already be baseball's best reliever; he has 52 strikeouts in 25 innings. Soft-tossing Brent Suter has 34 strikeouts against only four walks. Freddy Peralta has 44 whiffs in 27 1/3 innings.
Does the offense scare you? No, not really. Is it worrisome to face Burnes and Brandon Woodruff (who had 17 strikeouts and only two walks in 9 1/3 innings against the Dodgers in the 2018 playoffs) followed by Hader, Williams, Suter, Peralta, Eric Yardley and the rest? It's not ideal.
4) Cardinals
Why: Because of the history
The Dodgers lost to the Cardinals 3-1 in the 2014 NLDS. They lost to them 4-2 in the 2013 NLCS. They did beat them in the 2009 NLDS, but they lost to St. Louis in the 2004 NLDS, and if we really want to go back further, the 1985 NLCS. It's not quite what the Twins have hanging over them against the Yankees, but it's close.
Many of these, for Dodger fans, can be identified simply by naming the gut punch moment. The Matt Adams game. Hanley Ramirez's ribs. Tom Niedenfuer. Go crazy, folks!
Now: Does any of this matter? Not really. St. Louis has a below-average lineup by whatever metric you choose, and the pitching has been fine-if-inconsistent, though clearly inferior to the Dodgers. That Ozzie Smith did something in 1985 shouldn't matter in the least in 2020. But who wants to bet against Yadier Molina, Adam Wainwright and Matt Carpenter pulling magic out of that hat one more time? (Also: Paul Goldschmidt and Jack Flaherty are still really good.)
5) Marlins
Why: Because they're the off-brand Reds
If Cincinnati has a non-threatening offense with some high-end starting pitchers, well, let us introduce you to the Marlins. No, Sixto Sánchez, Pablo Lopez and Sandy Alcantara aren't exactly Bauer, Gray and Castillo, either in terms of name value or track record, but if you haven't noticed how good that trio has been this year (3.37 ERA, 54% ground-ball rate entering Wednesday) you've been missing out.
Besides: Wouldn't it be fun to see ex-Dodgers manager Don Mattingly (2011-15) and ex-Dodger reliever Yimi García (2014-19, with a 0.68 ERA this year) go back to Los Angeles and prove their old team wrong? No? It wouldn't? Nevermind.
6) Mets
Why: Because they should be so much better than they are.
The Mets are probably not going to make the playoffs, but they're still alive, so we include them here. Last week, we looked at which metrics mattered the most in terms of teams winning games in 2020. (That is: Barrel rate is huge, strikeout rate is important for pitchers but not really for batters, and so on.) What we kept noticing is that the Mets kept ranking well in all the important stats, yet they keep not winning games.
Now, part of that is due to an early-season allergy to hitting with runners in scoring position, which has predictably righted itself. (They were third worst through the end of August; they've been fourth best in September.) Part of it is because after deGrom, the rotation has been a real problem. Those are flaws, big ones.
And yet: The Mets have what might be baseball's best offense. They have deGrom and Seth Lugo and Edwin Díaz striking out 18 per nine. It's not terribly likely they get in, but if they do, noise can be made.
7) Phillies
Why: Because everyone's injured and have you seen that bullpen?
J.T. Realmuto is hurt. Rhys Hoskins is hurt. Spencer Howard is hurt. Jake Arrieta is hurt. Heath Hembree is hurt. Bryce Harper is at least banged up, though he still hit two homers on Wednesday night. (Realmuto and Harper are still playing, but clearly not at full strength.) The bullpen is literally the worst bullpen in the history of baseball, except for one previous Phillies bullpen. This is not hyperbole. The 'pen blew two games on Tuesday alone, including allowing a walk-off homer to a 32-year-old rookie making his third career start. Not that they're getting help from the defense; no team is weaker at turning batted balls into outs.
It gets better: If the Phillies pull off what now looks like a surprising run to the playoffs, it's almost certainly going to require using Aaron Nola on the final day of the regular season on Sunday. That would knock him out of a Wednesday Game 1, and, if they didn't want to start him on short rest, it would prevent him from going until a Friday Game 3 -- one that wouldn't even happen if they couldn't win one of the first two games without him.