What comes next? Dodgers postseason FAQ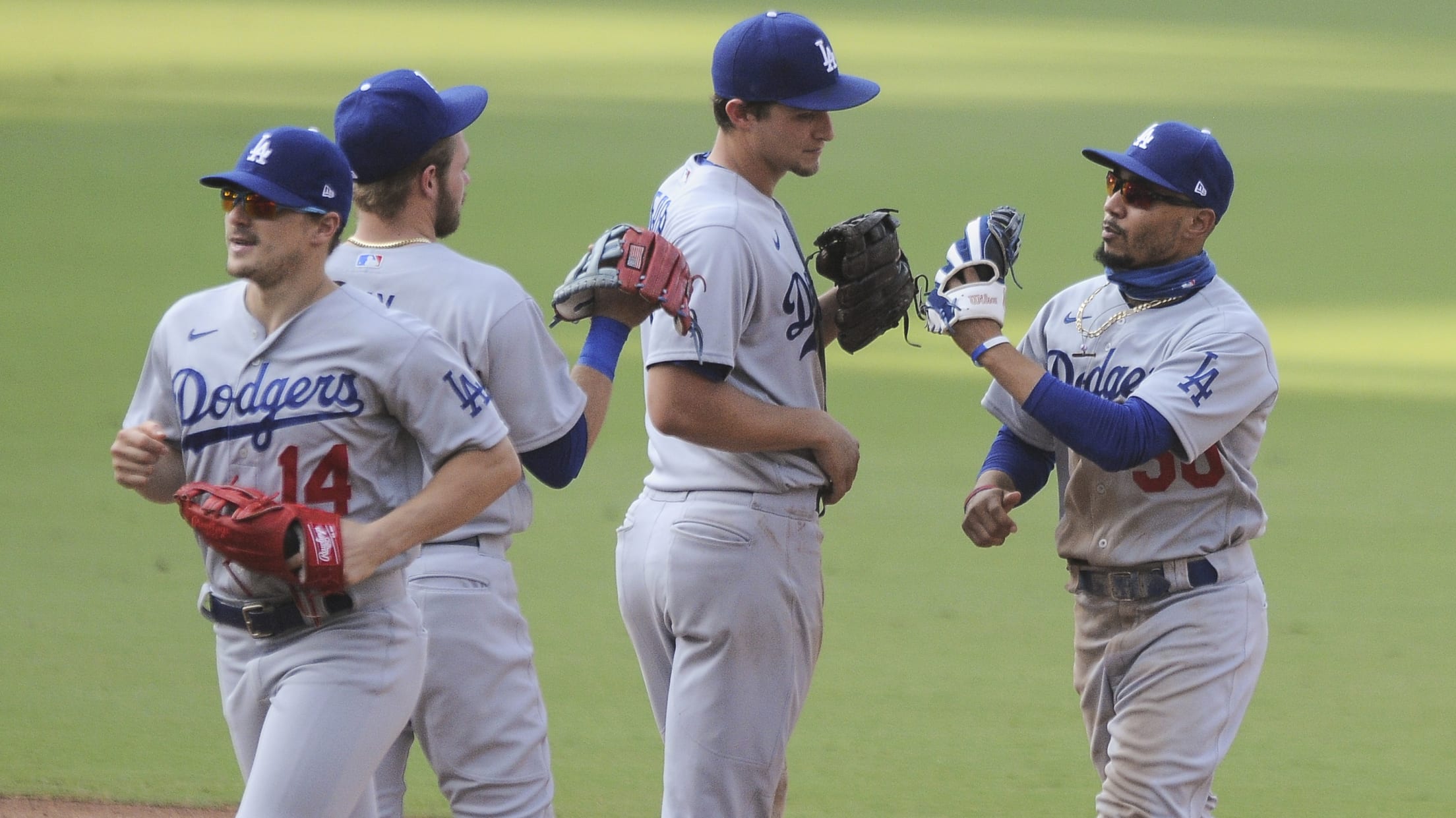 After the Dodgers clinched their eighth straight postseason berth -- and then their eight straight National League West title -- here are answers to some early questions about playoff seeding, scheduling and more. What could the postseason roster look like? C: Will Smith, Austin Barnes 1B: Max Muncy 2B: Chris
After the Dodgers clinched their eighth straight postseason berth -- and then their eight straight National League West title -- here are answers to some early questions about playoff seeding, scheduling and more.
What could the postseason roster look like?
C: Will Smith, Austin Barnes
1B: Max Muncy
2B: Chris Taylor, Gavin Lux
SS: Corey Seager
3B: Justin Turner, Edwin Ríos
RF: Mookie Betts, Joc Pederson
CF: Cody Bellinger
LF: AJ Pollock, Enrique Hernández
SP: Clayton Kershaw, Walker Buehler
RP: Kenley Jansen, Blake Treinen, Joe Kelly, Pedro Báez, Dylan Floro, Victor González, Tony Gonsolin, Dustin May, Brusdar Graterol, Jake McGee, Alex Wood, Adam Kolarek, Julio Urías
Will that be a set lineup?
The Dodgers don't do set lineups. They used 47 lineups in the first 50 games. They move everybody everywhere -- didn't you see Mookie Betts starting at second base recently? Even if you try to pencil Betts in at right field every game, you can add Corey Seager at shortstop and Will Smith at catcher. Everything else involves "optionality," and it only gets more complicated with the designated hitter rule. In general, Max Muncy will be at first base and Cody Bellinger in center field, but Muncy sometimes moves to third with Bellinger at first and Justin Turner as the DH. Chris Taylor could show up almost anywhere, make a major impact and then fade into the background with others in the spotlight. That's how deep the Dodgers are.
• How they got there: LA's 8th straight berth
What is the schedule of the first round?
The NL Wild Card Series will be played on Wednesday, Sept. 30; Thursday, Oct. 1; and Friday, Oct. 2, with seeds 1 through 4 playing all three games in their home ballpark. The following rounds will be at neutral sites -- Houston's Minute Maid Park and Globe Life Field in Arlington, Texas. The Dodgers have clinched the No. 1 seed through the NL Championship Series, so their Wild Card Series will be played at Dodger Stadium.
• MLB announces 2020 postseason schedule
What is the likely starting rotation?
For the best-of-three first round, Clayton Kershaw and Walker Buehler will start, with the pitching plans for a third game top secret at this point. It could be Dustin May. It could be Tony Gonsolin. It could be an opener, with one or both in relief, along with Julio Urías. Currently, Buehler is lined up to start Game 1, but his persistent finger blister will need to pass a test in this Thursday's start. In the best-of-five NL Division Series and best-of-seven NL Championship Series -- which don't include any off-days this year -- the Dodgers will need all five pitchers, but the way they've gone with openers lately, they'll probably pull that club out of the bag as well.
Who is the closer?
It's still Kenley Jansen, even though Pedro Báez looks better since coming off the injured list with a groin strain. Blake Treinen has closing history, Joe Kelly has the stuff and Brusdar Graterol would satisfy everyone who thinks throwing 100 mph automatically translates to closing. Probably someday, but the Dodgers don't think he's ready or durable enough for that kind of workload. Jansen isn't the same dominator of his earlier years, but this is not an ideal time to make a change like that.
Can the Dodgers win in October if Bellinger, Muncy and Joc Pederson aren't slugging?
Even manager Dave Roberts said no, they can't. All three players are in the midst of season-long slumps. But while this trio has been disappointing, the Dodgers are getting more offense than expected from Smith, Taylor and AJ Pollock. Betts and Seager have been the mainstays, and Turner is legendary in October -- if they can just keep him in one piece.
Who plays second base?
Let's say Taylor, who is consistent, reliable and productive. It was Gavin Lux's job to lose, and he lost it with erratic all-around play. If Turner can't play defense, Enrique Hernández will, whether it's at second base or the outfield, with half the team shuffling around to fill all the holes.
What's left to play for?
This year's bubble format de-emphasizes the benefit of piling up regular-season wins for home-field advantage in the playoffs, because the only home games will be during the first round and that's already a given for Los Angeles, which nailed down the No. 1 seed. So the top priority is to patch Turner back together, keep everybody else healthy, help those slumping (Bellinger and Muncy, at least) out of their funk and keep the hot bats going strong. One benefit is that the Dodgers can rest players and line up pitchers.
Who are they likely to face in the first round?
Assuming the Dodgers have the No. 1 seed, they would face the No. 8 seed, which, as of Tuesday, is Milwaukee, although that seems to change with every final out. L.A. hasn't played the Brewers this year. If the Dodgers advance to the next round, there's a good chance they would face the Padres.
Who's hurt?
The biggest recent blow is the left elbow injury to reliever Caleb Ferguson, who underwent Tommy John surgery on Tuesday. He previously had Tommy John surgery in 2014. Turner will play hurt, and he obviously is hurt. He's their Mr. October, but how much he will be compromised is an unknown. Kelly is active after missing a month with shoulder inflammation and a five-game suspension, but his reluctance to throw his 99 mph fastball makes him a wild card.
Ken Gurnick has covered the Dodgers for MLB.com since 2001.