Renovations & Stadium Improvements
2023
This year Dodger Stadium will see new additions as well as maintenance and repair of various areas around the stadium.
Centerfield
In Centerfield, throughout the season, fans will notice three new player pylons added. Two on the Legends of Dodger Baseball side on the Left Field Plaza, and one Retired Number on the Right Field Plaza. We expect to add Legend Manny Mota on April 29th and Orel Hersisher on July 29th to the Legends of Dodger Baseball. Our most famous addition will come as we retire Fernando Valenzuela's #34 on August 11th.
Loge
Right Field Loge's Stoli Bar will be upgraded to host larger private event groups. New additions include upgraded lighting and fresh pavement.
Club Level
The Stadium Club has seen new additions and improvements, including new drink rails in Stadium Club Boxes, an improved LED screen, and new furniture. This season fans can see the continued improvement of the Stadium Club displays such as an addition of a new exhibit in the 1962 lockers and a display case from Vin Scully's estate.
Reserve
Reserve Level play areas will be resurfaced for our youngest fans to continue to enjoy.
Going Green
As part of the upgrades, the Dodgers are going green, instituting many measures toward being energy efficient. Included in the construction was installation of new water valves, low-flush fixtures, waterless urinals, hand-driers to eliminate paper waste, automatic faucets to control water flow and new power and lighting energy-efficient systems. Fans can also find various water refill stations throughout the stadium. Our newest green initiative for this season is the addition of select Friday Night Drone Shows, each with their own unique theme nights. Fans can watch the first of the season on Friday, March 31st.
2022
DODGER STADIUM CELEBRATES 60TH ANNIVERSARY WITH VARIOUS NEW AND IMPROVED ITEMS
Commemorative Dodger moments
Bronze Sculptures: The Jackie Robinson statue in centerfield will have another teammate as a Sandy Koufax statue will be unveiled at Dodger Stadium on June 18.
Memorabilia: There will be new memorabilia exhibits for fans to view throughout Dodger Stadium, including the addition of new members to the Legends of Dodger Baseball as well as newly adorned 1962 display lockers. There will also be an exhibit, "Breaking Barriers" in the Centerfield Plaza under the Right Field Pavilion on loan from the Negro League Baseball Museum in Kansas City. A second Negro League Baseball exhibit on loan from Gary Cypres will be on display near the right field, Stadium Club entrance featuring bronze figures of baseball greats including Satchel Paige and Josh Gibson.
Murals: Fans will certainly notice the new murals depicted on the left and right field sides of the stadium featuring the 60th anniversary logo of Dodger Stadium as well as the great Jackie Robinson, who broke the color barrier 75 years ago when he joined the Dodgers in Brooklyn.
Club renovations & seat re-brandings
Stadium Club: The Stadium Club, which boasts one of the best views at Dodger Stadium, has transformed the exterior balcony into the new Stadium Club Boxes for groups to purchase on a game-to-game basis featuring complimentary food and alcohol for purchase. The Club will also see upgrades with new furniture and LED displays, added during the first half of the season.
Baseline Clubs: Both the left and right field Baseline Clubs have been refreshed with newly upholstered furniture, new food service capabilities and new LED displays coming during the first half of the season.
Dugout Club: The popular Dugout Club has been re-named the Yaamava' Dugout Club by San Manuel. The Yaamava' Dugout Club is the most exclusive premium seating location at Dodger Stadium with access to private club space, multiple bars, complimentary food and non-alcoholic beverages and the best seats in the house.
Home Run Seats: These popular seats located just beyond the outfield wall in right and left field, which were introduced in 2021 as part of the Centerfield Plaza and pavilion renovations, will be branded the Coca-Cola Home Run Seats in 2022.
Restrooms - All single-use, accessible restrooms in fan facing areas throughout Dodger Stadium now include all-gender designations and have been labeled with signage accordingly. Additionally, expanded Women's and gender-neutral restrooms have been added to the press box. Both clubhouses have also been renovated to create a dedicated women's locker room and showers.
2021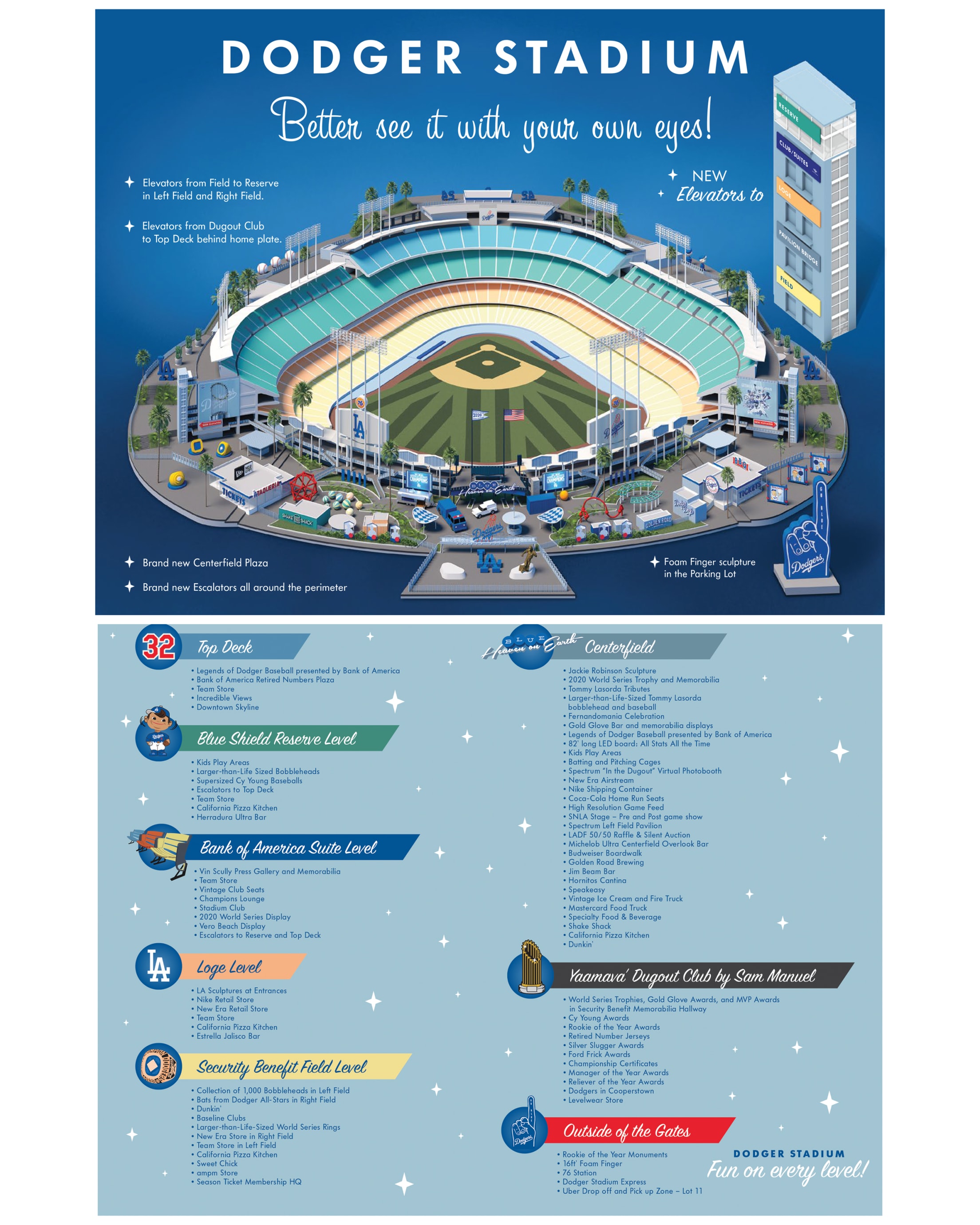 Creation of Centerfield Plaza: The new Centerfield Plaza will create a stadium "front door" with almost two acres of unique food offerings, entertainment and kids areas, retail locations, sponsor activations, more social and standing room areas and greater access for those with special needs. A new kids play area will be constructed just beyond the wall in straight-away centerfield, and fans will be able to enjoy the game from above of a newly-constructed batters eye wall. The new Centerfield Plaza will pay homage to Dodger history with statues and a permanent home for the "Legends of Dodger Baseball" plaques..
Pavilion Renovations: Renovations to the Left and Right Field Pavilions will include new restrooms, enclosed bars with views into the bullpen, the creation of standing room areas at the top of each pavilion, enhanced ADA seating and "home run seats" just beyond the outfield wall.
New Elevators and Bridges: Elevators are currently under construction in the Right and Left Field Plazas to help move fans easily to and from this new Centerfield Plaza. Additionally, bridges will be constructed to connect the new pavilion standing room decks to the rest of the stadium for a 360-degree connection around the park's perimeter. These new elevators and bridges will also provide easier access to the Dodger Stadium Express stop in Lot G through the Centerfield Plaza.
New Sound System: A new sound system will replace the current speaker tower and provide an enhanced audio experience to fans on all levels of the ballpark with more directed sound inside the stadium.
2013-2019
2019 Upgrades and Amenities include:
Top of the Park Store Remodel
Top of the Park Store Remodel - The Top of the Park store at Dodger Stadium has been remodeled for a modern shopping experience for Dodger fans.
Also at the Top of the Park, fans will notice two new additions to the Bank of America Retired Numbers plaza, five-foot microphones for Vin Scully and Jaime Jarrín.
Self Service Kiosks - To expedite ordering at concessions stands, the Dodgers have increased the number of Self Service Concession Kiosks throughout the ballpark.
Ashley HomeStore Chairs
Home Sweet Home - The Dodgers have installed four Ashley HomeStore chairs to create a Home Sweet Home Seats on the Loge Level at Dodger Stadium, where fans can enjoy the game from after entering to win at participating Ashley HomeStore locations.
In addition to Ashley HomeStore, fans will also notice signage and activations from new Dodger partners such as UCLA Health, Q CELLS and Blue Shield of California.
Levy at Dodger Stadium
All beverages at Dodger Stadium will come with recyclable drinkable lids, and the Dodgers and Levy have moved to using paper straws, which will be available only upon request from guests.
Levy Restaurants and Executive Chef Ryan Evans have updated Dodger Stadium's menu for 2019:
Summer Green Salad: Chopped romaine w/ baby spinach, diced cucumbers, sliced radishes, feta crumble, either pecans or walnut w/ a creamy mint dressing. Available near sections Field 5, Loge 132 and Reserve 10.
Esquite: Corn in a cup topped with mayo, cheese and topped with spicy aioli. Available near sections Field 22 and 23, and Top Deck 6.
Dodger Sausage: Stadium exclusive al pastor seasoned sausage stuffed with pineapple chunks grilled to perfection topped with pineapple salsa and cilantro-lime crema. Available near sections Field 10, Loge 133, and Reserve 4.
Four Taco Plate: Four chicken or beef tacos on corn tortillas topped with onion & cilantro served with chips and salsa. Available near sections Field 10 and Reserve 13.
Beyond Meat Burger: Plant based grill burger patty on a brioche bun topped with herb mayo, lettuce, tomato, onions. Available near sections Field 47 and Reserve 29.
Chicken Burrito Bowl: Marinated pollo asado, black beans, pico de gallo, salsa roja, on a bed of rice. Available near Loge 137 and Reserve sections 23 and 24.
Going Yard: A 16.5-inch jalapeño cheddar sausage topped with grilled onions, roasted corn, and avocado relish, drizzled with sour cream. Available near sections Field 10, Loge 133, and Reserve 4.
California Roll Bowl: Imitation crab, sriracha aioli, edamame, carrots, cucumbers, all in a bed of sushi rice. Available on the Field Level near section 45.
2018 Upgrades and Amenities include:
The seats at the club level have been restored to Walter O'Malley's original 1962 color scheme of red, blue and yellow. Beyond just the color scheme, the original 1962 wooden planks have been restored and now match the original seat backs from the stadium's opening. The seat bottoms have been reupholstered as well with new foam and fabric, still matching the original painted scheme.
Fans entering on the LF Club Level will now pass a new reception lobby area as well as a new display case with rotating current team memorabilia.
Fans will now find a new ticketed option in the Field Level Drinkrail seats. These stools provide a unique view and experience on the Field level.
The Jim Beam Bourbon Bar now joins Tommy's Trattoria in the RF Plaza, the Bourbon Bar uniquely offers the refreshing Jim Beam Highball Cocktail, Other Mixed Bourbon Cocktails as well as a special Levy offering of Bourbon Glazed Wings.
Levy and the Los Angeles Dodgers introduced the new On Deck Circle on Field, Loge and Reserve levels. The On Deck Circle offers a constantly rotating menu of unique food and beverage designed around the food culture of both Los Angeles and our visiting team's city.
Bud & Burgers, fresh off its opening along the third base line on the Field Level, has also opened a concession stand at the RF Reserve Plaza.
2017 Upgrades and Amenities include:
The first sculpture in Dodger Stadium history, appropriately depicting Jackie Robinson, will be unveiled on the left field reserve level plaza area (Lot B) on April 15, marking the 70th anniversary of Robinson breaking the color barrier in Major League Baseball.
The reconfiguring of the ring road in centerfield has been enlarged in order to improve circulation and create a new premium lot "H" between the Historic 76 Station and the centerfield transit road.
New premium seating has been installed outside of the Dugout Club and Baseline Clubs. USB power will be installed in each seat during the 2017 season. These seats, located in original foul territory at Dodger Stadium, are now blue in color to match the field wall from 1962.
In an effort to continually improve access to Dodger Stadium and improve ridership on the METRO bus lines service, the pedestrian loading area in centerfield has been reconfigured to provide a dedicated area with uniform pedestrian lighting.
As part of Dodger Stadium's continued commitment to greening the surrounding park, additional landscaped islands of olive trees, palm trees and the native succulent plants of the region have been planted at either end of the transit street.
Levy and the Los Angeles Dodgers have created an exciting new menu that truly celebrated the Pride of Baseball. New Executive Chef Ryan Evans plans to take the game day experience to a new level for all Dodger fans with new fan favorites and authentic local flavors.
This season the Dodgers are excited to welcome the new Budweiser-branded concession stand located down the third base line. This Bud & Burgers stand will serve our newest culinary creation inspired by our fans: the Dodger Burger. With the world famous Dodger Dog grilled to perfection on top of a delicious patty, this is a can't-miss item for the 2017 season! In addition, Budweiser has created a simulated batting experience by the left field Bud bar that encourages fans to swing for the fences at every home game.
Dodger fans will enjoy the new King's Hawaiian Grill, opening in the Left Field Plaza, where they can enjoy a special menu featuring a pulled pork Dodger Dog, pulled pork sliders, lava wings, smoked pork nachos and much more.
The popular Think Blue BBQ has come to the Reserve Level in right field, adjacent to the kid's area.
Dodger fans will see a number of new memorabilia displays including a gallery adjacent to the Vin Scully Press Box including Vin Scully's headset and other objects from his broadcast booth during his final season with the Dodgers. The club level is also home to a new display case at the left field entry that features game worn jerseys from Dodger greats including Jackie Robinson, Sandy Koufax and others. Fans with tickets on field, loge and club and anyone with a season ticket can access these areas.
The right field baseline club, also known as the Ketel One Club, is home to a display featuring game used bats from nearly every All-Star that has worn the uniform of the Los Angeles Dodgers. This display is open to anyone in the right field concourse and faces the bullpen overlook in right field. You do not need a ticket to the baseline club to view this display.
Groups will find new areas to enjoy Dodger baseball. A new mini-suite has been constructed inside the Stadium Club on the right field club level to host groups of 15. The loge level party boxes, which can host groups of 12 to 16, have been given a new look and improved surroundings. Areas on the field level concourse near each foul pole have been created for groups of 15 to 60. The areas have standing room, bar stools and high top tables.
All of the suites on the club level have also been renovated, as has the Lexus Dugout Club dining area. Members of the Dugout Club will find new food items dotting the menu throughout the season.
2015-2016 Upgrades and Amenities include:
More standing room tables and stools were added to the top of the park, accessible to all fans, to give all a chance to take in picturesque Dodger Stadium.
More memorabilia is now on display throughout Dodger Stadium, including added exhibits on the top deck, in the Press Box gallery on the club level and on the field level at the entries near the right and left-field bullpen bars and at the baseline clubs.
Several upgrades to the electrical infrastructure throughout Dodger Stadium were also made which increases lighting throughout the stadium, exterior stairs and pedestrian improvements to guide fans safely through the parking lots and along the routes fans take when they use the Dodger Stadium Express.
The Emirates Lounge is a newly designed space for accommodating larger groups of 30-70 guests.
2014-2015 Upgrades and Amenities include:
Concession stands continue to be upgraded, with the focus this season being on the reserve level.
Displays honoring the Dodgers rich history in Los Angeles are being added as part of an expanded daily tour program.
Artwork and memorabilia is being installed in the Dugout Club, which also is undergoing a renovation.
A new Dodger Express bus stop has been added in Lot P.
2013-2014 Upgrades and Amenities include:
Expansion of the entries at the Field level, enabling all fans with Pavilion, Dugout, Field, Loge and Club tickets to enter the convenient entrances on the north side of the stadium. These new entries will also house new team stores and concessions and memorabilia to celebrate the team history, including its famous seasons in Brooklyn, NY, as well as its five-plus decades in Los Angeles.
Seating and lounging areas at bars and drink rails overlooking the bullpens in the outfield, giving focus to pitchers warming up as well as infield game views.
New food services with outdoor grills and specialty fare such as Tommy Lasorda's Italian and hot-off-the-grill BBQ, areas where the Hall of Fame manager and other former players will spend time with fans.
An expansion of the popular Reserve Level "La Taqueria" stand near the kids play area at the left field Reserve entry.
Relocating the visiting team clubhouse to an area near the visiting team dugout at field level so that all visiting team areas are in a single new area adjacent to the batting tunnel, conditioning room and training area built in newly created space in 2013.
Continuing work on the upgrade of the electrical infrastructure that supports the 1962 stadium. In 2013, significant new equipment and substations were installed in coordination with LADWP. Work will continue this offseason to connect to the new equipment to improve safety and provide the best technology available for fans.
Enhancement of the ballpark's landscaping. All 33 trees in the outfield area have been replanted on site and the Dodgers, the only team in baseball with a full-time arborist, will have three times as many trees in the outfield by April as before. The display of the famed "Three Sisters" behind the left-field bullpen will remain.
Going Green
As part of the upgrades, the Dodgers are going green, instituting many measures toward being energy efficient. Included in the construction was installation of new water valves, low-flush fixtures, waterless urinals, hand-driers to eliminate paper waste, automatic faucets to control water flow and new power and lighting energy-efficient systems.
Memorabilia
Many of the Dodgers' historical items will be displayed for the first time. Fans will be able to enjoy Dodger memorabilia and artifacts such as MVP awards, Cy Young awards and Gold Gloves awarded to Dodgers. Some items are on display during games and others will be available during day tours of the stadium.
More Information
Video and Ribbon Boards
New High Definition video boards in left field and right field are the first 10mm 1080p light emitting diode (LED) displays in MLB. While the new scoreboard structures are 22 percent larger, the active viewing area of both video boards is 66 percent larger than before. Existing message boards, including ribbon boards at the Loge level and outfield wall, were replaced with the new technology as well. The unique hexagon shape of both scoreboards has been restored.
Sound System
A new sound system directed to each seating section will minimize echoes and sound migration outside the stadium and will provide for a much more enjoyable audio experience for fans as they listen to live and recorded music and announcements before, during and after games.
Wi-Fi
A state-of-the-art Wi-Fi network and cellular antenna system to support cell-phone and internet connectivity from mobile devices will enhance the ability of fans and media covering games at Dodger Stadium to communicate. The project was part of a partnership with Major League Baseball Advanced Media and is expected to be completed by June. An entirely new electrical power grid with seven new substations was added to support these technologies.