Our Mission
Our mission is to create a culture where diverse voices and experiences are valued, our people feel empowered by their connections to each other, and the Team and all employees feel they can succeed.
Our charge is to direct and track impact, establish clear accountabilities, reporting standards, aspirational goals and measurements of success.
Four Pillars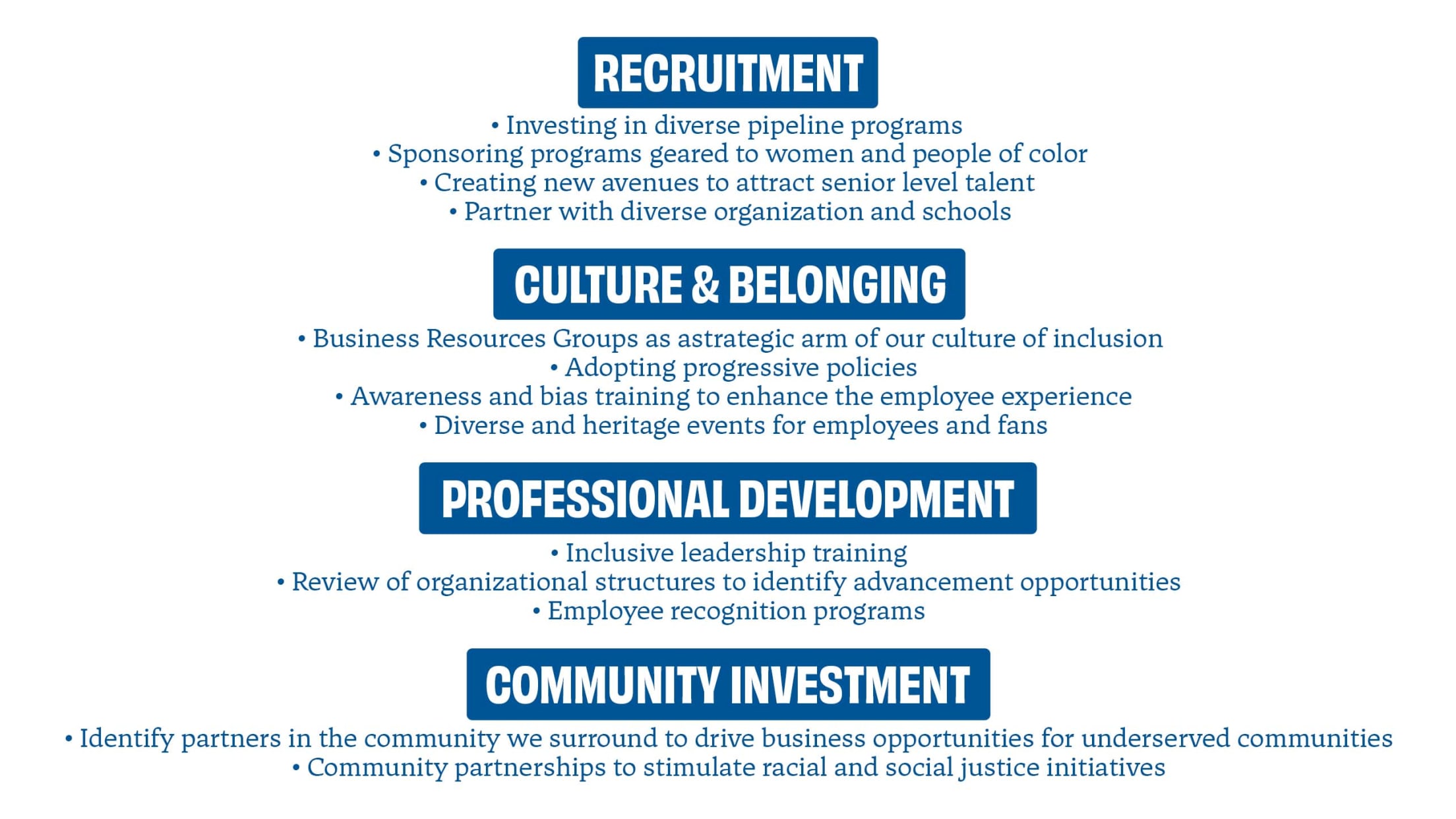 Committee
The Dodgers Diversity, Equity & Inclusion Committee is a senior level policymaking entity charged with embedding Diversity, Equity, and Inclusion strategies into every aspect of the organization to leverage our innovative workforce, compete in the marketplace and serve the community. The Committee is a collaborative effort across the organization.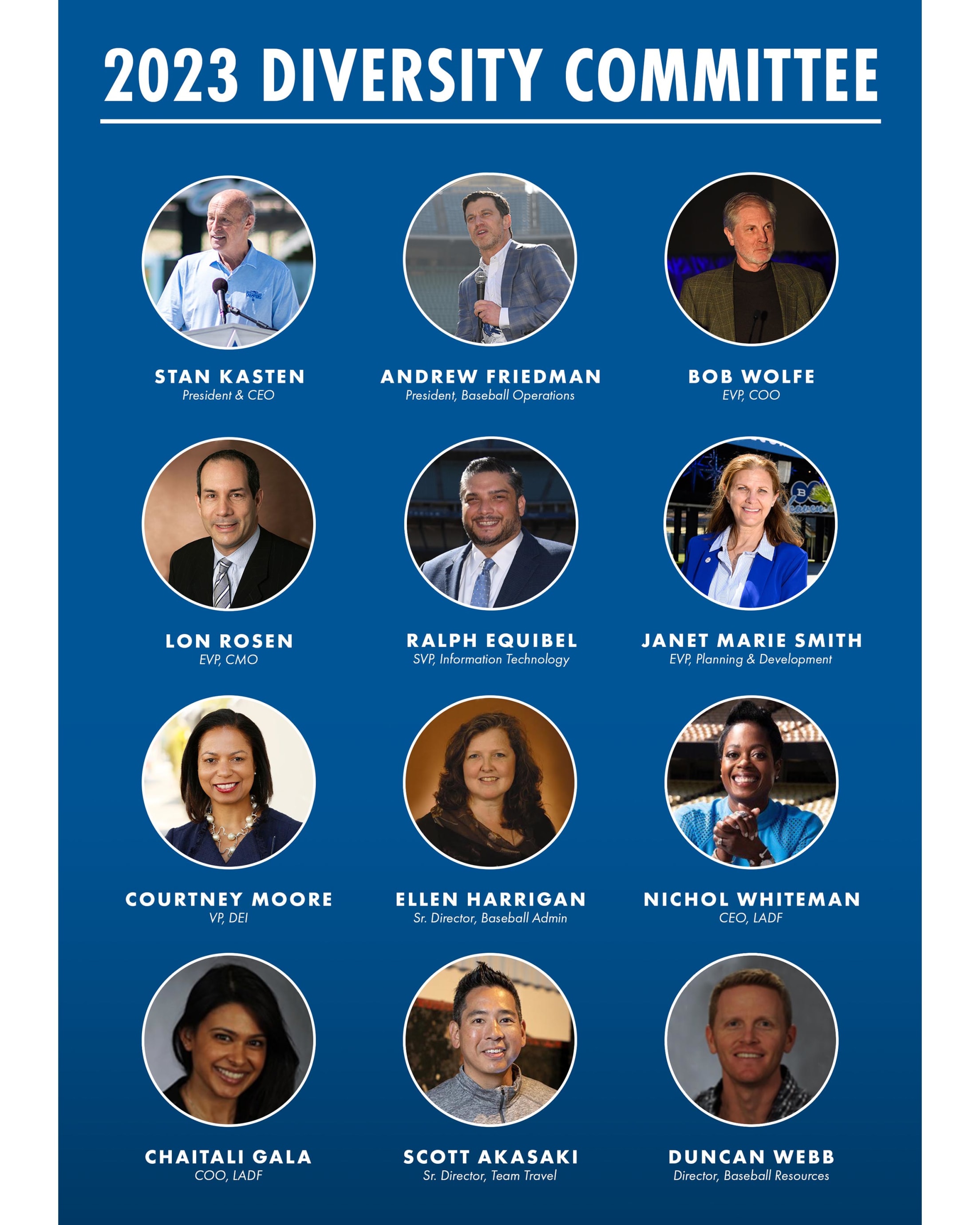 Business Resource Groups
The Dodgers' eight Business Resource Groups started in June of 2020 to provide employees with a forum to gather with other employees who hold common interests, identities and/or social issues. These groups to partner with the Diversity Committee to create innovation, solve problems and present new ideas to enhance and impact the Dodgers' culture of inclusion. These groups include:
Athletes to Executives
Family Advocate Network
Asian Professionals
Dodgers PRIDE
Black Action Network
SOMOS LA
Dodgers High-Potential Young Professional Employees
Women's Opportunity Network
Pipeline Initiatives
Partnerships with colleges, universities, and diverse organizations
MLB Diversity Fellowship Program
MLB on Deck Diversity in Sales
Emerging Talent Programs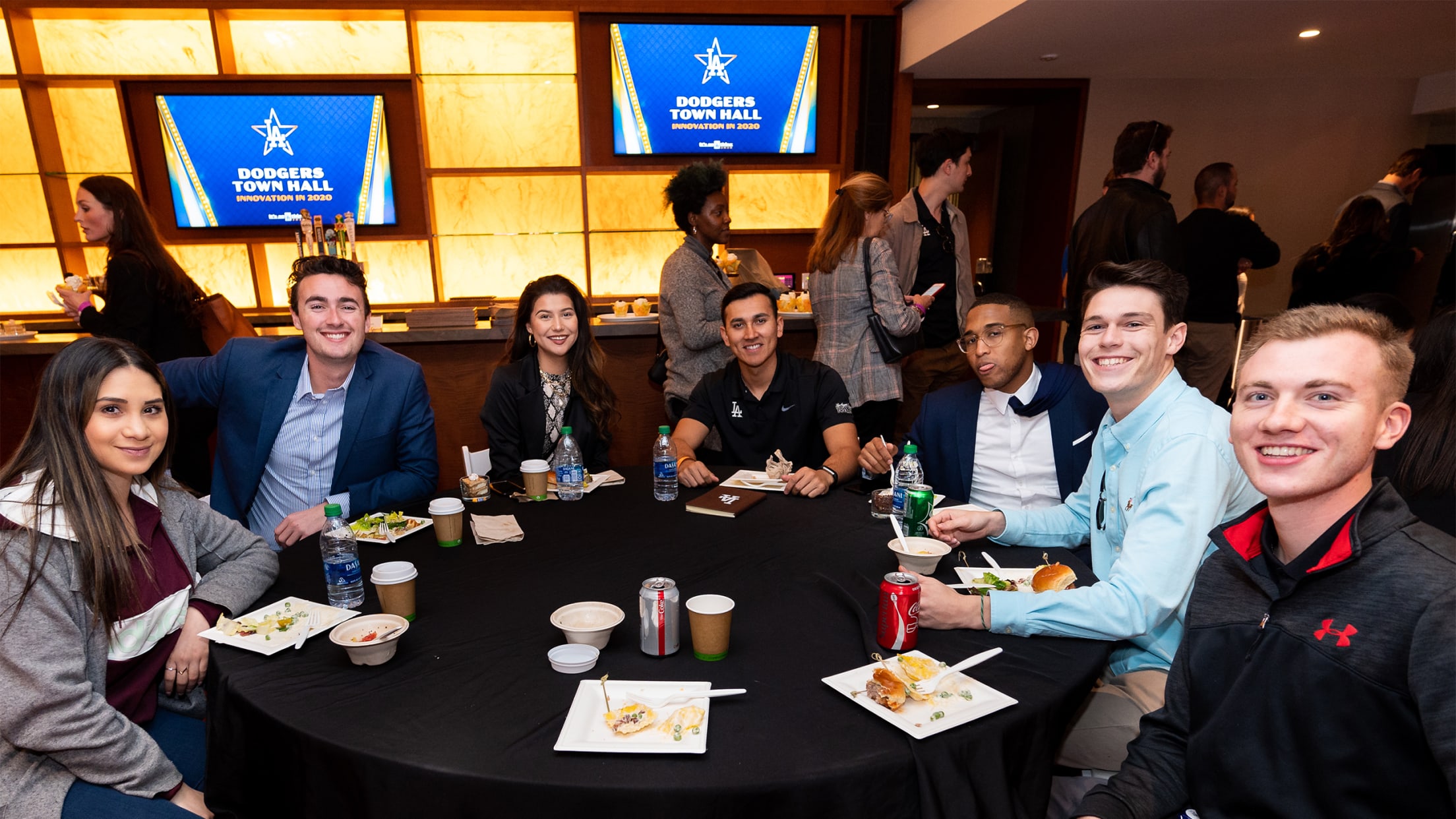 Interested in a career in sports? The Los Angeles Dodgers offers programs for current students and recent graduates that are designed to introduce individuals to the world of professional sports. Our Emerging Talent Programs include a 12-week internship program from May to August and a 5-month fellowship program from March to July.
Participants are placed in departments and roles across the Dodgers organization to help them grow their experiences and hone their skillset. The tools and connections give them a network of industry experts, and real-world, hands on experience in a dynamic environment.
Recruitment Timeline:
5-month Internship Program: Recruitment starts in February
12-week Internship Program: Recruitment starts in March
Program Requirements:
Must be available to live and work in Los Angeles or your assigned office location.+
A cumulative GPA of 3.0 or above.
Unrestricted authorization to work in the United States.
Passionate about working for a professional sports team.
Proactive and out of the box thinking.
12-week Internship Program:
Must be a current Freshman, Sophomore, or Junior pursuing a bachelor's degree at an accredited institution.
5-month Fellowship Program:
Recent graduates and alumni within 1-year post graduation.
Harassment & Discrimination Policy
The Organization is committed to providing a workplace that is free from all forms of unlawful and inappropriate behavior, including harassment and/or discrimination. The Organization does not tolerate harassment and/or discrimination by any employee, whether such prohibited behavior is aimed at a coworker, customer, vendor or guest (invited or uninvited) of the Organization. The Organization will attempt to prevent harassment of anyone (including its employees) on its premises by any customer, vendor, or guest (invited or uninvited) of the Organization. Harassment and/or discrimination based on ancestry, race, color, national origin, gender, sex, pregnancy, marital status, medical condition, religion, age, disability, or sexual orientation are specifically in violation of both state and federal law.