Here are baseball's top 20 free agents to be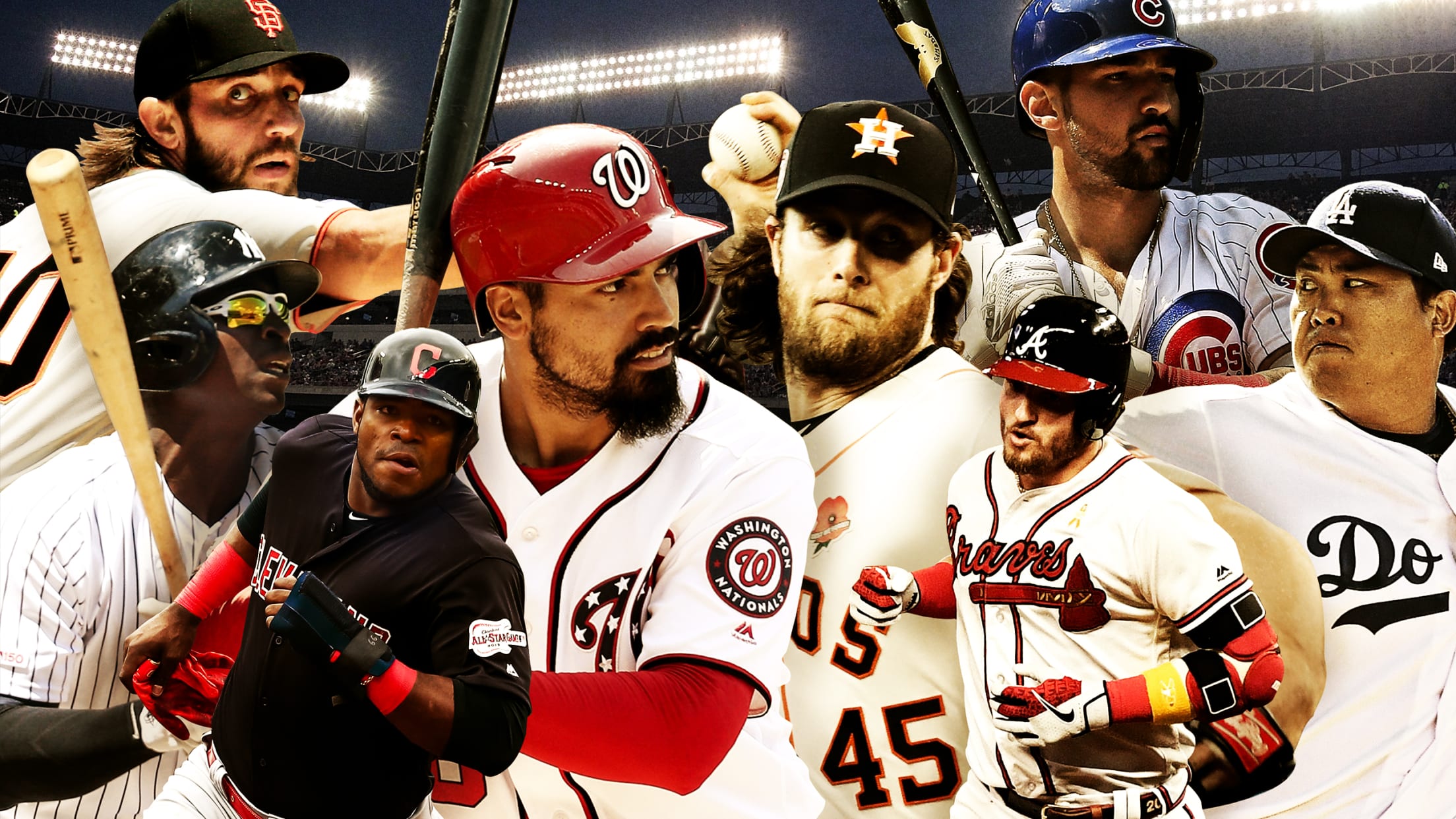 If it feels like last year's free agency just ended, that's because it did. The "winter" technically stretched into early June, when Dallas Keuchel and Craig Kimbrel finally signed with the Braves and Cubs, respectively. But it won't be very long until we fire up free agency yet again, and,
If it feels like last year's free agency just ended, that's because it did. The "winter" technically stretched into early June, when Dallas Keuchel and Craig Kimbrel finally signed with the Braves and Cubs, respectively.
But it won't be very long until we fire up free agency yet again, and, despite some rumors to the contrary, there's a ton of talent on the table after the 2019 World Series wraps.
Here, we'll take a look at some early free-agent power rankings (20 players for 2020). But like so much of life, it gets complicated. The market will be drastically affected by what happens with various opt-outs and option clauses. For this list, we're going to leave off guys whose options are likely to be exercised or whose opt-outs aren't. This currently applies to Kenley Jansen, David Price, Corey Kluber, Anthony Rizzo, Starling Marte, Nelson Cruz, José Quintana, Yu Darvish and Elvis Andrus, among others. But as always, stay tuned!
We will, however, include a few others who aren't necessarily as likely to remain attached to their current contracts, and have noted those with an asterisk (*). All ages as of Opening Day 2020.
1. Gerrit Cole, RHP, age 29
2019 FanGraphs WAR: 6.1, 281 K's
Free agency has changed a lot, but splurging on a star starter is still very much a thing. Patrick Corbin netted a six-year, $140 million guarantee entering his age-29 season with a smaller track record of success than what Cole will take into this market. This SoCal native would be a franchise-changer for the likes of the Angels and Padres, and the Yankees and Dodgers could certainly find room for him, too, if they alter their recent free-agent approaches.
2. Anthony Rendon, 3B, age 29
fWAR: 6.8, 1.044 OPS
There were rumblings about an extension throughout the spring and even into the regular season, but Rendon has only upped the ante with a 2019 season that might prove MVP-worthy. The Nats will continue to try to lock him in, but his home-state Rangers could make him a centerpiece in their new ballpark, and various other teams (such as the Phillies, Cardinals and Dodgers) make sense, too.
3. Stephen Strasburg, RHP, age 31*
fWAR: 5.2, 222 K's
The first intriguing opt-out candidate! Strasburg can opt out of the remaining four years and $100 million on his deal. Nearing 200 innings for just the second time in his career and carrying an ERA+ (133, entering Wednesday) among the best in his career, Strasburg has heightened speculation that he'll test the open market, where his hometown Padres would almost certainly be among his suitors. That said, Strasburg doesn't actively chase the spotlight. He could opt in or use the opt-out as leverage for an extension with the Nats, something Clayton Kershaw did with the Dodgers last year.
4. Madison Bumgarner, LHP, age 30
fWAR: 3.1, 3.77 ERA
Despite an overall velocity decline since 2016 and a wealth of big league innings since debuting at age 19, Bumgarner has remained effective this season with increased curveball usage. Savvy teams might target ways to further tap into his potential as he enters his 30s, and, even in our increasingly analytical age, his pedigree is valued.
5. Aroldis Chapman, LHP, age 32*
fWAR: 1.9, 35.4 K%
Age has shaved a little bit of zest off that famous fastball, but, despite a July blip (8.31 ERA), he's shown this season that his sinking fastball and slider can still make for a killer combo. MLB Network insider Ken Rosenthal had a source tell him this summer that Chapman is "one million percent" opting out of the two years and $34.4 million remaining on his deal, but the wait Kimbrel endured to get three years and $43 million from the Cubs is notable. And like Kimbrel, Chapman is eligible for a qualifying offer if he does opt out.
6. J.D. Martinez, DH/OF, age 32*
fWAR: 3.0, .955 OPS, 35 HRs
After the free-agent waiting game Martinez endured post-2017, opting out when two years older would be a risk. But Martinez has lived up to the terms of his deal with Boston, and it's not crazy to envision him leaving three years and $62.5 million on the table to see if he can beat that. He might make sense as an offensive focal point for a burgeoning team like the White Sox that has money to spend and DH and outfield at-bats to offer. Even if he opts in, the Red Sox might try to trade him (though he has another opt-out after '20).
7. Hyun-Jin Ryu, LHP, age 33
fWAR: 4.1, 2.45 ERA
The Dodgers got a steal when Ryu accepted the $17.9 million qualifying offer last winter, but he's hit a wall of late (9.95 ERA over his last four starts) to take the shine off his Cy Young bid and create all kinds of questions about what his earning power will be this winter. Bear in mind that Ryu's 161 2/3 innings are his highest since 2014.
8. Josh Donaldson, 3B, age 34
fWAR: 4.8
He took a one-year "pillow" contract with his boyhood favorite team after a 2018 largely lost to injury, and he's made good on it with a .261/.384/.543 slash and his typically reliable defense at the hot corner. Donaldson should be able to command a multi-year commitment this time around, perhaps with a similar average annual value ($23 million). If the Braves commit to Austin Riley at third, then the Rangers, Phillies, Cardinals and Mets are among the teams that make sense.
9. Zack Wheeler, RHP, age 29
fWAR: 3.8
Wheeler's overall career ERA+ (99) is just south of league average, but his velocity, spin and age all point to upside that could lead to a more competitive market than the career numbers would indicate. It's also worth noting that his Fielding Independent Pitching mark (3.62) this season is lower than his ERA (4.21). There is an argument that he should be above Ryu and Donaldson on this list given his age, but they get the edge here given their recent track record of high-level performance.
10. Marcell Ozuna, OF, age 29
fWAR: 2.3
He hasn't been the superstar the Cardinals might have hoped he'd blossom into when they traded for him from Miami prior to the 2018 season, but he's still been a productive bat, with an .827 OPS, 26 homers and 20 doubles this season despite missing five weeks with a hand injury. With the Cardinals crowded in the outfield, Ozuna could wind up elsewhere.
11. Yasmani Grandal, C, age 31*
fWAR: 4.8; .379 OBP
Grandal and the Brewers have a $16 million mutual option for 2020, and it's still unclear if that will get picked up. He reportedly turned down four years and $60 million from the Mets last winter and wound up taking a one-year, $18.25 million guarantee and essentially replicated his '18 at the plate (121 OPS+ in both seasons). If you're scoring at home, he'll be looking to do better than a three-year, $42 million guarantee if he's going to top the original Mets offer. One factor working in his favor is that he can't receive a qualifying offer again.
12. Jake Odorizzi, RHP, age 29
fWAR: 3.7, 3.60 ERA
It will be interesting to see if the Twins, who have three rotation members entering free agency, extend the qualifying offer, which will be north of $18 million, to Odorizzi after an up-and-down 2019 in which he was a legit All-Star (3.15 ERA, .620 opponents' OPS) before second-half regression (4.30, .764) set in.
13. Didi Gregorius, SS, age 30
fWAR: 1.2; .478 slugging
The Yankees love Sir Didi, and with the way he ably and confidently assumed the shortstop position after Derek Jeter's high-profile departure, how could you not? But this will be an interesting free agency with Gregorius having a limited 2019 due to his recovery from Tommy John surgery. He's still hitting for power, but currently has a .284 OBP. The qualifying offer might actually make sense for both sides.
14. Cole Hamels, LHP, age 36
fWAR: 2.3, 3.95 ERA
The age and the poor performance, on measure, since coming back from an oblique injury are obvious causes for pause here (7.12 ERA in seven starts). It's another case where pedigree will be weighed against performance and peripherals, but Hamels could be really attractive on a shorter-term deal.
15. Dallas Keuchel, LHP, age 32
fWAR: 0.8, 3.47 ERA
It's not easy to mount as effective a campaign as Keuchel has after joining the Braves midstream following a frustrating free-agent saga. Some teams will still be leery of a guy who doesn't miss an especially high number of bats in this day and age, but Keuchel won't be attached to Draft compensation this time, and he's proven this year that he still has a lot to offer a rotation.
16. Nicholas Castellanos, OF, age 28
fWAR: 2.3, 1.046 OPS with Cubs
It's such a small sample that it's hard to say how much money Castellanos has made for himself since the trade to the Cubs, but the 250-point jump in slugging percentage and 45-point jump in on-base percentage sure isn't going to hurt him. That said, he has had hot streaks like this before, as Craig Edwards of FanGraphs recently pointed out, so there is reason to believe this is simply a hot streak, as opposed to a new normal. Age is also on his side, though the defensive metrics make it unclear if he'll be a long-term fit in the outfield.
17. Wade Miley, LHP, age 33
fWAR: 1.9, 3.74 ERA
With a 3.74 ERA and 122 ERA+ to this point, he'll do better than the one-year, $4.5 million deal he signed with the Astros for 2019. But a 4.61 ERA in the second half will give some teams pause.
18. Edwin Encarnacion, DH, age 37*
fWAR: 2.3, eight straight 30-HR seasons
The Yankees have a $20 million option on Encarnacion for 2020, or they must buy him out for $5 million. Both of those figures are kind of steep, so it's a tough call. But even in an era where teams would rather cycle guys through the DH role, you have to figure Encarnacion, who has reached 30 homers every year since '12, is at least worth the $14 million Cruz got from the Twins this year.
19. Mike Moustakas, 2B/3B, age 31*
fWAR: 2.4, .854 OPS
Having been burned after turning down the qualifying offer after 2017 (Moustakas wound up making less over the '18 and '19 seasons combined than he would have made had he accepted that offer for one year), will Moose pick up his end of the mutual option worth $11 million or take the risk in search of a multi-year pact? He's had an All-Star year with 60 extra-base hits, but a wrist injury has bothered him of late.
20. Yasiel Puig, OF, age 29
fWAR: 0.8
Puig is forever fascinating, so why should his free agency be any different? His performance tends to vacillate between two extremes, and his refusal to run out a ground ball in the midst of a playoff push last week drew the usual scrutiny. The track record and market might demand an incentive-laden short-term deal, though you could see a team searching for a lineup and marketing jolt rank him much higher here and get more aggressive.
The next five: Left-hander Will Smith and right-hander Will Harris might be the best non-Chapman relievers available (Dellin Betances, who could rejoin the Yankees soon after a lost year, is a real wild card in that market) though you wonder what the industry risk tolerance will be for multiyear relief contracts, given the way bullpens in general have blown up this year. Tanner Roark, Kyle Gibson and Michael Pineda are the next-best starters approaching free agency (though Pineda will have to serve the final 39 games of his current suspension).