A little rain can't keep eager Rays from field
Chirinos, Faria and prospect Poche immediately impress Cash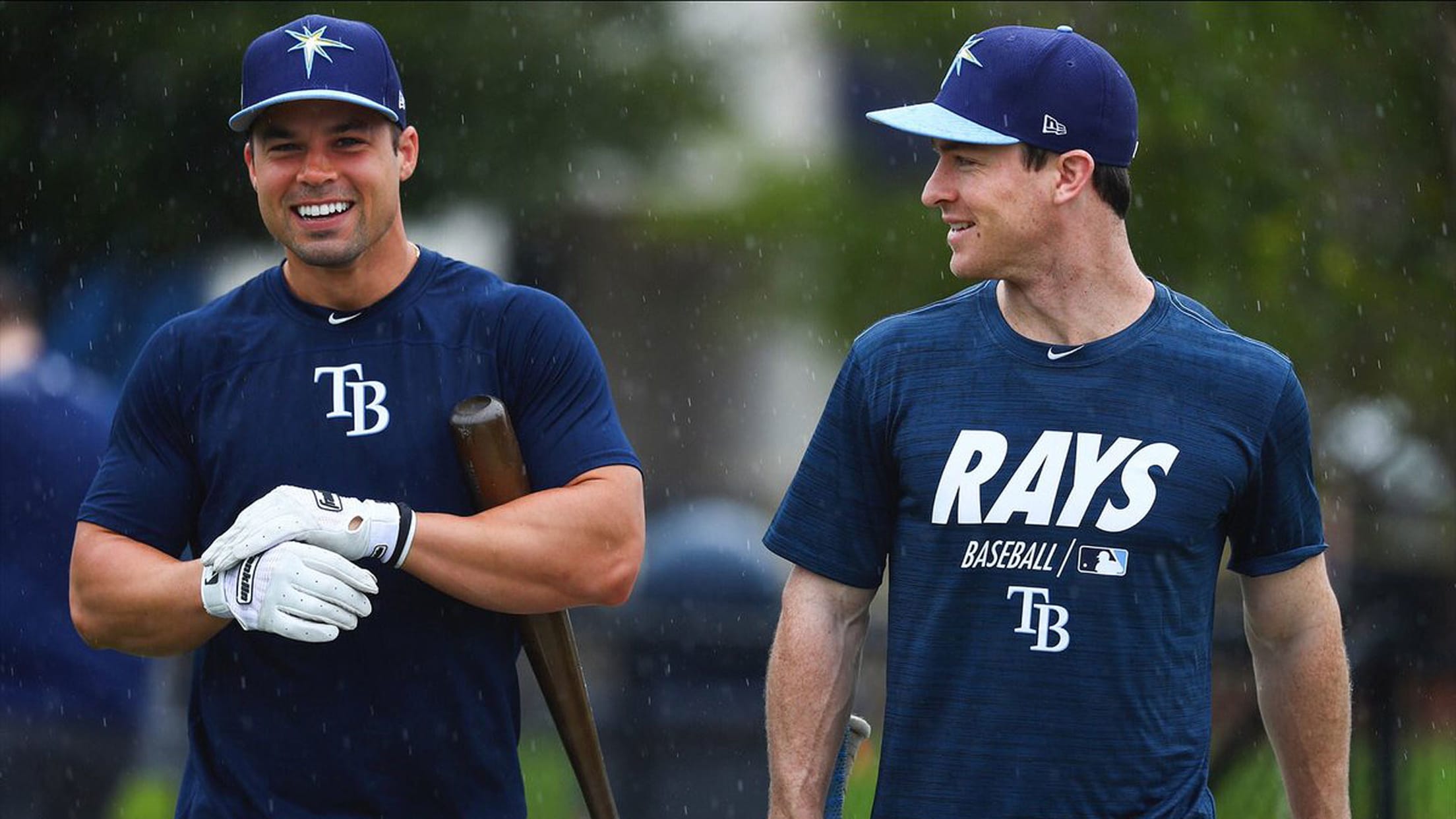 PORT CHARLOTTE, Fla. -- A rainy morning didn't stop the Rays' pitchers and catchers from officially taking the field Wednesday."Other than the pitchers getting out there and getting in their legs a little bit and running some of the more casual pitchers' fielding practice drills], everything is fine," manager Kevin
PORT CHARLOTTE, Fla. -- A rainy morning didn't stop the Rays' pitchers and catchers from officially taking the field Wednesday.
"Other than the pitchers getting out there and getting in their legs a little bit and running some of the more casual [pitchers' fielding practice drills], everything is fine," manager Kevin Cash said.
:: Spring Training coverage presented by Camping World ::
With the rain, the Rays' pitchers took to the batting cages to get their first official bullpen session of the spring. Tyler Glasnow, Yonny Chirinos, Ryne Stanek, Ryan Yarbrough and Colin Poche were among the 15 pitchers who were scheduled for a bullpen session on Wednesday.
Of the group, Cash said Chirinos was one of the players who stood out.
"He was really crisp," Cash said. "He commanded the baseball really well. I watched his changeup, his slider, and obviously his fastball was dive-bombing. He really looked kind of like in midseason form."
It rained baseball today. #SpringRays pic.twitter.com/g4fBEC2twj

— Tampa Bay Rays (@RaysBaseball) February 14, 2019
Jake Faria was also one of the participants, and he's one of the players looking for a bounceback season in 2019. Cash said Faria was one of the standouts from Wednesday's session as well.
"He commanded the ball really well," Cash said. "[Pitching coach Kyle Snyder] said that when he went out and saw him in Vegas, that it was a very encouraging session. It's good to see that he picked up from that."
Despite the rainy day, Rays players were excited to get back out on the mound. Even though position players aren't required to be here for another five days, there has been a good showing, highlighted by Joey Wendle, Willy Adames, Austin Meadows and Matt Duffy.
• Spring brings vet leaders for blossoming Rays
"It's exciting," Glasnow said. "It's kind of like summer vacation when you're a little kid. You're like, 'Oh, I love summer vacation.' But after a while you're like, 'OK, it's time for school. I'm bored.' It's cool to see everyone that you haven't seen in a while and getting in that game intensity."
Today's workouts on the back fields have been rained out...

Where's the dome when you need it?#SpringRays pic.twitter.com/o9XgMzFKWD

— Tampa Bay Rays (@RaysBaseball) February 13, 2019
Poche impresses
One of the storylines of the spring will be how Poche, the team's No. 24 prospect according to MLB Pipeline, performs during camp and games.
Poche, who had 110 strikeouts in just 66 Minor League innings last season, is looking to show enough to make the Opening Day roster out of the bullpen. Wednesday was the first time Cash was able to watch Poche throw a bullpen session, and he came away very impressed.
"Today I sat behind him, and you see that something is different," Cash said. "He really hides the ball really well, and when it comes out, he has a lot of that elite pitch action to the fastball."
Cash said that Poche and Snyder have talked about introducing a split finger this spring, and possibly a forkball. The most important aspect, however, is to keep Poche comfortable and allow him to continue to improve on what has made him successful.
"I was going to joke around with him that he needed to do 'this' better, and I was like, 'Forget it, man,'" Cash said. "'Whatever you did [last year], I can't wait to see it.'"
Injury update
While the Rays enter camp with a mostly healthy roster, one player who will have to wait a few days before getting out on the mound is right-handed reliever Chaz Roe.
"He's going to miss a little bit," Cash said. "He got pretty sick and cut some weight, and then he kind of tweaked his back a little bit."
Cash said that the injury won't impact Roe's throwing schedule, as the team was going to wait a couple of extra days before giving Roe a bullpen session.
"I anticipate that he'll be ready to go in two or three days," Cash added.
** Juan Toribio ** covers the Rays for MLB.com. Follow him on Twitter @juanctoribio.