Check out Reds HS Showcase schedule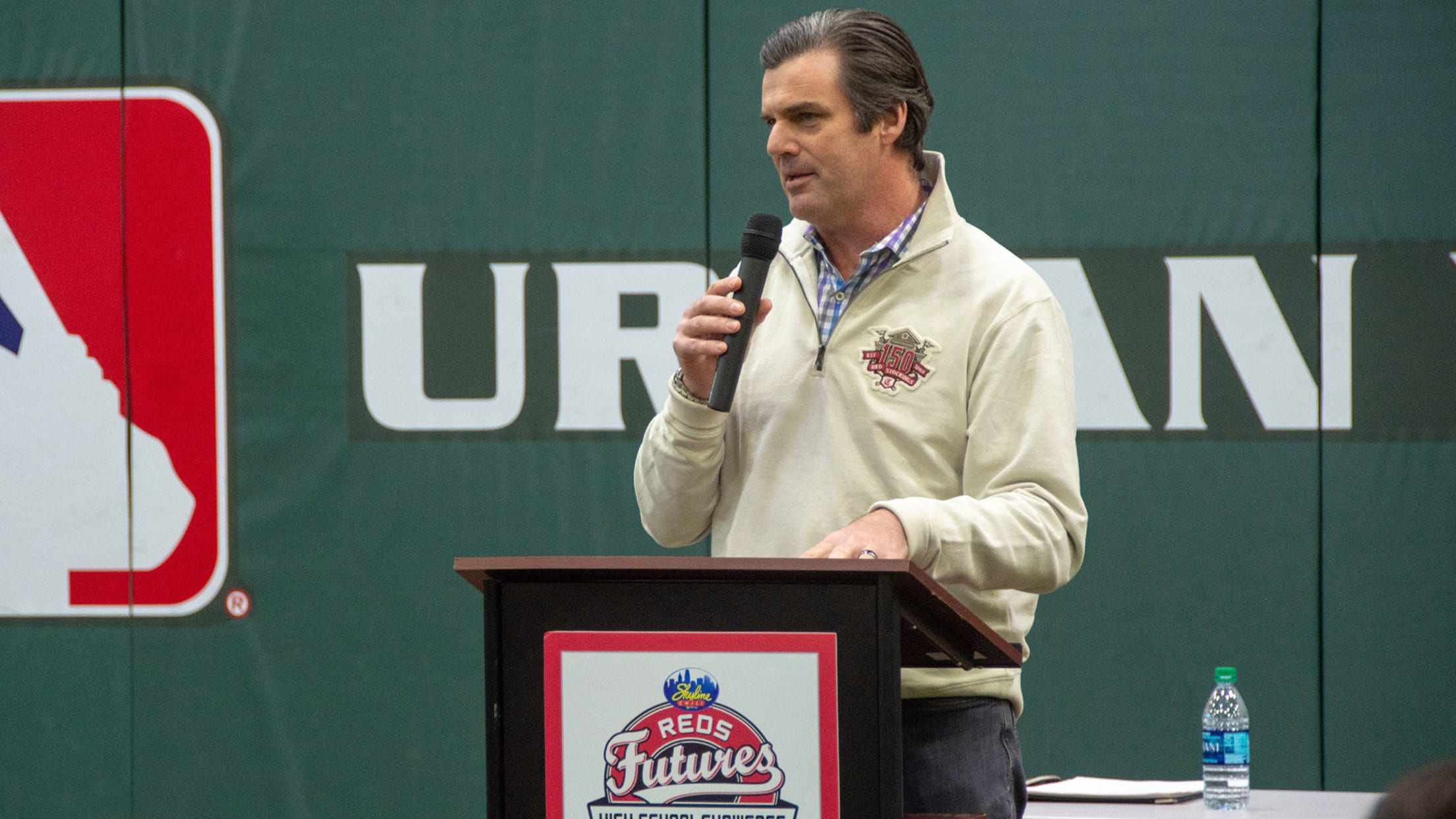 CINCINNATI (March 6, 2019) -- The eighth annual Skyline Chili Reds Futures High School Showcase presented by Cincinnati Children's Sports Medicine & Orthopaedics will feature 91 high school baseball and softball teams from Greater Cincinnati, Northern Kentucky and Dayton playing 46 games from April 6 to May 1, 2019. The
CINCINNATI (March 6, 2019) -- The eighth annual Skyline Chili Reds Futures High School Showcase presented by Cincinnati Children's Sports Medicine & Orthopaedics will feature 91 high school baseball and softball teams from Greater Cincinnati, Northern Kentucky and Dayton playing 46 games from April 6 to May 1, 2019.
The Showcase kicks off with Opening Weekend at the Reds Youth Academy featuring six baseball games on April 6 and three softball games on April 7.
• Saturday, April 6:
Moeller vs. Upper Arlington, noon
Clark Montessori vs. Walnut Hills, 3 p.m.
Anderson vs. Summit Country Day, 1 p.m.
Boone County vs. Cooper, 4 p.m.
Goshen vs. Princeton, 11 a.m.
Reading vs. Roger Bacon, 2 p.m.
• Sunday, April 7:
Fairfield vs. Milford, 10 a.m.
Lebanon vs. Mason, 1 p.m.
Mt. Notre Dame vs. Ursuline Academy, 4 p.m.
With FOX Sports Ohio's Brian Giesenschlag emceeing, the official announcement was made during an event held at the P&G MLB Cincinnati Reds Youth Academy. Reds president and chief operating officer, Phil Castellini, executive director of the Reds Community Fund, Charley Frank, and In-Game Sports President High School Showcase organizer, Tom Gamble, were on hand for the ceremony. Former Reds pitcher Tom Browning was also in attendance.
"We had a lot of strategies about kids and baseball and I think our focus early on was really getting the kids to start playing the game," Castellini said. "Collaborating with high school programs was not something in the early part of our strategy. So when Tom [Gamble] brought this to us after successfully proving the model in football, it was no-brainer. I can't tell you how pleased we are that he did that, because the connections that we've made, and having you all get engaged and come to the ballpark is a critical part of what we do in baseball."
For the second year in a row, the Showcase will celebrate Jackie Robinson Day by hosting teams from seven Cincinnati Public Schools (Aiken, Gamble Montessori, Hughes, Oyler, Riverview East, Shroder and Woodward) playing baseball and softball games at the Reds Youth Academy on April 13. Players will wear "42" jerseys in honor of Robinson, who would have turned 100 years old in 2019.
"It's remarkable how this event has grown in eight years," Frank said. "From the addition of Big League Weekend at the ballpark, to the inclusion of girls softball, to a larger regional presence, the Showcase continues to dramatically raise the profile of high school baseball and softball. The latest addition, the Jackie Robinson Day games, provides urban high schools with another layer of involvement and connection, as each player and coach will feature a custom '42' jersey in their team colors. All of these elements reiterate why this series is already one of the most important programs supported by the Reds and the Reds Community Fund."
Games will be played at five regional collegiate fields including UC's Marge Schott Stadium, Xavier's Hayden Field, Miami's McKie Field at Hayden Park, NKU's Bill Aker Baseball Complex and Wright State's Nischwitz Stadium.
Ten teams will play at Great American Ball Park during the annual "Big League Weekend":
• Friday, April 26:
McNicholas vs. Newport Central Catholic, 5 p.m.
Beechwood vs. Highlands, 8 p.m.
• Saturday, April 27:
Centerville vs. Milford, 10 a.m.
Edgwood vs. Harrison, 1 p.m.
Loveland vs. St. Xavier, 4 p.m.
Beechwood High School is leading the early charge for this year's Big League Weekend. The school has already sold over 1,000 tickets to its game against Highlands, who advanced to the Kentucky state championship last season.
"I asked the seniors when I first learned of the opportunity we might have to play in Big League Weekend," Beechwood head baseball coach Kevin Gray said. "The players all told me it would be a dream come true to have the chance to play on the same field, be in the same dugouts as the guys who have been their idols while growing up in baseball.
"They were ecstatic then and they still are. They talk about Big League Weekend all the time. It is one reason why we sold so many tickets so fast. I told them if we do well, it will be hard for them not to let us come back."
Players and coaches from the 91 teams will be invited to GABP on Sunday, May 5, to participate in a "March at the Majors" parade around the field prior to the Reds' game vs. the San Francisco Giants. MVP's from the games will be recognized on the field during pregame ceremonies, compliments of MSA Sport.
"We could have done this without the Reds -- but nowhere near what it has become," Gamble said. "They don't only talk a good game, they play one. They are the driving force behind this event. So, thank you to the Cincinnati Reds for making this happen."
Showcase tickets are $5 each and available in advance of the event at participating schools. Tickets also are available at the scheduled ballpark on game days. With each ticket purchased, fans will receive a voucher good for one free View Level ticket to a select 2019 Reds game and a coupon good for one free Skyline Chili Cheese Coney at participating restaurants, while supplies last.
Visit reds.com/HSShowcase for additional information and a full schedule, including updates.