Inbox: When will Rox call on McMahon?
Beat reporter Thomas Harding answers questions from fans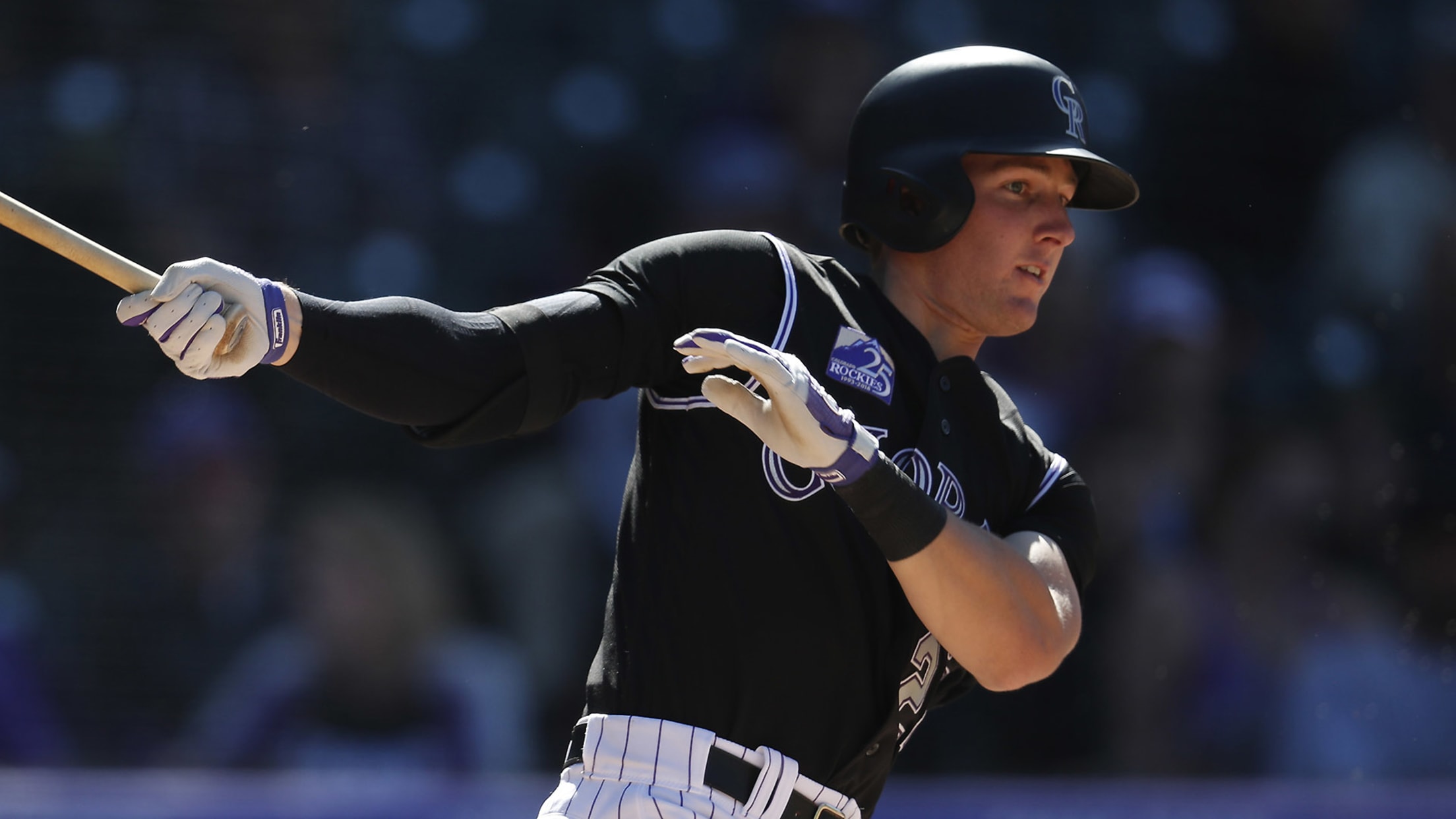 Colorado Rockies third baseman Ryan McMahon (24) in the eighth inning of a baseball game Wednesday, April 25, 2018, in Denver. The Rockies won 5-2. (AP Photo/David Zalubowski) (David Zalubowski/AP)
DENVER -- Before jumping into the latest questions from fans, let's take time to congratulate righty pitcher Chad Bettis. Today he is one year cancer-free.
DENVER -- Before jumping into the latest questions from fans, let's take time to congratulate righty pitcher Chad Bettis. Today he is one year cancer-free.
@harding_at_mlb what will it take for guys like Patterson, Tapia, McMahon to get a shot where some veterans are underperforming?

— Adam I (@roxfan07) May 15, 2018
I'll start with Ryan McMahon. This is what happened Tuesday night:
#Rockies No. 2 prospect Ryan McMahon homers twice using a bat he borrowed from @ABQTopes teammate Mike Tauchman. https://t.co/stkDTAg4Xf pic.twitter.com/WM2EW8Fnqd

— Minor League Baseball (@MiLB) May 16, 2018
But there is more to the story than the two home runs.
On Sunday, the day Rockies second baseman DJ LeMahieu suffered a left thumb injury that has him on the 10-day disabled list and seeking opinions on the severity of the injury, McMahon played first base and second base at Albuquerque. He played second in the two games since.
The Rockies called up Pat Valaika on Monday to fill LeMahieu's roster spot, and Daniel Castro was called up earlier. But the hope for Valaika is the brief time in Triple-A helped him make adjustments that would make him an effective bench player, the way he was last year. Castro is hitting .148 in nine games, including seven starts. He has been dazzling as a defender, but it's a tough fit on a good defensive infield.
:: Submit a question to the Rockies Inbox ::
So while fans are clamoring for McMahon to take over at first base for Ian Desmond, it may make more sense to reinsert him at second -- if he is ready for the pinpoint control of Major League pitching. He wasn't quite there during his .180 start before he was optioned May 1. But if that happens, McMahon could have ample chance to hit and force playing-time decisions when LeMahieu returns.
In 13 Triple-A games, McMahon is hitting .255. But since a 1-for-14 start in his first three games, he is hitting .333 with three doubles, the two homers and 10 RBIs, with nine strikeouts against three walks. He has a .925 OPS.
Tuesday's homers came off Las Vegas righty Vance Worley, who has thrown 163 Major League games as a starter and a reliever, so it's a reasonable competition level. Is it time?
What would the Rockies do with the Desmond situation

— Tyler Ray (@TylerRay78) May 16, 2018
The common criticism is the Rockies are playing Desmond strictly because of the $22 million due this year and a five-year, $70 million contract that's in its second year.
Certainly the money has something to do with it, but consider that the Rockies are paying Carlos Gonzalez and Gerardo Parra way more than David Dahl. And the pattern of starting Dahl mostly against right-handers but not removing him for Noel Cuevas when a lefty reliever comes in tells me the Rockies are taking steps toward making Dahl (.298/.355/.509) a regular. When it all shakes out, Gonzalez and Parra will either be part of a rotation, or one of them will be a starter and one will be a left-handed late-game bat.
Back to Desmond. In 2016 with the Rangers, his slash line was .322/.375/.524 in the first half, .237/.283/.347 in the second. The previous year with the Nationals, it was .276/.321/.454 the first half, .195/.261/.320 the second. While this year the problem is at the start, there at least is evidence that he is as capable of being as hot for a period as he is cold now.
You can argue that a big contract for a streaky player is risky, and have your point.
If McMahon shows he can hit big league pitching, then there is a playing-time argument. The criticism is McMahon didn't play enough when he was up the first time. But Valaika last year and Cuevas so far this year have shown that a young player with limited time can contribute.
Look at pitcher Jon Gray. The Rockies could have called him up in reaction to rotation issues in the middle of 2016, but they didn't make the call until August, when he had learned what he needed in the Minors. They may have miscalculated that McMahon was ready to start the season, but he could be ready at the next opportunity.
An intriguing suggestion: trade with the rebuilding White Sox for Jose Abreu. The Rockies last year addressed bullpen and catching needs at the non-waiver Trade Deadline, so there isn't a reluctance to fix a weakness.
But there are hurdles, namely the White Sox have never liked the Rockies' trade offers in previous talks, and they've succeeded in cleaning up with prospects in other deals.
with Tom and Raimel raking in AAA, who do you think will get the call up first? and when!?

— stgeorgeute- '18 p12 south 🏆 '19 preseason 🏆 (@STGeorgeUte) May 16, 2018
Both are an injury away. I'd say Tom Murphy is closer, because all that's necessary is a foul tip gone awry, and he'll share duties with the remaining catcher. It looks like the Rockies are preparing Raimel Tapia to start -- much the way they looked at Dahl.