All-Star Salvy's reputation speaks for itself
Catcher to make fifth consecutive All-Star start despite 'difficult' season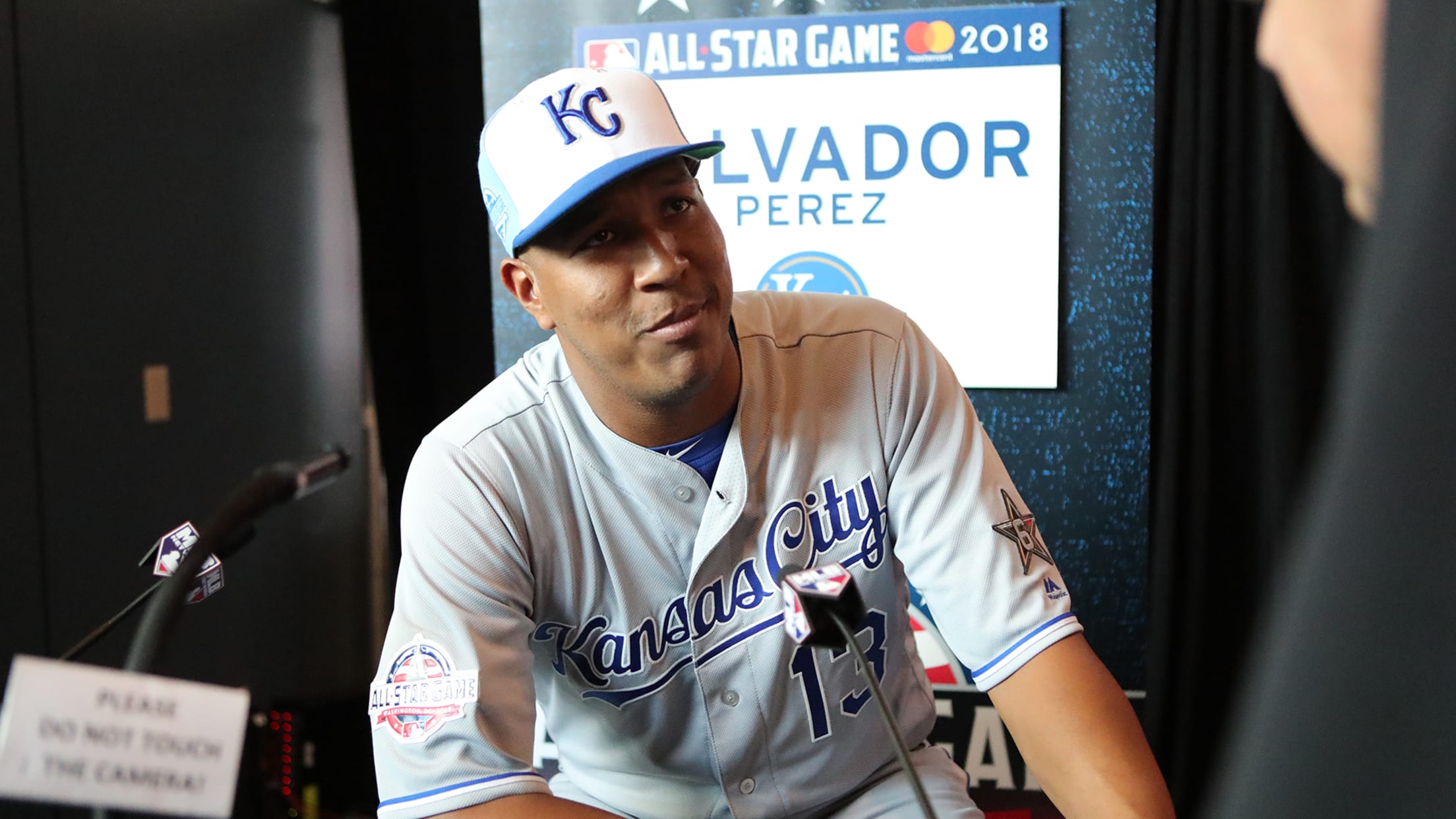 Royals catcher Salvador Perez wasn't expecting another All-Star selection. He knows he is not having a productive offensive season.Perez is hitting .221 with 13 home runs and 41 RBIs. His .653 OPS is well below his career average of .736.Yet Perez is so respected by his peers and league coaches
Royals catcher Salvador Perez wasn't expecting another All-Star selection. He knows he is not having a productive offensive season.
Perez is hitting .221 with 13 home runs and 41 RBIs. His .653 OPS is well below his career average of .736.
Yet Perez is so respected by his peers and league coaches that he was voted into his sixth consecutive All-Star Game. And because of an injury to his good friend, Tampa Bay's Wilson Ramos, he will make his fifth straight All-Star start. That's a starting streak that hasn't happened in All-Star history since Hall of Famer Ivan Rodriguez started from 1993-2001.
:: Complete All-Star Game coverage ::
"It just shows you what his reputation is," Royals second baseman Whit Merrifield said last week. "He's earned it."
Royals manager Ned Yost agreed.
"That's how special he is, how good he is," Yost said Sunday. " Five straight [starts in] All-Star Games and this is his sixth overall. I knew the minute I saw him this kid was going to be an All-Star. He had just been in A-ball the year before. It shows you really how special of a player he is, to do this year in and year out."
But 2018 has been a different type of season for Perez. Defensively he remains sound, throwing out 43 percent of would-be base stealers. But offensively, this is not the Perez anyone is used to seeing.
Many theories have bounced around as the reason behind Perez's struggles. His team, in the infant stages of a major rebuild, is struggling mightily. The Royals' 27-68 record is the worst in baseball. And it's the team's worst start in franchise history.
Perez has been known throughout his career as a high-energy player. And he's playing on a team now that has appeared mostly lifeless. The effect on Perez has been noticeable, though he isn't making excuses.
"It's been difficult at times, but there are some things you can't control," Perez said Monday, "so you focus on controlling the things you can, like getting to the stadium, working hard and when it's time to play ball, you play as hard as you can and help the team win. It's not so much the focus [during the tough season], because you can concentrate under any circumstances. It's about doing your job and trying to help your team, that's all I'm trying to do."
Perez, like the rest of the team, experienced a major slump through May and June. From May 2 to July 7, Perez hit .196 with a .240 on-base percentage.
Yet Perez is thrilled for a chance once again to play on a national stage in the 2018 All-Star Game presented by Mastercard, Tuesday on FOX at 7:30 p.m. ET.
"It's fun, from the first [All-Star Game] to [now], it's going to be fun," Perez said. "It's family time, you and the best players in the world, you know? And the feeling of being teammates for a few days, it's fun for me."
If there are any reservations to being named to another starting assignment, it's that Perez will be replacing Ramos, a close friend who suffered an injury over the weekend that will keep him out of the contest.
"I know him a lot, we're from the same city," Perez said. "He's a little bit older than me. We live close in Venezuela, in [the city of] Valencia. When they played at home this year, they went to my house [in Florida] for dinner. We're pretty close."
While watching the 2018 All-Star Game presented by Mastercard live on FOX on Tuesday, fans can submit their choices for the Ted Williams Most Valuable Player Award presented by Chevrolet with the 2018 All-Star Game MLB.com MVP Vote.
The 89th Midsummer Classic, at Nationals Park in Washington, D.C., will be televised nationally by FOX Sports; in Canada by Rogers Sportsnet and RDS; and worldwide by partners in more than 180 countries. FOX Deportes will provide Spanish-language coverage in the United States, while ESPN Radio and ESPN Radio Deportes will provide exclusive national radio coverage of the All-Star Game. MLB Network, MLB.com and SiriusXM also will provide comprehensive All-Star Week coverage.
For more information about MLB All-Star Week and to purchase tickets, visit AllStarGame.com and follow @MLB and @AllStarGame on social media.