Pipeline Preview: Romero looks to continue torrid second half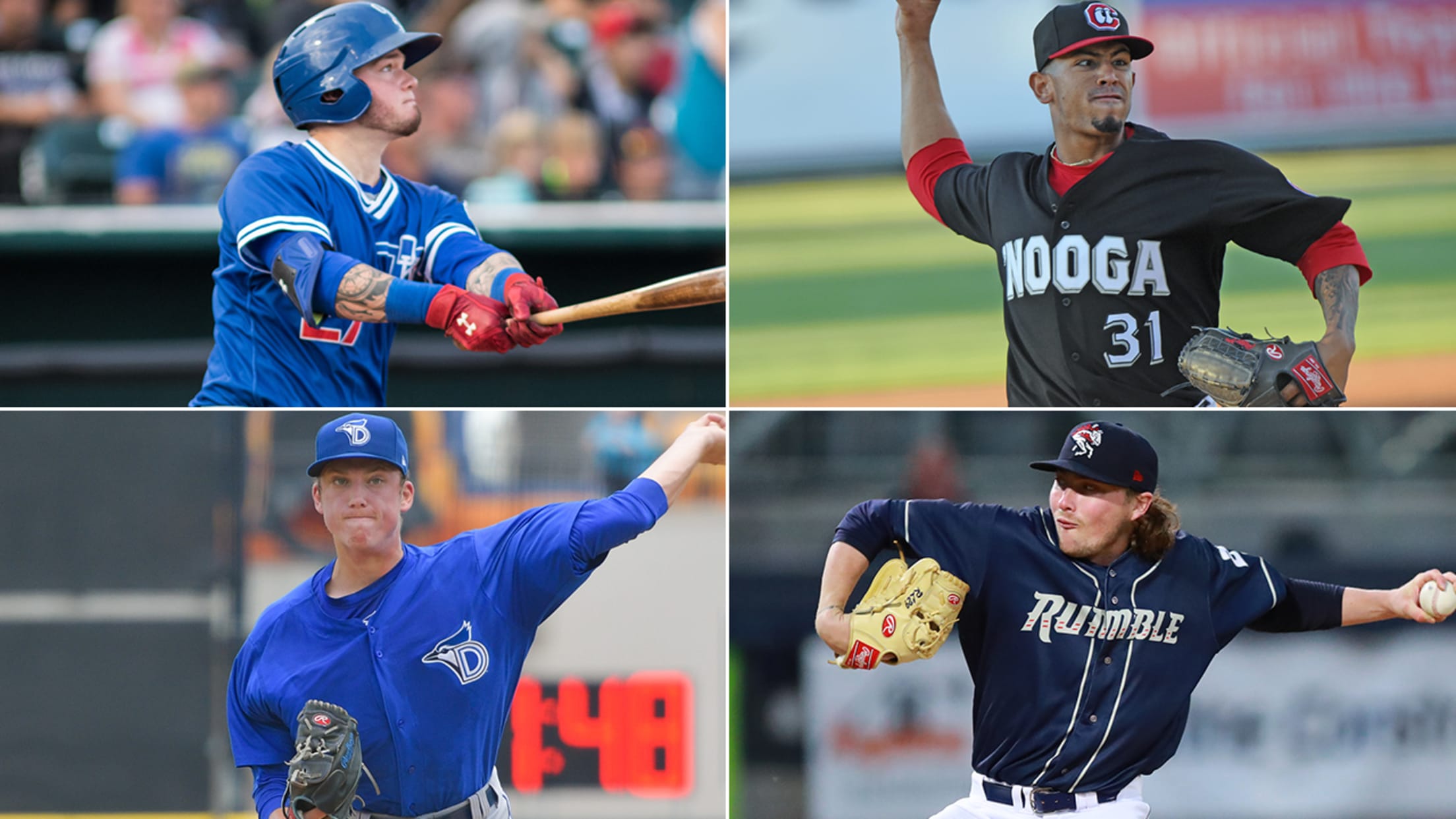 Here's a look at top prospects to watch in today's Minor League action:Hitter to watch: Alex Verdugo (Dodgers' No. 2), Oklahoma City vs. Reno (8:05 p.m. ET on MiLB.TV)Verdugo, the No. 28 overall prospect, will look to get back on track after taking the day off on Thursday. Verdugo, who
Here's a look at top prospects to watch in today's Minor League action:
Hitter to watch: Alex Verdugo (Dodgers' No. 2), Oklahoma City vs. Reno (8:05 p.m. ET on MiLB.TV)
Verdugo, the No. 28 overall prospect, will look to get back on track after taking the day off on Thursday. Verdugo, who went 0-for-5 on Wednesday, is hitting .239 through 17 games this month, but despite those struggles, he still has an impressive stat line overall. The 21-year-old is slashing .328/.401/.446 through 89 games in his first taste of Triple-A ball.
Pitcher to watch:Fernando Romero (Twins' No. 4), Chattanooga vs. Birmingham (7:15 p.m. ET)
Romero, the No. 83 overall prospect, has been lights-out in the second half, going 3-1 with a 1.24 ERA through six starts. The 22-year-old has held his opponent scoreless in four of those outings, including his most recent turn in which he gave up just three hits over five innings. While Romero has been excellent recently, his first half wasn't bad either, and he enters Friday's start with a 2.68 ERA through 19 games (18 starts).
Duel of the Day:Ryan Borucki (Blue Jays' No. 13) vs. P.J. Conlon (Mets' No. 25), New Hampshire vs. Binghamton (7:05 p.m. ET on MiLB.TV)
Borucki will be making his second start with New Hampshire after a promotion from Class A Advanced Dunedin, where he went 6-5 with a 3.58 ERA through 19 appearances. The lefty will be looking for a repeat performance as he was nearly unhittable in his Double-A debut, when he yielded just two hits across seven scoreless frames.
Conlon is also coming off a strong outing as he gave up just one run in 6 1/3 innings in his most recent start. Conlon has allowed one earned run or fewer in three of his past four starts and has won each of his past two decisions. Overall, the 23-year-old is 7-7 with a 3.68 ERA through 19 starts this season.
Friday's Top 100 prospect probables
No. 46 overall Franklin Perez (Astros' No. 3), Corpus Christi vs. Midland (8:05 p.m. ET on MiLB.TV)
No. 48 overall Jay Groome (Red Sox's No. 2), Greenville vs. Charleston (7:05 p.m. ET)
No. 96 overall Luiz Gohara (Braves' No. 8), Mississippi vs. Jacksonville (8 p.m. ET on MiLB.TV)
More top prospect probables
Christopher Johnson (Red Sox's No. 15) Pawtucket vs. Indianapolis (Triple-A)
Gabrial Ynoa (Orioles' No. 24), Norfolk vs. Columbus (Triple-A)
Ben Lively (Phillies' No. 27), Lehigh vs. Durham (Triple-A)
Rookie Davis (Reds' No. 21), Louisville vs. Buffalo (Triple-A)
Jen-Ho Tseng (Cubs' No. 15), Iowa vs. El Paso (Triple-A)
Adbert Alzolay (Cubs' No. 4), Tennessee vs. Montgomery (Double-A)
David Hess (Orioles' No. 28), Bowie vs. Akron (Double-A)
Tyler Alexander (Tigers' No. 10), Erie vs. Richmond (Double-A)
Grayson Long (Angels' No. 9), Mobile vs. Jackson (Double-A)
Spencer Adams (White Sox No. 16), Birmingham vs. Chattanooga (Double-A)
Freddy Peralta (Brewers' No. 11), Biloxi vs. Pensacola (Double-A)
Joey Lucchesi (Padres' No. 9), San Antonio vs. Frisco (Double-A)
Sandy Alcantara (Cardinals' No. 10), Springfield vs. Northwest Arkansas (Double-A)
Josh Staumont (Royals' No. 10), Northwest Arkansas vs. Springfield (Double-A)
Justin Dunn (Mets' No. 4), St. Lucie vs. Bradenton (Class A Advanced)
Franklyn Kilome (Phillies' No. 9), Clearwater vs. Daytona (Class A Advanced)
Ian Clarkin (White Sox No. 24), Winston-Salem vs. Lynchburg (Class A Advanced)
Jonathan Hernandez (Rangers' No. 18), Down East vs. Buies Creek (Class A Advanced)
A.J. Puckett (Royals' No. 13), Wilmington vs. Carolina (Class A Advanced)
Marcos Diplan (Brewers' No. 15), Carolina vs. Wilmington (Class A Advanced)
Cody Sedlock (Orioles' No. 12), Frederick vs. Salem (Class A Advanced)
Peter Lambert (Rockies' No. 5), Lancaster vs. San Jose (Class A Advanced)
Gregory Soto (Tigers' No. 9), West Michigan vs. Fort Wayne (Class A)
Michael Matuella (Rangers' No. 21), Hickory vs. Lakewood (Class A)
Mack Lemieux (D-backs' No. 28), Kane County vs. Beloit (Class A)
Corbin Martin (Astros' No. 20), Tri-City vs. Staten Island (Class A Short Season)
Jackson Tetreault (Nationals' No. 19), Auburn vs. West Virginia (Class A Short Season)
Spencer Howard (Phillies' No. 23), Williamsport vs. Mahoning Valley (Class A Short Season)
Brian Shaffer (D-backs' No. 30), Hillsboro vs. Eugene (Class A Short Season)
Daniel Tillo (Royals' No. 22), Burlington vs. Kingsport (Rookie)
Alvara Seijas (Cardinals' No. 21), Johnson City vs. Danville (Rookie)
Cole Duensing (Angels' No. 21), Orem vs. Idaho Falls (Rookie)