Braves turn to fresh ace after lopsided affair
Wilson, bullpen roughed up; Atlanta held to Flowers' HR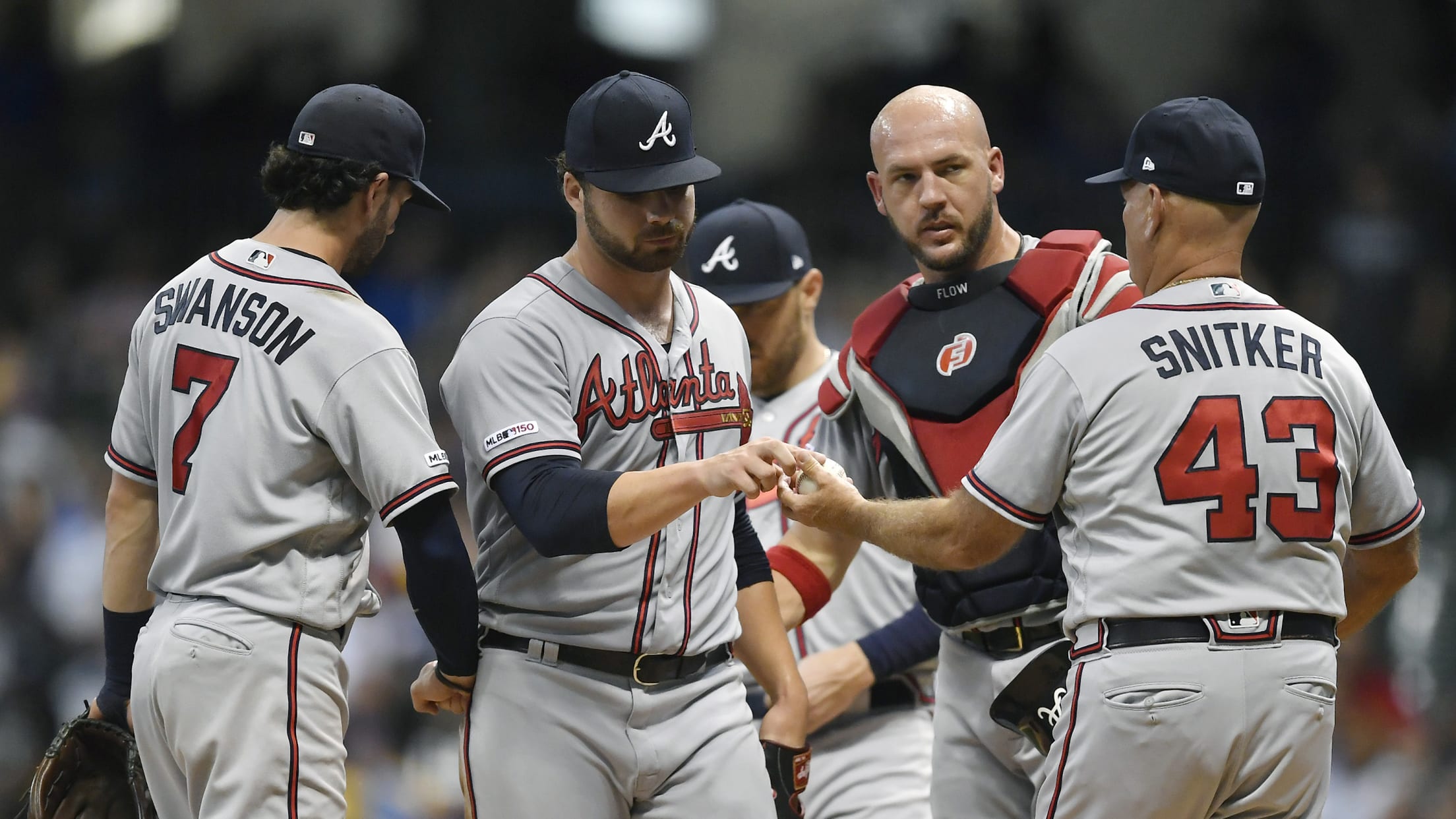 MILWAUKEE -- With a series against the Brewers on the line, the Braves consider themselves fortunate to have Dallas Keuchel on board. After a 13-1 loss to Milwaukee on Tuesday night, the Braves can still win the three-game series with Keuchel starting the rubber game on Wednesday afternoon at Miller
MILWAUKEE -- With a series against the Brewers on the line, the Braves consider themselves fortunate to have Dallas Keuchel on board.
After a 13-1 loss to Milwaukee on Tuesday night, the Braves can still win the three-game series with Keuchel starting the rubber game on Wednesday afternoon at Miller Park.
"I'm glad we won yesterday because now we've got a chance to still win the series," Braves manager Brian Snitker said. "That's what we'll be shooting for tomorrow."
Atlanta, which lost for the first time since the All-Star break, is 20 games above .500 at 58-38 and 9-0-1 in its past 10 series. The Braves have not lost a series since June 4-6, dropping two of three at Pittsburgh.
Keuchel, who was an unsigned free agent until joining Atlanta on June 7, will be making is sixth start for the Braves.
Despite missing more than two months this season, the former Cy Young winner has quickly rounded into shape, lasting at least seven innings in each of his past three starts. Over that span, Kuechel has a 2.11 ERA.
"It's good because he's conditioned to go deep into the game and we stayed away from a lot of [bullpen] guys that we wanted to stay away from tonight and got them an extra day, so we're in good shape tomorrow," Snikter said.
The Braves had no answer Tuesday night against Brandon Woodruff. Tyler Flowers' solo homer accounted for the only run off the All-Star right-hander as the Braves saw their five-game winning streak snapped.
Against Woodruff (11-3) over 6 2/3 innings, the Braves managed just four singles aside from Flowers' eighth home run to open the fifth, which cut the lead to 3-1.
"I knew coming into tonight, we'd have all we could handle with who they had pitching," Snitker said. "Your guy can't make mistakes, you've got to keep the game manageable, and hopefully he gets his pitch count going and you get in the bullpen, because he's really, really good."
Bryse Wilson, called up earlier Tuesday from Triple-A Gwinnett, allowed four runs on six hits in four-plus innings, walking three and striking out one. The Braves' bullpen, which entered with an NL-best 3.74 ERA, was rocked for nine runs over the final four innings.
Wilson allowed a solo homer to rookie Keston Hiura in the second inning and two more runs in the third on three hits and a walk. Wilson exited after walking two more to start the fifth.
"I battled well. Obviously didn't throw as many strikes as I wanted too," Wilson said. "They weren't bad misses. I had three walks, but they were competitive walks. I battled really well against a really good team, so I can't be too upset about it."
Hard-throwing rookie Huascar Ynoa, who pitched two scoreless innings in his debut in his first callup in June, came on in the eighth and allowed four consecutive hits to open the inning. Christian Yelich, the reigning National League MVP, capped the six-run inning with a grand slam, his 33rd homer of the season.
Keuchel said he has been encouraged by his progress.
"The fastball command has been ticking up there better and better," Keuchel said before Tuesday's game. "I think I'm almost back. Last start was, I would say, A-minus. I just kind of want to kind of crisp up the changeup and the slider."
Keuchel has been a good fit, both on the field and in the clubhouse, Snitker said.
"He's one of those guys, he takes the mound and expects to get the 27 outs," Snitker said. "It's fun to watch him pitch. Just how he never stops pitching, situations don't faze him. He's been good for our club."