Thursday's top prospect performers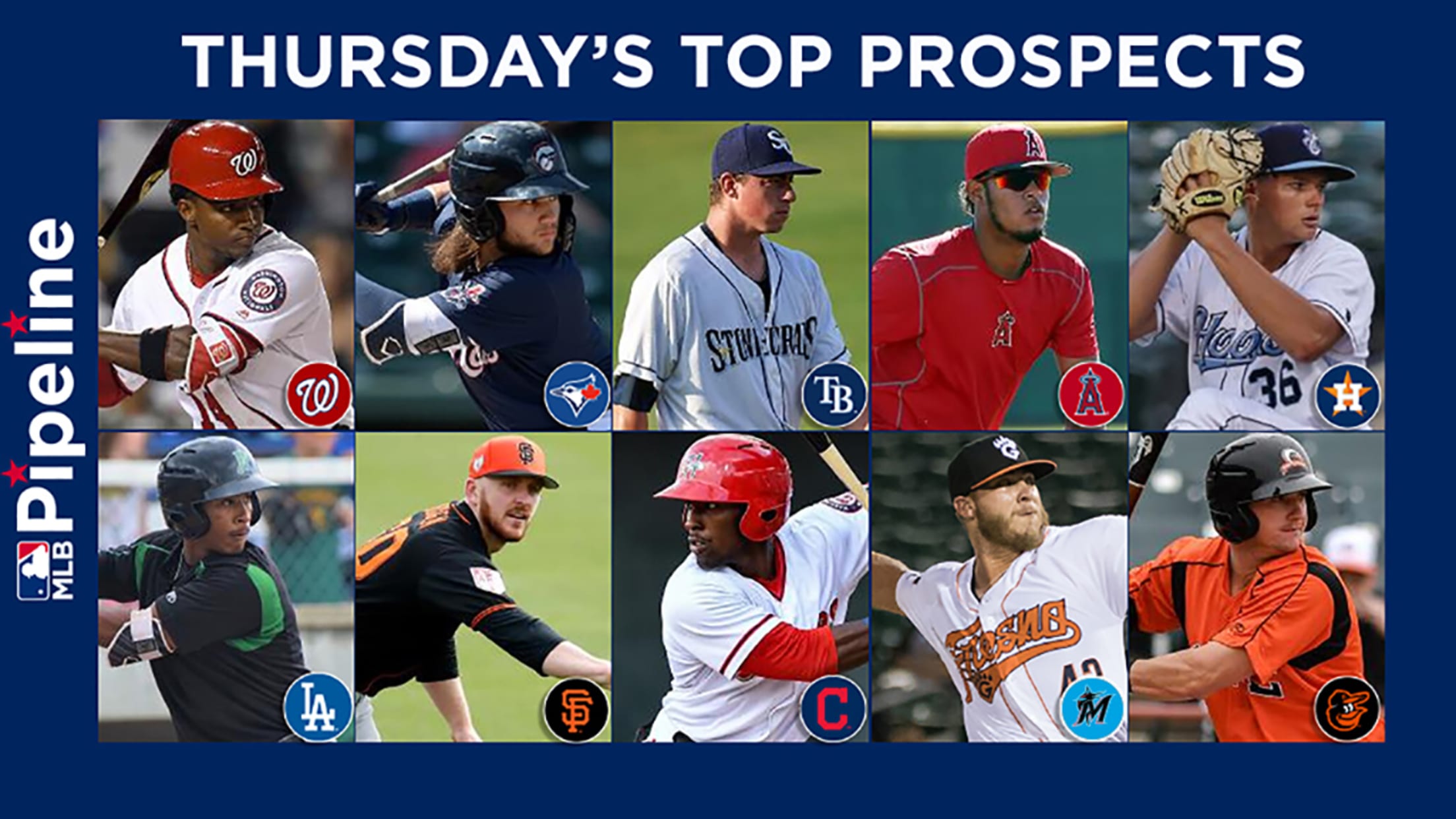 Victor Robles showed exactly why he's the Nationals' No. 1 prospect (No. 4 in MLB), and more importantly the type of impact he can have atop the lineup, in Washington's 10-4 win over the Twins on Thursday. Robles led off the game with a base hit and scored the first
Victor Robles showed exactly why he's the Nationals' No. 1 prospect (No. 4 in MLB), and more importantly the type of impact he can have atop the lineup, in Washington's 10-4 win over the Twins on Thursday.
Robles led off the game with a base hit and scored the first run on Jake Noll's double, three batters later. In the second inning, Robles flashed some of his power, blasting a no-doubt homer out to left field, the highlight of his 2-for-4, two-RBI day.
The 21-year-old figures to be a key contributor for the Nationals this season now that he's recovered from the hyperextended left elbow that cost him the vast majority of his 2018 season.
Thursday's performance was just the latest in several strong games for Robles, who has hit the ball well all spring. Robles is hitting .375 through 32 at-bats and has stolen five bases to go along with his two homers.
Here's how other top prospects performed on Thursday:
• No. 11 overall prospect Bo Bichette (Blue Jays' No. 2) has been impressive all spring. The 21-year-old went 1-for-1 with a walk against the Yankees, but it's the totality of his performance that has been noteworthy. Bichette has homered four times -- including two on Sunday -- in 15 games and is hitting .406 with a 1.301 OPS.
• No. 29 overall prospect Brendan McKay (Rays' No. 3) is hitting a perfect 1.000 after singling in his first at-bat of Spring Training. This season will be an important one for McKay offensively. After hitting just .214 over 56 games in 2018, the Rays are moving McKay to DH and hoping his offense catches up with his pitching. On the mound McKay posted a 2.41 ERA and struck out 103 batters in 78 1/3 innings across three levels last season.
• Angels' No. 15 prospect Kevin Maitan, 19, showed a flash of his potential as he lined an RBI single to center in his first at-bat of Spring Training.
• Astros' No. 15 prospect Brandon Bielak lowered his ERA to 1.00 with two scoreless innings in a 12-6 loss to the Marlins. The 22-year-old right-hander has fared well in Spring Training, yielding one run and notching seven strikeouts across nine innings (four appearances).
• Dodgers' No. 8 prospect Jeter Downs got a bit of revenge as he went 2-for-4 with a double against the Reds, who dealt him to the Dodgers in late December. The two hits were also the first of the spring for Downs, who has had limited playing time and is 2-for-5 at the plate. Dustin May (Dodgers' No. 3) put together another strong performance on the mound. May, pitching against the Padres in a split-squad contest, struck out three over three scoreless innings and has yet to yield a run over six Spring Training innings.
• Giants' No. 30 prospect Travis Bergen extended his Spring Training scoreless streak to seven innings as he put another zero on the board. The right-hander, claimed from the Blue Jays in the Rule 5 Draft over the offseason, has been lights out all spring. Bergen has yet to allow a run in six appearances, has struck out six and has posted a 071 WHIP.
• Indians' No. 22 prospect Daniel Johnson continued his strong spring with a two-out grand slam in the Indians' 9-3 win over the Rockies. Johnson, who now has two homers in Spring Training, is hitting .259 and has also impressed the Indians with his speed and defensive versatility.
• Marlins' No. 20 prospect Riley Ferrell issued one walk, but otherwise cruised through a scoreless frame in a win over the Astros. Ferrell, a right-hander, struck out two and didn't surrender a run or a hit in his one inning on the mound. Ferrell has pitched in five games this spring and put together a 1.69 ERA with eight strikeouts over 5 1/3 innings.
• Orioles' No. 4 prospect Austin Hays has certainly been leaving a strong impression on Orioles brass this spring. Hays went 1-for-2 with a double, RBI and a walk against the Twins and now has an OPS of 1.279 in what's been a solid camp for the 23-year-old.
• Pirates' No. 9 prospect Kevin Newman boosted his average to .269 with a huge day at the plate in an 11-2 win over the Phillies. The 25-year-old began the day just 4-for-22 in spring but then went 3-for-4 with a double, homer and three RBIs.
• Red Sox's No. 12 prospect Durbin Feltman breezed through an inning in his Spring Training debut. The 21-year-old, a third-round pick from the 2018 Draft, struck out the first two batters he faced before issuing a walk to Gordon Beckham. However, Beckham was caught stealing to end the frame.
• Twins' No. 5 prospect Trevor Larnach, a first-round Draft pick in 2018, certainly made the most of his Spring Training debut as the 22-year-old outfield prospect went deep in his first at-bat. Larnach, who hit five homers in 42 games last season, was retired in his next trip to the plate and finished the day 1-for-2.