Johnson flashes 5-tool potential for Tribe
Moroff impressing at plate; Lindor fields grounders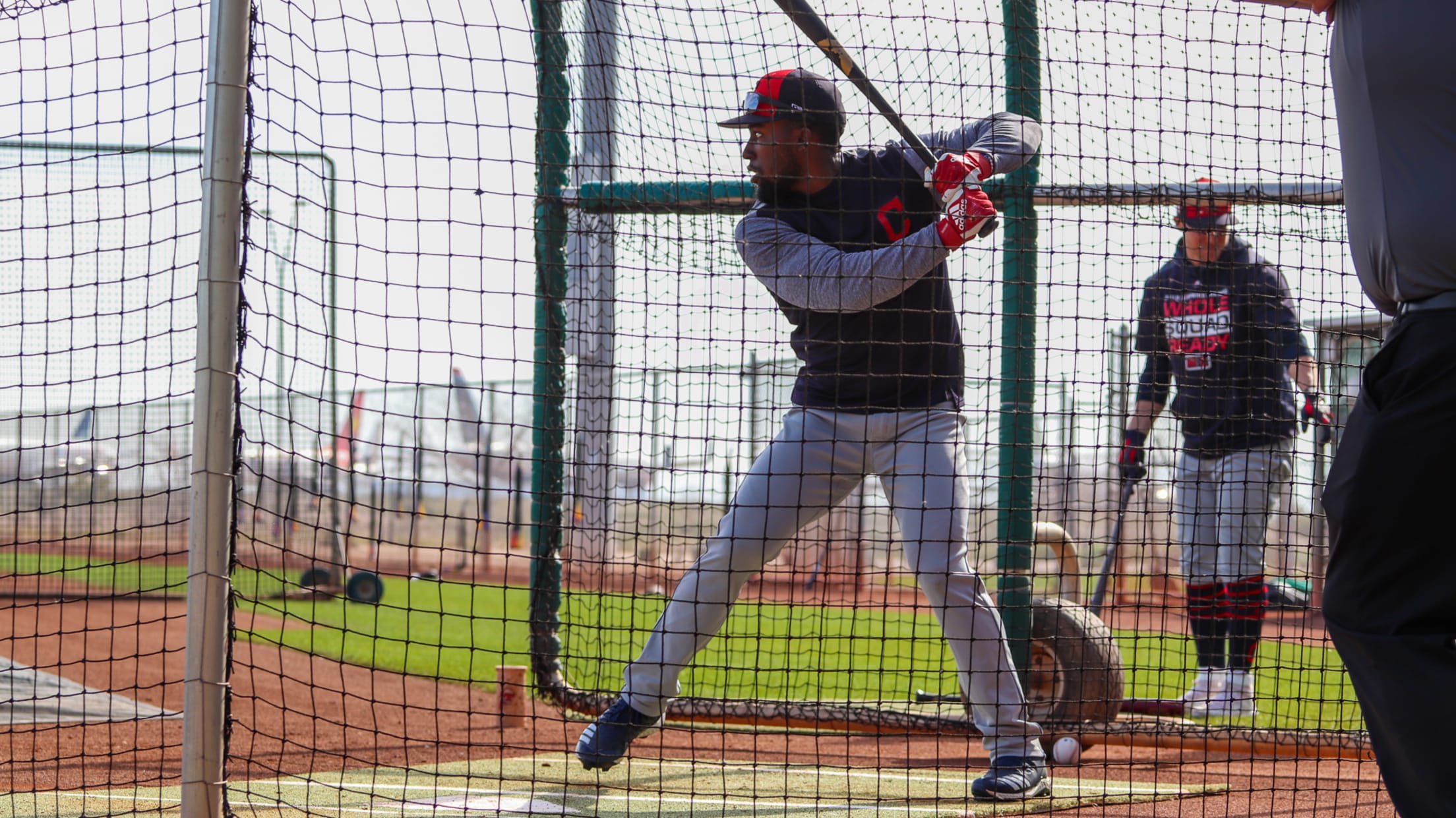 GOODYEAR, Ariz. -- It's still early in Spring Training, so the Indians don't want to place expectations on any of their players, but it's been hard not to notice Daniel Johnson. Cleveland is just five days into its Cactus League schedule after its split-squad games on Wednesday, and the club
GOODYEAR, Ariz. -- It's still early in Spring Training, so the Indians don't want to place expectations on any of their players, but it's been hard not to notice Daniel Johnson.
Cleveland is just five days into its Cactus League schedule after its split-squad games on Wednesday, and the club has already gotten its first taste of what Johnson, its No. 22 prospect, has to offer. Johnson was part of the group that traveled to Phoenix and defeated the Brewers, 6-1. The rest of the Tribe stayed in Goodyear and defeated the Mariners, 6-5.
Johnson, 23, was acquired from the Nationals, along with Jefry Rodriguez and a player to be named later (Minor Leaguer Andruw Monasterio), in exchange for Yan Gomes on Nov. 30. Johnson went 0-for-3 as the leadoff man and DH against Milwaukee, but he has impressed Indians manager Terry Francona in his first few appearances.
"He's a good outfielder," Francona said Wednesday morning. "He has a good arm. Good kid. We're just getting to know him, but, man, we sure are enjoying it."
Johnson's athleticism was appealing to the Tribe, but he has also shown what he's capable of doing at the plate in these first few games. In Tuesday's 5-3 win against the Rockies, he went 2-for-3 with a triple and a home run that both had an exit velocity of just over 111 mph, according to Statcast.
Indians OF prospect Daniel Johnson, who they got for Yan Gomes, hit a 111.4 mph triple off Kyle Freeland today. He had a solid 28.4 ft/sec sprint speed on his way to third (MLB average is 27 ft/sec). Not bad.

— David Adler (@_dadler) February 26, 2019
"He's actually swung the bat terrific," Francona said. "We tell our guys, it's not going to define who they are, but it sure is nice to see him do it. You see what's in there. Off of two lefties yesterday, he took two of the prettiest swings you'll ever see."
Mills pleased with Moroff's aggressiveness
At this point, it seems as though the Indians think that Francisco Lindor has a good chance of returning for Opening Day, however there needs to be a backup plan just in case. As of now, that plan could consist of Yu Chang, Ryan Flaherty, Mike Freeman, Eric Stamets or Max Moroff playing shortstop.
In Wednesday's win over the Mariners in Goodyear, Moroff was responsible for the three-run homer that put the Indians ahead, 6-5, in the seventh. On Tuesday against Colorado, Moroff recorded his first hit of the spring on a double to center. Although he only has 84 big league games under his belt over the last three seasons with the Pirates, bench coach Brad Mills has liked the aggressiveness Moroff has shown.
"It's nice to see the aggressiveness at the plate in hitters' counts, being aggressive in hitters' counts," Mills said. "It sure was nice to see him hit a three-run, 3-0 home run."
Injury report
Lindor: On Wednesday, Lindor advanced from taking ground balls on his knees to fielding them while standing. Although he wasn't at full speed, Francona seems pleased with how Lindor's rehab process has gone.
"He's just progressing quickly," Francona said. "Now, he has a ways to go, as we know, but it just seems like every morning, [head athletic trainer] James [Quinlan] comes in and they're able to add something to his day."
Bobby Bradley: After landing awkwardly on his shoulder in Saturday's game against the Reds, Bradley was scheduled to miss the next few games for precautionary purposes. Francona said Wednesday that Bradley still feels some pain going to his backhand side, so he will be out for a few more games.
Reunion with Tomlin
Francona traveled with half of his team to Phoenix on Wednesday, excited to see former Indian Josh Tomlin pitch for the Brewers.
"I'm gonna have to remind myself that he's trying to make a ballclub over there, and not to mess with him," Francona said Wednesday morning. "It just comes second nature. I'll be yelling at him or something. But no, I'll be excited to watch him."
Tomlin allowed one run on two hits, including a homer, in two innings.
Worth noting
Neil Ramirez, Tyler Olson and Rodriguez combined for four hitless frames against the Mariners on Wednesday at Goodyear Ballpark.
In Phoenix, Mark Mathias and Li-Jen Chu each launched two homers, and Jake Bauers hit a solo shot of his own against the Brewers. Shane Bieber also made his spring debut, tossing two perfect innings to start Wednesday's game.
Up next
The Indians will travel to Scottsdale on Thursday to play the D-backs at 3:10 p.m. ET at Salt River Fields at Talking Stick. Cleveland right-hander Chih-Wei Hu will start against Arizona righty Merrill Kelly.