What if Westbrook-Wall, but MLB? Here are 7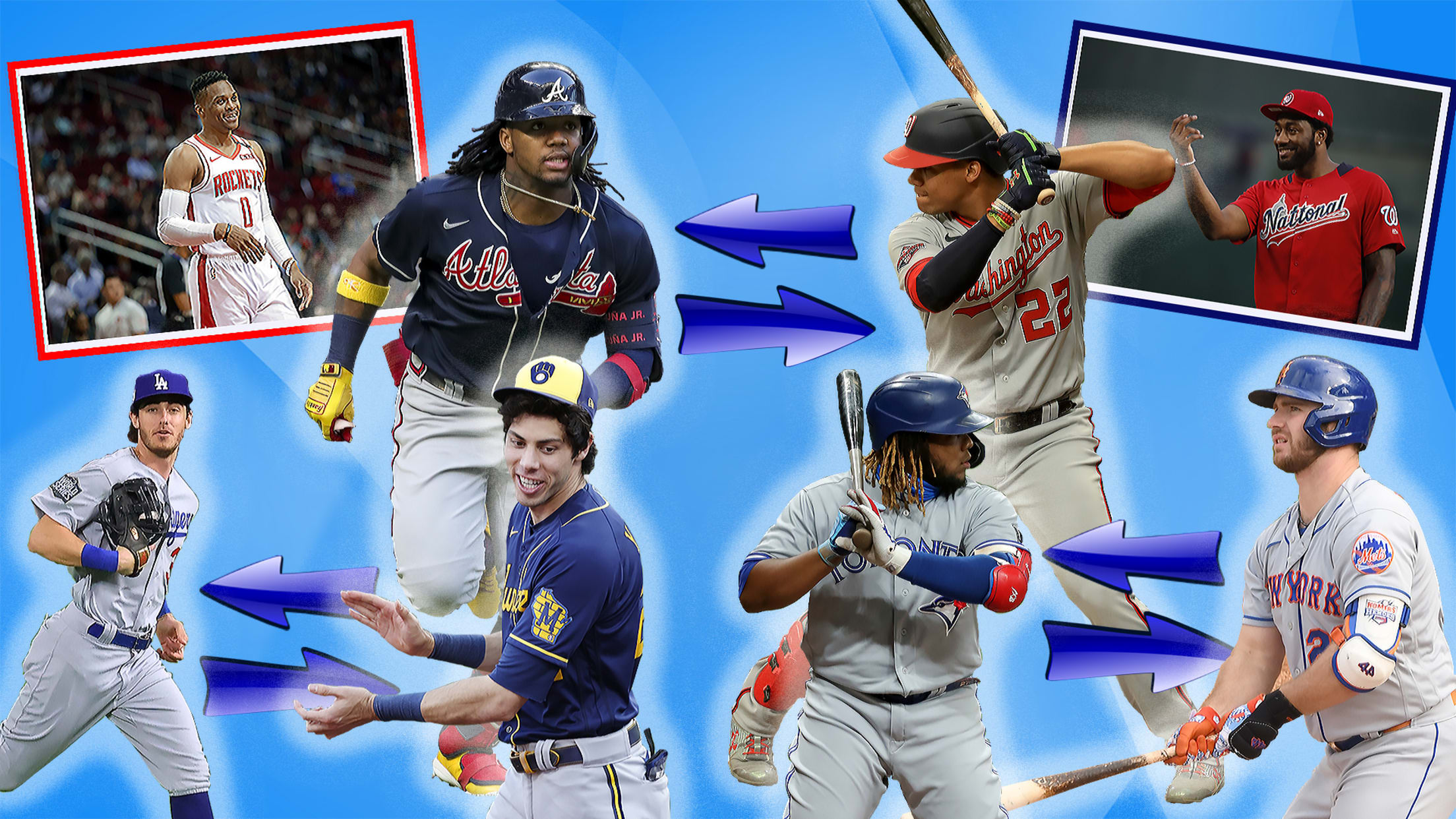 Over in the NBA, the Houston Rockets and Washington Wizards swung a cool trade on Wednesday when they swapped superstar point guards: Russell Westbrook for John Wall. So we thought ... why should the NBA have all the fun? Here are seven MLB trade proposals inspired by Westbrook-for-Wall. These trade
Over in the NBA, the Houston Rockets and Washington Wizards swung a cool trade on Wednesday when they swapped superstar point guards: Russell Westbrook for John Wall. So we thought ... why should the NBA have all the fun?
Here are seven MLB trade proposals inspired by Westbrook-for-Wall.
These trade ideas are just for fun. The point is, we want a one-for-one, star-for-star trade of players who mirror each other or are in similar situations. MLB.com's analysts came up with their best ideas for a Westbrook-for-Wall-style trade in baseball. Even if there's no way they actually happen.
Check out these trade ideas and the stars involved -- and imagine what would happen in each "What if?" scenario.
Trade #1: Braves trade Ronald Acuña Jr. to Nationals for Juan Soto
Why it works: Acuña vs. Soto is the new Trout vs. Harper. These two young super-duper-star outfielders are going to be competing for the title of Best Player in Baseball throughout the 2020s. Acuña and Soto debuted within weeks of each other. Soto just turned 22, Acuña is about to turn 23 this month. They finished 1-2, respectively, for NL Rookie of the Year in 2018, and they're going to be finishing next to each other at the top of the MVP voting for seasons to come. Each has his own signature style on the field -- Acuña is the electric all-around spark plug; Soto might be the best pure hitter in the sport -- but that's even better for them as dueling faces of baseball for the next generation.
Impact: First of all, imagine Soto and Freddie Freeman hitting next to each other in the Braves' lineup. They might be the best two hitters in the league. Heck, they might be an even better 1-2 punch than the Soto-Anthony Rendon duo that won the Nats the 2019 World Series. And Acuña in Washington? How about him and Trea Turner flying around the basepaths and making magic happen? The two of them combined for 72 stolen bases in 2019 and finished 1-2 in the NL -- Acuña had 37 steals in his memorable quest for the 40-40 club and Turner had 35.
-- David Adler, researcher/reporter (@_dadler)
Trade #2: Indians trade Francisco Lindor to Dodgers for Corey Seager
Why it works: The expectations surrounding the 2021-22 Offseason of the Shortstop have already begun to grow, with both Lindor and Seager set to become free agents, along with Trevor Story, Carlos Correa and Javier Báez. While Lindor is considered the leader of the pack, Seager is not far behind -- and he just showed how dynamic he can be during the Dodgers' postseason run, when he won both NLCS and World Series MVP honors. They're both superstars with the ability to carry their teams. Of course, a trade doesn't change the fact that both of these players are headed for the free-agent market after 2021, but it does shake up the landscape -- and could likely affect how those deals play out after '21.
Impact: While both players are productive and young superstar shortstops, they can still provide specific improvements that could help these teams. At his best and healthiest, Seager hits for more power than Lindor. In his career year in the shortened 2020 season, he slugged .585 with a 98th-percentile hard-hit rate and 99th-percentile expected batting average and slugging. The Indians' offense can certainly benefit from that level of power, and getting it from the shortstop position leaves the door open to further offensive improvements elsewhere, like in the outfield. To the Dodgers, Lindor would bring defensive prowess -- he had five Outs Above Average at shortstop last year, tied for second most at the position, while Seager was league-average defensively. And Lindor could slot into the Dodgers' lineup batting third -- where he hit for most of 2020 for the Indians, and the spot that was occupied by now-free agent Justin Turner in L.A.
-- Sarah Langs, researcher/reporter (@SlangsOnSports)
Trade #3: Rockies trade Nolan Arenado to Yankees for Giancarlo Stanton
Why it works: These are two superstars on gargantuan contracts that haven't worked out as well as either team hoped. Arenado is guaranteed $199 million over the next six years, while Stanton is guaranteed $218 million over the next eight (with $30 million of that covered by the Marlins from 2026-28). So the Yankees get the more dynamic player who can contribute both offensively and defensively and has had less trouble staying on the field, while the Rockies get to spread out their monetary obligation over a larger number of years to gain a bit of financial flexibility.
Impact: With Arenado aboard, the Yankees shift Gio Urshela and/or Gleyber Torres in their infield and can spend their free-agent money on rotation reinforcement instead of the return of DJ LeMahieu. And if you don't think it would be fun to watch Giancarlo Stanton play his home games in Coors Field, well, I don't know what to tell you.
-- Anthony Castrovince, columnist (@castrovince)
Trade #4: Rockies trade Arenado to Cubs for Yu Darvish
Why it works: It doesn't, because the Cubs aren't looking to swap a large contract for a larger one, but let's play this just-for-fun exercise out. I really don't follow basketball enough to know the particulars of the Westbrook/Wall trade, but this site informs me that it's a situation where both teams were unhappy with the contracts and both players wanted out, so let's try to stick to that and yes, that clearly means Arenado. (That this article on the trade keeps talking about whether Houston can now keep James Harden makes me think about Trevor Story, too.) But how to partner that up? I actually think Castrovince's idea of Giancarlo Stanton is a pretty fun one, and probably the right one, but in the interest of being different, I'll say Darvish.
Impact: With Kyle Schwarber gone, at least for the moment, the Cubs could easily put Kris Bryant in left field and insert Arenado at third base, which improves both offense and defense. (Again, this would never happen.) But the far more interesting aspect of this is the idea of getting Darvish to Denver, because the Rockies can never, ever have enough pitching, and top free-agent arms simply won't go there. That means it has to be a trade, and who wouldn't enjoy seeing Darvish and his 10 -- or more -- different pitches trying to conquer altitude? I sure would.
-- Mike Petriello, stats analyst (@mike_petriello)
Trade #5: Angels trade Anthony Rendon to Nationals for Stephen Strasburg
Why it works: While these two play different positions, they also are closely connected. Both were high first-round picks by the Nationals, Strasburg in 2009 (first) and Rendon in '11 (sixth). Both quickly became stars on the field in Washington while remaining low-key presences off the field. Teammates from Rendon's debut in '13 through '19, they played enormous roles in the Nationals' World Series championship run in that last year. Both free agents in the ensuing offseason, they signed identical contracts (seven years, $245 million) just days apart, with Strasburg returning to D.C. and Rendon jumping to Strasburg's native Southern California.
Impact: At this time a year ago, the Angels looked to be a likely landing spot for Strasburg, considering their acute need for starting pitching. That need persists, and while Strasburg's 2020 was mostly lost to injury, he still would offer more upside at the front of the rotation than almost any current free agent. Meanwhile, the Nats never replaced Rendon, getting a mere .575 OPS from their third basemen this past season. His return would reunite him with Juan Soto in the middle of the lineup, while Washington could get by with Max Scherzer and Patrick Corbin atop its rotation. Of course, the Angels have no obvious replacement for Rendon after his stellar 2020, and Strasburg has full no-trade protection, but we'll overlook those hurdles to make a fun swap happen.
-- Andrew Simon, research analyst (@AndrewSimonMLB)
Trade #6: Mets trade Pete Alonso to Blue Jays for Vladimir Guerrero Jr.
Why it works: What could be more fun than a swap of young sluggers who hit the ball as hard and as far as just about anybody in baseball? Continuing their connection, both Alonso and Guerrero Jr. made their MLB debuts in 2019 -- less than a month apart -- and then put on that memorable and ridiculously entertaining show in the Home Run Derby that summer.
Impact: Given what Alonso means to the Mets and Guerrero Jr. means to the Blue Jays, both fan bases would be against this one-homegrown-fan-favorite-for-another blockbuster, but that's part of the intrigue. From a baseball perspective, the Mets' suspect defense would improve with Dominic Smith definitively taking over at first base while Guerrero shifts to DH (in this scenario, we're sticking with the DH in the National League), allowing him to concentrate solely on hitting as a change-of-scenery breakout candidate after a somewhat disappointing start to his career. Alonso, meanwhile, would bring a more proven track record and give the Blue Jays someone who perhaps can more reliably play first base than Guerrero did. Really, though, this one's all about offense and these two obliterating baseballs in different cities.
-- Jason Catania, editor/reporter (@JayCat11)
Trade #7: Dodgers trade OF Cody Bellinger to Brewers for OF Christian Yelich
Why it works: We're not far removed from an instant Brewers-Dodgers classic on April 21, 2019, when Bellinger first robbed Yelich of a sure homer in the eighth and then hit the game-winning blast the next inning. With apologies to Mike Trout, these seemed like the sport's two best players putting a team game aside for a moment to stage a thrilling 1-on-1 battle.
The 2019 season was all about Belli vs. Yeli. So how much fun would it be to see them switch places? And while this is just a fun exercise, maybe this makes a little baseball sense, too. The Brewers' window may already be closing with Lorenzo Cain in his mid-30s, Josh Hader getting more expensive and the offense sputtering to an alarming degree. That could make Yelich's massive contract extension (he's owed $196 million through '28) tougher to navigate for Milwaukee, but if there's any team that could comfortably take that money on, it's the Dodgers. Meanwhile, Bellinger is only entering his second round of arbitration this winter. Each club keeps a superstar outfielder, perhaps at prices that make more sense for the two markets.
Impact: Well, the Dodgers are already used to trotting out two former league MVP Award winners in their outfield. Maybe we finally get to see what Mookie Betts can do as a full-time center fielder. And L.A. fans could enjoy a Yelich-Betts outfield for almost the entire next decade.
Over in Milwaukee, maybe the Crew gets a reset with the more affordable Bellinger giving them flexibility. Bellinger could man center field at American Family Field for years to come while Cain finishes his career as an overqualified corner defender. And the Brewers can use the extra cash to make some splashy upgrades in the infield and in the rotation to back up Brandon Woodruff and Corbin Burnes. Ripping Yeli away from Milwaukee? That's harsh, but Brewers fans could learn to love Belli, too.
-- Matt Kelly, researcher/reporter (@mattkellyMLB)