Friday's best: McKinney plates six in huge game for RailRiders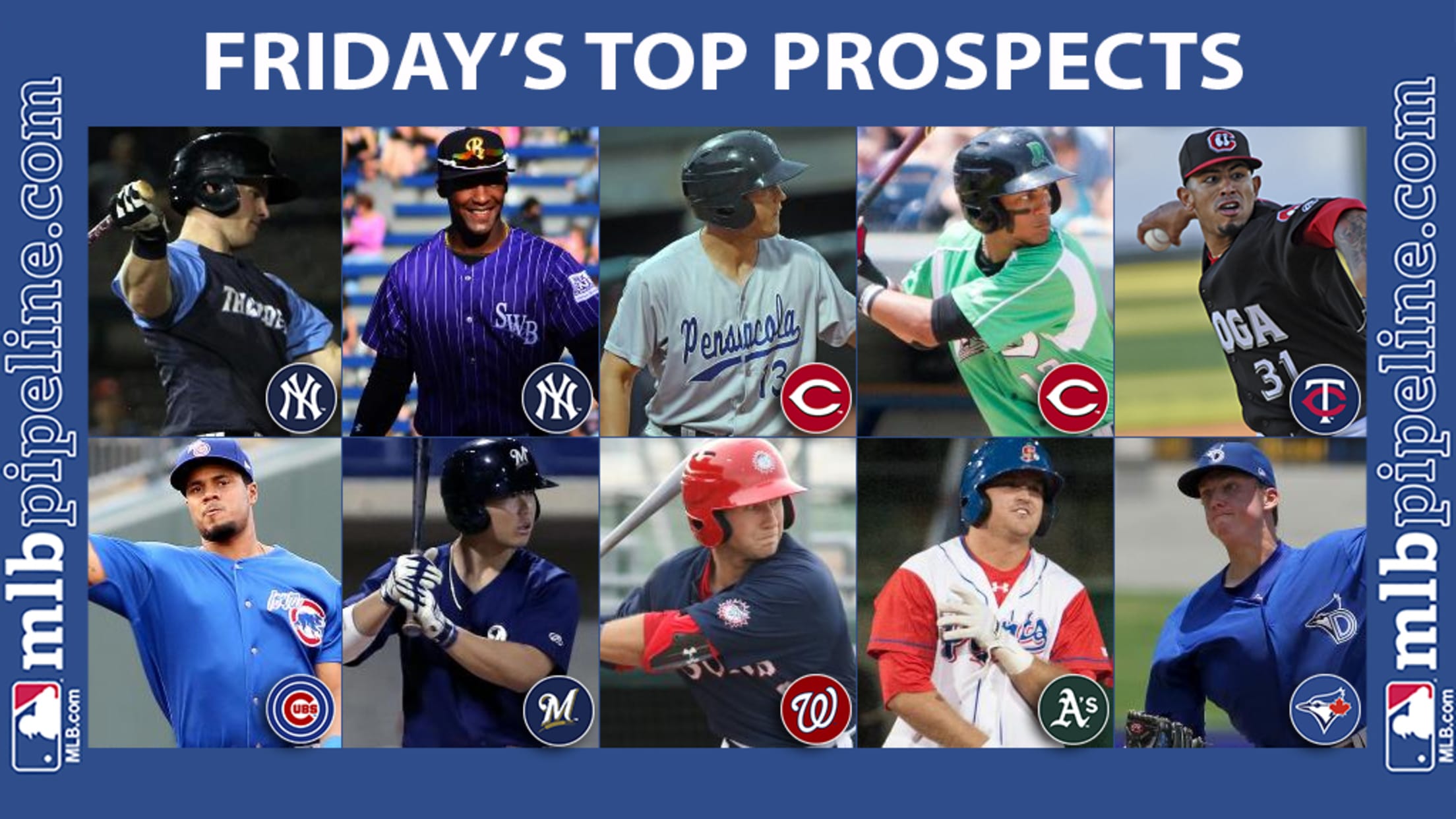 Billy McKinney has swung a hot bat since moving up to Triple-A, but never before did he have a game quite like he did on Friday.The Yankees' No. 29 prospect set career highs with 12 total bases and six RBIs, going 4-for-5 with a grand slam, two triples and one
Billy McKinney has swung a hot bat since moving up to Triple-A, but never before did he have a game quite like he did on Friday.
The Yankees' No. 29 prospect set career highs with 12 total bases and six RBIs, going 4-for-5 with a grand slam, two triples and one double to help power Triple-A Scranton/Wilkes-Barre in a 15-8 win over Charlotte.
Batting fifth for the RailRiders, McKinney began his game with back-to-back RBI triples in his first two at-bats. The 22-year-old outfielder then played a major part in Scranton's nine-run fifth inning, as he led off the frame with a double before connecting on a one-out grand slam to cap the scoring.
MILB Video - Title: McKinney belts grand slam - Url: http://www.milb.com/r/video?content_id=1661201983
Needing only a single over the game's final four innings to complete his cycle, McKinney reached base via a hit-by-pitch in the seventh and grounded out to first base with two outs in the ninth -- after Mike Ford worked an 11-pitch walk to allow him to bat one last time.
McKinney has been on fire since joining Scranton, as Friday's performance boosted his slash line to .333/.375/.633 through 23 games. Of his 30 hits, 14 have been for extra bases, including five home runs.
Speaking of red-hot hitters, Scranton third baseman Miguel Andjuar, the Yankees' No. 9 prospect, extended his hitting streak to 14 games with a first-inning solo shot, his 14th home run this season and sixth in just 28 Triple-A contests.
The rest of the best performances from top prospects Friday
• No. 11 overall prospect Nick Senzel (Reds' No. 1) fell a double short of hitting for the cycle on Friday, though he still had a perfect night at the plate, going 4-for-4 with two RBIs in Double-A Pensacola's win against Biloxi. The home run was Senzel's eighth of the season and his fourth in 32 Double-A games, during which he's batting .331.
MILB Video - Title: Senzel belts solo shot - Url: http://www.milb.com/r/video?content_id=1661179583
• No. 82 overall prospectFernando Romero (Twins' No. 4) struck out a season-high nine batters over five innings en route to his 10th win for Double-A Chattanooga. He threw 66 of his 94 pitches for strikes, allowing one earned run on three hits and one walk. The 22-year-old right-hander is 6-1 with a 1.68 ERA and 63 strikeouts in 53 2/3 innings in his past 10 starts.
• No. 92 overall prospectJeimer Candelario (Cubs' No. 1) homered in his first two at-bats before finishing 3-for-5 with three RBIs in Triple-A Iowa's 9-8 win over El Paso. The home runs give Candelario 12 on the season, and the three-hit performance was the second in the three games for the 23-year-old third baseman.
MILB Video - Title: Candelario hits second homer - Url: http://www.milb.com/r/video?content_id=1662676283
• No. 95 overall prospect Keston Hiura (Brewers' No. 5) is now slashing .424/.468/.758 through his first 24 pro games after he finished Class A Wisconsin's game 2-for-4 with a double and a triple. The 2017 No. 9 overall pick has collected 42 hits in that span, including four home runs as well as seven doubles and triples apiece.
• Out since May 13 with a leg injury, Nationals No. 4 prospect Carter Kieboom announced his return to the field by going 2-for-2 with a double and two RBIs in Rookie Gulf Coast League action. The 19-year-old shortstop was off to a great start at Class A Hagerstown before landing on the shelf, hitting .345/.408/.602 with six homers and 11 doubles through his first 29 games.
• A's No. 13 prospectSheldon Neuse connected on a pair of homers for Class A Advanced Stockton, his first career mutli-homer game and his first two homers since he was acquired from the Nationals on July 16. He's hitting for average and some power in his first full season, all while showing he can handle shortstop on a semi-regular basis.
• Blue Jays No. 13 prospectRyan Borucki took the loss for Double-A New Hampshire despite tossing seven innings of one-run ball. He gave up just three hits while walking one and striking out seven. It was the second Double-A start for the 23-year-old lefty, who allowed two hits in seven scoreless innings in his July 23 debut.
MILB Video - Title: Borucki fans seventh man - Url: http://www.milb.com/r/video?content_id=1661396083
• Padres No. 17 prospect Jeisson Rosario's first professional homer proved the difference in a win for the Padres' primary Rookie Arizona League affiliate. The 17-year-old outfielder, whom San Diego signed for $1.85 million last July, broke a 4-4 tie with his three-run shot in the bottom of the seventh inning, as he went on to finish 3-for-4 with two runs scored and a stolen base.
• Reds No. 24 prospect Jose Siri hit a double in his third at-bat for Class A Dayton to extend his hitting streak to 33 games, the longest in the Minor Leagues this season. In the process, he moved into second place all-time for longest hitting streaks in the Midwest League.