Eric Stonestreet, Mark Cuban and other celebrities share their thoughts on the postseason
Celebrities give postseason outlooks
Celebrities aren't all that different from the rest of us. They put their pants on one leg at a time -- they just get to perform for millions of people afterward.
With the MLB postseason set to begin with the AL Wild Card Game presented by Budweiser on Tuesday, MLB.com got a hold of a few notable personalities whose fandom runs deep and asked them what's in store for the teams this month.
Eric Stonestreet
"My dream would be a Royals-Dodger World Series with the Royals winning a 1-0 Game 7 against [Clayton] Kershaw. I love Dodger Blue, but Royal Blue is in my blood."
Mark Cuban
"Pirates vs Rangers, my dream World Series. I think anything can happen in the AL. Its up for grabs. I think the Rangers have a legit shot. And the NL may go through St Louis, but I think the winner of the Cubs vs Buccos is the odds on favorite to win. And of course my fingers are crossed that it's the Pirates!"
Bill O'Brien
"I just want to congratulate the Astros and A.J. Hinch on just a great Wild Card berth and good luck. They play the Yankees, so I'll definitely be rooting hard for the Astros in that game."
Graham Elliot
"Chicago has always known that their Cubbies were destined for greatness -- it's just taken a little longer than expected. Wednesday's game against the Pirates is only further preparation for their ultimate fight in the World Series. May the best team win, and by best, I mean the Chicago Cubs."
George Lopez
"The rules of the game of baseball remain the same. 162 games 'over,' and now in the postseason. As a lifelong Dodgers fan I predict, "Our Latinos are better than yours."
Mayim Bialik
"No Yankees for me. No Giants for my boys. Can't root for the Mets. Sad season for me."
Haley Joel Osment
"The tradition of masterful Dodger pitching is alive and well with Kershaw and Grienke, whose utterly dominant seasons were reminiscent of the glory days of Koufax and Drysdale. Both aces deserve to cap this year with rings. The bullpen was our undoing these past two Octobers, so although there have been deeply concerning stretches this season, I think they are finding their rhythm at just the right time. Combine that with spirited offensive performances by veterans like Adrian Gonzalez and Andre Eithier and the awe-inspiring rookie Corey Seager, not to mention a much deeper bench than years past, and I believe you have a team with the right stuff to go all the way."
Marcia Gay Harden
"I like the Dodgers chances of winning the World Series because of our great pitching. Zack and Clayton are the two best starting pitchers and Kenley is the most exciting closer in baseball."
Nick Turturro
"I believe the Yankees will win the Wild Card game because this is when Carlos Beltran delivers big in October. He'll figure out the beard and jumpstart the offense and Tanaka will deliver. Mark my words."
Eddie Vedder
"Big Wednesday. Surf's up."
Melissa Joan Hart
"Since 3/4 of the lineup has been deep into the postseason before, I think the Yanks will rely on experience to see them through. And in the words of Yogi, 'Baseball is 90% mental and the other half is physical.' So go New York, go New York, GO!"
John Turturro
"The Yanks have been a pleasant surprise this season. Now they just have to get hot. Anything is possible. It's all about the pitching. Go Yanks!"
Ty Burrell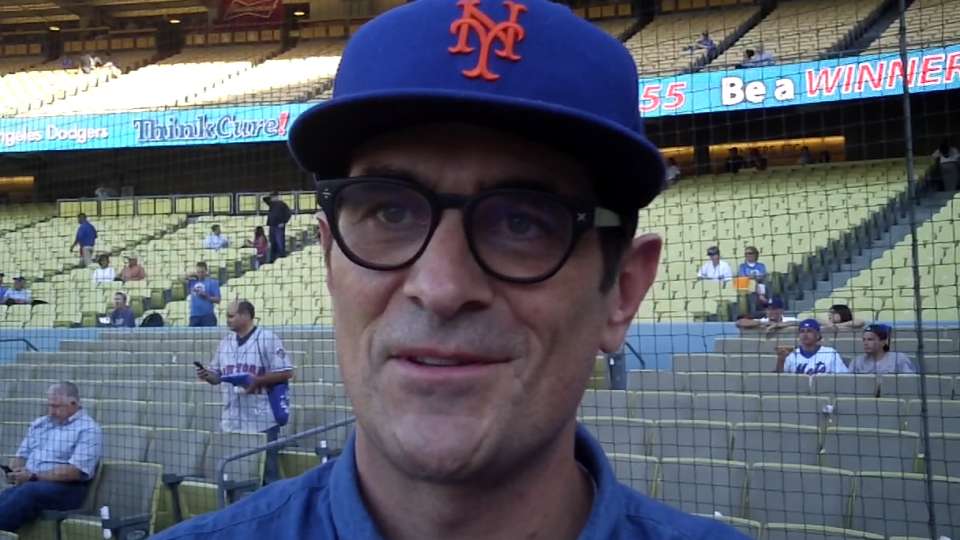 "My wife and I became Mets fans in 2004, after noticing that the Mets' own borough of Queens was replete with Yankee hats. After 2006 we figured our life was going to include an annual trip to the playoffs and a lot of trash talk directed at our Yankee-fan pals. We've been on the receiving end, obviously, but we've loved watching the team build from within and, of course, [broadcasters] Gary Cohen, Keith [Hernandez] and Ron [Darling], make every summer infinitely better. We're in the camp of 'happy to be here,' but I really wouldn't be shocked if our young arms and late-season acquisitions take us pretty deep. Go Mets!"
Hank Azaria
"The Mets have a shot because their starting pitching returned to dominant over the last week or two of the season, and when they're hitting they have arguably the toughest lineup in baseball. Also, no one wants to see Wilmer Flores cry again, unless it's tears of joy."
Karlie Kloss
"The Cardinals are the pride and joy of St. Louis. No matter how far I travel from home, I will always be a Cards fan first and foremost. It's in my blood!"